2020 was a terrible year in general, but a great year for Hip Hop. Hip Hop has never been as diverse as it is now – and there's no reason to expect 2021 to be less in any way than 2020 was when it comes to quality Hip Hop releases. With new projects expected from artists like Redman (Muddy Waters Too), Raekwon (OBFCL3), Phife Dawg, Madlib, Isaiah Rashad, Che Noir, Freddie Gibbs, Conway The Machine, and J. Cole, plus rumored releases from the likes of Kendrick Lamar, De La Soul, Q-Tip, Black Star, Nas, Joey Bada$$, Ab-Soul, ScHoolboy Q, Pusha T, AZ, Stetsasonic, LL Cool J, and EPMD, there's a lot to look forward to.
As always on our best of the year lists, not included are instrumental albums, compilations, and EP's. Some artists bill barely 30-minute-long projects as albums – HHGA categorizes projects that clock in at under 30 minutes as EP's however, and we do not rank them on our album list: an album = an LP. But having said that, lots of dope EP's drop each and every year, so we will not ignore them – scroll down for a section with some of the best EP's released in 2021, as well as a listing of 2021's best instrumental and best Hip Hop adjacent projects.
This is a work in progress. The only way to compile an authoritative list like this one is to keep track of new releases week-by-week, day-by-day even. The list will be updated regularly until the end of the year, where it will result in our best-of-the-year list. Let's get into it, check out what we think are the best Hip Hop albums of 2021 so far.
Last updated: January 22. 
Also check: Greatest Hip Hop Albums 1980 – 2020 & Top 250 Hip Hop Albums Of All Time
th1rt3en - A Magnificent Day For An Exorcism
th1rt3en is a trio led by Pharoahe Monch, with Marcus Machado on guitar, and Daru Jones on drums. A Magnificent Day For An Exorcism is Pharoahe Monch's first full-length project since his last solo album PTSD: Post Traumatic Stress Disorder, released in 2014.
Pharoahe Monch has never been very prolific, with no more than seven albums on his name since his recording debut 30 years ago: Organized Konfusion (1991), Stress: The Extinction Agenda (1994), and The Equinox (1997) as part of Organized Konfusion (with Prince Po); and Internal Affairs (1999), Desire (2007), W.A.R. (We Are Renegades) (2011), and PTSD (2014) as a soloist. Quality over quantity – all these albums are excellent displays of intelligent, complex, top-tier lyricism.
Now, is A Magnificent Day For An Exorcism the return longtime Pharoahe Monch fans were hoping for? Maybe not. It is possible some listeners will be disappointed, as A Magnificent Day For An Exorcism is almost as much rock music as it is Hip Hop, and pulling off a cohesive rap-rock fusion is not an easy thing to do. For HHGA, th1rt3en succeeded admirably though.
Pharoahe Monch still is one of the best and most versatile lyricists in the game. At 48 he is as sharp as he ever was, and even if his flow and delivery have changed some over the decades his sound still is second to none (the few attempts at singing he does on the album can be forgiven). On A Magnificent Day For An Exorcism, Pharoahe Monch addresses timely topics such as racism, consumerism, police brutality and corruption, and others – his lyrics here are deep and thought-provoking as always. This is an album for the times we live in.
Musically A Magnificent Day For An Exorcism is kind of heavy on the rock side here and there mainly owing to Marcus Machado's searing guitar work, but Pharoahe Monch's rapping and the beats and drums on the album conjure enough of a Hip Hop vibe to make the album appeal even to the most entrenched Hip Hop purists.
A Magnificent Day For An Exorcism is sure to polarize opinions, but everybody who is able to go into it with an open mind will find much to enjoy and admire.
Release date: January 22, 2021. 
Hus Kingpin - Portishus
Long Island native Hus Kingpin continues his run of quality releases with Portishus – a project inspired by the music of legendary British band Portishead. Portishead's debut album Dummy (1994) is a trip-hop monument, and while Portishus is not trip-hop but hard-edged modern-day boom-bap, it shares the dark and moody atmosphere of the Portishead classic.
Hus Kingpin's wordplay is solid enough, just like that of guest rappers like Vinnie Paz, SmooVth, Nems, The Musalini, Ransom, and Ty Farris (and many others), but it's the gloomy instrumentals that make this project a keeper. Portishead fans will recognize a lot of the samples on Portishus, but this project is just as enjoyable without intimate Portishead knowledge. With Portishus Hus Kingpin started the year off in a strong way.
Release date: January 21, 2021. 
Lukah - When The Black Hand Touches You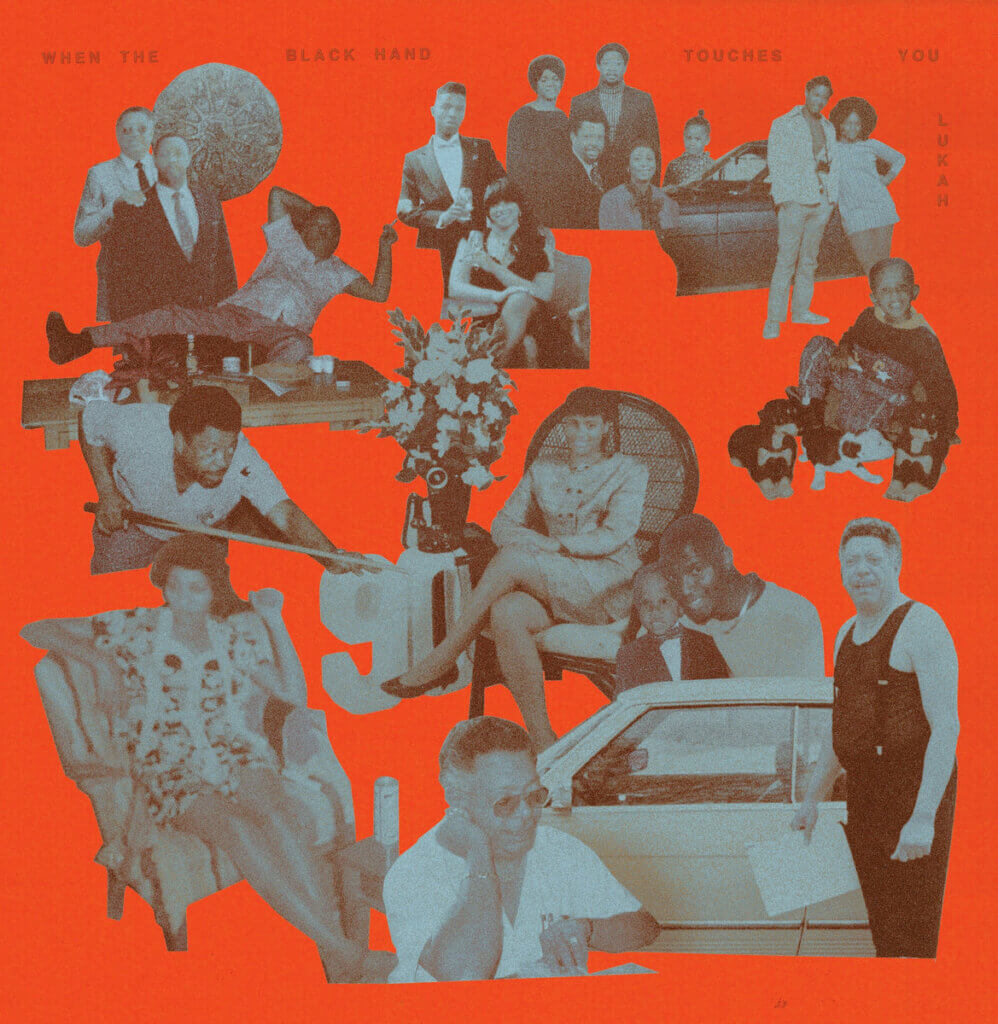 Memphis, Tenessee emcee Lukah's When The Black Hand Touches You is a dope follow-up to its (slightly superior) predecessor Chickenwire (2018).  Lukah comes with 16 tracks on When The Black Hand Touches You, musically strong with atmospheric sample-based production and with hard-hitting street raps in the vein of Griselda and Freddie Gibbs. The rap-noir niche is as oversaturated as most other Hip Hop subgenres are these days, and even if When The Black Hand Touches You has nothing to make it really stand out from the crowd, because of its consistency it will comfortably end up on the higher end of this subgenre's spectrum in 2021. Fans of Freddie Gibbs's music better not sleep on When The Black Hand Touches You.  
Release date: January 1, 2021. 
Observe Since 98 - Le Dernier Royaume
While the likes of Roc Marciano and the Griselda family still reign supreme in the 'rap-noir' subgenre of Hip Hop, there are plenty of others who consistently come with fire. Loretta Records founder Observe Since 98 is such an artist. Le Denier Royaume follows Observe Since 98's "Savage" trilogy (which started with Portrait of A Savage (2018), followed by the sequels Return Of The Savage and Royaume Du Sauvage in 2019 and 2020 respectively).
Le Denier Royaume is Observe Since 98's best project yet. He has his own unique sound, with dark atmospheric beats and loops laced with obscure samples taken from vintage French recordings. Le Denier Royaume very much is a producer's album – this project is much more about the instrumentals than it is about the lyrics, even if there's nothing wrong with the vocal contributions of guests like Jay NiCE, Knowledge the Pirate, Chris Skillz, Ankhlejohn, Planet Asia, All Hail YT, Monday Night, M.A.V., Pounds, Napoleon Da Legend, (and others).
Le Denier Royaume was released on January 1st of 2021, signifying a great start of the Hip Hop year.
Release date: January 1, 2021. 
Frank Knight & Chuck Lawayne - Slim & Mickens
Frank Knight teamed up with producer/emcee Chuck Lawayne for Slim & Mickens, a thoroughly enjoyable presentation that pays homage to the 70's Blaxploitation era. Well-realized, down to the cover art aesthetics, this project is a great listen that deserves your attention if smooth and soulful Hip Hop is your thing.
Release date: January 18, 2021. 
Brian Bars Burns & Ollie Dodge - Dynamic Duo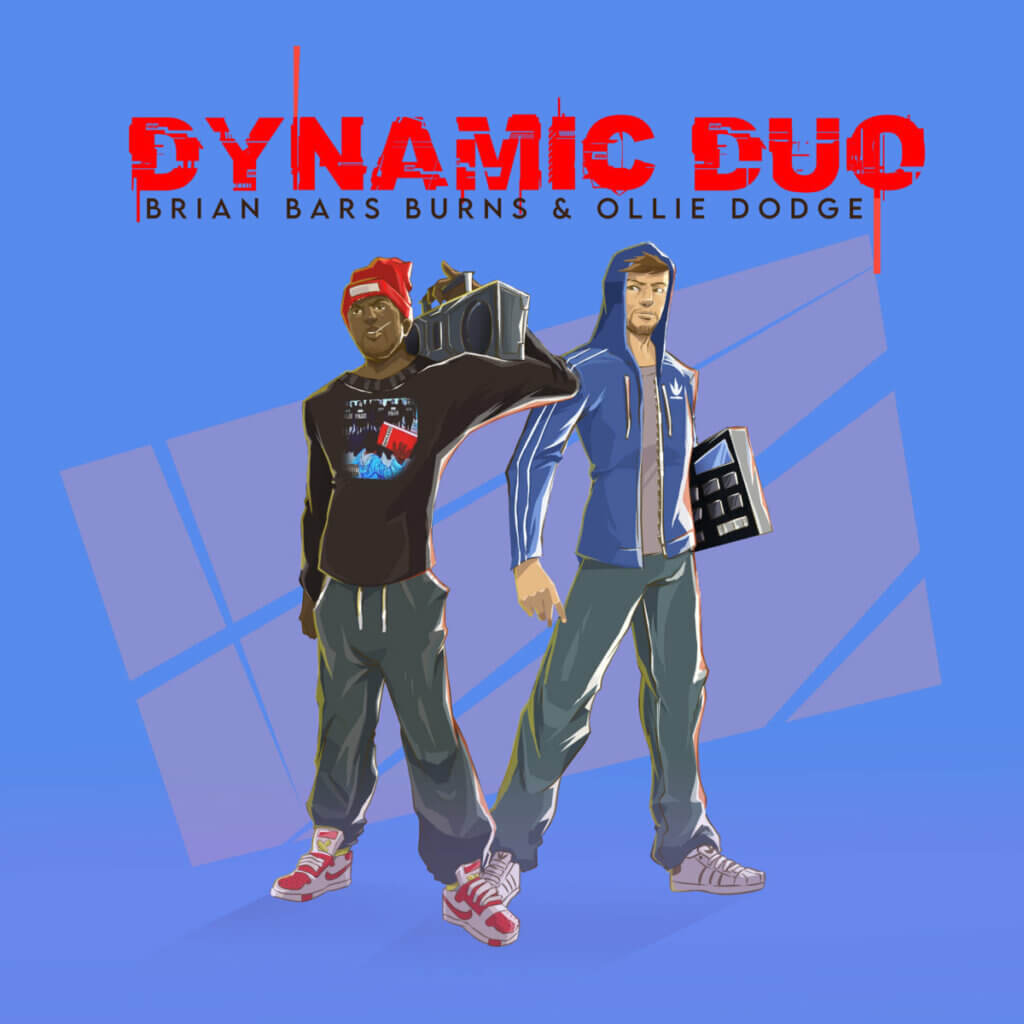 New Orleans-raised, Cali-based emcee Brian Bars Burns teamed up with producer Ollie Dodge for their collaborative project Dynamic Duo. There's nothing complicated about Dynamic Duo, and there doesn't have to be – this album offers close to an hour of dope beats and bars: what more do you want? Ollie Dodge's beats, cuts, and samples are great, and Brian Bars Burns is a real lyricist – just check out a track like "Bar Maniacs", which features guest rhymes from Harry Mack and A.F.R.O., to know what this album is all about. Dynamic Duo = 100% pure uncut Hip Hop.
Release date: January 15, 2021. 
Kev Brown & J Scienide - Stray From The Pack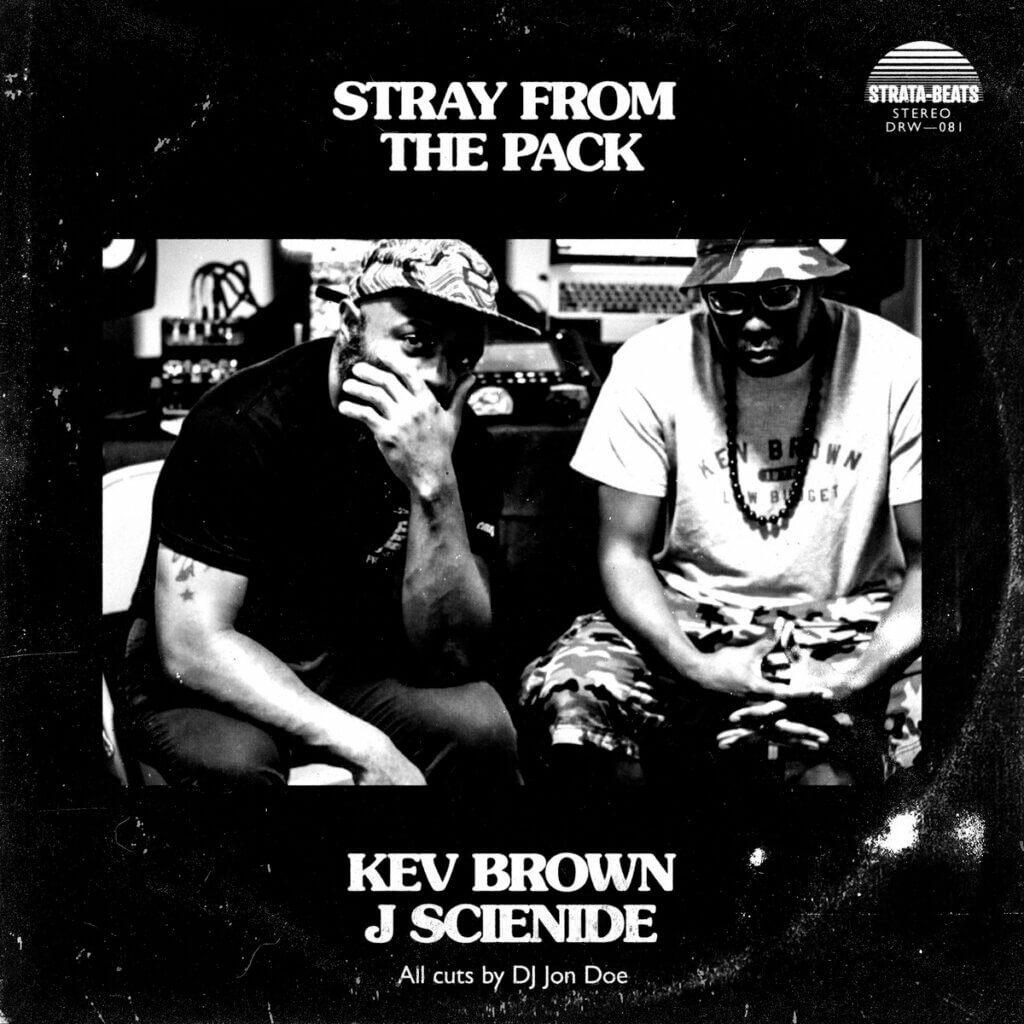 Stray From The Pack is a solid collaboration between Kev Brown and J Scienide, following their excellent Drum Machine Tape Cassette (2019). Stray From The Pack is tailormade for the HHGA demographic: dope beats, dope rhymes, and dope cuts by DJ Jon Doe – everything about this project has that golden era vibe, down to the cover art even. This is a great little project, biggest complaint is a common one these days: at barely 30 minutes Stray From The Pack just is too short.
Release date: January 8, 2021. 
Passalacqua - Passalacqua LP
Passalacqua is a Detroit indie alt-rap duo consisting of emcees Blaksmith and Mister. Passalacqua LP is the culmination of a ten-year partnership – ten years during which the duo dropped a number of excellent projects, but arguably none as good as this one. The genre boundaries pushing Passalacqua LP is unlike any other Hip Hop album you'll hear this year. Produced in its entirety by fellow Detroitian Zach Shipps, this album is deeply layered musically as well as lyrically – there's nothing generic about Passalacqua LP. Not for everybody, but listeners with an appreciation for left-field Hip Hop will find a keeper in this beautiful album.
Release date: January 11, 2021. 
DJ Cosm - Natural Within
Natural Within is a charming little project from Canadian DJ Cosm. 10 dope tracks, no filler, no interludes, no skits, or any such nonsense – nothing but smooth 90s-centric boom-bap beats and great features from artists like Sadat X, El Da Sensei, Prince Po, Starvin B, Chris Orrick, Daniel Son, Skanks the Rap Martyr, Anti Lilly, (and lots of others).
Natural Within is a consistent presentation throughout, but a special mention goes out to "Frank Sisson's" a track with an infectious beat and with dope rhymes from an emcee named Belvedere Spinello, whose flow sounds like a blend of Grand Puba, Chubb Rock, and Pete Rock in their best days. Natural Within is kind of generic maybe, but totally enjoyable – fans of that 90s type Hip Hop can't go wrong with this DJ Cosm project.
Release date: January 1, 2021. 
jaH-Monte - Seventy-Fifth & Amsterdam Side B: Lost In NYC
jaH-Monte Ogbon is an Ohio-born, North Carolina-based rapper, spending extended time in Brooklyn, New York in recent times to connect with local artists and to make music. Seventy-Fifth & Amsterdam Side B: Lost In NYC is his follow-up to last year's Seventy-Fifth & Amsterdam Side A. Where Side A was sweet but short at 15 minutes, Side B is a proper full-length at 47 minutes, giving it a more fleshed out and better-rounded overall feel.
Seventy-Fifth & Amsterdam Side B: Lost In NYC is not a thirteen to a dozen kind of album (which we see so many of in today's oversaturated Hip Hop market), but it has an own distinctive sound – largely owing to excellent production from start to finish. The chilled-out sample-based instrumentals will hold your attention from beginning to end, and there is nothing wrong with jah Monte's flow and lyrics either, nor with that of guests like Big Kahuna OG, Fly Anakin, Brain Orchestra, and others. Seventy-Fifth & Amsterdam Side B: Lost In NYC is a dope project and jaH-Monte is an artist to watch.
Release date: January 18, 2021. 
Breeze Brewin & Juggaknots - Hindsight
The Juggaknots is a trio from The Bronx, New York, consisting of siblings Breeze Brewin, Queen Herawin, and Buddy Slim. They have been at it for a while – real heads will know of their debut studio album, Clear Blue Skies (1996), an indie release (re-issued as Re:Release with 11 bonus tracks in 2003) that is now considered an underground classic.
Hindsight is billed as the debut solo album from Breeze Brewin, with production from the likes of Marco Polo, Black Milk, De La Soul's DJ Maseo, DJ Spinna, Sebb Bash, and others. With Hindsight Breeze Brewin gives us 13 dope songs, with socio-political insights  ("Devil's Advocate", which has Breeze criticizing former President Donald Trump), his view on the music industry ("The Application"), and some deeply personal bars about friendships ("The Uninvited") and about being a teacher as a person of color ("Taking Notes").
Hindsight is a slice of grown man Hip Hop at its finest.
Release date: January 22, 2021. 
YUNGMORPHEUS - States Of Precarity
Los Angeles-based rapper YUNGMORPHEUS has been very prolific in recent times, dropping a number of projects with thought-provoking and often provocative lyrical content. States Of Precarity is another quality YUNGMORPHEUS release, albeit one for a niche audience. YUNGMORPHEUS has something to say, and his lo-fi jazzy beats gel well with his chilled-out flow and delivery. Those who have never listened to him before but who dig music from regular YUNGMORPHEUS collaborators like VIK, Pink Siifu, Fly Anakin, Koncept Jack$on, and Ohbliv, should go and listen to States Of Precarity.
Release date: January 8, 2021. 
Ty Farris - Practice Raps
Detroit emcee Ty Farris had a couple of solid releases in 2020, and he continues his streak of quality releases in 2021 with the short but strong Practice Raps tape. Dope beats and great wordplay from one of the best emcees in the underground.
Release date: January 18, 2021. 
Antahlyzah - The Ceremonial Gifted
"Golden Era is my habitat". Los Angeles-based emcee Khalil the Antahlyzah stays true to his roots and brings forth an ancestral vibration while representing the forefathers with that Golden Age sound on his 11th album The Ceremonial Gifted. Thanks to his metaphysical philosophizing, Antahlyzah's music is reminiscent of that of Killah Priest, The Ceremonial Gifted has echoes of acts like Wu-Tang Clan and X-Clan too, with clear 90s Hip Hop vibes in its sound all the way through. This album may be a slow-burner that requires multiple listens to really be able to appreciate it but The Ceremonial Gifted deserves the attention – listeners who like their Hip Hop conscious, intelligent, and positive will find a lot to unpack and enjoy here.
Release date: January 15, 2021. 
Meph Luciano - Annihilation
Meph Luciano is a Dallas, Texas-based emcee/producer. Annihilation was produced by Chim Beats, and features vocals by Melp Luciano of course, along with underground emcees like Casablanca, DRE Colombian Raw, Tito The Czar, and a host of others. Annihilation is deliciously dark and atmospheric, a great addition to the rap-noir subgenre.
Release date: January 1, 2021. 
Son Of Tony - Son On A Sunday
Son Of Tony emerges from the Buffalo, New York underground with his debut project Son On A Sunday. With dark, atmospheric beats and hard-hitting street rhymes by Son Of Tony and guest vocals by the likes of Skyzoo, Mickey Factz, Ren Thomas, and Tish Hyman, this is a solid little album that will especially resonate with fans of East Coast underground street rap.
Release date: January 8, 2021. 
The Primeridian & Rashid Hadee - Prime Diesel
Rashid Hadee is an emcee from Chicago. For Prime Diesel, he teamed up with The Primeridian, a trio of emcees – Tree, Simeon, and Race – also hailing from Chicago.
Prime Diesel is a dope album, with close to an hour of smooth, soulful boom-bap instrumentals and fine grown-man lyrics from Rashid Hadee, The Primeridian, and guests like Pugs Atomz, Neak, and Philmore Greene (among others). The album offers nothing especially memorable maybe, but fans of mature 90s-centric Hip Hop will find plenty to enjoy on Prime Diesel.
Release date: January 1, 2021. 
2nd Generation Wu - Hereditary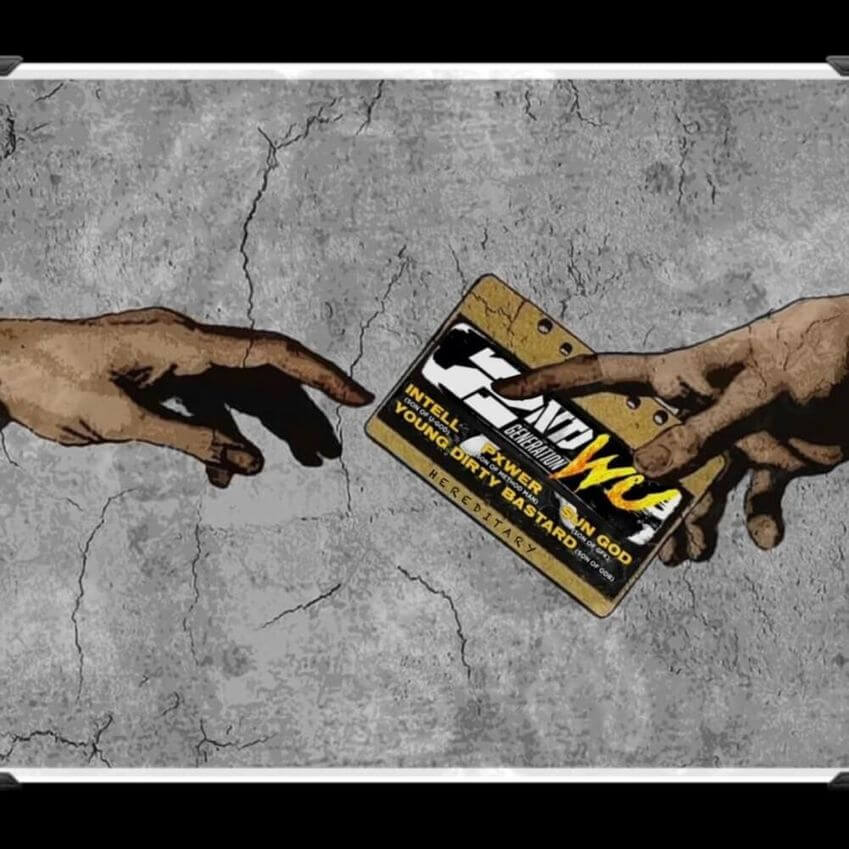 2nd Generation Wu consists of iNTeLL (U-God's son), PXWER (Method Man's son), Sun God (Ghostface Killah's son) & Young Dirty Bastard (Ol' Dirty Bastard's son) – the group name as well as the title of their collective debut album an obvious nod to their familial ties. Hereditary was originally released on the 8th of November 2020 with ten tracks, but the album was soon retracted from streaming services as most songs wouldn't play. The album has been redone since, adding an additional 5 extra songs to the tracklist.
Maybe it's not fair to compare the debut of the sons with the classic debut of their fathers, but since they themselves so obviously elected to emphasize the family connection a comparison is inevitable. Of course, this album never reaches the levels of the epicness their fathers' debut Enter The Wu-Tang (1993) achieved. And realistically it never could, knowing the monumental Enter The Wu-Tang is one of the best and most influential Hip Hop albums of all time.
Hereditary is a solid album though, and a worthy addition to the Wu-legacy. iNTeLL, PXWER, Sun God, and Young Dirty Bastard are talented emcees, and it's fun to hear their fathers' voices and styles in their respective flows. The album was produced by a host of different producers, none of them with RZA's magic touch, unfortunately. The beats are decent for the most part, but most of them miss that Wu-Tang 'punch' early RZA is celebrated for – there are some definite lulls in the tracklist, especially in the middle and towards the end of the album.
That said, there is plenty to enjoy on Hereditary. Because of samples taken from classic Wu-Tang Clan songs, tracks like "Wrong Route", "Pxrokinesis" (featuring Masta Killa's son Pxro), "Blockchain", and the single "7.O.D." have a recognizable Wu-Tang vibe to them. Other standouts include the dope instrumental intro track "Royal Genetics", "Guess Who? ", "From The Isles Of Staten", and "Goldn Meathooks" (with Inspectah Deck). There are a couple of weaker tracks too (like the meandering "Alotta Loot", "Express Power", and "With This"), but overall Hereditary is well-worth checking out, a must for Wu-Tang diehards at least.
Release date: January 14, 2021. 
Rick Fury - Return Of The King
Rick Fury is a veteran emcee from Newcastle, UK. Return Of The King is a solid album, offering over an hour of fun wordplay supported by smooth and soulful boom-bap beats. All aesthetics matter and the awesome cover art for Return Of The King adds to the album's appeal. Favorite track: "How To Deal With A Liar", with guest vocals from Abi Nyxx – a female vocalist to watch.
Release date: January 15, 2021. 
R​.​A​.​P. Ferreira - Bob's Son (R​.​A​.​P. Ferreira In The Garden Level Cafe Of The Scallops Hotel)
R.A.P. Ferreira, the artist formerly known as Milo, starts off the year strong with this solid follow-up to Purple Moonlight Pages, R.A.P. Ferreira's excellent 2020 jazz-hop album. Bob's Son is just as loungy, and even more unorthodox in its song structures – the whole project produced entirely by R.A.P. Ferreira himself under his Scallops Hotel alias.
The title of the album refers to mid-20th century beat poet and surrealist Bob Kaufman, not for no reason of course: the poetic lyrics on Bob's Son can be seen as an homage to Kaufman's work. R.A.P. Ferreira's lyrics are characteristically impenetrable, but they are delivered with his usual confidence and charm – so even if it's not always crystal clear what he's talking about, his vocals are a pleasure to listen to.
Despite the experimental, at times even kind of chaotic character of the album, the mellow vibes of the instrumentals make it an easily digestible listen. Due to the album's brevity – it runs for a mere 35 minutes – it does feel kind of lightweight though. And because it starts off better than it ends, the album is not as strong and well-rounded overall as Purple Moonlight Pages is. That said: Bob's Son is a pretty good album – kind of weird, but charming all the way through.
Release date: January 1, 2021. 
7 Oddz & DJ-M1 - Seven vs One
Chicago crew Seven Oddities (DreamTek, Tony Patagonia, Al Tamper, Billie Dee Boodah, DoomsDay Araiza, Roy Hobes, and MC Clever One) teamed up with DJ M1, who took care of all production and cuts on Seven vs One. Solid 90s-centric underground boom-bap – nothing special, but enjoyable enough nonetheless.
Release date: January 7, 2021. 
Nyck Caution - Anywhere But Here
Pro Era's Nyck Caution delivered a middle-of-the-road Hip Hop album with Anywhere But Here. There was potential for greatness here because Nyck Caution is an excellent lyricist – his flow is great, and his personal, introspective lyrics are listen-worthy from start to finish. The album is brought down some by the instrumentals though, the beats all are a little bit too boring and unmemorable to really do justice to Nyck Caution's rhymes. Also, Nyck Caution's fondness for R&B-ish hooks on a lot of songs here can be an annoyance (unless you share that fondness, of course).
Anywhere But Here is a short album at 36 minutes, but it feels longer – never a good sign. A bunch of features from the likes of Joey Bada$$, Denzel Curry, Kota the Friend, and CJ Fly (among others) add extra flavor to Anywhere But Here, but not enough to make the album especially memorable. Now, all this may sound more negative than the album really deserves – the lyrics on Anywhere But Here are pretty strong, and the instrumentals are easy to get in to. But just because Anywhere But Here can potentially be appreciated by anybody, the album might end up being ignored by everybody.
Release date: January 15, 2021. 
Special Mention: Blu - God Is Good
Typically, we don't include mixtapes or re-releases on our 'best albums of the year' lists, but this one is too good to ignore so it deserves a special mention. God is Good is unmixed and unmastered, but this 'old' Blu project is dope as f anyway. Originally titled TheGodLeeBarnesLP, the project was slated for a 2010 release, intended to be Blu's highly anticipated sophomore solo album – but unfortunately, it ended up being one of the biggest 'what could have beens' of the decade when Blu lost his master files due to a hard drive crash.
So even if it will always be sad this album never got a proper release, we can be thankful for Blu electing to (re)release the raw version of TheGodLeeBarnesLP as God Is Good via his Bandcamp page – it definitely deserves attention even as unpolished as it is. The rough-around-the-edges low-quality sound gives off basement/demo tapes vibes, no doubt it will make old heads nostalgic for how Hip Hop was experienced in the good ol' days.
At 70 minutes God Is Good is a long listen and here and there it meanders, but that's OK – this is pure uncut raw lo-fi underground boom-bap that should please more Hip Hop listeners than just Blu fans.
Release date: January 1, 2021. 
Honorable Mentions
Best EPs Of 2021
Horror City & OG Jazzo – Shut UP
Craig G & BigBob – The Pen Is Mightier
Kota The Friend – Lyrics To Go Vol. 2
Bun B & LE$ – Distant
Agallah Don Bishop – 2021
Infinito 2017 – Overcoming – The Nothing And The Ignorance Of Virtual Reality
Best Instrumental Hip Hip Albums Of 2021
Scott thrILL – thrILLmatic
C-Lance – The Demon Of Hiroshima
Wax Tailor – The Shadow of Their Suns
Marco Polo – MP On The MP: The Beat Tape Vol. 1
Best Hip Hip Compilation Albums Of 2021
Griselda & BSF – Conflicted (Original Motion Picture Soundtrack)
Best Hip Hop Adjacent Albums Of 2021
Best Hip Hop Albums Of 2020
Click here or on the image for the full list.