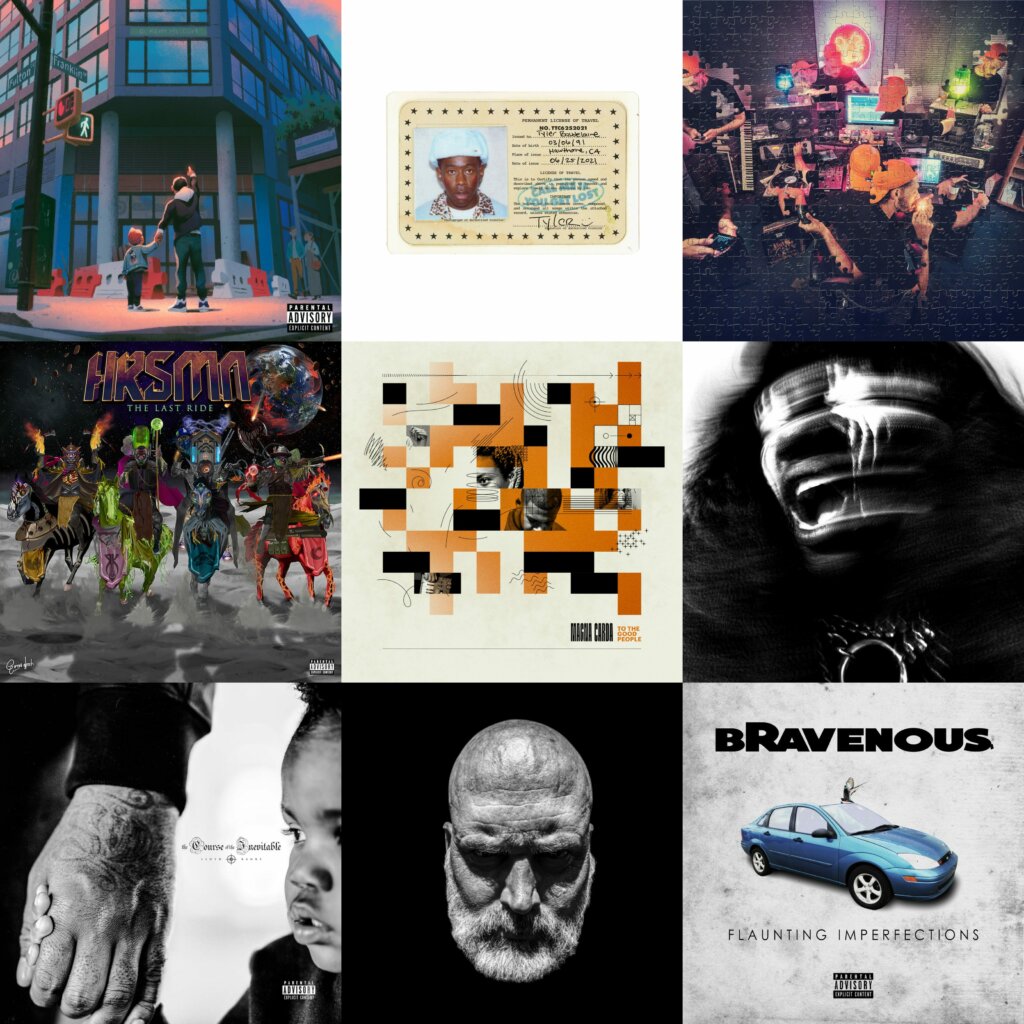 June 2021 Round-Up: The 9 Best Hip Hop Albums Of The Month: For this piece, we selected our 9 favorite Hip Hop albums released this June. Did we miss any albums you feel need to be mentioned? Let us know in the comments!
Also read: The Best Hip Hop Albums Of 2021
1. Skyzoo - All The Brilliant Things
Skyzoo never misses. All The Brilliant Things is another great LP from the Brooklyn emcee. The Salvation (2009), Live From The Tape Deck (with Illmind, 2011), A Dream Deferred (2012), Music For My Friends (2015), The Easy Truth (with Apollo Brown, 2016), In Celebration Of Us (2018), and Retropolitian (with Pete Rock, 2019) all are quality Hip Hop albums – All The Brilliant Things is as good as any of them, maybe even better.
Elegant boom-bap production with a jazzy touch, plus elite lyricism from one of the best emcees in the game today: All The Brilliant Things is about as good as it gets. Guest appearances from Aaria, Ill Al Skratch, BJ The Chicago Kid, Raheem Devaughn, Stlndrms, Karriem Riggins, MonicaBlaire, Hypnotic Brass Ensemble, Xiolynn, and Blakk Soul help round out what is one the finest Hip Hop albums of the year.
Release date: June 11, 2021.
2. Tyler, The Creator - CALL ME IF YOU GET LOST
Flower Boy (2017) is our favorite Tyler album. His output prior to Flower Boy was hit-and-miss, and IGOR (2019) was overhyped and overrated in our opinion. Tyler is a mainstream media darling with a lot of stans who will love everything he does no matter what, so not blindly praising him is usually means catching a lot of flack. No doubt there's a host of fans and media types who will declare this album their AOTY (at least until a new Kendrick album drops), but is CALL ME IF YOU GET LOST really any good?
Well, yes it is. CALL ME IF YOU GET LOST is on par with Flower Boy, and it is way better than the edgy-for-edginess-sake IGOR is. CALL ME IF YOU GET LOST feels like Tyler put all of his previous albums in a blender, and kept the best aspects to fuse them into this project. He took some of the abrasive Hip Hop sounds from his older albums like Goblin and Wolf and combined them with the neo-soul synth-funk sounds of Flower Boy and IGOR to great effect.
This definitely isn't the most conceptual or innovative album Tyler has ever released, but that doesn't matter. The production on this album is immaculate, impressively done by Tyler alone (except for "JUGGERNAUT", which was co-produced with Pharrell). Sure, overall production on CALL ME IF YOU GET LOST is less 'grandiose' and more understated than it was on his last few projects, but the album is better for it. There's lots of variety, we get a couple of Hip Hop bangers alternated with smooth neo-soul/R&B flavored songs – which could have resulted in a messy presentation, but Tyler makes it work here.
Also, Tyler is rapping again (his so-so singing is something that brought down IGOR), which is a plus of course. Tyler is still maturing in his songwriting, and even if this album lacks a cohesive narrative structure, Tyler's observations, introspective thoughts, and storytelling (especially on the epic "WILSHIRE") are some of the best he ever penned – as evidenced by cuts like "CORSO", "WUSYANAME", "HOT WIND BLOWS", "RUNITUP", "MANIFESTO", "MASSA", and the aforementioned "JUGGERNAUT" and "WILSHIRE", which all are top-tier Tyler tracks. And then there are the features, that more often than not, reinforce the tracks rather than take away from them – even the likes of Lil Uzi Vert, Lil Wayne, Ty Dolla $ign & 42 Dugg, and YoungBoy NBA manage not to irritate but to actually add value.
Not everything's perfect though. At times the album meanders when R&B vibes take to the forefront, and it could have done without some of the skits. And who remembers DJ Drama, who made a career of ruining mixtapes with his 'energetic' ad-libbing? Well, unfortunately, he is doing his annoying screaming/talking routines on this record a couple of times too often too – every single track here with DJ Drama would have been significantly better without him. You can use his antics on an intro or an outro, but that should be it. These are minor complaints though – overall CALL ME IF YOU GET LOST is a great album, one that can rival Flower Boy for the title of Tyler's best album yet.
Release date: June 25, 2021.
3. Evidence - Unlearning, Vol. 1
Evidence is an emcee/producer from Los Angeles, known for being a member of Dilated Peoples and from being one-half of Step Brothers with The Alchemist. He has also built a strong solo catalog, with The Weatherman LP (2007), Cats & Dogs (2011), and Weather or Not (2018) – all three albums rank high on our best-of-lists for the years they were released in.
Unlearning, Vol. 1 is Evidence's fourth solo album, like his last two albums released on the renowned Minneapolis powerhouse Rhymesayers Entertainment. The album features excellent production from Evidence himself and from The Alchemist, Nottz, Sebb Bash, Animoss, Mr. Green, V Don, Khrysis, Daringer, and EARDRUM (QThree). It also features guest vocals from Boldy James, Murkage Dave, Conway the Machine, Navy Blue, and Fly Anakin.
Unlearning, Vol. 1 is just as good as his other solo releases, but different too – the album basically is a reinvention of Evidence after Weather or Not ended his Weatherman trilogy. Unlearning, Vol. 1 is more subtle musically, with buttery toned-down boom-bap beats to give more room for Ev's authentic and relatable rhymes. "Better You", "Pardon Me", "Moving On Up", and "Taylor Made Suit" are stand-outs, but there are no weaknesses – overall this is another thoroughly consistent project from Mr. Slow Flow.
Release date: June 25, 2021.
4. HRSMN (Canibus, Kurupt, Killah Priest & Ras Kass) - The Last Ride
20 years ago, the four HRSMN (Ras Kass, Kurupt, Killah Priest & Canibus) were all at the height of their major label careers when their intended debut album, The Horsemen Project, was leaked online and massively bootlegged.  The leak consisted of nine unmixed and unmastered songs that would go on to sell over 100K units; and not a dime in revenue for the group. There have been intermittent starts and stops along the journey for HRSMN, with a few singles and various collaborative appearances, and a full reunion track on Canibus' Fait Accompli album; which once again began to build momentum with fans that the super-group would reunite and finally release a true official debut album.
As HRSMN, Canibus, Kurupt, Killah Priest, and Ras Kass have finally reunited to bring the world The Last Ride (a.k.a. The Debut Final Album), which features guest appearances and production from Planet Asia, Hus Kingpin, Chino XL, Wais P, RBX, Phil da Agony, El Gant, Tragedy Khadafi, Bronze Nazareth, and Anno Domini. The Last Ride displays the Four Horsemen of the Apocalypse in a truly biblical fashion. Kurupt (Famine), Ras Kass (Pestilence), Canibus (War), and Killah Priest (Death), all coming together to bring light to the ills of the world; and reclaiming their rightful throne as one of the most dominant lyrical forces Hip Hop has ever witnessed.
Canibus, Kurupt, Killah Priest, and Ras Kass have always been four of HHGA's favorite emcees, so we were pre-inclined to love this album. The only apprehension we had was about the quality of the production – Kurupt, Ras Kass, and especially Canibus have proven in the past not to always have the best ear for beats. Fortunately, the instrumentals on The Last Ride do the job. Most of these beats are not super memorable maybe, but they do not bring the album down at all – and this project is all about BARS anyway. All four HRSMN are elite lyricists – they bring their A-game to The Last Ride, and they play well off each other. Close to an hour of music, and only one or two little missteps (the so-so ballad-like "Love N War" most prominently) – but there's plenty of bangers to offset any weaknesses:  "Centaurs", "This Sh Right Here", "Morticians", "Believer", "Apocalips Now", "Burger King", "Last Ride", and the immediate stand-out "Impossible" are all dope as f. The Last Ride is one of our favorite Hip Hop albums of the year.
Release date: June 18, 2021.
5. Magna Carda - To The Good People
Magna Carda is a duo from Austin Texas, consisting of vocalist Megz Kelli and producer Dougie Do. They are responsible for a number of strong projects in the past decade, and with To The Good People, they continue their streak of quality – this arguably is their best album yet. This album is a tasteful and stylish affair – a near-flawless combination of pure musicianship from Dougie Do and strong vocal performances from Megz Kelli. Her understated conversational-style flow and her thoughtful lyrics are a joy to listen to, and the soulful instrumentals crafted by Dougie Do are perfect for her voice. Guest spots from Cara Bishop, Ava Raiin, Demetruest, IAN, and Juju Bae add extra flavor to help round out what is one of the best albums you will hear this year.
Release date: June 15, 2021.
6. Backxwash - I LIE HERE BURIED WITH MY RINGS AND MY DRESSES
Zambian Canadian trans artist Backxwash's bold and forward-thinking I LIE HERE BURIED WITH MY RINGS AND MY DRESSES serves harrowing raps over industrial horrorcore beats. This powerful and energetic audio-visual landscape of pain and despair features Backxwash as an empress of chaos on a path of self-destruction. The deeply atmospheric and immersive I LIE HERE is Backxwash's best project yet – taking nothing away from her previous releases which are strong too, especially the short but hard-hitting God Has Nothing to Do With This Leave Him Out Of It (2020). I LIE HERE expands directly upon the foundation she built with that project.
The sinister and dark style on I LIE HERE serves to make Backxwash sound even more focused than she did on God Has Nothing To Do With This Leave Him Out Of It, with an even greater sense of catharsis present. Touching on topics such as gender identity, mental illness, racism, and substance abuse Backxwash's visceral vocals hit like hammers – the unapologetic lyrical content backed by ominous beats that assault the listener's eardrums relentlessly. Not for everybody, but those up for an abrasive listen with a strong LGBTQ+ message will find this to be an impressive album. Fans of acts like Dälek and clipping should definitely pick up I LIE HERE BURIED WITH MY RINGS AND MY DRESSES.
Release date: June 20, 2021.
7. Lloyd Banks - The Course Of The Inevitable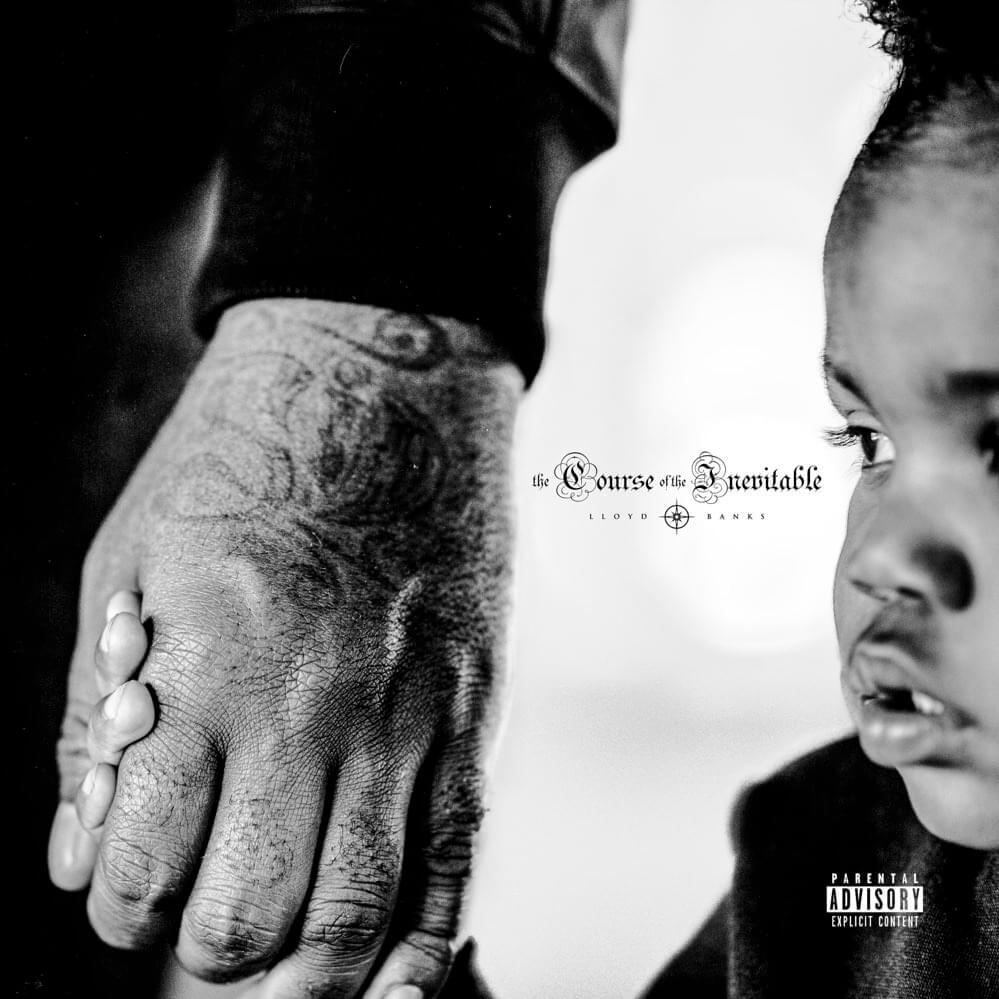 Well, what do you know? It's 2021, and G-Unit's prodigal son Lloyd Banks made his long-awaited return with The Course Of The Inevitable – his fourth studio album and his best album to date. The album is Lloyd Banks' first project since 2016's Halloween Havoc 3: Four Days of Fury mixtape and his first official studio album since H.F.M. 2 (The Hunger for More 2) dropped in 2010. The Course Of The Inevitable is on par with some of his best mixtapes, and better than the three studio albums he has released prior to this one.
The Course of the Inevitable boasts appearances from well-respected artists like Freddie Gibbs, Roc Marciano, Benny the Butcher, Styles P, and Ransom (among others) – their features spread across 18 tracks. Props to Lloyd Banks for not catering to the needs of the short attention span generation and going for a 68-minute presentation, with the 18 full songs averaging 4 minutes in length. The dark and moody boom-bap beats do the job, and lyrically Lloyd Banks is on the top of his game. The Course Of The Inevitable is one the biggest – positive – surprises of the year.
Release date: June 4, 2021.
8. Sankofa - BLKTCHP
"Boom-bap with wicked lyrics making the tunes slap." From storytelling to tributes to the forefathers who laid it down, to straight-up bangers, to life measured, Sankofa got you covered.
Sankofa is an emcee from Fort Wayne, Indiana, and BLKCHP is his second dope release of the year, following The Most Delicious Gold, which dropped in March. Sankofa is nothing if not consistent – BLKCHP is another presentation of soulful boom-bap, with great sampling choices and mature, relatable lyrics. Go check out BLKCHP – you will not regret it.
Release date: June 7, 2021.
9. bRavenous - Flaunting Imperfections
Flaunting Imperfections, the fifth studio project from Halifax native and Calgary-based boom-bap emcee bRavenous is his first full-length since Between The Lines. – one of our favorite traditional boom-bap albums released in 2020. Flaunting Imperfections is just as good, or even better.
bRavenous kills it with his cypher-developed rhyme style, and a bunch of guest emcees – Brand Nubian's Sadat X most prominent among them – add extra flavor. Production from Uncle Fester, DK, Makemdef, Nocknock, Loophole, and Eng is dope too – nothing but delicious throwback boom-bap beats laced with well-placed cuts & scratches. If traditional-sounding boom-bap is your thing, Flaunting Imperfections is your album.
Release date: June 25, 2021. 
Honorable Mentions
Bolt Seminar – Bolt Seminar
KOOL TAJ THE GR8 – From The Park Bench Era
RJ Payne – Leatherface 3
Bobby Sessions – Manifest
Rome Streetz & ANKHLEJOHN – Genesis 1:27
Your Old Droog – Time
The Good People – The Greater Good
Tha God Fahim – Dump Gawd: Stock Lord
Irie-1 La Tumba Collective
Whichcraft – Face The Mask
MIKE – Disco!
Azariah – Phase II: The Return Of Sloppy Smooth
Larry June – Orange Print
Planet Asia – Holy Water
Kool Keith – Keith's Salon
Kool Keith – Total Orgasm 6
Peter Rosenberg – Real Late
Skanks The Rap Martyr – M.O.S.T. (Minister Of Severe Torture)