So by 2017, it's become safe to conclude Hip Hop is experiencing a new Golden Age. Like the preceding years, 2017 saw an incredible breadth and depth in Hip Hop releases. We've selected 40 of our favorite Hip Hop albums of 2017 for this list, and there are a lot of albums that ended up in the Honorable Mentions that could have easily made the list too. As always: no EP's, no mixtapes, no instrumental albums, and no compilations were included. Check out the list, and don't forget to dip in the HM's as well – no doubt you will discover some great Hip Hop you missed out on up to now.
1. Rapsody - Laila's Wisdom
On Laila's Wisdom, Rapsody tackles a wide array of topics personal to her, over lush jazzy soundscapes mostly produced by Jamla-chief 9th wonder. Rapsody is a tier-A emcee with diverse delivery skills and she's lyrically potent enough to carry an hour-long album with ease, even if there are some great guest appearances by heavyweights such as Black Thought, Kendrick Lamar, Anderson .Paak, and Busta Rhymes to spice things up some. The album does lose some steam toward the end of the playlist, but no matter: Laila's Wisdom is an essential modern Hip Hop album that deserves to be mentioned in the same breath as Kendrick Lamar's good Kid M.A.A.D. City and To Pimp A Butterfly.
Rating: 9.5/10
2. billy woods - Known Unknowns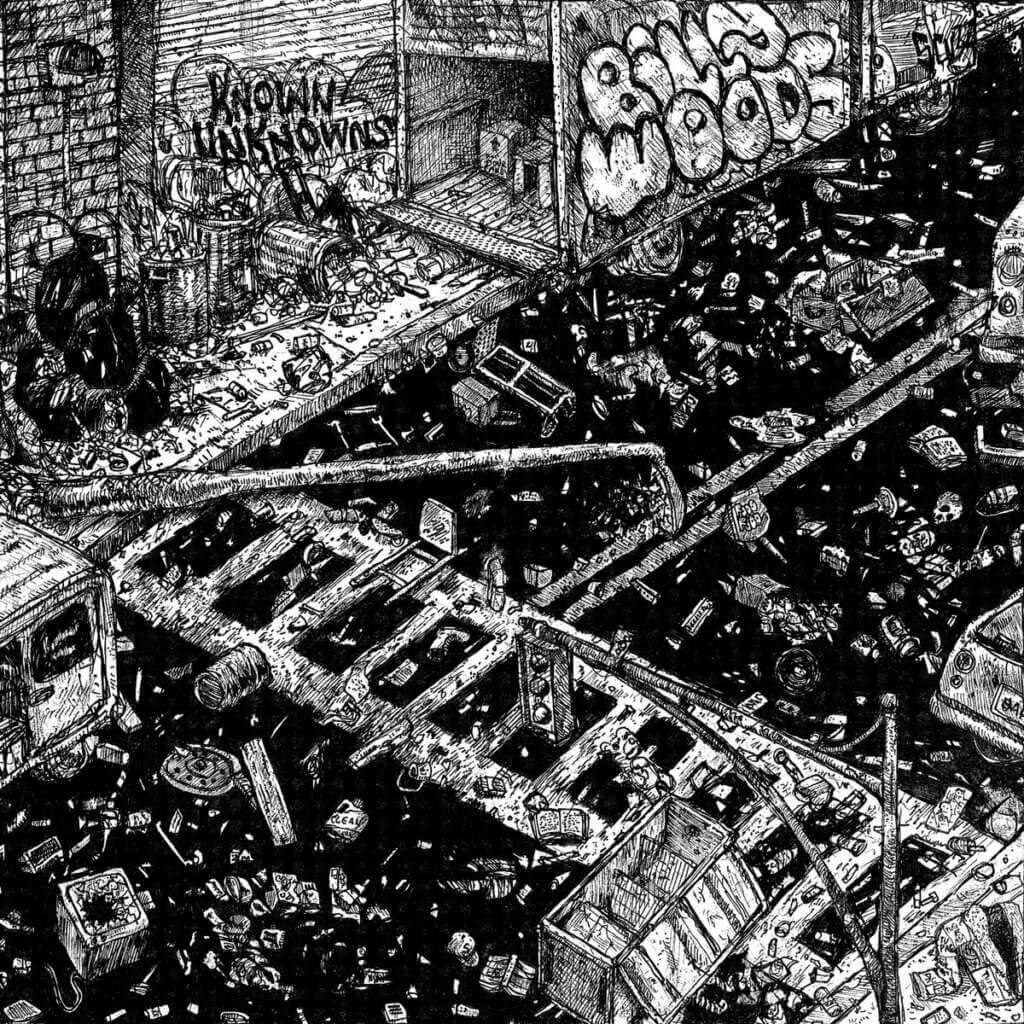 Known Unknowns is one of HHGA's favorite albums of 2017 and one of the best Hip Hop albums of the decade, but it was totally overlooked by most Hip Hop fans and noticed only by those heads who dig deep or those who have always been following billy woods.
billy woods' debut album Camouflage (2003) and the albums that followed in the 2000s were all fine enough, but it was the excellent History Will Absolve Me (2012) that started a new level of excellence in woods' career. Dour Candy (2013), Today, I Wrote Nothing (2015), Hiding Places (2019) (with Kenny Segal) and Terror Management (2019) are all top quality Hip Hop albums. Together with the projects he dropped as Armand Hammer (a collaboration with rapper/producer ELUCID) – Race Music (2013), Rome (2017) and Paraffin (2018) – and Known Unknows, that's nine straight very dope projects in the 2010s that should appeal to all Hip Hop fans who had enough of generic empty-headed mainstream rap.
Substance over fluff, creativity over genericness, intelligence over materialism – that's what characterizes billy woods, and knowing that dumb sh** dominates the mainstream means little chance on mainstream exposure for woods' music. Admittedly woods' music may be an acquired taste and not be easy to get into for everybody, but it's clear that he likes to make his music to have more meaning and substance than that of your typical Hip Hop artist. Known Unknowns is one of billy woods' most easy-to-get-into albums, mainly because of Blockhead's consistently dope and reasonably accessible production (with also a couple of beats from his longtime collaborator Aesop Rock).
Don't sleep on billy woods.
Rating: 9/10
3. Big K.R.I.T. - 4eva Is A Mighty Long Time
Creating a double album that offers consistent quality throughout is a hard thing to pull off – just look at 2Pac's All Eyez On Me or Biggie's Life After Death, two famous double albums that are far from flawless because of their bloated tracklists. With 4Eva Is A Mighty Long Time Big K.R.I.T. succeeded where a lot of others failed. This is without a doubt one of the best double albums in Hip Hop history. The key to its success is the smart decision to divide the album into two distinctly different parts. The first side is called "Big K.R.I.T." and the second "Justin Scott", and each side sounds different. The "Big K.R.I.T." side offers trunk-rattling bangers in the best Southern tradition, the "Justin Scott" side is more introspective and personal with more understated instrumentals to fit the lyrical content.
Even if KRIT's two previous albums – Live from the Underground (2012) and Cadillactica (2014) – were more than fine, they never quite reached the level of greatness earlier mixtapes like K.R.I.T. Wuz Here (2010) and Return Of 4 Eva (2011) did. With 4Eva Is A Mighty Long Time KRIT created his best project date, proving he could still replicate the creativity and quality of his mixtape days. With this album, Big K.R.I.T. cemented his status as one of the most important artists of the 2010s.
Rating: 9/10
4. CunninLynguists - Rose Azura Njano
Arguably not as ambitious and memorable as their earlier conceptual efforts A Piece of Strange (2006) and Oneirology (2011), Rose Azura Njano is an excellent album in its right – Hip Hop for grown folk. The album tells the story of a character named Rose, who is afflicted by chromesthesia and personifies "Black music in America and its history in pain, loss, hardships, and socio-political movements." Kno is in a league of his own as far as production goes, and the lyrics from Deacon The Villian and Natti are on point as usual. CunninLynguists have one of the strongest bodies of work in Hip Hop, present and past, and Rose Azura Njano is an important piece of their discography.
Rating: 9/10
5. Brother Ali - All The Beauty In This Whole Life
Brother Ali had some of the best Hip Hop albums in the 2000s with Us (2009), The Undisputed Truth (2007) and especially his masterpiece Shadows On the Sun (2003). After Mourning In America And Dreaming In Color (2012), he dropped another near-flawless album in 2017 with All The Beauty In This Whole Life.
All The Beauty In This Whole Life signified Brother Ali's return to recording after a five-year hiatus. At this point in his career, it was clear what to expect from Brother Ali – lyrical precision, honest emotion, social commentaries, and intelligent observations. Where his last album Mourning In America And Dreaming In Color was filled with socio-political insights reflecting the state of American affairs mixed with Ali's personal stories, All The Beauty In This Whole Life is all about inner transformation. Ant provided Ali with perfect lush boom-bap instrumentals to accompany his soulful collection of personal stories about the ups and downs of life, highlights include "Own Light," "Can't Take That Away",  "The Bitten Apple", "Before They Called You White", "Out Of Here", "Dear Black Son", and "Pray For Me". All The Beauty In This Whole Life is another amazing album by Brother Ali – powerful and meaningful grown-up music, a breath of fresh air in a rap year filled with face-tatted mumblers dominating the mainstream.
Rating: 9/10
6. Open Mike Eagle - Brick Body Kids Still Daydream
On the heels of 2016's strong collaboration album with Paul White Hella Personal Film Festival, Open Mike Eagle continues his streak of consistency with Brick Body Kids Still Daydream. The ambient and psychedelic production on Brick Body Kids Still Daydream is more subdued than on past OME efforts, which complements his low-key delivery. The smooth instrumentals and Open Mike Eagle's vocals sound deceptively loose and laid-back, but the lyrical content is clever, thoughtful, relevant, and emotionally potent. Brick Body Kids Still Daydream almost rivals Dark Comedy (2014) for the title of Open Mike Eagle's best album to date.
Rating: 8.5/10
7. Armand Hammer - Rome
billy woods is one of the MVPs of the 2010s, and certainly of 2017. His solo album Known Unknowns is a top 3 album of 2017, and Rome comes close. Rome is the second album by Armand Hammer, billy woods' collaboration with NYC producer/emcee ELUCID. If you're familiar with the respective artist's other work, you know what to expect: raw, cryptic lyrics and dark, grimy, off-kilter beats.
Despite work on the boards from a host of different producers – Messiah Musik, August Fanon, Fresh Kills, High Priest, Kenny Segal, and JPEGMafia – Rome sounds entirely cohesive, also thanks to the as per usual intriguing lyrical performances of ELUCID and billy woods. Cerebal, stream-of-consciousness rhymes and stinging observations ("skimmed through your music, found no reason not to approve it/it was all relatively toothless, you're just a guy") – this is one of those albums with endless replay value, on which you can discover something new with each spin. Rome may be a dark and challenging listen, but it's a hypnotically beautiful experience if you allow yourself to be grabbed by it.
Rating: 8.5/10
8. Quelle Chris - Being You Is Great… I Wish I Could Be You More Often (2017)
Being You Is Great! I Wish I Could Be You More Often is another excellent album by prolific Detroit artist Quelle Chris, with guest input by regular collaborators like Jean Grae (Quelle Chris' wife), Homeboy Sandman, Denmark Vessey, Chris Keys, and others like Elzhi and Roc Marciano, among others.
Like all of Quelle Chris' work Being You Is Great! I Wish I Could Be You More Often is neither an easy or straightforward listen. Sure, musically it's more accessible than some of his other works (but still plenty left-field), but lyrically it's typical Quelle Chris: challenging, often dense, but always compelling. Quelle Chris' introspective musings on existentialism are both poignant and hilarious, and an hour of Being You Is Great! I Wish I Could Be You More Often reveals much of who Quelle Chris is as a human being.
As for the near-flawless production, most of the beats were done by Quelle Chris himself, with some assistance from The Alchemist, MNDSGN, and Iman Omari. All in all, Being You Is Great! I Wish I Could Be You More Often is an awesome project.
Rating; 8.5/10
9. O.C. - Same Moon Same Sun
Ever since he released his classic but underappreciated debut album Word… Life in 1994, O.C. has put together a very strong discography – with some of his best efforts released in the 2010s. His collabo with Apollo Brown – Trophies (2012) – was one of the best albums of that year and in both 2017 and 2018, O.C. had very dope projects as well. Same Moon Same Sun, which was billed as the "first phase" of a three-album series and is one of the best Hip Hop albums of 2017. Clever, next-level lyricism and dope beats all the way through – Same Moon Same Sun is on par with O.C.'s early classics Word… Life and Jewelz (1997). High praise, but true enough nevertheless – Same Moon Same Sun is that good. Why did everybody sleep on this near-flawless album?
Rating: 8.5/10
10. Oddisee - The Iceberg
Washington DC-based producer/emcee Oddisee had two possible future classics this decade with Tangible Dream (2013) and The Good Fight (2015). The Iceberg is even more eclectic in its musicality than the two albums mentioned – with live-band instrumentals and non-Hip Hop influences, which makes this album more of an acquired taste than previous Oddisee efforts are. Thought-provoking lyrics about contemporary socio-political issues, and well-rounded musical backdrops – The Iceberg offers 45 minutes of grown man Hip Hop of the best kind, that sadly went well over the heads of most of 2017's rap music consumers.
Rating: 8/10
11. Sean Price - Imperius Rex
Sean Price passed away much too young at 43 in 2015, this is his first posthumous album (after the excellent Songs In The Key Of Price mixtape). Where posthumous releases often are incohesive disappointments or even nothing more than blatant cash-grabs, Imperious Rex is a clear exception. From the opening with his daughter to the hook on "Dead Or Alive" expertly done by his wife Bernadette, this clearly is a labor of love honoring Sean Price and his skills, which is hard to ignore. Sean Price always dropped cohesive albums and Bernadette together with the people from Duck Down Music did a great job of putting this project together – it feels it is done in the same spirit Sean Price himself would have done it if he was still alive. If this is the last full-length with Sean Price songs the world will ever see, we can all be happy this is a document worthy of the P's memory and legacy.
Rating: 8.5/10
12. Jay-Z - 4:44
4:44 was a pleasant surprise. By 2017 Jay-Z the Hip Hop artist had long since taken a back-seat to Jay-Z the billionaire businessman celebrity. In Jay-Z's catalog, 4:44 easily is one of the best albums – coming in only after the classics The Blueprint (2001) and Reasonable Doubt (1996), and pretty much on par with The Black Album (2003) and American Gangster (2007). After the duds Kingdome Come (2006), The Blueprint 3 (2009), and Magna Carta…Holy Grail (2013), it was good to see Jay-Z still had it in him to drop an album worthy of his name.
4:44 possibly is Jay-Z's most introspective, vulnerable, and honest project to date – something like a combination of apology and a love letter, clearly meant to serve as the flip side to Beyoncé's Lemonade. This is grown folk Hip Hop done well.
Rating: 8.5/10
13. Jonwayne - Rap Album Two
La Habra, CA rapper/producer Jonwayne released one of 2017's hidden gems with Rap Album Two – his fifth studio album, following a short hiatus from the music industry to battle alcohol addiction. With Rap Album Two Jonwayne drops a poignant mix of thoughtful deeply personal rhymes – happy and sad – over gentle-sounding lo-fi beats crafted by himself. Rap Album Two is a super smooth listen, a future cult classic without a doubt.
Rating: 8.5/10
14. Kendrick Lamar - DAMN.
For HHGA, this album is a definite downturn for Kendrick Lamar after two straight classics, we feel DAMN. is generally overrated. Thing is, Kendrick Lamar is like the 2010s version of 2Pac and Biggie as in that it seems forbidden to criticize him or not unreservedly like anything he does or releases – not 100% praising Kendrick will activate a stan-army to set any doubter straight (similar to what happens if you dare to opinion not everything 2Pac or Biggie have done is of the utmost brilliance). Upon DAMN.'s release, fans and critics alike were immediately screaming 'instant classic', 'masterpiece' and all that – like a Pavlov reaction because it's Kendrick and so it has to be the best ever you know. But DAMN. isn't the best ever, it's just OK.
Where TPAB was a conscious masterpiece focusing on political and social issues over an amalgamation of 70 years of black music history, and GKMC was a brilliant coming-of-age concept album, the common thematical thread DAMN. is less clear. In fact, some songs on here just don't seem to mesh together. Also, Kendrick takes some unfortunate steps on the mumble-trap-singing path (like on "LOVE"). But there are flashes of the customary Kendrick brilliance and some emotionally resonant lyrical nuggets to be found, and the production is outstanding in places ("DUCKWORTH" is all-around excellent, as is the banging "DNA").
Now, all this may sound a tad more negative than it should – it is just meant to serve as a little counterweight to the blind Kenrick praise that seems obligatory these days. Even the Pulitzer people jumped on the 'Kendrick is King' bandwagon, showcasing their Hip Hop ignorance – there are a hundred Hip Hop albums that could or should have won a Pulitzer over this one, obviously they missed the significance of TPAB upon its release and decided to retroactively honor it by awarding Kendrick's follow-up.
Because of its reduced scope and shaky sonic, lyrical, and thematic cohesiveness, DAMN. can not stand side to side to his two previous masterpieces. It's not a bad album at all, but it's not a flawless classic either. Kendrick stans may want to throw a tantrum after reading this opinion, and that's fine – we just think DAMN. is far from Kendricks's best work. DAMN. is a fine album, nothing more, nothing less.
Rating: 8/10
15. Hex One - Words Worth A Thousand Pictures
Hex One's Words Worth A Thousand Pictures is one of the most slept on Hip Hop albums of 2017. While the mainstream was dominated by mumblers and quasi-crooners, a skilled rapper like Hex One gets no shine, which is ridiculous if you think about it. Hex One is an emcee from Queens, NYC (with Columbian origins), half of the renowned underground rap duo Epidemic. Hex One is a true emcee, who possesses extreme technical prowess and lyrical dexterity. Words Worth A Thousand Pictures is a treasure for all those who love the sounds of the Golden Age Hip Hop of the 90s. Sick beats plus sick rhymes with razor-sharp wordplay – 100% pure uncut Hip Hop.
Rating: 8/10
16. P.O.S - Chill, Dummy
P.O.S, from Minneapolis, Minnesota is a founding member of the indie Hip Hop collective Doomtree, and responsible for a whole bunch of dope albums over the years. Not counting the excellent work he has been responsible for as a member of Doomtree (and other collectives he's part of), he has released 5 albums as a solo artist: Ipecac Neat (2004), Audition (2006), Never Better (2009), We Don't Even Live Here (2012), and Chill, Dummy (2017).
Chill, Dummy is P.O.S's first album since 2012 when health problems, eventually necessitating kidney transplantation, caused him to break off his first national tour. P.O.S's newfound health also brought back the beautiful cynical anger that made listening to his first albums so intriguing. On Chill, Dummy P.O.S reveals an element of self-reflection that was less in evidence on most of his earlier albums. Also, P.O.S's love for punk-rock is less evident here than on some of his earlier releases, which can make this effort more accessible to P.O.S noobs than some of his other albums. That's not to say this is a run-of-the-mill sounding album – it is evident Aesop Rock is one of his biggest inspirators. Chill, Dummy is sonically adventurous and ultimately a consistent and cohesive listening experience.
Rating: 8/10
17. Joey Bada$$ - All AmeriKKKan Bada$$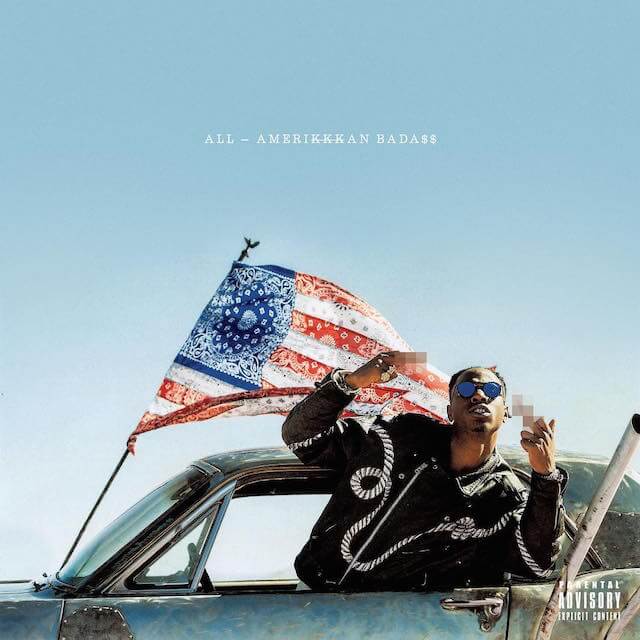 Joey Bada$$'s second studio album All AmeriKKKan Bada$$ is a stylistic departure from the more authentic Hip Hop sounds from his debut album B4.Da.$$ (2015) and especially from his classic mixtapes 1999 (2012), and Summer Knights (2013).  On All AmeriKKKan Bada$$ the Pro Era frontman opts for a more soulful approach, with less traditional boom-bap vibes and more modern-day rap aesthetics evident – he even sings on some of the tracks here. Somehow, it works though – there's enough boom-bap left in the beats, and his evolving vocal styles suit the intent of the album.
All AmeriKKKan Bada$$ is Joey Bada$$ most socially aware and most conscious album to date, addressing ongoing contemporary societal issues like politics, institutional racism, and injustice head-on. The social and political themes are refreshing among today's mumble and auto-tune rap, All AmeriKKKan Bada$$ is an important and necessary album by one of this generation's most interesting artists.
Rating: 8/10
18. Blacastan & Stu Bangas - The Uncanny Adventures Of Watson & Holmes
Blacastan & Stu Bangas' second collaborative album The Uncanny Adventures Of Watson & Holmes is another excellent but sadly slept-on album. Along with Hex One's Words Worth A Thousand Pictures which dropped in the same year, this is one of 2017's hidden treasures. Blacastan (from Hartford, CT and known as part of Army Of The Pharaohs & Demigodz) is a dope emcee with a 90s style flow, Stu Bangas (from Boston, MA) is an underrated producer crafting hard-hitting neo-boom-bap Hip Hop. With features from the likes of Apathy, Ill Bill, Esoteric, and Tragedy Khadaffi you know what to expect: hard rhymes over hard beats, complemented with dope sampling, and some good old fashioned turntable work. Don't sleep on The Uncanny Adventures Of Watson & Holmes.
Rating: 8/10
19. Dope KNife - NineteenEightyFour
NineteenEightyFour is Savannah, Georgia emcee Dope KNife's 4th full-length release, and his Strange Famous/SGDigi debut. Dope KNife has a great voice and flow, the lyrics and production are both excellent on this album. Strange Music's head-honcho Sage Francis drops a dope verse on "Cult Personality", one of the standout tracks on NineteenEightyFour. Other highlights include the 7-minute posse cut "#Squadgohard",  the banging album opener "Nothing To Lose", "Tombstone", "Memory Hole", and "Room 101" – but the album's strength is its consistency – there are no throw-away tracks on NineteenEightyFour.
Rating: 8/10
20. Apathy & O.C. - Perestroika
Perestroika is a collaborative album by Apathy & O.C. – two of the most consistent emcees in the game. D.I.T.C. member O.C. is best known for the two classics he dropped in the 1990s: Word… Life (1994) and Jewelz (1997), but people tend to overlook he's been on fire in the 2010s as well. His two solo full-length's – Same Moon, Same Sun (2017) and A New Dawn (2018) – are both excellent, as is his collaboration with Apollo Brown: the superlative Trophies (2015). Apathy has been dropping dope project after dope project for well over 10 years, as a solo artist (Eastern Philosophy (2006), Wanna Snuggle? (2009), Honkey Kong (2011), Connecticut Casual (2014), Handshakes With Snakes (2016) and The Widow's Son (2018)), and for his work with acts like Demigodz, Celph Titled, Jedi Mind Tricks, Army of the Pharaohs, and others.
From Apathy's Bandcamp page:
"Perestroika is inspired by the cold war being waged on the rap industry. Anti-mainstream propaganda has become a bit of a cliche, so instead of speaking out against the unflattering direction that today's mainstream Hip Hop music has gone in, Apathy and O.C. have taken action by building a pillar in the ruins of what's left of true school Hip Hop. Picture the first time you heard Wu-Tang Clan's debut album "Enter The Wu-Tang: 36 Chambers" and were immediately swept up in to a dark Kung Fu movie, with the sound effects and painted visuals – "Perestroika" is intended to have the same effect… except it transports you to Cold War, Soviet Russia. From the Kremlin to small villages affected by the economically devastating times of Perestroika, this album is a salute to the underdog and all those who are able to survive the coldest winters. Not entirely conceptual, however, the album allows both wordsmiths to flex their greatest strengths over solid head-nodding East Coast-style production. Showing up for the cause, guests Celph Titled, Slaine, Marvalyss, Kappa Gamma and Jus Cuz add to the palate alongside production that is mostly handled by Apathy, with MoSS and Illinformed (The Four Owls) contributing tracks as well. In a time of worldly political conflict and scandals, this project plays as the perfect soundtrack to the madness."
That sums it up adequately – Perestroika is an excellent album and a must-have for all O.C. and Apathy fans (of course), but also for those who appreciate true lyricism and boom-bap Hip Hop in general.
Rating: 8/10
21. Roc Marciano - Rosebudd's Revenge
Strong street-hop by one of the most consistent artists of the decade. Rosebudd's Revenge is Roc Marciano's fourth studio album, produced by The Arch Druids, Mushroom Jesus, Modus Op, Knxwledge Animoss, and Roc Marciano himself, and it features guest appearances by his frequent collaborators Ka and Knowledge the Pirate. Rosebudd's Revenge is not his best – those are Marcberg (2010) and Reloaded (2012) – but it's a more than a solid entry in the catalog of Roc Marci.
Rating: 7.5/10
22. Anti-Lilly & Phoniks - It's Nice Outside
Smooth, jazzy boom-bap Hip Hop of the highest order from Houston emcee Anti-Lilly and Portland, Maine producer Phoniks. A typical product from the unsung Don't Sleep Records label.
Rating: 8/10
23. MC Eiht - Which Way Iz West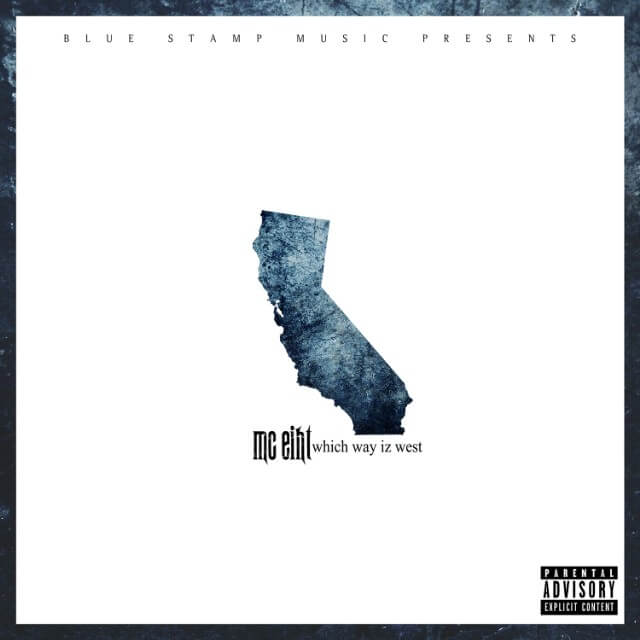 Which Way Iz West is the thirteenth solo album by gangsta rap legend MC Eiht. The album features guest appearances from WC, B-Real, The Lady of Rage, Bumpy Knuckles, Kurupt, Xzibit, Outlawz, and his group Compton's Most Wanted, among others. The album is executively produced by DJ Premier and features production from Austrian producer Brenk Sinatra. The out-of-the-box combination of MC Eiht and DJ Premier works out surprisingly well, this is easily one of the best – if not THE best – albums in MC Eiht's whole solo catalog. The all-star status of most of the featured artists helps to elevate the quality level of the album – overall this is an hour of mostly great music, with just a few filler tracks towards the end of the album to bring the rating down a little bit.
Rating: 7.5/10
24. Milo - Who Told You To Think​?​?​!​!​?​!​?​!​?​!
Milwaukee rapper and producer Milo draws comparisons to left-field emcees Quelle Chris, Open Mike Eagle, and Busdriver. Who Told You To Think​?​?​!​!​?​!​?​!​?​! is eerie and quirky, and a great follow-up to A Toothpaste Suburb (2014) and So The Flies Don't Come (2015). The allure in Milo's music is his poetry and wordplay, if you can get into it is stream-of-consciousness ramblings. Some listeners might praise Milo's poetic brilliance, while others will dismiss his lyrics as pretentious nonsense. There's no need even to dissect every bar – wherever you stand on his lyrical content, Who Told You To Think​?​?​!​!​?​!​?​!​?​! can be enjoyed simply as an atmospheric listen, with pleasing, laid-back instrumentals and a rapper with an interesting monotone spoken-word-like flow to go with them.
Rating: 8/10
25. Your Old Droog - Packs
American-Ukrainian Brooklyn-resident Your Old Droog's sophomore album is dope as f. Much has been said about Your Old Droog sounding like Nas – but even if his voice, vocal inflection, and rhyme patterns have strong similarities to the Queensbridge legend, it takes nothing away from Your Old Droog's authenticness. Besides, sounding somewhat like Nas is not a bad thing of course – and a case could be made Droog has a better ear for beats. On Packs Your Old Droog showcases great lyrical, great storytelling, and great charisma – along with the fire production it makes Packs an excellent presentation of classic sounding boom-bap, with a unique twist.
Rating: 8/10
26. DJ Format & Abdominal – Still Hungry
There are more albums on this list that capture the celebrated Golden Age Hip Hop sound, but this one is the epitome of Hip Hop classicism. Brighton (UK) DJ Format and Toronto (Canada) emcee Abdominal first teamed up back in 2001, for the single "Ill Culinary Behaviour." Still Hungry is a full album of that late 80s/early 90s boom-bap goodness.
Rating: 7.5/10
27. J.I.D - The Never Story
Atlanta's J.I.D is a fresh voice to Hip Hop, arguably the most interesting artist and biggest talent to come out of J. Cole's Dreamville camp. With his flow and musical choices, J.I.D has all the characteristics to appeal to fans of mainstream rap but unlike a lot of mainstream rappers he doesn't sound generic and he actually has bars worth listening to – so fans of more traditional Hip Hop should be able to get into The Never Story too despite its pop-appeal. This is a great debut album, one that met – or even exceeded – the high expectations preceding it.
Rating: 7.5/10
28. Recognize Ali - Allah's Favorite
After successful releases Too Visible To See (LP) & Diary Of A Wild Child (EP), Ghana's heavyweight emcee Recognize Ali dropped the highly anticipated full-length Allah's Favorite. This one has DJ TMB on all the cuts, with features from Hus Kingpin, King Magnetic, Verbal Kent, Ruste Juxx, C-Rayz Walz, Reef The Lost Cauze, and others. Bars, beats, and turntablism – this is one for the Hip Hop purists.
Rating: 7.5/10
29. Dephlow - Most Dephinite
Dephlow is an artist from Hampton, Virginia, releasing music through Don't Sleep Records and regularly collaborating with fellow Don't Sleepers Phoniks, Awon, Tiff The Gift, and Anti-Lilly. The Don't Sleep sound can perhaps be best described as jazzy boom-bap, this album is more boom-bap than jazz though – Most Dephinite is a composition of raw content and thoughtful work, mostly in collaboration with Swiss producer Boom Beats. This is the 4th album from Dephlow and the second solo project since the critically acclaimed 2015 Deph Threats.
Dephlow delivers a bar fest on tracks like "No Rappers Allowed" and "GTFO" for Hip Hop fans that love their punchlines and double entendres. For those craving content, "My Brother's Keeper", "Round One", and "Never Been Better" deliver relatable messages of addiction, struggles in relationships, and the leadership so often missing in young men's lives.
Rating: 7/10
30. lojii & Swarvy - DUE RENT
Lojii is an artist from Philadelphia, Pennsylvania, DUE RENT is a collaboration with producer Swarvy, and stands as his debut full-length. A lo-fi neo-classic, this album has echoes of Madvillainy in its vibe – and like Madvillainy it is an acquired taste. Some may say DUE RENT is boring, others will rave over its brilliance. The monetary desperation we've all felt at some point is the overarching message of this project, and the blend of Lojii's low-key vocals with Swarvy's dusty and soulful lo-fi beats offer a perfect meditative backdrop to let that theme resonate.
Rating: 7.5/10
31. Tyler, The Creator - Flower Boy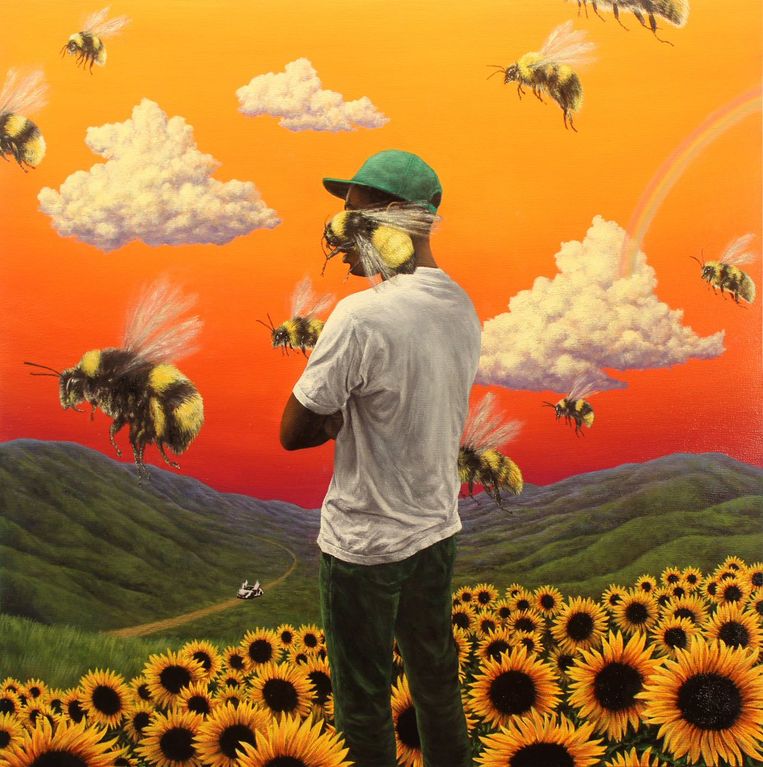 Flower Boy is Tyler's most complete, most cohesive, most consistent, and most accessible album. In typical Tyler fashion, Flower Boy is an amalgamation of musical styles – for the most part successfully executed this time, with a minimum of messiness and not a lot of over/underproduction. Lyrically, Flower Boy is also different from some of Tyler's other works, more introspective and personal this time around. Tyler's opening up on Flower Boy is a culmination of what he was building up to with his previous works. Because of his weirdness/authenticity, Tyler is a media darling and a fan favorite – but his music is an acquired taste, despite his popularity. Flower Boy probably is the album in his catalog that is easiest to get into.
Rating: 7.5/10
32. GQ - E14th
E14th is Bay Area artist GQ's second album on 9th Wonder Jamla label, following Rated Oakland (2014). Over some delightfully smooth production from Jamla in-house team The Soul Council, GQ crafted an incredibly well-rounded album that effortlessly manages to hold attention for an hour.
Rating: 7.5/10
33. M-Dot - egO anD The eneMy
M-Dot's Bandcamp blurb: "Boston award winning emcee, M-Dot paints a lucid world that navigates vivid storyline landscapes & morbid fantasies evoking an undertone that embodies the parallels between pride & fear. The 17 track excursion showcases a genuine tour de force of a conceptually mapped out dream realm trapped in self-reflection. The instrumentation that accompanies M-Dot's syllable acrobatics is laced by a legendary production dream-team. Facilitating board work for the traverse incandescent are Hi-Tek, Marley Marl, Large Professor, Buckwild, Khrysis, Marco Polo, Snowgoons & more. egO anD The eneMy also maintains classic form with minimal guest-verse offerings, nevertheless when it does….it's of paramount means. Method Man & Camp Lo partake in the project's vast imagination almost seamlessly. Rounding out the all-star contributions are DJ JS-1 & 7L on scratch duties."
This a great album, maybe a bit overlong at 61 minutes. M-Dot has a dope flow that suits the boom-bap beats – this album was slept on, it deserves more attention than it got.
Rating: 7.5/10
34. Ces Cru - Catastrophic Event Specialists
Kansas City duo Ces Cru (Ubiquitous and Godemis) continues its streak of excellence with Catastrophic Event Specialists, the duo's third studio album released on Tech N9ne's Strange Music label, following  Constant Energy Struggles (2013) and Codename: Ego Stripper. These guys got skills and they have bars for days. Ces Cru's constant bashing of legging-wearing, ghostwritten, mainstream mumblers may be kind of tired at this point, but hot damn, it's funny too.
Rating: 7.5/10
35. Public Enemy - Nothing Is Quick In The Desert
Public Enemy is one of the greatest groups of all time, responsible for the absolute best album in Hip Hop history with It Takes A Nation Of Millions To Hold Us Back (1988), and a couple of more classics after that one: Fear Of A Black Planet (1990) and Apocalypse 91… The Enemy Strikes Black (1991). None of their later work was on par with their first four, not so strange because that is simply impossible. While it's true there are some weaker albums in their discography, there is plenty of quality in P.E.'s later output too.
Nothing Is Quick In The Desert is one of those quality albums. 30 years after the groundbreaking Yo! Bum Rush The Show, Public Enemy show they are still relevant. It will probably not win Public Enemy any new fans, but followers who there from the beginning will no doubt appreciate this offering.
Rating: 7/10
36. King Magnetic - Everything Happens 4 A Reason
King Magnetic (part of Army Of The Pharaohs for three albums) may not be the greatest rapper of all time, at 6'9/400+ pounds, he certainly is one of the biggest rappers ever. Everything Happens 4 A Reason is the sophomore album from the Allentown, PA native – a solid dose of pure, raw underground Hip Hop, with features from R.A. The Rugged Man, Cappadonna, Slug, and Masta Ace (among others).
Rating: 7/10
37. Kool G Rap - Return Of The Don
Kool G Rap's best album of the decade. A little heavy on the features maybe, but who is to complain if most if not all of the guest rappers deliver? Kool G Rap can still spit with the best of them, and of those best, a veritable who's who of the East Coast raw Hip Hop scene is present on this album: Raekwon, Sean Price, Cormega, Lil Fame, Freeway, and N.O.R.E. all make appearances, along with the likes of Termanology, Saigon, Sheek Louch, KXNG Crooked, Fred The Godson, Conway The Machine, Westside Gunn, and others. MoSS' scratch-heavy boom-bap beats do the rest: this is 100% pure Hip Hop from one of the best rappers ever.
Rating: 7/10
38. Pawz One - Pick Your Poison
Los Angeles' Pawz One is one of those artists that get not nearly enough shine. Pick Your Poison is his most complete album, a more than solid collection of dope rhymes and smooth beats, with guest spots from Masta Ace, EL Da Sensei, King Magnetic, Chief Kamachi, Shabaam Shadeeq, and Talib Kweli (among others).
Rating: 7/10
39. Raekwon - The Wild
The Wild is a worthy addition to Raekwon's extensive catalog, third only to Only Built For Cuban Linx… (1994) and Only Built for Cuban Linx 2 (2009). On The Wild, Raekwon goes back to raw boom-bap basics, and it pays off. With a few exceptions, gone are R&B-ish hooks and pop-rappers features that plagued Raekwon's disappointing last album, Fly International Luxurious Art (2015).  The beats on The Wild suit Raekwon's lyrical style and content better, so a couple of sung hooks and even an unnecessary appearance by Lil Wayne can be forgiven.
Rating: 7/10
40. Snoop Dogg - Neva Left
Snoop Dogg never managed to approach the level of quality he reached with his monumental 1993 debut album Doggy Style, and Neva Left isn't that album either. But this is one of Snoop's best albums, a return to 'the streets' and less pop-infused than previous efforts.
Rating: 7/10
Honorable Mentions
Nocando – Severed
Edo. G – FreEDOm
Wu-Tang – The Saga Continues
Murs – Captain California
Talib Kweli – Radio Silence
MInk (Musab & Ink Well) – Intellectual Property
KRS-One – The World Is Mind
Big Boi – Boomiverse
The Perceptionists – Resolution
Positive K & Greg Nice – Gr8te Mindz
Wise Intelligent – The Blue Klux Klan
Statistik Selektah – 8
Ran Reed – Still Commanding Respect
Finale & Fel Sweetenberg – Two Kings
Lone Catalysts – Culture
Jazz Spastiks & Mello Soul Black – Midnight Mode
Lupe Fiasco – DROGAS Light
Logic – Everybody
Reuben Vincent – Myers Park
Buy Muy Drugs – Buy Muy Drugs
The Doppelgangaz – Dopp Hopp
Career Crooks – Good Luck With That
Masta Killa – Loyalty Is Royalty
Guy Grams – Consigliere
Substantial – The Past Is Always Present In The Future
Prodigy – Hegelian Dialectic, Part One: The Book of Revelation
Tha God Fahim – Tha Tragedy Of Shogunn
Locksmith – Olive Branch
Fabolous & Jadakiss – Friday On Elm Street
Vince Staples – Big Fish Theory
Hus Kingpin – Cocaine Beach
Wiki – No Mountains In Manhattan
GoldLink – At What Cost
Pruven – Reach Surroundings
Sadat X – Experience & Education
Cyhi The Prynce – No Dope On Sundays
Apollo Brown & Planet Asia – Anchovies
Freddie Gibbs – You Only Live 2wice
Action Bronson – Blue Chips 7000
The Koreatown Oddity – Finna Be Past Tense
Nolan The Ninja – Yen
Dr. Quandary – Jukebox Buddha
Ol' Burger Beats – Mind Games
Stoneface – The Stone Age
Slaine & Termanology – Anti-Hero
Tanya Morgan – YGWY​$​4
Uncommon Nasa – Written At Night
Insight & Damu The Fudgemunk – Ears Hear Spears
Neek The Exotic – The Neek The Exotic Experience
Shabazz Palaces – Quazarz: Born On A Gangster Star
Shabazz Palaces – Quazarz vs. the Jealous Machines
Meyhem Lauren & DJ Muggs – Gems From The Equinox
Binary Star – WaterWorld III
IDK – IWASVERYBAD
Superior – The Journey
Madchild – The Darkest Hour
SK Invitational – Golden Crown
Melanin 9 – Old Pictures
Jehst – Billy Green Is Dead
Jam Baxter – Mansion 38
Ancient Astronauts & Azeem – Broken Puppets
DJ Low Cut – Dead End
Underground Legends – The Clash Of The Titans