Ranking Jay-Z's Albums: Jay-Z is the most successful emcee in history. With 14 number-one albums on the Billboard chart (11 in a row as a solo artist), 21 Grammys, over 100 million records sold, and countless other side deals, he has repeatedly gone beyond the normal bounds of what a rapper could do.
It was impossible for anyone to imagine that this would be the outcome for the guy with the rapid-fire delivery that was best known as Jaz's sidekick, but he's reinvented his sound several times (with varying results) and has become a worldwide superstar.
The list below includes only solo studio albums. It does not include all of his other releases, like the collaborative albums with R. Kelly (The Best of Both Worlds; Unfinished Business), Linkin Park (Collision Course), Kanye West (Watch the Throne), and Beyoncé (Everything Is Love); live albums (Unplugged; Live in Brooklyn); soundtracks (Streets Is Watching); other compilation albums (Blueprint 2.1; Greatest Hits); mixtapes (The S. Carter Collection); or any of his non-album appearances.
Even his worst LPs are still better than most artists' best, but what are his greatest albums?
13. The Blueprint 3 (2009)
Why is this a Blueprint album? It sounds nothing like the first two, the soul samples replaced by beats that are the result of asking a producer to make something "futuristic." Perhaps that was Jay's point – he's making the blueprint for the future? The music is just as confusing as the title. Songs like "Already Home" and "Reminder" sound like the work of a deeply insecure artist that is petrified of his achievements being forgotten, yet on "Off That" and "On To the Next One," Jay chastises the listener for focusing on his past achievements. He also hedges on the collaborations, because while he keeps with the future vibe by featuring the next generation in the form of J. Cole, Drake, and Kid Cudi, only Cole – a Roc Nation artist – is allowed a verse rather than being relegated to performing a forgettable hook.
Throughout the project, Jay's pedestrian bars match the lackluster beats. "Venus vs. Mars" would be the worst song on the album if not for "Young Forever," which is in the conversation of worst Jay-Z songs ever. It's baffling how this was included in so many best-of-the-year lists because The Blueprint 3 is the musical equivalent of an All-Star Game that's full of incredibly talented people that have no desire to be part of the festivities.
12. Kingdom Come (2006)
It had been three years since he had released a solo album, but he became both richer and more famous in that time, going from artist to mogul, label star to label head. In 2006, he decided to return and, if his freestyle on Funkmaster Flex's show was any indication, it would be triumphant.
Then, the album dropped. And flopped. Always full of ambition, Jay tried to make a grown-up rap album while at the same time trying to fit in, which led to a disconnect. The title track is reminiscent of prime Jigga and on "Dig a Hole," when he finally lays waste to DipSet and Dame Dash, his braggadocio fits, but those are overshadowed by the cheap, schmaltzy pop tracks like "Anything" and "Hollywood." Jay attempted to show the world the other side of success, but it comes off as being out of touch.
11. The Blueprint2: The Gift & The Curse (2002)
Jay may not want to admit it, but the soul of The Blueprint2  is infected by "Ether" – nearly the entirety of the double disc is in some way a response to the Nas battle, sounding whiny and uninspired with moments of disappointment like a cringe-inducing impression of Austin Powers or incorporating three songs from other artists – "It Was A Dream," "'03 Bonnie & Clyde," and "The Watcher 2."
There are certainly gems to be found – "Meet the Parents" is a wonderful story rhyme and he floats all over "Hovi Baby" – but too many songs over too many beats that sound like cheap imitations of the predecessor made for much more curse than gift.
10. Magna Carta…Holy Grail (2013)
The height of luxury rap, Magna Carta Holy Grail is full of references that are lost on the average listener and felt like Jay was bragging at us rather than rhyming to us. Much of the boasting feels reductive – the listener should believe he is good because he's successful and his success is proof that he's good. Occasionally this works, like on "Picasso Baby," but more often it does not.
While much of the production is lavish and feels grandiose, parts of the album feel unfinished, from the under-a-minute throwaways like "Versus" and "Beach Is Better" to "BBC," an absolutely star-studded posse cut with features from Nas, Beyoncé, Justin Timberlake, Nigo, and Swizz Beatz with production from Timbaland and Pharrell that is fun but still feels more like a freestyle outtake rather than an actual song. There are moments of poignancy, like the ode to his daughter, "JAY Z Blue," and the survivor's guilt confessional, "Nickels and Dimes," but they come towards the end, a bit too late.
9. The Dynasty: Roc La Familia (2000)
A solo LP in name only – it was originally a compilation album – Jay doesn't even show up for two tracks and only five of the sixteen don't have someone else spit a verse, which is a disappointment because he was truly reaching his artistic peak, particularly when he lets his guard down and confronts personal issues in gut-wrenching fashion, including miscarriage on "This Can't Be Life," the deterioration of a relationship on "Soon You'll Understand," and an absentee father on "Where Have You Been." Unfortunately, the rest of the album has filler like "Get Your Mind Right Mami," "You, Me, Him and Her," and "Squeeze 1st" and the repeated presence of the crew, despite their skills, is too much.
8. Vol. 3…Life and Times of S. Carter (1999)
Fresh off the monster success of Hard Knock Life, Jay returned with another attempt at balancing the two worlds of the radio and street. In many ways, Vol. 3 is his spin on the Shiny Suit Era and, just like almost everything released in that climate, some of it works really well and some of it fails spectacularly.
There are spots in which Jay is in the zone and sounds like the best MC on the planet (Do It Again ("Put Your Hands Up"); "Come and Get Me"; "So Ghetto"), but elsewhere he comes off lazy and disconnected. Efforts like the Mariah Carey-featured radio reach "Things That U Do" feel contrived and the crew track "Pop 4 Roc" should've been left on the cutting room floor. The tracklist was rearranged at the last minute due to widespread leaking of the album, further giving the album a disjointed feel and ultimately resulting in a weaker effort.
7. American Gangster (2007)
American Gangster is an underrated gem. The soundscapes, with their cool, mellow '70s vibe largely courtesy of Diddy and the Hitmen, allow you to almost smell the incense and see the bell-bottoms and platforms, which ignited Jigga's creative juices that had been lagging. He sounds more invigorated than he had in years, harking back to those days with his detailed rhymes and vivid storytelling that was like an updated version of Reasonable Doubt.
A loose concept album that follows the career arc of a don from origin ("American Dreamin'") to spoils ("Roc Boys (And the Winner Is…)"; "Party Life") to adversity ("Success") to the inevitable demise ("Fallin'"). It's not perfect – both "Hello Brooklyn 2.0," which samples a late '80s track and features New Orleans-born Lil Wayne, and "Ignorant Shit," a Black Album leftover, should've been excised – but, taken overall, the LP feels like the work of a much younger, hungrier artist.
6. 4:44 (2017)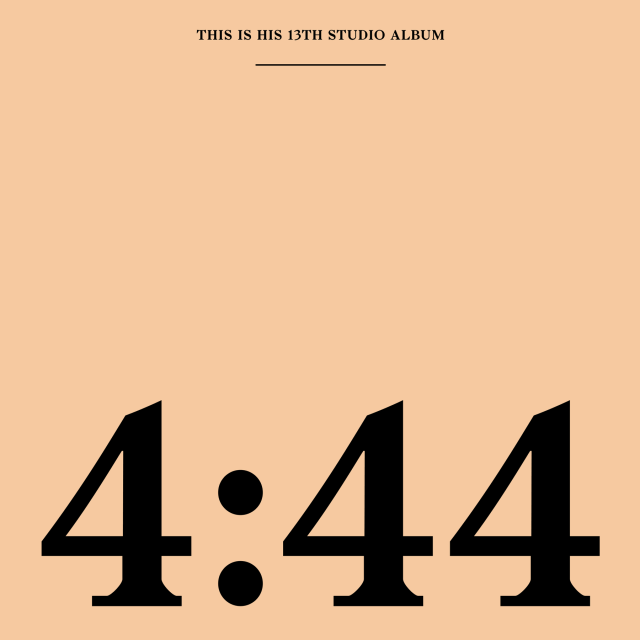 While the arrogance and cool menace is great, Jay-Z has always been at his absolute best when he's honest and vulnerable. After remaining quiet for years, he dropped 4:44, a combination of apology and love letter, ostensibly to serve as the flip side to Beyoncé's Lemonade. The man who had recorded "Regrets" two decades earlier spends much of the album analyzing what he has to lose – not from a material standpoint, but an emotional and even existential one.
No I.D.'s smooth production, full of samples featuring female voices acting as the audience to his confessions, brings out Jay's humanity. There are points, like on "4:44" and "Kill Jay-Z" when his once-pristine flow sounds disjointed and off beat, but perhaps that was intentional? It's once again the work of a middle-aged father, but unlike Kingdom Come or BP3, he is comfortable in that role, dropping dad jokes and trying to educate and uplift rather than simply boasting as he had in the past. He was always cool, but he finally became comfortable in his own skin and, in the process, created one of his best albums two decades after his debut.
5. In My Lifetime, Vol. 1 (1997)
The original plan was that he'd release one album and then be a full-time executive. Then, when Roc-A-Fella brokered the deal with Def Jam, he'd release an EP to keep the momentum going. Then, The Notorious B.I.G. was killed and Jay-Z decided it was his time…and he wasn't shy about it – the album was originally titled Heir to the Throne, Vol. 1 (as was ReasonableDoubt) and includes a Biggie tribute in a song titled "The City Is Mine."
In attempting to both follow in his friend's footsteps and assume the crown, he reached out to Puff Daddy and Teddy Riley for crossover hits but they flopped. "(Always Be My) Sunshine" and "I Know What Girls Like," along with the aforementioned "The City Is Mine," are the only missteps on Vol. 1, but they were massive and prevented it from being an undisputed classic.
Still, the best parts of Vol. 1 are some of the highest points of Jay-Z's career, including the relaxed stunting of "Imaginary Player," the cinematic sequel to "Friend or Foe," the old school rhyme-trading with Sauce Money on "Face Off," and, of course, two of the best songs of his entire oeuvre, the iconic "Streets Is Watching" and the raw "Where I'm From," with the legendary line, "I'm from where n—-s pull your card/And argue all day about who's the best MC – Biggie, Jay-Z or Nas?" No longer stuck between the booth and the street, he turned his attention to rap full time and took his cockiness to another level in the process.
4. Vol. 2…Hard Knock Life (1998)
The album that launched him into the stratosphere, Vol. 2 was the moment Jay-Z figured out how to merge the street with the charts. Instead of awkward reaches for airplay with Babyface and Blackstreet, we get "Can I Get A…" and the title track, with its brilliant flip of the Annie sample that couldn't be replicated (as he would discover a year later with "Anything").
He firmly establishes his spot with performances like the Mase clapback "Ride or Die" and "It's Like That" ("Impregnate the world when I come through your speakers"). There are even fewer solo tracks than Dynasty, but they all feel organic and just part of Jay inviting others on his ascension to the top.
3. The Black Album (2003)
He had been talking about retiring since Reasonable Doubt and by 2003 it finally seemed like it may happen, so Jay-Z pulled out all of the stops. While it did not have a different producer for each song as originally intended, it does feature a range of beatsmiths (Just Blaze, Timbaland, the Neptunes, Eminem, Kanye), each of whom brings a different sound to the proceedings and most deliver their best, forcing Jay to up his own game.
The lone hiccup is the DJ Quik abomination "Justify My Thug," in which Jigga invokes both Madonna and Bill Haley's "Rock Around the Clock." If it had been his swan song, it's fitting that he would end it with "Allure," a nostalgic track about the temptations of street life, and "My 1st Song," in which he employs the double-time, stutter step flow that was his style at the start of his career, remembering his days before the recording booth.
2. The Blueprint (2001)
It all came together. The Blueprint was the culmination of everything Jay-Z had been building towards his entire career. The production, largely handled by Kanye West and Just Blaze, was full of lush yet relaxed soul samples that sounded like they were coming from your parents' living room speaker, allowing Jay to expound upon his early years ("Blueprint (Momma Loves Me)," his hustling days ("Never Change"), and his lost loves ("Song Cry"). Then, there's "Takeover," which is in the conversation as the greatest diss track in history, so compelling and brutal that it changed the career trajectories of both of its targets, Prodigy and Nas, in opposite ways. It's not all serious and, aside from "Jigga That N***a," which was purposely meant to feel out of place in the center of the album but still should've been left off, even the lighter songs work perfectly. Whether the album's lone guest, Eminem, murdered him or not, The Blueprint was Jay-Z's apotheosis.
1. Reasonable Doubt (1996)
Reasonable Doubt introduced the world to Jay-Z, the hustler who was leaving the life behind but not before regaling us with tales of the highs and lows of the street life with a smooth mixture of humor and regret. He was arrogant but still grounded, his characterization never becoming caricature, his conversational flow making it feel as if he were talking to each of us individually. His boasting was always offset by the things he saw and the different choices he wished he'd made, the rap equivalent of Michael Corleone sitting alone, staring at the water at the end of The Godfather Part II.
He effortlessly merged words and syllables while at the same time employing vivid imagery and witty wordplay to make sure you listened while at the same time throwing in coded slang and double entendres that would only be appreciated upon multiple listens. Though originally criticized for its materialistic approach, there is an undercurrent of doom and melancholy throughout, with Jay unhappily resigned to the life over beats that are rich but not overwrought from the likes of Clark Kent, Ski, and Premier. All of it comes together on "D'Evils," when he concludes a verse of homophones and imagery with the chilling line, "In time, I'll take away your miseries and make it mine." He would go on to have one of the most celebrated music careers in history, but no project can overtake the one that was the culmination of his entire life up to that point, when Jaÿ-Z still employed an umlaut over his name.