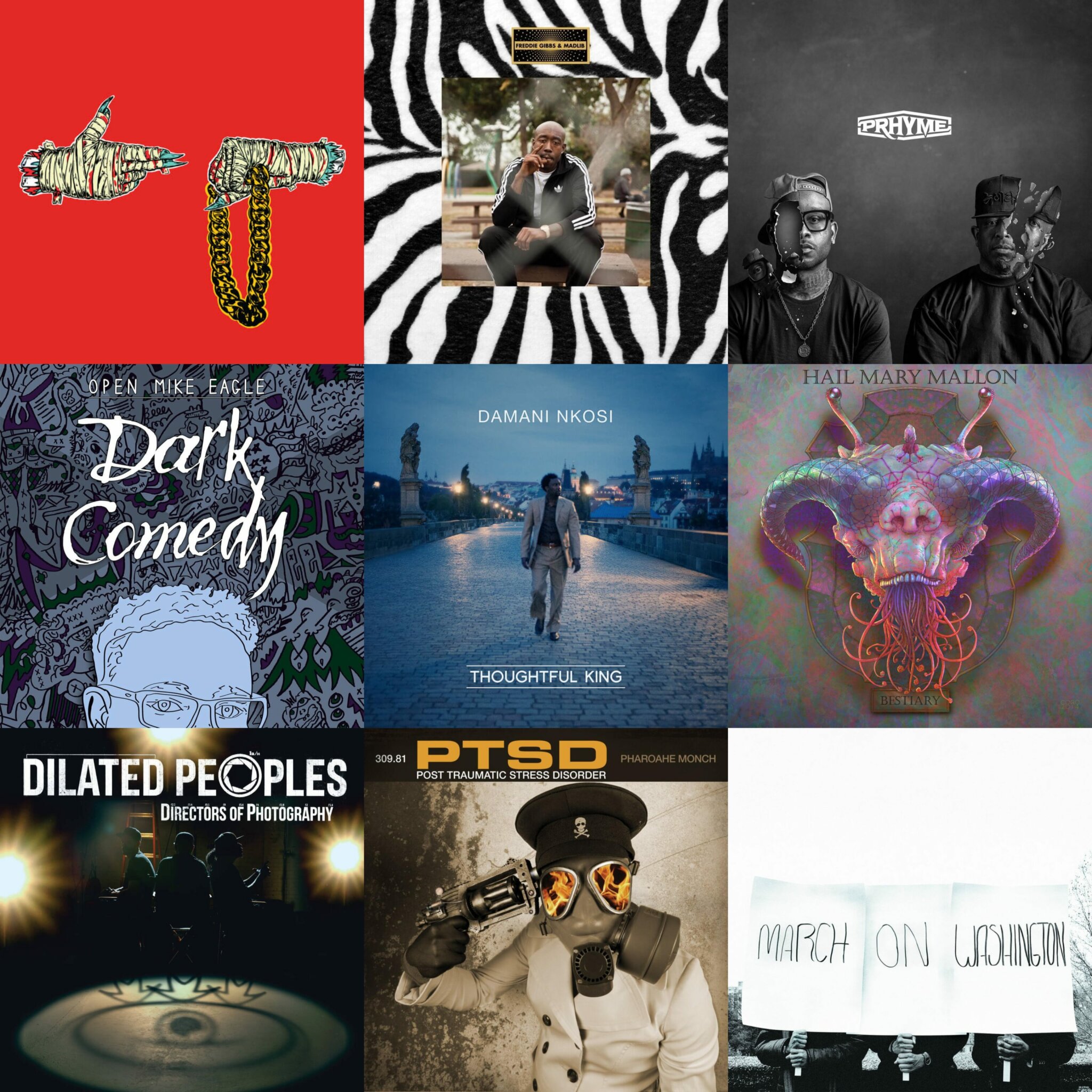 2014 was another great year for Hip Hop. The year may have given us only one or two albums that will be considered true classics way down the road – but there were a whole lot of albums that were just great, maybe a couple of potential classics among them too. For this list, we have ranked OUR top 40 Hip Hop albums released in 2014 (not included are EP's, mixtapes (otherwise projects like Isaiah Rashad's Cilvia Demo and Mick Jenkins' The Water(s) would have ranked high here, compilations, or instrumental albums). What do YOU think?
Also read: Top 150 Hip Hop Albums Of The 2o10s
1. Run The Jewels – Run The Jewels 2
Wow – who would have thought El-P and Killer Mike could outdo their collaborative debut Run The Jewels (2013)? That record was epic and unstoppable enough, but this one is even better – more layered and even darker. The out-of-the-box combination of El-P and Killer Mike has proven to be unbeatable – this album is lyrically intelligent and hard-hitting as well as sonically brilliant, RTJ2 easily is one of the best and most important Hip Hop albums of this decade.
Rating: 9.5/10
2. Freddie Gibs & Madlib – Pinata
Typically we don't much care for gangsta rap or coke rap or whatever label is attached to tough-guy crime fantasies, but the fruits of the out-of-the-box collaboration between Gary, Indiana-based gangsta rapper Freddie Gibbs and the Oxnard, California native, left-field production-genius Madlib are a firm exception. As with Madlib's collaboration with MF DOOM, which resulted in the best Hip Hop album of the 2000s, his partnership with Freddie Gibbs leads to a product that is bigger than the sum of its parts. On Piñata Gibbs' coarse flow works perfectly with Madlib's soulful and funky soundscapes – arguably Madlib's best work since 2004's Madvillainy. Guest spots by the likes of Scarface, Raekwon, Danny Brown, Ab-Soul, and Earl Sweatshirt (among others) add extra flavor, which results in 2014's second-best album. The album could have done without some of the skits, but all-in-all this powerhouse of an album truly is a masterpiece.
Rating: 9.5/10
3. PRhyme - PRhyme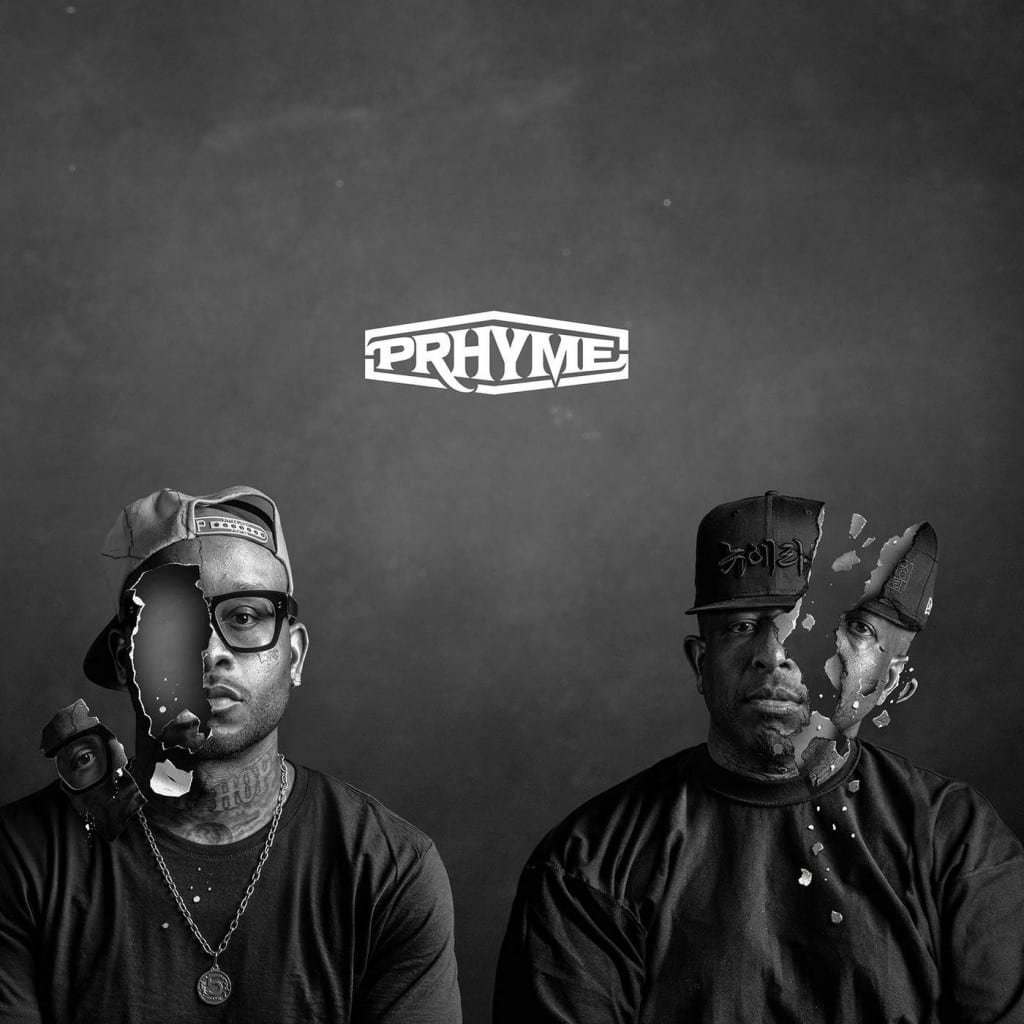 What can go wrong when one of the top-lyricists of the last two decades hooks up with one of the most important producers ever? Not much – as PRhyme, the epic first album from collaborative duo Royce Da 5'9″ and DJ Premier proves. DJ Premier's beats and signature scratches sound as good as ever, and Royce brings his A-game too. Guest appearances from Killer Mike, Jay Electronica, Common, Ab-Soul, Schoolboy Q, Slaughterhouse, Mac Miller, and soul singer Dwele add some extra flavor – resulting in a fantastic album. Only complaint: at 34 minutes PRhyme just is too short, barely over EP-length. It could have done with three or four more songs upon its original release (as the expanded Deluxe version would prove in 2015).
Rating: 9/10
4. Open Mike Eagle - Dark Comedy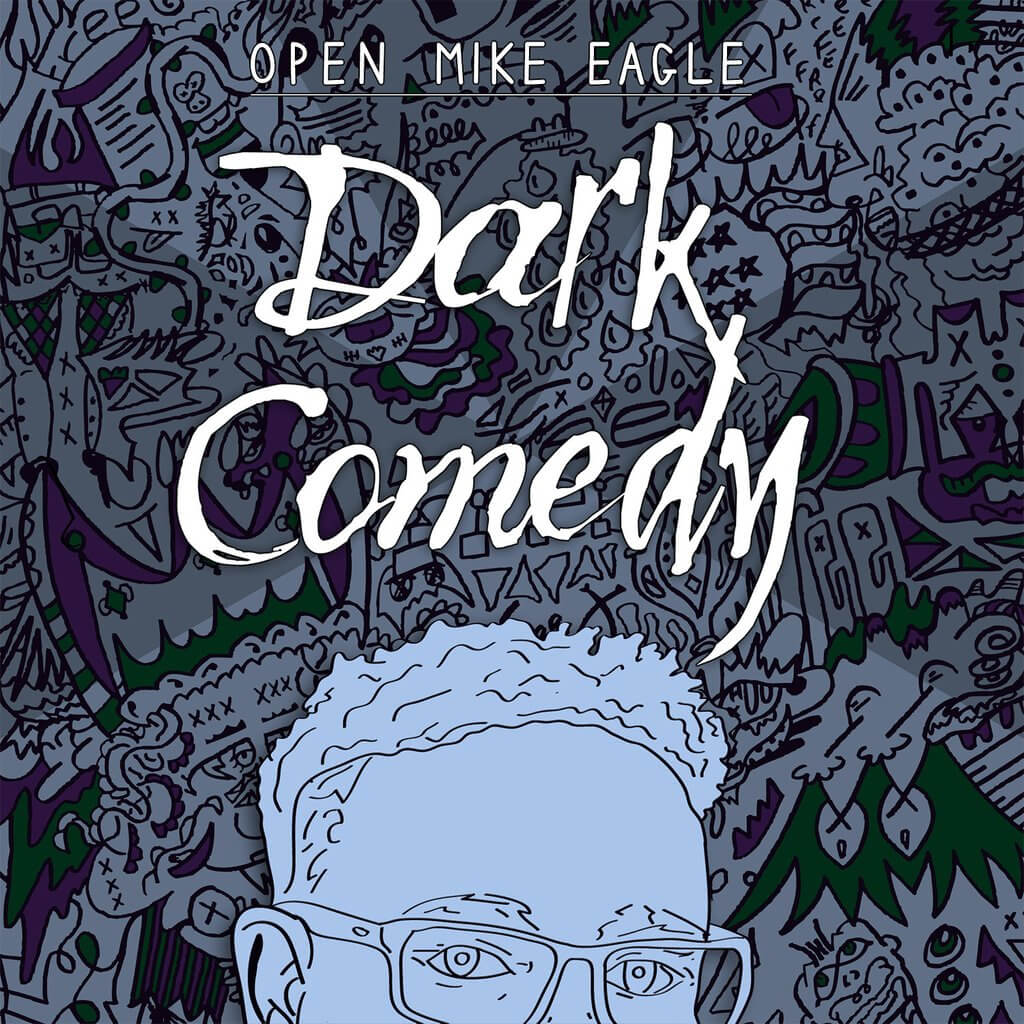 Open Mike Eagle is a Chicago-born, Los Angeles-based artist who dropped some of the most interesting albums in abstract underground Hip Hop in the 2010s – with his soft spoken-word style, poetic lyrics, and experimental production. Dark Comedy is Open Mike Eagle's fourth solo album and arguably his best album to date. Belying the at times breezy production, Open Mike Eagle's subject matter never is lightweight. He approaches a variety of serious topics with dark and deliciously sarcastic humor – hence the title of the album. Open Mike Eagle's lyrical performance on Dark Comedy is as good as we've heard from him, and the ambient production is fantastic throughout. The lyrical and instrumental intricacies give Dark Comedy more layers than anything else out this year, as always with an Open Mike Eagle release there's a lot to unpack – Dark Comedy is an album with endless replay value.
Rating: 9/10
5. Damani Nkosi – Thoughtful King
Damani Nkosi has worked with well-known artists including Dr. Dre, Swizz Beatz, Snoop Dogg, Pusha T and Malice of Clipse. Nkosi was born in Inglewood, California. His father chose an African name for him. "Damani" means "Thoughtful" and "Nkosi" means "chief, ruler or king". He became part of Los Angeles' Hip Hop underground, recording his first track in 1999.
Thoughtful King is an aptly chosen title for this album – not only because it is a literal translation of his name, but also because of the deep lyrics Damani spits. Production is flawless, Hip Hop to its core but with (neo)soul sensibilities as well and giving off vibes of a classic jazz album at the same time – even the album cover is reminiscent of a vintage jazz vinyl. Guests such as Robert Glasper, Kamasi Washington, Badd Lucc, BJ The Chicago Kid, Thurz, Ill Camille, Rick Rude, and PJ Morton help make Thoughtful King a well-rounded musical gem – thematically and sonically as consistent as you could wish for. Slept on by most in 2014, but one of our favorite albums of that year. If you missed out on Thoughtful King for some reason, go check it out now and thank us later.
Rating: 9/10
6. Hail Mary Mallon – Bestiary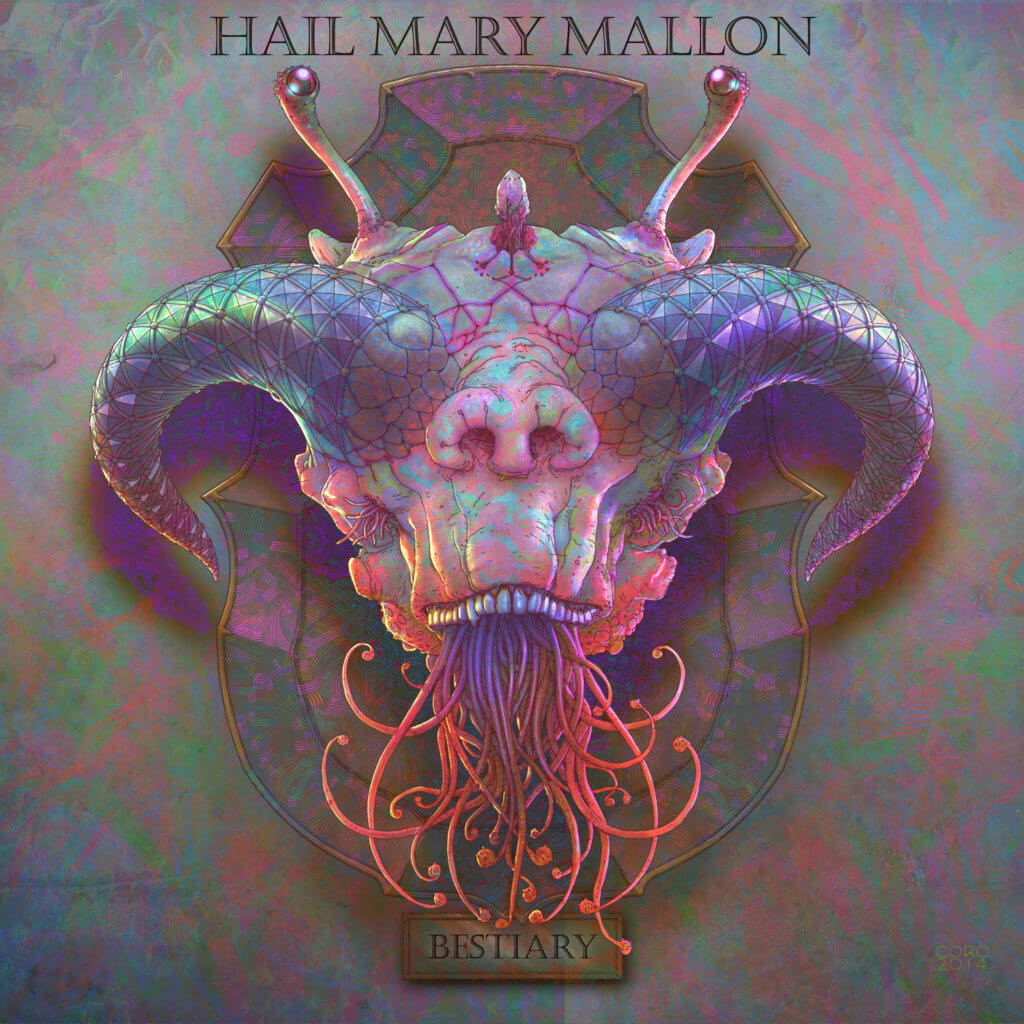 Bestiary is the second studio album Hail Mary Mallon, a duo consisting of s Aesop Rock and Rob Sonic. These two knew each other from the days they were label mates on El-P's legendary DefJux label and this album sounds like it comes right out of the DefJux kitchen – even if it was released on Rhymesayers Entertainment, like DefJux one of those labels instrumental in keeping real Hip Hop alive.
Aesop Rock is on top of his production game, Bestiary has deep knocking beats layered with Aesop's quirky sound-effects throughout and it has DJ Big Wiz adding extra flavor with dope scratches on most tracks. As can be expected from Aesop Rock and Rob Sonic, the lyrics on Bestiary are clever and witty, and off-kilter enough to give it that Aesop Rock/Rob Sonic signature. Great album.
Rating: 8.5/10
7. Dilated Peoples – Directors Of Photography
Directors of Photography is the fifth studio album by Los Angeles trio Dilated Peoples, and their best. Evidence, Rakaa Iriscience, and DJ Babu all brought their A-game, as did the production team consisting of 9th Wonder, The Alchemist, Bravo, Diamond D, DJ Premier, Jake One, Oh No, and Twiz The Beat Pro along with DJ Babu and Evidence themselves. The album runs for 55 minutes, which is long enough to keep the guest rappers – Vince Staples, Aloe Blacc, Catero, Gangrene, Sick Jacken, Krondon, Fashawn, Rapsody, Domo Genesis, Vinnie Paz, and Action Bronson – from overcrowding proceedings. Directors of Photography is executed flawlessly – this is matured underground boom-bap at its finest.
Rating 8.5/10
8. Pharoahe Monch – PTSD
PTSD (Post Traumatic Stress Disorder) is Pharoahe Monch's fourth studio album. The album features guest appearances from Black Thought (his feature on the "Rapid Eye Movement" is ridiculous), Talib Kweli, Denaun, The Stepkids, and Vernon Reid, and has production from Lee Stone, Marco Polo, Jesse West and Quelle Chris amongst others. PTSD is an impressive and timely concept piece – dealing with topics such as stress, depression, mental health issues, and the American illusion. As usual, Pharoahe Monch lyrics are razor-sharp, intricate, complex, and his flow is superior. PTSD has true substance, unlike most of the projects put out by lesser emcees in this era. The hooks and some beats could have been better here and there, but as always a Pharoahe Monch album is all about the lyrical content. Few lyricists out there better than the unsung Pharoahe Monch.
Rating 8.5/10
9. Diamond District - March On Washington
Diamond District is a trio consisting of producer/emcee Oddisee and emcees yU and Uptown XO. Their collaborative debut was the excellent but slept-on In The Ruff (2009). March On Washington is their second album together, and it is another winner. Each of the three Diamond District members has proven himself singly with other projects (especially Oddisee), but their group efforts really are something special. Although March On Washington doesn't explicitly make race an issue, the LP clearly was inspired by the legendary event during which Martin Luther King Jr. made his famous I Have A Dream speech. The album is smart and fun at the same time, the intricate lyrics backed by Oddisee's soulful bass-heavy instrumentals. With March On Washington, Diamond District dropped a sleeper classic. 14 songs deep, none of them skippable.
Rating: 8.5/10
10. Sage Francis – Copper Gone
Providence, Rhode Island native Sage Francis has put together a pretty impressive set of albums since his official debut album Personal Journals in 2002. Copper Gone is his fifth solo album, and one of his best. Inspired by some traumatic events in his life, Copper Gone is noticeably darker and more personal than Li(f)e (2010), the album preceding Copper Gone. Events Sage Francis talks about, like the death of a parent ("Thank You"), a failed relationship ("Grace") and self-imposed years-long seclusion (Make Em Purr"), prove that emotion often spurs artists to create their best, most resonant work.
Rating 8.5/10
11. Schoolboy Q – Oxymoron
Oxymoron arguably is Los Angeles native ScHoolboy Q's best album to date. It was his major-label debut, and according to himself his most personal up till then – an album on which he didn't need to compromise. The beats on Oxymoron are universally dope and different enough from the standard fare to remain interesting and guarantee replay value, but it's Q's lyrics that elevate Oxymoron to modern classic status. Just listen to a track like "Hoover Street" to learn where Q is coming from. ScHoolboy Q shows his versatility by switching between different topics and styles. Guests like labelmates Kendrick Lamar and Jay Rock, as well as heavy-hitters such as Tyler The Creator, Kurupt, and Raekwon, complete a well-rounded project.
Rating: 8.5/10
12. People Under The Stairs – 12 Step Program
People Under The Stairs – Thes One and Double K – is one the most underrated duo's in the history of Hip Hop. 12 Step Program is the Los Angeles based duo's ninth full-length studio album, and one of the best in their all-around excellent catalog. Nothing mysterious about PUTS modus operandi – on 12 Step Program they come with another selection of meticulously produced smooth, neo-boom-bap instrumentals to back up their dope vintage flows. Every PUTS release is a celebration of the true essence of Hip Hop, and 12 Step Program is no exception.
Rating 8.5/10
13. Big K.R.I.T. – Cadillactica
Cadillactica is the second studio album by Big K.R.I.T. By 2014, Big K.R.I.T. had already firmly established his name with his series of mostly excellent mixtapes and a solid official debut album with Live From The Underground (2012).
With Cadillactica he arrived in Hip Hop's Major League for real. Big K.R.I.T. has always been on point with his beats and on this album, he even steps up his production game, with help on the boards from the likes of Raphael Saadiq, DJ Dahi, Jim Johnson, Rico Love, DJ Toomp, Terrace Martin, and others. The album features guest appearances from Raphael Saadiq, E-40, Wiz Khalifa, Kenneth Whalum III, Mara Hruby, Rico Love, Bun B, Devin the Dude, Big Sant, Jamie N Commons, Lupe Fiasco and ASAP Ferg.
Cadillactica is an excellent album, one of the best to come out of the South in the first half of the decade. It was a step ahead from Live From The Underground, and would prove to be the perfect stepping stone to KRIT's magnum opus 4eva Is A Mighty Long Time (2017).
Rating: 8.5/10
14. Skyzoo & Torae – Barrel Brothers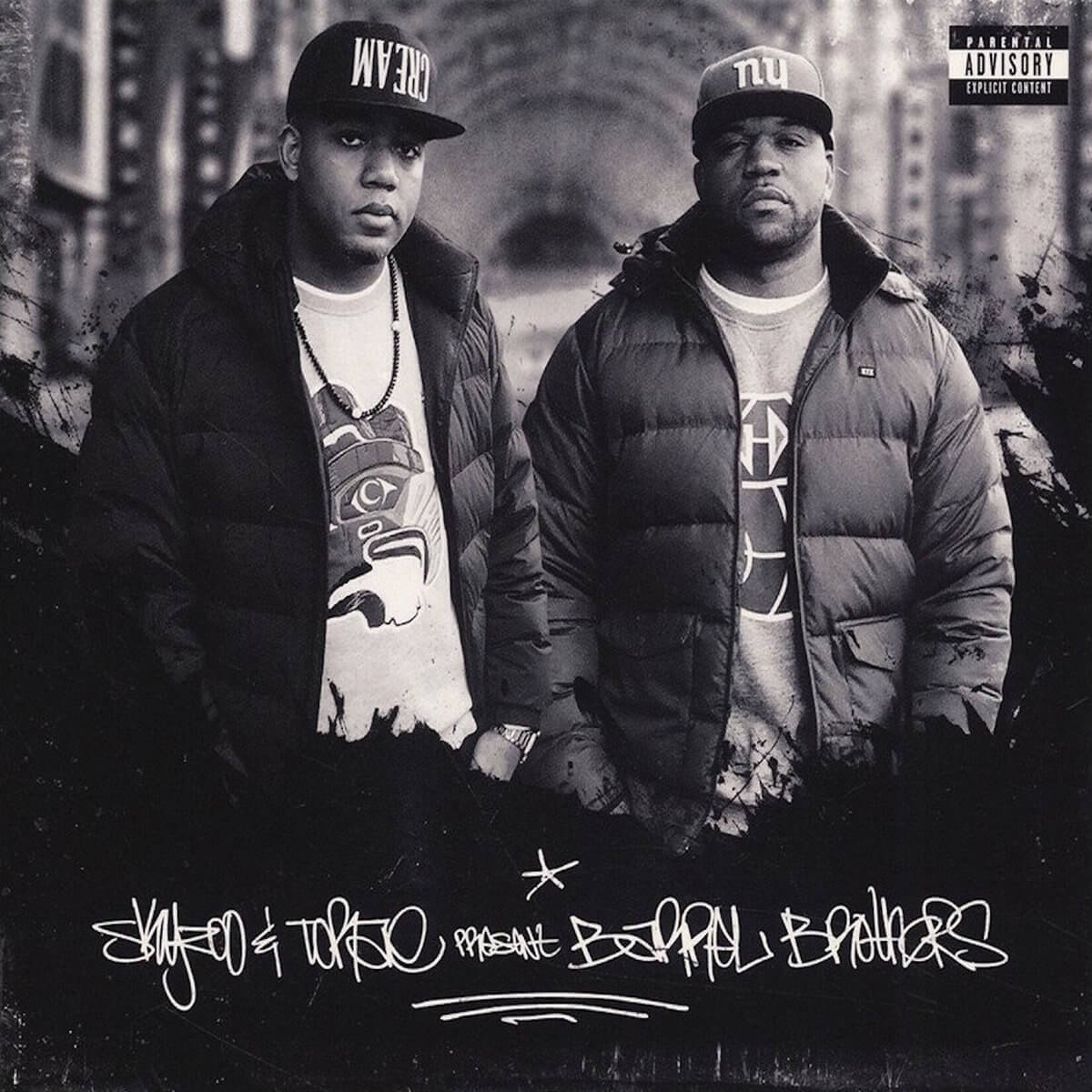 Skyzoo and Torae knocked it out the park with this long-awaited collaboration. The album features guest appearances from Blu, Sean Price, Sha Stimuli, Livin Proof, and Guilty Simpson. Raw, NY boom-bap production was provided by DJ Premier, Illmind, Black Milk, Jahlil Beats, Oh No, and AntMan Wonder amongst others. Both Skyzoo and Torae brought their A-game to the table, as is evident in the quality of bars and hooks. Great beats, great lyrics, and great chemistry make Barrel Brothers a great album.
Rating: 8/10
14. Dag Savage – E&J
Dag Savage is a duo consisting of famed Los Angeles producer Exile and San Diego emcee Johaz. E&J ("Exile & Johaz" you see) is their collaborative debut full-length which offers a potent dose of traditional-vibed Hip Hop but completely in touch with this day and age. Exile's signature melodic loops and hard drums serve a complimentary backdrop for Johaz's raw, deeply felt lyrics. Also, Dag Savage enlisted the help of a host of affiliate artists to cover some features on E&J – Blu drops a dope verse on "Don't Stop" for instance – to add some variation to the album. All in all, this is a more than fine project, in line with more celebrated Exile collabos like Below The Heavens (2007, with Blu) and Boy Meets World (2009, with Fashawn).
Rating 8/10
16. J Cole – 2014 Forest Hills Drive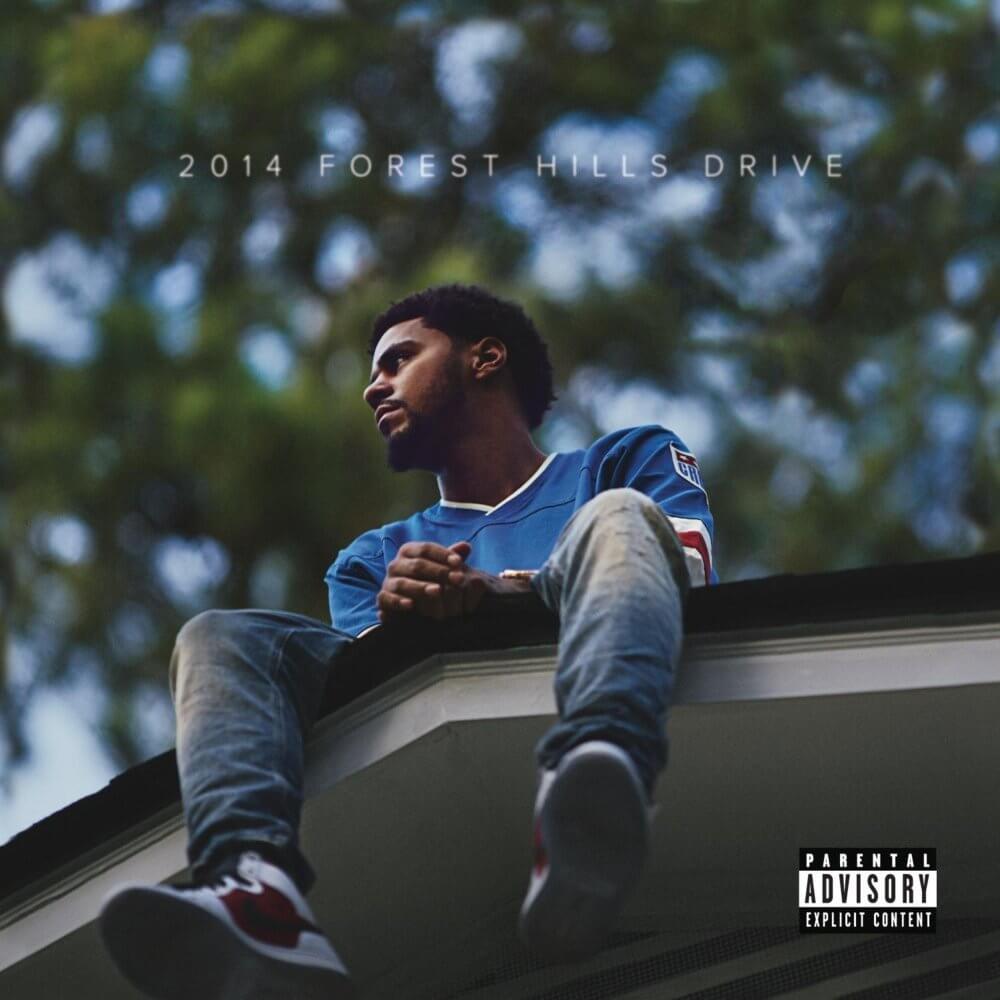 J. Cole is a polarizing figure. He is one of the big names in modern-day Hip Hop, with a large army of fans/stans. There's also a lot of people out there who consider him average and overrated. After a few pretty good mixtapes and two just OK albums, in 2014 he dropped 2014 Forest Hills Drive – which turned out to be his best album to date, better than his previous projects and better than what he would release after 2014. J. Cole himself declared this album a classic, and there's some merit to that claim – 2014 Forest Hills Drive performed really well commercially and it established J. Cole as of the game's top-dogs. The album is not flawless, but it is mostly enjoyable, with a bunch of really strong songs such as "Fire Squad", "Apparently', "No Role Modelz", "03′ Adolescence" and "Love Yourz". There are also throw-away tracks like "G.O.M.D." and the useless "Note To Self" that detract from the overall quality of the album. All in all: good, but not quite the super classic a lot of people say it is.
Rating: 8/10
17. Apollo Brown & Ras Kass – Blasphemy
Apollo Brown has been on an incredible roll in the 2010s, to name him the MVP producer of the decade is an easily defendable claim. Apollo Brown dropped a lot of dope collaborative projects in the 2010s, this is just one of them. Ras Kass is one of the best lyricists the game has ever seen, and Apollo Brown's signature brand of polished, bass-heavy boom-bap beats serves Ras Kass' lyrics well. A few great features from the likes of Pharoahe Monch, Sean Price, Royce Da 5'9″, and Xzibit (among others) help make Blasphemy a well-rounded, solid album.
Rating: 8/10
18. Awon & Dephlow - Dephacation
All albums released on the unsung Don't Sleep Records label are presentations of top-notch Hip Hop. Following the brilliant Return To The Golden Era (2013), Awon (with Phoniks on the production) is back with Dephacation – this time with labelmate Dephlow. Smooth 90s-centric Hip Hop for connoisseurs.
Rating: 8/10
19. Sa-Roc - Nebuchadnezzar
Sa-Roc has carved out her own lane through a combination of airtight wordplay and intelligent concepts. Nebuchadnezzar is her best album to date; an hour of great beats and lyrics.
Rating: 8/10
20. clipping. - CLPPNG
clipping is an experimental Hip Hop trio from Los Angeles, California, consisting of rapper Daveed Diggs and producers William Hutson and Jonathan Snipes. CLPPNG is clipping's debut studio album, following their midcity mixtape of the year previous. Daveed Diggs lyrics are dense, disturbing, and captivating – he explores the feelings of the poor, the disenfranchised, and the gangbangers. The harsh and distorted production is as dense as the rhymes are – abrasive and atmospheric in equal measures. There's not as much 'noise' on CLPPNG as on some of their other releases – arguably making this their most accessible project.
Rating: 8/10
21. The 1978ers - People Of Today
Rating: 8/10
22. Shabazz Palaces – Lese Majesty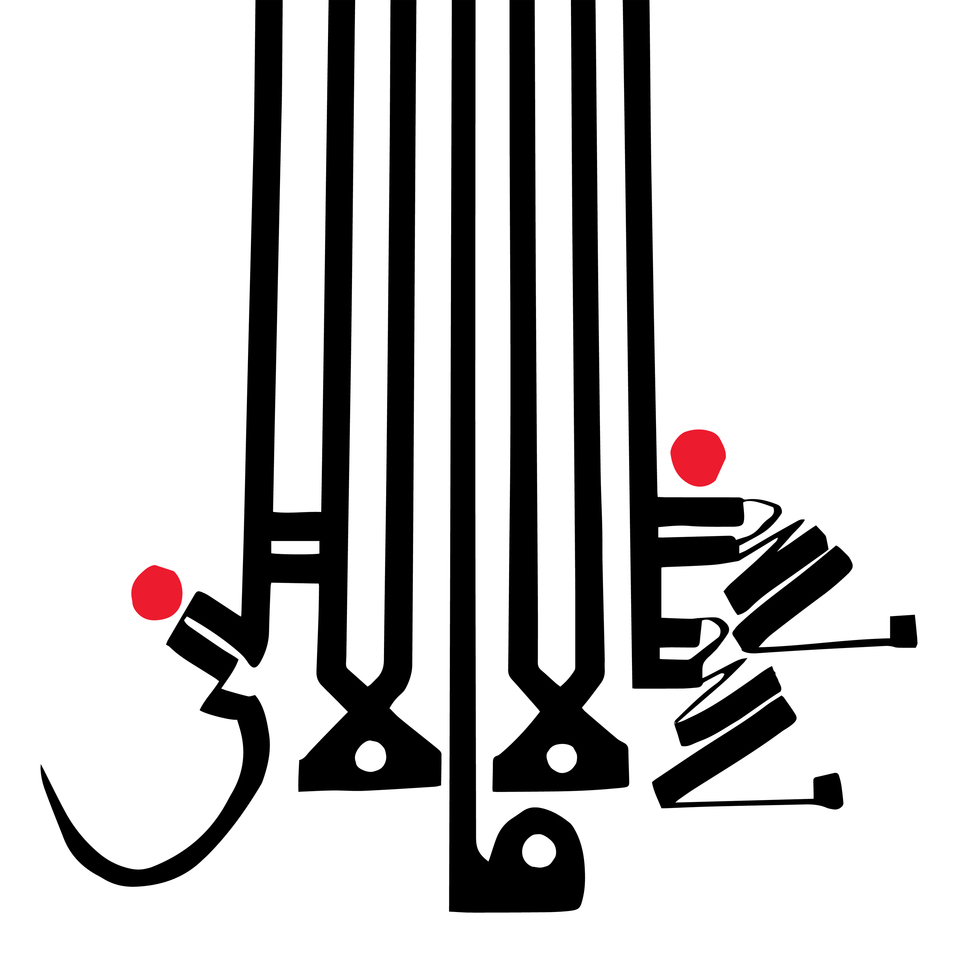 Lese Majesty is Shabazz Palaces' second studio album, the follow-up to the monumental Black Up (2011). The ebbing and flowing basslines, laced with dream-like ambient sounds and laidback flows make this album something of a meditative experience. "They Come In Gold", "Ishmael", "Motion Sickness", "Forerunner Foray",  and "Noetic Noiromantics" are highlights but the album has to be taken as a whole experience for optimal enjoyment. The dense lyrical content confuses and stimulates at the same time – some active thinking is required to piece together what Ishmael Butler is meaning here. Lese Majesty is not quite as strong as Black Up is, but it is another captivating album from an avant-garde group that can't be boxed in by genre conventions.
Rating: 8/10
23. Army Of The Pharaohs – In Death Reborn
In Death Reborn is the fourth studio album by the underground collective Army of the Pharaohs. The album features AOTP members Vinnie Paz, Apathy, Blacastan, Block McCloud, Celph Titled, Crypt The Warchild, Demoz, Des Devious, Doap Nixon, Esoteric, King Magnetic, King Syze, Planetary, Reef the Lost Cauze, and Zilla. Nothing new or revolutionary here – just an hour of booming beats and hard raps. In Death Reborn is not even AOTP's best, but still heads and shoulders about most mainstream rap album released in 2014.
Rating 7.5/10
24. Busdriver - Perfect Hair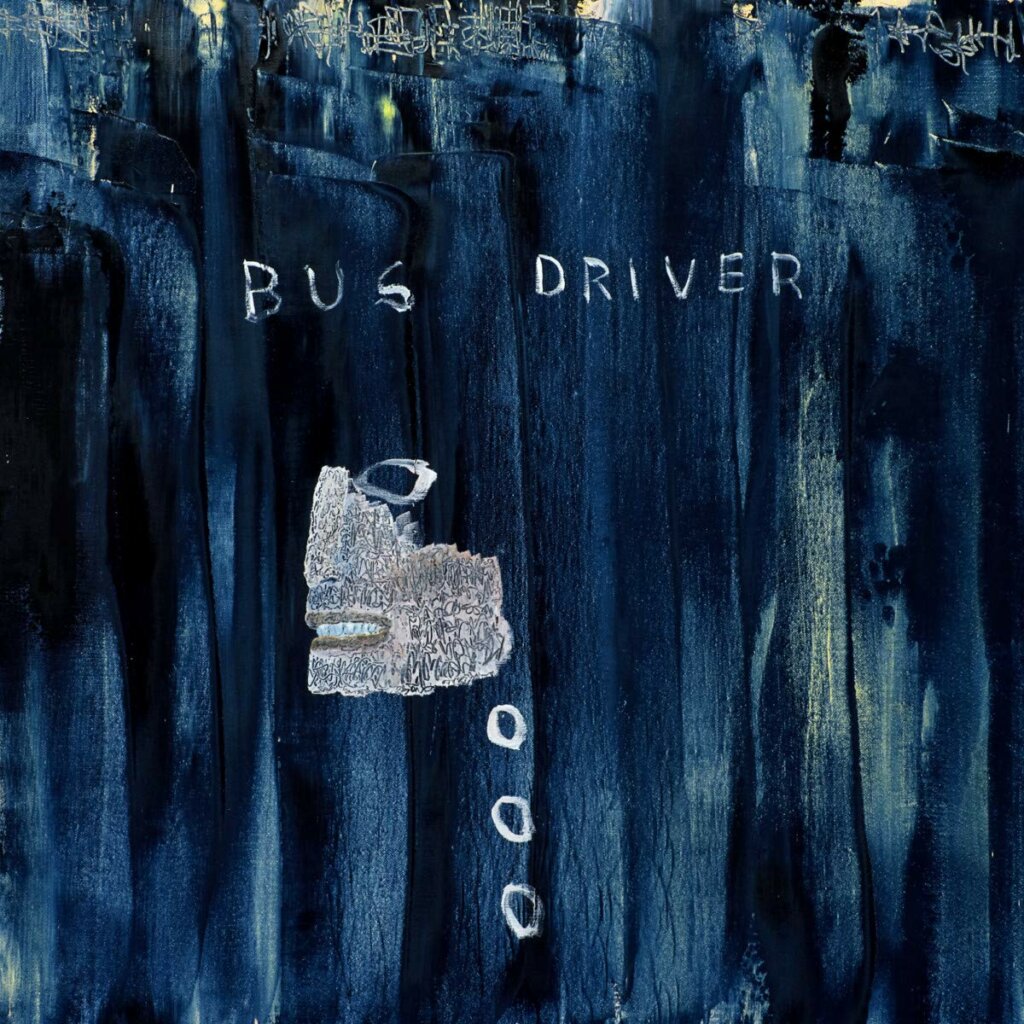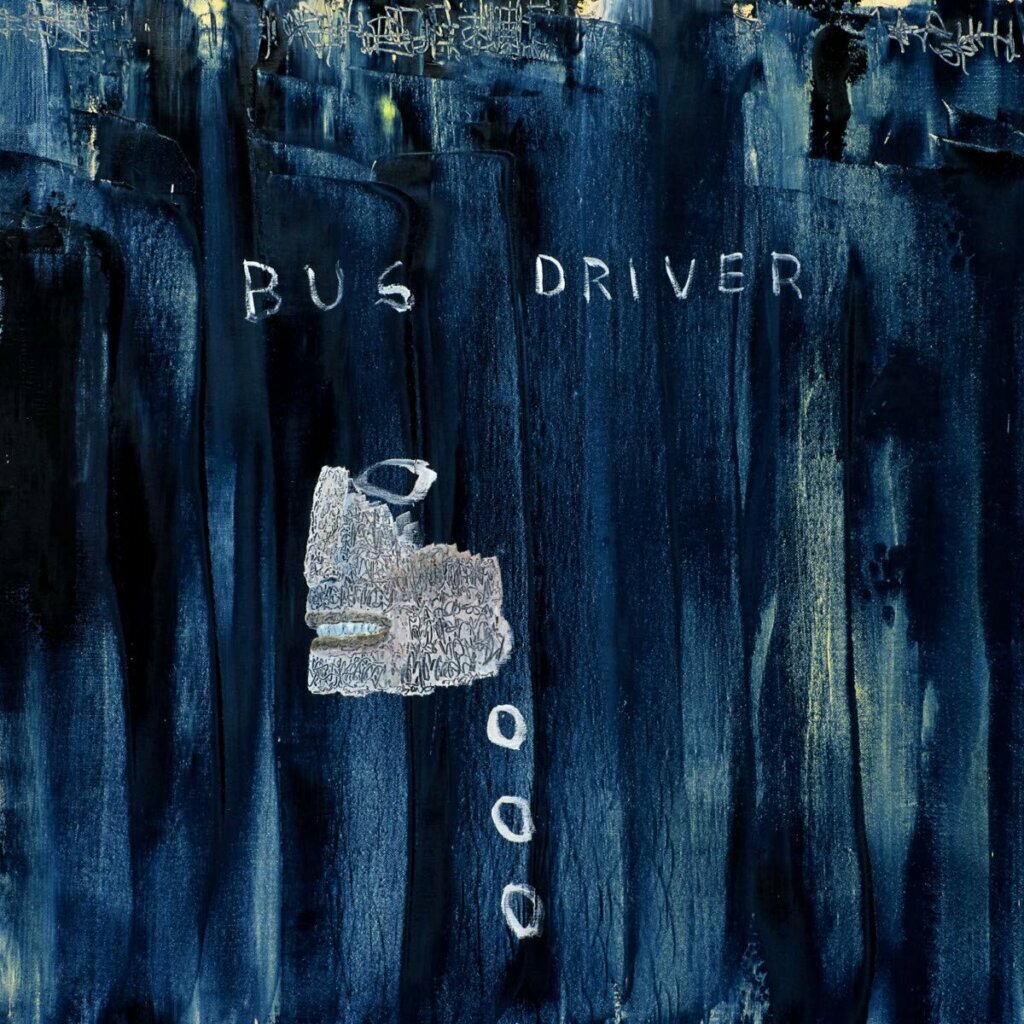 Perfect Hair is Los Angeles-based Busdriver's best album, together with his Temporary Forever cult-classic (2002). It's a Busdriver album, so Perfect Hair is not an easy, accessible listen – but those with an affinity for off-the-wall Hip Hop will be amply rewarded by this challenging but engaging album.
Rating: 7.5/10
25. Diabolic - Fighting Words
Rating: 7.5/10
26. Step Brothers – Lord Steppington
Evidence had a good year in 2014. Dilated Peoples' Directors Of Photography is one of 2014's best albums, and Lord Steppington is a great effort too. Lord Steppington is Evidence's collaboration album with producer extraordinaire The Alchemist – operating together as Step Brothers. The record was produced entirely by Alchemist with one track produced by Evidence and it includes guest appearances from Action Bronson, Roc Marciano, Blu, Fashawn, Rakaa, Oh No, Styles P, Domo Genesis, and The Whooliganz. Alchemist's production is flawless, the bass-heavy beats are dope, the lyrics are on point, and the pacing and sequencing of the album are done just fine. Lord Steppington is a great album from the Step Brothers – hopefully, we'll see a new Step Brothers project in the future.
Rating: 7.5/10
27. YG - My Krazy Life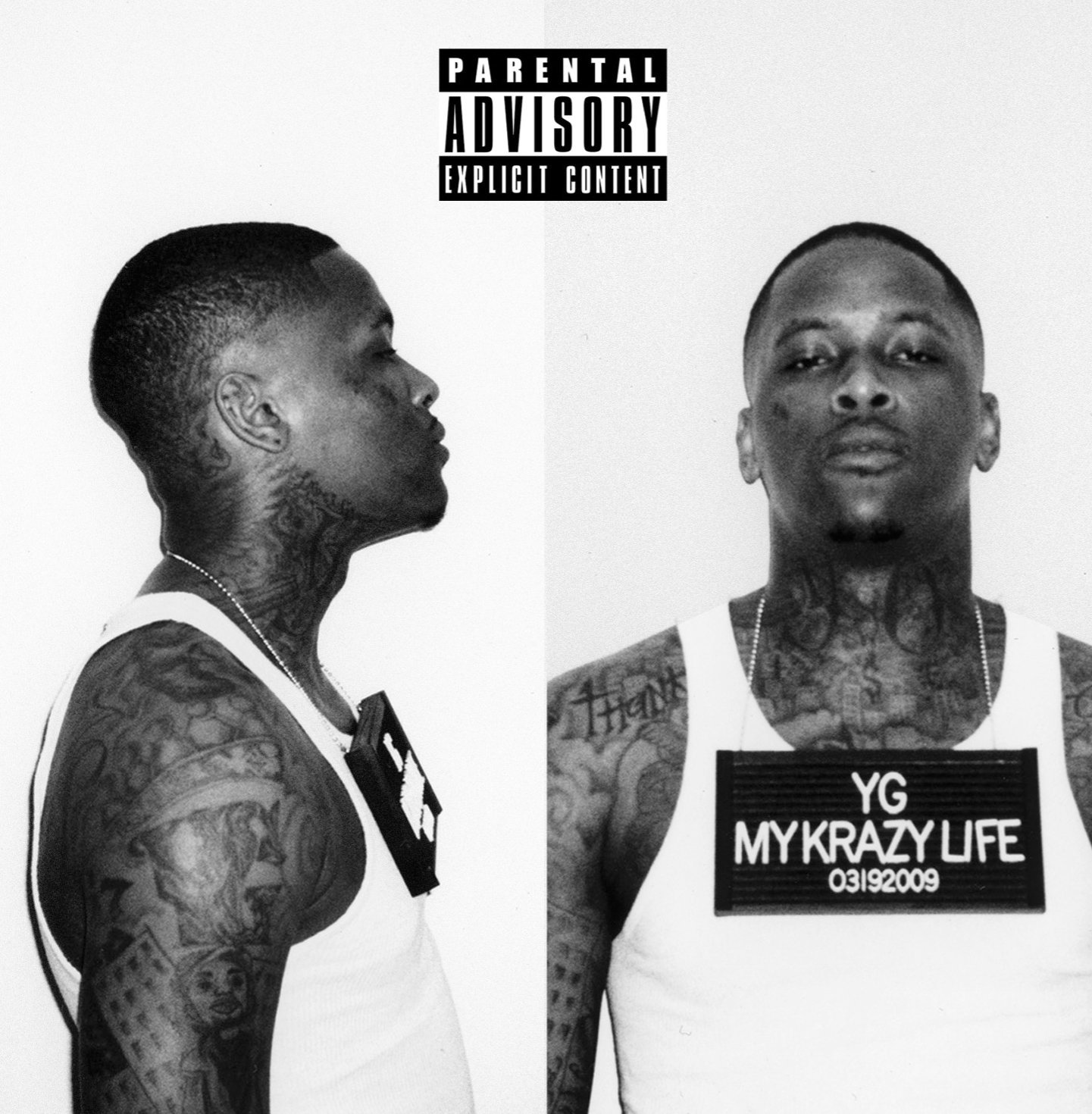 The gangsta rap has been played out for a long time, and outside originators like Ice T, N.W.A, Ice Cube, Dr. Dre, Snoop Dogg, and their like in the late 80s and early 90s nobody has really ever added anything new or interesting to the genre. YG's debut studio album My Krazy Life is an exception to the rule. Even though most of the lyrical content is the same old standard gangsta fare, YG manages to add a vibe of authenticity, making it sound interesting. It also helps his gangsta cliches are backed by banging instrumentals. It's clear YG and his production-team were inspired by genre classics like The Chronic, mixing a G-funk vibe with sonic influences from Bay Area and Southern gangsta rap, all the while staying far enough away from this decade's trap-trappings to deliver a distinctive album that has the possibility for longevity.
Rating: 7.5/10
28. Ghostface Killah – 36 Seasons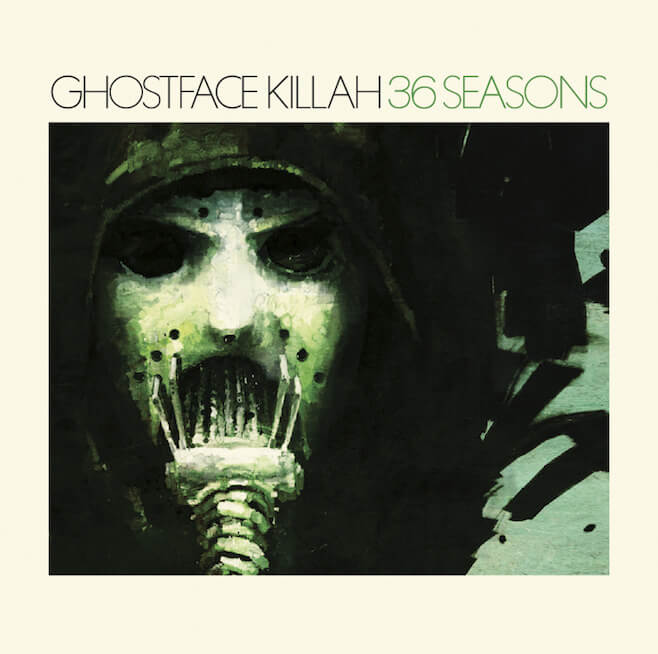 Rating: 7.5/10
29. Anti-Lilly & Phoniks – Stories From The Brass Section
Phenomenal production and relatable rhymes – this first Phoniks and Anti-Lilly album was the first in a series of excellent projects. Phoniks has a couple of instrumental albums (Down To Earth (2018 ) and Time Goes By (2020)) that could have been included on this list as well – he is one of our favorite producers of jazzy boom-bap without a doubt.
Rating: 7.5/10
30. Black Milk- If There's A Hell Below
Black Milk is so underrated as a producer, kind of like a Detroit version of DJ Quik. Similar to DJ Quik's albums, every single Black Milk project has something distinctive, something to differentiate it from his other works. On If There's A Hell Below the focus is more on Black Milk rapping than on his beat-crafting, and surprisingly it works. Again, like DJ Quik, Black Milk is a producer first and a rapper second, but his lyricism on If There's A Hell Below is strong, and the minimalistic production serves to bring the bars to the forefront. No Poison No Paradise is our favorite Black Milk album, but If There's A Hell Below is not far behind.
Rating: 7.5/10
31. Common – Nobody's Smiling
Rating: 7.5/10
32. Army Of The Pharaohs – Heavy Lies The Crown
Heavy Lies The Crown is the second full-length Army Of The Pharaohs release in 2014, and following pretty much the same formula – hard-as-nails lyrics over hard-as-nails beats – it's just about as good as In Death Reborn.
Rating: 7.5/10
33. Diamond D – The Diam Piece
Rating: 7/10
34. Cormega – Mega Philosophy
Biggest complaint: at 32 minutes playing time it's too short, barely over 30-minute cut-off point for what we consider to be EP's. Mega Philosophy would have ended up higher on this list had it be a proper full-length.
Rating: 7/10
35. Atmosphere – Southsiders
Some real highlights on Southsiders – "Camera Thief" is an excellent album opener, and tracks like "Arthur's Song", "We Ain't Gonna Die Today", "Fortunate", "January On Lake Street", and "Let Me Know That You Know What You Want Now" all are vintage Atmosphere as well. A few duds (like "Bitter", "Mrs. Interpret" and "My Lady Got Two Men") prevent Southsiders from being amongst their very best work – but this is a dope album nonetheless. Grown-up Slug may have left his younger self's angst and juvenile quips behind him, but he still manages to come with biting insights into the human condition on this down-tempo and somber album.
Rating: 7/10
36. Souls Of Mischief – There Is Only Now
Rating: 7/10
37. Ces Cru – Codename: Ego Stripper
Rating: 7/10
38. uMaNg – The Black Rose Certificate
Rating: 7/10
39. Jazz Spastiks - The Product
Rating: 7/10
40. Tiff The Gift – Better To Give
Rating: 7/10
Honorable Mentions
Wu-Tang Clan – A Better Tomorrow
Mobb Deep – The Infamous Mobb Deep
Edo.G – After All These Years
The Roots – … And Then You Shoot Your Cousin
J-Live – Around The Sun
Rozewood – The Ghost Of Radio Raheem
String Theory – String Theory
Chief Kamachi – Radio Raheem
N.B.S. – Budavets
Illa Ghee – Social Graffiti
Kool Keith – Crash Demolition
Starvin B – Blood From A Stone
DJ Q-Bert – GalaXXXian
Awon – Matte Black Soul
Blacastan & Stu Bangas – Watson & Holmes
Statik Selektah – What Goes Around
The Doppelgangaz – Peace Kehd
Intuition & Equalibrum – Intuition & Equalibrum
Bishop Nehru & MF DOOM – NehruvianDOOM
Ab-Soul – These Days
Your Old Droog – Your Old Droog
Meyhem Lauren & Buckwild – Silk Pyramids
Emskee & E The 5th – The Marc Smith LP
Awar & Vanderslice – The Winning Team
7even: Thirty – The Problem
Shabaam Sahdeeq – Keepers Of The Lost Art
Rapper Big Pooh & Roc C – Trouble In The Neighborhood
Zilla Rocca & The Shadowboxers – No Vacation For Murder
LEX – H.A.S.H.?!: How About Some Hardcore?!
Goldini Bagwell – Secondhand Smoke The Extended Cut
Emskee & E The 5th – The Marc Smith LP
The Grouch & Eligh – The Tortoise And The Crow
WIZDUMB – Möstly Crëw
Post-Apocalyptic – State Of The Art
Apathy – Connecticut Casual
Freak Tha Monsta – Jackson Brolick
Verbal Kent – Sound Of The Weapon
Willie The Kid & Bronze Nazareth – The Living Daylights
Storm Davis – Only Built 4 Cuban Sandwiches
Slimkid3 & DJ Nu-Mark – Slimkid3 & DJ Nu-Mark
Has-Lo & Castle – Live Like You're Dead
The Real-Dag Duo – Rap Fantastic
Homeboy Sandman – Hallways
Black Knights – Medieval Chamber
Prince Po & Oh No – Animal Serum
Kev Brown Presents Hassaan Mackey – That Grit
Buckshot & P-Money – Backpack Travels
Reks – Watching God
Raf Almighty – G​.​T​.​F​.​O​.​M​.​Y.
Mad Skillz & Bink – Made In Virginia
Fel Sweetenberg – The Invisible Garden
The Underachievers – The Cellar Door
¡Mayday! & Murs – ¡MursDay!
Blessed Nazirite – The Vow
Saigon – GSNT 3
Defizit – Fresh Produce
Rozewood – The Beautiful Type
Starvin B – Blood From A Stone
Main Flow ‎- The Cincinnati Kid
Blu – Good To Be Home
Blueprint – Respect The Architect
Termanology – Shut Up And Rap
Slaine – The King Of Everything Else
Azaia – Re​-​Animations
A-Villa – Carry On Tradition
Git & Hubbs – Piece Of Mind
Tech N9ne – Strangeulation
DJ Quik – The Midnight Life
Joell Ortiz – House Slippers
Styles P – Phantom & The Ghost
Logic – Under Pressure
Pawz One – Face The Facts
Jellyfish Brigade – Diving Lessons
DaVinchee X – Paranoia Of Success
Planet Asia & TzariZM – Via Satellite
Canibus – Fait Accompli
Onyx – #Wakedafucup
Chuck D ‎- The Black In Man
E40 – Sharp On All 4 Corners: Corner 1
E40 – Sharp On All 4 Corners: Corner 2
T.I. – Paperwork
Cappadonna – Hook Off
Uncommon Nasa – New York Telephone
Bombdrop – Dark Dayz
Fliptrix – Polyhymnia
The Legion – The Lost Tapes