Ranking Brother Ali's Albums: Brother Ali is a highly respected Hip Hop artist, speaker, and community leader from Minneapolis, MN. His two-decade resume includes nine critically acclaimed albums, mentorships with iconic Hip Hop legends Chuck D and Rakim, and performances on late-night talk shows with Jimmy Fallon and Conan O'Brien. He's also lectured at universities from Princeton to Stanford and delivered the keynote address at the Nobel Peace Prize Forum.
Ali has won the hearts and minds of Hip Hop fans worldwide with his intimate songwriting, captivating live performances, and outspoken stance on issues of Justice and Human Dignity. His provocative and uplifting brand of Hip Hop has earned him coveted press features like Rolling Stone's 40th-anniversary edition and Source Magazine's legendary "Hip Hop Quotables", while his outspoken social justice message has landed him on government watch lists. In 2007, Ali was flagged by The US Department of Homeland Security for his controversial critique of America's human rights violations in his song/video "Uncle Sam G******". In the summer of 2012, Ali was arrested in an act of civil disobedience as an organizer of Minnesota's Occupy Homes movement to defend Twin Cities homeowners from unjust foreclosures.
When he's not rocking the mic at Coachella, or being arrested for civil disobedience in support of marginalized communities, Brother Ali travels the world learning and teaching Islamic Spirituality under some of today's renowned Muslim leaders. In addition to leading worship services and classes across the country, he co-founded The Gemali Project, an organization that helps Muslim converts and spiritual seekers access the beauty of the Islamic tradition.
For this piece, we take a look at all Brother Ali studio records. Officially, he has released 7 albums and 3 EPs, but these EPs are practically LP-length (two of them longer than his last 2019 LP), so we will forget about the distinction and not exclude the EPs this time. Let's get into it – which albums do YOU consider to be Brother Ali's best?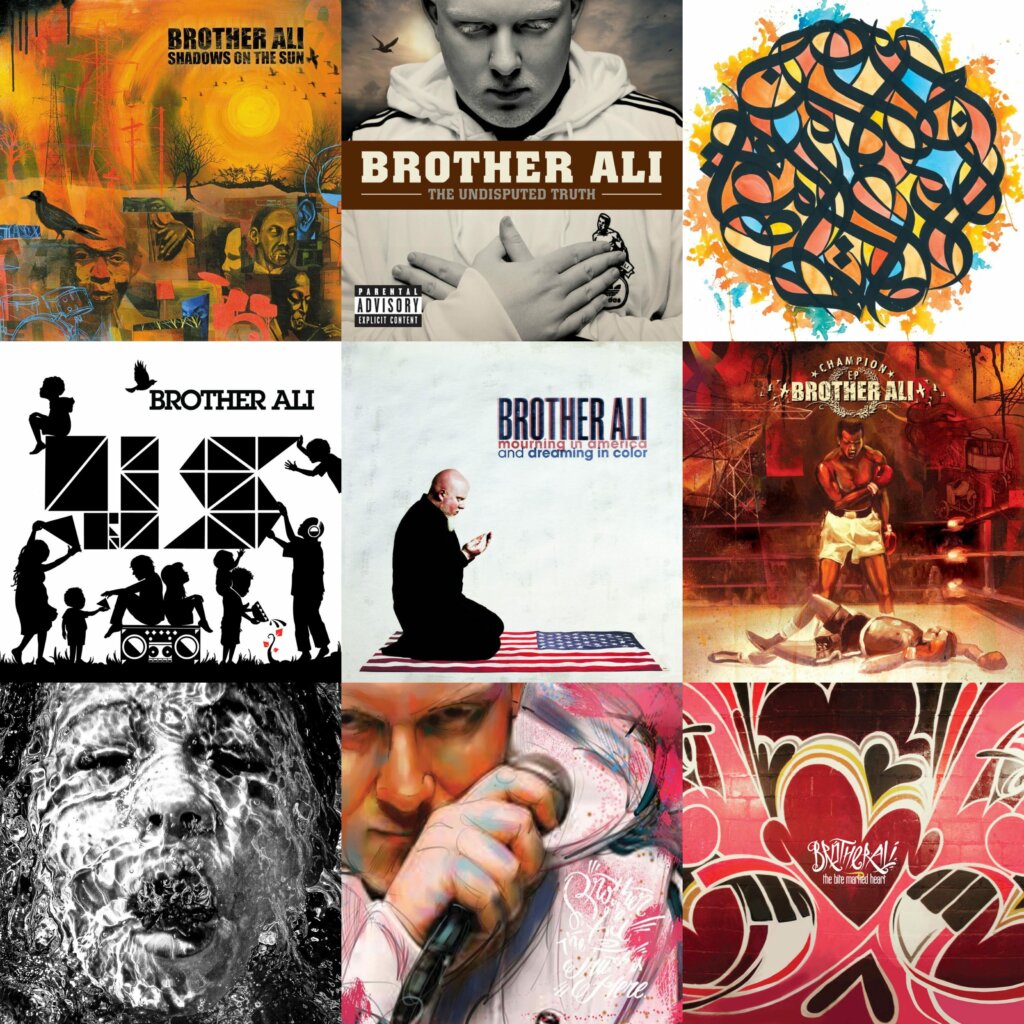 10. Rites Of Passage (2000)
Brother Ali has one of the most consistent catalogs in Hip Hop. This somewhat rough-around-the-edges and now hard to find self-produced debut (it was a cassette-only release with very small original circulation) is not his best work but it showed all his promise – as evidenced by quality cuts such as "Think It Through" and "Three Day Journey". 7/10
9. The Bite Marked Heart (2012)
Brother Ali's The Bite Marked Heart shows a very different side of him. We've all been exposed to the political, heartfelt, and soulful intimacy of his previous albums, but this is the time he gives the listeners an introspective view of personal romantic relationships. Whether it be the lighthearted and playful nature of "Shine On," or the more serious topics addressed in "Haunted Housebroken," The Bite Marked Heart takes the listener through a path of romantic exploration. Featuring production from Jake One and Atmosphere's steady producer Ant, there's something for everyone no matter where their heart is at.
At 7 tracks and 27 minutes, The Bite Marked Heart is the only 'real' EP on this list and due to its brevity it misses the depth of Brother Ali's other projects – but this slept-on free download is pretty good. Brother Ali manages to do a 'love album' without getting corny, and the slick soulful instrumentals are a joy to listen to. 7.5/10
8. The Truth Is Here (2009)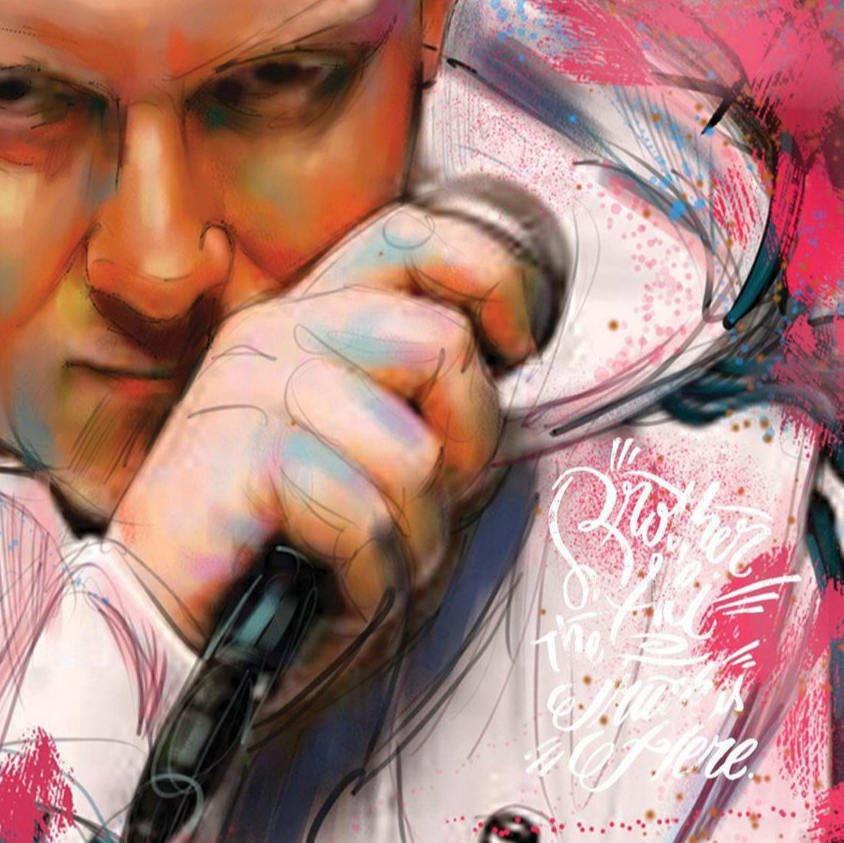 Fresh off of his critically acclaimed third album The Undisputed Truth Ali picks up where he left off with The Truth Is Here– an EP that feels like a full-length LP. At 34 minutes it isn't exactly a long album of course, but not a second is wasted – what we get is 9 well-rounded Brother Ali songs with a couple of stand-outs cuts like "Talkin' My Sh**",  "The Believer" (with Slug), and "Begin Here". Solid beats from Atmosphere's Ant and inspiring bars delivered with Brother Ali's signature flow and passion. 7.5/10
7. Secrets & Escapes (2019)
At 33 minutes barely over EP-length, this surprise release by Brother Ali was an unexpected treat – Secrets & Escapes is a great project, despite its short running time and total lack of pre-promotion. Written and recorded in its entirety over the course of three trips Brother Ali undertook to Los Angeles and entirely produced by Dilated Peoples' Evidence, Secrets & Escapes consists of 11 tracks, with guest features from Talib Kweli, Pharoahe Monch, C.S. Armstrong, and Evidence himself. Knowing Evidence's production chops and taking into account the fact Brother Ali has never released a weak project, one could say Secrets & Escapes deserved more pre-hype and more fanfare upon its release. Sure enough, Secrets & Escapes does not disappoint – this is a more than solid addition to Brother Ali's consistently strong catalog. Awesome cover-art too. 7.5/10
6. Champion EP (2004)
Billed as an EP, but at almost 40 minutes longer than most albums nowadays – Champion is a proper full-length as far as we are concerned. Composed of left-over tracks from Shadows On The Sun recording sessions, the whole album is dope – these songs definitely were too good to be kept unreleased. Standouts include "Bad Ma F*cka" with an incredible beat from Ant and with Ali spitting fire, and songs like "Love On Display", "Self Taught", "Chain Link", and especially "Rain Water are classic Brother Ali too. Overall, it's very solid throughout with no bad tracks, even though the remix of "Champion" is not as good as the flawless original from Shadows On The Sun. 8/10
5. Mourning In America And Dreaming In Color (2012)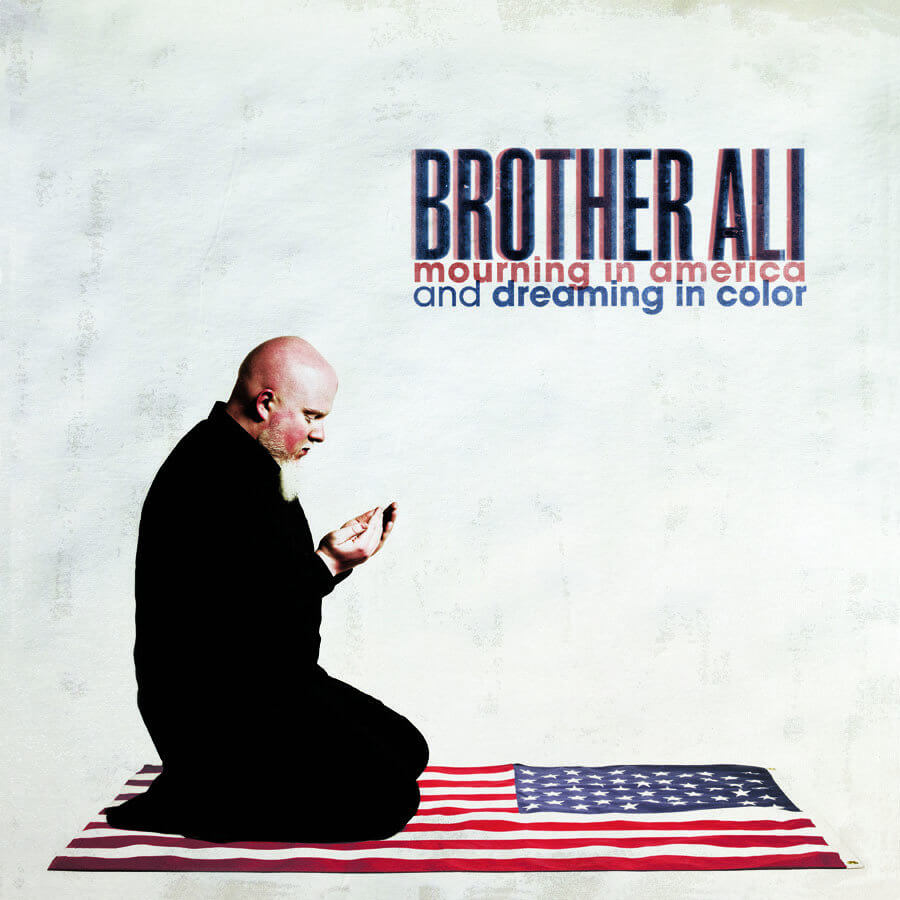 Brother Ali is one of the stalwarts of the lost art of conscious Hip Hop. He has never released a sub-par album, his discography is one of the strongest and most consistent in Hip Hop, and Mourning In America And Dreaming In Color is another jewel in his crown. Although Ali did most of his very best work with Atmosphere's Ant on the boards, Jake One is a more than competent producer as well, providing subdued soundscapes here for Ali's lyrics to shine. Ali comes with the same politically and spiritually conscious fire that he's known for. Lots of standouts, cuts like the heartfelt " All You Need" and especially "My Beloved" are classic Brother Ali, as are songs like "Letter To My Countrymen", "Mourning In America" and "Only Life I Know". 8/10
4. Us (2009)
Us signified another Brother Ali gem – one hour of music, with 16 non-skippable tracks laced with truth and emotion – Ali never disappoints. Few emcees are able to come with thought-provoking content without sacrificing rhyme schemes, wordplay, and masterful flows the way Brother Ali is – songs like "House Keys", "The Travelers", "Tight Rope", "Baby Girl", and "Us" cases in point. Other stand-outs where Ali is boasting his lyrical abilities are "Best@it", and "Bad Muf*cker Pt. 2". Us has outstanding Ant instrumentals too, as always – with the incorporation of a lot more live instrumentation this time around. Following  Shadows On The Sun (2003) and The Undisputed Truth (2007), Us is another Brother Ali sure shot, and of 2009's best releases. 8.5/10
3. All The Beauty In This Whole Life (2017)
All The Beauty In This Whole Life signified Brother Ali's return to recording after a five-year hiatus. At this point in his career, it was clear what to expect from Brother Ali – lyrical precision, honest emotion, social commentaries, and intelligent observations. Where his last album Mourning In America And Dreaming In Color was filled with socio-political insights reflecting the state of American affairs mixed with Ali's personal stories, All The Beauty In This Whole Life is all about inner transformation. Ant provided Ali with perfect lush boom-bap instrumentals to accompany his soulful collection of personal stories about the ups and downs of life, highlights include "Own Light," "Can't Take That Away",  "The Bitten Apple", "Before They Called You White", "Out Of Here", "Dear Black Son", and "Pray For Me". All The Beauty In This Whole Life is another amazing album by Brother Ali – powerful and meaningful grown-up music, a breath of fresh air in a rap year filled with face-tatted mumblers dominating the mainstream. 8.5/10
2. The Undisputed Truth (2007)
The Undisputed Truth is the best Hip Hop album released in 2007. Powerful, political, and personal: activist Brother Ali shows himself in a song like "Truth Is", the biting political commentator in the classic "Uncle Sam Goddamn" and "Letter From The Government", and the vulnerable family man comes out in the bitter letter to his ex-wife "Walking Away" and one to his son "Faheem". Great messaging, intricate lyricism, beautiful guitar-driven bluesy rhythms crafted by Ant – and not one miss in the tracklist: The Undisputed Truth is a classic. 9/10
1. Shadows On The Sun (2003)
While all of Brother Ali's albums are great, Shadows Of The Sun is his absolute best. Over some of the most engaging beats Ant ever crafted, Ali paints honest, poignant, and compelling pictures all over the album. While every track is exceptional in its own right, perhaps it's the painfully open "Forest Whitiker" – where Ali bravely points out all his physical imperfections while embracing them at the same time – showing the importance of self-love in one of the most empowering cuts ever. Other stand-outs include "Room With A View", "Shadows On The Sun", "Blah Blah Blah", "Champion", "When the Beat Comes In", "Win Some Lose Some", and the heartbreaking "Picket Fence". With Shadows Of The Sun Brother Ali delivered a landmark album – the best Hip Hop album released in 2003, and one of the best Hip Hop albums of the 2000s. 9/10