Ranking Atmosphere's Albums: For over two decades, Atmosphere has maintained a course of rigorous output, releasing over two dozen studio albums, EP's, and collaborative side projects in as many years. In that time, the venerated duo has built a legacy out of bringing honesty, humility, and vulnerability to the forefront of their music, continually challenging themselves to evolve without straying too far from their roots. Slug has proven masterful at storytelling and writing compelling narratives, leaving a trail of his own influence while paying homage to the rappers and songwriters that helped shape him. Ant has skillfully molded the soundtracks with inspiration from soul, funk, rock, reggae, and the wizardry of Hip Hop's pioneering DJs and producers, creating his own trademark sounds while providing the pulse for songs about life, love, stress, and setbacks. At its essence, Atmosphere has been a musical shepherd, and with each new album comes a new journey as they guide generations of listeners through this thing called life.
For this piece, we take a look at Atmosphere's full-length studio albums (so not ALL their mixtapes, EP's, and such – with some exceptions). How would YOU rank these Atmosphere projects?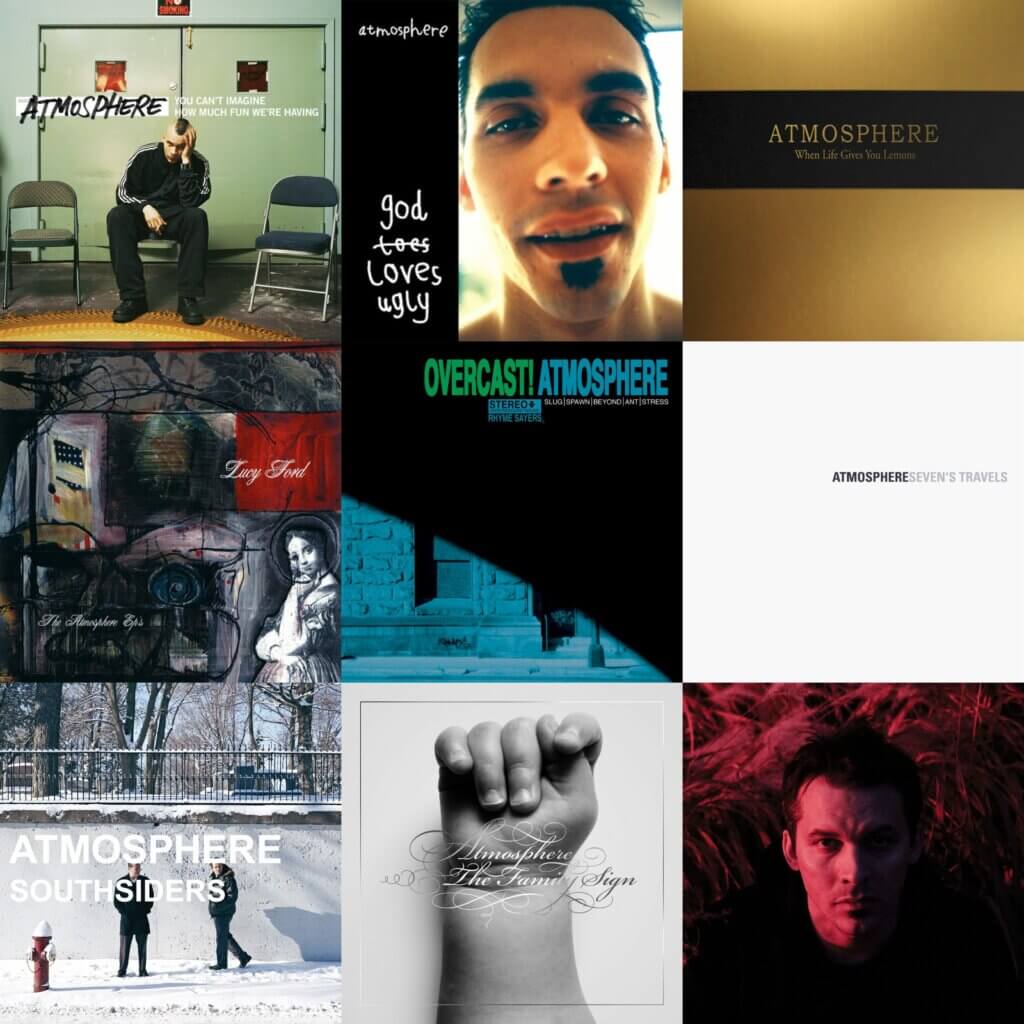 14. The Day Before Halloween (2020)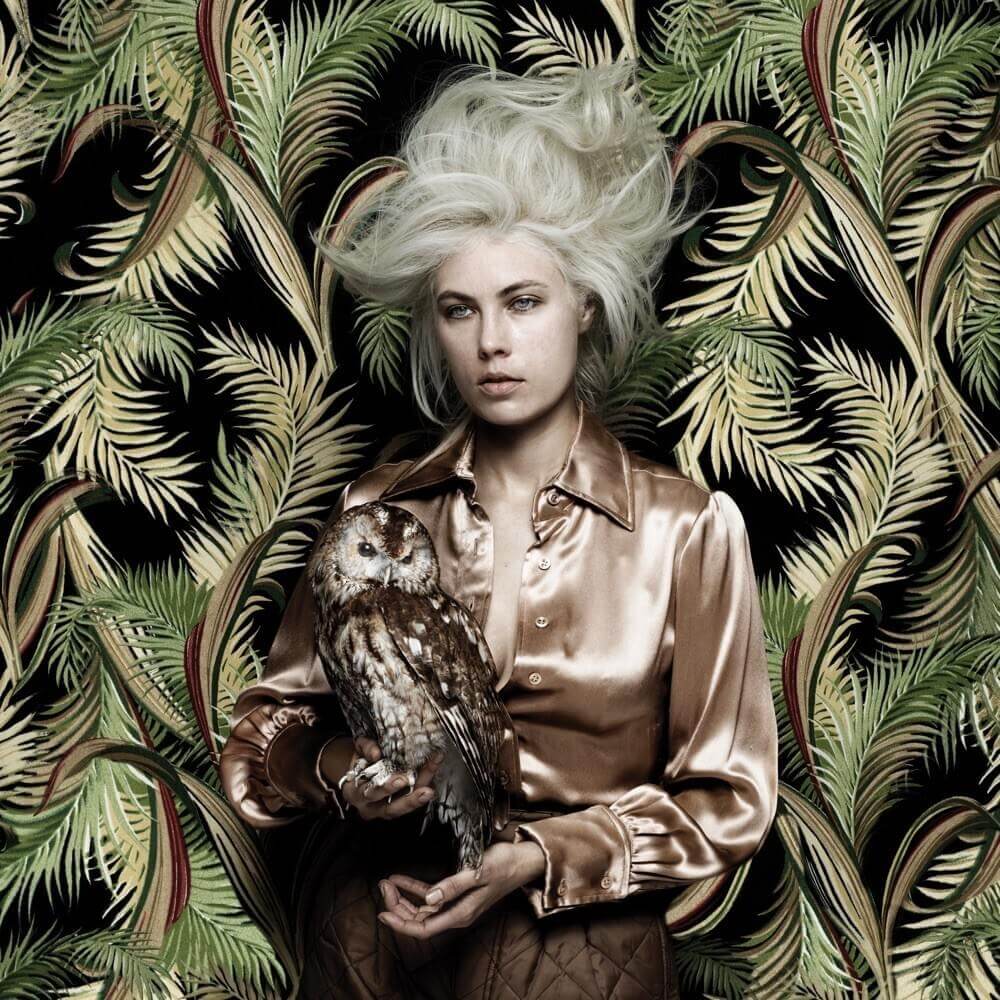 Billed as a full-length album, The Day Before Halloween actually feels more like an EP, at a mere 28 minutes. Also, Ant comes with a more electronic-sounding production than we are used to from him, and the results are not great. The Day Before Halloween is not bad, but it is one of Atmosphere's most forgettable projects. 5.5./10
13. Headshotz Se7en (1999/2005)
Not always counted as an 'official' Atmosphere album, Headshotz Se7en was released on cassette only in 1999 (a CD with bonus material was released in 2005), this second Atmosphere project is a transformative/transitional one – from the witty lyricism on 1997's Overcast! to the deeper content Atmosphere would become famous for later on. It is both on display here, and even though the album (cassette…) might have been better if it had been a bit shorter and sonically more polished, this still is solid Atmosphere, with dope tracks such as "The Jackpot/Swept Away", "The Stick Up", "Heart" and "Molly Cool" on the tracklist. 6.5/10
12. Fishing Blues (2016)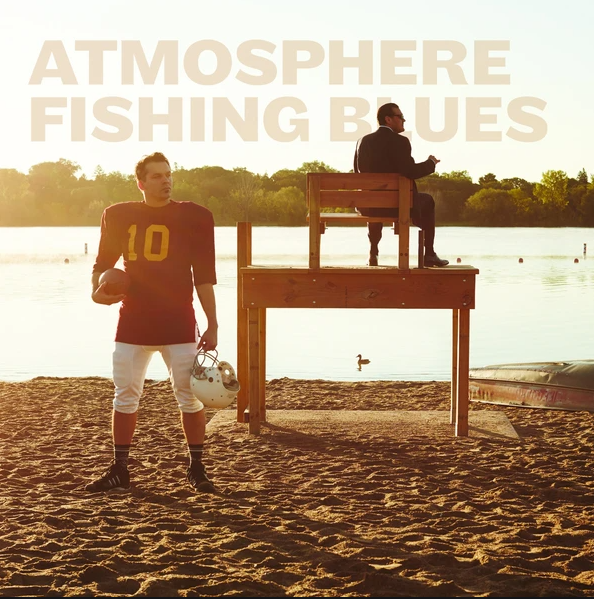 Fishing Blues is not one of Atmosphere's better albums, but it is a solid enough presentation – sometimes judged too harshly. Admittedly, the album would have been better if a 5 or 6 of the weaker songs (especially in the first half of the tracklist) had been left on the cutting room floor – at 18 tracks, and over an hour of playing time things can get a bit repetitive. And some of the hooks are kind of weak (on "Ringo" and "Next To You", for instance).
That said, Atmosphere's strengths are plenty visible here. Ant's smooth instrumentals fit Slug's everyman blue-collar raps like a glove. None of that fantasy nonsense that half these modern-day rappers are imagining on an Atmosphere album. Slug's lyrics are always worth listening to, and there are some really strong songs – "When The Lights Go Out" featuring Kool Keith (who unfortunately only does the hook, though) and MF DOOM is an easy favorite, as are tracks like "The Sh*t That We've Been Through", "Chasing New York" (featuring Aesop Rock), "Sugar", "No Biggie", and "Everything". 6.5/10
11. Whenever (2019)
Lush production from Ant, and thoughtful dad-rap bars from Slug. Less memorable moments than on other Atmosphere projects, but a middle-of-the-road Atmosphere album is still better than most artists' best. The humorous (but cleverly layered) "Postal Lady" is a stand-out, as is "The Hands Of Time". All in all, this is a pretty good record that fits right in with the rest of Atmosphere's later catalog. 7/10
10. Sad Clown Bad Year (2007/2018)
Sad Clown Bad Year (is a compilation of #9 through #12 of EPs of unreleased material under the "Sad Clown/Bad Dub" title; these four released in 2007 and 2008. Now, normally we don't include mixtapes, EPs nor compilations on lists like this, but because Sad Clown Bad Year 'feels' like a cohesive album, we decided to break our own rule (as we will do once more a little bit higher on this list).
This 10-year anniversary release consists of 20 songs, encompassing fan favorites such as "Don't Forget", "The Rooster", "Not Another Day", "Happymess", and most notably, "Sunshine" – enough essential Atmosphere cuts on this project to include it on this list. 7/10
9. Mi Vida Loca (2018)
Following Fishing Blues, Ant and Slug returned in 2018 with their 9th official full-length album, Mi Vida Loca. At this point, the Minneapolis duo could be relied on to drop quality music – Mi Vida Loca doesn't break the trend. Ant's instrumentals are rich, layered, and assured, plus Slug is as deep lyrically as he always is – this album is yet another strong entry in a strong catalog. Mi Vida Loca is Hip Hop for grown-ups and excellent Hip Hop at that. 7/10
8. The Family Sign (2011)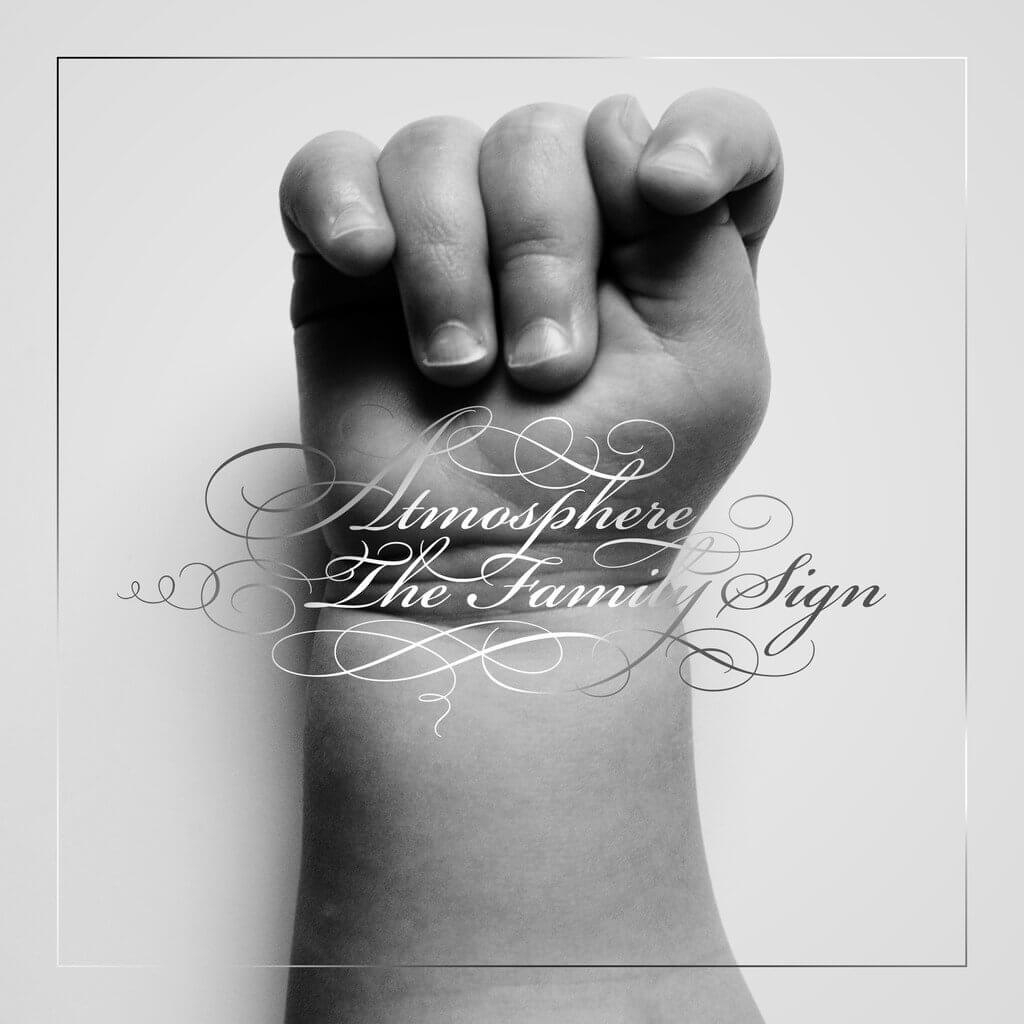 The Family Sign is not Atmosphere's best album, but it does contain one of Atmosphere's absolute top tracks: "The Last To Say" – one of the best songs ever penned about domestic violence. The whole album deals with (family) relationships – good and bad – and can be heavy going at times, this is an emotional album. Next to "The Last To Say", other stand-outs include "She's Enough", "I Don't Need Brighter Days", "Your Name Here," "My Notes", and "If You Can Save Me Now" – overall this is another strong Atmosphere album, a few weaker songs like "Bad Bad Daddy" notwithstanding. 7/10
7. Southsiders (2014)
Some real highlights on Southsiders – "Camera Thief" is an excellent album opener, and tracks like "Arthur's Song", "We Ain't Gonna Die Today", "Fortunate", "January On Lake Street", and "Let Me Know That You Know What You Want Now" all are vintage Atmosphere as well. A few duds (like "Bitter", "Mrs. Interpret" and "My Lady Got Two Men") prevent Southsiders from being amongst their very best work – but this is a dope album nonetheless. Grown-up Slug may have left his younger self's angst and juvenile quips behind him, but he still manages to come with biting insights into the human condition on this down-tempo and somber album. 7.5/10
6. Seven's Travels (2003)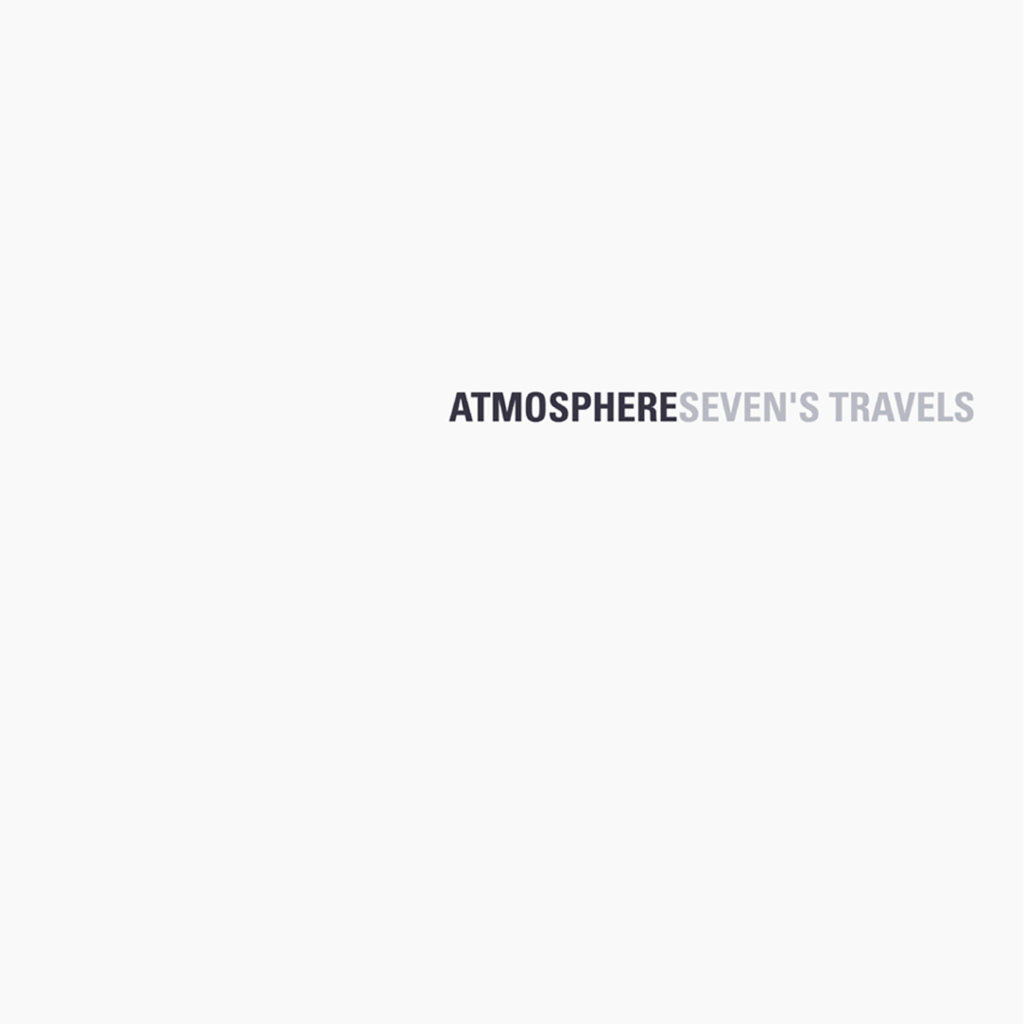 Seven's Travels is under-appreciated by critics and fans alike. Just because Atmosphere dropped so many quality albums that some of them are even better than this one, doesn't mean Seven's Travels is a bad album. In fact, Seven's Travels is a very good album. Ant's production is money in the bank here (even if he gave his very best beats to Brother Ali this year) – he is a true master with the beats, snares, kicks, and loops.
Lyrically Slug is on point too, especially on classic Atmosphere cuts like "Trying To Find A Balance", "Birds Sing Why The Caged I Know", "Lifter Puller", "Always Coming Back Home To You", "Los Angeles" and "In My Continental". It can be argued the tracklist could have been a bit tighter – at 70 minutes Seven's Travels is a long listen – but a few filler tracks do not diminish this album. No reason not to pick up Seven's Travels. 7.5/10
5. Overcast! (1997)
Reportedly not loved by Atmosphere's Slug himself, this album is pretty dope anyway. On their debut Atmosphere still was a trio, consisting of Slug and Ant, and an emcee named Spawn. More raw, dark, and grimy than their later albums would be, and not much of the 'emo-rap/regular man Hip Hop' they became famous for later in evidence yet. Just a straight-up Hip Hop banger that Slug can be proud of (even if he isn't) – this album kicks ass. Atmosphere is one of underground Hip Hop's top acts and their legacy started here. 7.5/10
4. Lucy Ford: The Atmosphere EP's (2001)
Tipically, we do not include EPs and compilation albums on our lists. But seeing as these three Atmosphere EPs that were formerly available only on vinyl have been re-released as one album, this Atmosphere release deserves a mention here as one album. "Aspiring Sociopath", "Woman With The Tattooed Hands" and "Guns and Cigarettes" are Atmosphere classics of course, but there is more to enjoy – this album is a must-have for Atmosphere fans at the very least. 7.5/10
3. When Life Gives You Lemons, You Paint That Sh** Gold (2008)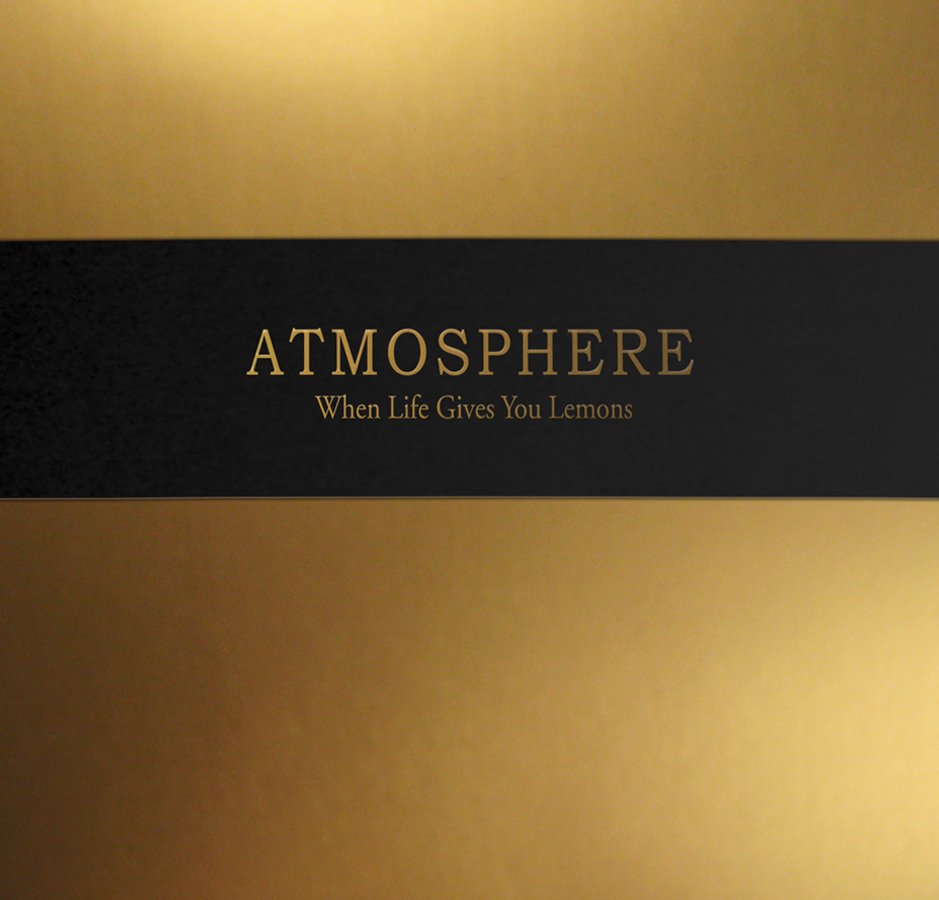 Following their breakthrough project God Loves Ugly (2002) and their best album You Can't Imagine How Much Fun We're Having (2005), Slug and Ant dropped what would go on to become their highest-charting album in 2008: When Life Gives You Lemons, You Paint That Sh** Gold. All Atmosphere's strengths are in evidence here: Ant's beats are mostly excellent from start to finish (a little too pop-polished here and there perhaps), and Slug does what he does best, wearing his heart on his sleeve all as well as doing great storytelling work. With "Yesterday", the heartfelt ode to Slug's deceased father, the albums also holds one of Atmosphere's best songs ever. 8/10
2. God Loves Ugly (2002)
On God Loves Ugly Atmosphere's Slug and Ant wanted to show how far away they stood from conventional, traditional Hip Hop imagery and themes. Absorbing their need to be different, they came up with some of the most conceptually intriguing Hip Hop of the early millennium. On God Loves Ugly, Slug and Ant managed to weave tales of sorrow, frustration, and forgiveness together seamlessly over beds of melancholic melodies that swell with tension and angst over bone-cracking snares and taut bass lines. With some of the most beloved classics in Atmosphere's catalog, including "F*@k You Lucy", "Godlovesugly", "Lovelife", "Modern Man's Hustle" and "Shrapnel", God Loves Ugly was effectively a lesson on processing pain without becoming a victim to it. Considered one of the first 'emo-rap' (an over-used label these days) albums, Atmosphere brings passion with an intricate poetic nature that makes God Loves Ugly of their very best albums. 8.5/10
1. You Can't Imagine How Much Fun We're Having (2005)
Rhymesayers co-founders Sean Daley (Slug) and Anthony Davis (Ant) are one of the label's flagship acts, releasing music as Atmosphere since 1999. You Can't Imagine How Much Fun We're Having, is their fifth album, a release as beautifully crafted and put together as any other album in that entire decade – Ant has rarely been better behind the boards, and Slug is just fantastic on the mic. You Can't Imagine How Much Fun We're Having has dope beats and intelligent rhymes all the way through, stand-out tracks like "Say Hey There", the fascinating "Pour Me Another" and the touching standout "Little Man" help to make this album Atmosphere's absolute magnum opus and one of 2005's best releases. 9/10