Rhymesayers Entertainment Best Hip Hop Albums: along with Mello Music Group, Rhymesayers Entertainment is one of our favorite record labels.
[Rhymesayers Entertainment (sometimes abbreviated RSE) is an independent Hip Hop record label based in Minneapolis, Minnesota. It was co-founded in 1995 by Sean Daley (Atmosphere's Slug), Anthony Davis (Atmosphere's Ant), Musab Saad (Sab the Artist), and Brent Sayers (Siddiq).]
When Rhymesayers Entertainment first came to be in the mid-'90s, the independent Hip Hop scene was just beginning to flourish—perhaps one of the most prominent indie Hip Hop moments to date. Since that time, the landscape has changed dramatically, and most of the indie Hip Hop labels from that period no longer exist. However, thanks to a solid foundation of talent, wisdom, and diligence, paired with an unending desire for growth and diversity, Rhymesayers is still here today, 25 years strong.
The Rhymesayers collective was born in the early '90s, out of equal parts necessity and opportunity, in a local scene hungry for Minnesota talent to rise. The crew, comprised of a handful of talented artists from Minneapolis & Saint Paul, started building their name by regularly performing in local coffee shops and selling their "Headshots" tapes and merchandise as a means to invest in their future.
Years of hard work and reinvestment came to fruition with the founding of Rhymesayers Entertainment in 1995, and its first official releases—1996's full-length debut from Musab (formerly Beyond), Comparison, and 1997's full-length debut from Atmosphere, Overcast!. These two releases fueled interest in the label and helped catalyze its expansion to other markets outside of the Twin Cities such as Madison, Milwaukee, Boulder, Denver, Chicago, and more, setting the stage for what would become one of their strongest and most enduring qualities: touring and live performances.
While the Rhymesayers lineup initially focused on local talent like Musab, Atmosphere, Eyedea & Abilities, Brother Ali, and I Self Devine, rigorous touring and consistent exposure helped the label to connect with other like-minded artists throughout the country, which led to new signings and an even more dynamic roster. Additions like Soul Position, Mr. Dibbs, P.O.S, Murs (Felt), MF DOOM, Grieves, Evidence, Aesop Rock, deM atlaS, Prof, Sa-Roc, and many others, all played a role in diversifying the label's sound.
Presented here are HHGA's 40 favorite RSE projects (no EP's, compilations, or instrumental albums are included) – check out Rhymesayers Entertainment Best Hip Hop Albums.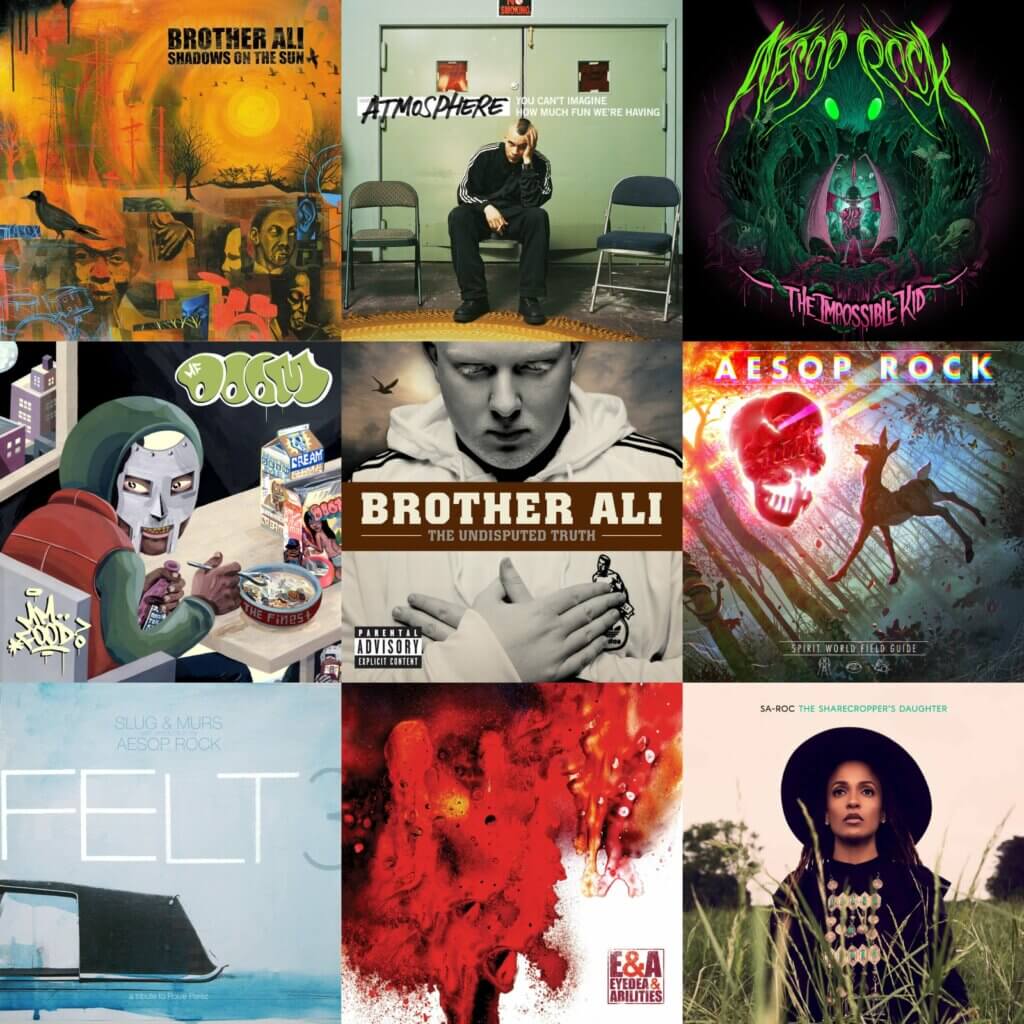 40. Soul Position - Things Go Better with RJ and AL (2006)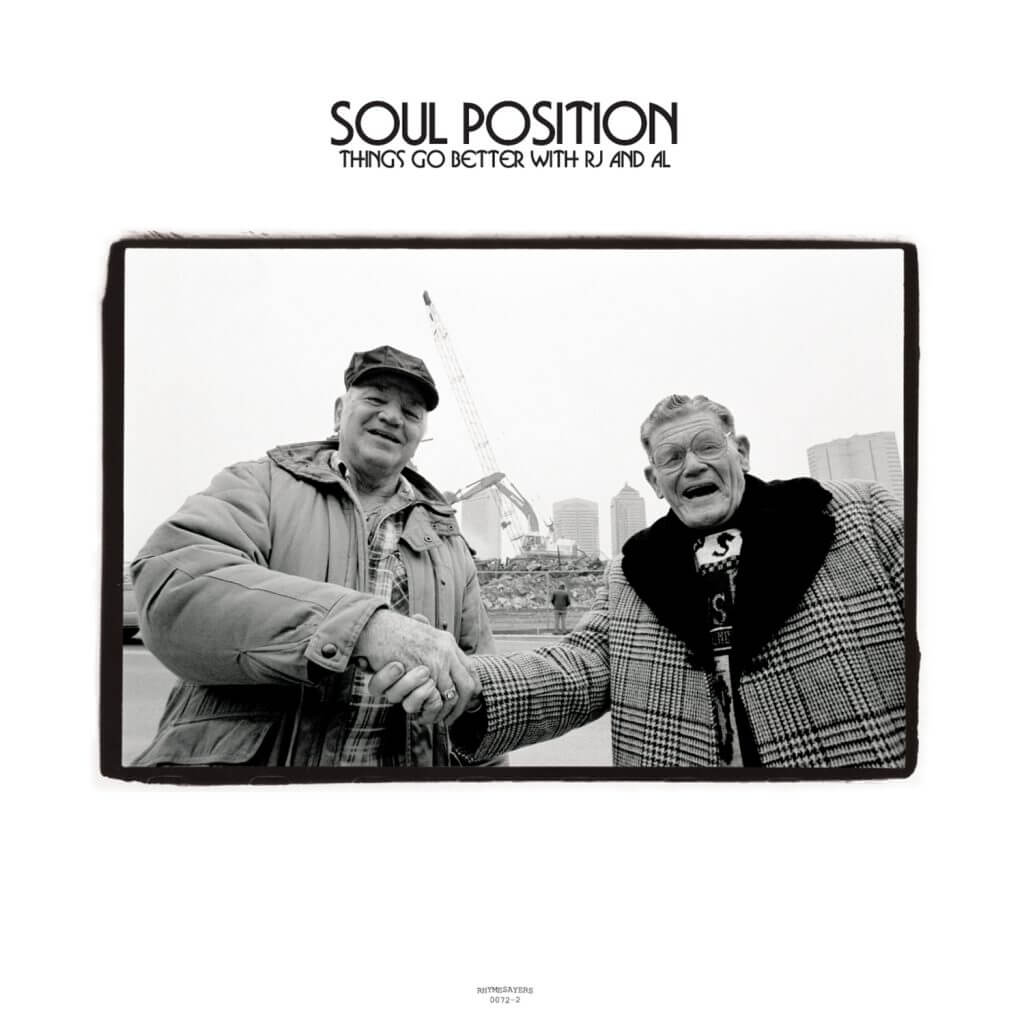 RJD2 and Blueprint return with the follow up to 2003's excellent 8 Million Stories. Blending the light-hearted fun of the Unlimited EP with the emotionally charged storytelling of 8 Million Stories  Things Go Better With RJ And Al is a truly great Hip Hop album, that deserved much more attention than it got in 2006.
39. Micranots – The Emperor & The Assassin (2004)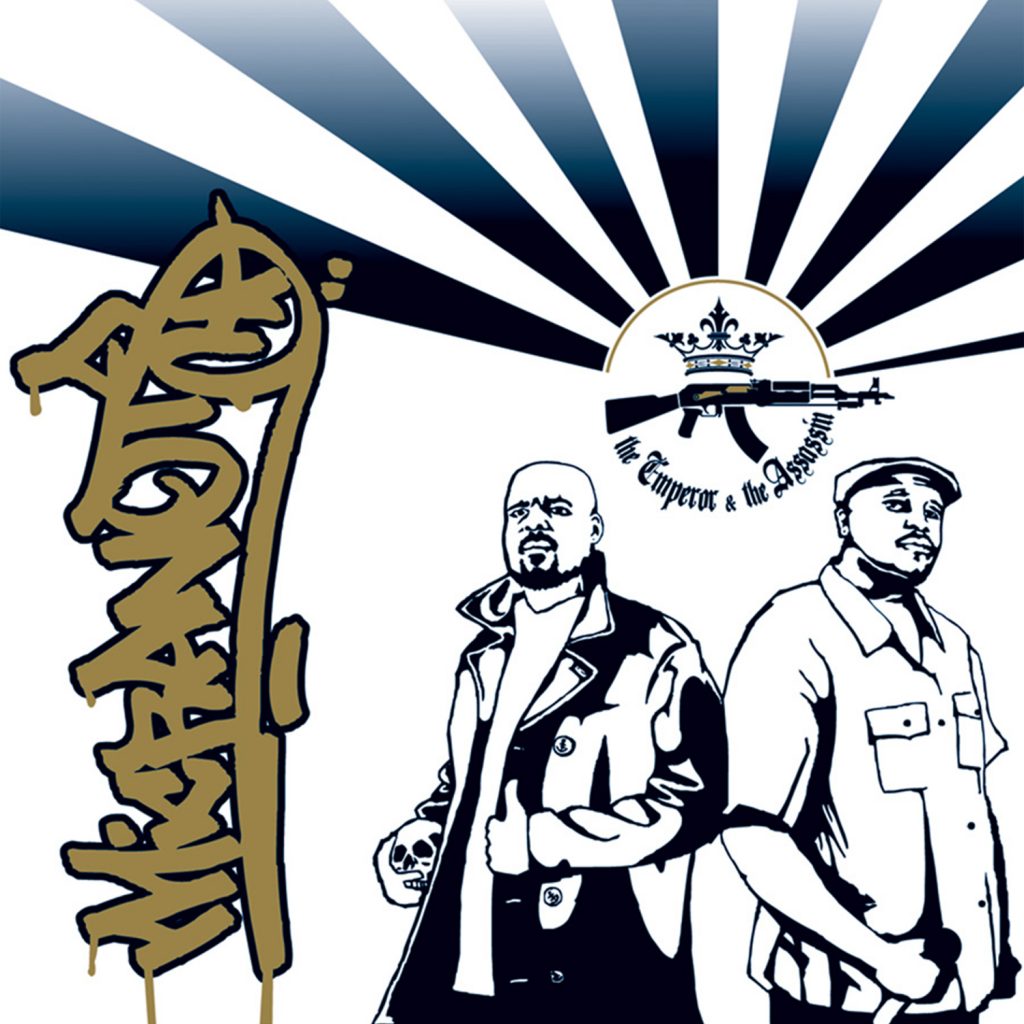 The Emperor & The Assassin is the third album from Micranots (consisting of I Self Devine and DJ Kool Akiem). After signing with Rhymesayers, the duo relocated from Atlanta to Minneapolis. They formed the Micranots back in 1991, so by the time 2003 came along these two could be considered veterans. They would be break up soon after the release of The Emperor & The Assassin, so this release remains their best (even if their first two efforts were more than fine too).
What does this album have to offer? Pure and uncut Hip Hop, plain and simple. Dope beats, and excellent lyrics from I Self Devine that are way above average. I Self Devine is a competent emcee – one who has the vocabulary to express himself with intelligence and clarity, as well as the flow and delivery to give power to his words. Passionate and intelligent –The Emperor & The Assassin is a dope album.
38. Atmosphere - Overcast! (1997)
Reportedly not loved by Atmosphere's Slug himself, this album is pretty dope anyway. On their debut Atmosphere still was a trio, consisting of Slug and Ant, and an emcee named Spawn. More raw, dark, and grimy than their later albums would be, and not much of the 'emo-rap/regular man Hip Hop' they became famous for later in evidence yet. Just a straight-up Hip Hop banger that Slug can be proud of (even if he isn't). Atmosphere is one of underground Hip Hop's top acts and their legacy started here.
37. Toki Wright – A Different Mirror (2009)
Minneapolis artist Toki Wright came up as an opening act for Brother Ali and as his hypeman. A Different Mirror is his official solo debut on Rhymesayers and the first installment of the Rhymesayers Spotlight Series. Toki Wright has a good voice with a smooth melodic flow, and his intelligent lyrics are worth listening to. The production is competent enough, but a bit spotty and forgettable here and there – Wright deserved better beats. But even if the album could have been better beats-wise, A Different Mirror is a must for fans of smooth boom-bap and conscious lyrical content.
36. Brother Ali – Secrets & Escapes (2019)
At 33 minutes barely over EP-length, this surprise release by Brother Ali is an unexpected treat – Secrets & Escapes is a truly great project, despite its short running time and total lack of pre-promotion. Written and recorded in its entirety over the course of three trips Brother Ali undertook to Los Angeles and entirely produced by Dilated Peoples' Evidence, Secrets & Escapes consists of 11 tracks, with guest features from Talib Kweli, Pharoahe Monch, C.S. Armstrong and Evidence himself. Knowing Evidence's production-chops and taking into account the fact Brother Ali has never released a weak project, one could say Secrets & Escapes deserved more pre-hype and more fanfare upon its release. Sure enough, Secrets & Escapes does not disappoint – this is a more than solid addition to Brother Ali's consistently strong catalog. Awesome cover-art too!
35. Musab - Respect The Life (2002)
Respect The Life is one of the most underappreciated and most slept-on albums ever released on the Rhymesayers label. Rhymesayers co-founder Musab Saad is a dope emcee, and his lyrical content is intelligent and entertaining. Guests include Brother Ali and One Be Lo, and there's production work from Ant, Jake One, and Brother Ali (among others). Respect The Life is funky and clever – a memorable album that deserves more attention than it got.
34. Felt - Felt 4 U (2020)
18 years after A Tribute to Christina Ricci and 11 years after the third and last Felt album Felt 3: A Tribute to Rosie Perez, Slug and Murs are back with Felt 4 U, this time around with production from Slug's Atmosphere partner Ant. Ant's production for Felt 4 U is absolutely incredible, it's among the best work best he has ever done.
"Hologram" with The Grouch and Aesop Rock is an obvious highlight, but there are few if any weak spots on this album. It's Ant's smooth instrumentals that steal the show, but Slug and Murs both deliver too with confident displays of mature lyricism. These two are veterans by now, both with more than a few top-quality albums on their respective names, and Felt 4 U is a new jewel in both artist's crowns.
33. I Self Devine - Self Destruction (2005)
Micranots' frontman I Self Devine's first solo album Self Destruction is as underrated and slept on as his 2012 follow-up The Sound Of Low Class Amerika is. Self Destruction is a great album though – a must-have for people who appreciate consciousness and intelligence in their Hip Hop.
32. Evidence - Weather Or Not (2018)
Dilated Peoples' Evidence drops one of the purest Hip Hop albums of 2018 with Weather Or Not. Uncomplicated but hard-hitting bars by a veteran emcee backed up by beats supplied by the likes of Alchemist, DJ Premier and Evidence himself – what more does a Hip Hop head want?
31. Soul Position – 8 Million Stories (2003)
Soul Position is the unsung Blueprint's collaboration with fellow Columbus, Ohio DJ/producer RJD2. It was their first full album together (after an EP in 2002), released on Rhymesayers Entertainment. 8 Million Stories probably is the best-known and best-received Soul Position release, with dope RJD2 instrumentals and varied and clever rhymes by Blueprint. Still, it never received the wider acclaim it deserved. Never too late to check it out though!
30. Evidence - Cats & Dogs (2011)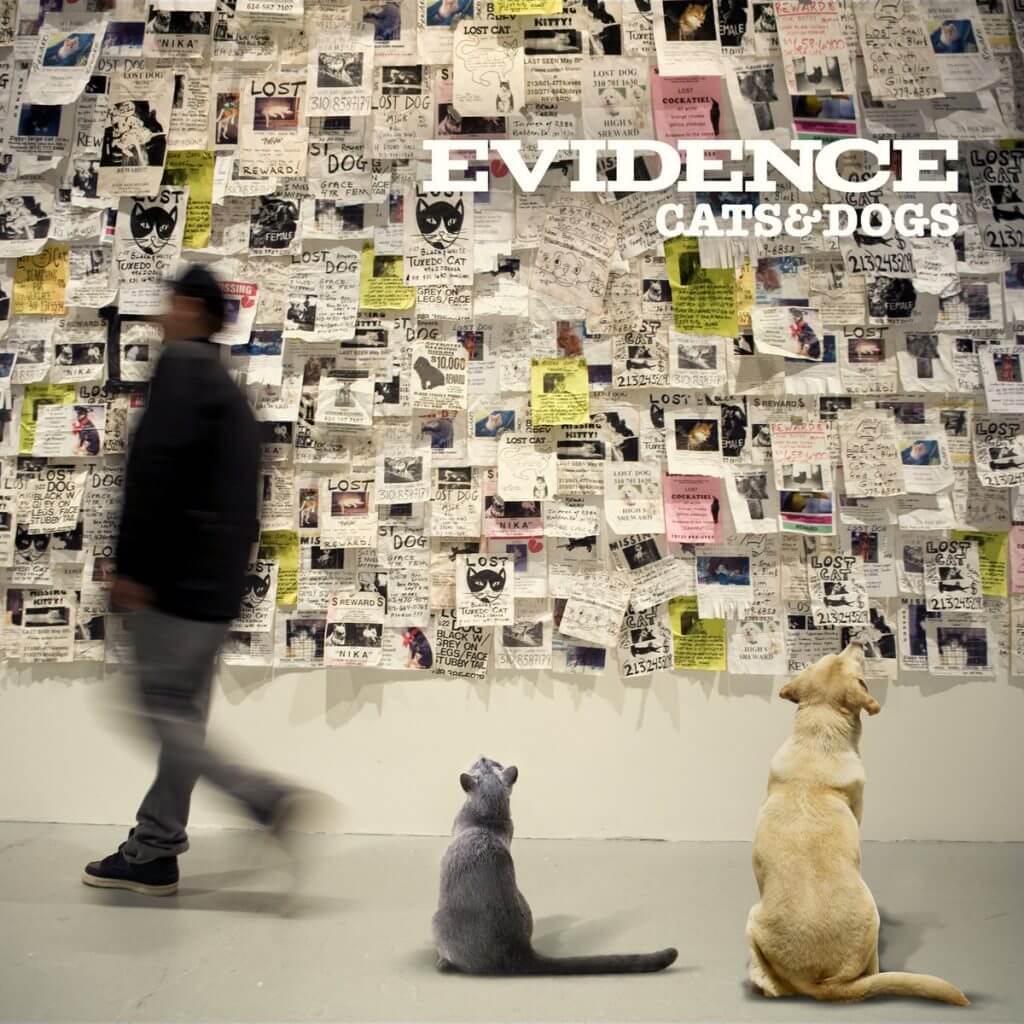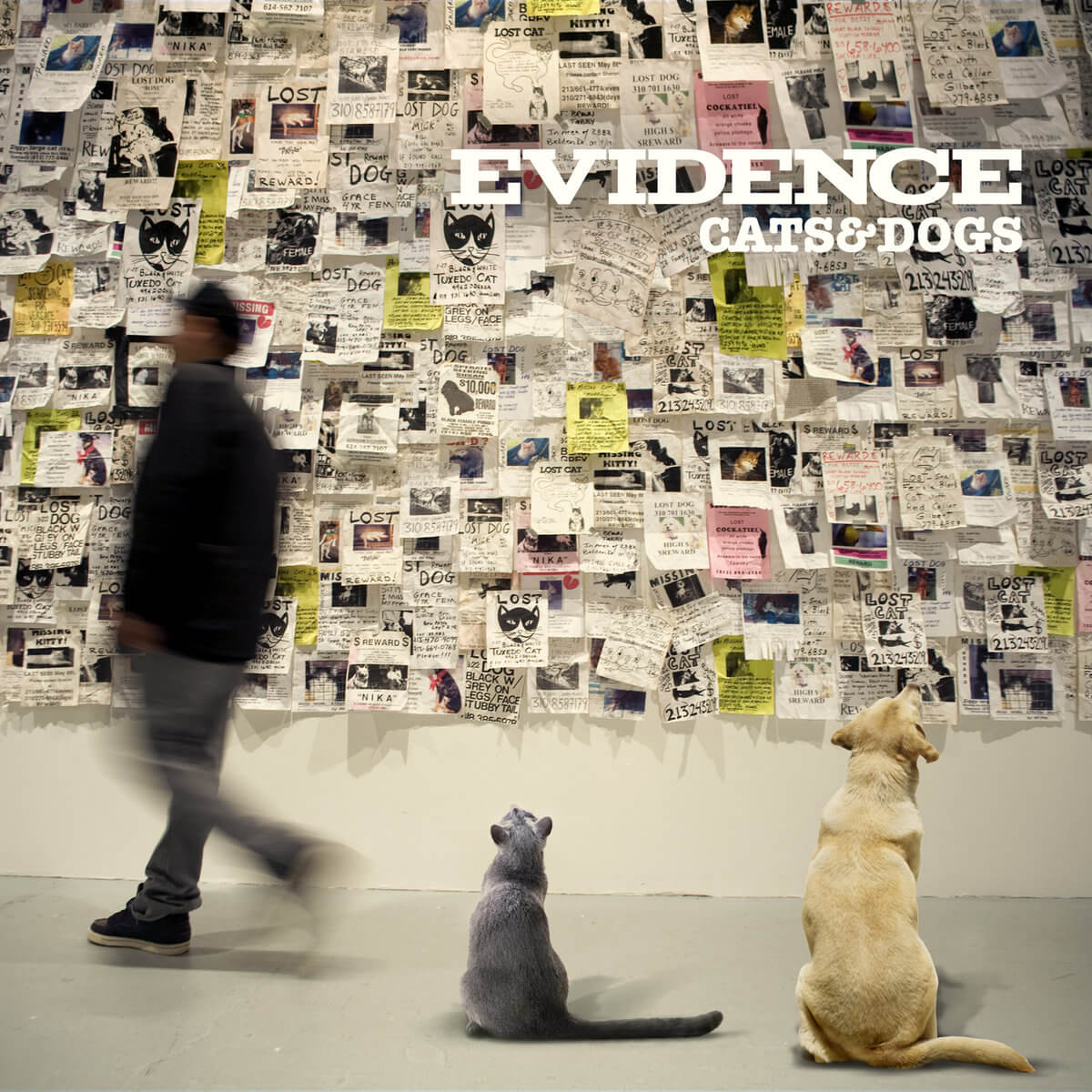 Cats & Dogs is the second solo album from Dilated Peoples' Evidence, his first release on the Rhymesayers label. Production on Cats & Dogs by the likes of The Alchemist, DJ Babu, DJ Premier (and others) is fire, and Evidence's lyrical work is on point too. Guests like Raekwon, Ras Kass, Roc Marciano, Aesop Rock, Prodigy, and Slug help make Cats & Dogs an album that offers an hour of great, pure unadulterated Hip Hop.
29. Brother Ali - Mourning In America And Dreaming In Color (2012)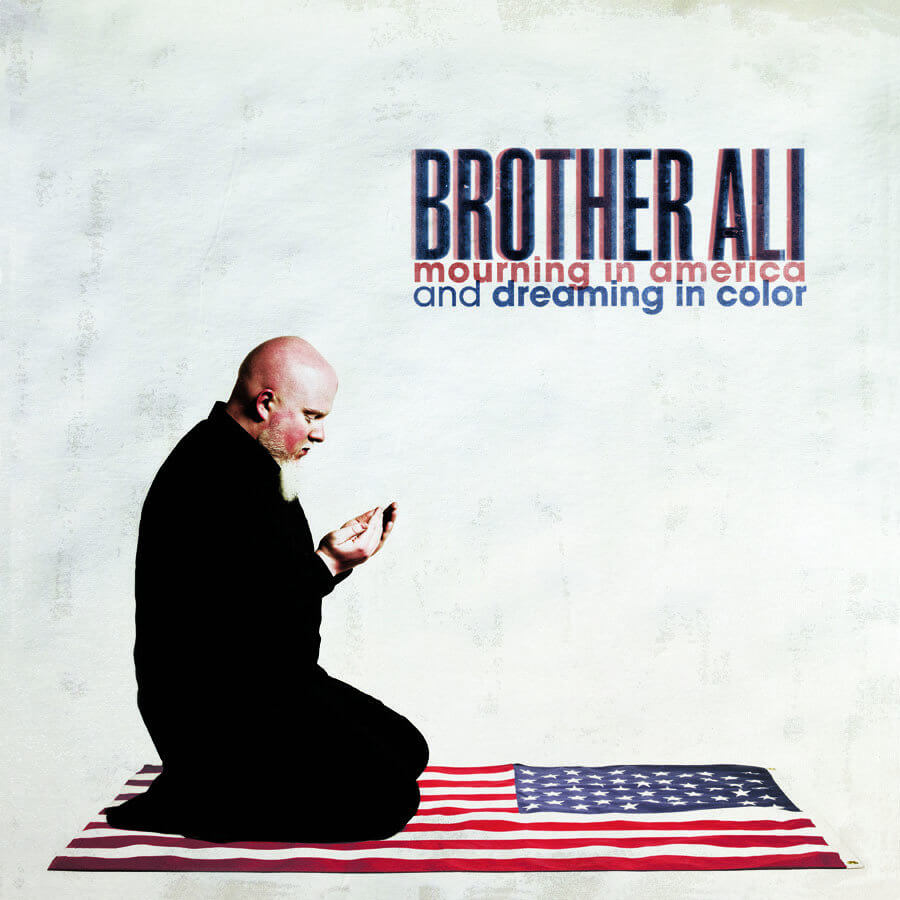 Brother Ali is one of the stalwarts of the lost art of conscious Hip Hop. He has never released a sub-par album, his discography is one of the strongest and most consistent in Hip Hop, and Mourning In America And Dreaming In Color is another jewel in his crown. Although Ali did a lot of his very best work with Atmosphere's Ant on the boards, Jake One is a more than competent producer as well, providing subdued soundscapes here for Ali's lyrics too shine. Ali comes with the same politically and spiritually conscious fire that he's known for. Lots of standouts, cuts like the heartfelt " All You Need" and My Beloved" are classic Ali, and there are plenty more lyrical gems to enjoy on Mourning In America And Dreaming In Color.
28. Psalm One - The Death Of Frequent Flyer (2006)
Chicago emcee Psalm One is an interesting artist, there is definitely something unique about her sound. The beats on her Rhymesayers debut The Death Of Frequent Flyer are fine, but this album is all about Psalm One's dope flow, and her clever observations ("Rapper Girls") and excellent storytelling abilities – this is an album with HEART and SOUL.
27. Felt – Felt 2: A Tribute to Lisa Bonet (2005)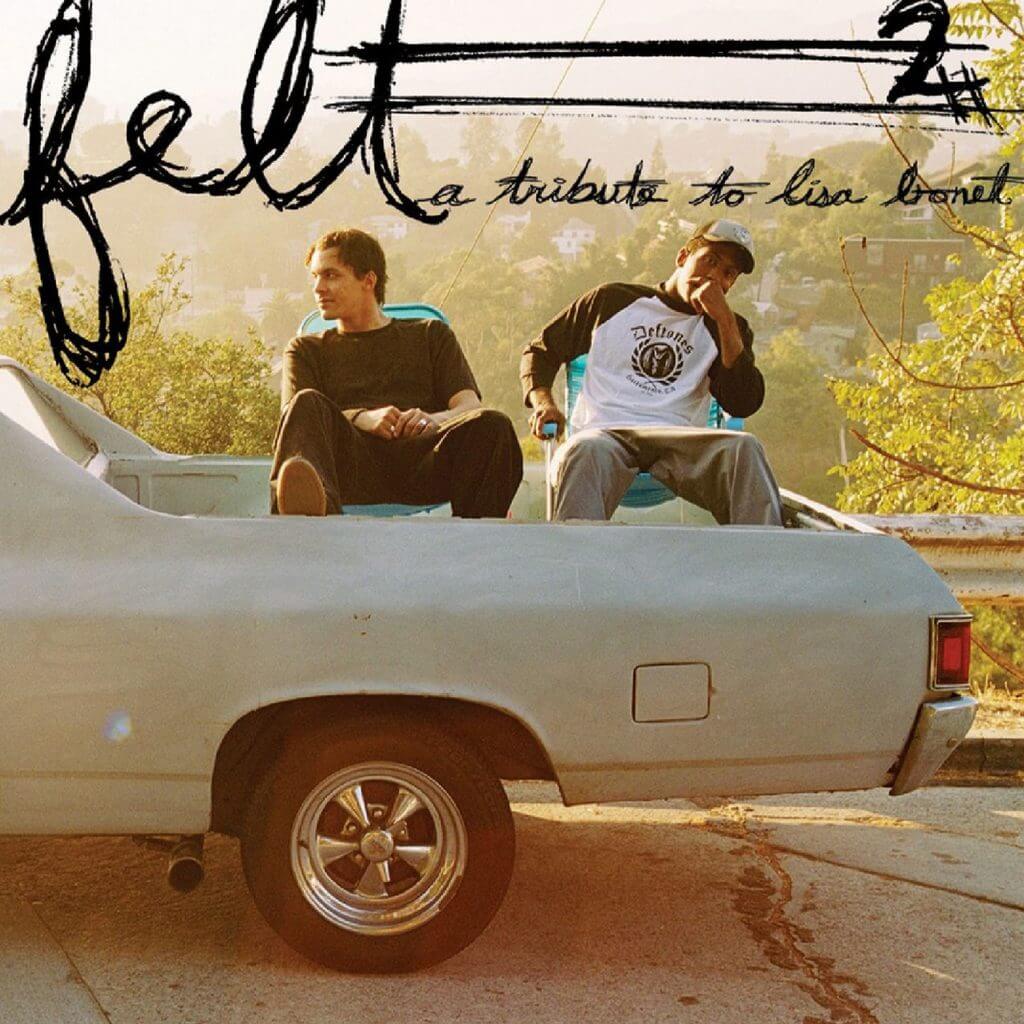 When Atmosphere's Slug and Los Angeles underground phenomenon Murs combine forces the result has to be something special, right? Right! As established already with their first collaboration Felt: A Tribute to Christina Ricci Slug and Murs prove once again they have great synergy. "Dirty Girl", "Early Morning Tony" (with all its references to eighties classics), "Marvin Gaye" and especially "Breaker Down Like A Shotgun" are easy favorites but Felt 2: A Tribute to Lisa Bonet is consistent throughout, no skips necessary.
26. Brother Ali – Us (2009)
With Us Brother Ali dropped another gem, Hip Hop for thinking people. Thought-provoking lyrics laced with truth and emotion – Ali never disappoints. Following  Shadows On The Sun (2003) and The Undisputed Truth (2007), Us is another Brother Ali sure shot, and of 2009's best releases.
25. Blueprint – 1988 (2005)
Not as widely known as it should be, but most real heads will own or will at least know 1988. The short intro sets the tone for the album nicely: a mash-up of Stetsasonic's "Stet Troop '88" and KRS-One's "Fresh For 88" statement. This intro is followed by a short track incorporating a classic Run-DMC beat, before the third track titled "1988" kicks in with some old-fashioned scratching and a great old-school battle rap attitude to it. After that, there are a whole lot more stand-out tracks, like "Tramp", "Trouble On My Mind", "Fresh" and "Liberated" – but the whole album is great, it's the overall cohesiveness of this project that makes it the essential release that it is.
To simply call this album a throwback would be wrong, it's more layered than that. Some tracks may have that retro feel, and even if Blueprint manages to invoke a great golden age atmosphere, he simultaneously brings more modern vibes to the table. 1988 is one of the crown jewels in Blueprint's discography, one of the better Hip Hop albums released in 2005, and a definite must-have for any self-respecting Hip Hop fan.
24. Jake One – White Van Music (2008)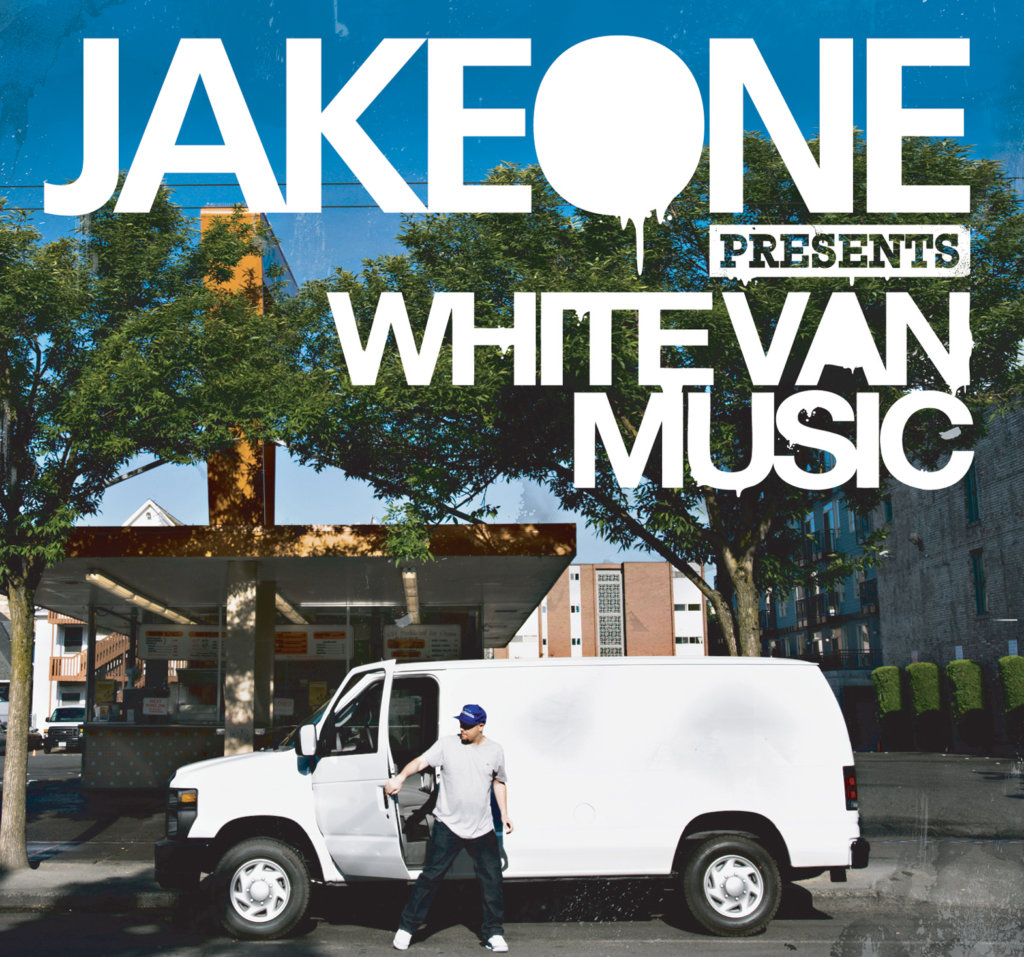 We all know the high profile artists from the epic Rhymesayers Entertainment label, like Atmosphere and Brother Ali. Producer Jake One is a name that may not immediately come to mind when the Rhymesayers roster is discussed, but with this debut album, he definitely established his name. With guests like MF DOOM, Elzhi, Royce Da 5'9″, Busta Rhymes, Slug, Pharoahe Monch, Posdnuos, Brother Ali, Freeway, Black Milk, Prodigy, Evidence, Little Brother, and M.O.P. rhyming over his beats, there needs to be no doubt about the lyrical quality on this album. But Jake One is a producer, and this is a producer's album. 20 tracks and not a weak beat to be found – White Van Music is tight and crisp, a dope debut that is a must-listen for all Hip Hop heads.
23. Aesop Rock - Skelethon (2012)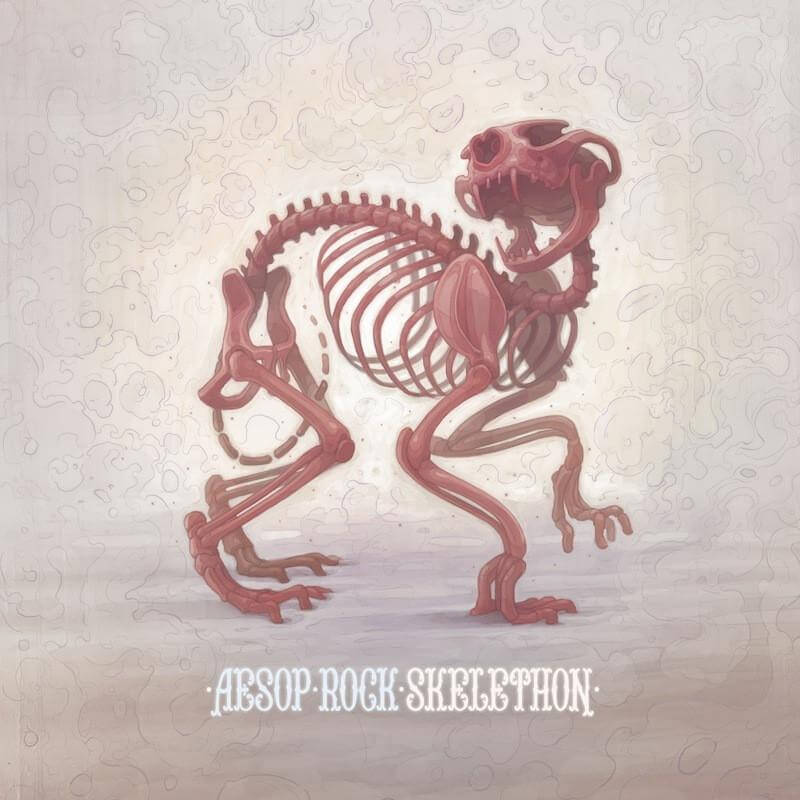 Skelethon is Aesop Rock's sixth solo album, and it's another winner. The album is entirely produced by Aesop Rock himself and features guest appearances by Allyson Baker, Hanni El Khatib, Rob Sonic, Kimya Dawson, Murs, and Blueprint. Skelethon is lyrically and instrumentally dense as befits an Aesop Rock album – "Zero Dark Thirty", "Leisureforce", "Homemade Mummy", "Gopher Guts" are some of the stand-out cuts, bit the whole album bangs. Skelethon is a more than worthy follow-up to the awesome None Shall Pass (2007) and a great lead-up to the even better The Impossible Kid (2016).
22. Freeway & Jake One – The Stimulus Package (2010)
One of Freeway's best albums, not in the last place thanks to Jake One's crisp beats.
21. Step Brothers – Lord Steppington (2014)
Evidence had a good year in 2014. Dilated Peoples' Directors Of Photography is one of 2014's best albums, and Lord Steppington is a great effort too. Lord Steppington is Evidence's collaboration album with producer extraordinaire The Alchemist – operating together as Step Brothers. The record was produced entirely by Alchemist with one track produced by Evidence and it includes guest appearances from Action Bronson, Roc Marciano, Blu, Fashawn, Rakaa, Oh No, Styles P, Domo Genesis, and The Whooliganz. Alchemist's production is flawless, the bass-heavy beats are dope, the lyrics are on point, and the pacing and sequencing of the album are done just fine. Lord Steppington is a great album.
20. The Dynospectrum - The Dynospectrum (1998)
The Dynospectrum is a collaboration from Rhymesayers Entertainment artists, between Slug, I Self Devine, Musab (Sab the Artist), and Swift. As The Dynospectrum they performed under the pseudonyms Sept Sev Sev Two, Pat Juba, General Woundwart, and Mr. Gene Poole, respectively. The production was handled by Atmosphere's Ant, who assumed the name Solomon Grundy for the project. This is an underground treasure, an excellent album for all those who are into real lyricism, fat beats, and just plain old Hip Hop.
19. Atmosphere – When Life Gives You Lemons, You Paint That Sh** Gold (2008)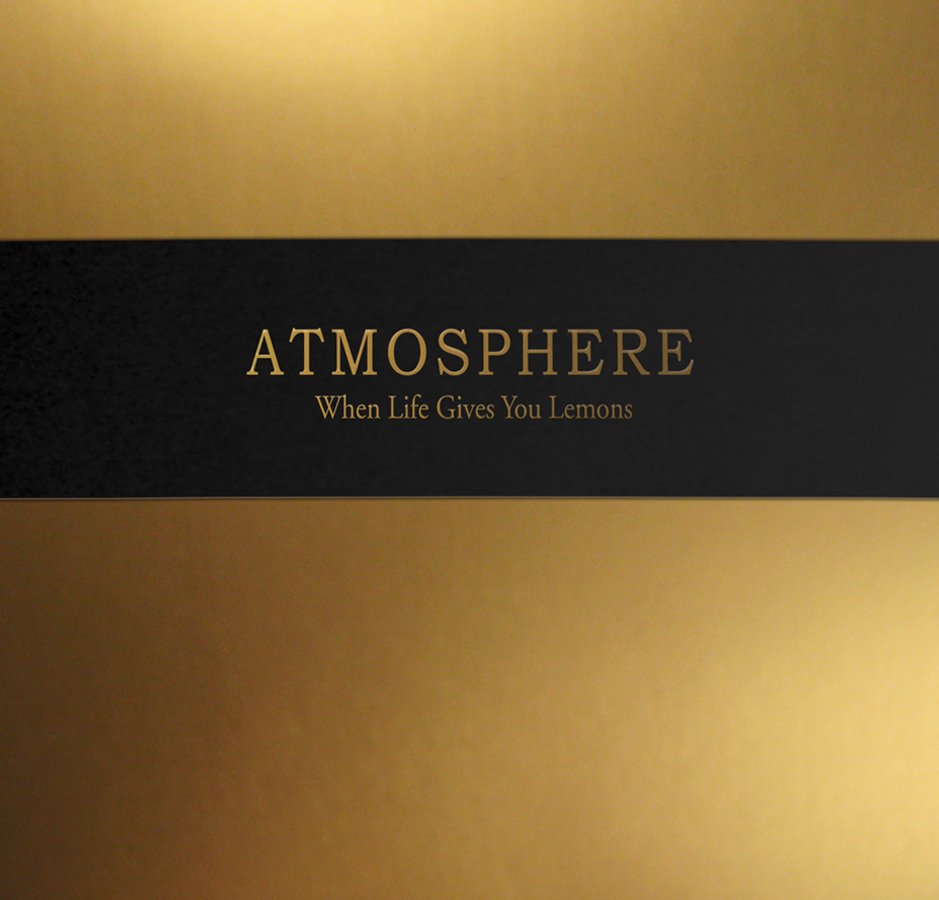 Following their breakthrough project God Loves Ugly (2002) and their best album You Can't Imagine How Much Fun We're Having (2005), Slug and Ant dropped what would go on to become their highest-charting album in 2008: When Life Gives You Lemons, You Paint That Sh** Gold. All Atmosphere's strengths are in evidence here: Ant's beats are mostly excellent from start to finish (a little too pop-polished here and there maybe), and Slug does what he does best, wearing his heart on his sleeve all as well as doing great storytelling work. With "Yesterday", the heartfelt ode to Slug's deceased father, the albums also holds one of Atmosphere's best songs ever.
18. Monsta Island Czars - Escape from Monsta Island! (2003)
Monsta Island Czars was a collective, most notable for members MF Grimm and MF DOOM (as King Geedorah). Although the Monsta Island Czars was founded by MF Grimm, he is absent from the entire album due to his incarceration at the time of its production and release.
Escape from Monsta Island! is a bit rough around the edges production-wise and lyrically, but that's part of the charm of this concept album (the concept is simple: the entire cast teams up to defeat "the monster"). A hate-it-or-love-it kind of project – we love it. This album gets better and better as time gets by – we'll go as far as calling Escape from Monsta Island! a cult-classic.
17. Hail Mary Mallon – Are You Gonna Eat That? (2011)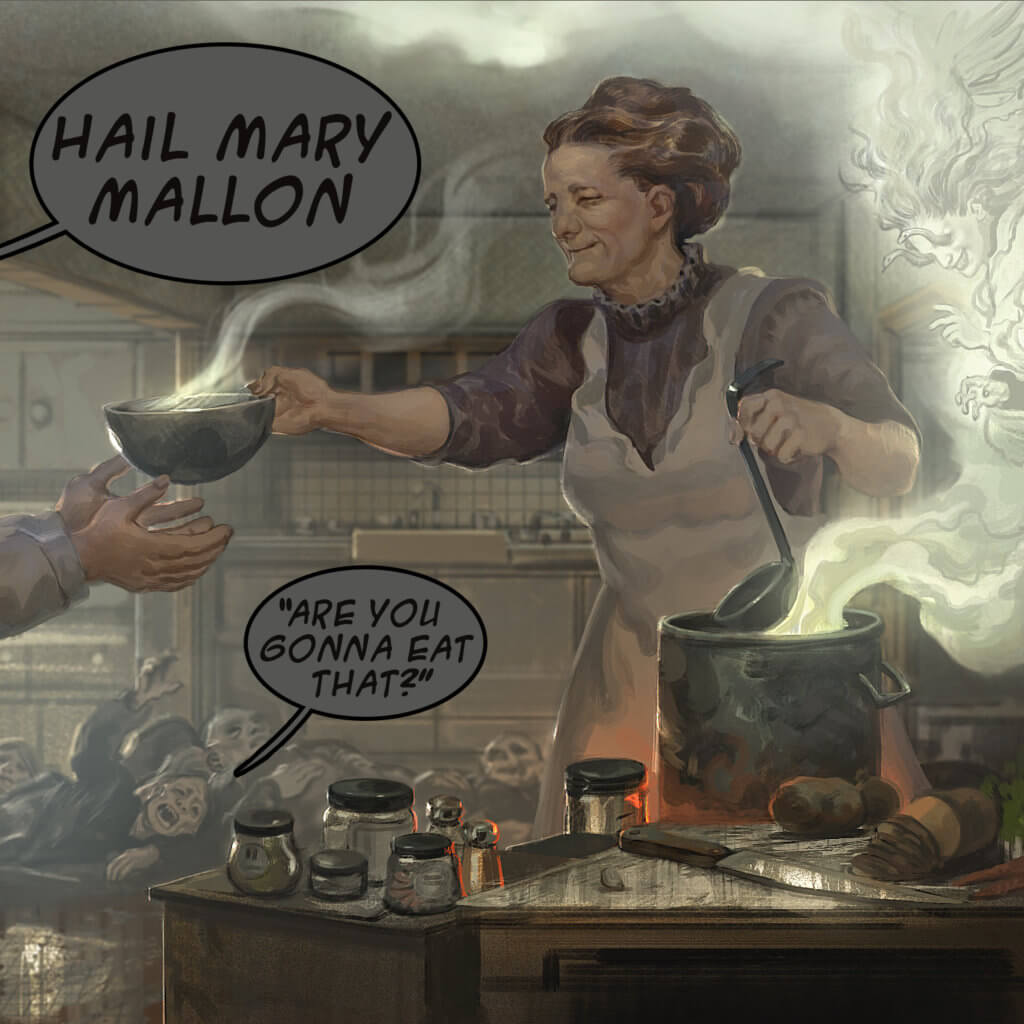 Irish cook Mary Mallon, AKA "Typhoid Mary," was known as the first carrier of typhoid fever in the United States in the late-1800s. A strange inspiration for a group name you might say, less strange maybe if you know it's a group consisting of Aesop Rock, Rob Sonic, and DJ Big Wiz. On Are You Gonna Eat That? Aesop Rock and Rob Sonic carry on with the experimental noise they were known for in their DefJux time, DJ Big Wiz adds some fantastic turntablism to the mix. Not for everybody maybe, but those appreciative of hard-hitting soundscapes and fun-filled lyrics with dope metaphors and punchlines, will love Are You Gonna Eat That?.
16. MInk (Musab & Ink Well) - Intellectual Property (2017)
Smooth but hard-hitting beats crafted by Inkwell, and intelligent lyrics from Rhymesayer co-founder Musab. Intellectual Property is filled with conscious and thought-provoking content supported by dope instrumentals –  this is one of the most slept-on projects released in 2017 and a jewel in the Rhymesayers crown.
15. Dilated Peoples - Directors Of Photography (2014)
Directors of Photography is the fifth studio album by Los Angeles trio Dilated Peoples, and their best. Evidence, Rakaa Iriscience, and DJ Babu all brought their A-game, as did the production team consisting of 9th Wonder, The Alchemist, Bravo, Diamond D, DJ Premier, Jake One, Oh No, and Twiz The Beat Pro along with DJ Babu and Evidence themselves. The album runs for 55 minutes, which is long enough to keep the guest rappers – Vince Staples, Aloe Blacc, Catero, Gangrene, Sick Jacken, Krondon, Fashawn, Rapsody, Domo Genesis, Vinnie Paz, and Action Bronson – from overcrowding proceedings. Directors of Photography is executed flawlessly – this is matured underground boom-bap at its finest.
14. Atmosphere – God Loves Ugly (2002)
On God Loves Ugly Atmosphere's Slug and Ant wanted to show how far away they stood from conventional, traditional Hip Hop imagery and themes. Absorbing their need to be different, they came up with some of the most conceptually intriguing and dense Hip Hop of the early millennium. Considered one of the first 'emo-rap' (an over-used label these days) albums, Atmosphere brings passion with an intricate poetic nature that makes God Loves Ugly of their very best albums.
13. Hail Mary Mallon - Bestiary (2014)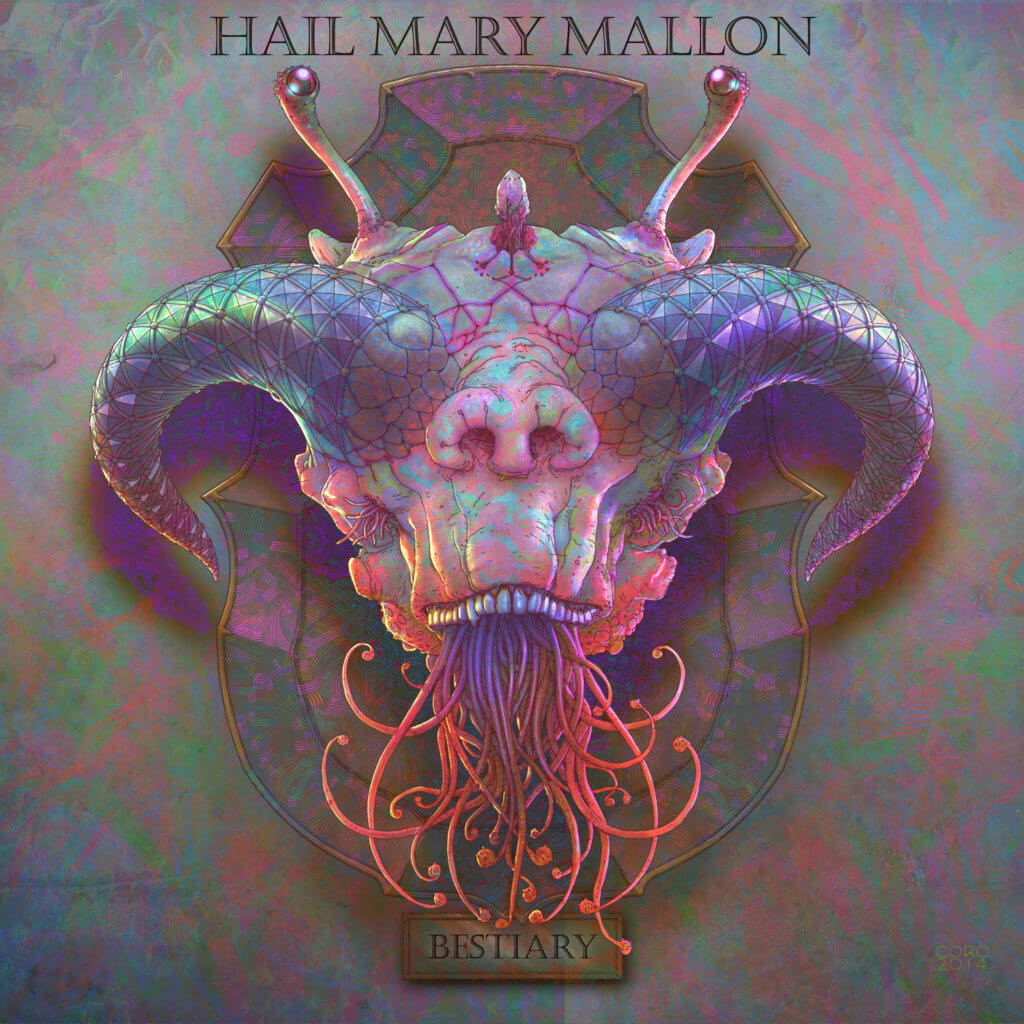 Bestiary is the second studio album Hail Mary Mallon, a duo consisting of s Aesop Rock and Rob Sonic. These two knew each other from the days they were label mates on El-P's legendary DefJux label and this album sounds like it comes right out of the DefJux kitchen – even if it was released on Rhymesayers Entertainment, like DefJux one of those labels instrumental in keeping real Hip Hop alive.
Aesop Rock is on top of his production game, Bestiary has deep knocking beats layered with Aesop's quirky sound-effects throughout and it has DJ Big Wiz adding extra flavor with dope scratches on most tracks. As can be expected from Aesop Rock and Rob Sonic, the lyrics on Bestiary are clever and witty, and off-kilter enough to give it that Aesop Rock/Rob Sonic signature. Great album.
12. P.O.S - Ipecac Neat (2004/2005)
Ipecac Neat is P.O.S' first studio album, released in 2004 on Doomtree Records, then re-released the next year on Rhymesayers Entertainment. Energetic and angry-sounding lyrically as well as musically, Ipecac Neat offers an intense listening experience that is aging quite well. A bit closer to 'regular' Hip Hop than some of his later albums, Ipecac Neat already showcases P.O.S' original style and flow. A hidden gem and an essential piece of the Doomtree legacy.
11. Brother Ali - All The Beauty In This Whole Life (2017)
Brother Ali had some of the best Hip Hop albums in the 2000s with Us (2009), The Undisputed Truth (2007), and especially his masterpiece Shadows On the Sun (2003). After Mourning In America And Dreaming In Color (2012), he dropped another near-flawless album in 2017 with All The Beauty In This Whole Life.
It's Brother Ali so you know what you will get – lyrical precision, honest emotion, social commentaries, and intelligent insights. Atmosphere's Ant provided Ali with perfect lush boom-bap soundscapes to accompany his soulful collection of personal stories about the ups and downs of life. All The Beauty In This Whole Life is another amazing album by Brother Ali – powerful and meaningful grown-up music, a breath of fresh air in a rap-world filled with dumb-ass face-tatted mumblers.
10. P.O.S – Never Better (2009)
Doomtree's P.O.S best album? It may be hard to pick one and label it 'best', but Never Better certainly is our P.O.S favorite. Every single track on this album is great. Like most other Doomtree projects Never Better may require multiple listens to fully appreciate its brilliance – this is not easily digestible and forgettable bubblegum pop-rap after all.
What Never Better is, is a creative blend of Hip Hop and other musical styles like punk-rock – with P.O.S dropping his challenging semi-abstract, metaphor-heavy but at the same time relatable and accessible lyrics over unique instrumentals.
Take an hour, sit yourself down, play the album from start to finish, and read along to let the lyrics sink in. Or just listen to the emotional "Been Afraid", or other stand-out cuts like "Goodbye", "Optimist", "Purexed" and "Low Light Low Life" (with Dessa and Sims) to get a taste and you will go in for more P.O.S without a doubt. 
9. Sa-Roc - The Sharecropper's Daughter (2020)
The Sharecropper's Daughter is Sa-Roc's long-awaited debut album for Rhymesayers since signing with the label in 2015. Washington DC-born and Atlanta-based Sa-Roc has been of the most interesting artists out in the past decade, with a bunch of great but underappreciated projects on her name before signing with Rhymesayers (especially Nebuchadnezzar (2014) is an awesome album). The Sharecropper's Daughter was led by the singles "Deliverance", the self-love anthem "Forever", and "Goddess Gang" – enough to raise anticipation levels to the max. Does the album live up to expectations? The answer is an unreserved yes. No doubt this is Sa-Roc's highest-profile project yet and the album that should be her real breakthrough to wider audiences.
From Sa-Roc's Bandcamp page: "Speaking on the meaning of the album's title and inspiration, Sa-Roc shares, "The Sharecropper's Daughter speaks to my father's actual beginnings on a Virginia tobacco farm where his family sharecropped. The title is meant to signify that both my father's and my upbringing, though so different, are linked by a shared history that informs the way I move through the world. Although his formative years were spent in the Jim Crow era of the south, where he suffered through poverty and racial oppression, and mine were shaped in the heart of DC, amidst the war on drugs and the effects of its fallout, the album finds points of connection in two very different yet tragically familiar stories of Blackness in America. It's a sonic reflection of the things we inherit. About the emotional weight that we unknowingly bestow upon the next generation; the genetic transfer of both trauma and triumph that we, both donors and beneficiaries, are tasked with reshaping into a future of our own."
The Sharecropper's Daughter album is entirely produced by a veteran renaissance man from the Atlanta Hip Hop scene, Sol Messiah, with the exception of "Deliverance" produced by Evidence and co-produced by Al B Smoov. And, while Sa-Roc's crafty wordplay, razor-sharp delivery, and exceptional writing are the prominent highlight, this undeniable quality is only further enhanced by stellar guest performances from a small, but formidable, all-star cast of guests, including Saul Williams, Styles P, Ledisi, Chronixx, and Black Thought."
The Sharecropper's Daughter is an excellent album, one of the best of 2020. Refined production, with soulful and musical boom-bap beats, serves as the perfect backdrop for Sa-Roc's powerful vocals – she once again proves she's an elite emcee and a great singer as well. Her lyrics are intelligent and thought-provoking – The Sharecropper's Daughter is just one of the 2020 albums that mark the return of consciousness to the forefront of Hip Hop – fitting right in with 2020 projects from Arrested Development, Public Enemy, Paris, Run The Jewels, and others.
15 tracks and 50 minutes of music on The Sharecropper's Daughter and not a moment is wasted. No weak tracks on this album, but a special mention goes out to the timely "The Black Renaissance" which is a 2020 SOTY contender – Sa-Roc and Black Thought both kill it, and their back and forth on the last verse is great. The Sharecropper's Daughter is grown-people Hip Hop of the highest order – it doesn't get much better than this.
8. Eyedea & Abilities – E&A (2004)
Just one of the many Rhymesayers Entertainment gems. E&A is the second studio album by the late Eyedea & DJ Abilities. In their own words:
'We makin' music, just tryin' to put the fun back in
Turntablism, lyricism, ain't no gun packin"
This quote from "Kept" sums up the album – Eyedea & Abilities were a great MC/DJ tandem and E&A is one the most under-appreciated and one of our favorite albums of 2004.
7. Felt – Felt 3: A Tribute To Rosie Perez (2009)
Opinions seem to be divided on this one. Some critics consider this to be the worst of the three Felt albums, Felt 3: A Tribute To Rosie Perez is our absolute favorite of the series, however. Some nay-sayers have criticized Aesop Rock's production on this one, but we feel the beats he provided here serve super-combo Slug and Murs' lyrics perfectly. Everything fits on this album, the beats do work and the synergy between Slug and Murs is awesome. For us, Felt 3: A Tribute To Rosie Perez is a top 5 album of 2009. and therefore well-deserving of its top position on this list with RSE's best albums.
6. Aesop Rock – Spirit World Field Guide (2020)
Owing to the lyrical and sonic intricacies in his music, Aesop Rock has always been a hate-him or love-him kind of artist. Like him or not, there's no denying he has a couple of classic projects on his name – especially his third album and Definite Jux debut Labor Days (2001) is a monumental album, followed by the equally excellent Bazooka Tooth (2003) and None Shall Pass (2007).
After the folding of Def Jux, Aesop Rock signed with Rhymesayers Entertainment. Spirit World Field Guide is Aesop Rock's eighth full-length solo album and his third one released on Rhymesayers, following the great Skelethon (2012) and The Impossible Kid (2016), one of the best albums released that year.
Spirit World Field Guide arguably is even less easily accessible than some of the other Aesop Rock albums because of its concept: the album acts as a "guide" to a fictional world, following a narrator through an alternate world.
"Be not afraid! Whether you're simply sightseeing, enjoying temporary flights of fancy, or considering a more permanent relocation, the all-new Spirit World Field Guide offers twenty-one insightful chapters of firsthand know-how into the terrain, wildlife, and social customs of our parallel universe. The narrator's vast expertise of multiple global entry points and various modes of inter-dimensional transport informs a rich tapestry of tips, tricks, and tools to unfailingly aid in your ultimate survival. If you are among the countless individuals who find themselves feeling both dead and alive at the same time, the information contained within may serve as an invaluable asset to your journey. Godspeed and good luck."
Those are the words of the album's narrator — an attempt to prepare listeners, both old and new, for a safe entry into the Spirit World."
Enough has been said about the extensiveness of Aesop Rock's vocabulary, but having an extensive vocabulary means nothing if you can't write. Aesop Rock is an incredible writer though – the quality levels of Aesop Rock's lyrics, bar structures, rhyme patterns, and flows are essentially a given at this point. His production skills can not be in doubt either. Both on lyrical and musical levels Spirit World Field Guide is top-tier work, even by Aesop Rock standards. The beats here are unbelievably dynamic and immersive – giving a kind of unsettling vibe and setting the perfect mood as the record progresses. The lyrics are there to dissect and study, but this album can be enjoyed just as easily without diving in that deep – the beats and flows alone are enough to lose yourself in Spirit World Field Guide, the lyrical depth just adds an extra dimension.
Spirit World Field Guide is Aesop Rock STILL at the peak of his game, an incredible feat after 25 years in the game. This album proves it is still possible to create a one-hour album, without features, that manages to captivate from start to finish AND that has lots of replay value. For the short attention span crowd it may all be too much, but those who can deal with lengthy immersive listening experiences will LOVE Spirit World Field Guide.
5. Brother Ali – The Undisputed Truth (2007)
Over the years Brother Ali has put together a consistently dope catalog. Where Shadows On The Sun (2003) is our absolute Brother Ali favorite and the crown jewel in Ali's body of work, The Undisputed Truth is not far behind.
4. MF DOOM – Mm.. Food (2004)
MF DOOM has dropped a bunch of left-field classics and dope concept albums in his career. While albums like Operation Doomsday (1999) and Madvillainy (2004) are true Hip Hop classics, most of DOOM's other work is usually considerably less celebrated.  Mm… Food is one of those albums. Kind of a concept album, as every track is compiled primarily of food-related subject matter. The food-related concept works better than you might expect, particularly when DOOM uses it as a means to cleverly diss other emcees.
"Beef Rap", "Hoe Cakes", "Rapp Snitch Knishes", are some of the classic MF DOOM bangers on this one. Creative and experimental production as always (mostly done by MF DOOM himself) and of course DOOM's conversational and complex flow and abstract lyrical imagery, make for a dope album.
3. Aesop Rock - The Impossible Kid (2016)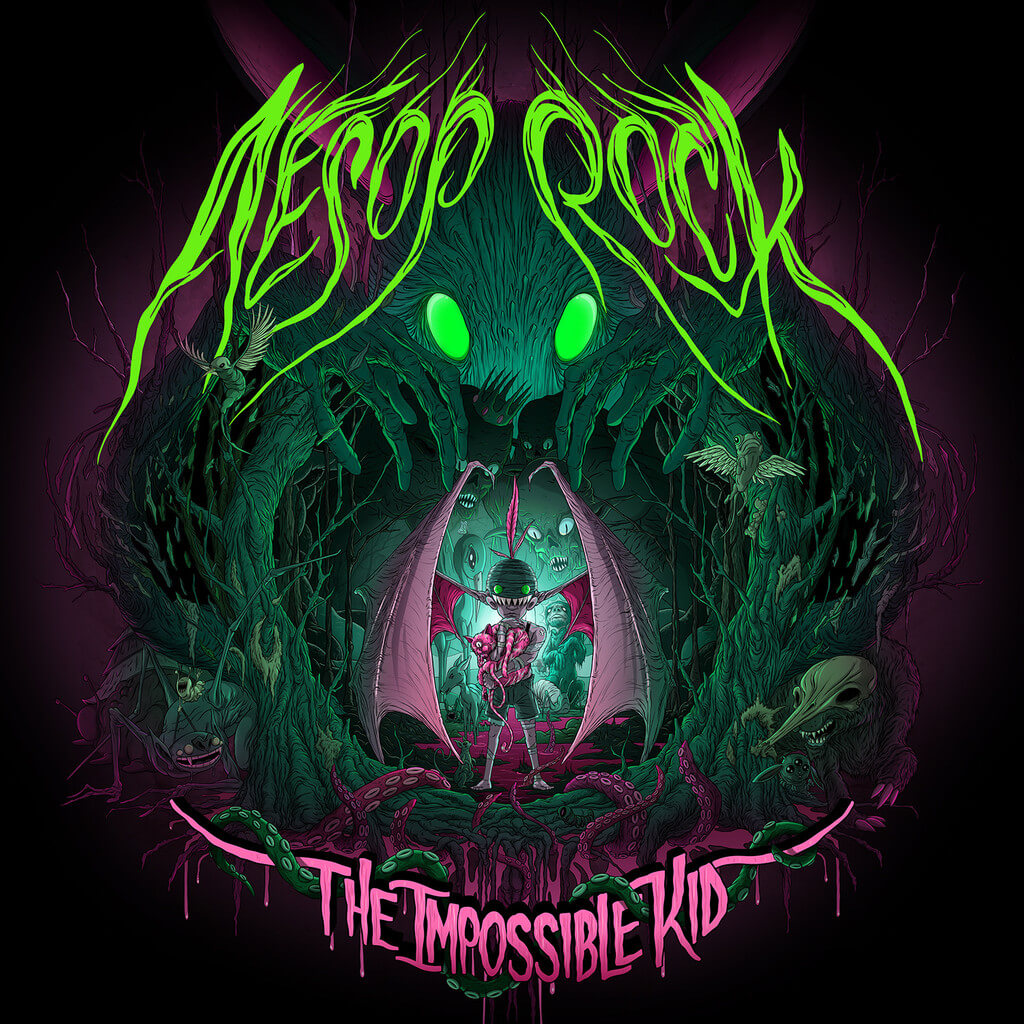 The Impossible Kid is the seventh studio album by Aesop Rock. It's hard to point out one album in Aesop Rock's impressive catalog and label it his best, but The Impossible Kid has to be in that conversation, with Labor Days (2001) and None Shall Pass (2007). Aesop Rock is a master of intelligent, poetic lyricism and on this album his flow perfectly blends with the highly original beats he crafted himself. The Impossible Kid is lyrically profound and musically empowering, an album with endless replay value – and one of Aesop Rock's most accessible too. 15 tracks, no skips needed – the mark of an excellent album.
2. Atmosphere – You Can't Imagine How Much Fun We're Having (2005)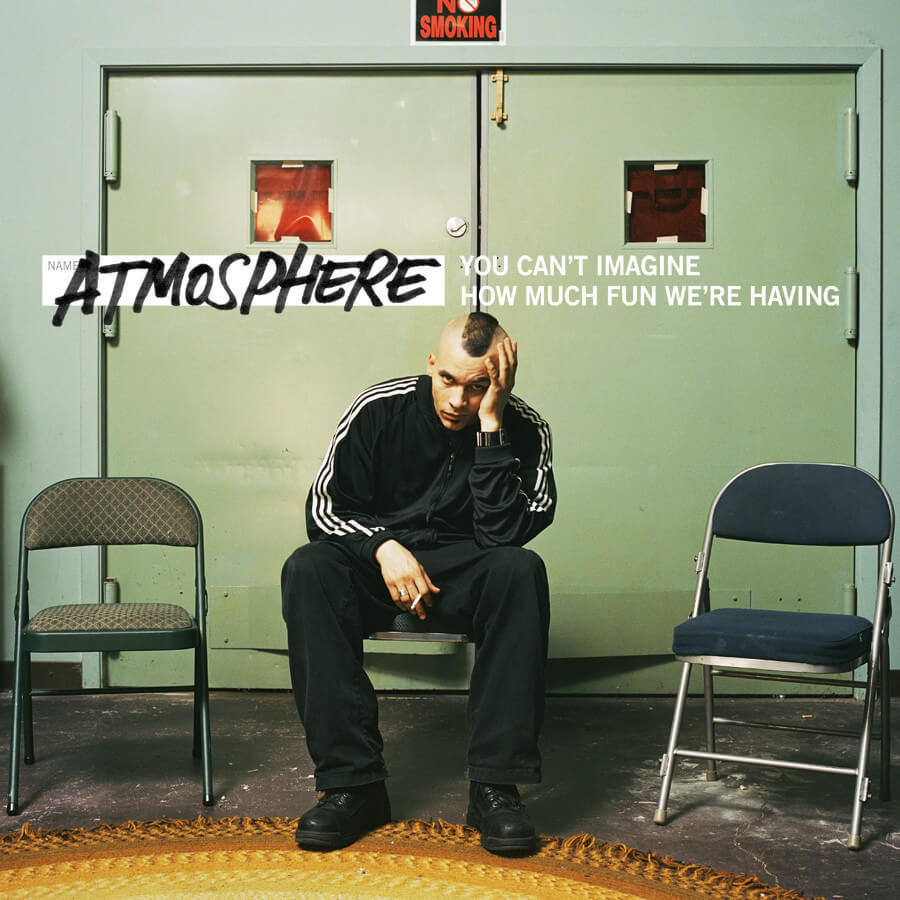 Rhymesayers co-founders Sean Daley (Slug) and Anthony Davis (Ant) are one of the label's flagship acts, releasing music as Atmosphere since 1999. You Can't Imagine How Much Fun We're Having, is their fifth album, a release as beautifully crafted and put together as any other album in that entire decade – Ant has rarely been better behind the boards, and Slug is just fantastic on the mic.
Dope beats and intelligent rhymes all the way through, stand-out tracks like "Say Hey There", the fascinating "Pour Me Another" and the touching standout "Little Man" help to make this album their absolute magnum opus and one of 2005's best releases.
1. Brother Ali – Shadows On The Sun (2003)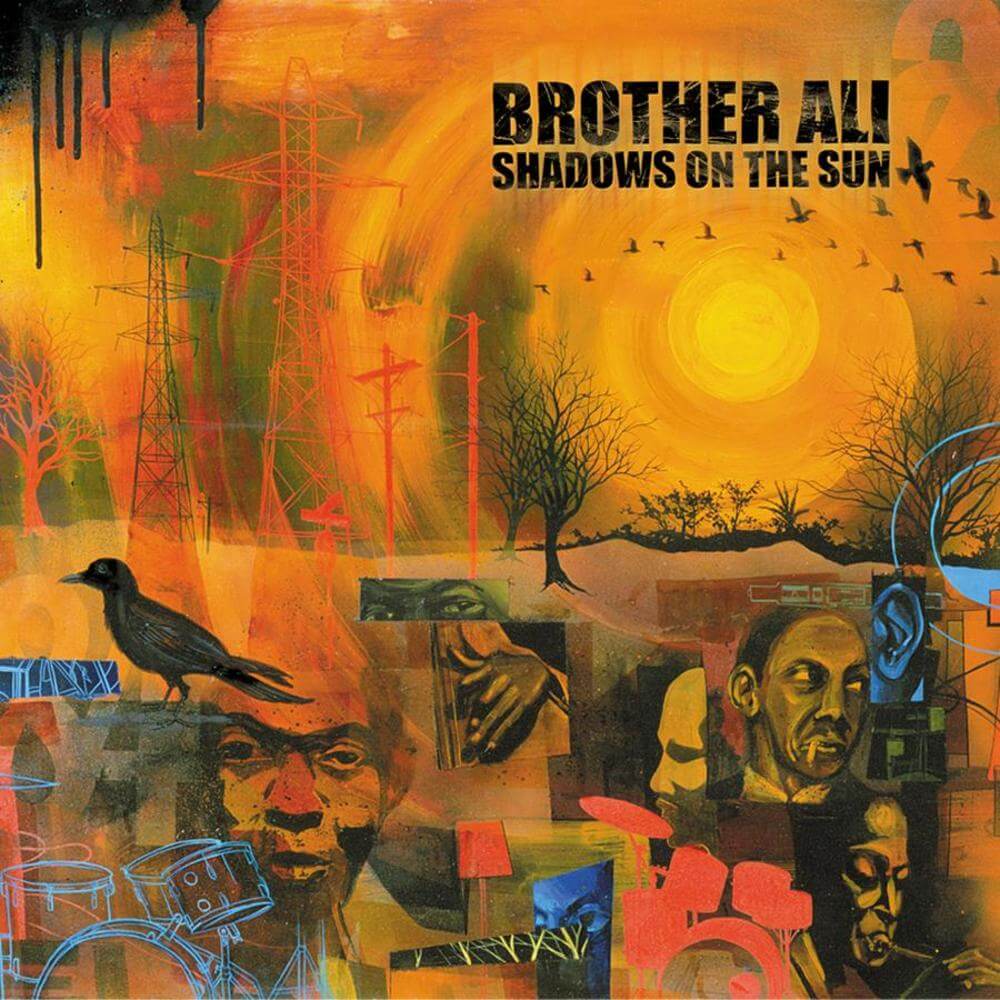 Brother Ali is one of the heavy-hitters of the Rhymesayers label. All of his albums are great, but Shadows Of The Sun is his very best. Brother Ali paints honest, poignant, and compelling pictures over some of the best Ant production you have ever heard. While every track is exceptional in its own right, perhaps it's the painfully open "Forest Whitiker" – where Ali bravely points out all his physical imperfections while embracing them at the same time – showing the importance of self-love in one of the most empowering cuts ever. With Shadows Of The Sun Brother Ali delivered a landmark album – one of the best Hip Hop albums of the entire 2000s.
Honorable Mentions
Beyond – Comparison (1996)
Brother Ali – Rites of Passage (2000)
Eyedea & Abilities – First Born (2001)
Musab – Respect The Life (2002)
Oliver Hart (Eyedea) – The Many Faces Of Oliver Hart (2002)
Felt – Felt: A Tribute to Christina Ricci (2002)
Semi.Official – The Anti-Album (2003)
Atmosphere – Seven's Travels (2003)
Grayskul – Deadlivers (2005)
Boom Bap Project – Reprogram (2005)
P.O.S – Audition (2006)
Mac Lethal – 11:11 (2007)
Grayskul – Bloody Radio (2007)
Abstract Rude – Rejuvenation (2009)
Eyedea & Abilities – By The Throat (2009)
Grieves – 88 Keys & Counting (2010)
Grieves – Together/Apart (2011)
Blueprint – Adventures In Counter-Culture (2011)
Atmosphere – The Family Sign (2011)
I Self Devine – The Sound Of Low Class Amerika (2012)
P.O.S – We Don't Even Live Here (2012)
Atmosphere – Southsiders (2014)
Grieves – Winter & The Wolves (2014)
Prof – Liability (2015)
Atmosphere – Fishing Blues (2016)
Los Nativos – The Eagle & The Jaguar (2016)
Grieves – Running Wild (2017)
Atmosphere – Mi Vida Loca (2018)
Malibu Ken – Malibu Ken (2019)
Atmosphere – Whenever (2019)