2003 was the year of 50 Cent's Get Rich Or Die Tryin'. A landmark album when it comes to sales figures, popularity and impact – and not a bad album at all, with a couple of great songs and tight production throughout. But was Get Rich Or Die Tryin' the best album of 2003? Not if you ask HHGA. While 50 Cent's classic sophomore album does make our Top 40 Hip Hop Albums Of 2003 (scroll down to see at which spot it lands), we feel there were a bunch of albums better in 2003. Check out our ranking of 2003's best Hip Hop albums and feel free to start a debate if you disagree with this ranking!
Also read: Top 150 Hip Hop Albums Of The 2000s
1. Brother Ali – Shadows On The Sun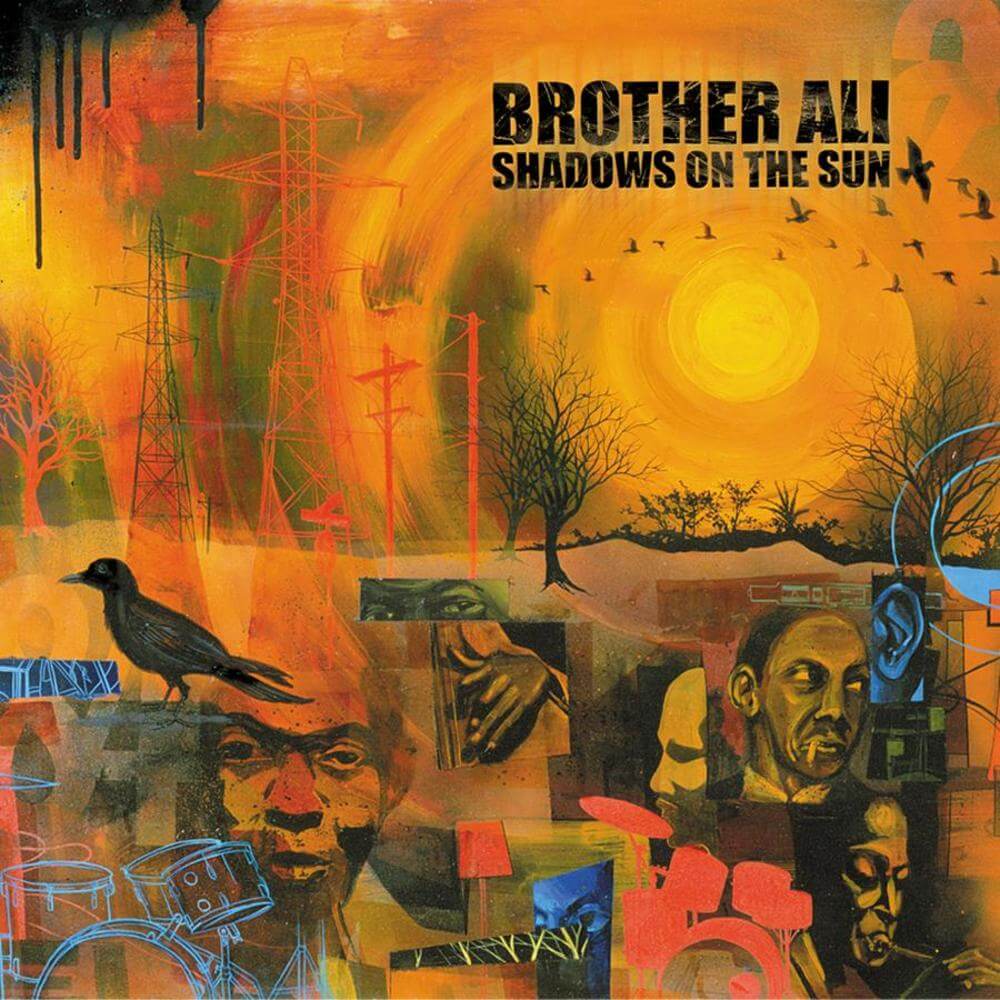 While all of Brother Ali's albums are great, Shadows Of The Sun is his absolute best. Over some of the most engaging beats Ant ever crafted, Ali paints honest, poignant, and compelling pictures all over the album. While every track is exceptional in its own right, perhaps it's the painfully open "Forest Whitiker" – where Ali bravely points out all his physical imperfections while embracing them at the same time – showing the importance of self-love in one of the most empowering cuts ever. Other stand-outs include "Room With A View", "Shadows On The Sun", "Blah Blah Blah", "Champion", "When the Beat Comes In", "Win Some Lose Some", and the heartbreaking "Picket Fence". With Shadows Of The Sun Brother Ali delivered a landmark album – the best Hip Hop album released in 2003, and one of the best Hip Hop albums of the 2000s.
Rating: 9.5/10
2. Little Brother – The Listening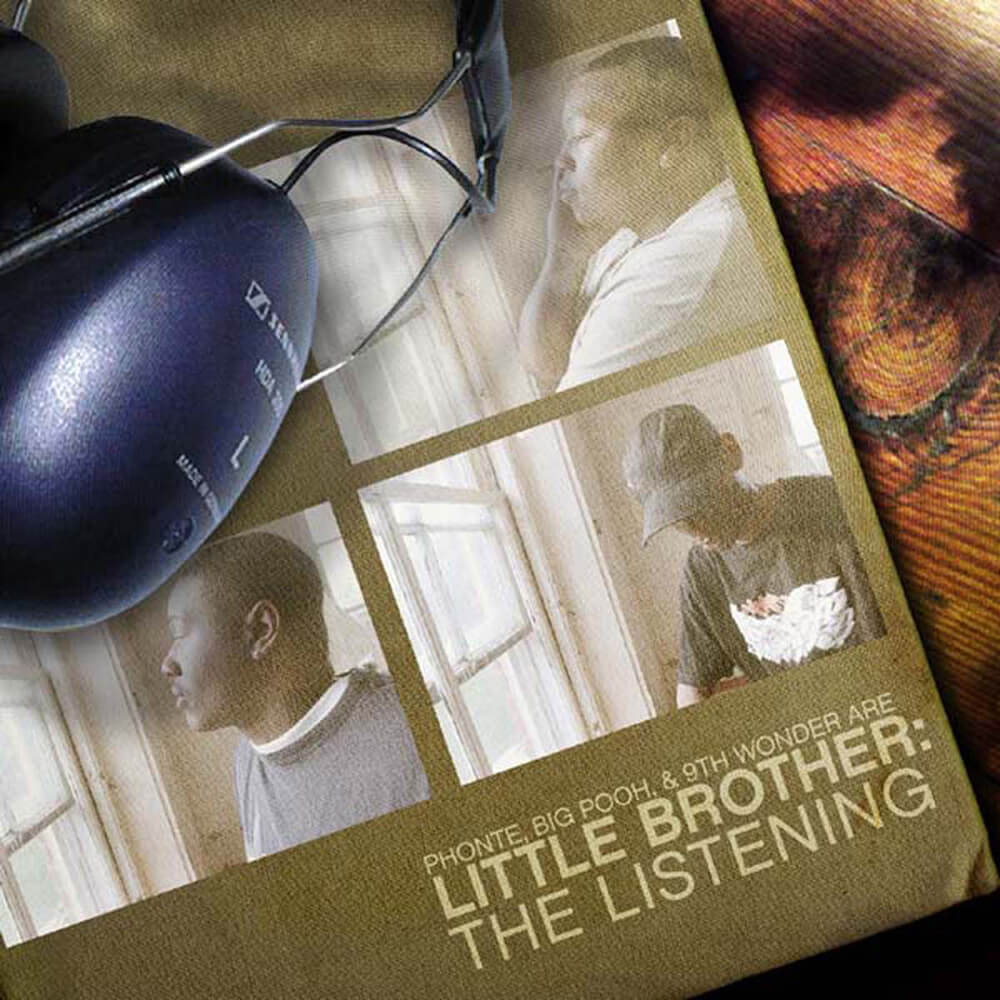 One of the most celebrated indie Hip Hop releases of the early 2000's, The Listening by North Carolina crew Little Brother is an album that needs to be in your record collection. The Listening is near-flawless, perfectly encapturing the spirit and vibes of classic early & mid 90's Hip Hop, similar to the soulful sounds of De La Soul, ATCQ, The Fugees and The Roots, but unique enough to stand on its own.
"For You", "Whatever You Say", "The Way You Do It", "Away From Me", "The Listening" – all tracks featuring clever rhymes by Phonte and Big Pooh and exceptional production by 9th Wonder. Even though The Listening was much-lauded upon its release it went relatively unnoticed. If YOU missed out on it for some reason, it's never too late to pick it up.
Rating: 9.5/10
3. Viktor Vaughn – Vaudeville Villain
MF DOOM was a genius. 2003 saw two releases from the man, under two new aliases. Where the King Geedorah album had its focus on DOOM's beats – which at times overpowered the lyrics by mostly guest emcees – Vaudeville Villain focuses more on DOOM's lyrics. For production duties, DOOM enlisted Sound-Ink record label members Heat Sensor, King Honey, and Max Bill, with the exception of "Saliva", which was produced by RJD2.
Nothing wrong with the musical backdrops on Vaudeville Villain by the way – a lot of dirty, dusty drums and snares, just as can be expected on an MF DOOM record – but it's DOOM's lyrics that steal the show here. The album is filled with crazy creative imagery, humor, and dope punchlines, DOOM once again proves lyrically he is in a lane of his own. The opening track "Vaudeville Villain" starts off the album brilliantly, and the quality doesn't let up all the way through. More accessible than King Geedorah's Take Me To Your Leader, Vaudeville Villain is one of 2003's best albums and the most underappreciated album in MF DOOM's catalog.
Rating: 9/10
4. Canibus – Rip The Jacker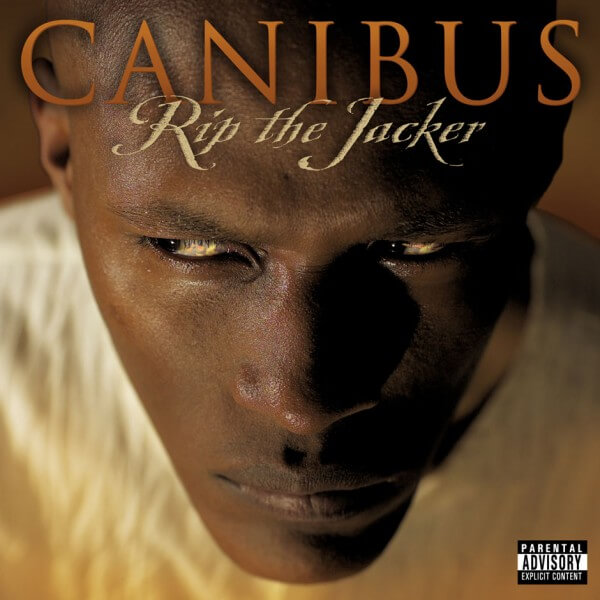 Nobody ever disputed Canibus' superior lyrical skills. The fact he made a bunch of not-so-good albums had more to do with subpar production than his work on the mic. On Rip The Jacker, his fifth studio album, everything finally comes together for Canibus – resulting in what undoubtedly is his best album.
Production is done completely by Jedi Mind Tricks' production genius Stoupe The Enemy Of Mankind, ensuring a totally cohesive sound throughout the whole album. The intricate soundscapes laid down by Stoupe mesh well with Canibus' complex and sharp rhymes. "Indibisible", "Showtime At The Gallow", "Genabis", "Levitibus", "No Return" and the 8-minute epic "Poet Laurette II" (in which Canibus spits 200 bars over 3 different beats) are standouts, but all eleven tracks on this album are fire.
Rating: 9/10
5. Jay Z – The Black Album
Jay-Z's third best album, after The Blueprint (2000) and Reasonable Doubt (1996). The Black Album was supposed to be Jay-Z's last album, but we all know how that turned out. It would be his last truly great album though – even if some of the albums that would follow this one are really good, The Black Album is Jay-Z's last true classic.
Rating: 9/10
6. Immortal Technique – Revolutionary Vol. 2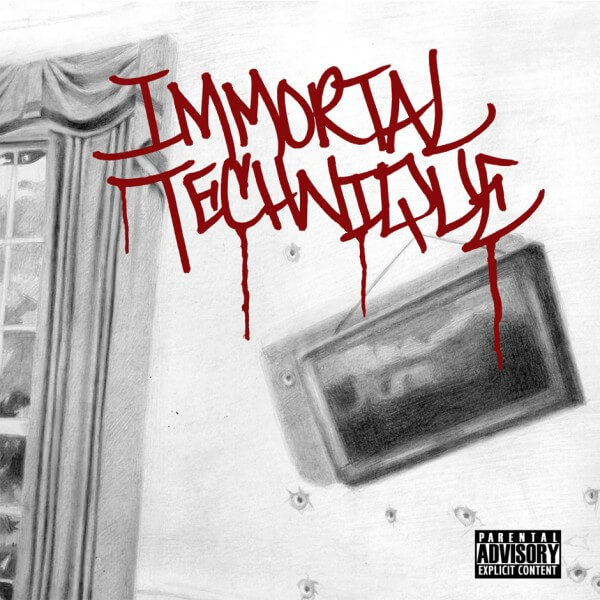 Revolutionary Vol. 2 is a follow-up to Immortal Technique's debut album, Revolutionary Vol. 1, which is just as excellent and important.  Revolutionary Vol. 2 attacks the United States government, especially the Bush Administration. Issues repeatedly discussed on the album include poverty, drug trade, slave labor, censorship, corporate control over the media (including Hip Hop), 9/11, racism, the prison industrial complex, and class struggle. This is Hip Hop for thinking people – you don't even have to agree with everything Immortal Technique says, but you have to LISTEN to him, so you can think for yourself and make up your own mind.
Rating: 9/10
7. Non Prophets – Hope
Sandwiched between two excellent solo-albums – Personal Journals (2002) and Healthy Distrust (2005) – Providence, Rhode Island emcee Sage Francis dropped Hope, under the name Non-Prophets, a collaboration between himself and producer Joe Beats. Joe Beats handles all production duties on Hope, ensuring a musically cohesive and consistently dope sound throughout. Sage Francis' lyrics are somewhat 'lighter' on Hope than on most of his solo-albums, less deep and less personal, but as intelligent and thought-provoking as always anyway.
Rating: 8.5/10
8. 50 Cent – Get Rich Or Die Tryin'
Get Rich Or Die Tryin' is one of the most important albums (if not THE most important album) of the decade – in sales, impact, and popularity. For these reasons alone this album is a super classic, but at 19 tracks just a little bit too long and lacking in variety to be ranked (even) higher here: 50 Cent's gangsta-pop subject matter can get tiring, and of course he has never been a very good rapper. That being said, he certainly was on the top of his game here – and having Dr. Dre and Eminem in his corner surely didn't hurt. Get Rich Or Die Tryin' contains a bunch of classic cuts and featured near-flawless production throughout, and will forever be seen as one of Hip Hop's biggest albums.
Rating: 8.5/10
9. CunninLynguists – Southernunderground
SouthernUnderground is CunninLynguists' second album. For SouthernUnderground the trio employed Mr. SOS to accompany them on vocals for much of the album. SouthernUnderground is best known for its single "Seasons" – which features Masta Ace – a classic cut that details the history of Hip Hop comparing different eras to seasons of a year. Other stand-outs include "Old School", "Dying Nation," "War," and "Appreciation," (about 9/11), and especially "Falling Down" – a creative musical masterpiece by Kno. Kno definitely is the key to CunninLynguists' creative success, his work on the boards is all-around awesome, and with SouthernUnderground he delivers one of the best-produced albums of 2003. Even if SouthernUnderground was generally critically acclaimed it was commercially not nearly as successful as it should have been, making it one of 2003's under-appreciated masterpieces.
Rating: 8.5/10
10. Dizzee Rascal – Boy In Da Corner
With strong influences of typical British musical styles like Garage, Techno, and Dancehall, Boy In Da Corner sounds absolutely different from the usual Hip Hop fare. It also sounded way ahead of its time when it came out – still sounds ahead of its time today. This album was hugely influential too, it was essential in establishing the Grime niche in (UK) Hip Hop.
Dizzee Rascal's achievement is all the more impressive knowing he was not even 18 years old when he wrote most of this album. Boy In Da Corner is filled with sharp, sometimes witty, sometimes grim commentaries on modern life from the perspective of a troubled inner-city youth, delivered in Dizzee's claustrophobic and disturbing style over stripped-down beats and bouncing baselines.
"Fix Up, Look Sharp" with its pounding drumbeat is the song that comes closest to the sounds 'traditional' Hip Hip and one of our favorite tracks on Boy In Da Corner. Other highlights include "I Luv U" (a breath-taking synopsis of teenage pregnancies), "Jezebel" (an anti-single motherhood tale), and "Brand New Day" – but the whole album is special.
Boy In Da Corner proves that creative audacity and raw authenticity can go a long way. Sonically and lyrically dense, dark and discomforting, this album will definitely not be for everyone, but those who are up for an incidental change of menu or those who are feeling musically adventurous could do worse than to dip into Dizzee Rascal's East-London genre-bending take on Hip Hop.
Rating: 8.5/10
11. The Last Emperor – Music, Magic, Myth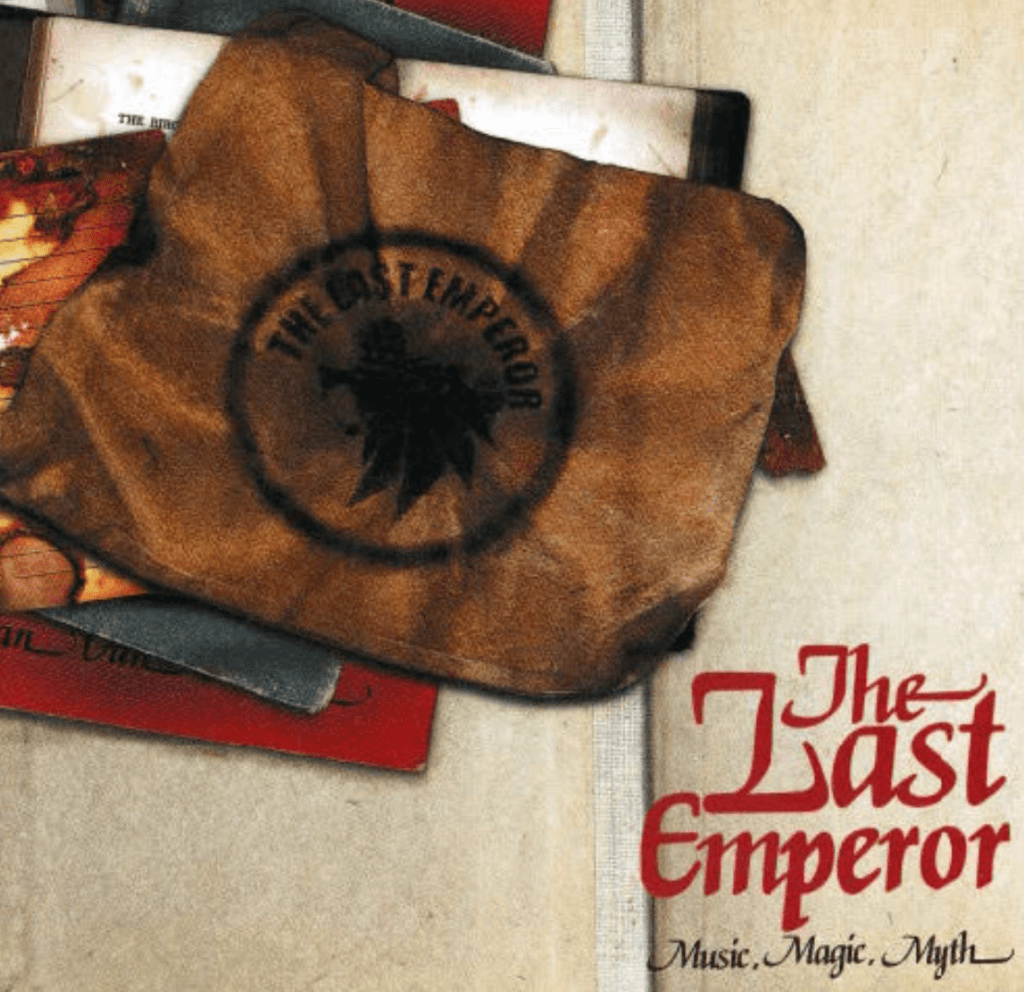 Philadelphia's The Last Emperor should have had a much bigger career, he is one of the best true emcees out there. This album is excellent, but sadly almost nobody took notice. Last Emperor takes it back to the essence and shows he is good at everything;  from story-telling, to bragging & boasting, to being introspective, to being philosophical. His lyrics are intelligent, his rhymes are tight, and his flow & delivery are top-notch. Look for this album if you slept on it, you will not be disappointed.
Rating: 8.5/10
12. Aesop Rock – Bazooka Tooth
Bazooka Tooth is the fourth studio album by Aesop Rock, at 70 minutes a monster of an album. Even if Bazooka Tooth is not Aesop Rock's best work, it still is an excellent album, and among the better Hip Hop albums released in 2003. Even at his most accessible Aesop Rock is an acquired taste, and Bazooka Tooth being his least accessible album makes it a bad entry point for Aesop Rock noobs. Production-wise Bazooka Tooth takes some getting used to with its edgy instrumentals – the lyrics, however, are classic Aesop Rock. Just as his then-label Def Jux, Aesop Rock has always been about pushing Hip Hop boundaries and Bazooka Tooth is a prime example of that innovativeness.
Rating: 8/10
13. Gang Starr – The Ownerz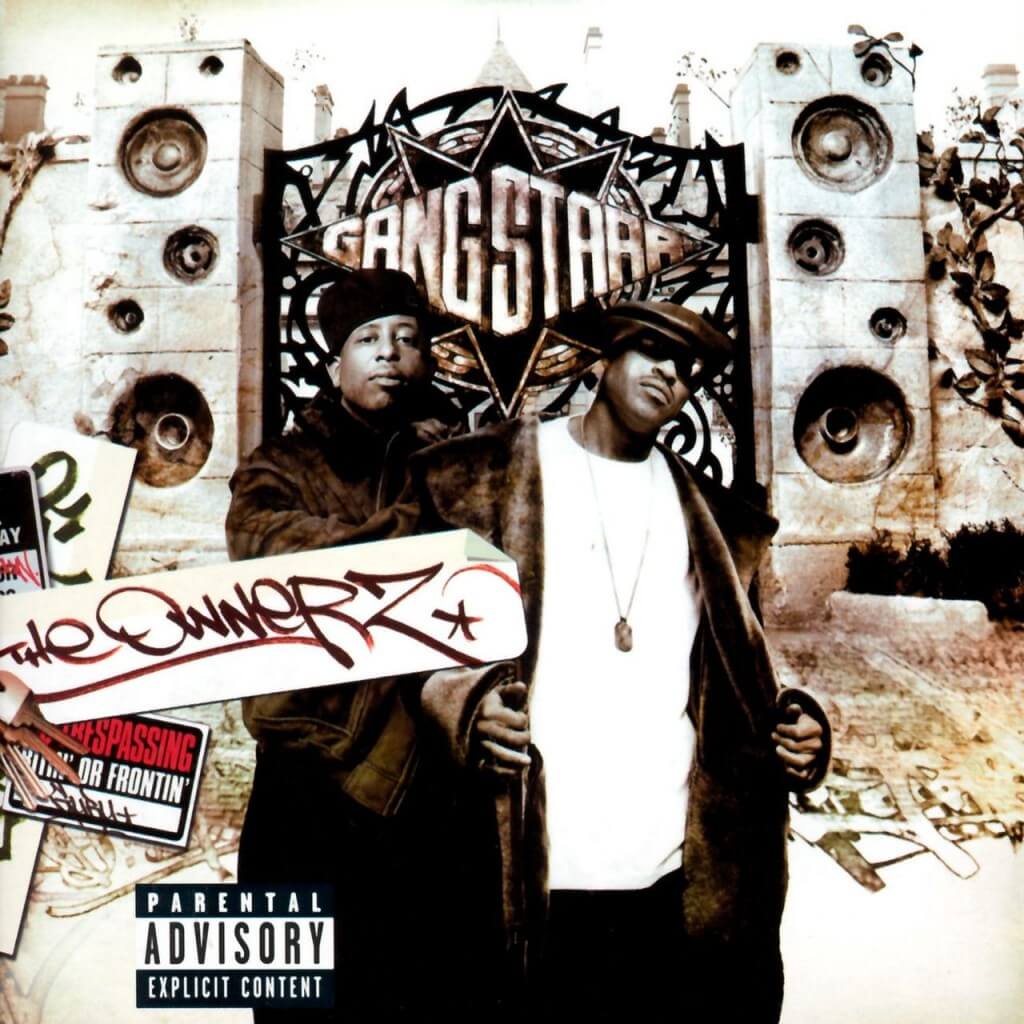 Five years after Moment Of Truth – which arguably was Gang Starr's magnum opus – Premier and Guru came out with The Ownerz, their sixth and album as a duo (not counting the classic 1999 Full Clip compilation album). Although it's hard to point at something that is really wrong with The Ownerz, it doesn't quite have the same consistent level of quality or the 'magic' the previous four albums had.
There are some real bangers here – "Riot Akt," "Sabotage,", "Put Up Or Shut Up", "Skillz", "Rite Where U Stand" and "Deadly Habitz" are all great tracks – but there also a few weaker tracks and even some unnecessary skits/interludes that add nothing to the album – things we did not see on Gang Starr albums before.
When it's good, it's great though – and while The Ownerz is not a classic like the previous four Gang Starr albums are, a not-so-good Gang Starr album is better than most of the other Hip Hop that came out this year.
Rating: 8/10
14. Louis Logic – Sin-A-Matic
Sin-A-Matic is the debut solo-album from Brooklyn emcee Louis Logic, who is also known as being (a former) Demigodz member and half of the duo Odd Couple (with Jay Love). Demigodz emcees Celph Titled and Apathy show up on a couple of tracks on Sin-A-Matic, "Diablos" with Celph Titled being a stand-out: a battle type track with an animated Louis and Celph ripping the beat to pieces, with dope wordplay and punchlines.
On the whole album, Louis Logic's style is rather comical, his lyrics funny and sometimes shockingly offensive at the same time. Content-wise comparisons with Eminem are inevitable, but Louis Logic definitely is his own man – his flows are nice, his lyrics are on point, and the beats, handled mostly by J.J. Brown, are great as well. Sin-A-Matic is a more than fine album you should check out if never did before.
Rating: 8/10
15. King Geedorah – Take Me To Your Leader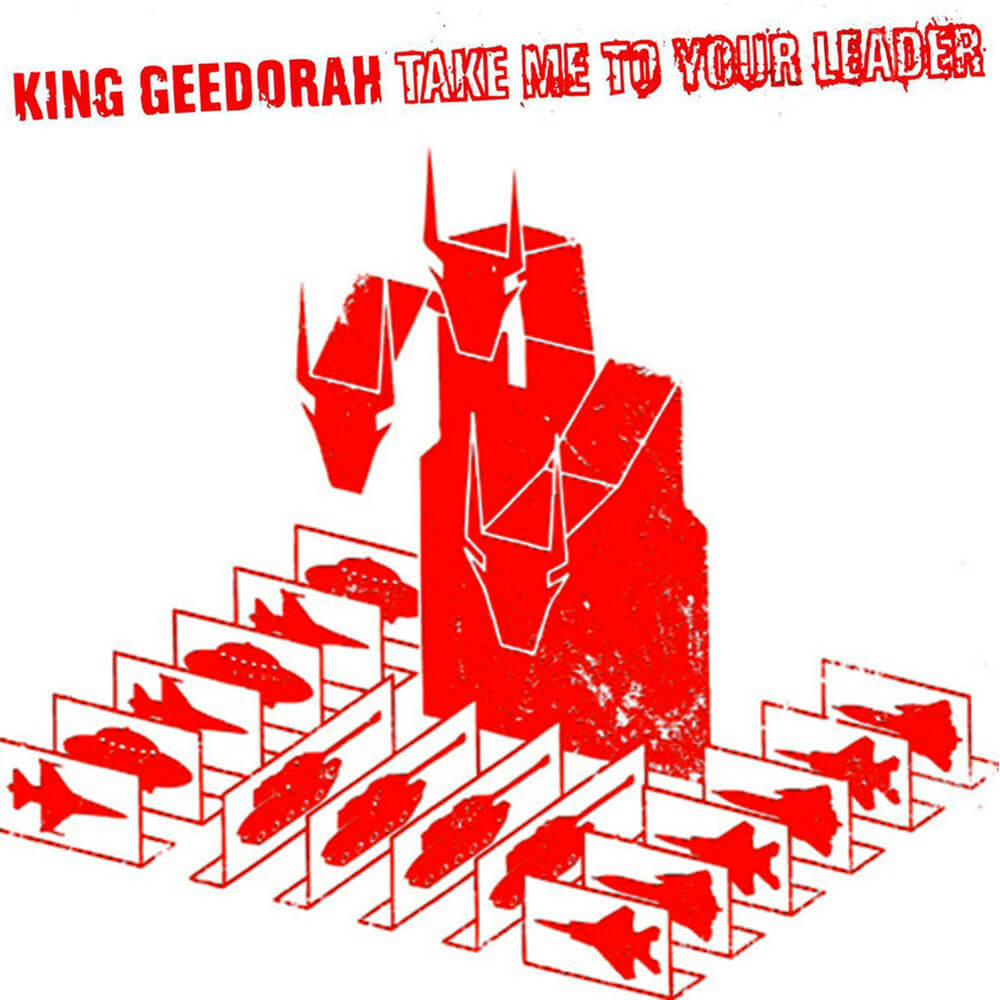 MF DOOM dropped two low-key masterpieces in 2003. Vaudeville Villain (as Viktor Vaughn) is one, this one is the other. For Take Me To Your Leader DOOM adopts the persona of King Geedorah – a three-headed lizard observing earth from outer space, and commenting on some of the earth's problems.
Where Vaudeville Villain had its focus more on the lyrics, this album is all about the musical backdrops. DOOM's and especially his guests' lyrics are worth listening to (DOOM only raps on two tracks, focusing his energy almost exclusively on his work on the boards) but it may take multiple listens to decipher everything and take all in – partly because of the clever complexity of most rhymes and partly because they are sometimes hidden behind a wall of lo-fi sound: dusty beats laced with obscure samples – DOOM digs deep to come up with the craziest soundscapes. Take Me To Your Leader is not for those who like formulaic mainstream rap, but it is a treasure for those who dig creativity.
Take Me To Your Leader is not for those who like formulaic mainstream rap, but it is a treasure for those who dig creativity. Along with Doomsday, Vaudeville Villain, Mm… Food, The Mouse & The Mask, and Madvillainy, Take Me To Your Leader is one of MF DOOM's best albums.
Rating: 8/10
16. OutKast – Speakerboxxx / The Love Below
This album is probably ranked too low on this list. Speakerboxxx / The Love Below is one of the greatest albums of all-time within any genre – also OutKast's commercially most successful, selling upwards of twelve million units.
Andre 3000's half was The Love Below, a hybrid of heavy Prince-influenced funk and experimental sounds that catapulted Three Stacks into being a true star – crossing genre boundaries with cuts like "Hey Ya", "Roses" and "She Lives In My Lap". As for Big Boi, his half – Speakerboxx – was more traditional southern Hip Hop, mixing funk and down south gumbo to come away with a highly impressive disc himself.
Speakerboxxx / The Love Below would have been ranked higher here if Andre 3000's half had more of a Hip Hop feel to it – still, this innovative double album is an undeniable classic, not just in the genre of Hip Hop but in music in general.
Rating: 8/10
17. Murs – The End Of The Beginning
Murs' Def Jux debut The End Of The Beginning is Murs' fourth solo album, and one of his best five. At 69 minutes, The End Of The Beginning is a long album, but it never overstays its welcome. As always Murs comes with clever lyrics with great wordplay and storytelling, and as always his flow and delivery are a pleasure to listen to. "You & I", "What Do You Know", "The Night Before", "Transitionz Az A Ridah", "Happy Pillz" (feat Aesop Rock), "Brotherly Love", "God's Work", "Please Leave" – no shortage of dope Murs tracks on this album.
Rating: 7.5/10
18. Jaylib – Champion Sound
Champion Sound can be seen as sort of a prelude to 2004's Madvillainy – one of the most-lauded underground Hip Hop albums of all-time. Both are products of two brilliant producers joining forces, in the case of Madvillainy a collaboration between MF DOOM and Madlib, for Champion Sound Madlib teamed up with the late great J Dilla.
On Champion Sound, the two each produced half of the tracks and they rapped over the beats the other one provided, with tracks sequenced alternatingly. Guests like Percee P and Guilty Simpson add some extra flavor, but Madlib and Dilla hold their own on the mic – even if it's clear enough they are both producers first and rappers second. You don't listen to Champion Sound for the rhyming anyway, it's all about the beats – and the beats are mostly great, just as can be expected from two of the most creative producers in the game ever.
Rating: 7.5/10
19. KRS-One – Kristyles
Many people say that KRS-One fell off after the turn of the millennium. They couldn't be more wrong. While it's true he had long lost the spotlight to other artists (and never was one of Hip Hop highest-selling celebrities anyway), his output has always been remarkably consistent. The shift to uncreative stupidity and negativity as the big marketable thing in Hip Hop relegated intellectual artists like KRS-One out of the public eye, but KRS's work never really suffered from it.
Kristyles is KRS-One's sixth solo album, and almost as good as any of them. Tracks like "9 Elements", "Underground", "Philosophical", "Gunned Em Down" and "What Else Happened" would not be out of place on a 'KRS-One Greatest Hits' album.
There are a few different versions of Kristyles floating around, and although it is said KRS-One did not approve of the version of Kristyles that was eventually released, this still is one of our favorite KRS-One solo-albums.
Rating: 7.5/10
20. Danger Mouse & Jemini – Ghetto Pop Life
Ghetto Pop Life is a collaborative album by Danger Mouse & Jemini, with guest appearances from Tha Alkaholiks, J-Zone, Prince Po, and The Pharcyde. This is one of the sleeper-classics of 2003, mainly because of the atmospheric and layered soundscapes Danger Mouse provides. Jemini holds his own on the mic, but this is a producer's album to its core. The album has a throwback vibe to it but has its feet planted firmly in the 2000s at the same time, so it should appeal to old and new heads alike. It's hard to imagine anybody not liking Ghetto Pop Life.
Rating: 7.5/10
21. Soul Position – 8 Million Stories
Soul Position is the unsung Blueprint's collaboration with fellow Columbus, Ohio DJ/producer RJD2. It was their first full album together (after an EP in 2002), released on Rhymesayers Entertainment. 8 Million Stories probably is the best-known and best-received Soul Position release, with dope RJD2 soundscapes and varied and clever rhymes by Blueprint. Still, it never received the wider acclaim it deserved. Never too late to check it out though!
Rating: 7.5/10
22. Jedi Mind Tricks – Visions Of Gandhi
This is an album that has always polarized opinions, especially among first-hour Jedi Mind Trick fans. The long and short of it is: some hate Visions Of Gandhi, some love it. Critics say that after Jus Allah left JMT the group lost most of its intelligence and that Stoupe's production has become too polished and more inconsistent, getting carried away at times with Latin-flavored and other sounds that don't really fit Vinnie Paz's rugged and rough style of rhyming. It is also said that Vinnie Paz's lyrics have become harder to stomach – less conscious, more repetitive, and more intended to shock (his homophobic attitude does get tiring). Even if there's some truth to all of the critical statements aimed at this album, we still feel Visions Of Gandhi is a dope album, especially when it is not compared to other JMT albums, but judged by itself.
As polished as they may be, Stoupe's soundscapes still bang and are mostly excellent. Also, there are a lot of guest rappers who add real value to the album, there are no more than two tracks on which Vinnie Paz handles the mic duties on his own – and with enlisting names like Tragedy Khadafi, Kool G Rap, Canibus, Ras Kass, and Percee P you know top-quality emceeing is pretty much a guarantee. Especially Ras Kass (on "Rise Of The Machines") and Percee P (on "Walk With Me") kill it, proving as they always do that they are two of the best emcees of all time.
Just forget about whatever you expected or wanted and drop all comparisons, and you will see Visions Of Gandhi s a more than fine JMT album.
Rating: 7.5/10
23. Monsta Island Czars - Escape from Monsta Island!
Monsta Island Czars was a collective, most notable for members MF Grimm and MF DOOM (as King Geedorah). Although the Monsta Island Czars was founded by MF Grimm, he is absent from the entire album due to his incarceration at the time of its production and release.
Escape from Monsta Island! is a bit rough around the edges production-wise and lyrically, but that's part of the charm of this concept album (the concept is simple: the entire cast teams up to defeat "the monster"). A hate-it-or-love-it kind of project – we love it. This album gets better and better as time gets by – we'll go as far as calling Escape from Monsta Island! a cult-classic.
Rating: 7.5/10
24. Paris – Sonic Jihad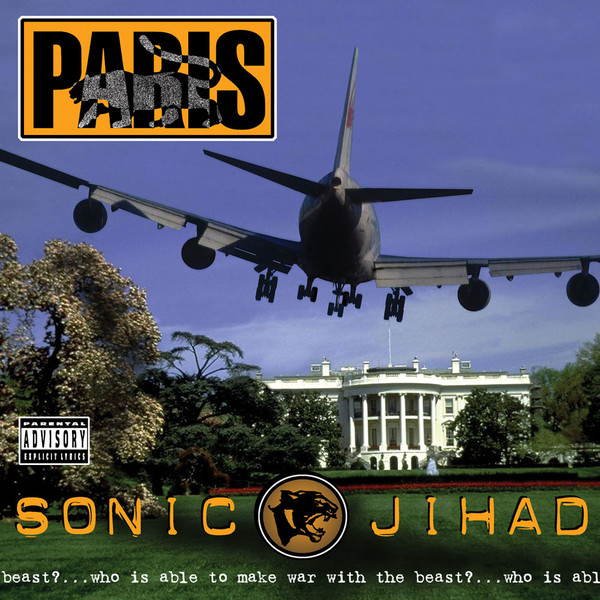 His classic 1990 debut The Devil Made Me Do It will forever be his magnum opus, but Paris comes hard as ever on Sonic Jihad. Conscious, militant Hip Hop never died, and it never will as long as artists like Paris are around.
Rating: 7.5/10
25. The Lost Children Of Babylon - Words From The Duat: The Book of Anubis
Words From the Duat: The Book of Anubis is the second album by Philadelphia, crew The Lost Children Of Babylon. Like its predecessor Where Light Was Created: The Equidivium, this album was released on Seventh Cathedral Recordings in 2003 and later re-mastered and re-released in 2006 on Babygrande Records. Conceptually Words From the Duat: The Book of Anubis is focused on Egyptian philosophy and mythology. Obviously, the subject matter will not speak to everybody, but we applaud The Lost Children Of Babylon for doing something different. In a Hip Hop world where fake thuggery was the thing in the mainstream, this kind of deep intellect and spirituality was much needed (but sadly slept-on).
Rating: 7.5/10
26. Ugly Duckling – Taste The Secret
Ugly Duckling never failed in creating that pure fun and 100% authentic Hip Hop, in the vein of fellow West Coast acts like Jurassic 5 and People Under The Stairs. Taste The Secret is a solid UD album.
Rating: 7.5/10
27. T.I. – Trap Muzik
Rating: 7.5/10
28. Lightheaded – Pure Thoughts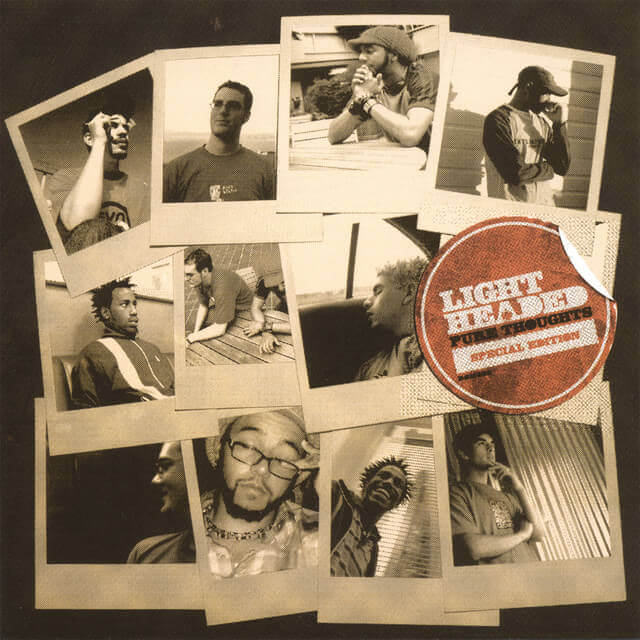 Lightheaded dropped a real fine album with Pure Thoughts. Dope rhymes, beats, and cuts – this is an album that will be a joy to all those nostalgic for the golden days of Hip Hop. Reminiscent of Jurassic 5 in fun, energy and throwback flows – Lightheaded (consisting of Ohmega Watts, Othello, Braille, and Muneshine) created a refreshing, goodnatured, super smooth listening experience for those who appreciate real Hip Hop. Sadly overlooked in 2003, so we are happy we can point those who missed out on it in the right direction.
Rating: 7.5/10
29. Killer Mike – Monster
Rating: 7.5/10
30. Killah Priest – Black August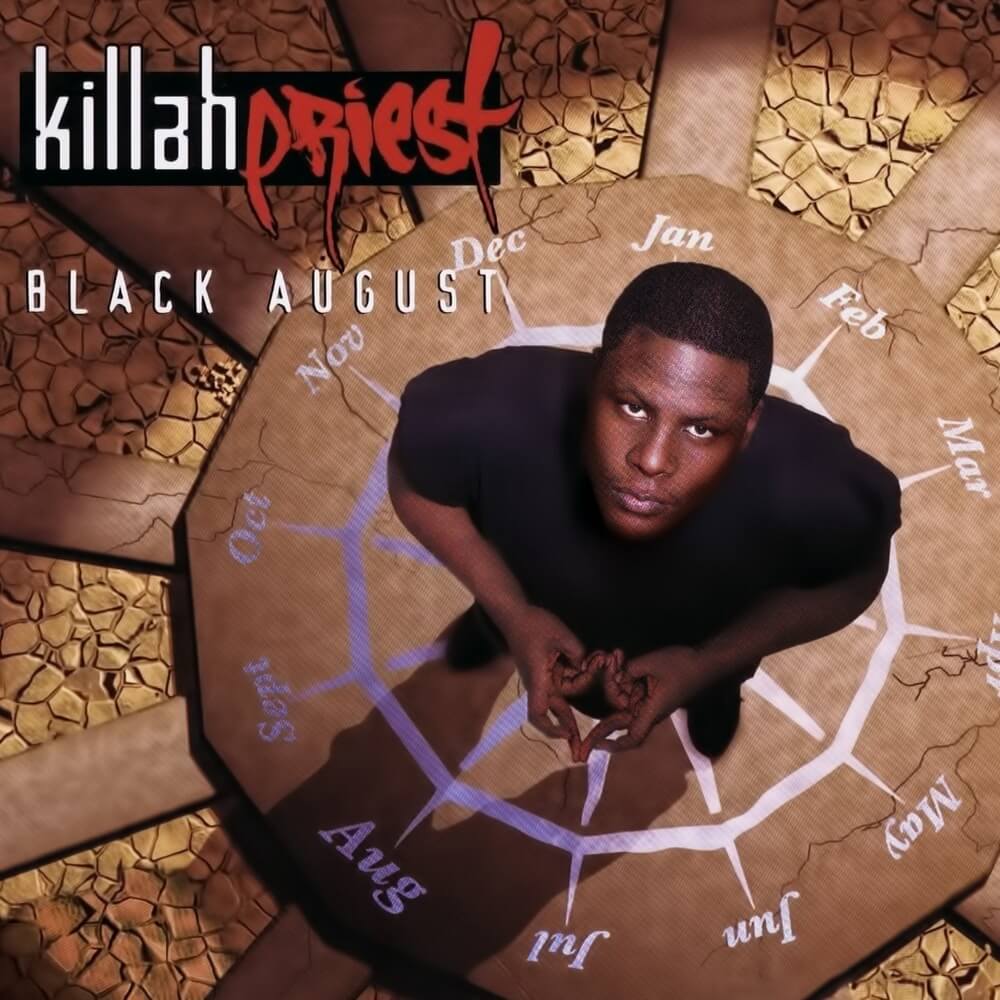 Lots of biblical references, conspiracy theories, positive messages, and spirituality – all mixed up with gritty, street-level rhymes and scathing comments on commercial rap ("Do The Damn Thing" – one of the stand-out tracks on this album). Black August doesn't have the best beats Killah Priest ever got to work with, but despite some bland instrumentals, the music is solid enough overall. Black August is not essential Killah Priest, but it has enough dope moments to count it a keeper.
Rating: 7/10
31. Vakill – The Darkest Cloud
The Darkest Cloud is the long-awaited debut full-length album by Chicago emcee Vakill, known through his association with Chicago Hip Hop collective The Molemen, arguably attracting most attention with 1996's "Keep The Fame", a collaboration with top-tier emcee Percee P and a young Rhymefest.
The Darkest Cloud was released eight years after Vakill's 1995 debut EP Who's Afraid? Few people outside Chicago picked up on this album – and that's a shame because this is a quality album without a doubt. Great beats and lyrics – what more should a Hip Hop album offer? Vakill is a dope emcee with a solid and original flow, able to drop witty punchlines and to create vivid imagery. "The Darkest Cloud", the album's opening and title track is a stand-out – it leads the listener into an album that is consistent all the way through.
Rating: 7/10
32. Insight – The Maysun Project
Boston's Insight is one of the most slept-on artists of the 2000s. The Maysun Project follows the excellent Updated Software 2.0. of the year previous, and even though it's definitely different, it's quite good as well. On The Maysun Project Insight injected more consciousness in his lyrics, making this more of a political album than its predecessor was. His beats kick ass and his lyrics are worth listening to – don't sleep on Insight and check out this album.
Rating: 7/10
33. Soul Supreme – The Saturday Nite Agenda
Swedish producer Soul Supreme made a little name for himself with his production debut on KRS One's "Profits Vs Prophets". In 2003 he dropped this album – completely slept-on, but dope as hell nonetheless. Twelve flawlessly produced smooth-as-silk boom-bap tracks, with the right emcees to add their rhymes to Soul Supreme's beats. Heavyweights like KRS One, Big Daddy Kane, A.G., Pete Rock, and O.C. make appearances, as well as emcees like Rasco, Planet Asia, and Reks.
Rating: 7/10
34. Atmosphere – Seven's Travels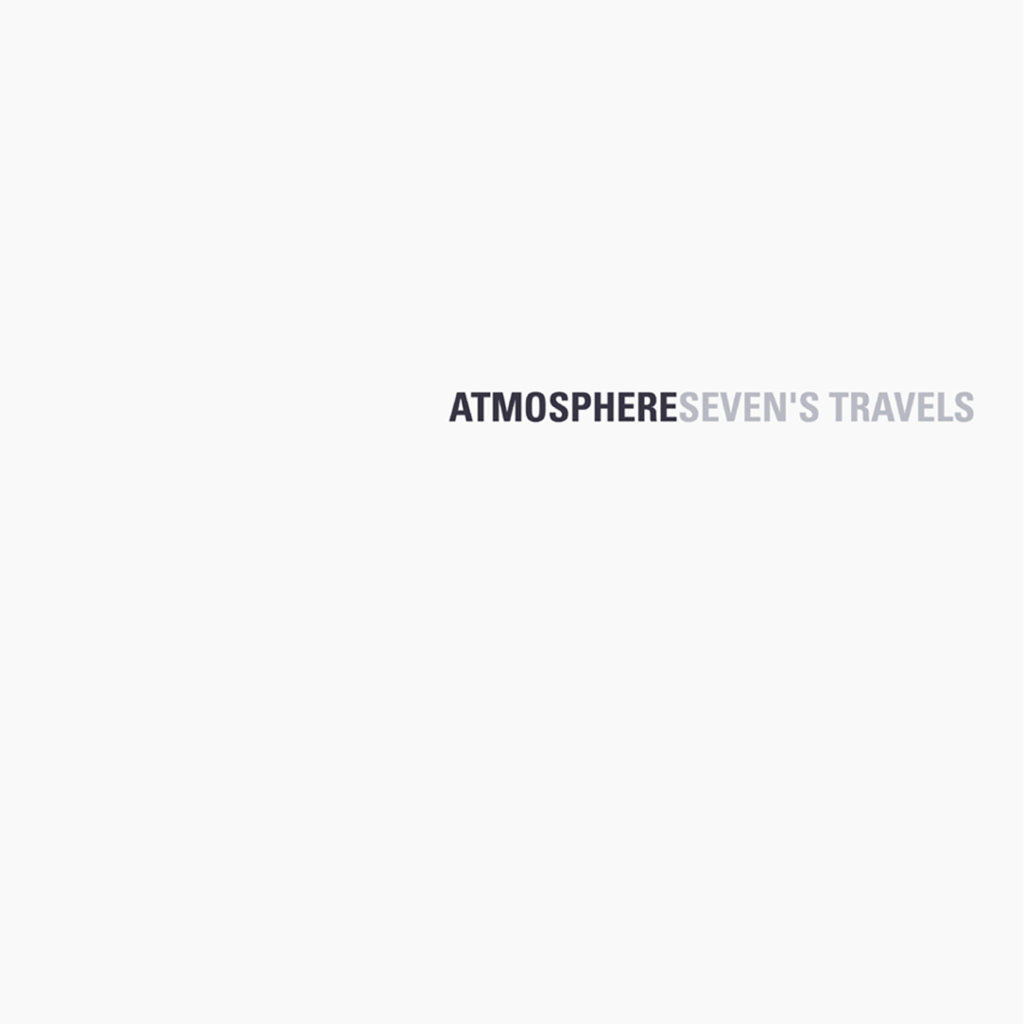 Seven's Travels is under-appreciated by critics and fans alike. Just because Atmosphere dropped so many quality albums that some of them are even better than this one, doesn't mean Seven's Travels is a bad album. In fact, Seven's Travels is a very good album. Ant's production is money in the bank here (even if he gave his very best beats to Brother Ali this year) – he is a true master with the beats, snares, kicks, and loops.
Lyrically Slug is on point too, especially on classic Atmosphere cuts like "Trying To Find A Balance", "Birds Sing Why The Caged I Know", "Lifter Puller", "Always Coming Back Home To You", "Los Angeles" and "In My Continental". It can be argued the tracklist could have been a bit tighter – at 70 minutes Seven's Travels is a long listen – but a few filler tracks do not diminish this album. No reason not to pick up Seven's Travels.
Rating: 7/10
35. Cyne – Time Being
Rating: 7/10
36. Akrobatik – Balance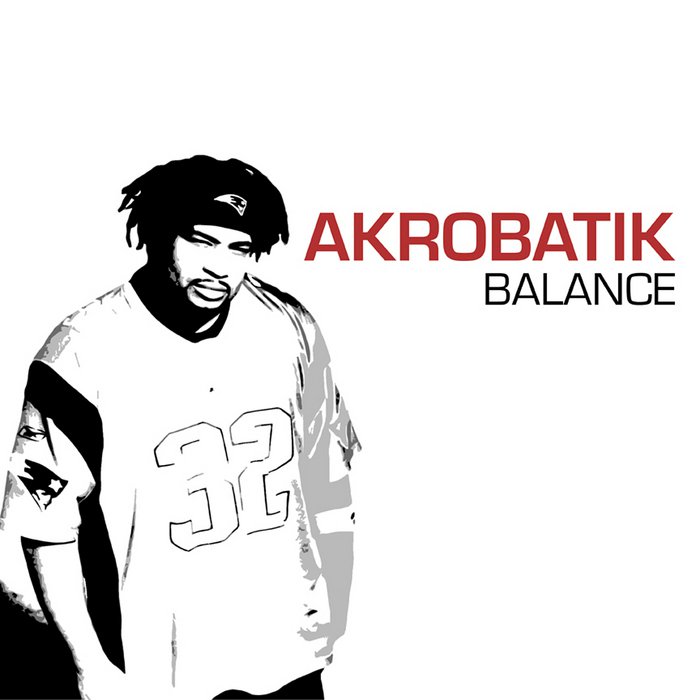 Rating: 7/10
37. Semi.Official – The Anti-Album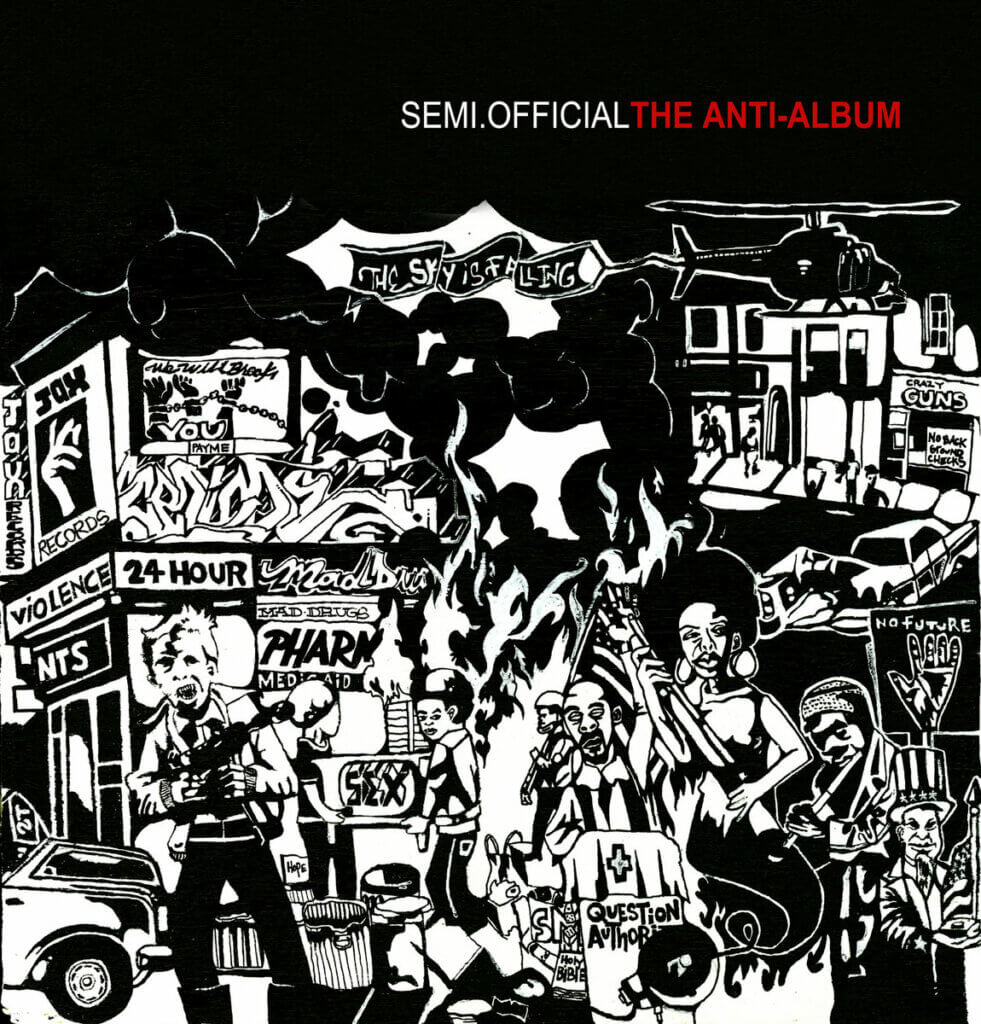 Semi.Official is a collaboration between I Self Divine of The Micranots and DJ Abilities of Eyedea & Abilities fame. The Anti-Album offers an hour of raw and gritty lyrics and beats, laced with dope samples and intricate cuts & scratches – this is pure and undiluted Hip Hop.
Rating: 7/10
38. Jeru The Damaja – Divine Design
Rating: 7/10
39. billy woods – Camouflage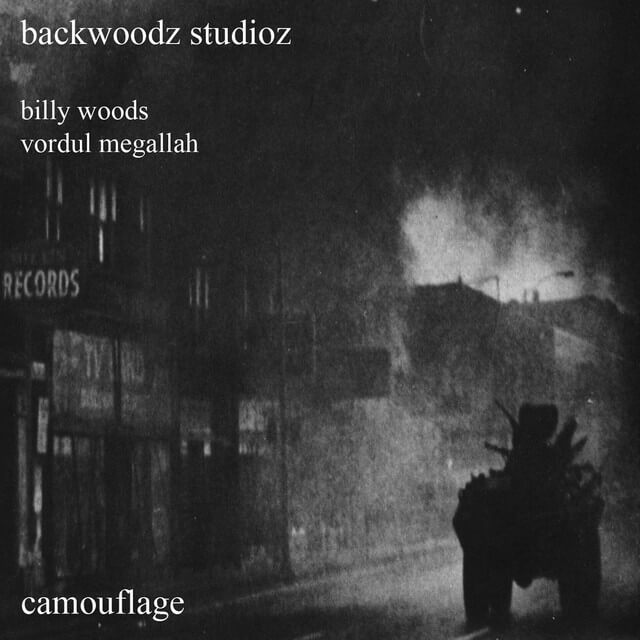 Rating: 7/10
40. Nappy Roots – Wooden Leather
Wooden Leather is the second studio album by Kentucky 6-man crew Nappy Roots, following Chicken, Watermelon, And Gritz (2002). Some may prefer their debut album – which is excellent btw – but we think Wooden Leather is even better. Nappy Roots is an underrated crew that deserves to mentioned in the same breath with acts like OutKast en Goodie Mob and that needs to be applauded for consistently dropping dope Hip Hop with that typical Southern vibe.
Rating: 7/10
Honorable Mentions
Hieroglyphics – Full Circle
Obie Trice – Cheers
Lil' Kim – La Bella Mafia
Missy Elliott – This Is Not A Test!
C-Rayz Walz – Ravipops (The Substance)
Charizma & Peanut Butter Wolf – Big Shots
Freeway – Philadelphia Freeway
Mars Ill – Backbreakanomics
Craig G – This Is Now!!!
Double Helix – Soundproof
Sole – Selling Live Water
The High & Mighty – The Highlite Zone
Blueprint – The Weightroom
Styles Of Beyond – Megadef
Diverse – One A.M.
Pase Rock – Bullshit As Usual
Babbletron – Mechanical Royalty
Lifesavas – Spirit In Stone
Ludacris – Chicken-n-Beer
Murphy Lee – Murphy's Law
Westside Connection – Terrorist Threats
Asheru & Blue Black – 48 Months
The Procussions – As Iron Sharpens Iron
Shabazz The Disciple – The Book Of Shabazz
Seven Star – My Mother And Father Were Astronauts
People Under The Stairs – …Or Stay Tuned
The Four Horsemen – The Horsemen Project
Tame One – When Rappers Attack
Zion I – Deep Water Slang V2.0
Maker – Honestly
Wildchild – Secondary Protocol
Reef The Lost Cauze – Invisible Empire
Awol One & Daddy Kev – Slanguage
Eligh – Poltergeist
Hilltop Hoods – The Calling
Beans – Tomorrow Right Now
Aceyalone – Love & Hate
G-Unit – Beg For Mercy
Pep Love – Ascension Side C
3582 – Situational Ethics
J-Zone – $ick Of Being Rich
Prince Paul – Politics Of The Business
The Herd – An Elefant Never Forgets
Cherrywine – Bright Black
The Family Tree – Tree House Rock!
Abstract Rude & Tribe – Unique Showtyme!
Pigeon John – Is Dating Your Sister
Lyrics Born – Later That Day…
Defari – Odds & Evens
A-Team – Lab Down Under
Moka Only – Lowdown Suite
Sweatshop Union – Natural Progression
Boo-Yaa T.R.I.B.E. – West Koastra Nostra
Delinquent Habits – Freedom Band
Five Deez – Kinkynasti
Esham – Repentance
Brotha Lynch Hung – Lynch By Inch: Suicide Note
Biz Markie – Weekend Warrior
Willie D – Unbreakable
PMD – The Awakening
Mr. Cheeks – Back Again!
9th Prince – Grandaddy Flow
Memphis Bleek – M.A.D.E.
Kool G Rap & 5 Family Click – Click Of Respect
Tragedy Khadafi – Still Reporting
Keith Murray – He's Keith Murray
Black Moon – Total Eclipse
Big Noyd – Only The Strong
Das EFX – How We Do
Mic Geronimo – Long Road Back
RZA – Birth Of A Prince
Inspectah Deck – The Movement
Raekwon – The Lex Diamond Story
Cappadonna – The Struggle
Sticky Fingaz – Decade…But Wait It Gets Worse
Fredro Starr – Don't Get Mad Get Money
Onyx – Triggernometry
Joe Budden – Joe Budden
Foreign Legion – Playtight
Bravehearts – Bravehearted
Fabolous – Street Dreams
The Diplomats – Diplomatic Immunity
Juelz Santana – From Me To U
Sheek Louch – Walk Witt Me
Bone Crusher – AttenCHUN!
DMX – Grand Champ
Ja Rule – Blood In My Eye
David Banner – Mississippi: The Album
Z-Ro – Z-Ro Tolerance
Do Or Die – Pimpin' Ain't Dead
DMG – Black Roulette
E-40 – Breakin' News
Too $hort – Married To The Game
MC Eiht – Hood Arrest
Mac Dre – Al Boo Boo
Rappin' 4-tay – Gangsta Gumbo
Big Gipp – Mutant Mindframe
Juvenile – Juve The Great
Three 6 Mafia – Da Unbreakables
Bubba Sparxxx – Deliverance
Andre Nickatina – Conversation With A Devil
Best instrumental albums of 2004:
Nujabes – Metaphorical Music
Madlib – Shades Of Blue
Mr. Dibbs – The 30th Song