Ranking Killah Priest's Albums: Since the beginning of the boisterous antics of the world of Hip Hop, there have been numerous self-proclaimed prophets who believe they possess certain secrets to understand the meaning of life. So many artists have attempted to unveil the secret ancient wisdoms of mankind in order to help us ultimately understand who we are and humanity's true reason for existence. Walter Reed a.k.a "Killah Priest" is one of the selected few who is actually worthy of such entitlement.
Born in New York's infamous Bedford-Stuy projects in Brooklyn, Killah Priest, or simply "Priest" began his journey as a prolific storyteller during his early childhood while studying the bible and different cultures of ancient history. His knowledge and transgression of spirituality and self-actualization are easily understood after hearing just a single verse of his vivid and imaginative rhymes. The Hip Hop world was first introduced to Priests' unique style in 1994 on the album 6 Feet Deep by Gravediggaz. This led to a guest appearance on Ol' Dirty Bastard's Return to the 36 Chambers: The Dirty Version and the critically acclaimed solo feature, "B.I.B.L.E (Basic Instructions Before Leaving Earth)" on GZA's Liquid Swords. In 1995 Priest formed the group, Sunz of Man alongside rappers Hell Razah, 60 Second Assassin, and Prodigal Sunn and signed the group to Wu-Tang Records. Priest released his first solo album, Heavy Mental in 1998 under Geffen Records.
Killah Priest has built a strong and devout following of fans, whose loyalty to the Wu-Tang brand is unrivaled by any other name in Hip Hop culture. The respect he has gained from artists and fans alike in the underground, as well as the mainstream, is unquestionable. Over the course of his career, he has released over a dozen full-length, critically acclaimed solo albums as well as a number of group projects with Sunz of Man, The HRSMN, Black Market Militia, and Army of Pharaohs member, Chief Kamachi.
With all the changes that Hip Hop has seen due to the highly commercialized industry present today, true artistry and lyricism have become of lesser importance in recent years. Killah Priest, however still remains true to his heart and soul as an artist, with his consistent ability to draw you into his dimension with his wisdom and substance. His unique perceptive and influence has made him a force of nature in the Hip Hop world that has no intention of slowing down and whose effects will be felt on a greater scale for generations to come.
For this piece, we take a look at Killah Priest's full-length solo studio albums (so not his group albums with Sunz Of Men, Black Market Militia or Vendetta Kingz, not his EPs, and not his mixtapes such as I Killed The Devil Last Night, The Exorcist, and The Untold Story of Walter Reed 1 & 2).
What is YOUR favorite Killah Priest project listed here?
13. View From Masada (2000)
Following his stellar debut Heavy Mental (1998), Killah Priest's View From Masada was something of a letdown. After the complex and intelligent lyrical imagery of his first album, it seems like Priest intentionally dumbed down his content and went for more accessible instrumentals to get more mainstream appeal. It didn't work because this album was unsuccessful enough to get him dropped from his then-label MCA. Maybe for the better, because he would recover quickly with Priesthood (2001), and more even better albums in the years after that one – this is the stepping stone to stronger, future Killah Priest albums.
The more grounded and less abstract lyrical content on View From Masada means that the album contains some of Priest's weakest lyrical content. The production is even worse – bland and uninteresting. A couple of solid tracks like "Maccabean Revolt", "If I Die" and "View From Masada" can't save the album. Although not terrible, View From Masada is Killah Priest's weakest album. 5.5/10
12. Behind The Stained Glass (2008)
Behind the Stained Glass is Killah Priest's sixth studio album, the follow-up to Priest's 2007 release The Offering, and reportedly it includes leftovers not featured on that album. Composed partly of left-overs or not, Behind The Stained Glass does kind of feel like an afterthought. Maybe there's little objectively wrong with this album, but the beats are lackluster, and Priest's lyricism is not as sharp as it usually is either. Middle-of-the-road Killah Priest is not bad, but he has a lot of albums way better than Behind the Stained Glass is. 6/10
11. Black August (2003)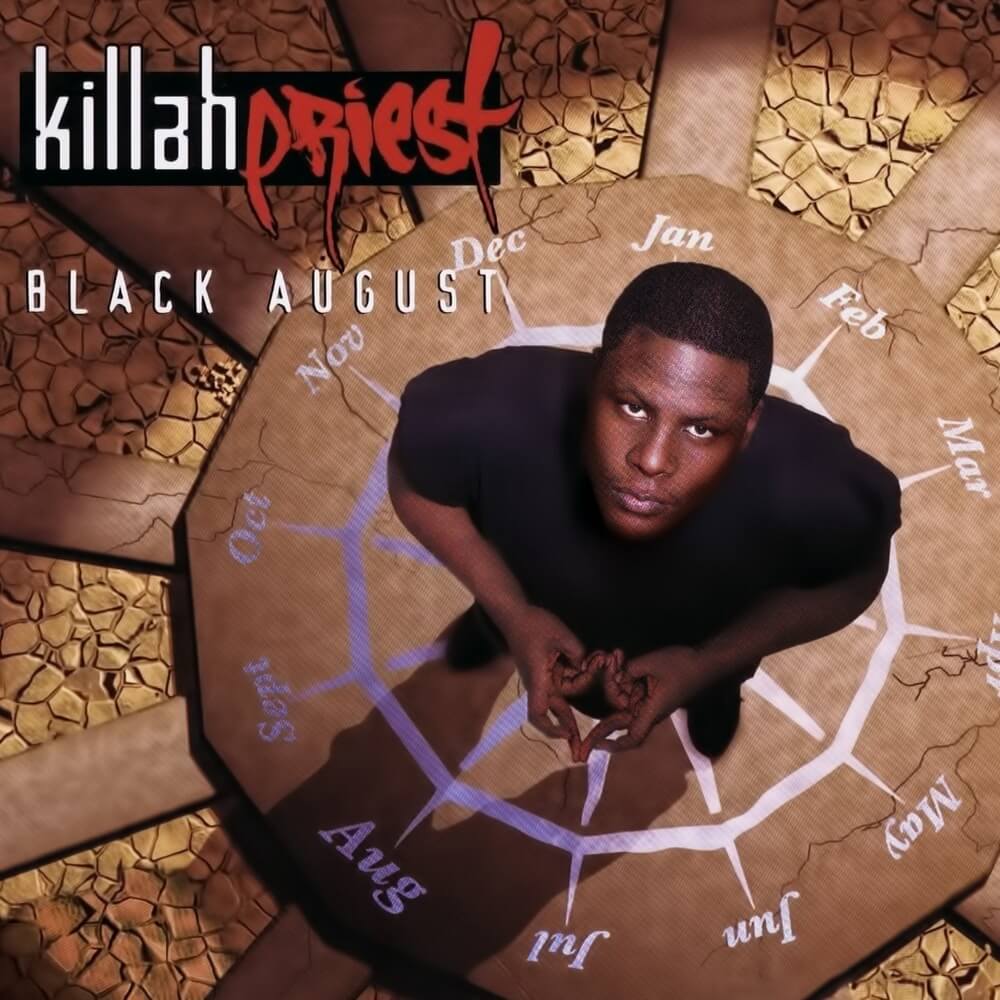 Lots of biblical references, conspiracy theories, positive messages, and spirituality – all mixed up with gritty, street-level rhymes and scathing comments on commercial rap ("Do The Damn Thing" – one of the stand-out tracks on this album). Black August doesn't have the best beats Killah Priest ever got to work with, but despite some bland instrumentals, the music is solid enough overall. Black August is not essential Killah Priest, but it has enough dope moments to count it a keeper. 7/10
10. Killah Priest - Priesthood (2001)
After his disappointing sophomore album Views From Massada, Killah Priest got dropped from MCA and was forced to go independent to get his third album out. Due to lacking promotion, limited visibility, and poor distribution, Priesthood wasn't a great success sales-wise, but it did signify a return to the level of quality represented by Priest's classic Heavy Mental debut album. The aptly titled "Blackball Me" intro sets the tone for this dark and spiritual album, with lots of strong tracks among stand-outs like "My Life", "My Hood", "Royal Priesthood", and the excellent posse cut "Horsemen Talk", which features fellow HRSMN-members Kurupt, Canibus, Ras Kass. Priesthood is a powerful album, an underrated part of Killah Priest's catalog – top-tier boom-bap with an intellectual slap. 7.5/10
Killah Priest - Summer End Cafe (2021)
Summer End Cafe is the fourth full-length solo album Killah Priest released in less than two years, and it's another 'weird' one. Killah Priest has always been one for a-typical lyrical content, but especially on his last four albums he clearly went for a different sound: experimenting with often drumless instrumentals while leaving behind the bass-heavy beats prevalent on his earlier projects. Summer End Cafe has something of everything we've come to know from Killah Priest. There are a couple of Wu-flavored bangers (like "95 Bodega" and "Vapor"), drumless tracks with oddball samples ("Lady Barbara" and "The Final Cup", among others), wonderfully weird storytelling (especially "Wimbledon 1936"), and most songs laced with KP's usual esoteric ramblings. There are a couple of headscratchers too ("Cafe Fling" most notably), but overall Summer End Cafe is another great Killah Priest project – not his best, but still better and way more interesting than the thirteen to a dozen albums most other artists are content to keep releasing. 7.5/10
9. Lord Sun Heavy Mental 1.1 (2021)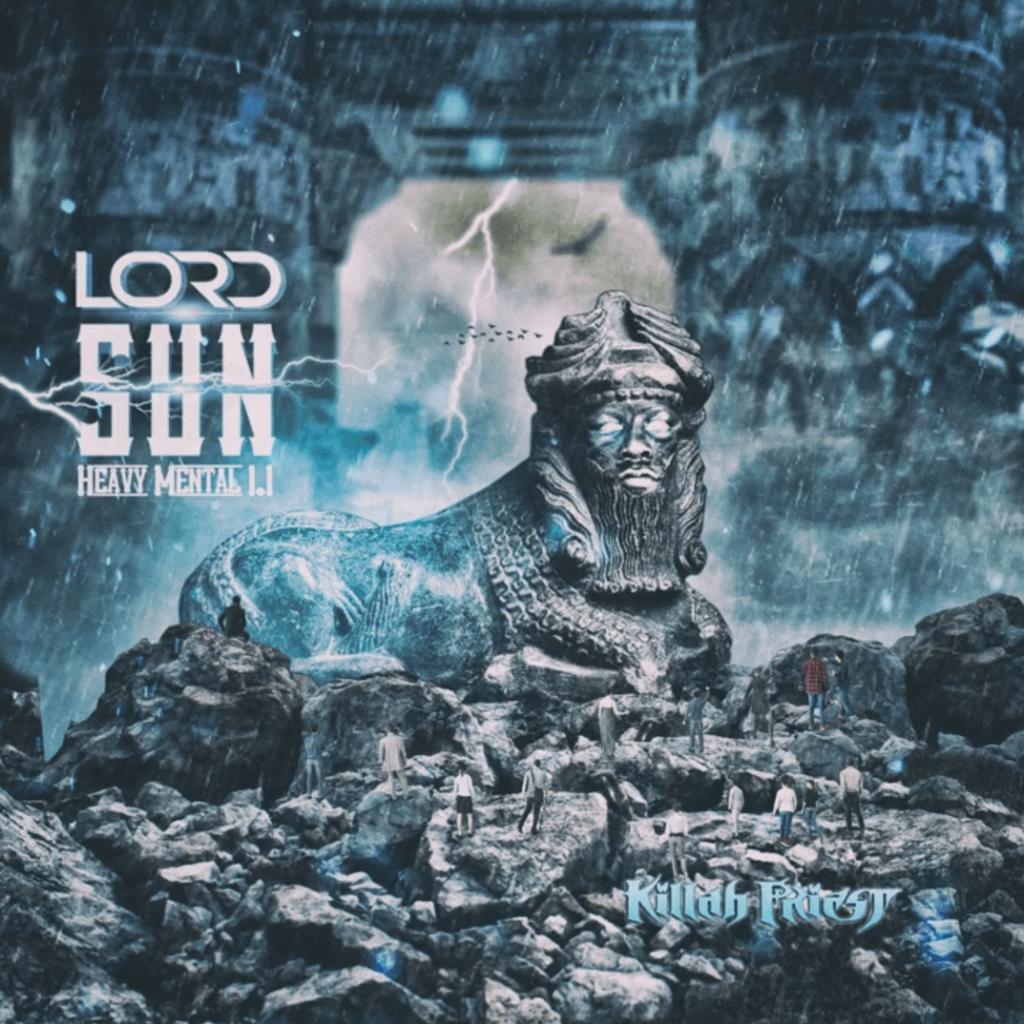 Exactly 23 years after the release of his debut solo album Heavy Mental, Killah Priest comes with Lord Sun Heavy Mental 1.1. Similar to Rocket To Nebula (2020), the instrumentals on Lord Sun Heavy Mental 1.1 are ethereal and often drumless – and even more experimental at times. Killah Priest's dense stream-of-consciousness bars about religion, history, mythology, spiritualism, science, philosophy, esotericism, extraterrestrialism, and other such topics, are delivered in a powerful spoken-word type delivery. Killah Priest's music has always been an acquired taste, and this project certainly is – but those with the patience and capacity to surrender to his lyrical style, open themselves to his content, and adapt to the instrumentals, will find a lot enjoy on Lord Sun Heavy Mental 1.1.
With this album, Killah Priest continues his winning streak. Lord Sun Heavy Mental 1.1 is another absorbing Killah Priest listen that further cements his status as one of Hip Hop's best – albeit unsung – writers. 7.5/10
8. The Offering (2007)
Killah Priest's 5th solo album The Offering represents another impressive display of lyricism and intelligence, supported by mostly strong production. Guest appearances by Nas, Immortal Technique, and HRSMN colleagues Ras Kass, Kurupt, and Canibus add some extra flavor – but as not all these guests bring their A-game, it's Killah Priest who effortlessly dominates. His pitch is a little bit higher than on most of his other projects – he even sounds a bit like Nas here, also in his flow and delivery. Killah Priest is on a whole other level, proving once more he is a top-lyricist – and his best work was yet to come at this point. 7.5/10
7. The 3 Day Theory (2010)
The 3 Day Theory is one of Killah Priest's most overlooked albums. It is kind of an a-typical Killah Priest album: at 48 minutes, it is more concise than most of his other projects, there are quite a lot of guest rappers (Canibus, Cappadonna, Last Emperor, Ill Bill, and others), and Kount Fif's production is more polished and accessible than what we usually get from Killah Priest too. That said: the beats on The 3 Day Theory are dope as f, and Priest's bars and those from his guests are tight. Don't sleep on The 3 Day Theory. 7.5/10
6. Planet Of The Gods (2015)
Planet Of The Gods is a fantastic follow-up to the equally excellent The Psychic World Of Walter Reed. Killah Priest is one of the most prolific artists out there, and sometimes it's difficult to differentiate between his releases, but Planet Of The Gods is one of the better ones in his vast body of work. One hour of dope beats, and Killah Priest's usual spiritual and metaphysical stream of consciousness philosophizing – this time in the form of something like a space odyssey, or a journey through time. 7.5/10
5. The Third Eye In Technicolor (2020)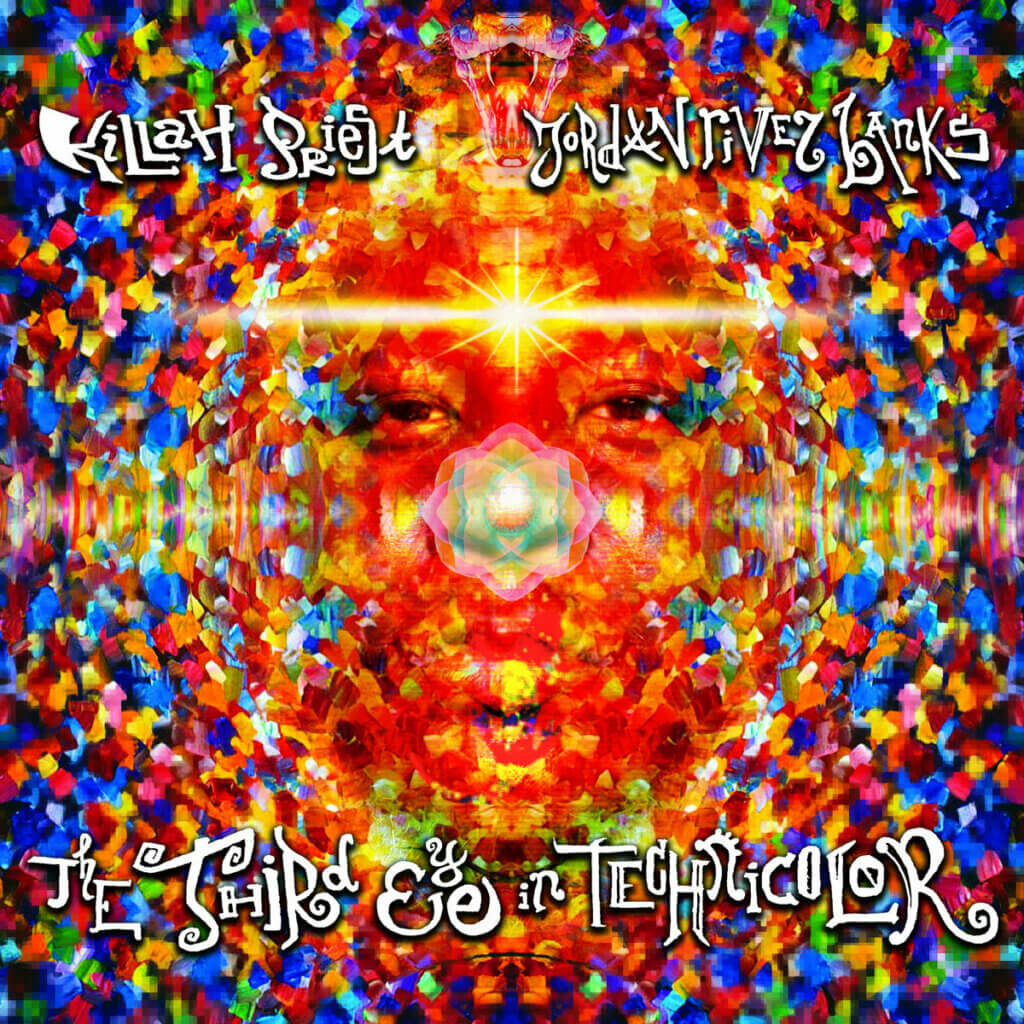 Killah Priest had a great year in 2020. Rocket To Nebula is a left-field masterpiece, and The Third Eye In Technicolor is not far behind. Like Rocket To Nebula, The Third Eye In Technicolor feels a bit dreamy and spacey – but to a lesser extent. There are more drums here, masterfully crafted by Dutch producer Jordan River Banks – the instrumentals on this album are amazing, perfectly suited for Killah Priest's style and lyrical content which is as complex and abstract as ever. 8/10
4. Heavy Mental (1998)
Killah Priest's debut album is intellectual and entertaining, with deep and thought-provoking lyrics and banging beats by Wu-family producers 4th Disciple and True Master. Killah Priest's content and delivery are dope too, so there's a lot to enjoy here. Deep, complex, and unusual – the start of a long run of mostly excellent albums by one of the most intriguing artists in the game. 8/10
3. Rocket To Nebula (2020)
This late in his career, Killah Priest showed he was still capable of evolution and growth – Rocket To Nebula is unlike anything he has done before, but it rivals his best releases in terms of quality anyway – even if it's even more of an acquired taste than most of his other albums, a perfect example of a hate it or love it kind of project.
On Rocket To Nebula, we get the same kind of stream-of-consciousness type lyricism we know from Killah Priest, filled with his characteristic abstract metaphysical musings and slick subliminals. Musically, this album is totally different from his earlier works though – there are no bass-heavy beats to be found here, in fact, the whole album is practically drumless. The instrumentals on Rocket To Nebula are very low-key, offering dream-like backdrops to Killah Priest's lyrics and his conversational-style delivery, which makes listening to this album something akin to a meditative experience.
This may not be an easy album to get into, and it certainly demands real attention – but if you're willing to take an hour and 15 minutes to tune out everything else going on around you Rocket To Nebula will be sure to satisfy you. 8/10
2. The Psychic World Of Walter Reed (2013)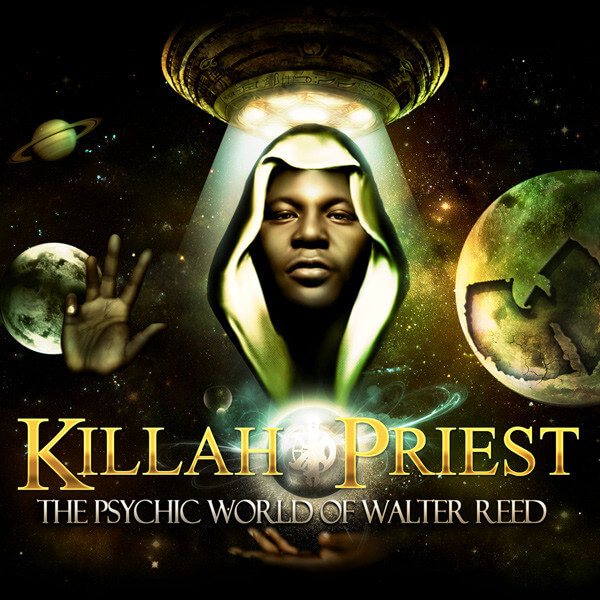 41 tracks, 2 hours & 17 minutes of music – The Psychic World Of Walter Reed is a monster of an album. Despite its length, Killah Priest's tenth album is one of his best. In typical Killah Priest fashion, The Psychic World Of Walter Reed is laced with cryptic observations, cosmic imagery, and religious references, all of it mixed up with street wisdom – his content can be heavy-going at times, making his music something for a niche audience. But there's plenty to enjoy even if you are not inclined to dissect all of Killah Priest's relentlessly dense lyrical content – his resonating baritone is a joy to listen to, and the beats on this album are dope. It says a lot that the instrumentals crafted by elite beat crafters like RZA, 4th Disciple, and Ayatollah don't even stand out – the beats from producers like Jordan River Banks, Ciph Barker, and Kalisto are just as good: for a 41-track album, The Psychic World Of Walter Reed is incredibly cohesive and consistent.
With The Psychic World Of Walter Reed, Killah Priest solidified his status as one of the most consistent artists out of the extended Wu-Tang family, second only maybe to Ghostface Killah (who not coincidentally had the best feature on this album). The Psychic World of Walter Reed may not be an easy or straightforward listen, but it's an intriguing one – one that deserves attention. Killah Priest is to be applauded for his vision and artistic audacity, few (if any) artists are able to do behemoth projects like this one and coming out on top, Killah Priest succeeded admirably. 8.5/10
1. Elizabeth (Introduction To The Psychic) (2009)
Elizabeth (Introduction To The Psychic) is Killah Priest's 8th solo album and the most generally underrated album in his vast discography – for us, Elizabeth is Priest's very best album. Killah Priest's metaphysical deep and thought-provoking lyrics are not for everybody, but those who are in tune with Killah Priest's particular style will LOVE this album. With 23 songs on Elizabeth and at over 77 minutes of playing time, this is another LONG Killah Priest album but it holds no filler material. There are no features and all production is handled by DJ Woool, which makes for a super consistent presentation that is able to keep attention despite its length –  the production really stands out. Priest's pen game is as good as it ever was too – "Drama", "Sword Clan", "The 7 Crowns Of God", "Rise", "Diagnose", "Murdah Murdah At Dawn", and especially "Jacob Never Died" and "Street Matrix" are some of the best tracks he has ever crafted. Elizabeth is a top-quality listen – an experience with a lot of replay value that will have you coming back to it again and again. 8.5/10