Ranking Killah Priest's Albums: Since the beginning of the boisterous antics of the world of Hip Hop, there have been numerous self-proclaimed prophets who believe they possess certain secrets to understand the meaning of life. So many artists have attempted to unveil the secret ancient wisdoms of mankind in order to help us ultimately understand who we are and humanity's true reason for existence. Walter Reed a.k.a "Killah Priest" is one of the selected few who is actually worthy of such entitlement.
Born in New York's infamous Bedford-Stuy projects in Brooklyn, Killah Priest, or simply "Priest" began his journey as a prolific storyteller during his early childhood while studying the bible and different cultures of ancient history. His knowledge and transgression of spirituality and self-actualization are easily understood after hearing just a single verse of his vivid and imaginative rhymes. The Hip Hop world was first introduced to Priests' unique style in 1994 on the album 6 Feet Deep by Gravediggaz. This led to a guest appearance on Ol' Dirty Bastard's Return to the 36 Chambers: The Dirty Version and the critically acclaimed solo feature, "B.I.B.L.E (Basic Instructions Before Leaving Earth)" on GZA's Liquid Swords. In 1995 Priest formed the group, Sunz of Man alongside rappers Hell Razah, 60 Second Assassin, and Prodigal Sunn and signed the group to Wu-Tang Records. Priest released his first solo album, Heavy Mental in 1998 under Geffen Records.
Killah Priest has built a strong and devout following of fans, whose loyalty to the Wu-Tang brand is unrivaled by any other name in Hip Hop culture. The respect he has gained from artists and fans alike in the underground, as well as the mainstream, is unquestionable. Over the course of his career, he has released over a dozen full-length, critically acclaimed solo albums as well as a number of group projects with Sunz of Man, The HRSMN, Black Market Militia, and Army of Pharaohs member, Chief Kamachi.
With all the changes that Hip Hop has seen due to the highly commercialized industry present today, true artistry and lyricism have become of lesser importance in recent years. Killah Priest, however still remains true to his heart and soul as an artist, with his consistent ability to draw you into his dimension with his wisdom and substance. His unique perspective and influence have made him a force of nature in the Hip Hop world that has no intention of slowing down and whose effects will be felt on a greater scale for generations to come.
For this piece, we take a look at Killah Priest's full-length solo studio albums (so not his group albums with Sunz Of Men, Black Market Militia, or Vendetta Kingz, not his EPs, and not his mixtapes such as I Killed The Devil Last Night and The Untold Story of Walter Reed 1 & 2).
What is YOUR favorite Killah Priest project listed here?
19. View From Masada (2000)
After his impressive debut album, Heavy Mental (1998), Killah Priest's View From Masada left much to be desired. In contrast to the intricate and intellectually stimulating lyrical imagery of his first release, it appeared that Priest deliberately opted for a more simplistic approach in both his lyrics and instrumentals, presumably in an attempt to appeal to a wider mainstream audience. Unfortunately, this strategy failed to resonate, resulting in the album's lackluster performance and ultimately leading to Priest's departure from his then-label, MCA.
Perhaps, in hindsight, this turn of events worked out for the best, as Priest swiftly rebounded with his subsequent album, Priesthood (2001), and continued to deliver even stronger projects in the years that followed. In that light, View From Masada can be viewed as a stepping stone towards the development of Priest's future successes.
The more grounded and less abstract lyrical content found on View From Masada represents a significant departure from Priest's usual style, and unfortunately, it results in some of his weakest lyrical material to date. The production on the album fares no better, lacking the creativity and appeal that characterized Priest's earlier and later work. Despite a few standout tracks such as "Maccabean Revolt," "If I Die," and "View From Masada," they alone are not enough to salvage the overall album.
While View From Masada is not a terrible album, it certainly stands as Killah Priest's weakest offering thus far. However, it serves as a valuable learning experience and a stepping stone towards his subsequent releases, which showcased his growth and artistic evolution. It is through these subsequent albums that Priest would reclaim his creative prowess and solidify his position as a formidable force in the rap scene. 5.5/10
18. Behind The Stained Glass (2008)
Behind the Stained Glass serves as Killah Priest's sixth studio album, following the release of The Offering in 2007. It is said to contain tracks that didn't make the cut for the previous album. Whether composed of leftovers or not, Behind the Stained Glass does give off a sense of being an afterthought. While there may be no glaring issues with the album, the beats lack the energy and creativity that one would expect, and Priest's lyricism also falls short of his usual sharpness. The result is a middle-of-the-road offering from Killah Priest, which is by no means bad, but it pales in comparison to his numerous other albums that are far superior. 6/10
17. Savage Sanctuary (2022)
Savage Sanctuary is a collaborative album between Killah Priest and The Holocaust, also known as Warcloud or Alcatraz. As avid Killah Priest fans, we were naturally inclined to appreciate this release. However, we must admit that it doesn't quite reach the same level as most of his solo albums. While the beats are impactful and the bars are entertaining, the sheer number of guest appearances on this project is overwhelming.
With a long list of contributors including American Poets 2099, Canibus, Kurupt, Ras Kass, Bootface, Pro The Leader, Nova-Kane, Killarmy, Kinetic 9, Dom Pachino, Shogun Assason, Irie-1, Masta of Ceremoniez, Thea Van Seijen, School of the Gifted, Solomon Childs, Shaka Amazulu The 7th, Black Knights, Frukwan, Shabazz the Disciple, Doc Doom, Crisis Tha Sharpshooter, and Rugged Monk, Savage Sanctuary feels more like a compilation LP rather than a cohesive Killah Priest album.
While the album is by no means bad, it lacks the distinct memorability and cohesion that define Killah Priest's best works. Each track becomes a showcase for the featured artists, diluting the focus on Killah Priest's individual artistry. The result is an album that, while enjoyable, doesn't leave a lasting impression like his most memorable solo releases.
Despite its shortcomings, Savage Sanctuary still manages to deliver some solid beats and entertaining verses. Fans of the artists involved may find enjoyment in the collaborative nature of the project. However, for those seeking the distinct and captivating experience that Killah Priest's solo albums offer, this release will fall slightly short of expectations. 6/10
16. The Exorcist (2009)
Is this a mixtape or an album? Regardless of its classification, this release didn't receive much attention upon its debut, and it's not difficult to understand why. The DJ Woool-produced album comes across as somewhat rough around the edges, lacking standout elements that would make it somewhat memorable. While tracks like "Gate Way" and "Most High" offer glimpses of the album's potential, overall, it falls short of being exceptional. The Exorcist isn't necessarily bad, but it fails to achieve the level of greatness we've come to expect from Killah Priest's body of work. 6.5/10
15. Forest Of The Happy Ever After (2023)
Killah Priest has always marched to the beat of his own drum, defying the conventions of run-of-the-mill Hip Hop. His post-millennium output has consistently charted its own unique path. However, even within his unconventional discography, Forest Of The Happy Ever After stands out as a particularly enigmatic release. It is a spoken-word curiosity, characterized by abstract storytelling and predominantly drumless instrumentals.
This album is a true testament to Killah Priest's idiosyncratic style, pushing boundaries and challenging listener expectations. Forest Of The Happy Ever After is a sonic adventure that may perplex even the most dedicated Killah Priest enthusiasts, let alone newcomers to his work. It delves into uncharted territory, offering a collection of tracks that will undoubtedly leave some scratching their heads.
As avid fans of Killah Priest, we appreciate the distinctiveness of Forest Of The Happy Ever After and will certainly include it in our rotation. However, we must acknowledge that it falls behind his best works. For those seeking a conventional Hip Hop experience or an introduction to Killah Priest's music, Forest Of The Happy Ever After may not be the ideal starting point. It caters primarily to dedicated and adventurous listeners who have grown accustomed to Killah Priest's unconventional style. It is an album that demands open-mindedness and a willingness to embrace the unexpected.
In the end, Forest Of The Happy Ever After is a testament to Killah Priest's unyielding creativity and refusal to conform to norms. It is an intriguing addition to his discography that serves as a testament to his artistic integrity. While it may not be hailed as his greatest work, it undoubtedly represents a distinct chapter in his musical journey. 6.5/10
14. Black August (2003)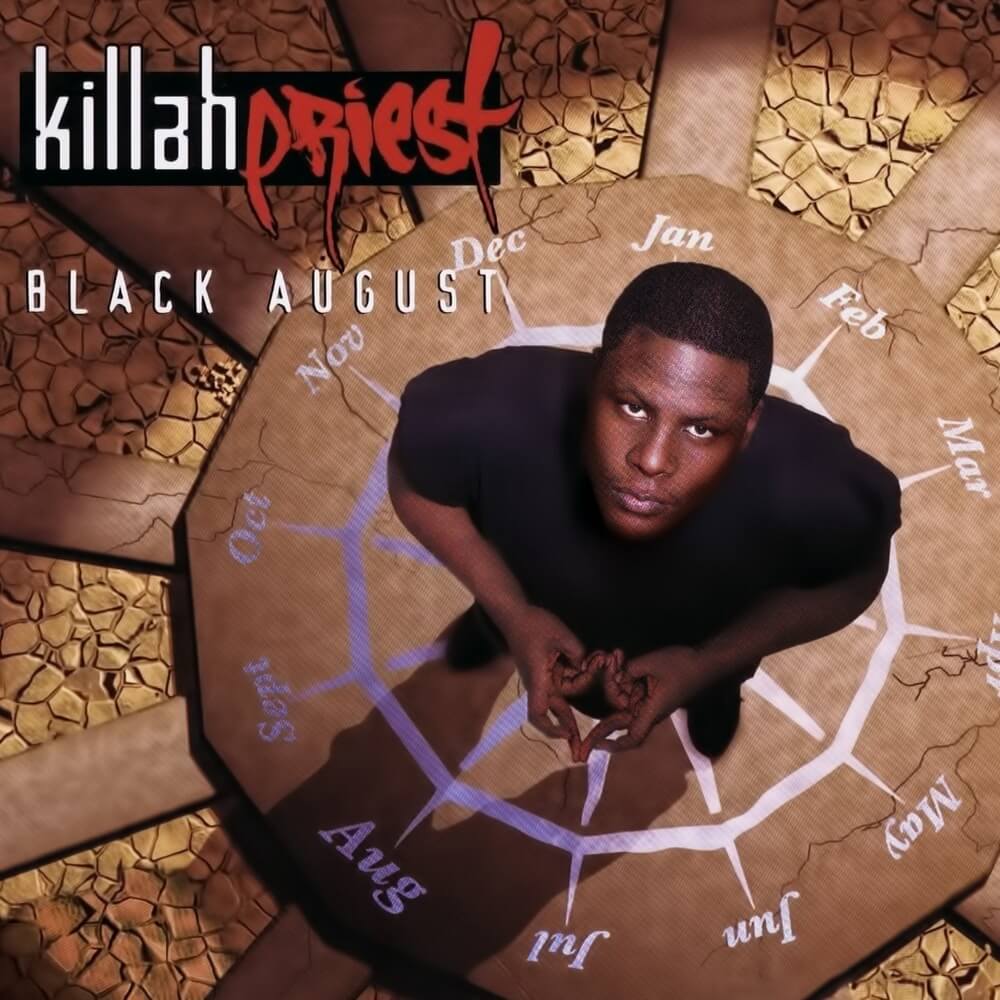 Black August is an album that blends biblical references, conspiracy theories, positive messages, and spirituality, all intertwined with gritty, street-level rhymes and biting critiques of commercial rap. While the beats on this album may not be the strongest Killah Priest has worked with, there are standout tracks like "Do The Damn Thing" that make a lasting impression. Although some instrumentals may be lackluster, the overall quality of the music remains solid. While Black August may not be considered an essential Killah Priest project, it still contains enough memorable moments to deem it worth keeping in rotation. 7/10
13. The Mantra (2021)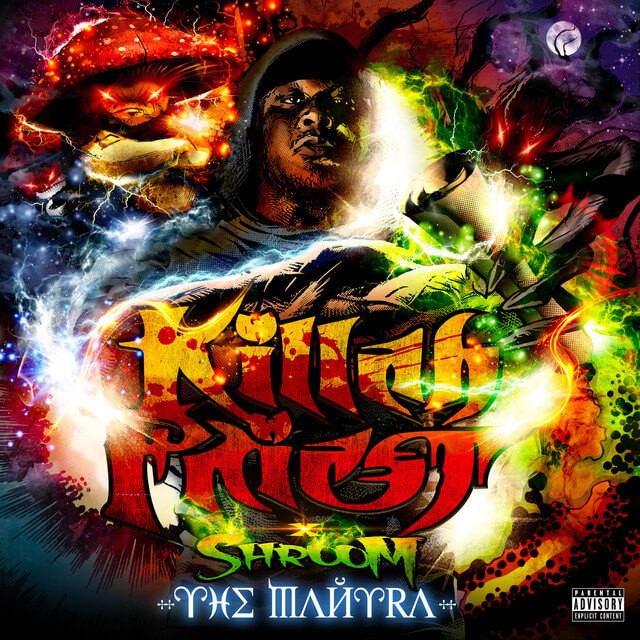 The Mantra represented Killah Priest's most accessible and straightforward work in years. Departing from the drumless experimentation that defined his recent projects, this album harkens back to his earlier days of deep-bass boom-bap, resulting in a refreshing and satisfying listening experience.
While the term "straightforward" may imply simplicity, it in no way diminishes the quality or impact of The Mantra. On the contrary, it stands as a testament to Killah Priest's mastery of his craft. S.H.R.O.O.M's production delivers dope drums and beats that hit with undeniable potency, creating a strong foundation for Killah Priest's intricate and captivating rhymes.
Notable guest appearances from the likes of Cappadonna, Inspectah Deck, and DJ Jazzy Jeff further enrich the album, adding additional layers of depth and enhancing the overall experience. The standout track "Boss King," featuring cuts from the legendary DJ Jazzy Jeff and compelling vocals from Thea Van Seijen, exemplifies the album's quality.
While Killah Priest's unique artistry may cater to a niche audience, The Mantra possesses a universal appeal that resonates with fans across the spectrum. For those who appreciate Killah Priest's distinct style and are eager for a return to his earlier sound, The Mantra is a must-listen. 7/10
12. Summer End Cafe (2021)
Summer End Cafe stood as Killah Priest's fourth solo album released in less than two years, and it continued to embrace his penchant for unconventional and thought-provoking lyrical content. In his recent string of releases, Killah Priest has ventured into uncharted sonic territories, departing from the bass-heavy beats that characterized his earlier projects and exploring drumless instrumentals.
Within the tapestry of Summer End Cafe, listeners will find a diverse range of musical experiences that reflect Killah Priest's multifaceted artistry. The album offers Wu-Tang Clan-flavored bangers like "95 Bodega" and "Vapor," which showcase his ability to deliver powerful and infectious tracks. Additionally, there are drumless compositions infused with eccentric samples, such as "Lady Barbara" and "The Final Cup," which contribute to the album's overall intriguing atmosphere.
One of the standout features of Summer End Cafe is Killah Priest's skillful storytelling, demonstrated most notably in "Wimbledon 1936," where he weaves a captivating narrative. Throughout the album, his lyrics delve into esoteric themes, offering a glimpse into his unique perspective and thought-provoking insights.
While Summer End Cafe may include a few puzzling moments, notably "Cafe Fling," the album as a whole remains a testament to Killah Priest's artistry. It may not reach the pinnacle of his discography, but it undoubtedly surpasses the formulaic releases that flood the music industry. 7/10
11. Priesthood (2001)
Following his disappointing sophomore album Views From Massada, Killah Priest faced being dropped from MCA and was compelled to go independent in order to release his third album. Despite its limited promotion, visibility, and poor distribution, Priesthood marked a return to the level of quality showcased in Priest's classic debut album, Heavy Mental. The album's appropriately titled "Blackball Me" intro sets a dark and spiritual tone, with a wealth of strong tracks including notable standouts like "My Life," "My Hood," "Royal Priesthood," and the outstanding posse cut "Horsemen Talk," featuring fellow HRSMN-members Kurupt, Canibus, and Ras Kass. Priesthood is a commanding and often overlooked gem in Killah Priest's catalog, offering top-tier boom-bap with an intellectual slap. 7.5/10
10. Horrah Scope (2022)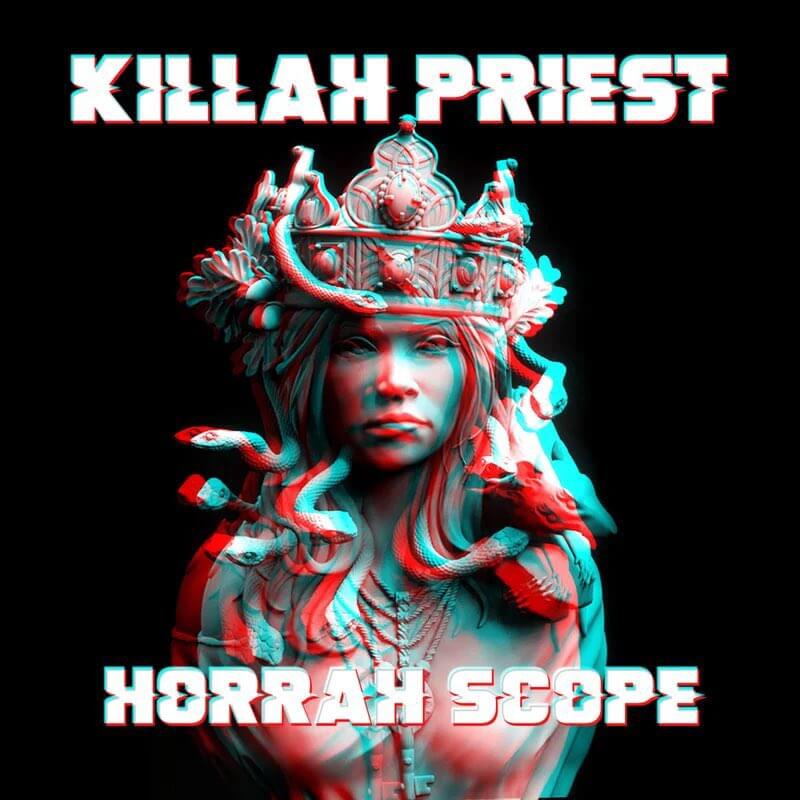 Killah Priest's release schedule in the 2020s is hard to keep up with, and Horrah Scope marks his second project of 2022, following closely after his collaboration with The Holocaust on Savage Sanctuary. While Savage Sanctuary may have fallen short of expectations, Killah Priest has consistently delivered exceptional releases in recent times.
Horrah Scope continues in the experimental and idiosyncratic vein that fans have come to appreciate from Killah Priest. It is a project that will particularly resonate with those who loved Rocket To Nebula (2020), Lord Sun Heavy Mental 1.1 (2021), and Summer End Cafe (2021). The album predominantly features drumless tracks, with unconventional instrumentals and obscure samples serving as the backdrop for Priest's stream-of-consciousness bars.
Killah Priest's music has always been an acquired taste, even at its most accessible, and Horrah Scope leans towards being one of his less accessible works. As a result, it may not be the ideal starting point for newcomers to his discography. However, for devoted Killah Priest fans like ourselves, Horrah Scope is an exceptional and captivating piece of music that continues to showcase his unique artistry. 7.5/10
9. Lord Sun Heavy Mental 1.1 (2021)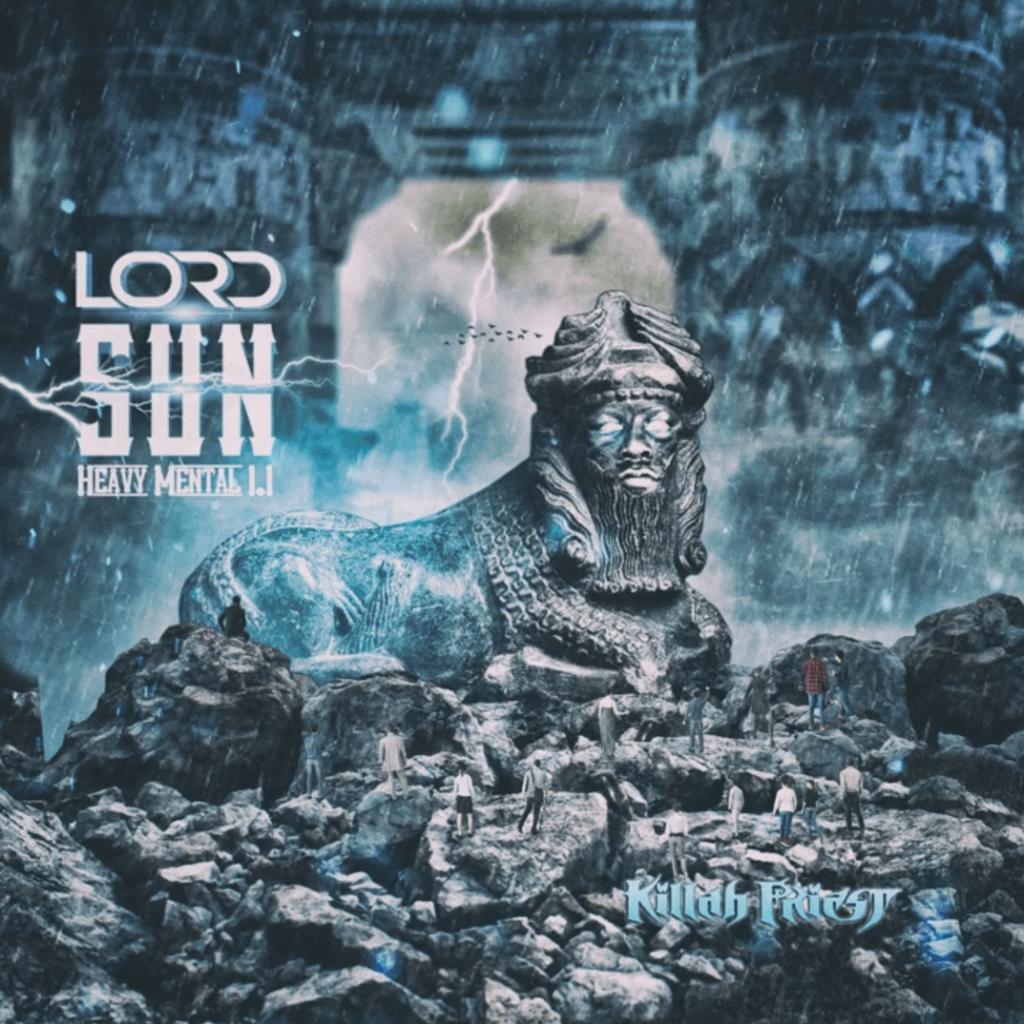 Killah Priest returned exactly 23 years after his debut solo album, Heavy Mental, with Lord Sun Heavy Mental 1.1. Similar to his previous work, Rocket To Nebula (2020), this album showcases ethereal and often drumless instrumentals, taking experimentation to new heights. Killah Priest's dense stream-of-consciousness bars touch on a wide range of topics, including religion, history, mythology, spirituality, science, philosophy, esotericism, and extraterrestrialism. His powerful spoken-word delivery captivates the listener throughout the project.
Killah Priest's music has always been an acquired taste, and Lord Sun Heavy Mental 1.1 is no exception. However, for those willing to immerse themselves in his lyrical style, embrace his thought-provoking content, and adapt to unconventional instrumentals, this album offers a rich and rewarding experience. 7.5/10
8. The Offering (2007)
Killah Priest's fifth solo album, The Offering, is a testament to his impressive lyrical ability and intellect, complemented by mostly strong production. The presence of guest artists such as Nas, Immortal Technique, and his HRSMN colleagues Ras Kass, Kurupt, and Canibus adds an extra layer of excitement to the project. While not all the guests deliver their best performances, it is Killah Priest who effortlessly steals the spotlight.
On The Offering, Killah Priest showcases a slightly higher pitch in his vocals compared to his other projects, even bearing a resemblance to Nas in both his flow and delivery at times. This album serves as a glimpse of his remarkable talent, with his best work yet to come in his future projects. 7.5/10
7. The 3 Day Theory (2010)
The 3 Day Theory often goes unnoticed in Killah Priest's discography, but it shouldn't be overlooked. This album takes a departure from his usual style, boasting a concise runtime of 48 minutes and an impressive lineup of guest rappers, including Canibus, Cappadonna, Last Emperor, Ill Bill, and others. Kount Fif's production on this project veers towards a more polished and accessible sound, offering a refreshing twist to Killah Priest's musical landscape. 7.5/10
6. Planet Of The Gods (2015)
Planet Of The Gods serves as a remarkable successor to the equally impressive The Psychic World Of Walter Reed (2013). With Killah Priest's extensive discography, it can be challenging to distinguish between his releases, but this album stands out as one of his finest works. Spanning a full hour, it presents a collection of captivating beats that effortlessly complement Killah Priest's signature blend of spiritual and metaphysical musings.
In this particular album, Killah Priest takes listeners on a cosmic voyage, evoking the essence of a space odyssey or a transcendent journey through time. His lyrical prowess shines through as he delves into deep philosophical explorations. Planet Of The Gods encapsulates the essence of Killah Priest's unique artistry, providing a captivating listening experience that combines thought-provoking lyricism with mesmerizing production. 7.5/10
5. The Third Eye In Technicolor (2020)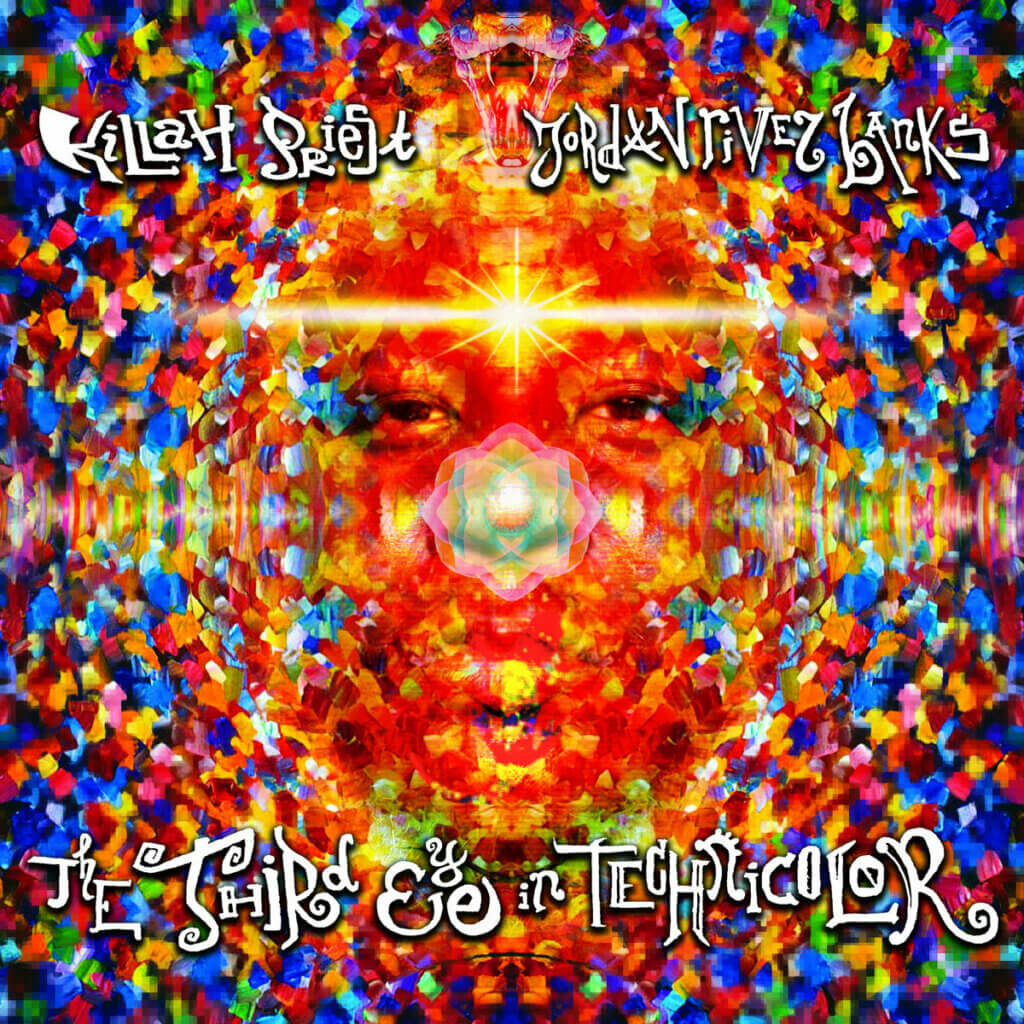 In 2020, Killah Priest had a remarkable year with the release of two outstanding albums: Rocket To Nebula and The Third Eye In Technicolor. Both albums showcased his exceptional talent and cemented his position as a visionary artist.
Similar to Rocket To Nebula, The Third Eye In Technicolor carries a dreamy and spacey ambiance, although to a slightly lesser extent. The album features masterful production by Dutch producer Jordan River Banks, who skillfully incorporates mesmerizing drums into the instrumentals. The result is a collection of tracks that perfectly align with Killah Priest's distinctive style and lyrical complexity.
Killah Priest's lyrical content on The Third Eye In Technicolor remains true to his form, delving into profound and abstract themes. His words weave intricate narratives, challenging listeners to explore the depths of their own minds and contemplate the mysteries of existence. The Third Eye In Technicolor, alongside Rocket To Nebula, further solidified Killah Priest's reputation as a visionary artist, leaving an indelible mark on the genre. 8/10
4. Heavy Mental (1998)
Killah Priest's debut album is a captivating blend of intellectual depth and sheer entertainment. With profound and thought-provoking lyrics, backed by stellar production from Wu-Tang Clan-affiliated producers 4th Disciple and True Master, the album captivates listeners from start to finish.
Killah Priest's content and delivery are undeniably impressive, showcasing his unique style and lyrical prowess. The album delves into deep, complex, and unconventional subject matter with banging beats to support Killah Priest's impeccable flow. Heavy Mental serves as a powerful introduction to the artist's vast discography, laying the foundation for a long and impressive run of mostly excellent albums. Killah Priest's debut is a testament to his status as one of the most intriguing and talented artists in the game. 8/10
3. Rocket To Nebula (2020)
Killah Priest continued to demonstrate his capacity for evolution and growth even at this stage in his career. Rocket To Nebula stands as a testament to his artistic versatility, offering a unique experience that rivals his best releases in terms of quality. However, it's important to note that this album is an acquired taste, firmly dividing listeners into those who love it and those who don't.
Rocket To Nebula maintains Killah Priest's signature stream-of-consciousness lyricism, filled with abstract metaphysical explorations and clever subliminals. Yet, musically, the album takes a departure from his earlier works. Straying from bass-heavy beats, the entire album embraces a practically drumless approach. The instrumentals on Rocket To Nebula are understated, providing dream-like backdrops that complement Killah Priest's lyrical prowess and his conversational-style delivery. Listening to this album becomes akin to a meditative journey, demanding focused attention and rewarding those who immerse themselves in its hour and 15 minutes of sonic exploration.
Undoubtedly, Rocket To Nebula may not be an easy album to immediately connect with, requiring genuine engagement. However, for those willing to invest the time and effort, shutting out distractions and allowing themselves to be consumed by the music, the album promises a satisfying experience that transcends the ordinary. 8/10
2. The Psychic World Of Walter Reed (2013)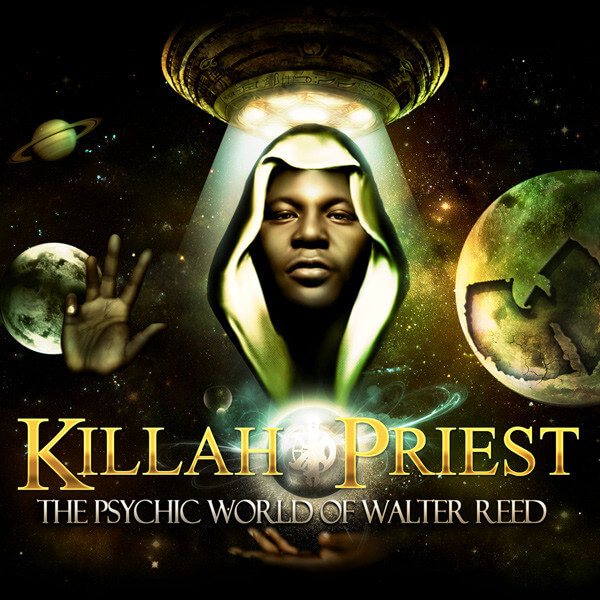 Clocking in at 41 tracks and spanning an impressive 2 hours and 17 minutes, The Psychic World of Walter Reed stands as a monumental album in Killah Priest's discography. Surpassing its extensive length, this tenth studio release shines as one of his best works. As expected from Killah Priest, the album is adorned with enigmatic observations, cosmic imagery, religious allusions, and a fusion of street wisdom. Its content can be intellectually dense, catering to a niche audience that appreciates deep exploration. However, even for those who prefer a more casual listening experience, there is plenty to enjoy. Killah Priest's resonating baritone voice is a delight to the ears, and the beats throughout the album are undeniably dope.
Remarkably, the album achieves remarkable cohesiveness and consistency despite its vast tracklist. It speaks volumes about the exceptional quality of the instrumentals, crafted not only by esteemed beat producers like RZA, 4th Disciple, and Ayatollah but also by talents such as Jordan River Banks, Ciph Barker, and Kalisto. Their contributions seamlessly blend into a unified whole, allowing The Psychic World of Walter Reed to flow with remarkable coherence.
With this album, Killah Priest solidified his reputation as one of the most consistently impressive artists associated with the extended Wu-Tang family, second perhaps only to Ghostface Killah (who coincidentally delivers a standout feature on this project). The Psychic World of Walter Reed may not offer an easy or straightforward listening experience, but it undeniably intrigues and demands attention. Killah Priest deserves commendation for his vision and artistic audacity, as few artists can tackle such mammoth projects and emerge triumphant. 8.5/10
1. Elizabeth (Introduction To The Psychic) (2009)
Killah Priest's eighth solo album, Elizabeth (Introduction to the Psychic), stands as the most underrated entry in his extensive discography. In our eyes, it holds the distinction of being his absolute best work. With its metaphysical and thought-provoking lyrics, this album may not appeal to everyone, but those attuned to Killah Priest's unique style will undoubtedly fall in love with its essence. Featuring a staggering 23 songs spanning over 77 minutes, Elizabeth is yet another lengthy offering from Killah Priest. However, unlike albums with filler tracks, every moment on this album captivates. The absence of features allows Killah Priest to shine solo, while DJ Woool handles all the production duties, resulting in a remarkably consistent and cohesive presentation that effortlessly maintains listener engagement, despite its duration.
Killah Priest's lyrical prowess remains unmatched, as his pen game is as sharp as ever. Tracks like "Drama," "Sword Clan," "The 7 Crowns of God," "Rise," "Diagnose," "Murdah Murdah At Dawn," and particularly standout offerings such as "Jacob Never Died" and "Street Matrix" exemplify the pinnacle of his artistry. Elizabeth offers a top-tier listening experience with tremendous replay value, drawing listeners back time and time again.
Elizabeth (Introduction to the Psychic) is a masterclass in quality, deserving of greater recognition. It encapsulates an immersive journey that will leave a lasting impact on anyone fortunate enough to embark upon it. 8.5/10