One of Hip Hop's most beloved anti-heroes, the ever-inventive MF Doom (often referred to as simply DOOM, in all caps) received widespread praise for his sharp, candid rhymes as well as his choppy, sample-heavy production style. Initially known as Zev Love X, a member of the short-lived but influential Golden Age rap group K.M.D., the MC/producer born Daniel Dumile re-emerged at the end of the '90s with a persona and logo patterned after the Marvel Comics supervillain Dr. Doom. He reinforced his enigmatic persona by donning an elaborate iron mask during all of his public appearances, in addition to occasionally hiring stand-ins for his performances. Only a handful of proper full-lengths were credited to his best-known moniker, including Operation: Doomsday (1999), Mm..Food (2004), and Born Like This (2009), yet his discography was extensive, filled with numerous collaborations — most notably Madvillainy, made with Madlib – as well as instrumental albums and works by alter egos. A heavily influential figure in underground Hip Hop, DOOM was best known to mainstream audiences through his collaborations with virtual pop group Gorillaz as well as exposure on Cartoon Network's Adult Swim programming block.
Born in London to a Trinidadian mother and a Zimbabwean father, Dumile and his family moved to Long Island, New York when he was a child. He co-founded K.M.D. with his younger brother, DJ Sub-Roc, in 1988, and the group made their recorded debut on "The Gas Face," the hit single by hip-hop trio 3rd Bass. K.M.D. signed to Elektra Records, who released the group's first full-length, Mr. Hood, in 1991. Part of a short-lived trend of Islamic Five Percent Nation Hip Hop outings, along with efforts by groups like Poor Righteous Teachers and K.M.D.'s labelmates Brand Nubian, the album was a minor success, helped by MTV and BET airplay of its singles. However, Sub-Roc was fatally injured in 1993 when he was struck by a car, and Elektra canceled the release of K.M.D.'s follow-up, the even more serious and militant Bl_ck B_st_rds, an album whose cover art alone (featuring a Little Black Sambo-ish cartoon character being hanged) spelled the end of the group's contract.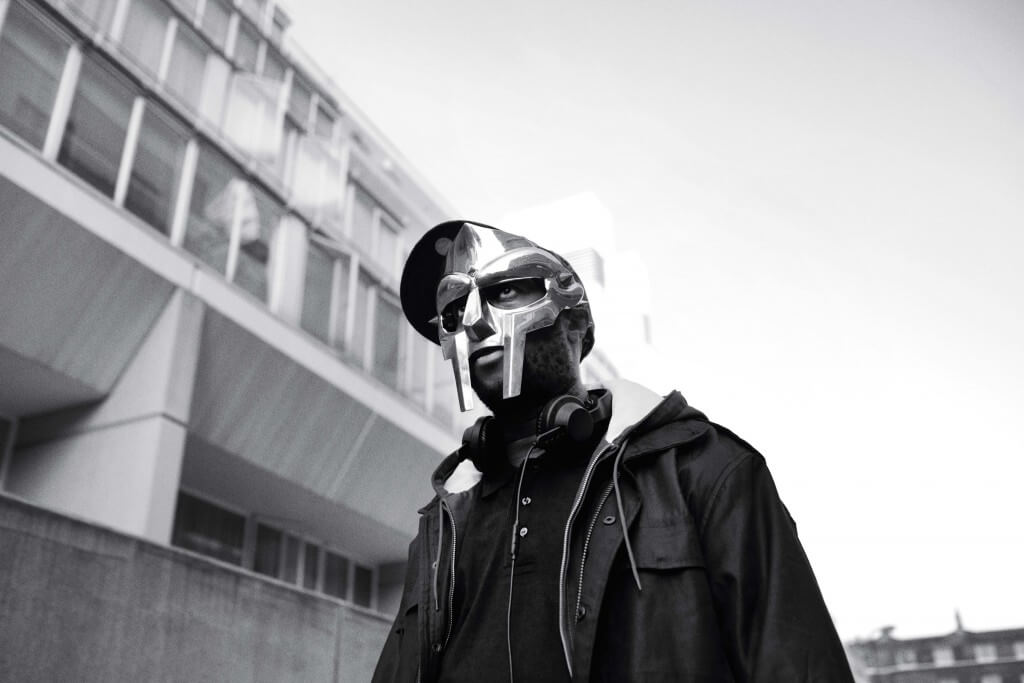 With the album in limbo, Dumile went underground for five years, "recovering from his wounds" and swearing revenge "against the industry that so badly deformed him," according to his official bio, a reworking of Dr. Doom's origin. Meanwhile, Bl_ck B_st_rds was heavily bootlegged and Zev Love's legend grew, but few knew at first that the rapper who began showing up at the Nuyorican Poets Café in 1997, freestyling with a stocking covering his face, was actually Zev. The imaginative MC finally ended the mystery in 1999, resurfacing in his new identity as MF DOOM and making up for lost time with a critically praised album, Operation: Doomsday, on the indie label Fondle 'Em Records. The following year saw the long-awaited official release of Bl_ck B_st_rds (complete with Sambo-style cover art), as well as several singles and an EP with fellow rhymer MF Grimm. In 2001, SubVerse re-released Operation: Doomsday and Bl_ck B_st_rds.
A wealth of bootlegs, compilation appearances, mixtapes, and instrumental albums (the beloved-by-DJs Special Herbs series) surfaced over the years, but no follow-up full-length arrived until DOOM introduced his alter ego, King Geedorah, in 2003 with Take Me To Your Leader. This was swiftly followed by Vaudeville Villain, credited to another moniker, Viktor Vaughn. His team-up with the multi-talented Madlib became Madvillain and their April 2004 release, Madvillainy, drew rave reviews (eventually becoming one of the most acclaimed Hip Hop albums of the decade). Four months later, Venomous Villain marked the return of Viktor Vaughn, and the second MF DOOM album, Mm..Food, appeared in November the same year. The formerly promo-only Live From Planet X got its aboveground release in March of 2005, with Special Herbs, Vols. 9-10 following in July. By the end of the year, The Mouse and the Mask, DOOM's collaboration with Danger Mouse under the name Danger Doom, was released in association with Adult Swim. Featuring guest appearances by several Adult Swim-affiliated cartoon characters, the album was a critical and commercial success, hitting the top 50 of the Billboard 200.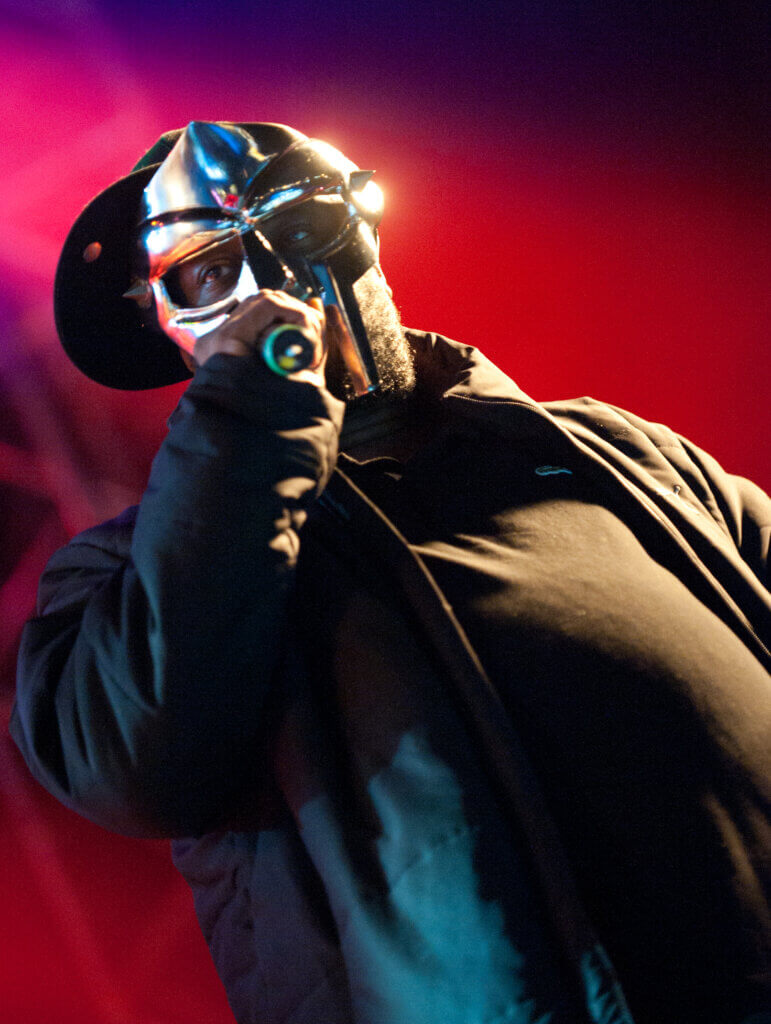 Before issuing his next full-length album, 2009's Born Like This, the rapper shortened his pseudonym to DOOM and collaborated with Ghostface and Raekwon, both of whom appeared on the album. By the end of the year, he released Unexpected Guests, a compilation focusing on his guest features that appeared elsewhere. The live album Expektoration followed in 2010, as did the Gazzillion Ear EP, which boasted remixes by Radiohead's Thom Yorke and MC/producer Jneiro Jarel. Dumile was denied re-entry into the United States once his tour wrapped up, so he settled in the U.K., where he was born. He formed JJ DOOM with Jarel, and the duo's debut album, Key To The Kuffs, appeared in 2012, with guests including Beth Gibbons of Portishead and Damon Albarn of Blur and Gorillaz. He then collaborated with Bishop Nehru as NehruvianDoom, issuing a self-titled album in 2014.
DOOM then guested on tracks by Kool Keith, the Avalanches, and BadBadNotGood, in addition to reuniting with Madlib for the 2016 single "Avalanche." In August of 2017, Adult Swim announced the release of The Missing Notebook Rhymes, a digital compilation of unreleased DOOM tracks. One track was to be released each week over the course of three months; however, in late September, Adult Swim ended their relationship with DOOM, and the project was canceled. In 2018, DOOM's full-length collaboration with Hip Hop supergroup Czarface (consisting of Wu-Tang Clan's Inspectah Deck and 7L & Esoteric), Czarface Meets Metal Face, was released by Get On Down. DOOM and fellow revered veteran DJ Muggs also teamed for two tracks bundled under the title MUGGS X DOOM. Over the next two years, DOOM supported tracks by the likes of Your Old Droog, Wilma Archer, and Bishop Nehru.
MF Doom died on October 31, 2020, at the age of 49; his family chose not to publicly reveal his passing until two months later. (Artist Biography by Dan LeRoy @ AllMusic)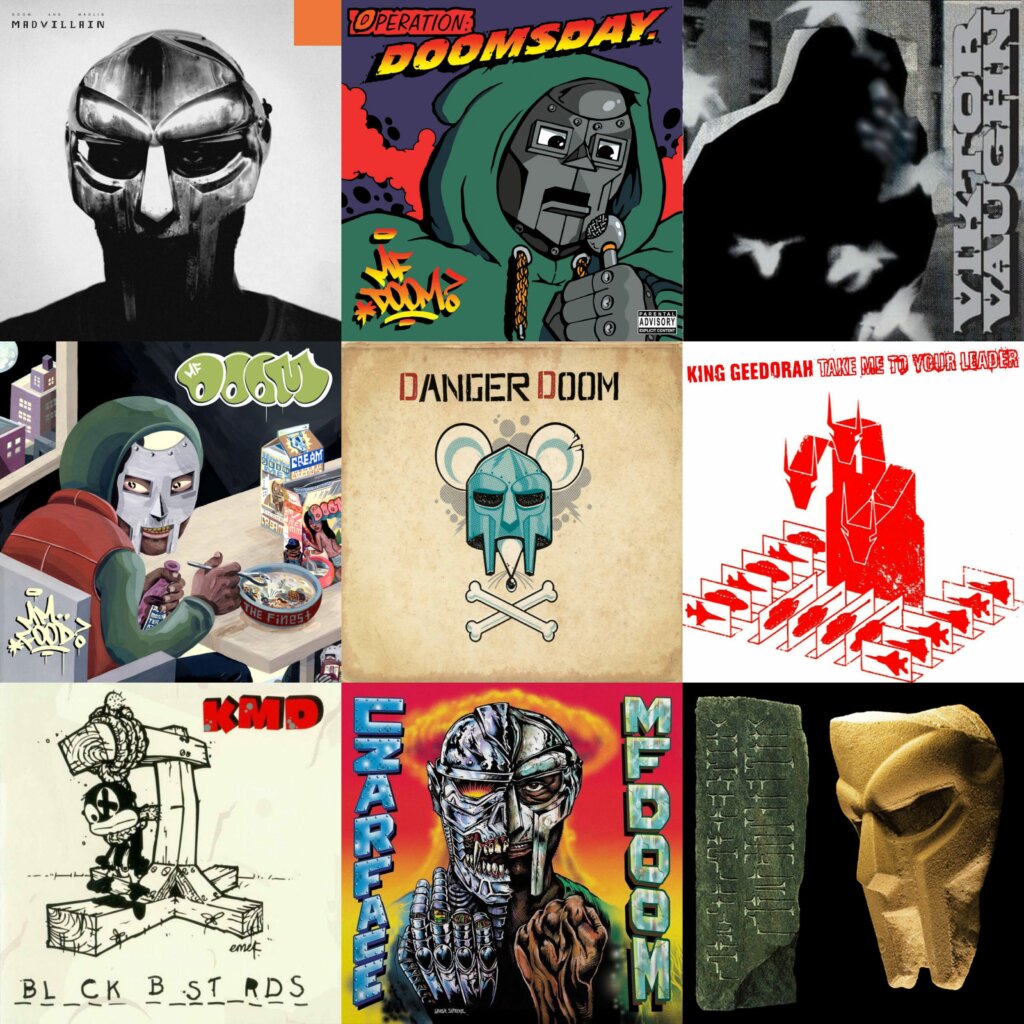 For this list, we have ranked MF DOOM's solo and collaborative full-length projects, excluding instrumental and live albums, compilations, and EPs. Which are YOUR favorite MF DOOM projects?
13. VV:2 Venomous Villain (2004) (as Viktor Vaughn)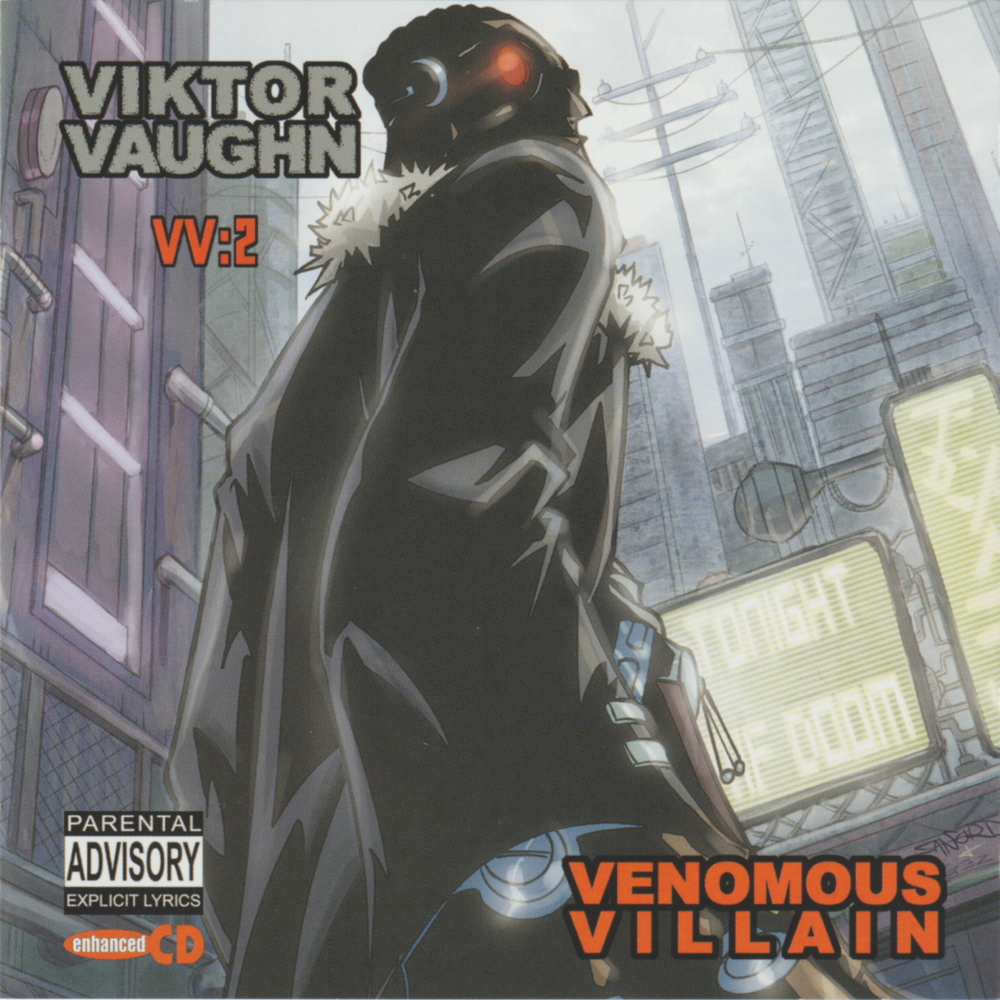 Coming on the heels of Take Me To Your Leader (as King Geedorah) and Vaudeville Villain (as Viktor Vaughn), both released in the year before this second Viktor Vaughn album, VV:2 Venomous Villain turned out to be an underwhelming effort. With its slight 35-minute running time, it feels like a thrown-together afterthought to the way superior Vaudeville Villain – in no way this feels like a sequel.
VV:2 Venomous Villain has mostly weak beats and too much substandard rhyming from guest rappers who add nothing but blandness. The most notable exception is "Doper Skiller" with Kool Keith, who always is a good guest to have. "Doper Skiller" is a high point (not surprisingly with the only beat DOOM crafted himself for this album), as is a track like "Ode To Road Rage", which has some dope DOOM rhymes. But these memorable tracks are a few and far between – VV:2 Venomous Villain is MF DOOM's most forgettable project. 6/10
12. NehruvianDoom (2014) (with Bishop Nehru as NehruvianDoom)
Bishop Nehru's breakthrough mixtapes, released from the age of 15 saw him rhyming over DOOM-produced instrumentals – this collaborative album is the product of their earlier cooperations. NehruvianDoom is Bishop Nehru's official debut album, released when he was 18 years old. Produced entirely by MF DOOM, with DOOM on vocals on several tracks too, it's a compact nine-track, 32-minute presentation that, while interesting in some places, is also kind of bland – these are not the best beats MF DOOM has ever crafted, and he barely has a presence on the mic – he appears on only 4 out of the 9 tracks on this project. Bishop Nehru is nice enough, and he comes with some inspirational and clever rhymes, but as an MF DOOM project, NehruvianDoom falls a bit short. 6.5/10
11. Mr. Hood (1991) (as Zev Love X with KMD)
There would have been no MF DOOM without KMD. KMD (Kausing Much Damage, or A positive Kause in a Much Damaged society) was a group whose core was composed of brothers Daniel "Zev Love X" – MF DOOM – and Dingilizwe "DJ Subroc" Dumile. KMD was closely affiliated with 3rd Bass (they made their first appearance on 3rd Bass' classic "Gas Face"). Lyrically KMD combined black consciousness and comedy in an interesting way – KMD came off like an amalgamation of De La Soul and Brand Nubian in that way, mixing positive vibes with 5 percenter views. Musically Mr. Hood sounds upbeat and fresh, but also a bit messy and under-produced – some of the beats on this album could have been better. That said: with "Who Me?", "Mr. Hood Meets Onyx", "Humrush", "Trial N Error", "Nitty Gritty" (featuring Brand Nubian), "Gasface Refill", and the classic single "Peachfuzz" – there are plenty of dope MF DOOM (before he became MF DOOM) tracks on Mr. Hood. 7/10
10. Key To The Kuffs (2012) (with Jneiro Jarel as JJ Doom)
Key to the Kuffs is a collaborative album by MF DOOM and Jneiro Jarel, under the moniker JJ Doom. Jneiro Jarel's spacey and creaky innovative beats are perfect for MF DOOM's buttery flow and abstract imagery – tracks like "Banished", "Bite The Thong", "Rhymin Slang" (with Jarel holding his own on the mic), "Retarded Fran", "GMO", and "Wash Your Hands" are prime DOOM.
Key To The Kuffs has always been kind of underrated in DOOM's discography, but it is aging well – this is the sort of album that stands up well to repeated listenings. A couple of forgettable tracks (like "Bout The Shoes") stand in the way of a higher ranking, but overall Key To The Kuffs is much better than some critics would have you believe. 7/10
9. Born Like This (2009)
Born Like This may not be as great or iconic as DOOM's best works, but it still is pretty great. Lots of dope tracks on Born Like This: "Ballskin", "Yessir!" (with Raekwon), "Lightworks" (with J Dilla),  "Still Dope" (with Empress Starhh), and "Absolutely" (with Madlib) all are dope MF DOOM joints, while "That's That" and especially the J Dilla produced "Gazzilion Ear" are among MF DOOM's best songs ever. Messy mixing and sequencing, along with a couple of weaker tracks and questionable choices – like the posse cut "Supervillainz" with its terrible beat and autotune-use, and the controversial "Batty Boyz" (is it nothing more than dumb juvenile humor or is it intentionally homophobic?) – bring Born Like This down a couple of notches when compared to DOOM's earlier masterpieces. All in all, though, this is another solid DOOM effort. 7/10
8. Czarface Meets Metal Face (2018) (with Czarface)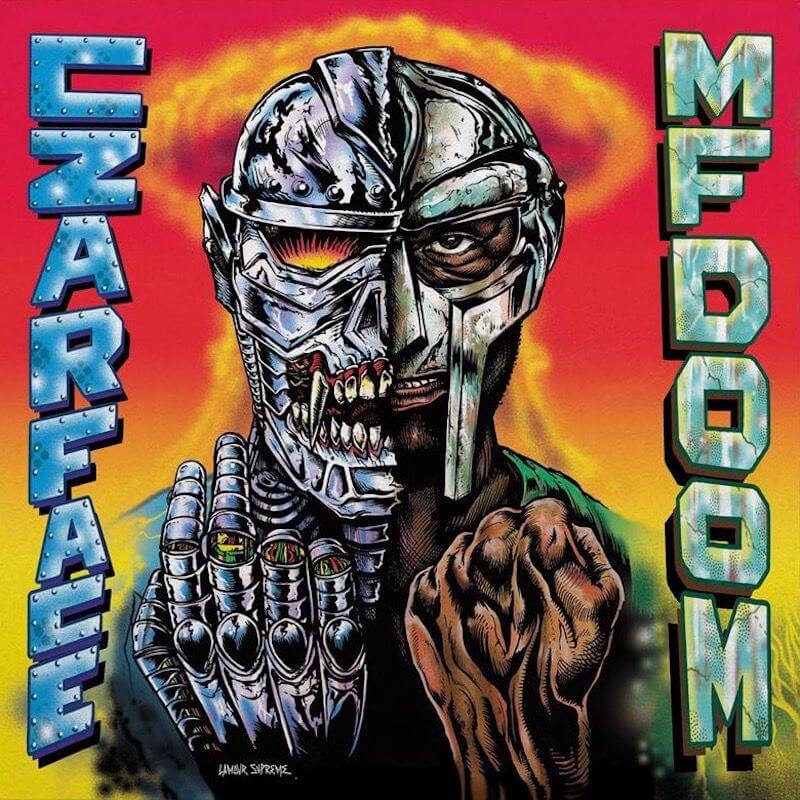 Drawing from their collective childhood love of comic book heroes, Czarface became the joint avatar for Wu-Tang Clan legend Inspectah Deck and Boston's Hip Hop purists 7L & Esoteric. Their mission is to save Hip Hop, as Inspectah Deck stated in an interview with HipHopDX in 2013. The way Czarface is saving Hip Hop is by consistently dropping authentic Hip Hop albums, with interesting – sometimes experimental, sometimes traditional – soundscapes and dense lyricism. Adding MF DOOM to the Czarface roster for this album is a great move and a seamless fit.
"Phantoms" (with a guest performance by Open Mike Eagle and a dope hook by Kendra Morris), "Captain Crunch", "Bomb Thrown" and "Nautical Depth" are some of the gems on this record, but it's a consistent effort throughout. Even if this Czarface effort may not be quite as dope as Every Hero Needs a Villain (2015) by Czarface and while it is not better than MF DOOM's classic albums – this is a dope collabo nonetheless and one of the most exciting projects that dropped in 2018.
The biggest knock against this project from an MF DOOM point of view is that there's not enough of him – like on all Czarface albums, it's Inspectah Deck who shines most here. 7.5/10
7. Bl_ck B_st_rds (1994/2001) (as Zev Love X with KMD)
Originally slated for a 1994 release, Bl_ck B_st_rds was shelved until 2001 because of controversy surrounding the intended provocative album cover and because of the tragic accident that killed Subroc, MF DOOM's brother prior to the album's planned release. Following their 1991 debut Mr. Hood, this sophomore album showed a much more mature KMD, production- and contentwise. It's a real shame the album was shelved for seven years – we can only wonder now what its impact would have been, had Bl_ck B_st_rds actually been released in 1994. As it is – this album is a lost classic and a must-have for MF DOOM fans at least, with classic cuts on it like "What A N**** Know", "It Sounded Like A Roc", "Smokin That Sh**", "Black B*stards!", "F*** With Ya Head", and "Suspended Animation". 8/10
6. Take Me To Your Leader (2003) (as King Geedorah)
MF DOOM dropped two low-key masterpieces in 2003. Vaudeville Villain (as Viktor Vaughn) is one, this one is the other. For Take Me To Your Leader DOOM adopts the persona of King Geedorah – a three-headed lizard observing earth from outer space, and commenting on some of the earth's problems.
Where Vaudeville Villain had its focus more on the lyrics, this album is all about the musical backdrops. DOOM's and especially his guests' lyrics are worth listening to (DOOM only raps on two tracks, focusing his energy almost exclusively on his work on the boards) but it may take multiple listens to decipher everything and take all in – partly because of the clever complexity of most rhymes and partly because they are sometimes hidden behind a wall of lo-fi sound: dusty beats laced with obscure samples – DOOM digs deep to come up with the craziest soundscapes. Take Me To Your Leader is not for those who like formulaic mainstream rap, but it is a treasure for those who dig creativity. 8/10
5. The Mouse And The Mask (2005) (with Danger Mouse as Danger Doom)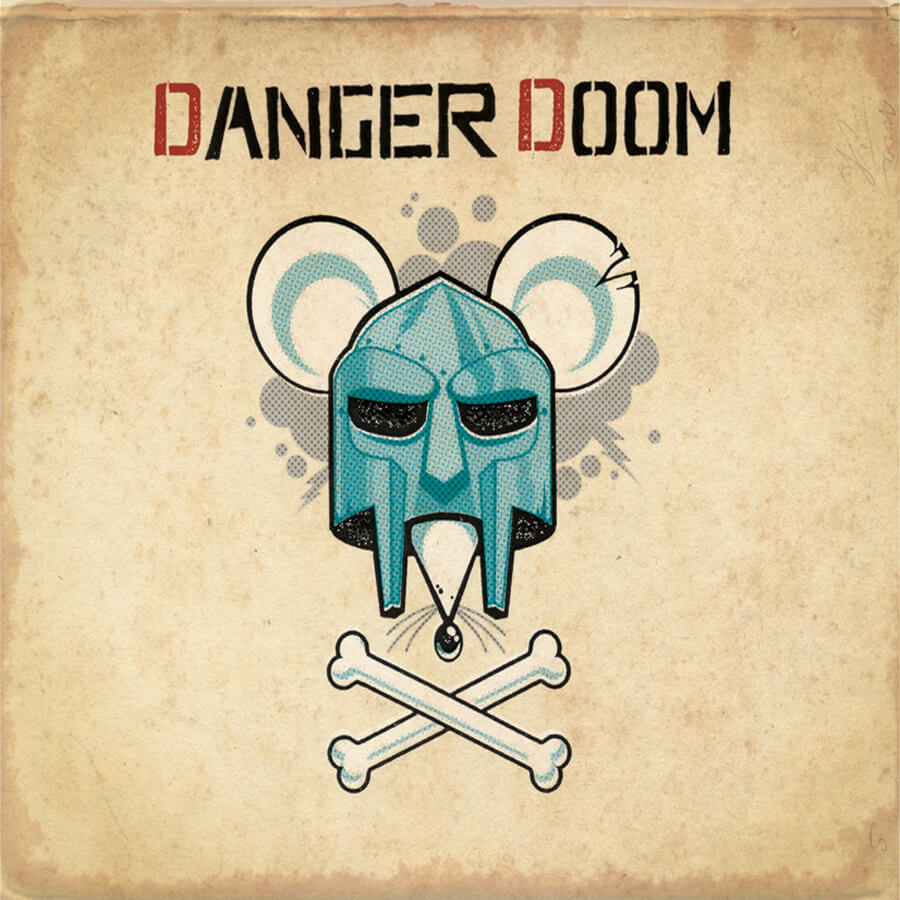 A year after Mm.. Food and Madvillainy MF DOOM dropped another gem in the form of The Mouse And The Mask, this time together with left-field producer Danger Mouse (best known for mashing The Beatles' The White Album and Jay-Z's The Black Album into The Grey Album). DOOM is lyrically as strong as ever, mixing up his trademark abstract imagery with his usual intricate self-aggrandizing, this time all the way through sprinkled with cartoon references – all of it strengthened by Danger Mouse's instrumentals which definitely add to the thematic feel of the album. Ghostface Killah, Cee-Lo Green, and Talib Kweli drop by for guest verses, with especially Ghostface stealing the show on "The Mask". Other highlights are "Sofa King", "Old School" (with Talib Kweli), and the stab at former friend MF Grimm, "El Chupa Nibre". 8.5/10
4. Mm..Food (2004)
Mm… Food is kind of a concept album, as every track is compiled primarily of food-related subject matter. The food-related concept works better than you might expect, particularly when DOOM uses it as a means to cleverly diss other emcees. This album holds some of DOOM's best beats and bars, as a listening experience Mm.. Food can be a challenge though – mostly because of the overabundance of skits (most notably in the middle of the tracklist) that are meant to thematically tie together the actual songs on the album, but that actually break its flow (especially because they are sometimes stuck to the songs, so not-skippable). Sure, the skits on any MF DOOM album are an essential part of the listening experience, but on this one, it's a bit over the top.
Despite the skits, this is one of MF DOOM's best albums. "Beef Rap", "Hoe Cakes", "Rapp Snitch Knishes",  "Poo-Putt Platter", and "Vomitspit" are some of the classic MF DOOM cuts on this Mm.. Food. Production (mostly done by DOOM himself) is awesome, and DOOM's complex flows and abstract lyrical imagery, make for a dope album that is aging really well. 8.5/10
3. Vaudeville Villain (2003) (as Viktor Vaughn)
MF DOOM was a genius. 2003 saw two releases from the man, under two new aliases. Where the King Geedorah album had its focus on DOOM's beats – which at times overpowered the lyrics by mostly guest emcees – Vaudeville Villain focuses more on DOOM's lyrics. For production duties, DOOM enlisted Sound-Ink record label members Heat Sensor, King Honey, and Max Bill, with the exception of "Saliva", which was produced by RJD2.
Nothing wrong with the musical backdrops on Vaudeville Villain by the way – a lot of dirty, dusty drums and snares, just as can be expected on an MF DOOM record – but it's DOOM's lyrics that steal the show here. The album is filled with crazy creative imagery, humor, and dope punchlines, DOOM once again proves lyrically he is in a lane of his own. The opening track "Vaudeville Villain" starts off the album brilliantly, and the quality doesn't let up all the way through. More accessible than King Geedorah's Take Me To Your Leader, Vaudeville Villain is one of 2003's best albums and the most underappreciated album in MF DOOM's catalog. 9/10
2. Operation: Doomsday (1999)
After a long hiatus following his brother's death and the end of KMD, Zev Lov X reinvented himself and came back on the Hip Hop scene as MF DOOM. He would go on to release a myriad of excellent projects – solo and collaborative – but Operation: Doomsday is one of his absolute best projects. 9/10
1. Madvillainy (2004) (with Madlib as Madvillain)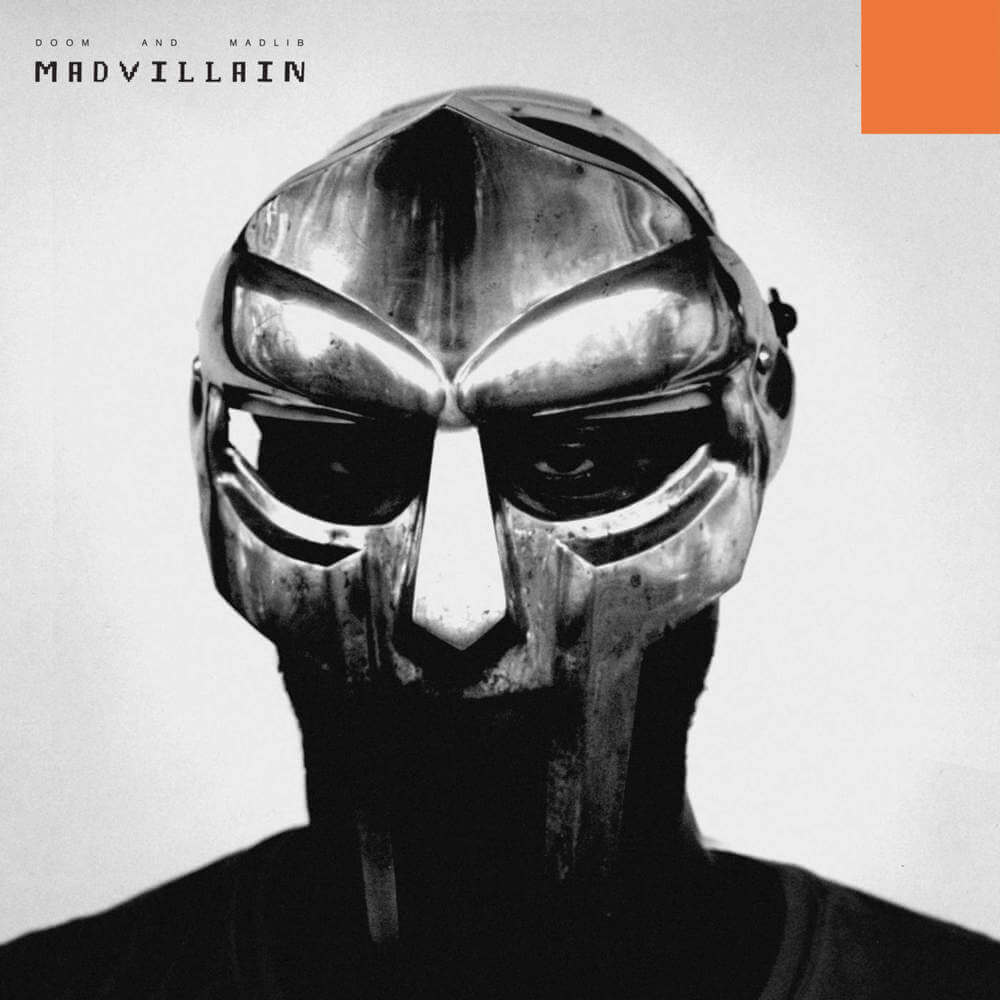 This album is ART, pure and simple. Madvilliany redefined the underground and is a perfect example of what can happen if two left-field geniuses combine powers. MF DOOM and Madlib have both produced many pieces of brilliant music, but this epic album is the crowning achievement of both their careers. The best album of the 2000s decade and a top 10 Hip Hop album of all time. 9.5/10