This article is a work in progress and it will be updated regularly until we reach the end of the year – where it will result in our list with 2020's best Hip Hop releases. This year, we especially look forward to expected releases by Black Star, Run The Jewels, R.A. The Rugged Man, Ab-Soul, and Royce Da 5'9″, and rumored projects by LL Cool J, KRS-One, De La Soul, and Kendrick Lamar.
Not included are instrumental albums, compilations, and EP's. Some artists bill barely 30-minute-long projects as albums – HHGA sees projects that clock in at under 30 minutes as EP's however, and we do not rank them on our album (= LP) list. Creating an LP is an art in itself, releasing a couple of songs as an EP or dropping a 20-minute 'album' with a bunch of 1 and 2-minute songs is not enough to make it on our best albums list. But having said that, there are lots of dope EP's out there, so we will not completely ignore them – scroll all the way down (below the Honorable Mentions) for a section with some of the best EP's released in 2020, as well as a listing of 2020's best Hip Hop adjacent projects. (Last updated February 14, 2020)
Also check: Greatest Hip Hop Albums 1980 – 2019 & Top 150 Hip Hop Albums Of The 2010s
Boldy James & The Alchemist - The Price Of Tea In China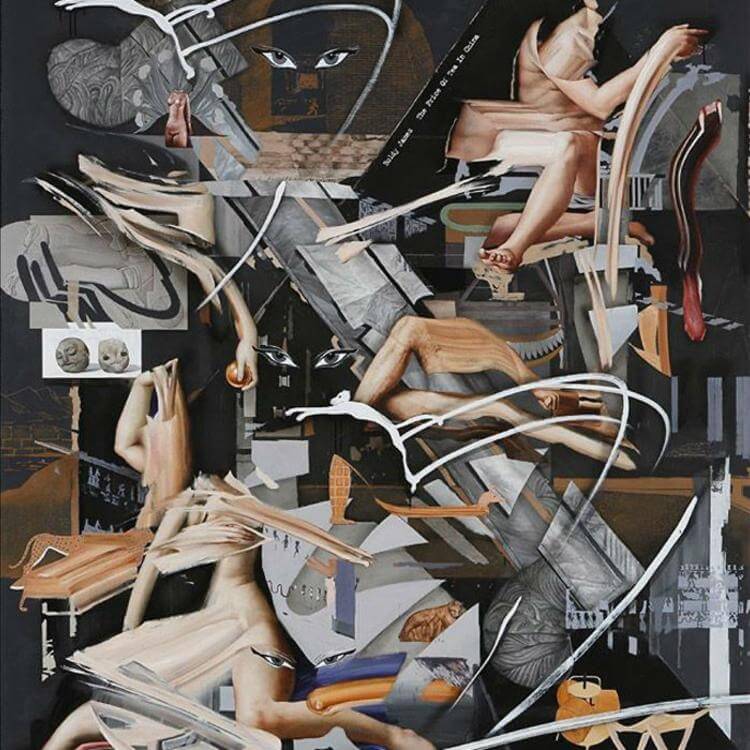 Following their supremely underrated debut collaboration My 1st Chemistry Set (2013), Detroit emcee Boldy James and top-tier producer The Alchemist team up again for the long-awaited The Price Of Tea In China, their second collaborative full-length project. Like My 1st Chemistry Set, The Price Of Tea In China delivers on all fronts. Their Boldface EP from late 2019 proved to be a great appetizer for this project – we get powerful Detroit style lyrics from Boldy James and elegantly understated boom-bap beats from The Alchemist, and the synergy between the two is as tangible as ever.
The work and attention that went into the making of The Price Of Tea In China is evident. The album holds 12 tracks, all masterfully produced and expertly sequenced, with just the right amount of features. Lots of artists today tend to clutter their projects with guests, on The Price Of Tea In China Boldy James avoided that trap and went the exact right route. Only 4 of the 12 tracks feature guest appearances, and the guests Boldy James recruited – Freddie Gibbs, Benny The Butcher, Vince Staples, and Evidence – all are A-listers who add their own distinct flavor to the album. Boldy James' pen game remains razor-sharp, and The Alchemist's excellent soundscapes are perfectly suited for Boldy's lyrical finesse. In this day and age of short hype circles, The Price Of Tea In China is one of the exceptions – an album that will prove to have staying power.
Download The Price Of Tea In China
The Leonard Simpson Duo (Guilty Simpson & Leonard Charles) - LSD
Detroit emcee Guilty Simpson & New Zealand producer Leonard Charles team up as The Leonard Simpson Duo to provide a one of a kind 70's inspired, psychedelic & acid influenced album. Guilty Simpson is one of the finest emcees ever to come out of Detroit (that's saying something), and his distinctive and uncompromising lyrical style meshes really well with Leonard Simpson's trippy boom-bap instrumentals, resulting in something truly unique. Guilty Simpson and Leonard Charles make a formidable duo and LSD is a formidable album.
Download LSD
D Smoke - Black Habits
Black Habits is the second album from D Smoke (he debuted in 2006 with Producer of the Year), the winner of Netflix's Hip Hop competition series Rhythm & Flow in 2019. The album is the follow-up to his Inglewood High EP, which was released in October of 2019. The Inglewood, Los Angeles emcee managed to recruit Snoop Dogg, Jill Scott, Ari Lennox, and his brother SiR (among others) for this project, which clocks in at 16 tracks and over an hour of playing time. A long album, but it doesn't overstay its welcome at all, Black Habits stays entertaining for the whole duration.
D Smoke (real name Daniel Farris) is a UCLA graduate who worked as a Spanish and music theory teacher in Inglewood. His background is evident on the album – D Smoke's incorporation of Spanish in lyrics gives Black Habits a unique kind of twist. The album is eminently musical too – the funky bass-heavy beats and smooth jazzy loops make for an easy listening experience. Kendrick fans should love this one, the GKMC/TPAB influence is palpable in the music and in D Smoke's flow – but D Smoke has enough of an own sound to be sufficiently authentic and not merely a K-dot copy cat. Black Habits is a real treat.
Download Black Habits
Vinnie Paz - As Above So Below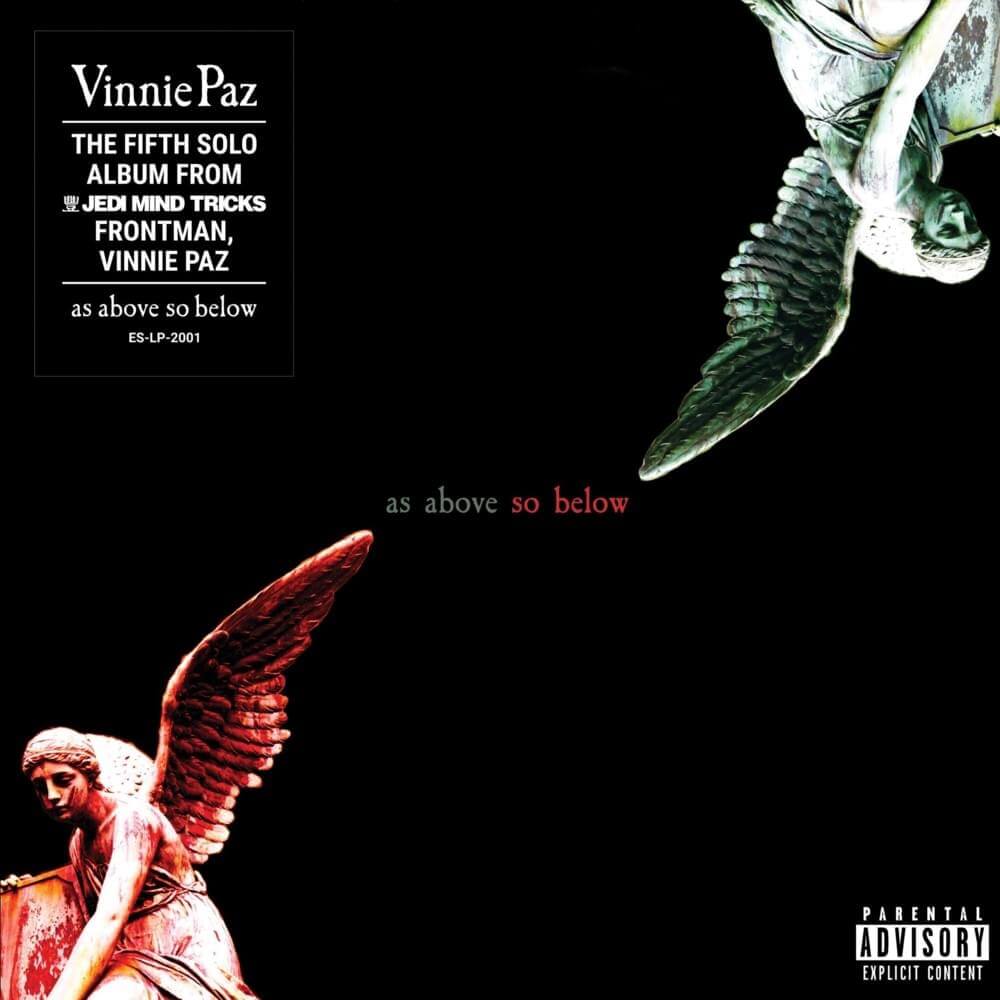 As Above So Below is Jedi Mind Tricks and Army Of The Pharaohs frontman Vinnie Paz's fifth solo album and his twenty-second (!) studio album in total – in addition to five the solo albums, he has released nine albums with Jedi Mind Tricks, five with Army Of The Pharaohs, two with Ill Bill as Heavy Metal Kings, and one with Tragedy Khadafi, plus a bunch of mixtapes and EP's. In Vinnie Paz's catalog of solo albums, As Above So Below follows Season Of The Assassin (2010), God Of The Serengeti (2012), The Cornerstone Of The Corner Store (2016) and The Pain Collector (2018). If there's one word that would best typify VP's body of work – solo and group efforts – it is CONSISTENCY.
With instrumentals from renowned boom-bap beat crafters such as Giallo Point, Stu Bangas, Vic Grimes, and Bronze Nazareth and guest appearances from Block Mccloud, Nowaah The Flood, Eamon, Vast Aire, Recognize Ali and others, As Above So Below fits right in with the rest of Vinnie Paz's discography. Gritty, hard-edged lyrics and boom-bap beats are what we have come to expect from Vinnie Paz, and gritty, hard-edged lyrics and boom-bap beats are what we get. Stand-out cuts include the rock-infused first single "I Am The Chaos", the hardbody boom-bap gem "Silician Bull", and the emotional tribute to his father "Spilled Milk", but there are a lot more dope tracks on offer. A couple of the hooks and some of the features could've been better, but at 18 tracks and almost an hour of playing time a few weaker moments are to be expected.
As Above So Below is a more than solid addition to Vinnie Paz's catalog, and if you enjoyed his earlier work you will also enjoy this one.
Download As Above So Below
Pro The Leader - Aspirational Regret
Topnotch lyricism and intricate wordplay – that's what you can expect from American Poets 2099 and Armor Of Gods emcee Pro The Leader. Aspirational Regret features appearances by other veteran emcees such as Casual of Hieroglyphics, Ras Kass, Planet Asia, Killah Priest & others, and is produced entirely by the renowned Skarekrow. Packed full of clever rhymes and solid boom-bap production, Aspirational Regret is an album perfectly suited for those who value authentic Hip Hop music – 15 tracks of dope beats and rhymes, what more do you want?
Download Aspirational Regret
Dueling Experts (Verbal Kent & Recognize Ali) - Dueling Experts
Chicago's Verbal Kent (of Ugly Heroes) joins forces with Ghana emcee Recognize Ali for Dueling Experts, their collaborative self-titled debut album produced by Lord Beatjitzu. This is what Verbal Kent and Recognize Ali themselves have to say about Dueling Experts:
"I had a treasure trove of beats from legendary Lo-Fi beat maker Lord Beatjitzu that I needed to put to use…and sonically me and Ali were right there. The beats sound like they were dropped on the floor, almost beta-like quality while at the same time exemplifying that 90's RZA peak." – Verbal Kent

"Dueling Experts is that raw unadulterated hardcore boom-bap" – Recognize Ali
So that's what to expect – gritty boom-bap beats, and dope rhymes by two real emcees. Our kind of Hip Hop.
Download Dueling Experts
Cage - Death Miracles
Apparently "accidentally" launched by the distributor earlier than planned without the artist's word, Cage's Death Miracles officially dropped in February 2020. After a slow 2010s decade – with the mediocre Kill The Architect (2013) and the merely OK Book Ov Sam (2018, as Sam Hill), Death Miracles is a return to form for Cage – actually coming close to the quality of classic underground projects like Movies For The Blind (2002), Waterworld (2004, with Tame 1 as Leak Bros), and Hell's Winter (2005).
Due to its occult/satanic vibe Death Circles may feel more like a release of Cage's alter ego Sam Hill than as a proper Cage album (and maybe it was originally intended to be a Sam Hill release?). But be it as Sam Hill or as Cage, as a solo artist he has almost never been one for light or happy subject matter, and Death Miracles is a typically unsettling Cage experience – with dark lyrical imagery and eery beats creating a creepy and off-kilter atmosphere that is sustained throughout the whole album. Death Miracles may lack the sense of authenticity and intensity (as well as the magic touch of Blockhead and especially El-P on the boards) that made Hell's Winter a DefJux classic and one of the best albums of the 2000s, but it is one of the best and most fully realized horror-themed Hip Hop albums released in recent years.
Download Death Miracles
Charlie Smarts - We Had A Good Thing Going
Charlie Smarts is one of the two emcees from North Carolina's 5-man crew Kooley High. Hailing from North Carolina's rich tradition of smooth boom-bap Hip Hop, Kooley High's music is perfect for fans that enjoy Little Brother, 9th Wonder, and Rapsody. This solo-outing by Charlie Smarts is another excellent addition to North Carolina's Hip Hop legacy. On We Had A Good Thing Going Charlie Smarts brings stories of love and loss over a collection of butter-smooth bass-heavy beats laid down by producer T-Mos. This is one of those albums that has no excess fat: no intro, outro, useless skits or interludes – no filler at all, just 40 minutes of delicious music you can put on repeat and listen to over and over again without getting tired of it. We Had A Good Thing Going dropped in January, but no doubt this is an album that has the power and quality to escape today's ever-shortening hype circles and attention spans and stay in rotation for a good while – if only enough people pick up on it. Don't sleep on Charlie Smarts and go check out We Had A Good Thing Going if you haven't done so yet.
Download We Had A Good Thing Going
Sy Ari Da Kid - It Was Unwritten
It Was Unwritten by Sy Ari Da Kid (from Atlanta by way of The Bronx, NYC) is an excellent departure from the kind of rap/trap music he has been making ever since his debut mixtape (The Ultrasound) in 2011. On the day of the release of It Was Unwritten Sy Ari tweeted: "This It Was Unwritten album is not for clout/radio. I did this 1 not only for myself and the people but for those who truly appreciate & miss that true 90s hip hop music. When a story was told from the soul of an artist to as soon as you hear it you feel their pain". This artistic change turned out to be a great decision – It Was Unwritten (the title an obvious play on Nas' 1996 classic It Was Written) easily is Sy Ari Da Kid's best project in his quite extensive catalog.
With a playlist consisting of 14 tracks, It Was Unwritten offers great variation with a bunch of bangers like "A Dream A Plan" (with Big K.R.I.T.), "Reap What You Sow", "Chain Reaction", "Pioneer/Peace", and "The Lost & Found Files Pt 1", and some mellower tracks like "Aria" and "Temporary Love" – all with dope instrumentals and strong lyricism. At just over an hour It Was Unwritten is a long album, but there are almost no weak spots (only "Under & Over The Influence" is a dissonant because of a kind of wack trappy flow and chorus). It's good to see an artist as Sy Ari Da Kid possesses the versatility and the inclination to create a 'real' Hip Hop album – hopefully, it's not a one-off and he continues down this path.
Skanks - New World Order
Self-proclaimed Hip Hop extremist Skanks The Rap Martyr drops a great throwback banger with New World Order. Skanks (co-founding member of the supergroup Bankai Fam) is an emcee's emcee out of Crown Heights, Brooklyn – a Hip Hop purist who has little patience with today's crop of wack mainstream rappers, and who is not concerned with being innovative or commercially appealing.
New World Order features other renowned underground names such as Ruste Juxx, P General, StaHHr, Napoleon Da Legend, Stephen James, Uncle Nick, Tah Murdoc, G-Stats, Buck Oner, Venom, Shatike, Pheno, Tre Eiht, Chez Rocka, Ill Conscious, Forever Chosen, Bobby Stone, and DJ Fastcut – and is unapologetically throwback in everything. Skanks' is a dope emcee whose flow and delivery sound like it's lifted straight from the 90s, and the beats and scratches on New Wolrd Order only add to the Golden Age vibe. Just listen to the last cut "The DJ", and it's easy to understand where Skanks is coming from. Some people knock albums like this one for their lack of originality, but that's BS. No originality is needed when the execution is done as well as it is done on New World Order.
DJ M-1 - Habit Of A Lifetime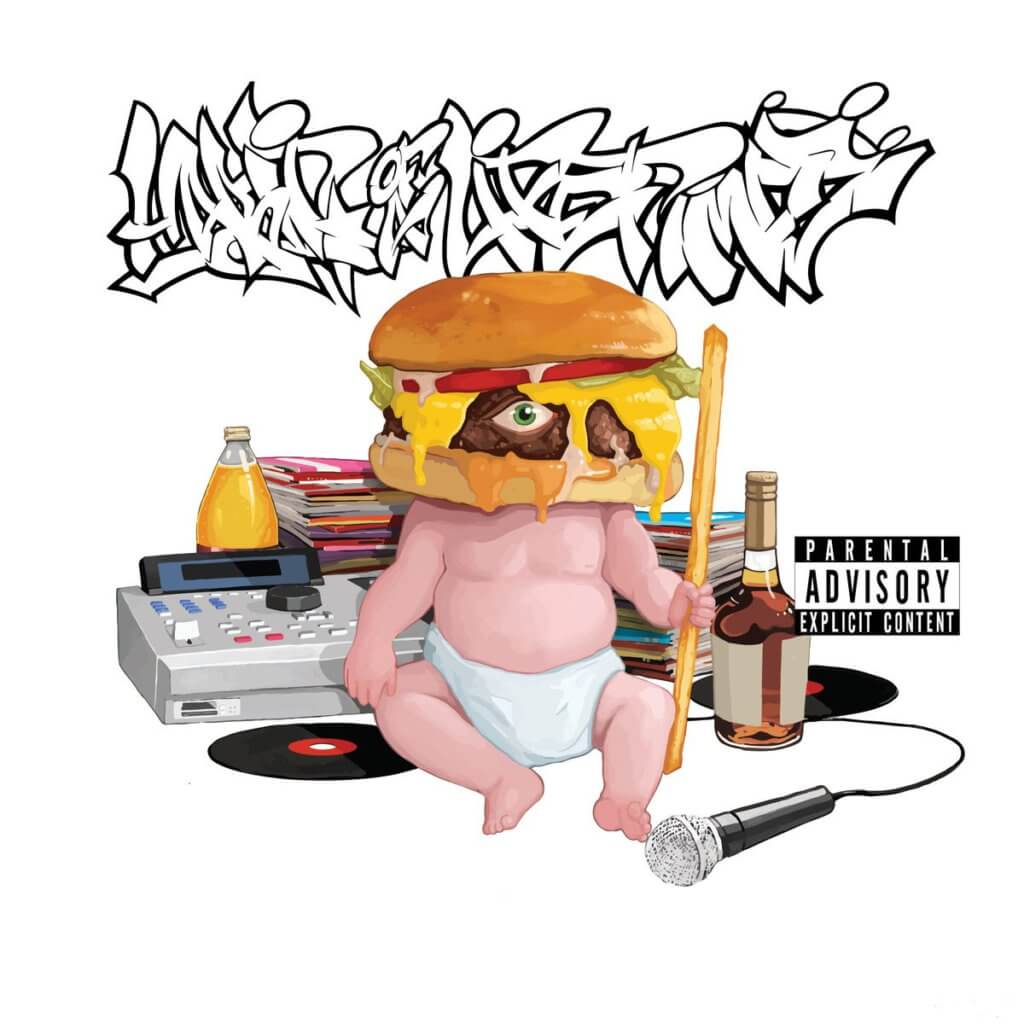 DJ M-1 is a Dublin based DJ & producer who debuted with a great little project titled Choose Your Own Adventure (with Queens, New York MC Starvin B) in 2017. In 2020 he's back with his first full-length: Habit Of A Halftime. With features from Sadat X, Wildelux, G.S. Advance, LMNO, Glad2Mecha, Vakill, Zilla Rocca, Baby Aztro, DJ Eclipse, Gutta Grimey 910, DreamTek, and Tre Eiht Special, Habit Of A Lifetime is a well-rounded album that is a must-listen for those who can't get enough of Golden Age Hip Hop. Dope throwback beats and rhymes all the way through, and a lot of authentic DJ work too – with scratched in vocal samples mostly taken from classic Hip Hop cuts. "How Many Times" (featuring Sadat X and Wildelux) is a prime example of the quality of this project – two emcees flowing over a classic-feeling beat with DJ M-1 cutting up KRS-One and Rakim snippets.
Habit Of A Lifetime will most likely be ignored by all the Hip Hop outlets that are looking for the 2020 projects of Migos and Young Thug and such but for HHGA a project like Habit Of A Lifetime easily trumps all those mainstreamers. Habit Of A Lifetime will not win any originality prices, but it will stay in rotation – and that's all that matters.
V Don - Black Mass
Black Mass is a 12-track project, fully produced by NYC-based producer V Don. For Black Mass, V Don cooked up a batch of dark, minimalistic, brooding beats in the best Griselda meets DJ Muggs tradition. With vocals from underground emcees and regular V Don collaborators Eto, Smoke DZA, Elcamino, 38 Spesh, Da$h, Willie the Kid, Adonis, Dark Lo, Rigz, Sauce Heist, Dave East, D Polo, and Kadeem you should know what to expect from Black Mass. It seems Black Mass was billed as an EP, but at 31 minutes of playing time it's just over our "cut-off" point of 30 minutes, and therefore eligible for inclusion on this list.
Jahn Dough - Obsidian
Dallas/DeSoto, Texas (by way of Inland Empire, California) emcee Jahn Dough dropped a gem of an album with his second full-length project Obsidian. After making a name for himself on the Dallas scene with a couple of EPs and his first full-length My Afro Is My Halo (2018), Obsidian should be his break to wider audiences.
Jahn Dough obviously is influenced by the sounds of both West Coast and Southern Hip Hop. Obsidian is an exquisite blend of the West and the South, with elements from Outkast to Kendrick Lamar and from UGK to Ab-Soul, with some echoes of the style of Detroit's Danny Brown thrown in the mix as well. Obsidian has a nice fluent feel and vibe throughout, with smooth instrumentals and lyrics worth listening to. The album could have done without the skits attached to some of the songs, but all in all, this album is pretty great. Jahn Dough is one to watch.
Awol One - Tony The Walrus
Los Angeles' AWOL One latest album Tony The Walrus is another addition to his catalog that will have opinions firmly divided. Haters usually dismiss his work as boring, fans call it brilliant. His rapping style is unique and unconventional – raspy and brooding, sometimes barely above a whisper and with some questionable singing thrown in the mix as well. It's not difficult to see why people can't get into AWOL One. But… his uniqueness is a large part of the charm. Like most of his previous output, Tony The Walrus certainly is different. But is Tony The Walrus terribly boring, or is it understatedly brilliant? It's up to you to decide, but we opt for the latter. The lo-fi and dirty instrumentals on Tony The Walrus, combined with AWOL One's dark and brooding lyrical style make for an intriguing listen we keep going back to. Your mileage may vary, but for us Tony The Walrus is a keeper.
Lojii - lo&behold
Lojii is an artist from Philadelphia, Pennsylvania and lo&behold is his third full-length project, following DUE RENT (2017) and lofeye (2018). lo&behold is made up of 16 tracks, with features coming from Pink Siifu, Akeema-Zane, and Nikko Gray, and with production handled by Swarvy, Alexander Spit, Absent Avery and Jacob Rochester. In this day and age with a lot of genericness and quantity over quality in terms of Hip Hop releases, Lojii definitely brings something different to the table. lo&behold is a confident blend of lo-fi Hip Hop, jazz, and soul – perfect for discerning listeners who are tired of all the genericness. The underground for jazz-hop is awesome right now, and Lojii is one of the scene's frontrunners. Lyrics and wordplay worth your attention and soulful, jazzy, sample-based production – lo&behold is a beautiful project that only gets better with every consecutive listen.
Ruste Juxx & Zealot Of FWM - Sulfuric Acid
Crown Heights, Brooklyn, Sean Price affiliate Ruste Juxx ended the 2010s decade strong with a number of dope projects in 2019: Hardbodie Hip Hop (a collaborative LP with Kyo Itachi), 12 Rounds In The Clip (with ILL), Magma (with Tone Spliff), and Culturally Rich (with BigBob).
Ruste Juxx continues his prolific recording streak in 2020, with numerous guest spots on other artists albums and a new full-length project, this time with producer Zealot Of FukWitMe. Sulfuric Acid features spitters like Conway the Machine, Termanology, Bumpy Knuckles, Skanks The Rap Martyr, Rim Da Villin, and Block Mc Cloud – reading these names you should know what to expect: raw and authentic boom-bap with ferocious rhyming by Ruste Juxx and his guests. "Kings Link With Kings" (with Termanology and Bumpy Knuckles), "Wig Shot" (with Conway The Machine), "God In The Flesh", "Sulfuric Acid", and "Bang Ya Head" are stand-out tracks but Sulfuric Acid offers heat from beginning to end. Sean P. would approve.
Hus Kingpin - End Of A Decade
End Of A Decade is a great full-length from Long Island rapper Hus Kingpin, following the more than decent Slime Wave (released in the summer of 2019) and the recent The Connect Tape (with SmooVth). Hus Kingpin is another one of those underground emcees who are riding the ever more powerful Roc Marciano / Griselda wave – dropping project after project with gritty, neo-boom-bap.
With guest appearances from Rozewood, Ralphiie Reese, Westside Gunn, Planet Asia, Tristate, Conway the Machine, Rosati, SmooVth, Supreme Cerebral, Kool G Rap, Guilty Simpson, Chris Crack, and Vic Spencer you should know what to expect. Relentless street rhymes over dope, atmospheric beats – copping End Of A Decade is a no-brainer if you're into the sounds of Roc Marciano and Griselda.
BadFX & SonoTWS - Together
What do you know about BadFX & SonoTWS and their collaborative project Together? From the Bandcamp blurb:
"BadFX, Jamaican/London Emcee from the collective Omniverses hooked up with Brazilian producer extraordinaire SonoTWS to create this masterpiece which is probably his greatest lyrical contribution to Hip Hop thus far.

Together explores various subject matters in a deeper way than BadFX has ever put forward before such as love, crime, money, society, death as well as just displaying his usual explosive flow having fun with it all in a boastful way at the same time. The perfect rustic boom-bap sound Sono brings complements it all with hard-hitting drum patterns and airy, soulful samples."
Calling this project a masterpiece may be taking things a bit too far, but Together definitely is a thoroughly enjoyable album. Those willing to look outside the US borders for their Hip Hop consumption will be in for a pleasant surprise with Together.
Kay The Aquanaut & Maki - The Nautical Blue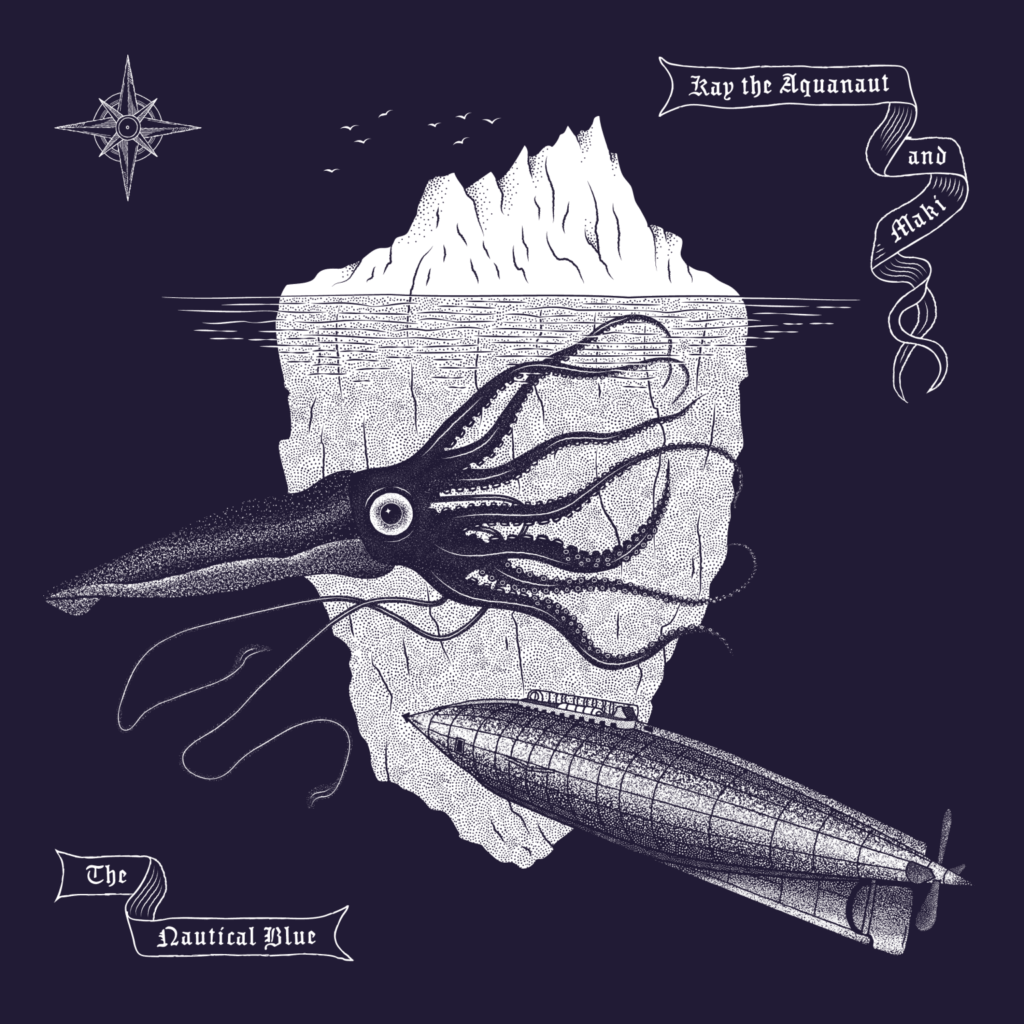 Kay The Aquanaut is an underground rapper from Saskatoon, Canada. Prior to this 2020 album, he has released eleven (solo and collaboration) albums and a bunch of EPs since his debut in 2001, most of them roughly categorizable as alternative/abstract Hip Hop. The Nautical Blue is a fairly accessible project, inspired by Jules Verne's '20,000 Leagues Under The Sea'. Frequent collaborator Maki definitely succeeds in conveying the 'underwater' theme with his instrumentals, the beats and the atmosphere he crafted really work well all the way through the album. Appreciation of Kay The Aquanaut's lyrical style is a matter of taste – you either like his style or you don't, there seems to be little middle ground there. If you're up for a left-field blend of rapping and singing supported by interesting instrumentals, this project is for you. No reason not to check it out – you may be in for a pleasant surprise.
Asun Eastwood & Vago - Sewer Science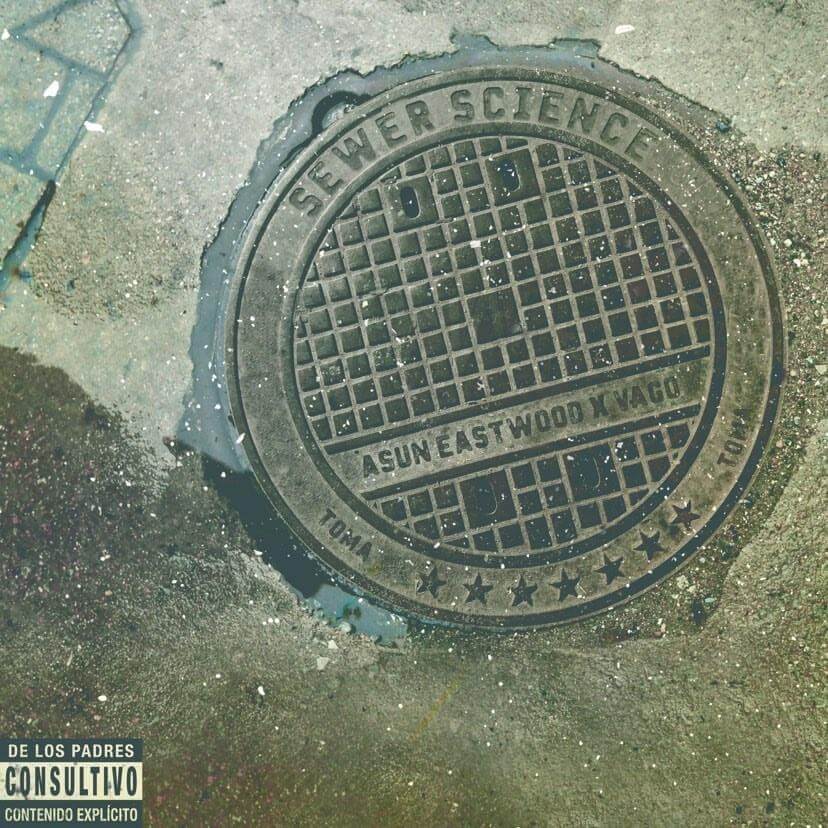 Toronto's Asun Eastwood teamed up with Surrey, B.C. based producer Vago for Sewer Science – a hard as nails boom-bap project with guest appearances from underground emcees Mooch, Che Uno, Raz Fresco, Black Nazx, Recognize Ali, M.A.V., Primo Profit, and Daniel Son. This is just one of the many neo-boom-bap releases that will go virtually unnoticed in today's oversaturated Hip Hop market, which is too bad because Sewer Science is thoroughly enjoyable. Asun Eastwood's street rhymes are on par with those of top dogs like Roc Marci and Benny The Butcher, his throwback flow and delivery are great, the guest emcees come with the heat too, and Vago's beats bang. Sewer Science is on the short side at 36 minutes and it brings nothing new to the table, but it is totally consistent throughout and deserving of your attention.
The Professionals - The Professionals
The Professionals is a duo consisting of producer extraordinaire Madlib and rapper/producer Oh No, Madlib's younger brother. Both brothers have built impressive discographies over the years – especially Madlib of course – responsible for a couple of absolute Hip Hop classics like Madvilliany (2004, with MF DOOM) and Pinata (2014, with Freddie Gibbs). There have been talks about a collaborative album between the brothers ever since 2008 and it finally arrived in 2020 with The Professionals. Was it worth the wait?
Now, The Professionals doesn't come close to Madvillainy or Pinata levels of brilliance, and it probably wasn't fair to expect it to. Oh No is a competent emcee and Madlib's beats are topnotch, as usual. With guest spots from Elzhi, Chino XL, and Adub, The Professionals is a solid and thoroughly consistent Hip Hop album, just a little bit too forgettable to be ranked higher.
Observe Since 98 - Royaume Du Sauvage
Observe since 98 is a producer and the founder of underground rap label Loretta Records. He originally recorded as an MC in the late '90s and early 2000s but retired and left the scene in 2002. He reemerged as a producer and revived the label in 2016. This is the third and final installment in his "Savage" series. Royaume Du Sauvage consists of 15 tracks, featuring rapping by underground emcees like Hus Kingpin, Elcamino, Tha God Fahim, Smoovth, G4jag, Mooch, Vic Spencer, Jay Nice, Lucky Seven, Haze, Sully Nomad, Lord Juco, Cousin Feo, Snotty, Juga-Naut, Jamil Honesty, John Creasy, Nino Graye, Che Uno, and Unorthodocks.
Royaume Du Sauvage is another one of this year's releases influenced by the sounds (re)pioneered by the likes of Roc Marciano and Griselda: gritty, atmospheric, lo-fi beats and hard-ass lyrics. Royaume Du Sauvage is not just a Griselda knock-off though, Observe Since 98 manages to create his own distinctive vibe mainly due to creative sampling all the way through. Those into Griselda and their affiliates can't go wrong with Royaume Du Sauvage.
Ty Farris - No Cosign Just Cocaine 3
Coming up in Detroit's cutthroat and competitive battle scene Ty Farris was fast to gain respect and notoriety for his sharp lyrics and clever wordplay. No Cosign Just Cocaine 3 is the third part in Farris' "No Cosign Just Cocaine" series, a perfect blend of parts 1 and 2 – the storytelling and introspective songs from NCJC1 combined with the witty and aggressive bars of NCJC2. No Cosign Just Cocaine 3 features guest appearances from Eto, Flee Lord, M.A.V., and Eddie Kaine, and production from Bozack Morris, The Standouts, Mr. Authentic, Stu Bangas, Vinyl Villain, Sebb Bash, Dirty Diggs, MichaelAngelo, Trox, and J Bansky.
Ty Farris doesn't reinvent the wheel with No Cosign Just Cocaine 3, but the Detroit rap-vet has the skill and confidence to elevate a project like this way above the average Hip Hop release. The beats are dope, the lyrics are on point – No Cosign Just Cocaine 3 is a must-listen if smooth boom-bap is your brand of Hip Hop.
All Hail Y.T. & Tone Beatz - The Spoils Of Babylon
All Hail Y.T. is a Delaware emcee (by way of Germany, Hawaii, Louisiana, and Texas). The Spoils Of Babylon is not his first project – in fact, he has been very prolific with a whole bunch of dope releases in the 2010s, most of which flew way under most people's radars. The Spoils Of Babylon will likely suffer the same fate in this day and age of Hip Hop market oversaturation, and that's a shame because this album deserves attention. Produced entirely By Tone Beatz and with features from Eto, Tha God Fahim, Chris Skillz, Left Lane Didon, and Jay Nice, this All Hail Y.T. project is surprisingly well-rounded, offering up 36 minutes of smooth boom-bap with All Hail Y.T. skillfully flowing over the soulful production with bars worth listening to.
June Marx - Sophisticated Weaponry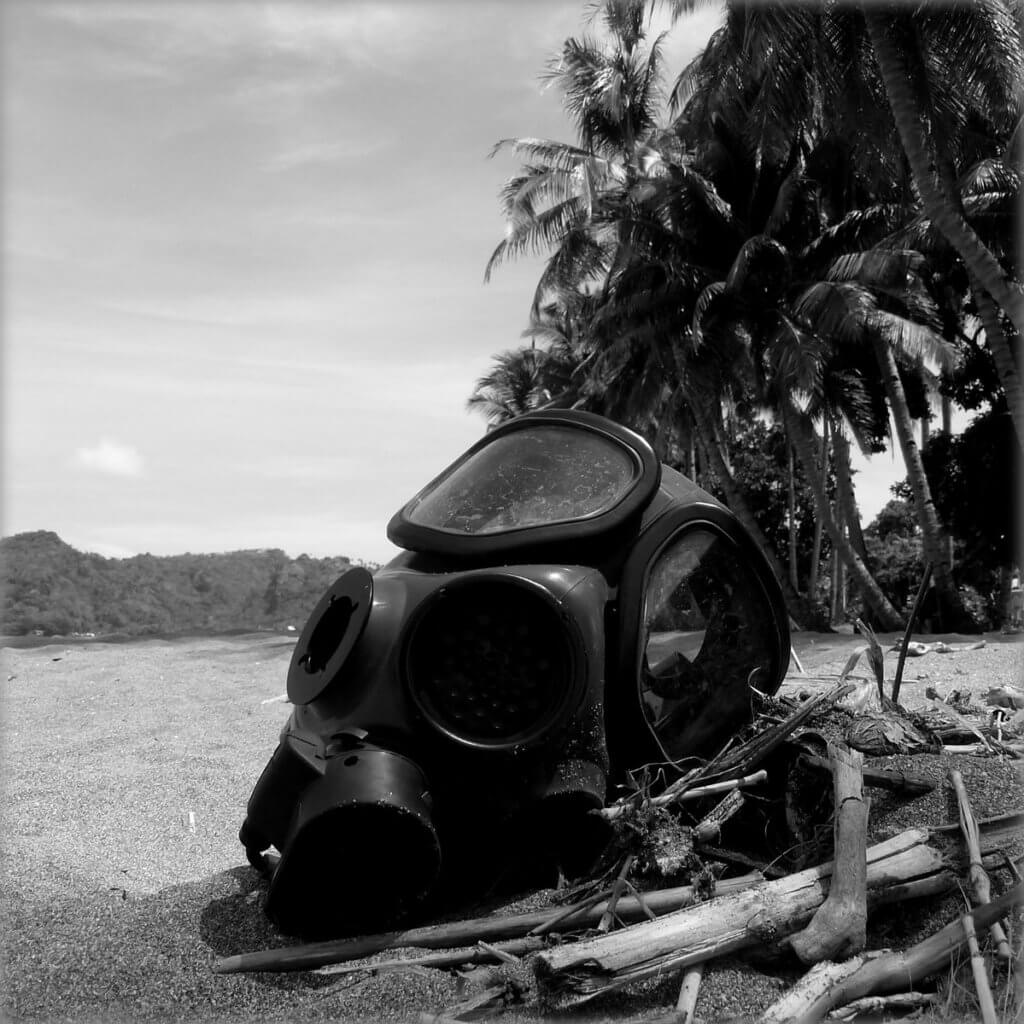 This is a must-listen for NYC Hip Hop revivalists. June Marx is an Operation Iraqi Freedom veteran and independent artist from Brooklyn, New York, who has been very productive in the past decade, dropping over a dozen projects in the 2010s. Sophisticated Weaponry is self-released and entirely self-produced, and another interesting release in a consistently strong catalog. Spanning 17 full-length tracks, this album takes listeners on a sonic adventure where strange worlds are weaved together by Marx's devastating flows over his own sharply produced, atmospheric instrumentals. June Marx is a fine emcee, with a nice cadence and flow and with lyrics worth listening to. Like all of his projects, Sophisticated Weaponry will most likely fly way under almost everybody's radars, which is a shame because this is another great June Marx project. You should check out this project if you're into lyrical throwback Wu-Tang-style NYC Hip Hop.
Chris Skillz & Zain - Olvido
London-based producer Zain and Delaware emcee Chris Skillz have teamed up for Olvido, an 11-song project with features from Guilty Simpson, iLL Conscious, Hus Kingpin, SmooVth, Left Lane Didon, Jay NiCE, Ronnie Alpha, Junii & All Hail Y.T. This another fine project from a corner of Hip Hop that has been consistently dropping heat in the last couple of years, qualitatively transcending most of what passes for Hip Hop in the mainstream. Olvido is on the short side at 33 minutes, but fortunately, no time is wasted on skits and interludes and such. Zain provides a collection of smooth dreamlike instrumentals for Chris Skillz and his guests to flow over. Dope rhymes and great music – Olvido is a nice little project that is well worth your attention.
Cardo, Payroll Giovanni & Larry June - Game Related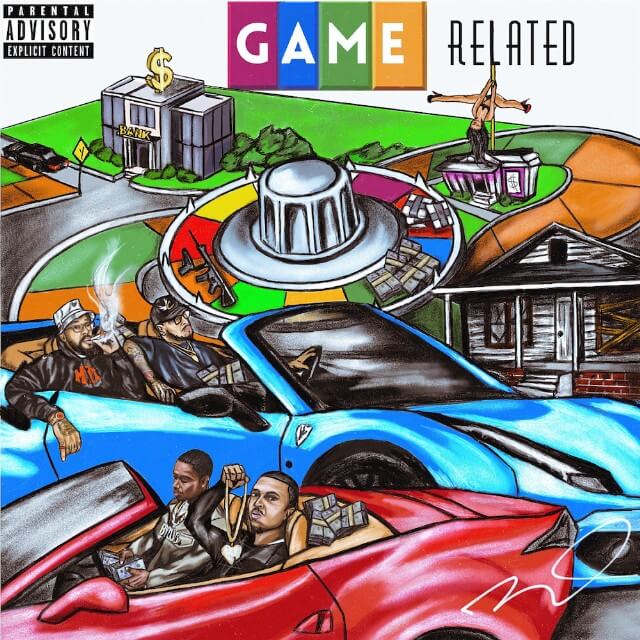 Texas-based and Grammy Award-winning producer Cardo (also known as Cardo Got Wings) has connected with Bay Area's Larry June and Detroit street emcee Payroll Giovanni for the 10-track project Game Related. Cardo obviously has an ear for the mainstream, having cooked up pop/trap beats for the likes of Travis Scott ("Goosebumps") and Drake (God's Plan"). On Game Related he goes a different route, returning to 1990s G-funk inspired beats and synths. Larry June and Payroll Giovanni do Cardo's throwback instrumentals justice with their 'game-related' lyrics. Not bad at all.
Big Ghost Ltd - Carpe Noctem
Big Ghost Ltd. is an anonymous online personality/beatmaker, who started making a name for himself in the early 2010s as a blogger, and as a beatmaker since 2015. Following a couple of dope singles, Big Ghost dropped his debut full-length Carpe Noctem on January 10th, 2020, with raps from a roster of talented underground emcees like Rome Streetz, Estee Nack, Rigz, Mooch, Rahiem Supreme, Recognize Ali, Asun Eastwood, Crimeapple, Lukey Cage, and Ty Farris.
Griselda's influence on the game is evident on this project: the beats are gritty and atmospheric, and some of the emcees here copy the unfortunate trend Griselda head honcho Westside Gunn started, using the same kind of annoying adlibs WSG made his gimmick. Grown men making gunshot sounds with their mouth [sigh], oh well. But despite this minor irritant, Carpe Noctem is nice enough. The single "Gladiator School" is an obvious standout, but the whole album is fine. With Carpe Noctem Big Ghost Ltd. builds on the promise he showed with his recent production work for artists like Ghostface Killah, Vic Spencer, Crimeapple and Hus Kingpin – and no doubt we can expect more heat from him in the years to come.
Psypiritual & The Lasso - Kirlian
From the Mello Music Group website:
"Westside Tucson (Barrio Hollywood) native Psypiritual and Detroit producer the Lasso's new album is Kirlian. Named after the high voltage photo technique that reveals auras, the album is a bombastic synthesis of Sonora & Wu-Tang – smokey, soulful, and reflective like a Jobim piano part. From guitar solo's to lush pads & translucent synths, time was traveled as Psypiritual & The Lasso created a record devoted to their local experiences both personally and culturally. This is Southwest border rap through the lens of underground Detroit musicality."
So is it any good? Kirlian sure is interesting – and different enough to stand out from the general fare. Not for everybody, but those listeners with an appreciation for trippy left-field Hip Hop will no doubt enjoy this one.
Esham - She Loves Me
Bucking today's trend that has artists releasing 25-minute 'albums', Detroit rap veteran Esham's She Loves Me is one of two full-length albums he will add to his 20 albums deep catalog this year. One of the first Hip Hop artists to emerge from Detroit, he debuted in 1989 at the age of 16 with his first album Booming Words From Hell. A pioneer of the horrorcore subgenre, he released a couple of cult-classics in the early 90s with Judgement Day (1992), KKKill The Fetus (1993) and, Closed Casket (1994).
In the 2000s and 2010s, Esham has been dropping projects with consistent regularity, if not of consistent quality. Still going strong in 2020, Esham's first project released in his fourth decade in the game will not end up in any AOTY discussion, but She Loves Me is part of the better half of Esham's catalog and well-worth checking out. Best track: "Football Players"
Leaf Dog - Live From The Balrog Chamber
People familiar with the UK Hip Hop scene will know who Leaf Dog is. He is a producer/emcee who has been releasing music since 2005 and who is currently part of Brother Of Stone and The Four Owls (their 2015 album Natural Order was excellent). Live From The Balrog Chamber is Leaf Dog's third solo full-length, after From A Scarecrow's Perspective (2011) and Dyslexic Disciple (2017).
Live From The Balrog Chamber is an 18 track album that features Havoc (Mobb Deep), Grand Puba, Edo G, Cella Dwellas, BVA, Smellington Piff, Thirstin Howl III & The Last Emperor. The album is produced entirely by Leaf Dog himself (except one track which is produced by Fel Sweetenberg). Live From The Balrog Chamber is a great album, with a nice boom-bap throwback vibe all over it, and with enough distinctiveness in the production to separate it from the bunch and to keep it in rotation. Appearances by a bunch of Golden Age legends help of course – the Grand Puba assisted "What You Don't Know", "Legend" with Havoc, "Tryna Keep" with Edo G, and especially "Rhyme Chemist" with Cella Dwellas are obvious highlights. But Leaf Dog can hold his own on the mic too, and most tracks here are fire. If you have never checked out Leaf Dog before now Live From The Balrog Chamber is a great place to start, no doubt you will be checking for his back catalog in no time too.
Eminem - Music To Be Murdered By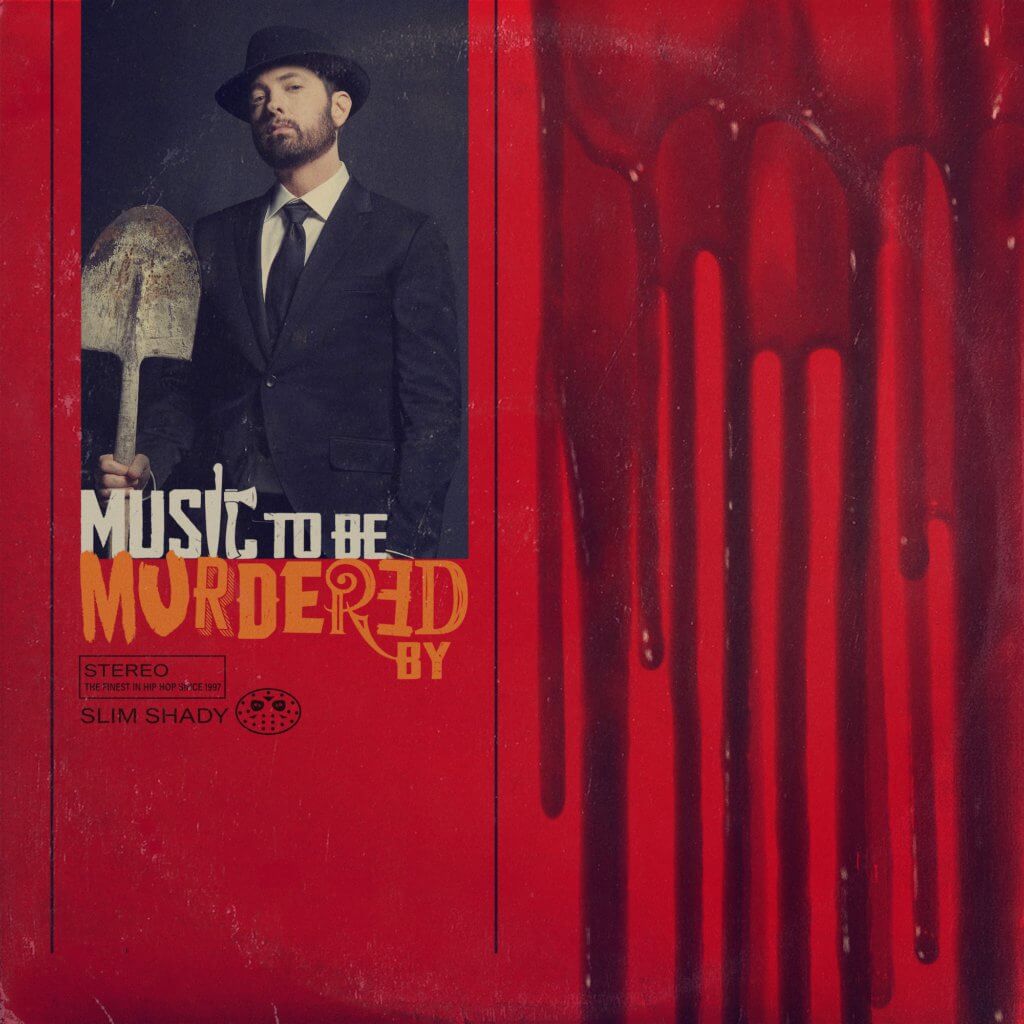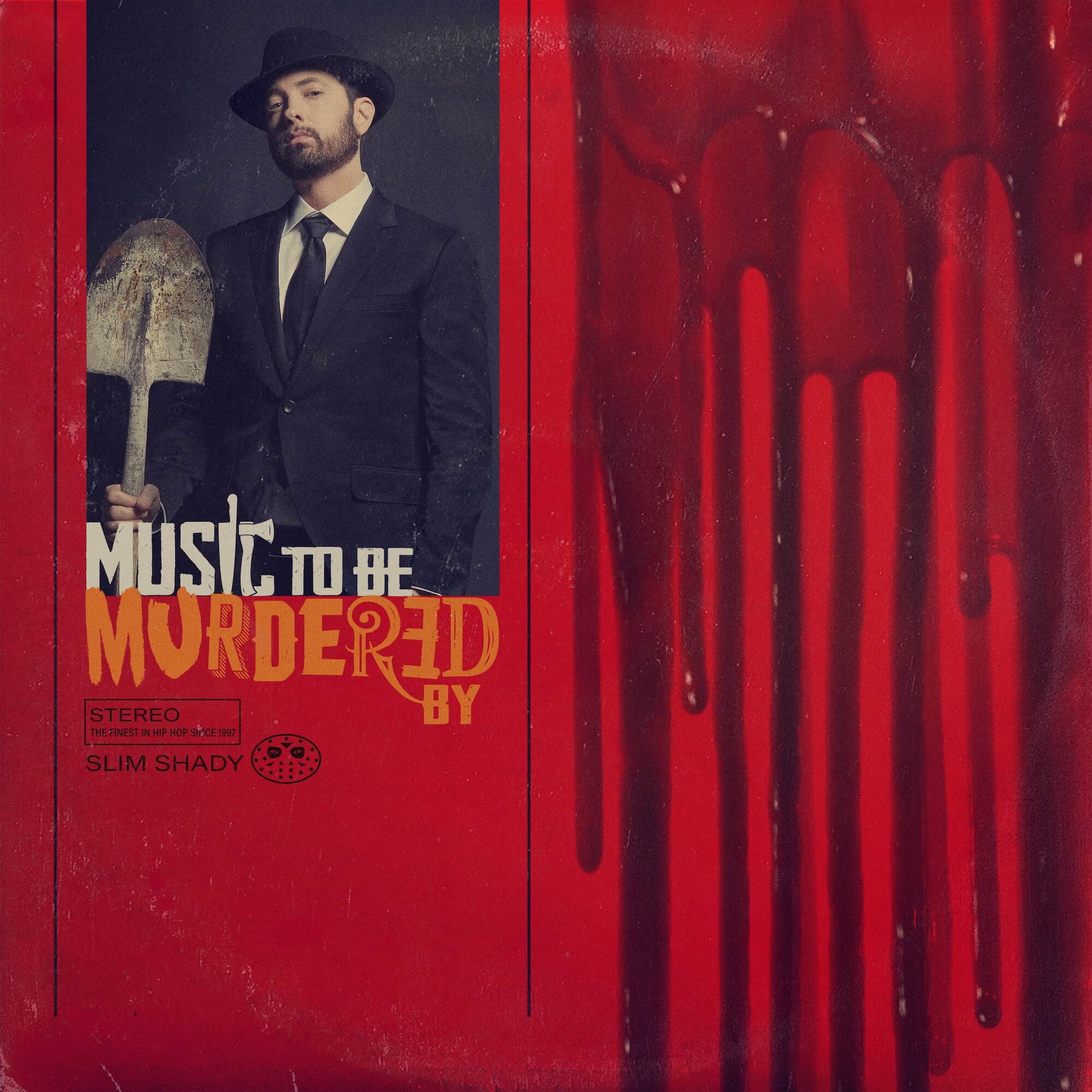 These days there seem to be a lot of people suffering from 'Eminem Derangement Syndrome' – lots of folks are ready to sh*t on everything Eminem does, no matter what (just like they will auto-praise anything media darlings like Kendrick Lamar and Tyler The Creator drop, no matter what). Music To Be Murdered By has its flaws, but it's not the trainwreck some make it out to be – it's not anywhere near as bad as Revival (2017) was. It's more on par with Kamikaze (2018) – a mixed bag, with highs and lows.
The bad: at 17 full tracks, the album is too long with too many weak songs (especially "Those Kinda Nights" with Ed Sheeran is terrible). The features and hooks on songs like "Unaccomodating", "Leaving Heaven", and "No Regrets" kind of suck, with guests like Young MA, Skylar Grey and Don Toliver (and Ed Sheeran) obviously on this album for no other reason than for marketing purposes – but their presence doesn't do the quality of the album any good. Then there are some weak trap beats here and there and a few cringe-worthy lyrics (a reference to the terrorist attack during an Ariana Grande concert where 22 (mostly) kids were killed being in especially bad taste).
The good: tracks like "Godzilla" (despite a meh posthumous appearance by Juice WRLD)", "Yah Yah" (featuring Royce Da 5'9″, Black Thought, and Q-Tip), "I Will" (featuring KXNG Crooked, Royce da 5'9″ and Joell Ortiz), "Darkness" (honing in on mental health issues and gun violence and drawing a parallel between the two) and "Premonition" (with killer bars like "Instead of us being credited for longevity / And being able to keep it up for this long at this level, we get told we'll never be what we were / Bitch if I was as half as good as I was / I'm still twice as good as you'll ever be / Only way that you're ahead of me's alphabetically") are vintage Eminem. Also, Eminem shows and proves he still has the lyrical skill to blow most other rappers out of the water.
Eminem should have left 6 or 7 tracks on the cutting room floor, then Music To Be Murdered By would have been great. As it is, the album has its moments and is not all bad – it's just too cluttered with weak beats and corny hooks to be rated much above average.
Special Mention: Kool G Rap - Genius Of Rap
Kool G Rap is one of Hip Hop's elite emcees and top lyricists – often called your favorite rapper's favorite rapper. Genius Of Rap is an updated compilation of 12 Kool G Rap tracks, a selection of remixes, rare and new songs – the unifying thread being they are all dope 100% pure uncut Hip Hop bangers. With features from Nas, Jadakiss, Styles P, Beanie Sigel, Memphis Bleek, KRS-One, Big Pun, Action Bronson, Ghostface Killah, AZ, Joell Ortiz, M.O.P., Raekwon, and others, it's evident you can't go wrong with this collection of songs. A must-have for Kool G Rap fans, a must-listen for young heads.
Honorable Mentions
Flash (N.B.S.) & Lightfoot – Flashlight
Dirt Platoon – Get Ya Handz Dirty
Uptown X.O. – Culture Over Corporate
Mayhem Of EMS & Reckonize Real – Audio Murals
C.I.A. (Shogun Assason & Kinetic) – Criminals In The Army
Jaz-O – The Warm Up
Best EPs Of 2020
Che Noir & 38 Spesh – Juno
Hus Kingpin – King Of The Underworld
Stu Bangas – Beats And Blood
Mick Jenkins – The Circus

Ovrkast. – Try Again

Kota The Friend – Lyrics To Go Vol 1
Spectacular Diagnostics – Raw Unknown
Curren$y & DJ Fresh – The Tonite Show With Curren$Y
Tha God Fahim – Lost Kingz
Navy Blue – Àdá Irin
Best Hip Hop Adjacent Albums Of 2020
Mac Miller – Circles

070 Shake – Modus Vivendi
Best Hip Hop Albums Of 2019
Click here or on the image for the full list.