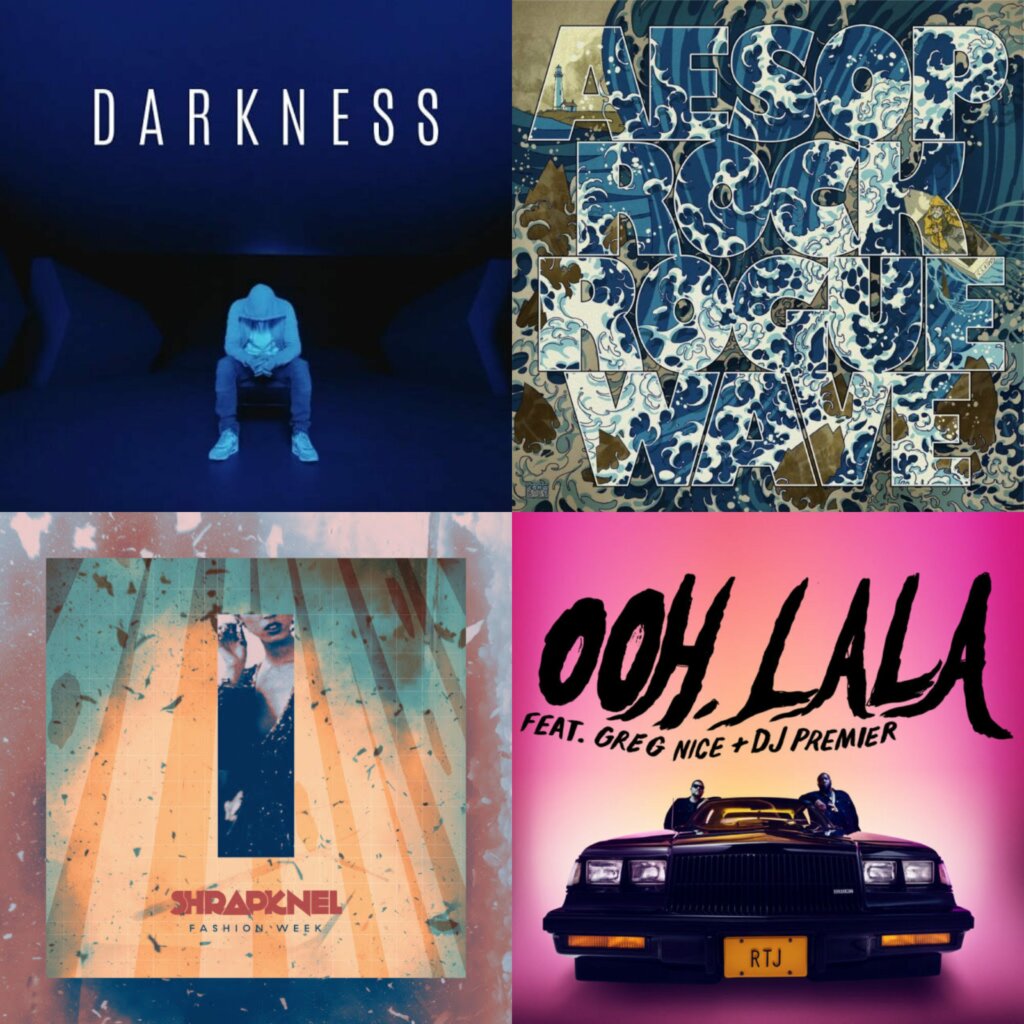 In this piece, you'll find 30 of our favorite songs and videos that came out in the first three months of 2020 – some high-profile, some obscure – but all good. There will be at least a few songs here even the best-informed Hip Hop head hasn't heard yet – don't skip the songs you don't know, in fact, make sure to check out the ones you missed for some reason, you might find some new music to enjoy.
Also read: The Best Hip Hop Albums Of 2020
Redman - Slap Da Sh Outcha
From Redman's 3 Joints EP, this is a signature Redman track with humorous lyrics and a fun video to go with the bars.
Mick Jenkins - Carefree
"Carefree" is the leading single off of Mick Jenkins' January 2020 EP The Circus. On the song, Mick gives common realistic scenarios of how African American males daily are affected by police discrimination: he depicts a good summertime night troubled by the misconduct and aggressiveness of the police against him and his friends. "Carefree" represents Mick just wanting to live carefreely and enjoy leisure activities without having to worry about being singled out by police for the color of his skin.
Denzel Curry & Kenny Beats - DIET_
From one of the best EP's of the year so far. It's evident Kenny Beats brings the best out Denzel Curry, who sheds some of his trap tendencies to drop a dope quasi boom-bap banger. We just wished UNLOCKED could've been a full-length…
Boldy James & The Alchemist - Scrape The Bowl ft. Benny The Butcher
Detroit emcee Boldy James and top-tier producer The Alchemist team up again for the long-awaited The Price Of Tea In China, their second collaborative full-length project after the equally excellent My 1st Chemistry Set (2013). The Price Of Tea In China delivers on all fronts. Their Boldface EP from late 2019 proved to be a great appetizer for this project – we get powerful Detroit style lyrics from Boldy James and elegantly understated boom-bap beats from The Alchemist, and the synergy between the two is as tangible as ever. This track with Benny The Butcher is one of the stand-outs.
CJ Fly - Rudebwoy ft. Joey Bada$$
This is the Pro Era we like. Brooklyn emcee and Pro Era member CJ Fly's official debut studio album RUDEBWOY offers a fantastic blend of contemporary rap and old school boom bap flavor. Elite beat smith Statik Selektah handles all of the production, this Joey Bada$$ featured title track is the first single.
ShrapKnel - Fashion Week
Curly Castro and PremRock are ShrapKnel, the formal pairing of two longtime friends and artistic collaborators. It was a shared affinity for emcee/producer ELUCID's beats that sparked the ShrapKnel project, from which this track is taken.
R.A. The Rugged Man - Legendary Loser
R.A. The Rugged Man presents the official music video for "Legendary Loser", the first single from his highly-anticipated album "All My Heroes Are Dead". Produced by Psycho Les of The Beatnuts, "Legendary Loser" is an empowering anthem outlining R.A.'s remarkable life story while showcasing his outlandish personality and undeniably impressive lyricism.
Royce 5'9" - Tricked - ft. KXNG Crooked
The Allegory stands with Layers (2016) and Book Of Ryan (2018) as one of Royce's best albums. "Tricked" (ft. KXNG Crooked) is a thought-provoking song, with some astute observations – even if Royce's anti-vax line sticks out negatively like a measles-infected kid in a day-care center.
Eminem - Darkness
This is a powerful video for "Darkness", a clever Eminem song that hones in on mental health issues and gun violence and drawing a parallel between the two. One of the stand-out tracks from Eminem's mixed-bag album Music To Be Murdered By.
D Smoke ft. Jackie Gouché - Black Habits I
"Black Habits I"  is a single from Black Habits, the second full-length album from D Smoke (he debuted in 2006 with Producer of the Year), the winner of Netflix's Hip Hop competition series Rhythm & Flow in 2019. The album is the follow-up to his Inglewood High EP, which was released in October of 2019.
Jahi & Configa - Forward Future
Jahi (aka Public Enemy 2.0) is a member of Enemy Radio (along with Chuck D, DJ Lord and the S1W's). For Forward Future Jahi has teamed up with Configa, a producer hailing from the UK who you may know from his album Configaration Volume 1 which was released via Chuck D's SLAMjamz Records.
Forward Future is unique in today's Hip Hop landscape in that it has no outside features or production – simply put: all rhymes are done by Jahi, all beats are supplied by Configa. "Collaborating with one producer allowed us both to focus, concentrate and build a full narrative of boom-bap, consciousness, and creative expression," Jahi states in the YouTube video description of the "Future Forward" single.
The Leonard Simpson Duo (Leonard Charles x Guilty Simpson) - My Inspiration
Legendary Detroit MC Guilty Simpson & New Zealand producer Leonard Charles team up as "The Leonard Simpson Duo" and provide a one of a kind 60's & 70's inspired, psychedelic & acid influenced Rap-Album. The psychedelic sound of this record is heavily drawn from rare acid influenced records from New Zealand's '60s and '70s, carefully selected, picked and sampled by musical multi-talent Charles himself and accompanied by very well placed instrumentals and interludes taking direction from late 60's jazz/rock fusion and fuzzed-out African records. All of that combined with the lyrics and the beloved attitude of Motor City's finest makes this album a beautiful, inspirational and surpassing Trip. The visuals for their 2nd single "My Inspiration" come from Paris based artist MC Blue Matter.
Jay Electronica - Ghost of Soulja Slim ft. Jay-Z
This is one of the stand-out tracks from Jay Electronica's long-awaited (good but not great) debut album – or better said Jay-Z collaboration album – A Written Testimony.
Footage taken from the excellent documentary film 'The Black Panthers: Vanguard of the Revolution' directed and written by Stanley Nelson Jr. https://itvs.org/films/black-panthers
Charlie Smarts - Middle Of The Road (feat. Tab-One)
Charlie Smarts is one of the two emcees from North Carolina's 5-man crew Kooley High. Hailing from North Carolina's rich tradition of smooth boom-bap Hip Hop, Kooley High's music is perfect for fans that enjoy Little Brother, 9th Wonder, and Rapsody. Charlie Smarts 2020 album We Had A Good Thing Going is another excellent addition to North Carolina's Hip Hop legacy. On We Had A Good Thing Going Charlie Smarts brings stories of love and loss over a collection of butter-smooth bass-heavy beats laid down by producer T-Mos. "Middle Of The Road" is one of the singles off the album.
Sons of Yusuf - Different
Born in Kuwait City and raised in Los Angeles, brothers Ya'koob & Humble Abdul are Sons of Yusuf, and Shaykh The World is their official debut album. Even though the raps on Shaykh The World are mostly in English, there are enough Arabic flourishes in the lyrics as well as in the music to give this project a distinctive authentic vibe. In this day and age of so many generic and totally interchangeable Hip Hop releases, an album like Shaykh The World truly is a breath of fresh air. "Different" is the perfect example to show what Sons Of Yusuf are all about.
Shabaam Sahdeeq & J57 - Diamond In The Dirt
Brooklynite Shabaam Sahdeeq has been a mainstay for NYC underground Hip Hop for decades and is internationally recognized for his work on the classic Soundbombing & Lyricist Lounge series on Rawkus Records, and for having been featured alongside Hip Hop icons such as Pharoahe Monch, Mos Def, Eminem, Busta Rhymes, Red Man, Method Man, Kool G Rap, Common, Talib Kwali and others.
For Precious Stones, Shabaam Sahdeeq teamed up with renowned producer J57. With feature appearances from the likes of Ras Kass, Planet Asia, Nems, Casual, and others, Precious Stones is straight boom-bap, with bangers from start to finish. "Diamond In The Dirt" is just one of the many gems (pun intended) on Shabaam Sahdeeq and J57's excellent album.
4-IZE - How'd That Work Out
4-IZE is one-half of emcee duo Ultra Beast (with señor KAOS), two Hip Hop veterans from the Atlanta region in Georgia. This 9th Wonder produced track is one of the stand-out tracks from Look Into My IZE,  – an album well worth checking out if you like this song.
Vinnie Paz - I Am The Chaos
"I Am The Chaos" is the lead single from As Above So Below, Jedi Mind Tricks and Army Of The Pharaohs frontman Vinnie Paz's fifth solo album and his twenty-second (!) studio album in total (in addition to five the solo albums, he has released nine albums with Jedi Mind Tricks, five with Army Of The Pharaohs, two with Ill Bill as Heavy Metal Kings, and one with Tragedy Khadafi, plus a bunch of mixtapes and EP's). Gritty, hard-edged lyrics and boom-bap beats are what we have come to expect from Vinnie Paz, and gritty, hard-edged lyrics and boom-bap beats are what we get.
Bishop Nehru - Too Lost
This DJ Premier produced track is taken from MF DOOM affiliate Bishop Nehru's forthcoming album NEHRUVIA: MY DISREGARDED THOUGHTS. One to be on the look-out for. 
Tech N9ne - Outdone
"Outdone" is the lead single from the upcoming ENTERFEAR album by the legendary Tech N9ne. 
Eminem - Godzilla ft. Juice WRLD
One of the highest-profile songs / most-watched videos released this year, from the best-selling Hip Hop album of 2020 (of course, as always, best-selling does not necessarily mean best). The song has Eminem set another speed-rapping record (he has to be careful this speed-rapping doesn't become a gimmick), but it's the video that's most worthwhile.
Planet Asia & The Musalini - Resurrected Pharaohs
West Coast veteran Planet Asia is one of the busiest men in Hip Hop right now, dropping project after project and featuring on everybody else's songs and albums as well. This 38 Spesh produced song is just one of the many dope ones Planet Asia has dropped recently.
Dueling Experts (Verbal Kent & Recognize Ali) - Dueling Experts
From a lost chamber of a dark cavern, Dueling Experts unlock the most esoteric of styles. Chicago's Verbal Kent (of Ugly Heroes) joins forces with Ghana mc Recognize Ali for the new self-titled album produced by Lord Beatjitzu. This is the title track from the Dueling Experts album.
Conway The Machine - Shoot Sideways ft. Schoolboy Q
Alchemist is on fire this year. First with The Price Of Tea In China with Boldy James, then with a great track on the Jay Electronica album, and now with Lulu, the Conway The Machine EP, from which this track is taken.
Ruste Juxx & Amadeus360 - Still Paper Thin
Ruste Juxx is one of the most active emcees in the underground right now, with releases of his own and feature appearances all over the place. This collabo with Amadeus360 is a delicious trip down memory lane, a great tribute to MC Lyte's classic song "Paper Thin".
Aesop Rock - Rogue Wave
Aesop Rock's 2019 Malibu Ken album wasn't bad, but we are happy to hear he is more back to the Impossible Kid style with this new track.
R.A. The Rugged Man - Wondering (How To Believe) ft. David Myles
R.A. The Rugged Man presents the official music video for "Wondering (How To Believe)", the latest single from his upcoming album All My Heroes Are Dead. Featuring singer David Myles, the song is a heartfelt display of vivid, powerful storytelling, addressing abuse, addiction, and loss.
Not a typical Rugged Man track given the seriousness of the subject matter and the David Myles hook, but top-tier nonetheless.
Run The Jewels - Ooh LA LA
OK, so this is not a proper music video, but it is a track from one of our most anticipated albums of the year – the upcoming RTJ4. With cuts from DJ Premier, and a vocal sample from Greg Nice's contribution to Gang Starr classic "DWYCK" (1992/1994).
Eleven & Jason D - I'm So & So feat Clev Speech & P Dirt
And another 'cheat' – not a real video, but this track is so f***ing great, it deserves your attention – as does Strike Back, the album it's taken from.