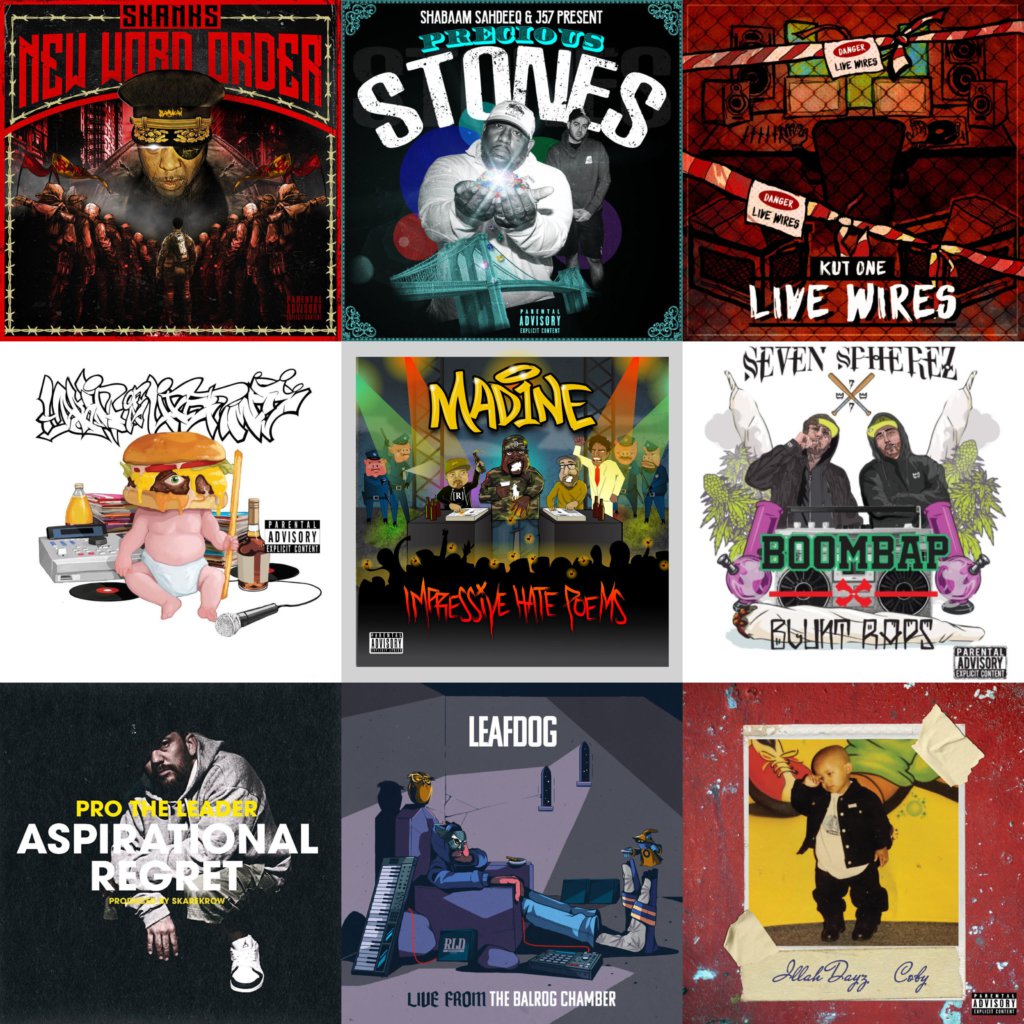 It's not a secret HHGA isn't a big fan of mainstream (t)rap music. Artists like Lil Baby and Lil Uzi Vert dropped commercially successful projects this year, so obviously there are lots of folks out there who like that kind of music – and that's fine: to each his own. For us, trap is like a whole separate genre, Hip Hop adjacent maybe, but different from Hip Hop like neo-soul and R&B are different from Hip Hop. But even if we don't count trap, Hip Hop has never been as diverse as it is today, with artists taking Hip Hop into all kinds of new, exciting directions. Authentic-sounding Hip Hop will forever be one of our go-to subgenres though, that's why we will keep highlighting great boom-bap albums that are ignored by most major (so-called) Hip Hop outlets.
For this list, we have selected nine dope boom-bap albums released in 2020, presented here in no particular order. Some of these albums are better than others, but all are well worth checking out for heads who can't get enough of traditional Hip Hop.
Skanks - New World Order
Self-proclaimed Hip Hop extremist Skanks The Rap Martyr drops a great throwback banger with New World Order. Skanks (co-founding member of the supergroup Bankai Fam) is an emcee's emcee out of Crown Heights, Brooklyn – a Hip Hop purist who has little patience with today's crop of wack mainstream rappers, and who is not concerned with being innovative or commercially appealing.
New World Order features other renowned underground names such as Ruste Juxx, P General, StaHHr, Napoleon Da Legend, Stephen James, Uncle Nick, Tah Murdoc, G-Stats, Buck Oner, Venom, Shatike, Pheno, Tre Eiht, Chez Rocka, Ill Conscious, Forever Chosen, Bobby Stone, and DJ Fastcut – and is unapologetically throwback in everything. Skanks' is a dope emcee whose flow and delivery sound like it's lifted straight from the 90s, and the beats and scratches on New Wolrd Order only add to the Golden Age vibe. Just listen to the last cut "The DJ", and it's easy to understand where Skanks is coming from.
Shabaam Sahdeeq & J57 - Precious Stones
On the same February day mainstreamers like Lil Baby and G Herbo dropped totally bland trap albums, Shabaam Sahdeeq & J57 came out with Precious Stones, to show and prove Hip Hop is still alive and well. Brooklynite Shabaam Sahdeeq has been a mainstay for NYC underground Hip Hop for decades and is internationally recognized for his work on the classic Soundbombing & Lyricist Lounge series on Rawkus Records, and for having been featured alongside Hip Hop icons such as Pharoahe Monch, Mos Def, Eminem, Busta Rhymes, Red Man, Method Man, Kool G Rap, Common, Talib Kwali and others.
For Precious Stones, Shabaam Sahdeeq teamed up with renowned producer J57. With feature appearances from the likes of Ras Kass, Planet Asia, Nems, Casual, and others, Precious Stones is straight boom-bap, with bangers from start to finish. Listen to tracks like "Razor Sharp Vernacular" (feat. Born Unique & Tri State), "Put You Up On Game" (feat. Planet Asia & Casual), "Smoke Screens" (feat. Rim Da Villin & Nems), "Bar Etiquette" (feat. Ras Kass & El Gant), and the title track "Precious Stones" to be reminded about what Hip Hop is all about. Precious Stones would have been even better if a couple of weaker tracks with corny hooks ("Can I Talk To You", "Feel So Good") had been left off, but the album is long enough to allow a few duds. This is our kind of Hip Hop.
Kut One - Live Wires
Australian producer and turntablist Kut One showcases his ear for stomping boom-bap beats with a 90s aesthetic on the short and sweet Live Wires. With vocals by an international roster of underground spitters King Magnetic, Recognize Ali, Daniel Son, Rockness Monsta (Rock of Heltah Skeltah), Supreme Cerebral, Kwest Tha Madd Lad, Ill Conscious, Ciecmate, Thamson P, Freak Tha Monsta, and Miggs Son, this project will satisfy the cravings of all those who can't get enough from traditional boom-bap Hip Hop. Biggest complaint: at 31 minutes of playing time Live Wires barely is over EP-length, a little more substance would have been nice. Standout track: "Chosen One" (feat. Recognize Ali).
DJ M-1 - Habit Of A Lifetime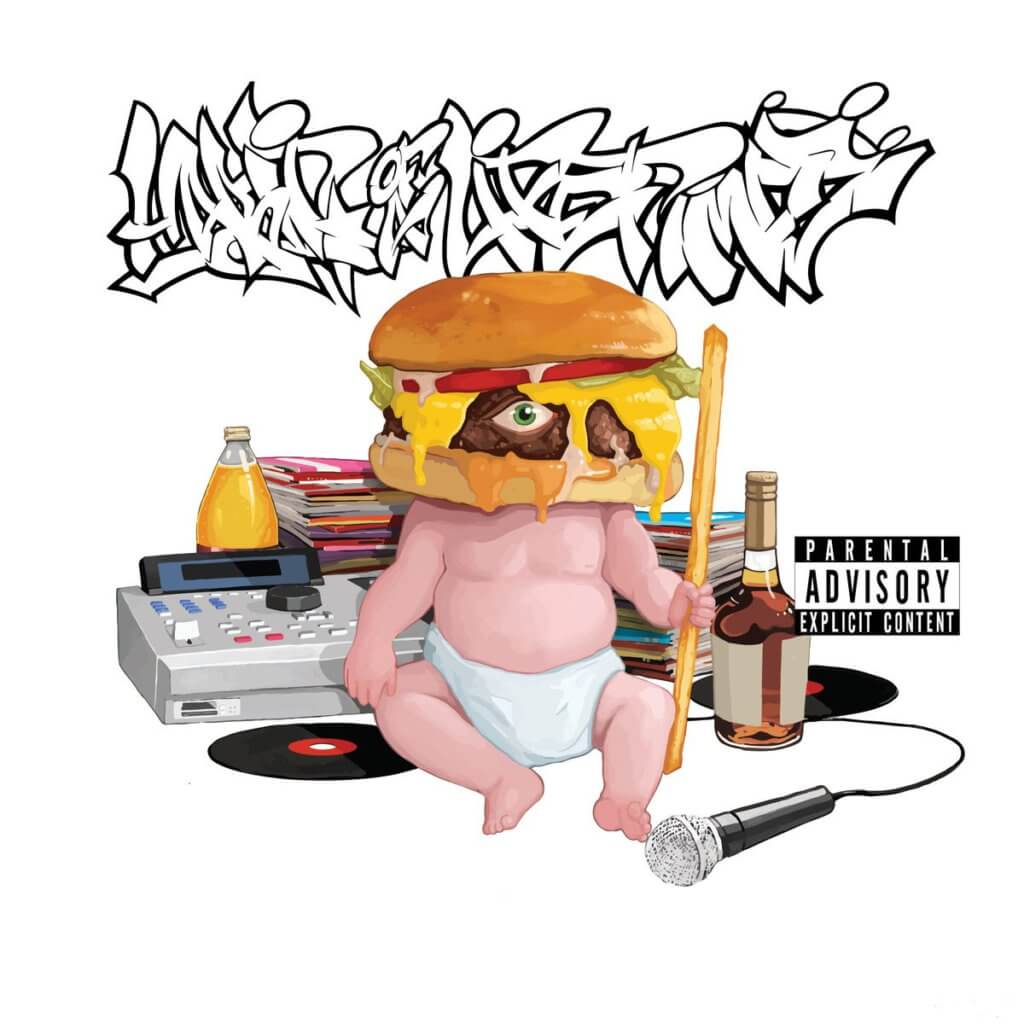 DJ M-1 is a Dublin based DJ & producer who debuted with a great little project titled Choose Your Own Adventure (with Queens, New York MC Starvin B) in 2017. In 2020 he's back with his first full-length: Habit Of A Halftime. With features from Sadat X, Wildelux, G.S. Advance, LMNO, Glad2Mecha, Vakill, Zilla Rocca, Baby Aztro, DJ Eclipse, Gutta Grimey 910, DreamTek, and Tre Eiht Special, Habit Of A Lifetime is a well-rounded album that is a must-listen for those who can't get enough of Golden Age Hip Hop. Dope throwback beats and rhymes all the way through, and a lot of authentic DJ work too – with scratched in vocal samples mostly taken from classic Hip Hop cuts. "How Many Times" (featuring Sadat X and Wildelux) is a prime example of the quality of this project – two emcees flowing over a classic-feeling beat with DJ M-1 cutting up KRS-One and Rakim snippets.
Habit Of A Lifetime will most likely be ignored by all the Hip Hop outlets that are looking for the 2020 projects of Migos and Young Thug and such but for HHGA a project like Habit Of A Lifetime easily trumps all those mainstreamers. Habit Of A Lifetime will not win any originality prices, but it will stay in rotation – and that's all that matters.
MAD1NE - Impressive Hate Poems
Veteran San Antonio emcee Mad1ne (Mad One) and producers Kizer and Ruler Why joined forces to create this melodic boom-bap album. Mad One has a dope throwback flow, and the beats on this project are solid enough to hold attention. Nothing revolutionary or especially memorable about Impressive Hate Poems, but this is a fun listen nonetheless. Beats and bars: Impressive Hate Poems is a well-rounded project made for boom-bap enthusiasts.
Seven Spherez - BoomBap x Blunt Raps
Seven Spherez is a Hip Hop duo from Manchester, UK, consisting of Dr. G and Ghost One. Following the equally excellent Boombap x Baseball Bats and BoomBap x Timbo Boots which were both released in 2019, BoomBap x Blunt Raps is the third and last edition in Seven Spherez's BoomBap Trilogy. Dope rhymes, beats, scratches, and samples – everything about this project exudes late '80s or early '90s Hip Hop, for heads fans nostalgic for the Hip Hop of back in the day, BoomBap x Blunt Raps is a must-have.
Pro The Leader - Aspirational Regret
Topnotch lyricism and intricate wordplay – that's what you can expect from American Poets 2099 and Armor Of Gods emcee Pro The Leader. Aspirational Regret features appearances by other veteran emcees such as Casual of Hieroglyphics, Ras Kass, Planet Asia, Killah Priest & others, and is produced entirely by the renowned Skarekrow. Packed full of clever rhymes and solid boom-bap production, Aspirational Regret is an album perfectly suited for those who value authentic Hip Hop music.
Leaf Dog - Live From The Balrog Chamber
People familiar with the UK Hip Hop scene will know who Leaf Dog is. He is a producer/emcee who has been releasing music since 2005 and who is currently part of Brother Of Stone and The Four Owls (their 2015 album Natural Order was excellent). Live From The Balrog Chamber is Leaf Dog's third solo full-length, after From A Scarecrow's Perspective (2011) and Dyslexic Disciple (2017).
Live From The Balrog Chamber is an 18 track album that features Havoc (Mobb Deep), Grand Puba, Edo G, Cella Dwellas, BVA, Smellington Piff, Thirstin Howl III & The Last Emperor. The album is produced entirely by Leaf Dog himself (except one track which is produced by Fel Sweetenberg). Live From The Balrog Chamber is a great album, with a nice boom-bap throwback vibe all over it, and with enough distinctiveness in the production to separate it from the bunch and to keep it in rotation. Appearances by a bunch of Golden Age legends help of course – the Grand Puba assisted "What You Don't Know", "Legend" with Havoc, "Tryna Keep" with Edo G, and especially "Rhyme Chemist" with Cella Dwellas are obvious highlights. But Leaf Dog can hold his own on the mic too, and most tracks here are fire. If you have never checked out Leaf Dog before now Live From The Balrog Chamber is a great place to start, no doubt you will be checking for his back catalog in no time too.
Illah Dayz - Coby
Detroit emcee Illah Dayz (of Wisemen) dropped an excellent album with Coby, his second solo full-length (following 2015's slept on The Illahstrator). Produced almost entirely by fellow-Wisemen member and Wu-Tang affiliate Bronze Nazareth Coby is one of those timeless feeling albums. Gritty yet soulful boom-bap instrumentals and dense, and thought-provoking lyrics – Bronze Nazareth's production is incredible and Illah Dayz holds it down on the mic. Dope beats, dope bars – what more do you need?