Best Left-Field Hip Hop Albums Of 2020: Alternative Hip Hop, Experimental Hip Hop, Abstract Hip Hop, Industrial Hip Hop, Noise Hip Hop. There's no shortage of labels to stick on acts and albums that color outside the lines of mainstream or traditional Hip Hop. On this list, you will find 25 excellent left-field Hip Hop albums released this year, taken from our lists with The Best Hip Hop Albums Of 2020 and Best Hip Hop Albums Of 2020 – The Honorable Mentions. So here goes, in no particular order: the best left-field Hip Hop albums of 2020. Which is your favorite album from this selection? Are there albums missing that should have been mentioned here? Share your thoughts in the comments!
Aesop Rock – Spirit World Field Guide
Owing to the lyrical and sonic intricacies in his music, Aesop Rock has always been a hate-him or love-him kind of artist. Like him or not, there's no denying he has a couple of classic projects on his name – especially his third album and Definite Jux debut Labor Days (2001) is a monumental album, followed by the equally excellent Bazooka Tooth (2003) and None Shall Pass (2007).
After the folding of Def Jux, Aesop Rock signed with Rhymesayers Entertainment. Spirit World Field Guide is Aesop Rock's eighth full-length solo album and his third one released on Rhymesayers, following the great Skelethon (2012) and The Impossible Kid (2016), one of the best albums released that year.
Spirit World Field Guide arguably is even less easily accessible than some of the other Aesop Rock albums because of its concept: the album acts as a "guide" to a fictional world, following a narrator through an alternate world.
"Be not afraid! Whether you're simply sightseeing, enjoying temporary flights of fancy, or considering a more permanent relocation, the all-new Spirit World Field Guide offers twenty-one insightful chapters of firsthand know-how into the terrain, wildlife, and social customs of our parallel universe. The narrator's vast expertise of multiple global entry points and various modes of inter-dimensional transport informs a rich tapestry of tips, tricks, and tools to unfailingly aid in your ultimate survival. If you are among the countless individuals who find themselves feeling both dead and alive at the same time, the information contained within may serve as an invaluable asset to your journey. Godspeed and good luck."
Those are the words of the album's narrator — an attempt to prepare listeners, both old and new, for a safe entry into the Spirit World."
Enough has been said about the extensiveness of Aesop Rock's vocabulary, but having an extensive vocabulary means nothing if you can't write. Aesop Rock is an incredible writer though – the quality levels of Aesop Rock's lyrics, bar structures, rhyme patterns, and flows are essentially a given at this point. His production skills can not be in doubt either. Both on lyrical and musical levels Spirit World Field Guide is top-tier work, even by Aesop Rock standards. The beats here are unbelievably dynamic and immersive – giving a kind of unsettling vibe and setting the perfect mood as the record progresses. The lyrics are there to dissect and study, but this album can be enjoyed just as easily without diving in that deep – the beats and flows alone are enough to lose yourself in Spirit World Field Guide, the lyrical depth just adds an extra dimension.
Spirit World Field Guide is Aesop Rock STILL at the peak of his game, an incredible feat after 25 years in the game. This album proves it is still possible to create a one-hour album, without features, that manages to captivate from start to finish AND that has lots of replay value. For the short attention span crowd it may all be too much, but those who can deal with lengthy immersive listening experiences will LOVE Spirit World Field Guide.
Marlowe – Marlowe 2
Seattle-based producer L'Orange and North Carolina rapper Solemn Brigham reunite as Marlowe for a second album, straightforwardly titled Marlowe 2. The first Marlowe album was one of the best (and most underappreciated) albums of 2018, Marlowe 2 is just as good, if not better.
L'Orange's trademark psychedelic, dusty, lo-fi, boom-bap instrumentals laced with obscure samples are as strong as ever, and Solemn Brigham has something distinctive that sets him apart from other emcees – an erratic one-of-a-kind type flow that perfectly matches the strange atmosphere set by L'Orange's production. There was nothing wrong with Brigham's performance on Marlowe 1, but he managed to step up his lyrical game for this one, once again coming with tight bars and complex rhyme patterns to go with his unique flow and delivery.
Even more than the first album, Marlowe 2 isn't easy or straightforward. It may take a few spins to truly appreciate, but those willing and able to give this album the attention it deserves will find that Marlowe 2 is one of the best Hip Hop albums of the year.
Ka - Descendants Of Cain
Descendants Of Cain is Brownsville, NYC emcee/producer Ka's seventh studio album, following 2018's Orpheus vs. The Sirens, which he made with producer Animoss. Descendants Of Cain is his first album under the name Ka since 2016's Honor Killed The Samurai. He has been responsible for a couple of the best Hip Hop albums released in the 2010s, especially his last two albums as Ka are low-key classics that have gained him a host of loyal fans.
Following the solid Grief Pedigree (2012), Ka's The Night's Gambit (2013) proved to be a creative step ahead for Ka, evidencing his abilities as a gifted rapper, with beautifully crafted poetic lyrics and clever metaphors – and with the album's narrative centered around chess. Musically more stripped down and minimalistic than Chief Pedigree was, The Night's Gambit was an atmospheric delight that may not have been for everybody, but that was rightfully recognized and appreciated by Hip Hop connoisseurs. The Night's Gambit's follow-up Honor Killed The Samurai (2016) was another chilling barrage of aesthetic metaphors, brooding imagery, and incredible rhyme schemes. Like its predecessor, the conceptual Honor Killed The Samurai was another beautiful project consisting of minimalistic, understated instrumentals that served to give room to Ka's narrative and intricate wordplay.
In 2020 Ka returns with Descendants Of Cain, going for a biblical theme this time around, as is evidenced by the album's title and cover art, and by most of the song titles. Just like on his previous efforts, on Descendants Of Cain there's a strong focus on ambiance and sound, and it may take many listens to really pick up on all Ka's lyrical subtleties and hidden meanings – there's a lot to unpack here. Descendants Of Cain is a delightful hypnotic Hip Hop meditation, with Ka excelling in his own brand of poetical lyricism – his hushed and hoarse tone gelling perfectly with the atmospheric instrumentals (produced by Preservation, Animoss, Roc Marciano, and Ka himself).
Ka is one of those artists who clearly REALLY knows what he's doing, with a perfectly-tuned awareness of how his music works from every angle. Descendants Of Cain is put together and sequenced just RIGHT, and the cover art is gorgeous too. Ka's style is of the take-it-or-leave-it kind, an acquired taste to be sure – but for those with an appreciation of not-run-off-the-mill kind of Hip Hop, Descendants Of Cain is a treasure.
clipping. – Visions Of Bodies Being Burned
Visions Of Bodies Being Burned is a sequel of sorts to Los Angeles trio clipping.'s horrorcore-inspired 2019 album There Existed an Addiction to Blood. Unlike most horror-movie sequels, the second part of this clipping diptych is even better than (the already formidable) first part. More immersive, more intense, more bloodcurdling. The intro Visions of Bodies Being Burned opens with heavy drums and eerie background noises – perfectly setting the tone for the rest of the album: it's clear from the jump this is going to be some heavy sh*t. Even more than Hamilton -star Daveed Diggs' abstract lyrical imagery, it's the haunting soundscapes created by Jonathan Snipes and William Hutson that turn Visions of Bodies Being Burned into the unsettling experience it is.
Like There Existed an Addiction to Blood, Visions of Bodies Being Burned is far from a casual listen, with its genre-bending and its boundary-pushing blend of ambient, industrial, techno, noise, and Hip Hop – the horror-theme adding to the uncanny and hallucinatory vibe that is consistently maintained from start to finish. It's an album to immerse yourself in – the dark and ominous atmosphere is intense to the point it's truly chilling. Listen to this album on good headphones, in the dark, and you'll be in for a disturbing and resonating meditative experience – Visions of Bodies Being Burned will make you feel anxious and uncomfortable but excited and delighted at the same time.
Homeboy Sandman - Don't Feed The Monster
Don't Feed The Monster is the tenth studio album by Queens, New York emcee Homeboy Sandman – his second one on the Mello Music Group label, following the short but sweet Dusty LP (2019). Homeboy Sandman is a well-respected underground emcee, who has been building an impressive body of work ever since he debuted with his Nourishment EP in 2007. His conversational style of rapping is an acquired taste – Homeboy Sandman firmly belongs to a left-field corner of Hip Hop, the same niche contemporaries like Open Mike Eagle and Quelle Chris occupy.
It's Quelle Chris who is responsible for all the production on Don't Feed The Monster, his quirky beats the perfect foil for Homeboy Sandman's intricate thoughts and observations. Don't Feed The Monster offers close to an hour of music: 15 tracks, no useless skits, no filler, and only one guest appearance – by Quelle Chris, of course.
Lots of highlights on Don't Feed The Monster – from the painful memories of the intensely open and personal opening track "Trauma" to the humorous (and for some of us very relatable) "Waiting For My Girl" to cuts like "Extinction", "Stress", "Don't Look Down", "Monument", and "Alone Again" – with this album Homeboy Sandman opens a window to his world to offer a view on his state of being, showing a wide range of emotions and insights on what obviously is a cathartic album for him.
Don't Feed The Monster is a confirmation, and one of Homeboy Sandman's best albums yet.
Serengeti - With Greg From Deerhoof
Bandcamp blurb: "Two of rap and indie-rock's most bountiful imaginations team up: Serengeti (AKA David Cohn) and Greg Saunier first met when Serengeti opened for Deerhoof at Chicago's Bottom Lounge in May 2009. That September, Deerhoof brought WHY? and Serengeti on an east coast tour. In the summer of 2018, Cohn and Saunier were surprised to see each other at the PEOPLE residency in Berlin. One day they coincidentally signed up for the same slot in one of the recording studios facilitated by PEOPLE organizers. Despite having no practice or prearranged plans for the session, they performed the 17-minute "I Got Your Password" to an audience of recording engineer Jonas Verwijnen and a few other PEOPLE musicians sitting in the control room.
In April 2020, Greg asked Jonas for the audio from the session. When Greg sent Serengeti the completed track a few weeks later, they liked it and decided to make a full-length album. While Serengeti wrote lyrics, Greg produced some classical-and-Broadway-inspired tracks. Each time Serengeti received a new track in his inbox, instead of listening to it first, he would immediately press record and record his verses. All the lead vocals for the tracks on this album were done this way."
With Greg From Deerhoof definitely is a piece of music unlike anything else you'll hear this year. It's pretty awesome, though. Not for everybody maybe, but those with an appreciation for live drums, funky and jazzy vibes, and stream-of-consciousness type flows are in for a treat. While the 17-minute improvisation "I Got Your Password" is the inspiration and obvious centerpiece, the compositions Serengeti and Greg Saunier created to turn their synergistic improv piece into a full-length project are all great.
Recommend for musically adventurous Hip Hop fans.
Armand Hammer - Shrines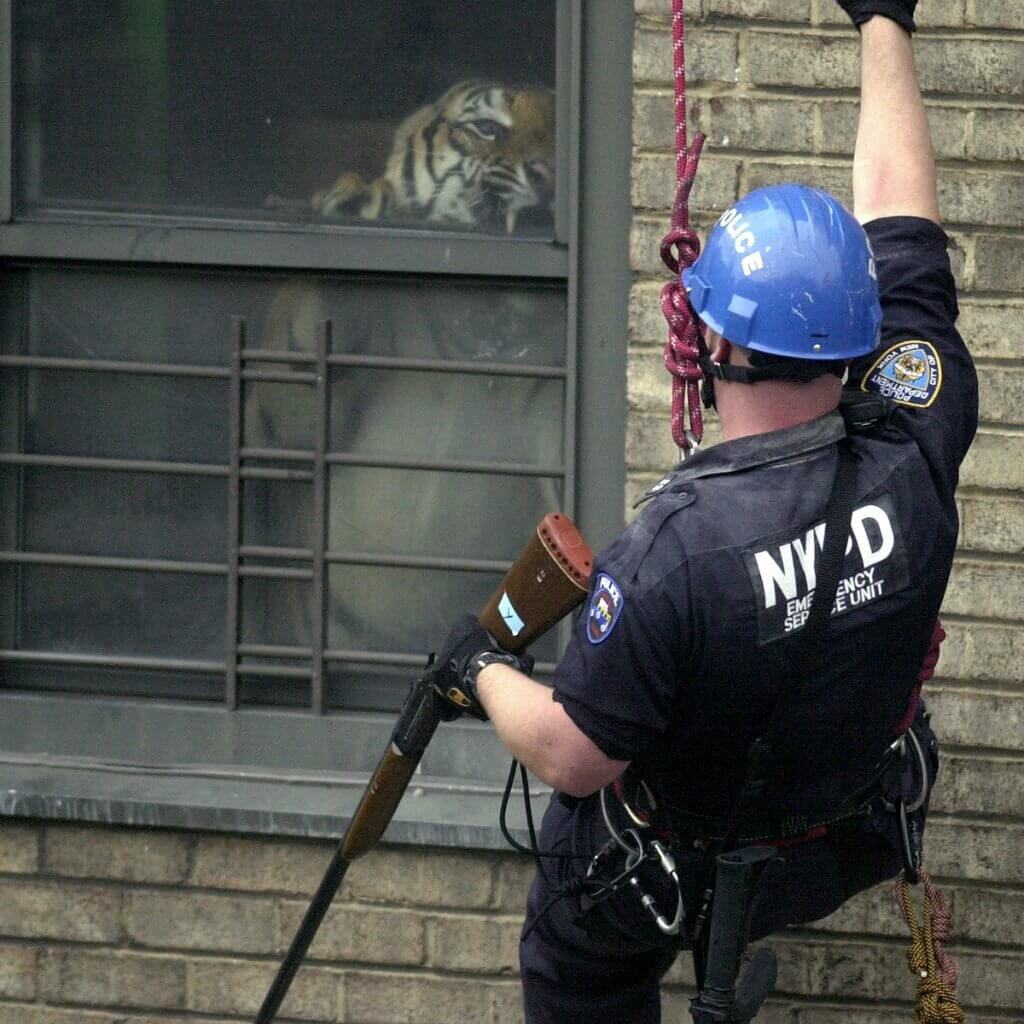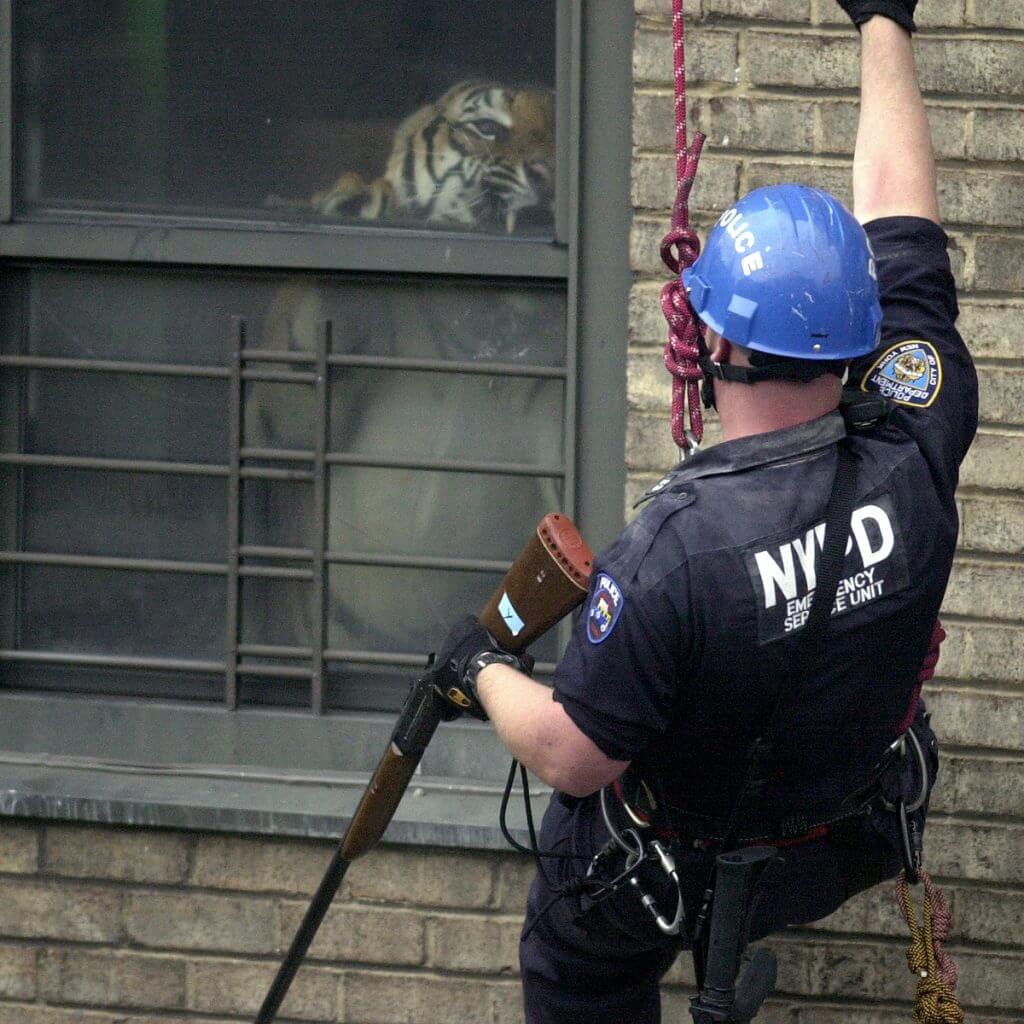 Between RTJ4 and Shrines, the 1st week of June was a great week for political rap and forward-thinking music. Where RTJ4 is hard-hitting and in-your-face, Shrines is more subtle and layered – but no less intelligent and thought-provoking.
Masterfully produced left-field instrumentals serve as claustrophobic backdrops for a barrage of dense and dizzying lyrics. By now we know what to expect from Armand Hammer. There's never anything straightforward in the messages ELUCID and billy woods come with, and on Shrines, their lyrics are as fogged in metaphors and hidden meanings as always – it's going to take a while to dissect these bars.
Shrines has vocal contributions from Quelle Chris, Earl Sweatshirt, Akai Solo, Curly Castro, Pink Siifu, and R.A.P. Ferreira – among others. A stacked features list, but a carefully curated one – none of these artists feel out of place here. They were invited because they are all perfectly in tune with the Armand Hammer aesthetic, and not for marketing purposes as we so often see in more mainstream rap releases (think Wale showing up on a Westside Gunn album, or Ed Sheeran appearing on Eminem's latest).
Shrines is singularly attuned to the grim political and societal realities of 2020. The cover art of the album (which is a real news photo of the subduing of a 425-pound Siberian-Bengal tiger reared and living in a Harlem apartment) is like a micro snapshot of the crazy world we live in, and the image reflects the album's content. This is not a casual listen by any means, but an album that demands – and rewards – close attention and engagement. Shrines is another Armand Hammer master class in left-field Hip Hop, and a superlative continuation of their hot streak.
Boldy James & Sterling Toles - Manger On McNichols
With Manger On McNichols, Detroit emcee Boldy James continues his 2020 winning streak. Only a few months after his collaborative album with top-producer The Alchemist, the excellent The Price Of Tea In China, Boldy James dropped this completely different but equally captivating project.
Manger On McNichols is a release that has been a long time coming, a result of a collaboration with fellow Detroiter and veteran producer Sterling Toles that started over 10 years ago. Much of the lyrics on Manger On McNichols were recorded between 2007 and 2010, with some new lyrics added to a couple of tracks to finish the album for its 2020 release. Sterling Toles provides Boldy James vocals with a selection of experimental jazz instrumentals that make this album much more left-field in sound than James' albums with The Alchemist. Because of its experimental vibe, Manger On McNichols probably is more of an acquired taste and less likely to appeal to wider audiences than TPOTIC and other Boldy James projects do, but it is an intriguing listening experience that deserves attention.
ShrapKnel - ShrapKnel
Curly Castro and PremRock are ShrapKnel, the formal pairing of two longtime friends and artistic collaborators. It was a shared affinity for emcee/producer ELUCID's beats that sparked the ShrapKnel project. Curly Castro and PremRock debuted as a duo with Cobalt, their 2019 debut EP. Just like on Cobalt, the chemistry between Curly Castro and PremRock is evident and the instrumentals here are awesome – all beats were crafted by ELUCID, in conjunction with Backwoodz-affiliated producer Willie Green. ShrapKnel is more accessible than most of his ELUCID's projects are, but the beats are still unorthodox enough to set this project apart from most other Hip Hop releases.
ShrapKnel features guest appearances from Castle, Zilla Rocca, Googie, Henry Canyons, and billy woods, adding to the lyrical variety brought on by PremRock's smooth delivery and Castro's more aggressive growl. The way they trade rhymes is dope as f, the boom-bap rhythms and deliveries fit with ELUCID's more industrial/experimental touches. ShrapKnel's all-around vibe is reminiscent of the best releases in the heyday of DefJux around the turn of the millennium, a great recommendation of course. The album starts off strong with the brilliantly titled "Ghostface Targaryean" and doesn't let up. Don't sleep on ShrapKnel – another gem out of Backwoodz Studioz, one of the most interesting record labels out there today.
Moor Mother & billy woods - BRASS
"BRASS is a collaborative album from experimental musician and poet Moor Mother and the rapper billy woods (½ of Armand Hammer). After working together on Armand Hammer's critically acclaimed 2020 LP Shrines, Moor Mother and woods released the song "Furies" for the Adult Swim single series in July. A whirl of interweaving allegories spun over producer Willie Green's hypnotic flip of a Sons of Kmet sample, "Furies" was the burning arrow that both artists followed, the first crack of thunder in a blackening sky.
BRASS sees both artists joined by an eclectic array of friends, family, and legends- in some cases all three. John Forte, ELUCID, Amirtha Kidambi, Franklin James Fisher (Algiers), Mach Hommy, Imani Robinson, Wolf Weston (Saint Mela), Navy Blue, and Fielded all lend their voices to the project. Production by The Alchemist, Preservation, Moor Mother, Olof Melander, Child Actor, Navy Blue, Messiah Muzik, Steel Tipped Dove, and Willie Green.
BRASS is a moment where two great artists in their own right tap into a new frequency together. Even for those familiar with both it's an unexpected sound that, once heard, could never have been otherwise. It is both ethereal and utilitarian, timeless and timeworn. A cast-iron pot propped over a fire in the dark. A tropical beach shimmering with broken glass."
This Bandcamp blurb tells the story of this project. BRASS is one of the most intriguing listens of the year, a great feat in a year with A LOT of excellent 'left-field' Hip Hop albums. Moor Mother and billy woods have great chemistry together, and they recruited exactly the right artists for the guest spots on this project.
For people who like their Hip Hop experimental and unique BRASS will be a quick favorite. For others, BRASS may be somewhat of a slow-burner, a project though that will reward multiple listenings. BRASS is a great album.
Download BRASS
Cambatta - LSD: Lunar Solar Duality
From the album's Bandcamp blurb:
LSD (lysergic acid diethylamide), is a hallucinogenic chemical compound, first synthesized in 1938. Upon its introduction into popular culture in the 1960's it quickly shifted not only the mind of the artist but also the person experiencing the art.
Hip Hop artist Cambatta is known for his thought-provoking and psychedelic-inspired rhyme techniques. His newest album entitled, "LSD", is just as the title insinuates- mind-bending and consciousness-shifting. This album was created throughout four years of psychedelic usage and reality-based life-changing events. This process has made the album a duality of both real and surreal interpretations. The album's title is also an acronym for "Lunar Solar Duality," alluding to the album's dichotomy of light and dark conceptualizations and countless other polarizing and multi-entendre-latent compositions. Whether you have ever experienced LSD or not, this album is sure to impact anyone receptive and perceptive enough to take a dose.
The album sure is a trip, a total mindf*ck. LSD offers well over an hour of dense lyricism, full of Cambata's musings on subjects like life, history, science, religion, spirituality, mythology, existentialism, culture, and drug(ab)use. The beats on LSD are fine, and Cambatta's voice and flow are a pleasure to listen to – but what makes this album something truly special are Cambatta's deep lyrics. His varied lyrical approaches and themes are fascinating – this album can't really be compared with anything you have heard before. In sound, style, and content Cambatta is like an amalgamation of Killah Priest, Kool Keith, Canibus, Cage, and Immortal Technique – making Lunar Solar Duality a truly unique experience, an album that invites multiple listenings to really try to appreciate what's going on.
Preservation - Eastern Medicine, Western Illness
DJ Preservation's Eastern Medicine, Western Illness was produced and arranged in Hong Kong, and you can sense the oriental influences in the music – because of Preservation's s intricate sampling there's definitely a Chinese vibe going on. Preservation recruited an impressive roster of emcees to do justice to his beats, most of whom he did production work for in the past – including Roc Marciano, Your Old Droog, Ka, A.G. (of D.I.T.C.), Mach-Hommy, Quelle Chris, Navy Blue, and billy woods – all names to get excited about of course.
"Dragon Town" the album's first track with YoungQueenz turns out to be an unlucky choice for an album opener because it's the weakest track by far (due to YoungQueenz's 'unconventional' style) – after that one, it's all pretty great, especially the second half of the tracklist is AWESOME. Standouts include "Children Of Never" with A.G., "Medicine Drawer" with Roc Marci, "Correspondence" with Your Old Droog and Mach-Hommy, "Lemon Rinds" with billy woods, and the superlative "A Cure For The Common" with Ka.
Eastern Medicine, Western Illness is a fantastic album (despite its shaky start), an album that deserves attention – and a must for people already familiar with Preservation's production work or with the featured artists' music.
Quelle Chris & Chris Keys - Innocent Country 2
If there's one constant in Quelle Chris' body of work it's that he never does the same thing twice. Unlike many other artists who make the same album over and over again, this eclectic Detroit rapper never takes the easy way out, instead, he is always looking for new directions. Innocent Country 2 is sort of a sequel to 2015's Innocent Country. A sequel, but a direct opposite as well – where the initial Innocent Country focused on isolation, pessimism, and the notion of finding peace within pain, this one offers soothing light in a bleak timeline: a hopeful record in a hopeless moment, precisely when it's needed most.
Innocent Country 2 is a jazzy and warm listening experience with smooth synth loops over dusty drums crafted by Chris Keys, but it's not breezy – there's always depth to Quelle Chris's lyrical musings. And although this album is not as deep or important as last year's Guns (on which Quelle Chris addressed the impact of gun violence on American society in particular and the uncertainties of living in modern America in general), Innocent Country 2 is an album with substance as well.
Standout tracks include "Living Happy", "Graphic Bleeds Out", "Black Twitter", "Grease From The Elbows" (featuring billy woods and Pink Siifu), "Sacred Safe", with a show-stealing verse from Homeboy Sandman – but Innocent Country 2's strength is its consistency, it's a perfect album to keep on rotation in the summertime (and in other seasons too, for that matter).
Small Bills - Don't Play It Straight
Don't Play It Straight is the debut LP from Small Bills, a collaboration between NY rapper ELUCID and Michigan producer/multi-instrumentalist The Lasso. Created over the course of a year between Detroit and NY, the duo creates a singular fusion of art rap and punk-funk. Don't Play It Straight features contributions from ELUCID's Armand Hammer partner billy woods, as well as from Koncept Jack$on, Moor Mother, Fielded, .k, and Nosaj.
Those familiar with ELUCID's other work will know there's never anything standard or run-off-the-mill about his approach to Hip Hop, the involvement of The Lasso pretty much ensures Don't Play It Straight is a project for a niche-audience. Bold and daring in its musicality, Don't Play It Straight may bear some similarities in its experimentalism with what ELUCID's been doing with billy woods as Armand Hammer, but ultimately it's very much its own beast. The Lasso's instrumentals create an even more psychedelic vibe than what we are used to with ELUCID's other works, the sounds are more disordered too – but it works.
Not a typical release for the label, Don't Play It Straight is another Mello Music Group winner nonetheless. It also is the second winner for ELUCID this year, on par with the Armand Hammer Shrines album. Let's hope this collaborative project is not a one-off, and that we will see more Small Bills music in the future.
Killah Priest - Rocket To Nebula
Wu-Tang Clan affiliate and Sunz Of Man member Killah Priest is one of the most prolific artists in Hip Hop. Artists like Kool Keith, Tech N9Ne, and K-Rino may have more releases on their names, but it's not easy to keep up with Killah Priest's release schedule either, taking into account all his solo-projects, group and collaboration efforts, and his endless list of feature appearances.
Heavy Mental (1998), Elizabeth (2009), The Psychic World of Walter Reed (2013), and Planet Of The Gods (2015) are the standouts in Killah Priest's catalog, and Rocket To Nebula rivals these titles in terms of quality – even if it's even more of an acquired taste than most of his other releases.
On Rocket To Nebula we get the same kind of stream-of-consciousness type lyricism we know from Killah Priest, filled with his characteristic metaphysical musings and slick subliminals. Musically, this album differs from his best works though – there are no bass-heavy beats to be found here, in fact, the whole album is practically drumless. The instrumentals on Rocket To Nebula are very low-key, offering dream-like backdrops to Killah Priest lyrics, which makes listening to this album something akin to a meditative experience.
This may not be an easy album to get into, and it certainly demands real attention – but if you're willing to take an hour and 15 minutes to tune out everything else going on around you Rocket To Nebula will be sure to satisfy.
Pink Siifu & Fly Anakin - FlySiifu's
FlySiifu's is different and interesting. The album is built around the concept of two stoners ineffectively running a record store (as is evidenced by unhappy customers' voicemail message skits). Despite the difference in the sound of their past few individual releases, Pink Siifu and Fly Anakin really show great chemistry on FlySiifu's – arguably favoring Fly Anakin's sounds more than Pink Siifu's (especially when compared with his latest – the angry punk-rap of NEGRO). FlySiifu's is more chilled out, almost loungy, but the style fits the concept and the stream-of-consciousness type lyrics. FlySiifu's = abstract underground Hip Hop at its finest.
Open Mike Eagle - Anime, Trauma & Divorce
"It's October, and I'm tired."
Anime, Trauma & Divorce is Los Angeles artist Open Mike Eagle's most personal project to date. The album details what Open Mike Eagle referred to as the worst year of his life. The album tackles a range of Mike's struggles in life such as divorcing his wife, and the discomfort and trauma he experienced while trying to deal with these upheavals in his life.
Anime, Trauma & Divorce is not on par with Open Mike Eagle's best albums Dark Comedy (2014) and Brick Body Kids Still Daydream (2017), but it's an interesting album nonetheless. Enjoyability will largely depend on relatability, especially people who find themselves in similar states of being will feel this one, on others it may have less impact. Seeing as 2020 has been a rough year for humanity as a whole, Anime, Trauma & Divorce feels like an album for today, even if personal experiences of individual listeners may not correlate exactly with Open Mike Eagle's struggles. One of Open Mike Eagle's strengths has always been being introspective while simultaneously keeping the vibe light-hearted in a way – Anime, Trauma & Divorce is a typical Open Mike Eagle album in that regard, even if his usual sense of humor does not coat up the sadness of some of these lyrics so easily.
At 34 minutes the album is on the short side, somehow it feels like the dense subject matter warranted further exploration. Also, a couple of weaker songs (like "Headass" and "Fifteen Twenty Feet Ocean Nah") bring down the album some, on a 34-minute record no duds are allowed. Lots of strong songs though to offset the weak spots – "Bucciarati", "Asa's Bop", "The Edge Of New Clothes", "The Black Mirror Episode", "WTF Is Self Care" – all great.
Long-time Open Mike Eagle fans will no doubt love this project, but Anime, Trauma & Divorce will most likely not gain him many new followers – people new to Open Mike Eagle should probably start with Dark Comedy. Even if it is not his best, Anime, Trauma & Divorce is an entertaining record and a solid addition to Open Mike Eagle's body of work.
Moemaw Naedon - Dr. Deadhorse
Moemaw Naedon is a Pittsburgh-based MC and producer. His production work is sample-heavy and dusty while his rhymes are poetic with a flair for the abstract. Dr. Deadhorse is about as underground as it gets. Who is going to pick up on this album? Popularity is all about marketing and hype these days, without a strong social media presence and/or major cooperation backing your music will not get much exposure. Gradually developing a loyal cult-following is a way to go, and Moemaw Naedon is an artist who deserves such a following. Dr. Deadhorse is an album deserving of more attention than it will get, anyway. The wordplay is solid and the beats are GREAT. Don't sleep on Moemaw Naedon's Dr. Deadhorse.
Kool Keith & Thetan - Space Goretex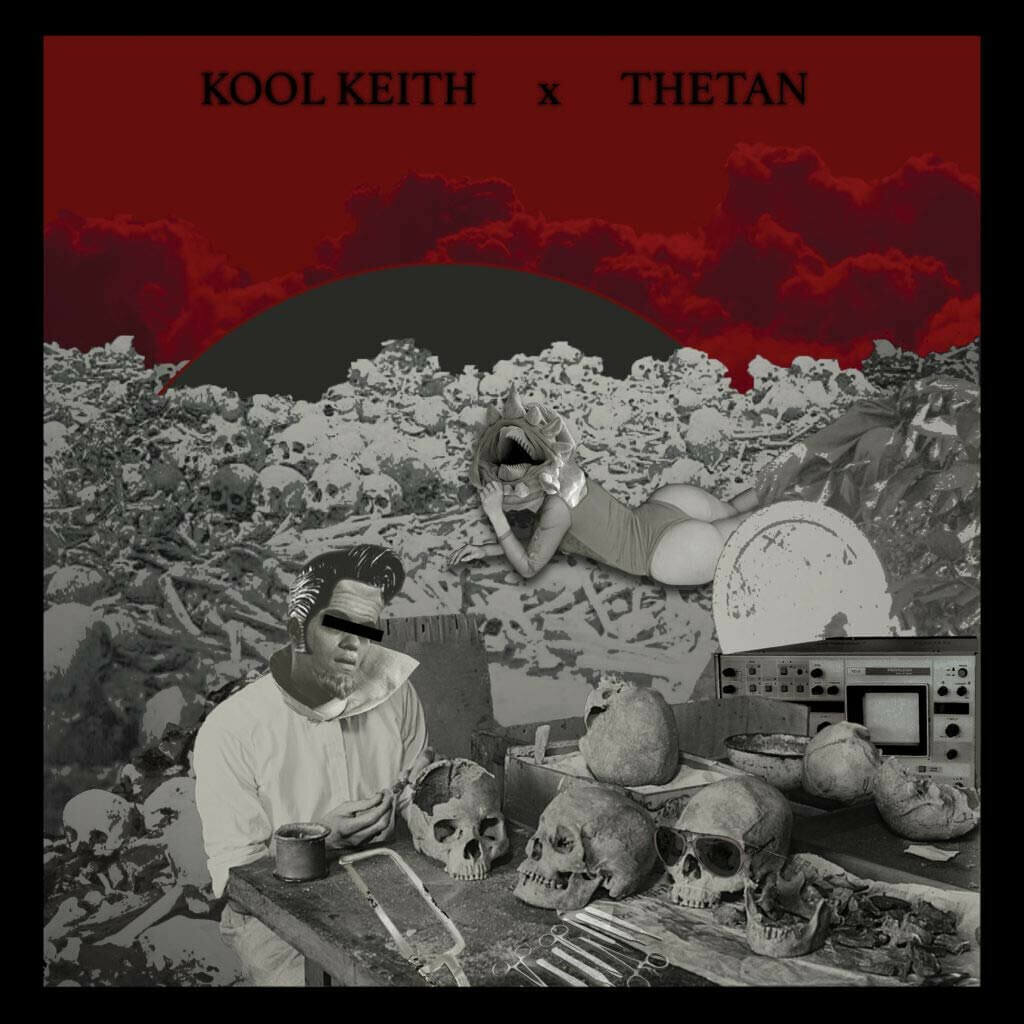 Space Goretex is a strange beast, weird even by Kool Keith's standards. Because Kool Keith's output has been so prodigious over the decades, and because quality control has never been one of his main concerns, people sometimes forget he has a bunch of classics and near-classics on his name. Critical Beatdown (1988, with Ultramagnetic MCs) and Dr. Octagonecologyst (1996) are absolute classics, First Come First Served (1999), The Original SoundTrack Album of Project Polaroid (2006, with TomC3 as Project Polaroid) (2006), Sex Style: The Un-Released Archives (2007) and the vastly underrated Feature Magnetic (2016) come close enough.
Space Goretex may not be quite on that level, but it is better than the projects he dropped last year, and it is his best since the excellent Moosebumps: An Exploration Into Modern Day Horripilation (2018). Kool Keith has always been at his best when working with one producer (like Kutmaster Kurt or Dan The Automator), and for Space Goretex Kool Keith successfully teamed up with Nashville power-violence duo THETAN (Chad L'Plattenier and Dan Emery). Their dark and unnerving instrumentation is primarily comprised of bass, drums, theremin, and synths – and it gels well with Kool Keith's trademark bizarre lyrics. On Space Goretex Kool Keith for the first time combines the experiences of some of his primary personas – Dr. Octagon, Dr. Dooom, and Black Elvis – which makes for some interesting lyrics ("Complicated Trip" is is a good case in point.)
Space Goretex also features input from Casey Orr of the heavy metal band GWAR and the punk band X-Cops, Gangsta Boo of the pioneering trap group Three 6 Mafia, Blag Dahlia of the punk band Dwarves, Ashley Mae of the dark country outfit Lost Dog Street Band and DJ Black Cat Sylvester. Especially notable is the feature by veteran rapper Blowfly (known for being an early pioneer of explicit sexual rap) who makes an appearance as his character "Uncle Tom Bowker."
As is always the case with Kool Keith's work, appreciation for this project will depend on the listeners' familiarity with and tolerance for Kool Keith. If you can't get with Kool Keith you may hate Space Goretex, but HHGA loves Kool Keith, and we like this album – which we think is definitely part of the better half of his vast discography.
R.A.P. Ferreira - Purple Moonlight Pages
Purple Moonlight Pages is the first album by R.A.P. Ferreira, the new moniker of the artist formerly known as Milo. Little over a year ago Milo officially retired that stage name to continue as R.A.P. Ferreira – which is a play on his real-life name: Rory Allen Phillip Ferreira (and on Rhythm And Poetry Ferreira). The name-change also seems to come with a bit of an artistic change, and whether that change works for you or not is – as always – a matter of taste.
Purple Moonlight Pages offers a slice of delicious poetic jazz-rap, produced and expertly engineered by The Jefferson Park Boys (the production team consisting of beatmaker Kenny Segal, and musicians Mike Parvizi and Aaron Carmack). The album feels more accessible than R.A.P. Ferreira's work when he was still operating as Milo. Milo's best work who told you to think​?​?​!​!​?​!​?​!​?​!, was sonically denser and more abstract – but that's not to say Purple Moonlight Pages is a straightforward or an easy listen.
Just like R.A.P. Ferreira's earlier work Purple Moonlight Pages definitely is different than the general rap fare – R.A.P. Ferreira's slam-poetry/spoken-word type flow and stream-of-consciousness type lyrics demand full attention. Musically Purple Moonlight Pages is a delight – with songs full of live instrumentation, obviously heavily jazz-inspired. The involvement of Kenny Segal is a mark of quality, everything he has touched recently has turned to proverbial gold – most notably (but not limited to) his collaboration with NYC underground giant billy woods on Hiding Places, one of the best albums of 2019.
With the assistance of The Jefferson Park Boys, R.A.P. Ferreira reinvented his sound and turned it into a new type of excellence. Purple Moonlight Pages is a rich and rewarding listening experience, at the least for those willing to invest the time and attention this great album deserves.
Clbrks & Morriarchi - Microwave Cooking 2000
This is one of the strongest Hip Hop albums to come from the UK this year. London-based emcee CLBRKS and Sheffield beat-maker/producer Morriarchi show off their chemistry with their first collaborative LP: Microwave Cooking 2000. Not riding the UK grime-wave, CLBRKS and Morriarchi opt for a more experimental sound – the instrumentals are smooth and chilled-out, the lyrics creative and fun.
Released on Blah Records – one of the UK's most exciting and consistent independent record labels – Microwave Cooking 2000 comes with a strong Blah contingent in tow, with CL and Morri bringing in Bisk, Capriisun, Lee, Conrad Mundy, and Obijuan for finely selected contributions, resulting in a heady blend of styles but each complemented perfectly thanks to Morriarchi's as ever on-point production.
Dug & Happy Tooth - The Signal Glittering Inside The Storm
The Signal Glittering Inside The Storm is an enjoyable portion of alternative Hip Hop by occasional duo Dug and Happy Tooth, two artists hailing from Columbus, Ohio. For The Signal Glittering Inside The Storm, they teamed up with producer Evaridae. Evaridae's eclectic production and Dug and Happy Tooth's lyrical styles will be too left-field for those inclined to a more traditional Hip Hop sound, but listeners into alternative Hip Hop with some emo-rock influences mixed in will find a lot to enjoy on The Signal Glittering Inside The Storm.
Onoe Caponoe - Invisible War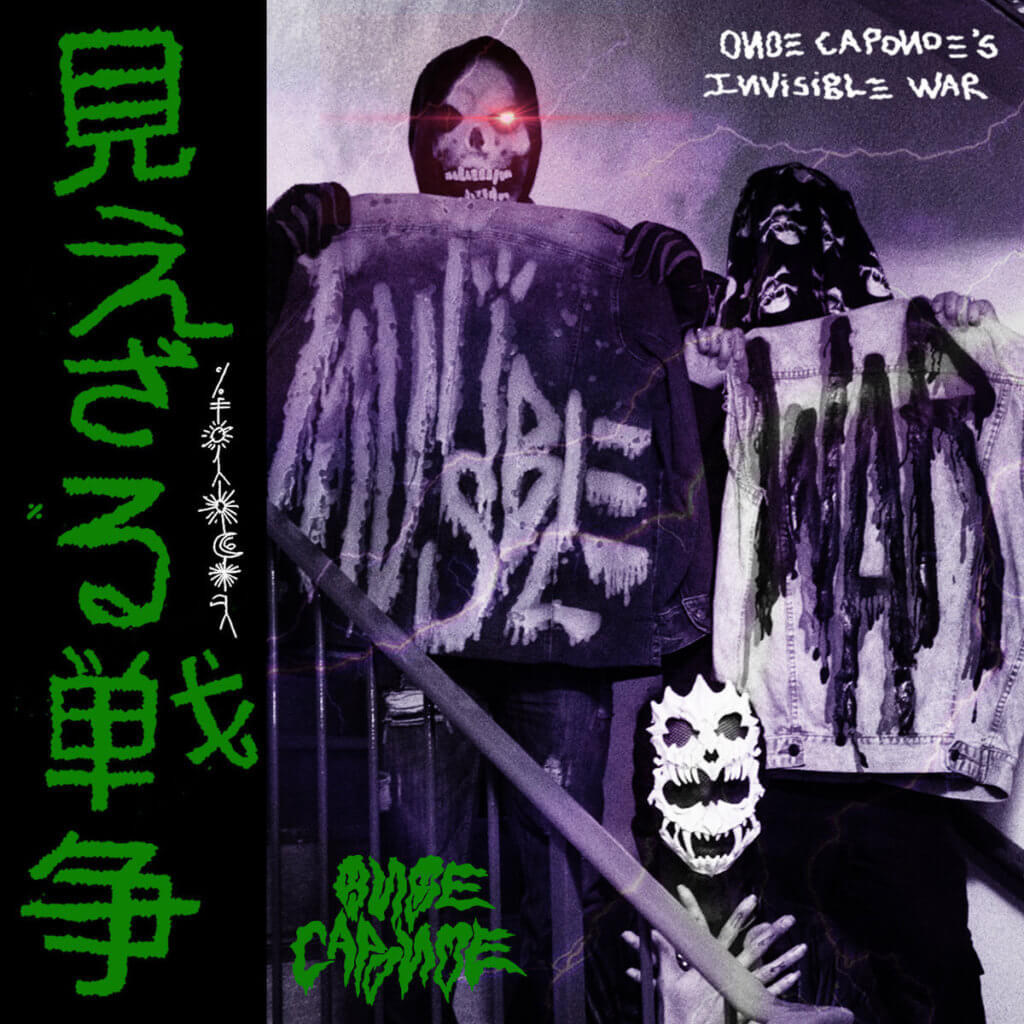 Onoe Caponoe, a respected veteran of London's Hip Hop underground, has become one of the most progressive and exciting – as well as dividing – artists in the London music scene. On the heels of 2019's career-defining Surf or Die, the UK rapper comes through with another thoroughly interesting release.
His fourth full-length Invisible War is a wonderfully weird experience, an unsettling journey through Onoe Caponoe's universe. The beautifully constructed dark instrumentation with menacing beats, shrieking synths, and spacey vibes complement the rhymes beautifully – there's an unhinged quality to Onoe Caponoe's lyrics and as well as to his delivery and quick-fire flows, reminiscent of Danny Brown at times.
Neither a straightforward nor an easy listen, Invisible War is a project to get immersed in – to be taken in like a book or movie. Don't listen to snippets or a few songs randomly, but let it run from start to finish and pay attention too – you might just like the experience.
Touch & DJ Matto - Electric Sheep
From the Bandcamp blurb: "With his new album, Electric Sheep, Touch explores artificial intelligence, cyberpunk, futurism, and humanity as a social animal. Continuing his collaborations with a single producer, the Edmonton MC is joined by DJ Matto, previously of Vancouver, BC, horrorcore rap duo Hidden Fortress and currently holding down multiple MCs as DJ and producer in Fukuoka, Japan. DJ Matto's crisp mix of heavy drums, deep bass, and haunting synth sounds as if the music is emanating from an off-world colony and beamed directly into your mind, while the choruses consist primarily of his consummate cuts, a constant reminder that the album is also an exploration of Hip Hop.
It begins with beats, bars, and cuts, but Touch's detailed character studies and his nuanced story further enable the listener to explore as far as their imagination will take them… into the dystopian universe of Electric Sheep."
Yes. This is a great album. DJ Matto instrumentals fit the futuristic theme from start to finish and the beats are different enough to give this project its own unique vibe. Touch's lyrics – he comes off like a hybrid of Aesop Rock, Kool Keith, and billy woods – manage to sustain interest too: Electric Sheep is one of the finest Hip Hop albums to come out of Canada this year.
Iceberg Theory & August Fanon - The Cabal​(​a)
Left-field underground Hip Hop at its finest. As with all collaborative projects Iceberg Theory and August Fannon dropped this year (this is their fifth release of the year), The Cabal​(​a) is an acquired taste without a doubt. Iceberg Theory may not be the best emcee to ever pick up the mic when it comes to flow and delivery, but his intelligent and intricate wordplay makes up for any possible technical shortcomings. August Fannon crafted a collection of fine instrumentals to support Iceberg Theory's rhymes, with jazzy keys and piano loops over for the most part dope beats, the abstract-sounding production a perfect match with the esoteric lyricism.
Those looking for trendy, catchy Hip Hop will have to take a pass, but those who appreciate dirty beats, murky jazz sounds, and meditative lyricism will find plenty to enjoy here.