100 Essential Experimental Hip Hop Albums: [Experimental Hip Hop or Alternative Hip Hop is a style of Hip Hop music that refers to the experimental use of eccentric Hip Hop elements (usually including but not limited to abstract lyrics) in ways unconventional and considered unsuitable for traditional Hip Hop music. While Abstract Hip Hop and Experimental Hip Hop are sometimes used interchangeably, Abstract Hip Hop differs from Experimental Hip Hop in that the former refers directly to Hip Hop music with abstract lyrical content, while Experimental Hip Hop is an umbrella term for Hip Hop music that embodies elements of the genre that fall outside the constraints of convention. Experimental Hip Hop is often electronically produced and sometimes incorporates elements of other sub-genres such as Jazz Rap, Turntablism, Rap Rock, Plunderphonics, Lo-Fi Hip Hop, and Industrial Hip Hop.]
Now, what exactly makes a Hip Hop record experimental or alternative is open for discussion of course. For this piece, we've used a wide net: the albums on this list are all progressive, innovative, creative, and unique – the one thing they have in common is that they are all DIFFERENT from the Hip Hop norm. Some of the albums listed here are firmly rooted in the industrial/noise corner of Hip Hop, others are more neo-soul, jazz, or rock-flavored.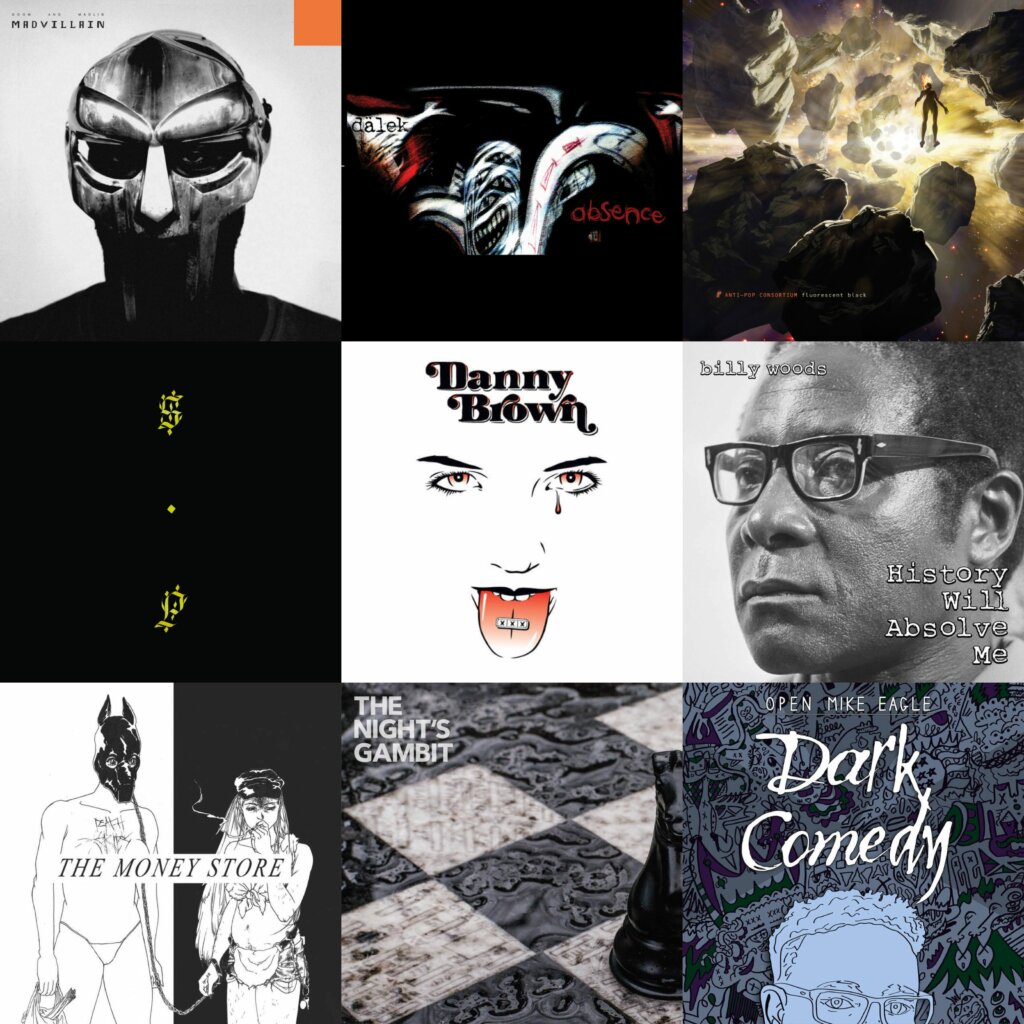 We could have included most of the albums released in the mid-1980s – it can be argued that when Hip Hop was in its infancy EVERY record released was experimental. Certainly genre-defining albums like Run DMC's Run DMC, LL Cool J's Radio, Beastie Boys' Licensed To Ill, Eric B & Rakim's Paid In Full, Boogie Down Productions' Criminal Minded, Public Enemy's Yo! Bum Rush The Show and It Takes A Nation Of Millions To Hold Us Back, Ultramagnetic MCs' Critical Beatdown, NWA's Straight Outta Compton, and many others were highly innovative and therefore experimental. To avoid having to list them all, we will give them a mention and a salute of respect in this intro, and start a little later on Hip Hop's timeline with this selection of experimental Hip Hop albums.
So, let's get into it – in this piece, you will find 100 experimental Hip Hop albums we consider to be essential representative works for the subgenre, not ranked but presented in release year order. What do YOU think? Are your favorite experimental Hip Hop albums here? Do you think any essential records are missing? Share your thoughts in the comments!