Detroit rapper Danny Brown embraced his unique hood/hipster personality, took full advantage of social media, and – fueled by his experiences with drug dealing and drug-taking, as well as a wicked sense of humor – has delivered some of the most vivid, vulgar, and side-splitting rhymes of his era.
Danny Brown is one of our favorite artists of the 2010s. Described by MTV as "one of rap's most unique figures in recent memory", the Detroit emcee dropped 5 strong projects in the 2010s, which you will find ranked here. Agree? Disagree? Discuss!
5. The Hybrid (2010)
Following four volumes of his Detroit State of Mind mixtape series and other free self-released mixtapes, Danny Brown released his first solo studio album The Hybrid in 2010. Many people consider Danny Brown's breakout project X X X his proper debut, meaning this project is very slept on, even by many Danny Brown fans. Even if The Hybrid is not as polished as the albums that would follow it, it still is pretty good. One of Danny Brown's unique talents is he is able to say truly offensive and outrageous things in such a way that's so funny it makes it all acceptable. The Hybrid sounds a bit 'mixtape-ish' – some instrumentals are a bit rough around the edges and Danny Brown's delivery is not always as accomplished as on later records, but The Hybrid, for the most part, offers strong beats, strong lyrics, and Danny Brown's typical juxtaposition between heavy subject matter, vulgar lyrics and fun rhymes about parties and bullsh*t. Don't sleep on The Hybrid. 7.5/10
4. uknowhatimsayin¿ (2019)
uknowhatimsayin¿ definitely is Danny Brown's most traditional-sounding project since his 2010 debut The Hybrid. Compared to the dark insanity of Atrocity Exhibition, this album offers more fun and lightheartedness. It's probably just as well he didn't try to make another Atrocity Exhibition, but instead went for a completely different direction, signaling personal growth and him being in a better place as a person. The opening track "Change Up" works perfectly as the intro to this project, with Danny immediately telling us that this will not be something that we heard from him before. Other standouts include "Theme Song", "Dirty Laundry", "Best Life" and "Negro Spiritual" (with JPEGMAFIA on the hook).
uknowhatimsayin¿ has 11 tracks (thankfully no irritants like skits and interludes) and the average track length is barely 3 minutes – catering to today's short-attention-span crowd. This means the album's playing time is just a couple of minutes over half an hour – just over EP-length and too short for a proper album, really. On such a short an album EVERYTHING has to hit – and there are a few weaker songs here, like "Belly Of The Beast" and the title track for instance, which are let down by the presence on the chorus of English Nigerian singer Obongjaya.
That said: uknowhatimsayin¿ really is a powerful project, expertly produced by the likes of Cartie Curt, Flying Lotus, JPEGMAFIA, Paul White, Playa Haze, Standing on the Corner, Thundercat and most notably ATCQ's frontman Q-Tip. Q-Tip also executive produced the album, and his mark of quality is all over this album. In the long run, uknowhatimsayin¿ may not go and equal the masterpiece status of Atrocity Exhibition, but it is an instantly enjoyable listen – thanks to Danny Brown's irresistible appeal and Q-Tip's soundscapes. 7.5/10
3. Old (2013)
Old is Danny Brown's third studio album, and it's another intriguing presentation – a great lead-up to what would turn out to be Danny Brown's masterpiece: Athrocity Exhibtion (2016). But Old is more than just a stepping stone, it proved once more Danny Brown was one the most unique personalities in 2010s Hip Hop. Old is an album with very different sides, it's like it is two albums in one. The first half one of the 19 tracks shows us an introspective and more serious Danny Brown who touches upon all kinds of his craziness and personal turmoil, the second half is not much less crazy in subject matter but is a little more lighthearted, consisting more of club bangers. Both sides work – Old manages to stay cohesive despite the diversity presented, and overall it's a good showcase of the different sides and the crazy, messy life of Danny Brown. Old will not be for everyone, but all those who allow themselves to be captured by Danny Brown's wild personality, unique lyrical style, and left-field production choices will consider Old a treasure. 8.5/10
2. X X X (2011)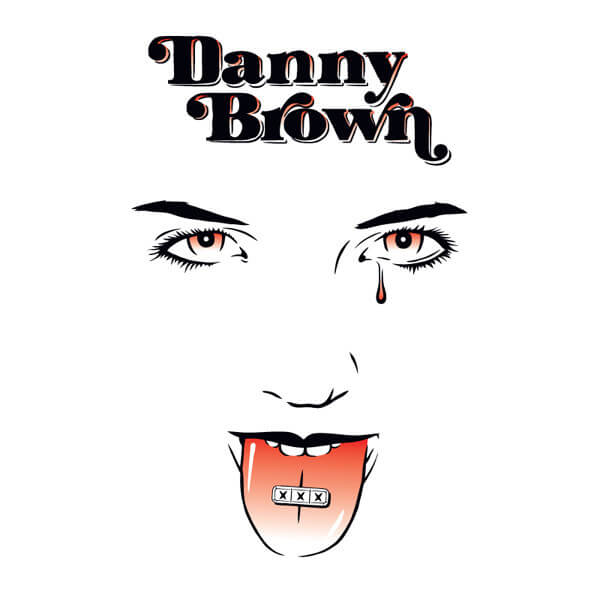 Danny Brown's second studio album X X X is an understated masterpiece from one of Detroit's most fascinating artists of the past decade, reminiscent of someone like ODB with his out of this world personality, his energy, and his off-the-wall craziness level. X X X is experimental and dark, but funny and lighthearted at the same time, with Danny Brown's unique sound and some of the craziest but also some of the funniest lines ever.
Drugs and the role they play in Danny Brown's life is the main theme of the album. During the first half of the album, Danny Brown is on an incredible high talking about the most outlandish things, on the second half the album transitions into a less intense and more serious tone, telling more serious stories about Danny Brown's life experiences where drugs and violence take over his world. X X X is a great album that solidifies Danny Brown's status as one of the Hip Hop game's most exciting newcomers of the 2010s. 9/10
1. Atrocity Exhibition (2016)
Danny Brown hit a home run with Atrocity Exhibition. This album feels like a feverish nightmare that gives us a glimpse of the insanity, depression, and hedonism of the Danny Brown psyche. This album is deep and dark and at times over the top, both sonically and lyrically. Production is superb though, and even those who gravitate towards more traditional styles will find a lot to like here. Danny Brown's crazy flows range in style from hype and energetic to somber and reflective – but the content always is thought-provoking. You can call it experimental, or crazy, or weird – but be sure to call it a classic too: Atrocity Exhibition is Danny Brown's best album. 9.5/10