May 2021 Round-Up: The 9 Best Hip Hop Albums Of The Month: For this piece, we selected our 9 favorite Hip Hop albums released this May. Did we miss any albums you feel need to be mentioned? Let us know in the comments!
Also read: The Best Hip Hop Albums Of 2021
1. McKinley Dixon - For My Mama And Anyone Who Look Like Her
From Richmond, Virginia-based rapper McKinley Dixon's Bandcamp page: [For My Mama And Anyone Who Look Like Her, McKinley Dixon's debut album on Spacebomb, is the culmination of a journey where heartbreak and introspection challenged him to adopt new ways of communicating physically and mentally, as well as across time and space.
The album challenges Black people to revisit more than one timeline and question everything they've been taught about processing grief in order to rebuild their present and future selves. There's no definitive end to the darkness and trauma of the past, but this album is a stepping stone in Dixon's pursuit of moving forward, and being a voice for Black people still learning how to advocate for themselves.
"The best way to sum up this album is: I was sad, I was mad, and now I'm alive," Dixon explains. "These things I talk about on the record have had harmful and brilliant effects on my timeline, and have forced me to be cognizant of the fact that living is complex. Rap has allowed me the language to communicate and be someone who can communicate with people from all over. Knowing how far I've come, I think people will find trust in the message I'm sending."]
For My Mama And Anyone Who Look Like Her is the final installment in a trilogy, building on the foundations set by the self-released Who Taught You To Hate Yourself? (2016) and The Importance of Self Belief (2018) – a series of albums that allowed Dixon to process his own and others' lives as a part of the greater Black experience. For My Mama And Anyone Who Look Like Her is an emotional tour de force – composed of poetic storytelling and poignant insights.
From the impassioned album opener "Chain Sooo Heavy" with its frenetic free-jazz instrumentation to the beautiful pensiveness of the last song "Twist My Hair": For My Mama and Anyone Who Look Like Her is a stunning album, with great lyrical depth and superb musical virtuosity. Lots of Kendrickisms on this genre-bender, echoes of prime Lupe Fiasco too – but McKinley Dixon doesn't need to be compared to any other artists, really. With For My Mama And Anyone Who Look Like Her he released a career-defining project – an album that deserves to escape this day and age's short hype-cycles and that should be talked about for years to come, in the same breath as monumental albums such as Kenrick Lamar's To Pimp A Butterfly (2015) and Rapsody's Laila's Wisdom (2017).
Release date: May 7, 2021. 
2. Mach-Hommy - Pray For Haiti
Enigmatic NYC-Haitian rapper Mach-Hommy reconnected with Griselda head-honcho Westside Gunn for this album, marking their first collaboration after Mach-Hommy broke with the Griselda camp in the mid-2010s due to creative differences. Westside Gunn executive produced Mach-Hommy's Pray For Haiti, and he appears on four songs. WSG the businessman is a brilliant visionary, and his fingerprints are all over this album – he has a GREAT ear for beats and a flair for aesthetics. WSG the rapper is an acquired taste though, you either love his kiddy voice and his adlibs, or you hate them. We have little tolerance for WSG's screechy pitch and constant "brrrrrrrt doot doot doot boom boom boom" antics, but because his vocal presence here is limited to just four of the fourteen songs, his contributions are scarce enough not to ruin the album, fortunately.
In addition to the WSG features, frequent Mach-Hommy collaborator Tha God Fahim appears on one track, as does Griselda artist Keshia Plum – but Pray For Haiti is very much Mach-Hommy's show, his varied flows are better than ever and his verses carry power. While Mach-Hommy's bars are dope, it's the daring production that takes Pray For Haiti to that other level. The murky jazz-flavored beats crafted by the likes of Denny Laflare, Camoflauge Monk, Cee Gee, Sadhugold, Messiah Musik, DJ Green Lantern, and Conductor Williams are f***king amazing. The first single "The Stellar Ray Theory" is an obvious highlight, but tracks such as "The 26th Letter", "Folie A Deux", "Marie", "Magnum Band" (with a Capital Steeze reference that will make you frown), "Blockchain", and "Ten Boxes – Sin Eater" are just as awesome.
Westside Gunn takes to Instagram a lot, calling most of his and other Griselda releases classics and masterpieces. That's rarely true of course, but labeling Pray For Haiti with those overused honorifics may turn out to be apt. Pray For Haiti certainly is one of the best releases on Griselda in a while, or even ever. Years from now, we will still be talking about the two best Griselda albums – Westside Gunn's FLYGOD (2016) and Benny The Butcher's Tana Talk 3 (2018) – and Pray For Haiti is in that league.
Release date: May 21, 2021. 
3. Apathy - Where The River Meets The Sea
"The trials and tribulations of real-life tend to bring out the best in artists. Hearing the maturation of emcees in real-time brings us closer to their experience, and reminds us of ours. Apathy is no exception to this rule. After losing his father to cancer, becoming a father of two, and dealing with life's ills, he proves to be a skilled navigator on the river of life. Apathy's 7th studio album, Where The River Meets The Sea, is not only a geographical nod to his origins, but also a metaphor for the long winding journey through life that ultimately leads to the cosmic sea of eternity. No stranger to Hip Hop aesthetics however, Ap can't resist flexing his lyrical ability on braggadocio-laden tracks, ensuring he delivers an album for his fans across the board."
Where the River Meets The Sea is Connecticut rapper and prominent Army Of The Pharaohs member Apathy's seventh solo studio album, and it is one of his best yet. Eastern Philosophy (2006), Wanna Snuggle? (2009), Honkey Kong (2011), Connecticut Casual (2014), Handshakes With Snakes (2016), and The Widow's Son (2018) all are great albums, and Where The River Meets The Sea continues Apathy's consistent run.
Melodic boom-bap beats crafted by Apathy himself and regular collaborator Stu Bangas, and thoughtful bars from Apathy and guests like Styles P, Lil Fame, and Souls Of Mischief's Pep Love and Tajai (among others), make for a strong addition to a strong catalog.
Release date: May 28, 2021.
4. L'Orange & Namir Blade - Imaginary Everything
Seattle-based producer L'Orange and Nashville rapper Namir Blade teamed up for Imaginary Everything, their first album together. The album comes on the heels of Blade's breakthrough 2020 album, Aphelion's Traveling Circus, and L'Orange's Marlowe 2, his second collaborative album with Solemn Brigham – one of our favorite albums of 2020.
Much like Solemn Brigham, Namir Blade has a unique voice, with a quirky and erratic sing-song type flow – and L'Orange's psychedelic and dusty boom-bap beats bring out the best in Namir Blade (just as his production worked perfectly for Solemn Brigham on the two Marlowe albums). Imaginary Everything contains some of Blade's most interesting writing yet, and L'Oranges instrumentals are the best he got to work with up to now. Appearances from Quelle Chris, Marlowe, Fly Anakin, and Jordan Webb help round out what is another quite excellent L'Orange project – hopefully, the first in a series of collaborations with Namir Blade.
Release date: May 7, 2021. 
5. Noyz82 - Blade Runner Basquiat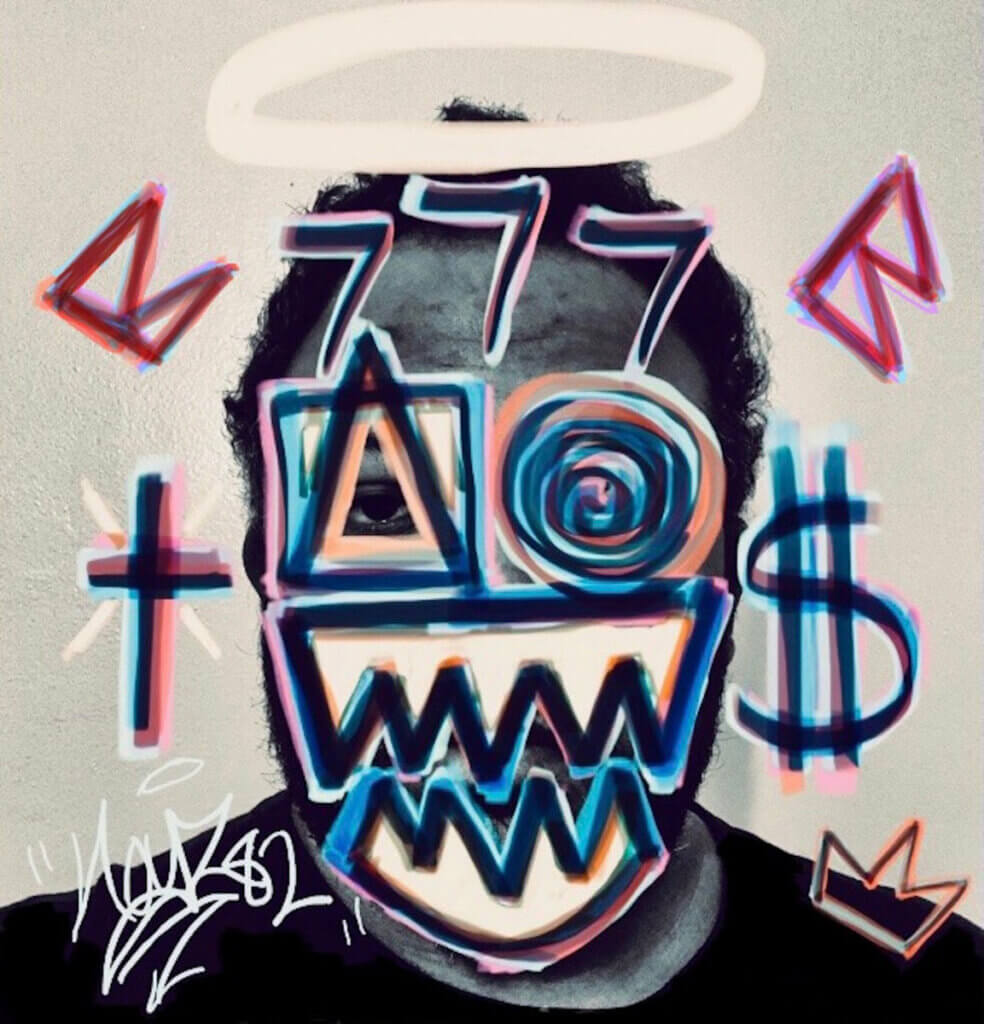 Blade Runner Basquiat is a great project that will pass way under most people's radars, unfortunately. This is one of today's many independently released projects that are suffering from a total lack of marketing and promotion – even the artists themselves sometimes don't seem to be making much of an effort to get their music noticed. You will not find projects like this one if you're not willing to dig deep. NYC-based rapper/producer Noyz82 almost doesn't have much of an online presence, so it's up to people to stumble upon his Bandcamp page. Often it's not a bad thing music is hard to find, but in this case, it's a shame – Blade Runner Basquiat is way too good to stay unnoticed.
Blade Runner Basquiat is Noyz82's first full-length presentation, about which he stated: "10 songs dealing with exposing my demons, flaws, lamenting on my successes and failures as a human…all while being a narcissistic pompous a**hole talking the biggest sh*t in the only way I know how." Noyz82's bars and flows are dope enough, but it's his beats that steal the show here – the production on Blade Runner Basquiat is superb. Deliciously dark and atmospheric, with bass-heavy beats and slightly experimental vibes – Noyz82 comes with a unique own sound you shouldn't sleep on.
Release date: May 7, 2021. 
6. Asun Eastwood & Finn - The S.O.U.L.
Prolific Toronto emcee Asun Eastwood's third full-length release of the year is his best yet, thanks to the immaculate production by Finn, one of the hottest producers in the underground right now. Asun Eastwood's project with The Twinning – Prophecy Is My Present – which dropped last February was solid, as was 98 Miles, his collabo with Sibbs Rocc and M.A.V.
The S.O.U.L. features contributions from Ill Conscious, Daniel Son, Rigz, SLNC, Flee Lord, Saipher Soze, Family Gang Black, and M.A.V. – who all come with hard street raps to match the ones from Asun Eastwood. Dope bars all around, but it's Finn's production that elevates this project to the next level – his atmospheric mid-tempo boom-bap (90s-centric but with modern-day sensibilities) is top level. Asun Eastwood has been working hard at putting together an excellent catalog, and with The S.O.U.L. he takes another step ahead.
Release date: May 14, 2021. 
7. Gowe - Jazznight
Gordon Tsai, better known by his stage name Gowe, is a Korean-American Hip Hop artist from Seattle, Washington. To date, he has released two full-length albums and two EPs as a solo musician. Jazznight is his third full-length album, and his best yet. An a-typical Hip Hop release owing to its jazz-flavored musicality, Jazznight is an authentic and stylish piece of music with smooth instrumentals crafted by Sam Ock, and thoughtful vocals from Gowe, and guests like NAK, Jennifer Chung, ESAE, Uzuhan, postmoderndisco, and Mickey Cho.
Release date: May 14, 2021. 
8. K.A.A.N. - KAIZEN
Maryland rapper K.A.A.N.'s umpteenth release in this last couple of years is one of his best, with positively themed concepts and meaningful lyrics, and with extra flavor added by guests like R.A. The Rugged Man, A-F-R-O, Locksmith, Blu, and Deca. KAIZEN is too short a just over 30-minutes, but most tracks on this project are strong: "Right Now", "Rerun" (with R.A. The Rugged Man), "Resonate", "D.I.Y.". "Interstellar" (with Deca), and "The Great Illusion" all are memorable K.A.A.N. songs.
Release date: May 7, 2021. 
9. DMX - Exodus
DMX's untimely death on April 9th of 2021 happened just as he was completing work on his eighth album, Exodus – his first Def Jam release since 2003's Grand Champ. Allegedly Exodus was nearly finished when DMX died, but it feels like a posthumous project very much regardless – an album cobbled together without the artist's final say. Exodus has its moments – "Bath Salt" with (old?) guest verses from Jay-Z and Nas is a dope track, as are "Hood Letter" with the Gridelda family, "That's My Dog" with The LOX, "Dogs Out" with Lil Wayne (who surprisingly comes with the strongest guest appearance of the album), and especially the heartfelt "Letter To My Son" – but the album also has problems.
The biggest problem with Exodus is the lazy and uninspired production from Swizz Beats, DMX's longtime collaborator and friend who ended up finishing the album (with some input from others such as DJ Premier and Kanye West). Enough big names were involved on the production side, but none of them brought their A-game. Also, there are WAY too many features, and not all of them good. Alicia Keys has a limp contribution, people like U2's Bono, and Moneybagg Yo (whose appearance was the only part of the album DMX did not hear before his death, maybe not coincidentally on the weakest song of the album) shouldn't be on a DMX album, and there are others still that add nothing good to the album – it kind of feels like DMX is a recurring guest on a compilation album, almost being drowned out by all the other artists present. There's just not enough DMX here.
But despite its faults, Exodus is a moving final DMX chapter, a posthumous album that wasn't supposed to be posthumous at all – adding to the bittersweetness of it all. At least the album signifies a better fitting finale to a troubled career than his last couple of releases – the unofficial and unauthorized Redemption Of The Beast (2015) and the disappointing The Undisputed (2012) – would have done. DMX's gruff voice will be missed.
Release date: May 28, 2021.
Honorable Mentions
Benny The Butcher & 38 Spesh – Trust The Sopranos
J. Cole – The Off-Season
Vic Spencer – Legend Laws Of Power
Navy Blue – Navy's Reprise
Knowledge The Pirate – Hidden Treasures
Akai Solo & Navy Blue – True Sky
Fatt Father – Soccer Dad
Sleep Sinatra – DIVINENATION
DRE Colombian Raw – PLOMO
Words Of Phrase – Humbly Worded
ALLBLACK – TY4FWM