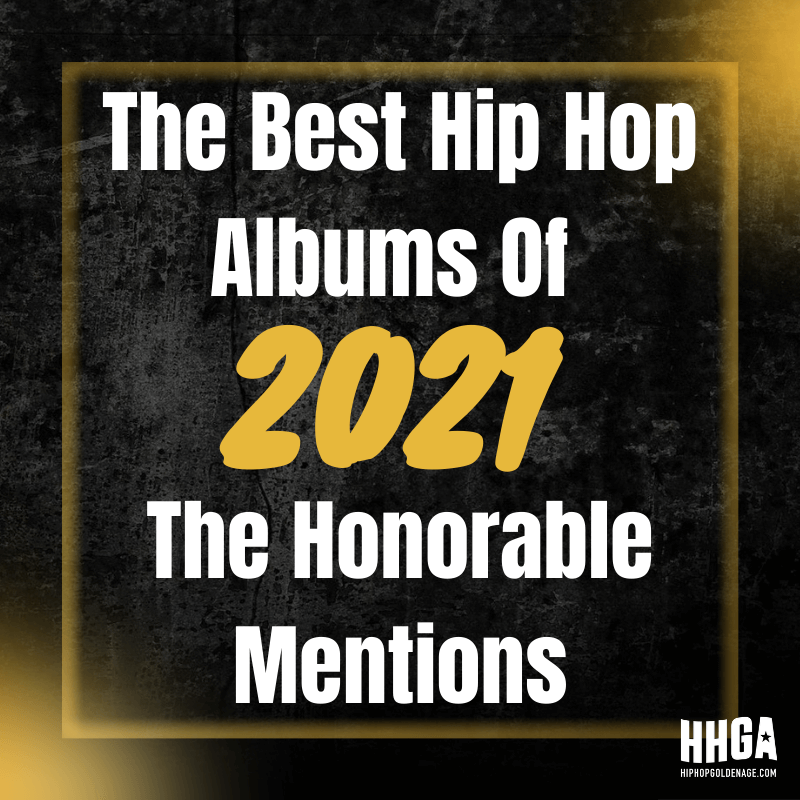 Elsewhere on this site, you can find a list of what we think are the best Hip Hop albums of 2021. This Best Hip Hop Albums Of 2021 – The Honorable Mentions list is a selection of albums that (in some cases just barely) missed the cut. All kinds of Hip Hop styles on this list: some of these 2021 honorable mentions are traditional boom-bap, some neo-boom-bap/rap-noir, some alternative/experimental, some more mainstream-sounding – whatever category-label you can stick on any particular project, all albums here deserve attention for some reason.
Because our list with the best Hip Hop albums of 2021 and this list with the year's honorable mentions are both works in progress, some of these honorable mentions might yet make the 'best of' list. In any case, all the albums listed here are well-worth checking out – peruse this list at your leisure, and no doubt you will discover a couple of Hip Hop projects JUST for you, albums you otherwise might have missed out on.
So here it is, in release date order: the best Hip Hop albums of 2021 – the honorable mentions.
Also read: The Best Hip Hop Albums Of 2021
Snoop Dogg - From Tha Streets 2 Tha Suites
On 'International Weed Day' Snoop Dogg dropped his 18th studio album, and what do you know – it's not bad at all, unlike most of Snoop Dogg's recent (and not-so-recent) releases. It's been a while since Uncle Snoop released a really consistent album, and From Tha Streets 2 Tha Suites isn't that album either, but this one is solid Snoop – admittedly with no real stand-outs, but with no real throw-away tracks either. Sure, some songs are stronger than others – "Gang Signs" is the best song with its phat bassline and catchy hook, and "CEO", and "Get Yo Bread" are among the stronger tracks too, while "Say It Witcha Booty" and a couple of others are more questionable. From Tha Streets 2 Tha Suites is kind of short at 35 minutes and 10 tracks, and lightweight in its cliched subject matter, but the funked-out trunk-rattling beats knock and the overall mellow summertime vibe of this project is fun. This Snoop Dogg project is forgettable but mostly enjoyable – worth a listen.
Release date: April 20, 2021
Devine Carama - Kingtucky 3
Kingtucky 3 is the 3rd installment of a series that started back in 2016. The goal of this series is to focus a little less on socially conscious content and more on embracing the technical approach to rhyming. Kentucky producer, Peety Smooth, provided the sonic architecture for the album with dark, hauntingly gritty, Griselda-ish style beats that allowed Devine to sit comfortably in the rhyme pocket.
Dope bars and dope beats – this is a project worth checking out.
Release date; April 16, 2021.
P-Ro & CLOAQxDAGGER - Broken Swagger
Broken Swagger is Boston emcee P-Ro's second full-length album, entirely produced by production team CLOAQxDAGGER. Broken Swagger is a throwback to East Coast Hip Hop with thick drums and soulful, jazzy samples to provide a backdrop for P's creative concepts, detailed stories, and quotable punchlines with the right amount of personal dealings and some humor.
Sure, Broken Swagger is generic and forgettable, but it's solid enough to give it a chance.
Release date: April 3, 2021. 
Cappadonna - Black Tarrzann
Wu-Tang Clan's tenth member Cappadonna went viral getting clowned for this horrible horrible album cover (one of the ugliest we've ever seen, it would fit right in on this list with terrible album covers)  – was releasing an album with a cover like this one an 'all publicity is good publicity' marketing strategy? Whatever the thinking behind putting this windows 95 Microsoft Paint job on the cover of the album (we hope Cappadonna didn't pay anyone for the work), Black Tarrzann is way better than its trash visual artwork would suggest – in fact, this is one of the better albums in Cappadonna's, admittedly not very strong, catalog. Pretty good beats and bars for the most part – with a couple of dope features by Killah Priest and an especially strong appearance by A.F.R.O. – we really need a full-length album from him.
Release date: March 31, 2021.
Big Flowers - Big Smile
Big Smile is an album for a niche audience – those with a taste for experimental and dusty lo-fi Hip Hop, with distorted stream-of-consciousness type vocals will find a lot to enjoy here. Fans of more traditional or mainstream kinds of Hip Hop may want to skip this one.
Release date: March 29, 2021. 
The Bad Seed - #GETHOMESAFE
The Bad Seed is a veteran underground emcee from Brooklyn NYC, his career began in 1998 with his group O.B.S. (Original Blunted Soldiers), which included artists such as Jean Grae, Pumpkinhead, Krisis, and others. #GETHOMESAFE is his third full-length project released in 2021 – solid underground East Coast Hip Hop.
Release date: March 28, 2021.  
Lync Lone - The Plot Thickens
The Plot Thickens is a dark and moody project by Rochester, New York rapper Lync Lone. The Plot Thickens is a strong follow-up to Acid Jazz, Lync Lone's last project (with Iceberg Theory) which dropped only a month before this album. The Plot Thickens is similar to Acid Jazz when it comes to the smooth low-tempo instrumentals that can be found on both projects, but this one is markedly darker and more somber in tone than Acid Jazz is. This is an album to spend time with – a slow-burner that will grow on you.
Release date: March 27, 2021.  
Meph Luciano - Vercetti
Vercetti is Dallas, Texas-based emcee/producer Meph Luciano's second LP of the year. He started the year strong with Annihilation, a pretty good but also kind of generic rap-noir project. There's nothing generic about Vercetti – in fact, this project is bold in its experimentalism. Vercetti tells a classic cinematic story through sound following the 80s lifestyle of protagonist Tommy Vercetti – with lots of 1980s sounds worked in the beats. There are some duds on the album where the artistic risks that were taken do not pay off, but for the most part, this is a surprisingly interesting listen that deserves praise at the very least for trying to do something different.
Release date: March 26, 2021. 
Tom Caruana - Brewing Up
Tom Caruana is a British producer, for Brewing Up he recruited a host of underground rappers – like M9, Skriblah, Phoenix Da Icefire, Scorzayzee, Juganaut, Sonnyjim, Leaf Dog, and more – to add vocals to his 90s-centric instrumentals. Nice.
Release date: March 26, 2021.
The Palmer Squares - Out With The Old
The Palmer Squares are a Chicago-based Hip Hop duo composed of Acumental (aka Ac), and Term (aka Terminal Knowledge and Term K). They originally began writing raps as Ordinary Dogs, and then iLLiteracy, changing their name to The Palmer Squares in 2010. Prior to Out With The Old, the duo has released a bunch of mixtapes, EPs, and some collaborative projects with other artists, as well as three full-length albums, Finna (2013), Planet Of The Shapes (2016), and With Or Without It (2020).
The Palmer Squares are sometimes written off as a pair of corny YouTube rappers, but that's selling them short. Like on all their albums there's lots of dope flows and fun wordplay on Out With The Old, and the instrumentals are mostly fine too. Not bad at all.
Release date: March 26, 2021. 
Zig-Lah - Ballads Bullets & Bibles
Zig-Lah (one-third of Skeleton Grp.) dropped with an enjoyable project with Ballads Bullets & Bibles. This one of the hundreds of underground releases that remain unnoticed by most Hip Hop listeners – but unlike 90% of the others, this one is worth checking out because Zig-Lah is an above-average rapper and most of the beats on Ballads Bullets & Bibles are solid.
Release date: March 26, 2021. 
Rahiem Supreme - The 9 Diagrams
Washington DC's Rahiem Supreme isn't the best rapper you've ever heard and his bars on The 9 Diagrams are not especially remarkable. Also, you've heard better beats than the ones on The 9 Diagrams – there are so many projects with this kind of dusty boom-bap beats out there right now, it's not difficult to find better-produced projects. That said: there is a certain charm to Rahiem Supreme and The 9 Diagrams, enough to deserve a spot on this list. If that neo-boom-bap sound is your thing, you will find enough to enjoy here.
Release date: March 21, 2021.
Skypp - King Of Indiana
Prolific Indiananapolis-based emcee Skypp goes the boom-bap route with King Of Indiana – his highest-profile and arguably best release yet. Skypp's flow and delivery are top-notch, and his lyrics are meaningful. The melodic boom-bap beats are great too – King Of Indiana really is a dope album. Unfortunately, the album is brought down by series of skits that probably are intended to provide a thematic storyline or maybe to add some levity or humor to the overall seriousness of the album's lyrical content, but these skits end up being annoyances – must-skips, especially on repeated listens. But regardless of these unnecessary skits, this is an album that deserves your attention.
Release date: March 19, 2021. 
Fiend - Thank God Its Fiend
"Make UGK Proud": one of the songs on Fiend's Thank God Its Fiend – the title of that track should tell you something about the style and sound of this album by New Orleans veteran rapper Fiend. Fiend, who came up on Master P's No Limit label in the late 1990s, stayed true to his roots and dropped a solid 90s-centric Dirty South banger with Thank God Its Fiend.
Release date: March 19, 2021.
MF Grimm - The Hunt For The Gingerbread Man 2: Get The Dough
Bandcamp description: "The Hunt for the Gingerbread Man 2: Get the Dough embraces the juxtaposition between a fantastical world made of candy and pastries and the dark and unforgiving lifestyle of the veteran emcee. Sonically immersive, and nostalgic of an era in Hip Hop that celebrates pain and hardship through whimsical storytelling, this album reaches deep into the life of the protagonist "Mr. Ginjy Breadman" aka "The Gingerbread Man" – and doesn't let go until you've become fully invested in his tumultuous life journey in the "United Cakes of America".
Thirteen years after the studio release of The Hunt for the Gingerbread Man, this sequel album is a testament to MF Grimm's vivid imagination and innate ability to create stories that transport you beyond our earthly realm. Anthropomorphic cookies, pastries, and gingerbread men are the primary characters in MF Grimm's tales of violence, crime, drugs, and love, in the ghetto known as "Candyland."
Perhaps the most compelling aspect of the twenty-one-track album is its unrelenting dedication to both the authenticity of MF Grimm's infamous life story and the innocent and irreverent nature of the characters themselves. The album is produced, mixed, and mastered by Darko the Super."
MF Grimm is a gifted and underrated emcee and producer, with a tragic backstory. The Downfall of Ibliys: A Ghetto Opera (2002, his full-length debut solo album) and the epic triple LP American Hunger (2006) are our favorite MF Grimm projects, and while The Hunt for the Gingerbread Man 2: Get the Dough is not on par with those two MF Grimm monuments, this is a project to take note of anyway.
With a playing time of 74 minutes, this is a LONG album, and because there are about as many 'interlude-like' tracks that serve to carry the story forward as there are 'regular' songs, The Hunt for the Gingerbread Man 2: Get the Dough is an extremely dense listen. Most tracks are stacked with layers of sound effects and samples, with lots of beat-switches too, all of which add to the album's inaccessibility. There's nothing casual about The Hunt for the Gingerbread Man 2: Get the Dough.
But even if MF Grimm's storytelling and especially Darko The Super's superb production are complex as f, The Hunt for the Gingerbread Man 2: Get the Dough is an intriguing album that deserves attention – we applaud MF Grimm and Darko The Super for their artistic audacity and the creative risks they took here.
Release date: March 15, 2021. 
Bang Belushi - Rudy
Rudy is the sophomore solo studio album from veteran Detroit emcee Bang Belushi, who came up as one-fourth of the Fat Killahz crew. Rudy follows his strong full-length debut The Adventures of Bang Belushi, which was released in 2018. Bang Belushi's content is as generic as it gets – a mix of money, weed, sex, and street stories – but Bang Belushi has enough personality and lyrical flair to keep things entertaining. Musically there's some variety to be found on the 16 songs on the tracklist, going from straight boom-bap to more trap-flavored beats – all crafted by producer Foul Mouth. All in all, Rudy is a solid effort, definitely worth a listen.
Release date: March 12, 2021. 
G4 Jag & Mephux - Regressions
G4 Jag's deep baritone and gruff monotone flow are different and recognizable, and his content is on point – sticking to themes concerning 'regressions'. Mephux's production could have been more interesting here and there, but all in all, Regressions is a pretty strong project – bolstered by appearances from underground heavy hitters Flee Lord and Eto, among others.
Release date: March 12, 2021. 
Ea$y Money & Fabeyon - Beyond EA$Y
Ea$y Money & Fabeyon's Beyond EA$Y is a solid album. With input from the likes of Statik Selektah, Chilla Jones, DJ Deadeye, Termanology, Ransom, Nems, and UFO Fev there's enough additional talent involved too. Nothing really wrong with Beyond EA$Y, but there's nothing really memorable about either – it's a kind of generic release in an oversaturated part of Hip Hop. Still, well worth checking out if melodic boom-bap is your go-to niche.
Release date: March 12, 2021. 
Kaimbr & Sean Born - Nino Green
Nino Green is the debut collaborative album by Maryland-based rappers Kaimbr and Sean Born. Thematically the album is loosely based on New Jack City (1991), and named after Nino Green, Wesley Snipes' character in that classic movie. Soulful musical backdrops and entertaining street raps – this is a solid album that holds a lot of promise for future joint projects from Kaimbr and Sean Born.
Release date: March 7, 2021. 
Cosm & Micall Parknsun - Aspetta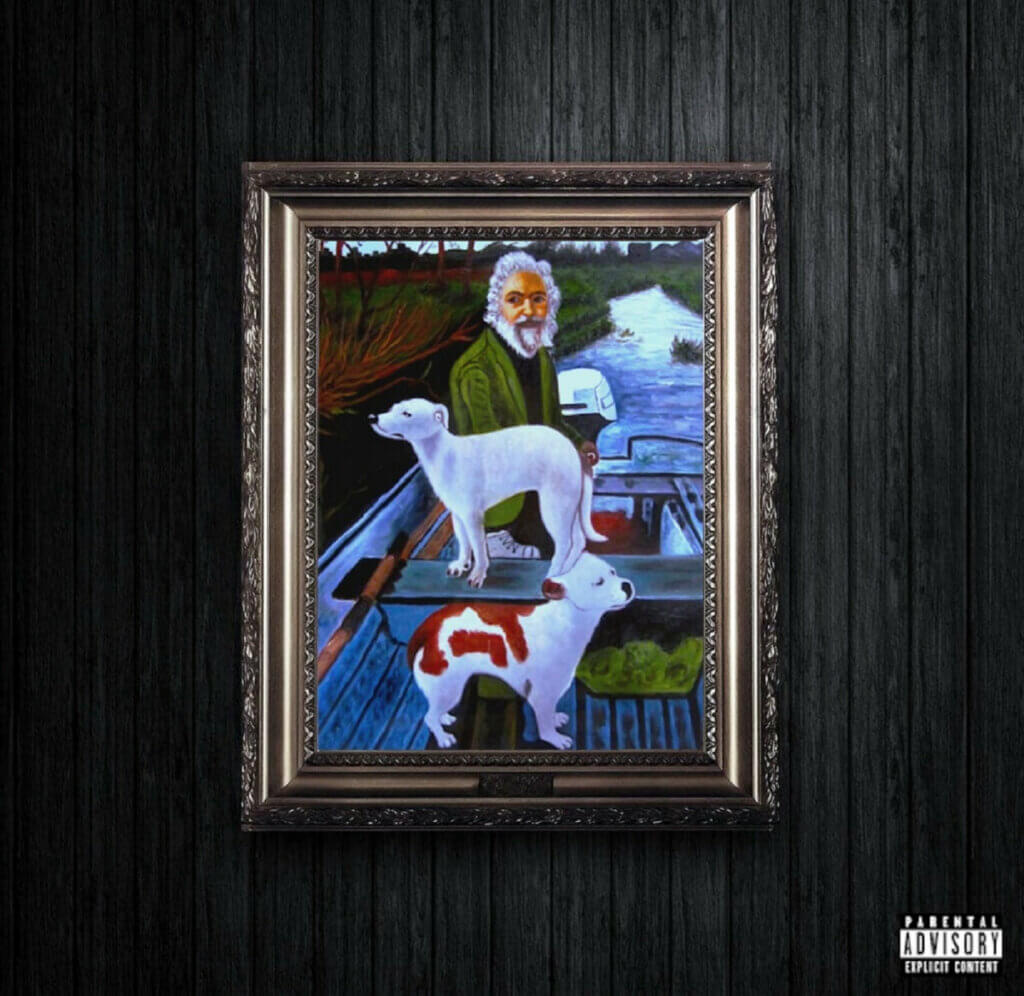 Aspetta is a solid project from UK-based duo Cosm and Micall Parknsun. Cosm's noir raps mesh well with Micall Parknsun's moody soundscapes, and even if there's not enough about Aspetta to let it stand out from all the other projects similar to it in this oversaturated part of Hip Hop, this album is definitely worth a listen.
Release date: March 5, 2021. 
Sleep Sinatra & Ed Glorious – Sleep Gloriously
For Sleep Gloriously Lincoln, Nebraska emcee Sleep Sinatra teamed up with Indiana-based producer Ed Glorious. Sleep Sinatra had a couple of dope projects in 2020 (Sleeper Effect and Routes), and this one is solid too. Like always, Sleep Sinatra comes with personal lyrics, and a laidback flow that goes well with Ed Glorious's mid-tempo jazzy boom-bap instrumentals.
Release date: March 5, 2021. 
Termanology & Shortfyuz - GOYA 3
GOYA 3 is a collaborative album from prolific Massachusetts rapper Termanology and producer Shortyfuz. The biggest knock against GOYA 3 is the number of guest artists – with appearances from  Lil Fame, Rome Streetz, Jay Royale, Tek, REKS, Ea$y Money, Artisin, Planet Asia, NymLo, Cassidy, Oun P, Eto, Bonnie B, H Blanco, UFO Fev, Nems, Jared Evan, Wais P, Stunna Gang, Crimeapple, and Tony Touch, this feels more like a compilation album than a Termanology project – it hurts the album's cohesiveness. And unlike some other artists out there, Termanology is such a good lyricist he really doesn't need a couple of guest emcees on every song. That said: most of these guests are top-level, so if you go in not expecting a straight Termanology album you will be fine. Shortyfuz's Latin-tinged production is dope, and the wordplay of Termanology and his guests is entertaining.
Release date: March 5, 2021. 
Bugsy Da God - Diary Of An Underground Villian
Exactly 10 years after his debut album The Terrorist Advocate Killarmy-affiliate Bugsy Da God drops Diary Of An Underground Villian. With production from 4th Disciple, True Master, and Bronze Nazareth (among others), and appearances from the likes of Dom Pachino and Recognize Ali, it's clear what to expect from Diary Of An Underground Villian – raw, underground Hip Hop with a Wu-Tang vibe. Sure, this project is kind of generic, but it's solid enough nonetheless – a must-listen for Wu-Tang completionists at the very least.
Release date: March 1, 2021. 
Eclyse & Skinny Bonez Tha Godfatha - Prime Expertise
Prime Expertise is a collaborative album by Florida-based MC Eclyse and Dutch producer Skinny Bonez Tha Godfatha. Prime Expertise is a 10 track album, on which Eclyse and Skinny Bonez managed to find an effective balance between positive soulful tracks and gritty atmospheric bangers – this is a dope project, listen to it here.
Release date: February 27, 2021. 
Frac & Tone - Sweet Chin Music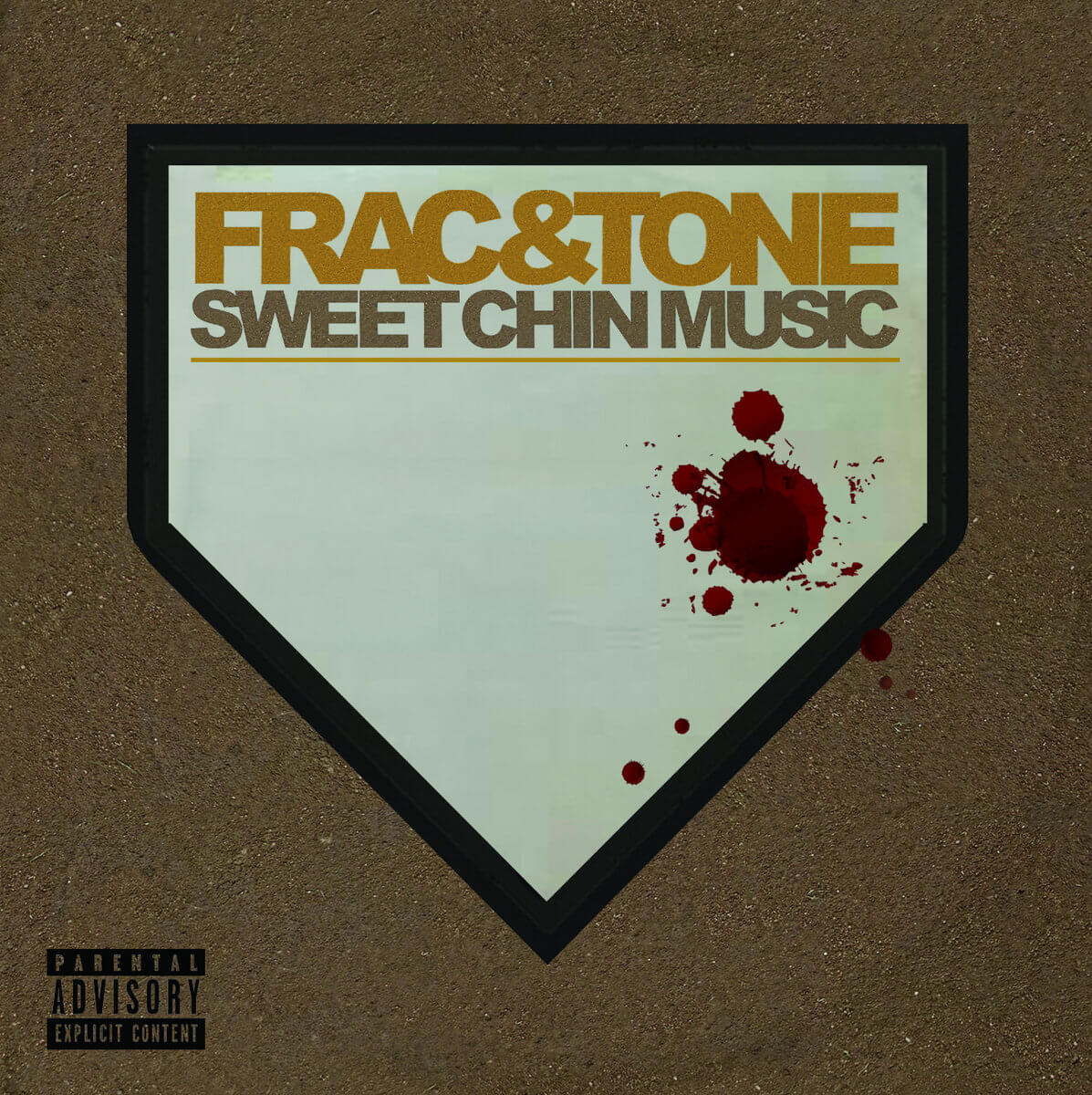 Canadian producer/emcee Fraction and Michigan emcee Ill Tone joined forces to drop Sweet Chin Music– 10 tracks of raw underground boom-bap, with hard-hitting beats and rhymes. This is a dope project – perfectly suited for Hip Hop traditionalists.
Release date: February 24, 2021
Asun Eastwood & The Twinning - Prophecy Is My Present
Toronto emcee Asun Eastwood teamed up with Philadelphia duo The Twinning for Prophecy Is My Present. Nothing wrong with this project – the moody boom-bap beats are solid, as are Asun Eastwood's bars and that of guest rappers like Lord Juco, Raz Fresco, Don Smith, Rasheed Chappell, and others – but there's nothing here that lets Prophecy Is My Present stand out from better projects with a similar sound out today either – and there's a lot of better similar-sounding projects to be found right now. Still, well worth checking out if modern-day underground boom-bap floats your boat.
Release date: February 23, 2021. 
Erratic - Apocalyption
Apocalyption is the debut album from New England-based underground rapper Erratic. Apocalyption is a fairly typical horrorcore project – but even if it is kind of generic for the subgenre, it's well enough executed, with bombastic instrumentals and hard-hitting rhymes. Fans of the music from acts like Tech N9ne and Twiztid will dig Apocalyption. 
Release date: February 19, 2021. 
Malus & Lyrical Waterside - Connectivity
With Connectivity, Tokyo-based duo Malus and Lyrical Waterside delivered an easy-listening album that will leave of smile on your face. Smooth instrumentals and dope rhymes – to take care of the vocals the duo recruited a bunch of great artists like Artifacts, Clear Soul Forces, Akil The MC (Jurassic 5), Kota The Friend, and Awon – among others. Connectivity = upbeat and melodic 90s-centric Hip Hop.
Release date: February 19, 2021. 
Curtis Dro - P.O.T.P.
Curtis Dro is an up-and-coming rapper from Atlanta, and P.O.T.P. is a solid project that deserves a listen if you're into witty wordplay backed by the melodic 808's. P.O.T.P. is an album to ride to.
Release date: February 19, 2021. 
Jim Jones & Harry Fraud - The Fraud Department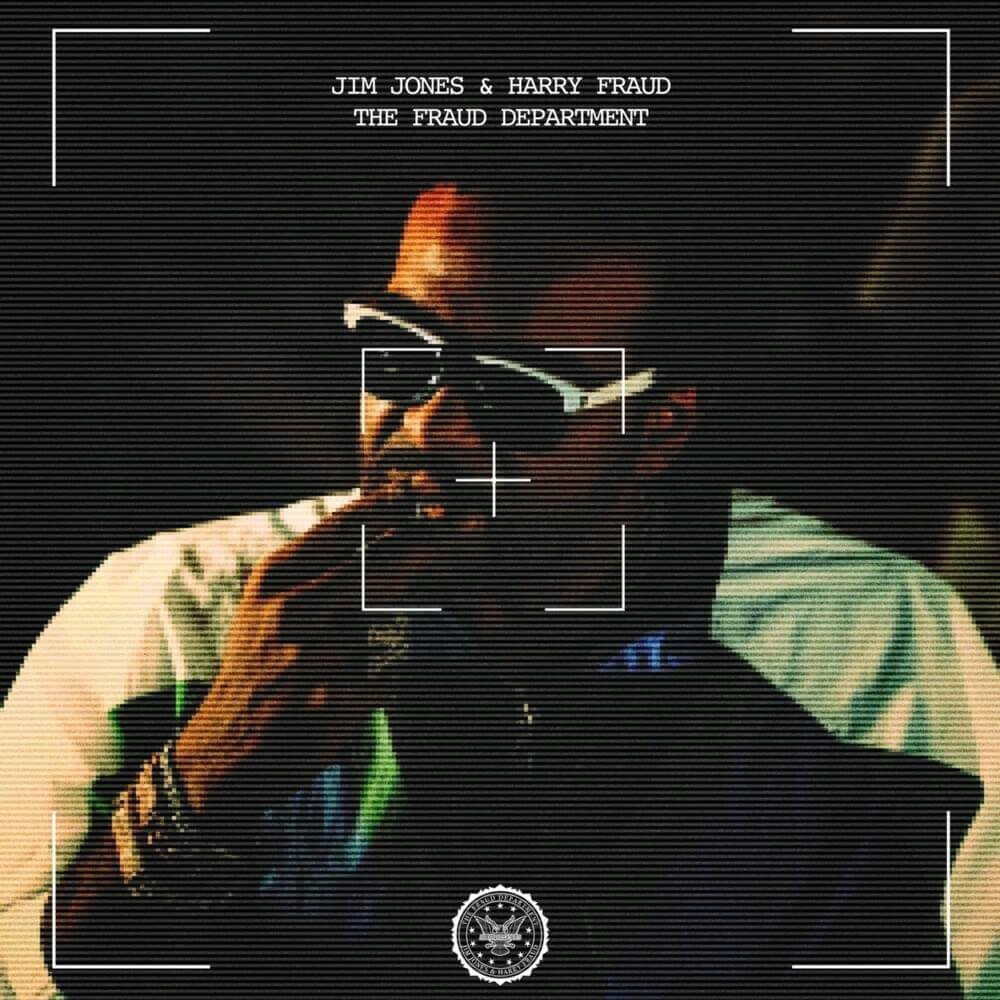 This collaboration between veteran emcee Jim Jones – of Dipset fame – and producer Harry Fraud is a nice laid-back project with lots of mainstream appeal, thanks to its polished instrumentals and catchy hooks. The strength of this album is its cohesiveness – it's just another example of having one producer is better for creating a singular sound than bringing in a different producer for every single song on a project. Harry Fraud's music is lush and cinematic, and Jim Jones' New York street stories are as vivid as ever, as are the bars supplied by guests like Dave East, French Montana, Curren$y, and Conway the Machine (among others). At a mere 31 minutes, The Fraud Department is short, but sweet.
Release date: February 19, 2021. 
Jay NiCE & Machacha - A Stream Of Consciousness
Delaware emcee Jay Nice has been on a roll the last couple of years, this collaboration with producer Machacha is another entry in what is a string of solid projects. Nothing wrong with A Stream of Consciousness either, but it has little to distinguish itself from all the other Griselda-esque releases out these days – outside mainstream trap, this arguably is the most oversaturated niche of all the subgenres in Hip Hop. That said, fans of atmospheric low- to midtempo modern-day boom-bap will not be disappointed by A Stream of Consciousness. 
Release date: February 18, 2021. 
Lync Lone & Iceberg Theory - Acid Jazz
Iceberg Theory is one of the most interesting producers out there, able to come up with something different every time. The work he did on Acid Jazz is more accessible than some of this more left-field type of production – the content of this project is jazzy and smooth, the album cover should tell you a lot about what to expect. Lync Lone's vocals are an acquired taste, but if you can get with his laid-back whispery style no doubt Acid Jazz will find its way into your best-of-2021 library.
Release date: February 12, 2021. 
Wais P - SUNOVA
SUNOVA is a bombastic boom-bap LP from veteran Brooklyn emcee Wais P, with guest spots from Termanology, Lil Fame, Sauce Money, Yogi, and Nitty Scott. Solid underground NYC Hip Hop.
Release date: February 12, 2021. 
slowthai - TYRON
Lots of hype surrounded this release from UK rapper slowthai. Expectations for his sophomore effort were high after the impression slowthai made with his debut full-length album Nothing Great About Britain. Nothing Great About Britain was a socio-politically charged and at times emotional snapshot of Britain in 2018/2019, capturing the mental state of a fractured nation from the perspective of an angry and embittered young adult. With his debut slowthai established himself as an exciting new voice in UK Hip Hop – with a brash punk-attitude but with plenty of charisma and charm as well.
TYRON (slowthai's real name is Tyron Frampton) is something very different. TYRON is an album of two halves: the first half with up-tempo bangers, the second half with more personal, musically toned-down songs. It's obvious that with this album slowthai tries to capitalize on the overseas popularity of Nothing Great About Britain, by adopting a more "American" sound with some trap-infused instrumentals to appeal to the mainstream. This is not a trap album though, slowthai's grime-punk-rap voice is too unique to sink into a bland trap-hole, and his emotive lyrical content is far from generic.
Despite the two different halves, TYRON is an entirely cohesive listen – it has exactly the right amount of brash and chill, the transition from the first to the second half is smooth, and production is top-drawer for the most part. At 35 minutes the album is too short for the tonal duality to really come off though (the album is over before you know it), and some of the featured artists don't bring their A-game (most notably Denzel Curry on 'terms" has an uncharacteristically limp appearance). There's also the feeling of unfulfilled potential because of the brevity of a lot of tracks (most are around the 2-minute mark), most notably in "WOT" – what could have been a banger of track, but turns out to be more like a 48-second interlude – too short to have an impact. Other guests like Skepta, A$AP Rocky, and James Blake do deliver with their contributions, on "CANCELLED", "MAZZA",  and "feel away" – some of the stronger tracks on TYRON.
All in all, even if it's not quite as impactful as Nothing Great About Britain was, TYRON is a strong sophomore outing for slowthai. Because it's straddling genre-fences here and there, the album may not appeal to Hip Hop purists – but there is no denying slowthai is a unique talent whose ability to convey thoughts with his voice and lyrics is second to none. With Nothing Great About Britain slowthai stepped into the international spotlight, with this compelling second album he proves he plans to stay there.
Release date: February 12, 2021. 
Roc$tedy - Flying Colors
Longbeach, California rapper Roc$tedy's Flying Colors has lots of mainstream appeal with its melodic 808s and its catchy hooks. Even if it has more trap-sensibilities we are normally able to tolerate, this is a surprisingly enjoyable project – mainly because Roc$tedy has skills.
Release date: February 12, 2021. 
Slaine - The Things We Can't Forgive
The Things We Can't Forgive is the latest project of La Coka Nostra member Slain, following 2017's Anti-Hero collaboration with Termanology, and 2019's One Day. Like One Day, The Things We Can't Forgive is (primarily) produced entirely by The Arcitype, and the album has features of fellow La Coka Nostra member Ill Bill, as well as from Claire Whall, Snak The Ripper, and Rike Hook.
The Things We Can't Forgive is another solid Slaine project, as always with deeply personal content and some rock-flavored vibes in Slain's vocals and in the boom-bap instrumentals. People who dig the sort of Hip Hop coming out of the La Coka Nostra/Jedi Mind Tricks/Army Of The Pharaohs corner of Hip Hop will like The Things We Can't Forgive without a doubt.
Release date: February 12, 2021. 
Chris Crack - Might Delete Later
Prolific Chicago rapper and producer Chris Crack returns with Might Delete Later, his first album on the Fool's Gold Records label, after a long string of self-released mixtapes and EP's. Chris Crack is a unique voice in Hip Hop. He comes off as a hybrid of Danny Brown and fellow Chicagoan Vic Spencer, combining the franticness of the former with the laidback style of the latter, all of it with his very own hedonistic (at times vulgar) blend of humor and bravado. Stylistically Chris Crack is not one to be pigeonholed, he effectively combines chilled-out jazz-vibes with melodic trap-flavored instrumentals on Might Delete Later – managing to make the project sound entirely cohesive anyway. Might Delete Later is a good entry point to the world of Chris Crack for those who have been sleeping on his work so far.
Release date: February 12, 2021. 
Hobgoblin - The Awakening
British beat-crafter Hobgoblin's The Awaking is one of the finest producer's albums of the year. The Awaking offers 10 equally strong tracks composed of deliciously dark bass-heavy boom-bap beats, with a host of top-tier underground emcees to take care of the vocals. The Awaking = raw underground Hip Hop at its finest.
Release date: February 5, 2021. 
Paul Willis - Wonderland
Paul Willis is a Hip Hop artist, educator, and community organizer based in Sacramento, California, originally hailing from Boston, Massachusetts. Wonderland is a personal narrative across 10 tracks about Willis' youth in Boston. Willis has a dope flow, his content is relatable, and the music on Wonderland is enjoyable – this is one of the many many projects out there that will fly way below everybody's radars, but those willing to give Wonderland a chance will be in for a nice surprise.
Release date: January 29, 2021. 
Shamon Cassette & Jaz Infinite - Blades Of Steel
Blades Of Steel is a concept album built around an ice-hockey theme, with dope 90s-centric boom-bap beats crafted by Jaz Infinite, entertaining rhymes by Los Angeles-based Shamon Cassette, and guest bars from Myka 9, Thirstin Howl The 3rd, Spoek Mathambo, Pugs Atomz, and many others.
Release date: January 21, 2021. 
Jah Connery - Nah
This is the first full-length solo effort from Detroit producer/rapper Jah Connery in ten years. Nah is a solid presentation of melodic underground Hip Hop, with enough of a quirky twist to the music to set it apart from other releases. And while it's clear Jah Connery is a producer first and an emcee second, his wordplay is entertaining and worth listening to, and his flow is fine too. Give Nah a chance, you might be in for a nice surprise.
Release date: January 20, 2021. 
Ty Farris - Practice Raps
Detroit emcee Ty Farris had a couple of solid releases in 2020, and he continues his streak of quality releases in 2021 with the short but strong Practice Raps tape. Dope beats and great wordplay from one of the best emcees in the underground.
Release date: January 18, 2021. 
Frank Knight & Chuck Lawayne - Slim & Mickens
Frank Knight teamed up with producer/emcee Chuck Lawayne for Slim & Mickens, a thoroughly enjoyable presentation that pays homage to the 70's Blaxploitation era. Well-realized, down to the cover art aesthetics, this project is a great listen that deserves your attention if smooth and soulful Hip Hop is your thing.
Release date: January 18, 2021. 
jaH-Monte - Seventy-Fifth & Amsterdam Side B: Lost In NYC
jaH-Monte Ogbon is an Ohio-born, North Carolina-based rapper, spending extended time in Brooklyn, New York in recent times to connect with local artists and to make music. Seventy-Fifth & Amsterdam Side B: Lost In NYC is his follow-up to last year's Seventy-Fifth & Amsterdam Side A. Where Side A was sweet but short at 15 minutes, Side B is a proper full-length at 47 minutes, giving it a more fleshed out and better-rounded overall feel.
Seventy-Fifth & Amsterdam Side B: Lost In NYC is not a thirteen to a dozen kind of album (which we see so many of in today's oversaturated Hip Hop market), but it has an own distinctive sound – largely owing to excellent production from start to finish. The chilled-out sample-based instrumentals will hold your attention from beginning to end, and there is nothing wrong with jah Monte's flow and lyrics either, nor with that of guests like Big Kahuna OG, Fly Anakin, Brain Orchestra, and others. Seventy-Fifth & Amsterdam Side B: Lost In NYC is a dope project and jaH-Monte is an artist to watch.
Release date: January 18, 2021. 
Rick Fury - Return Of The King
Rick Fury is a veteran emcee from Newcastle, UK. Return Of The King is a solid album, offering over an hour of fun wordplay supported by smooth and soulful boom-bap beats. All aesthetics matter and the awesome cover art for Return Of The King adds to the album's appeal. Favorite track: "How To Deal With A Liar", with guest vocals from Abi Nyxx – a female vocalist to watch.
Release date: January 15, 2021. 
Paavo - Crumble A Paper Man
This is a project for Hip Hop traditionalists. Paavo is an emcee from San Francisco, and for Crumble A Paper Man he teamed up with producer Burnt Bakarak, who's from Ohio originally. Knowing their geographical origins, maybe it's unexpected that they cooked up an album that is clearly inspired by 1990s New York Hip Hop – with enough of a contemporary twist to keep things fresh that is. Paavo is an emcee with a distinctive sound, and Burnt Bakarak's upbeat brand of boom-bap is dope.
Release date: January 15, 2021. 
Antahlyzah - The Ceremonial Gifted
"Golden Era is my habitat". Los Angeles-based emcee Khalil the Antahlyzah stays true to his roots and brings forth an ancestral vibration while representing the forefathers with that Golden Age sound on his 11th album The Ceremonial Gifted. Thanks to his metaphysical philosophizing, Antahlyzah's music is reminiscent of that of Killah Priest, The Ceremonial Gifted has echoes of acts like Wu-Tang Clan and X-Clan too, with clear 90s Hip Hop vibes in its sound all the way through. This album may be a slow-burner that requires multiple listens to really be able to appreciate it but The Ceremonial Gifted deserves the attention – listeners who like their Hip Hop conscious, intelligent, and positive will find a lot to unpack and enjoy here.
Release date: January 15, 2021. 
2nd Generation Wu - Hereditary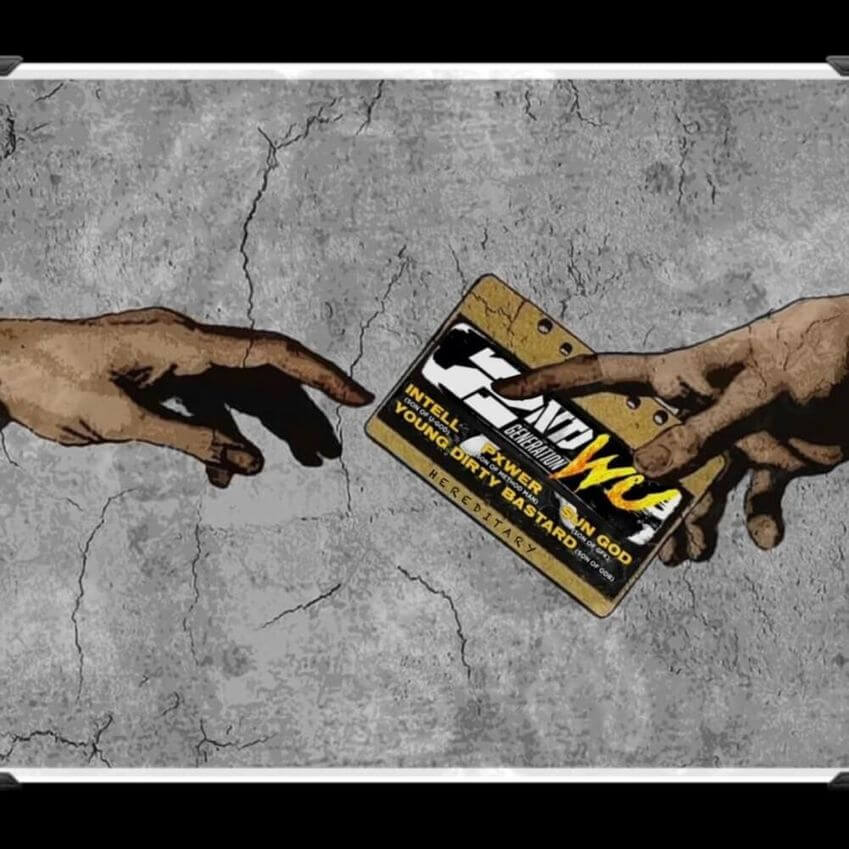 2nd Generation Wu consists of iNTeLL (U-God's son), PXWER (Method Man's son), Sun God (Ghostface Killah's son) & Young Dirty Bastard (Ol' Dirty Bastard's son) – the group name as well as the title of their collective debut album an obvious nod to their familial ties. Hereditary was originally released on the 8th of November 2020 with ten tracks, but the album was soon retracted from streaming services as most songs wouldn't play. The album has been redone since, adding an additional 5 extra songs to the tracklist.
Maybe it's not fair to compare the debut of the sons with the classic debut of their fathers, but since they themselves so obviously elected to emphasize the family connection a comparison is inevitable. Of course, this album never reaches the levels of the epicness their fathers' debut Enter The Wu-Tang (1993) achieved. And realistically it never could, knowing the monumental Enter The Wu-Tang is one of the best and most influential Hip Hop albums of all time.
Hereditary is a solid album though, and a worthy addition to the Wu-legacy. iNTeLL, PXWER, Sun God, and Young Dirty Bastard are talented emcees, and it's fun to hear their fathers' voices and styles in their respective flows. The album was produced by a host of different producers, none of them with RZA's magic touch, unfortunately. The beats are decent for the most part, but most of them miss that Wu-Tang 'punch' early RZA is celebrated for – there are some definite lulls in the tracklist, especially in the middle and towards the end of the album.
That said, there is plenty to enjoy on Hereditary. Because of samples taken from classic Wu-Tang Clan songs, tracks like "Wrong Route", "Pxrokinesis" (featuring Masta Killa's son Pxro), "Blockchain", and the single "7.O.D." have a recognizable Wu-Tang vibe to them. Other standouts include the dope instrumental intro track "Royal Genetics", "Guess Who? ", "From The Isles Of Staten", and "Goldn Meathooks" (with Inspectah Deck). There are a couple of weaker tracks too (like the meandering "Alotta Loot", "Express Power", and "With This"), but overall Hereditary is well-worth checking out, a must for Wu-Tang diehards at least.
Release date: January 14, 2021. 
Nyck Caution - Anywhere But Here
Pro Era's Nyck Caution delivered a middle-of-the-road Hip Hop album with Anywhere But Here. There was potential for greatness here because Nyck Caution is an excellent lyricist – his flow is great, and his personal, introspective lyrics are listen-worthy from start to finish. The album is brought down some by the instrumentals though, the beats all are a little bit too boring and unmemorable to really do justice to Nyck Caution's rhymes. Also, Nyck Caution's fondness for R&B-ish hooks on a lot of songs here can be an annoyance (unless you share that fondness, of course).
Anywhere But Here is a short album at 36 minutes, but it feels longer – never a good sign. A bunch of features from the likes of Joey Bada$$, Denzel Curry, Kota the Friend, and CJ Fly (among others) add extra flavor to Anywhere But Here, but not enough to make the album especially memorable. Now, all this may sound more negative than the album really deserves – the lyrics on Anywhere But Here are pretty strong, and the instrumentals are easy to get into. But just because Anywhere But Here can potentially be appreciated by anybody, the album might end up being ignored by everybody.
Release date: January 15, 2021. 
Illa Styles - Mind Your Reality
Illa Styles is an artist from Richmond, Virginia (by way of Philadelphia). His Mind Your Reality is a short but strong project, with thoughtful lyrics and dope beats & flows from start to finish.
Release date: January 11, 2021. 
Son Of Tony - Son On A Sunday
Son Of Tony emerges from the Buffalo, New York underground with his debut project Son On A Sunday. With dark, atmospheric beats and hard-hitting street rhymes by Son Of Tony and guest vocals by the likes of Skyzoo, Mickey Factz, Ren Thomas, and Tish Hyman, this is a solid little album that will especially resonate with fans of East Coast underground street rap.
Release date: January 8, 2021. 
YUNGMORPHEUS - States Of Precarity
Los Angeles-based rapper YUNGMORPHEUS has been very prolific in recent times, dropping a number of projects with thought-provoking and often provocative lyrical content. States Of Precarity is another quality YUNGMORPHEUS release, albeit one for a niche audience. YUNGMORPHEUS has something to say, and his lo-fi jazzy beats gel well with his chilled-out flow and delivery. Those who have never listened to him before but who dig music from regular YUNGMORPHEUS collaborators like VIK, Pink Siifu, Fly Anakin, Koncept Jack$on, and Ohbliv, should go and listen to States Of Precarity.
Release date: January 8, 2021. 
7 Oddz & DJ-M1 - Seven vs One
Chicago crew Seven Oddities (DreamTek, Tony Patagonia, Al Tamper, Billie Dee Boodah, DoomsDay Araiza, Roy Hobes, and MC Clever One) teamed up with DJ M1, who took care of all production and cuts on Seven vs One. Solid 90s-centric underground boom-bap – nothing special, but enjoyable enough nonetheless.
Release date: January 7, 2021. 
Reasun- Resolve (The Mixtape)
Reasun is an emcee repping Pittsburgh, Pennsylvania, and his debut project Resolve (The Mixtape) is a mixtape in the truest sense – 14 songs mixed into one long 44-minute track by DJ Thermos. Nice.
Release date: January 7, 2021. 
Taiyamo Denku & John Doe - Bars Bury Them
Prolific Milwaukee-based emcee Taiyamo Denku teamed up with John Doe for Bars Bury Them. The project is entirely produced by German producer Bo Faat – this is the third full-length collaborative project from Taiyamo Denku and Bo Faat in less than a year. Bars Bury Them is solid Taiyamo Denku – while he rarely comes with something truly memorable, he never really disappoints either. This is a solid throwback boom-bap project, good enough to deserve an honorable mention here.
Release date: January 1, 2021. 
Lukah - When The Black Hand Touches You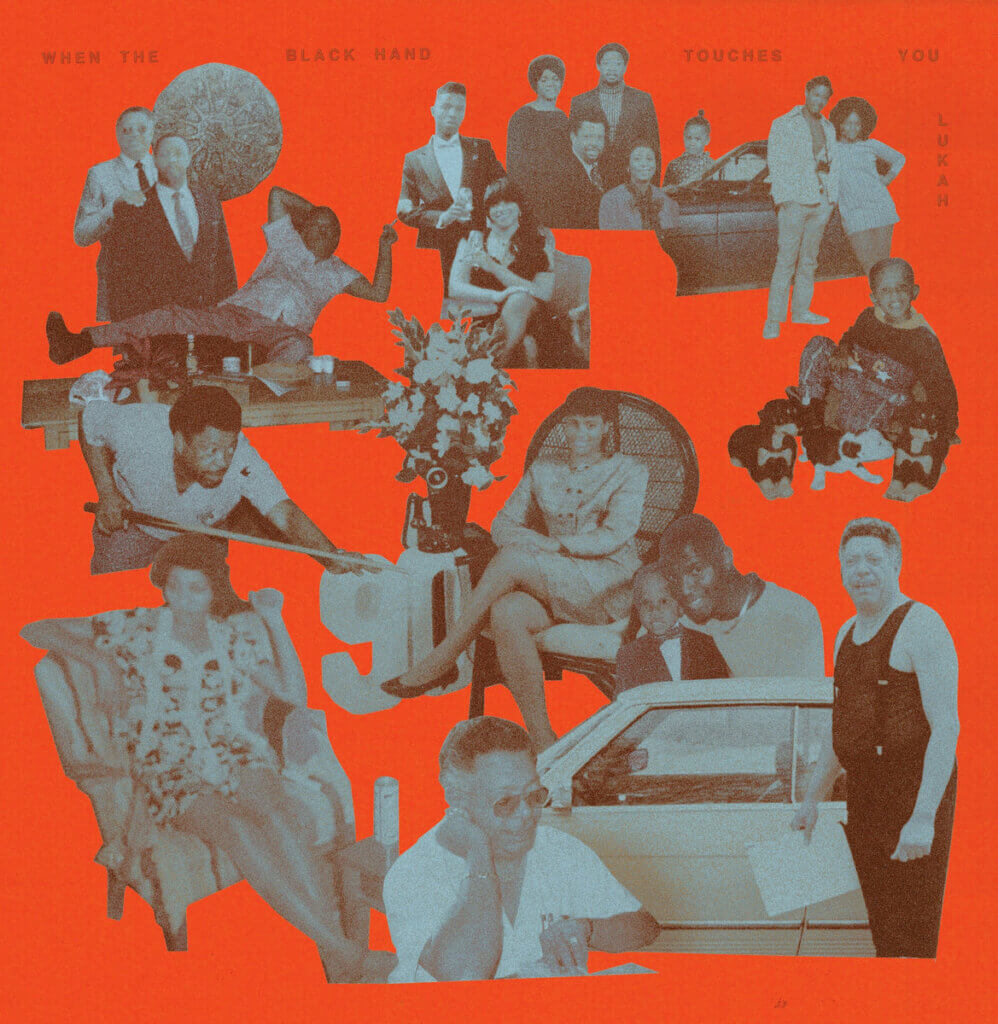 Memphis, Tenessee emcee Lukah's When The Black Hand Touches You is a dope follow-up to its (slightly superior) predecessor Chickenwire (2018).  Lukah comes with 16 tracks on When The Black Hand Touches You, musically strong with atmospheric sample-based production and with hard-hitting street raps in the vein of Griselda and Freddie Gibbs. A lot of albums like this one drop these days, and even if When The Black Hand Touches You has nothing to make it really stand out from the crowd, because of its consistency it will comfortably end up on the higher end of this subgenre's spectrum in 2021. Fans of Freddie Gibbs's music better not sleep on When The Black Hand Touches You.  
Release date: January 1, 2021. 
Meph Luciano - Annihilation
Meph Luciano is a Dallas, Texas-based emcee/producer. Annihilation was produced by Chim Beats, and features vocals by Melp Luciano of course, along with underground emcees like Casablanca, DRE Colombian Raw, Tito The Czar, and a host of others. Annihilation is deliciously dark and atmospheric, a great addition to the rap-noir subgenre.
Release date: January 1, 2021. 
DJ Cosm - Natural Within
Natural Within is a charming little project from Canadian DJ Cosm. 10 dope tracks, no filler, no interludes, no skits, or any such nonsense – nothing but smooth 90s-centric boom-bap beats and great features from artists like Sadat X, El Da Sensei, Prince Po, Starvin B, Chris Orrick, Daniel Son, Skanks the Rap Martyr, Anti Lilly, (and lots of others).
Natural Within is a consistent presentation throughout, but a special mention goes out to "Frank Sisson's" a track with an infectious beat and with dope rhymes from an emcee named Belvedere Spinello, whose flow sounds like a blend of Grand Puba, Chubb Rock, and Pete Rock in their best days. Natural Within is kind of generic maybe, but totally enjoyable – fans of that 90s type Hip Hop can't go wrong with this DJ Cosm project.
Release date: January 1, 2021. 
R​.​A​.​P. Ferreira - Bob's Son (R​.​A​.​P. Ferreira In The Garden Level Cafe Of The Scallops Hotel)
R.A.P. Ferreira, the artist formerly known as Milo, starts off the year strong with this solid follow-up to Purple Moonlight Pages, R.A.P. Ferreira's excellent 2020 jazz-hop album. Bob's Son is just as loungy, and even more unorthodox in its song structures – the whole project produced entirely by R.A.P. Ferreira himself under his Scallops Hotel alias.
The title of the album refers to mid-20th century beat poet and surrealist Bob Kaufman, not for no reason of course: the poetic lyrics on Bob's Son can be seen as an homage to Kaufman's work. R.A.P. Ferreira's lyrics are characteristically impenetrable, but they are delivered with his usual confidence and charm – so even if it's not always crystal clear what he's talking about, his vocals are a pleasure to listen to.
Despite the experimental, at times even kind of chaotic character of the album, the mellow vibes of the instrumentals make it an easily digestible listen. Due to the album's brevity – it runs for a mere 35 minutes – it does feel kind of lightweight though. And because it starts off better than it ends, the album is not as strong and well-rounded overall as Purple Moonlight Pages is. That said: Bob's Son is a pretty good album – kind of weird, but charming all the way through.
Release date: January 1, 2021.