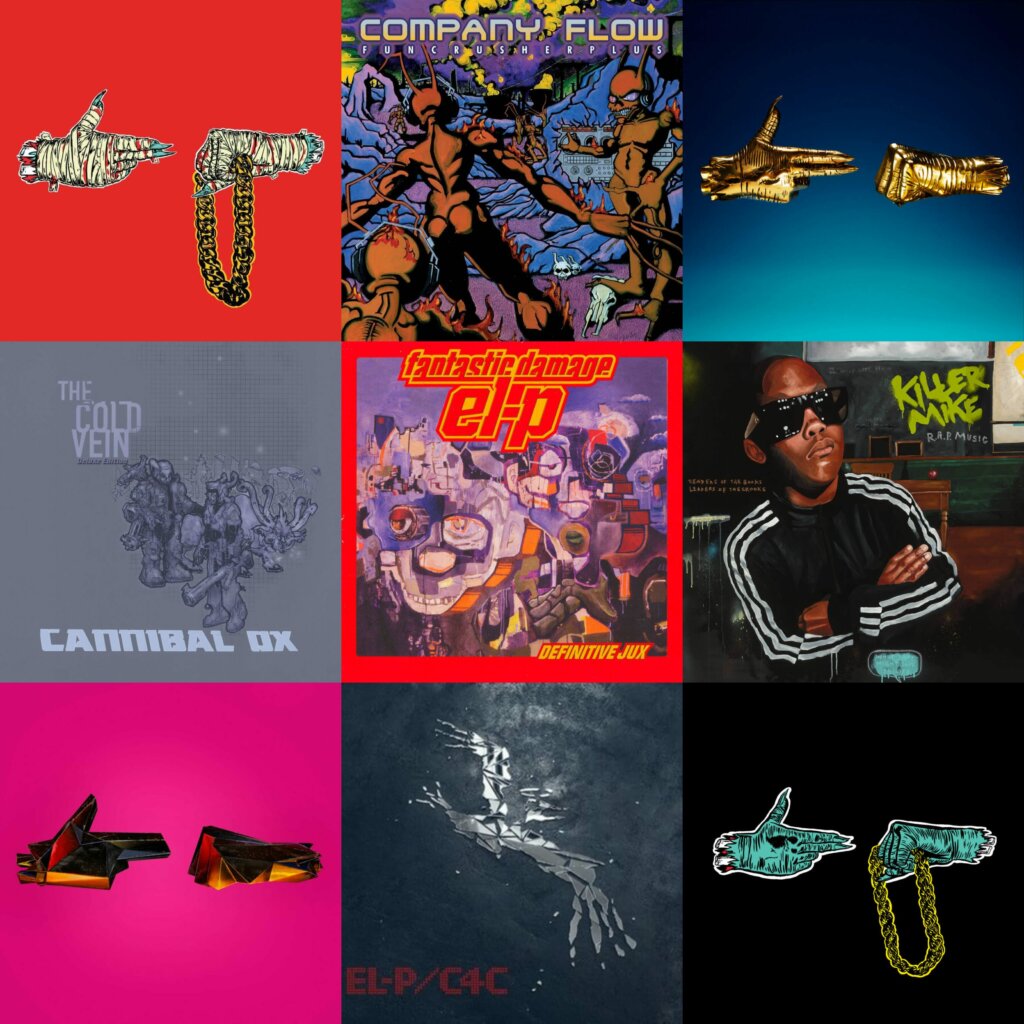 Top 10 Albums Produced By El-P: [Jaime "El-P" Meline (born March 2, 1975) is a rapper, producer, and entrepreneur who has helped to define the sound and aesthetic of underground Hip Hop, starting in the mid-1990s.
Meline's early work, with the group Company Flow, gave listeners an idea of his style – both music and lyrics were dense, aggressive, and science-fiction laced. He would refine his style on his two critically acclaimed solo albums, Fantastic Damage and I'll Sleep When You're Dead, as well as a number of instrumental-only outings and collaborations. He also founded the influential (and now sadly defunct) record label Def Jux, which put out now-classic releases from Cannibal Ox, Aesop Rock, and more.
Meline has as of 2011 signed to Fat Possum Records. In 2012 El-P produced and released his third album, Cancer 4 Cure, and in the same year, he produced Killer Mike's album, R.A.P. Music. Both albums were "universally" acclaimed, with many critics praising El-P for his production style.
As of 2013, El-P and Killer Mike have been collaborating under the name, Run The Jewels. The duo has released four successful albums.]
At this point in time, it is impossible to overstate the impact El-P has had on Hip Hop in his 25 years in the game. He was instrumental in keeping underground Hip Hop alive in the late 1990s and over the years his sound got indelibly entrenched in the DNA of Hip Hop music. With this piece, we take a look at the albums that he released as a solo artist, that he did with Killer Mike as Run The Jewels, or that he has produced in full. This Top 10 Albums Produced By El-P is ranked according to our personal preferences, but it has to be said there's not much between these albums – ALL projects on this list are EXCELLENT.
10. El-P – I'll Sleep When You're Dead (2007)
El-P's second solo album, and another dope one. As always, El Producto brings that innovative, deeply layered, sonically dense flavor – never that run-off-the-mill rap music. Left-field Hip Hop at its finest. Standout tracks include 'Habeas Corpses" (feat. Cage), "EMG", "Run The Numbers" (feat. Aesop Rock), "Tasmanian Pain Coaster", "Up All Night" (feat. Mr. Lif), and "Drive" – but this a solid and consistent listen from beginning to end.
9. Run The Jewels - Run The Jewels (2013)
El-P and Killer Mike exhibit a great deal of synergy and potential across this first release as Run The Jewels. Coming after their successful collaboration on Killer Mike's R.A.P. Music, forming a duo was nothing but a logical step. Although not even their strongest outing, Run The Jewels still is one of the better projects of the 2010s, laying the groundwork for even better things to come. Like the other RTJ projects, this project is aging very well, and with four straight near-perfect albums under their belts, there can be little discussion about the fact Run The Jewels is one of the greatest duos in recent Hip Hop history.
8. El-P - Cancer 4 Cure (2012)
El-P's Cancer 4 Cure – his third solo studio album – is bold and powerful, filled with hard beats laced with gloomy synth and electronic elements. El-P has always been a class-A producer, an essential presence in underground Hip Hop in the late 90s, instrumental in keeping real Hip Hop alive when Puffy, Jay-Z, and the mass-production rap factories from Cash Money and No Limit were flooding the market with generic rap fare. El-P has always been pushing creative boundaries and on Cancer 4 Cure it's evident he keeps evolving. 2012 was an important year for El-P and Hip Hop: he was responsible for the production of Killer Mike's modern classic R.A.P. Music, and of course for this gem – both albums would prove to be perfect stepping stones to the monumental projects he would go on to create with Killer Mike as Run The Jewels.
Cancer 4 Cure not only showcases El-P's ever-evolving production chops but also his refined delivery – his emceeing is better than ever, with a good mix of fairly straightforward and denser lyrical content. A few well-placed guest spots from Killer Mike, Mr. Muthaf*ckin' eXquire, Danny Brown (among others) help to round off this triumph. Quality headphones are mandatory for optimal enjoyment.
7. Run The Jewels - Run The Jewels 4 (2020)
Run The Jewels (2013), Run The Jewels 2 (2014), and Run The Jewels 3 (2016) all are among the best Hip Hop albums of the 2010s, three important albums for Hip Hop as a genre. Because of its predecessors, Run The Jewels 4 was one of the most-anticipated albums of 2020 – and it delivers on all fronts.
As El-P promised: RTJ4 is a punch in the face – and in a good way. This is an album the world needs right now. RTJ4 is a near-perfect presentation of fresh, exciting, banging beats and politically potent lyrics. Given their track record with the first three RTJ albums it was hard to imagine Killer Mike and El-P disappointing – but even equalling the level of quality of especially RTJ2 and RTJ3 was ever going to be a tall order. RTJ4 is pretty much on par with its predecessors though.
Killer Mike and El-P sound as powerful and as hungry as ever before, and with this album, they prove that Hip Hop can still be entertaining as well as meaningful. There can be no higher praise than comparing an album to Public Enemy's monumental 1988 classic It Takes A Nation Of Millions To Hold Us Back, but in this case, the comparison is totally justified. El-P's top-notch production is like a perfect evolution of the famed Bomb Squad sound and the politically-charged lyrical content is intelligent, hard-hitting and thought-provoking in the best Public Enemy tradition.
RTJ4 is a confirmation – at this point, we can start calling Run The Jewels one of the best duos in Hip Hop history. Four phenomenal albums in a row, it's undeniable. Throw in Killer Mike and El-P's respective solo work and they're all-timers.
Timely and timeless – RTJ4 goes HARD.
6. Killer Mike - R.A.P. Music (2012)
We love it when everything we value in Hip Hop comes together in one project. Killer Mike's R.A.P. Music (Rebellious African People Music) is such a project, one that fires on all cylinders. Hard-hitting, kick-ass beats for Killer Mike to spit his uncompromising and thought-provoking lyrics over, this is what Hip Hop is all about. R.A.P. Music was an instant classic, reminiscent of the fire and fury early Ice Cube and Public Enemy albums brought – this album has that same sense of intensity and urgency.
Killer Mike was already able to boast a strong discography before the release of R.A.P. Music, but this album is on another level. His synergy with El-P is awesome – something they would continue to prove with the three excellent Run The Jewels albums that would follow this collaboration. Killer Mike's lyrics are raw and unapologetic yet intelligent and socially conscious at the same time – and the ingenious soundscapes provided by El-P only serve to strengthen Killer Mike's diverse lyrical content.
R.A.P. Music was too real to attract big-time mainstream media attention, but it is an important album and a modern classic.
5. El-P – Fantastic Damage (2002)
The first solo album by Definitive Jux head-honcho El-P builds on the lyrically and sonically dense sound he pioneered with Company Flow, with Fun Crusher Plus (1997) as the benchmark album that was instrumental in keeping real Hip Hop alive. On Fantastic Damage, he produces avant-garde digital beats and drops ill lyrics designed to make you listen carefully and to make you think. With his drive to experiment and innovate, El-P's (and Def Jux's) influence on keeping Hip Hop fresh and exciting cannot be overstated.
4. Cannibal Ox – The Cold Vein (2001)
Cannibal Ox really delivered something special with The Cold Vein. With invaluable work on the boards of El-P during the heyday of the unsung Def Jux label, this album is nothing less than a masterpiece. The lyrical prowess displayed by Cannibal Ox's two emcees Vast Aire and Vordul Mega is outstanding, they succeed in painting a grim picture of modern NYC life with imagery that's highly creative. El-P's innovative and layered production is what sets the atmosphere for the album though – this one of those albums where the beats perfectly complement the lyrics and vice versa, creating a musical tableau that is atmospheric and hypnotic at the same time – complex but ultimately eminently rewarding. The Cold Vein was years ahead of its time and is only getting better as time goes by.
3. Run The Jewels - Run The Jewels 3 (2016)
The best record of 2016, Run The Jewels' third album is another hard-hitting winner – it's crazy to think how consistent their projects have been. El-P and Killer Mike's chemistry remains as great as it has always been, on this album they once again do pretty much everything right. El-P's production is amazing (of course), the lyrics are deep and thought-provoking, the flows are as good as ever, and the features all work. Even if RTJ2 is the best Run The Jewels album, RTJ3 is not far behind.
2. Company Flow - Funcrusher Plus (1997)
Funcrusher Plus is one of our favorite Hip Hop albums ever, and one of the most IMPORTANT albums in Hip Hop history. A hate-or-love-it kind of album for many due to its innovative and experimental nature, but doubtless a classic. Company Flow, consisting of El-P (beats & rhymes), Big Juss (rhymes) & DJ Mr. Len (beats & scratches), dropped this gem to bless Hip Hop in a time period where shiny suit rappers and gangsta posers were getting most of the spotlight, proving real Hip Hop would always survive – if necessary underground. Ahead of its time and very influential, Funcrusher Plus (together with Kool Keith's Dr. Octagonecologyst) paved the way for countless underground and left-field Hip Hop acts, who were and are instrumental in keeping the genre fresh.
1. Run The Jewels - Run The Jewels 2 (2014)
Who would have thought El-P and Killer Mike could outdo their collaborative debut Run The Jewels (2013)? That record was epic and unstoppable enough, but this one is even better – more layered and even darker. The out-of-the-box combination of El-P and Killer Mike has proven to be unbeatable – this album is lyrically intelligent and hard-hitting as well as sonically brilliant, RTJ2 easily is one of the best and most important Hip Hop albums of the 2010s.