Best 25 Traditional Boom Bap Albums Of 2020: It's not a secret HHGA isn't a big fan of mainstream (t)rap music. Artists like Future, Lil Baby, Lil Uzi Vert dropped commercially successful projects this year, so it's obvious there are lots of folks out there who like that kind of music – and that's fine: to each his own. For us, trap music is like a separate genre, Hip Hop adjacent maybe, but different from Hip Hop like neo-soul and R&B are different from Hip Hop. But even if we don't count trap, Hip Hop has never been as diverse as it is today, with artists taking Hip Hop into all kinds of new, exciting directions. Authentic Hip Hop is one of our go-to subgenres though, that's why we will always highlight great boom-bap albums that are ignored by most major (so-called) Hip Hop outlets.
For this Best 25 Traditional Boom Bap Albums Of 2020 list, we have selected 25 dope 80s- and 90s-centric boom-bap albums released in 2020, presented here in no particular order. Some of these albums are better than others, but all projects listed here are must-listens for heads who can't get enough of traditional-sounding Hip Hop. Have YOU listened to all of the albums listed here yet?
Jorun Bombay & Phill Most Chill - Jorun PMC
There have been a lot of great albums released in the wave of Golden Age revivalist boom-bap we've been experiencing in the past decade, but NONE as good as Jorun PMC.
The whole album is packed with nods to classic songs and styles from acts like Run DMC, EPMD, Eric B & Rakim, UTFO, LL Cool J, Roxanne Shante, Mantronix, Cold Crush Brothers, Melle Mel, and many more of the 1980s legends – from the title of the album, to the cover art, to the beats, to the samples, to the turntablism, to the lyrics – this project is the best kind of trip down memory lane any old-school Hip Hop fan could wish for. Jorun Bombay's 80s-centric beats and scratches are crisp and fresh, and Phill Most Chill's raps are dope as f. His flow, his delivery, his cadences, his lyrics – what he did here is simply brilliant.
This is not Phill Most Chill's first excellent throwback project, but it is his very best to date. The self-proclaimed torchbearer of traditional Hip Hop really outdid himself on this one, and his match-up with Jorun Bombay proves to be golden – Jorun PMC is a Hip Hop traditionalist dream. It will most likely go way over the head of this generation's trap-crowd, but those who grew up with 80s Hip Hop and younger Hip Hop listeners who know their classics will LOVE this one.
Roccwell - Still Lovin' Boombap
A remarkable thing in the boom-bap resurgence we are currently living through is that a lot of the best albums of this kind are created by non-American producers. Giallo Point (UK), Leafdog/The Four Owls) (UK), Kyo Itachi (France), Protektahz (Australia), DJ M-1 (Ireland), Bo Faat (Germany), Insideus (Australia), Kut One (Australia), Cotardz (Brazil), Cut Beetlez (Finland) – just a few names of producers who were all involved with or responsible for dope traditional-sounding boom-bap projects that dropped this year.
Roccwell is a producer from Munich, Germany. The title of the album doesn't leave anything to the imagination – Still Lovin' Boombap does exactly what you'd expect. Bars, beats, and turntablism – that's what you get here. Some people complain about the genericness or lack of innovation on projects like this, but why? If boom-bap Hip Hop with a 90s vibe is your thing, then this will satisfy your cravings for sure. Of course, you can listen to the classics released back in the day, and you should, but it's refreshing to see there are talented producers all around the world – like Roccwell – willing and able to keep the subgenre alive with quality projects like this one.
On Still Lovin' Boombap, Roccwell gathers not only the 90's heroes QnC (Q-Ball and Curt Cazal – the latter from the legendary JVC Force), Craig G and Maylay Sparks but also other hungry underground emcees from the US like M-Dot, Ruste Juxx, Born Unique, Wildelux, Bankai Fam or Glad2Mecha. Also, there are scratches in all of the songs, for which DJ Case, 12FingerDan and B-Base (Soulbrotha), DJ Danetic (Snowgoons), DJ LP2, DJ Tricky, and DJ Skruff contributed numerous cuts.
Still Lovin' Boombap offers grown men rap of the best kind, listen to albums like this one for a taste of timeless Hip Hop.
Eleven & Jason D - Strike Back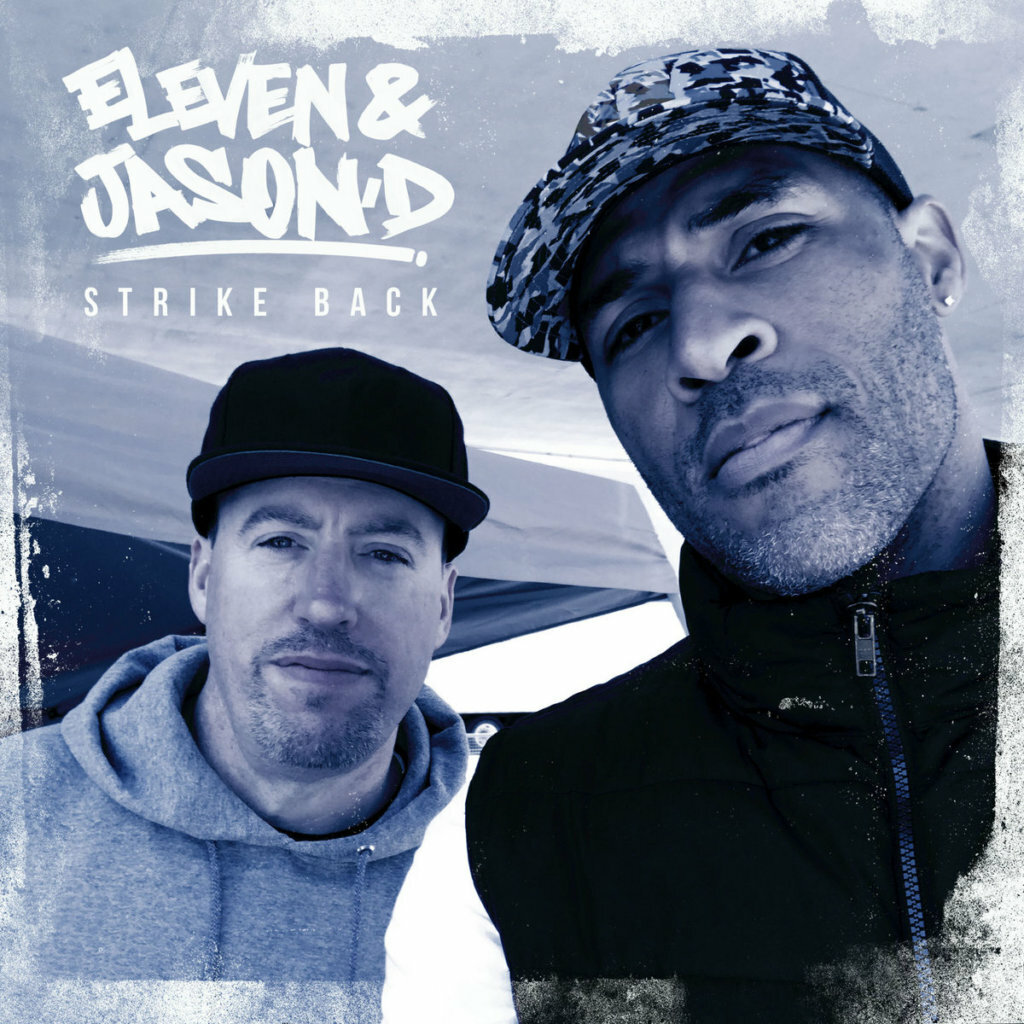 Currently residing in Boise, Idaho, Hip Hop veterans Eleven & Jason D bring back that traditional boom-bap sound to the 2020s with Strike Back, their third collaborative project. An album that kicks off with the opening part of the classic "Stoop Rap" from Wild Style sets itself up to be a winner. And no mistake, Eleven & Jason D's Strike Back is dope as hell. To get the only complaint out the way first: at 9 tracks and just over 30 minutes of playing time Strike Back is way too short – this album should have contained 4 or 5 extra cuts to give it the substance a true full-length project needs.
But even if Strike Back is not long enough, the 9 songs we get are FIRE. Eleven (born and raised in San Diego, California) is the emcee, consistently coming with smart and focused lyrics, and with a great throwback flow too. DJ Jason D got his start in the Bay Area of California, learning the DJ craft from Pam the Funkstress, the late great Bay Area DJ from The Coup. True to his start in Hip Hop in the late 80s his music has that raw throwback sound, perfectly suited for Eleven's flow and delivery. Through Eleven's bars and the cuts and samples Jason D worked in his booming beats, it's evident these guys know, love, and respect Hip Hop from the 80s and early 90s. One of the stand-out cuts that perfectly illustrates this point is the posse cut "It's So & So", which interpolates KRS-One's "My Philosophy" to great effect.
In recent years Hip Hop has experienced a resurgence of boom-bap Hip Hop, roughly separable in neo-boom-bap and a more traditional form. Strike Back is an exponent of the latter – this is boom-bap Hip Hop as authentic as it gets. If you can't get enough of 80s Hip Hop, copping Strike Back is a no-brainer.
Cut Beetlez - What Beetlez?
Cut Beetlez is a DJ/producer duo from Finland, consisting of HP Lovescratch and J-MAN. In recent years they dropped a couple of dope EP's for which they teamed up with Hip Hop traditionalists like The Good People and Nice Guys. What Beetlez? is a real full-length at 44 minutes, and it arguably is Cut Beetlez's best project yet. For this album, the duo recruited a bunch of great emcees like Guilty Simpson, Rah Digga, El da Sensei, J-Live, Reks, and The Good People (among others) to take care of the vocals.
What we get here is a selection of dope boom-bap beats, a lot of good old-fashioned turntablism, and nostalgia-inducing sampling – Cut Beetlez is one more example of the fact it is European producers who are carrying the torch for traditional-sounding Hip Hop right now. Due to its 100% throwback vibe What Beetlez? will not be for everybody – but for Hip Hop purists stuck in the late 1980s and early 1990s, this album is GOLD.
The Four Owls - Nocturnal Instinct
The Four Owls is a supergroup consisting of 4 of the UK's finest Hip Hop artists, who can all boast strong solo careers: Fliptrix, Leaf Dog, BVA & Verb T. Nocturnal Instinct is not their first excellent album together (especially Natural Order (2015) is a must-listen), but this 2020 album may be their best yet. Smart thing they did is recruiting a couple of heavy hitters from the US to get that cross-the-Atlantic appeal – appearances by Kool G Rap, Roc Marciano, R.A. The Rugged Man, and Masta Killa help to give Nocturnal Instinct extra allure. Also, DJ Premier shows up, supplying his signature scratches for one of the stand-out tracks, "100%". But there are no weak tracks here. Nocturnal Instinct consists of 14 songs, all strong, with no interludes or other useless filler. Nocturnal Instinct is a masterclass in pure Hip Hop.
Kid Abstrakt & Emapea - Jazzy Vibes
Jazzy Vibes is a 10-track project by Polish beatmaker Emapea and Kid Abstrakt, a member of the group Revolutionary Rhythm from Los Angeles, CA with Predominance & DJ Million Faces. This album is a throwback to '90s Golden Age Hip Hop with a 2020 spin, with mellow, jazz-infused production and boom-bap style beats, rhymes, and cuts & scratches.
At 32 minutes, Jazzy Vibes is as breezy and lightweight as the title suggests, but the ten tracks we get here all are pretty dope. If jazzy Hip Hop or 90s-centric boom-bap is your thing, Jazzy Vibes is a must-listen.
Mark Ski - Catch-REC
After two critically acclaimed beat tapes and a limited edition vinyl EP, UK producer/DJ Mark Ski returns with the self-produced full-length LP Catch-REC. At 32 minutes Catch-REC is on the short side for a proper full-length, but fortunately, the 12 tracks on offer are all consistently dope. One of the obvious highlights is the lead single and title track "Catch-REC", a boom-bap banger for which Mark Ski joined forces with MC's El Gant (Jamo Gang) & G. Huff. Other standouts include "Rhyme After Rhyme" with its dusty drums, the uptempo party jam "Let It Roll", and classic-sounding bangers like "Voodoo", "Nitty Gritty" and "Truck Jewels".
Catch-REC features collaborations with some of the best of the UK and the US underground, including Booda French, Devin Malek, Emma Lee, H3RO, JSWISS, Lulla HF, MCRE, Tenacity (Street Corner Music), Think2wice, and FiveSe7en Collective label mates Blame One (Dirty Science) & J57 (Brown Bag All-Stars/Jamo Gang), and all cuts on the album are done by Mark Ski himself.
Recent times have seen a resurgence of late 80s early 90s-centric boom-bap Hip Hop – a lot of albums like this one drop these days. A good thing, especially if they are as good as Catch-REC is. The biggest knock against Catch-REC is its brevity, but that's a minor complaint.
bRavenous - Between The Lines
After Jorun Bombay & Phill Most Chill's "Jorun PMC", Cut Beetlez's "What Beetlez?", and Eleven & Jason D's "Strike Back", "Between The Lines" from Halifax native and Calgary-based emcee bRavenous is one of the best throwback Hip Hop albums of the year. Booming AND smooth beats, sharp turntablism, and entertaining wordplay – this is traditional boom-bap done right.
The singles "Classic Material Remix" "Tape Deck Flex", and "Boombap Reflections" are standouts, but this whole album is fire – another must-listen for Hip Hop traditionalists at least.
Andy Cooper - L.I.S.T.E.N.
Andy Cooper has made a name for himself as one-third of Ugly Duckling (alongside Dizzy and Young Einstein) with a bunch of dope albums since the mid-90s. L.I.S.T.E.N. (Lyrical Innovation Supplying The Ear's Need) is an essential listen for fans of traditional sounding Hip Hop in general and of course for Ugly Duckling fan in particular.
L.I.S.T.E.N. follows on his last solo release The Layered Effect (2018) and it is just as good. With its funky and fresh instrumentals and Cooper's throwback rap flow, L.I.S.T.E.N. may be old school in spirit, but it never sounds dated or derivative. In fact, because of its creative instrumentation and Cooper's infectious lyricism, L.I.S.T.E.N. has a distinctively unique vibe that has a place in 2020.
There are lots of dope traditionalist Hip Hop albums out this year and this one fits right in, on the upbeat/funky/musical boom-bap side of the throwback Hip Hop spectrum. L.I.S.T.E.N. is kind of breezy but at the same time great fun – a pleasure to listen to.
Apokalips The Archangel - 1137Q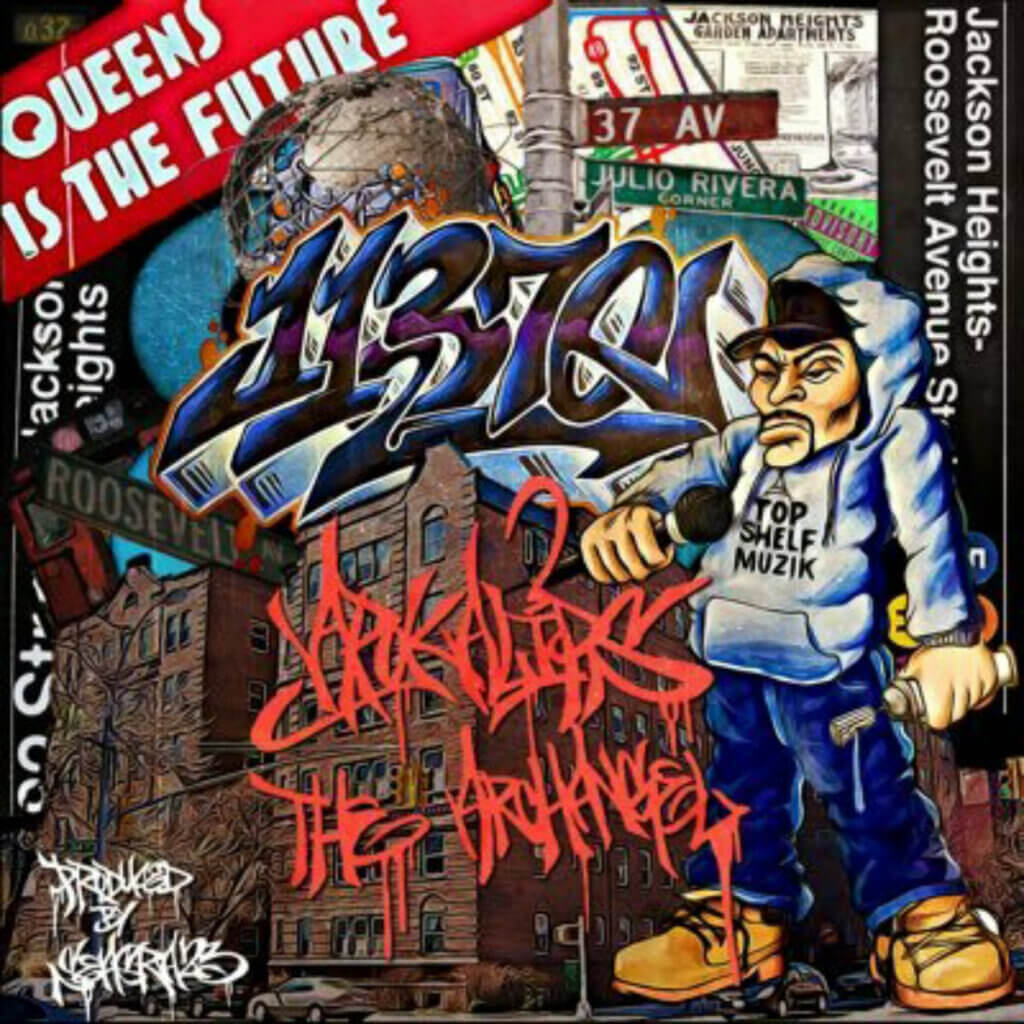 Apokalips The Archangel is an underground emcee hailing from New York. 11372 is the zip code of the neighborhood where Apokalips The Archangel was raised aka Jackson Heights, Queens – which is why he chose the title 1137Q for this project. The whole album was produced by longtime collaborator and fellow New Yorker Seasra23.
1137Q is a dope throwback boom-bap album – everything about this thing breathes traditional Hip Hop – the beats, the cuts, the flow, the rhymes, even the cover art. Great project.
Marvalyss - Where The Sidewalk Ends
Marvalyss of Hartford Connecticut is an emcee's emcee, with a powerful voice, a dope 90s-centric flow, and listen-worthy bars. Where The Sidewalk Ends offers close to 40 minutes of atmospheric boom-bap beats crafted by Pittsburgh-based producer Alcapella, and great rhymes by Marvalyss and a couple of guests. The likes of Recognize Ali, A-F-R-O, and King Magnetic make appearances – especially "Neighborhood Bullies" with cuts by Chumzilla and rhymes by the incomparable A-F-R-O is a banger.
If smooth boom-bap beats combined with quality rhyming is your thing, checking out Where The Sidewalk Ends is a must.
MC Shinobi - The Revenge Of Shinobi
Nice one. Phoenix, Arizona rhymer MC Shinobi comes with one of the better 90s-centric boom-bap albums of the year. The Revenge Of Shinobi sounds likes it came straight from Pete Rock's playbook, or maybe from DITC's Showbiz's – the horns-infused beats laced with samples from 90s Hip Hop classics take the listener straight back to 1992.
"For the Golden Age of Hip Hop I have to give a bow", MC Shinobi says on "1520 Sedgwick Ave" (Hip Hop fans will know the significance of that address). DJ Obsolete, DJ DareDevil, B.B.Z Darney, Soe95, Q-Knight, and MPadrums provide musical backdrops Pete Rock will approve of, and Shinobi has the skills to do the beats justice. His 90s-type flow and delivery suit the instrumentals, and although there's nothing especially memorable here, The Revenge Of Shinobi is a consistent and above-average addition to the ever-growing collection of boom-bap renaissance albums we are treated to lately.
Heron & Serum - Heron & Serum
Miami residents DJ Heron and renowned battle rapper and graffiti artist Serum teamed up for their straightforwardly titled collaborative debut: Heron & Serum. The duo will not go and win any originality prices with this nostalgic piece of work, but that's probably not what they set out to do.
Heron & Serum should be appreciated for what it is: a delicious Golden Age flavored project with a tightly produced selection of beats and scratches by Heron and enjoyable wordplay by Serum and guests like Shabaam Shadeeq, Reks, Wrekonize, and Graig G (among others). Heron & Serum will most likely gain no traction among the mainstream crowd, but for those stuck in the early 90s, this album is a must-listen.
MAD1NE - King Leo Green
King Leo Green is San Antonio emcee Mad1ne's second album of the year, following Insane Hate Poems (which was released in February). Like Insane Hate Poems, King Leo Green is another solid throwback boom-bap project. Mad1ne's flow and delivery come straight from the 90s and the beats – once again produced by Kizer and Ruler Why – are suitably 90s-centric as well.
Awful P & Conflikt - The BoomBaptism
Generic throwback boom-bap? Maybe. But even there is nothing new or innovative about The BoomBaptism, there are no weaknesses to be found either. People who have a love for trap and mumble rap and such will probably be quickly turned off by The BoomBaptism, and it is easy enough to dismiss this album as another typical product by and for out-of-touch old heads who can't (or don't want to) understand the new cats who are creating a kind of rap music that's just not for them. So fans of Lil This-or-That should probably stay away from The BoomBaptism, but people who grew up on 90s Hip Hop and who have little love for trappers and mumblers will find a lot to like here. And it's not all dismissing today's rap and glorifying the days of old, on a track like "It Was All So Simple" Awful even reaches out to the new brand of rappers to say they just should do their thing, as long as it's clear that he will do the same – and that's creating authentic Hip Hop.
The BoomBaptism offers an hour of banging throwback beats and the bars to go with them, nothing more, but certainly nothing less.
Verbz & Mr Slipz - Radio Waves
Lots of pretty good 90s-centric boom-bap albums coming out of the UK this year, this Verbz and Mr Slipz collaboration is one of them. Radio Waves is a LONG album at 76 minutes – but it's mostly great, so its length is not a problem. Mr Slipz's atmospheric beats, samples, and scratches manage to capture that 90s vibe, and Verbz is a fine emcee with a great flow and a confident delivery. Guests like Melanin 9, Confucius MC, Coops, Axel Holy, Riah Knight, Indira May, Benaddict, Fliptrix, and Nelson Dialect bring some welcome lyrical variation to the table – all resulting in a dope album that should be checked out by boom-bap traditionalists at the very least.
Context & Figarate - Grand Schemes
Context is an emcee based out of Melbourne, Australia and for Grand Schemes he teamed up with UK producer/emcee Figarate. As so often these days the best 90s-centric NYC boom-bap is created outside the USA and this project by Context & Figarate is another example.
Grand Schemes does nothing you haven't heard before, but what it does it does well. Beats, rhymes, samples, turntablism – this is a well-executed traditionalist boom-bap album that deserves a listen.
Seven Spherez - BoomBap x Blunt Raps
Seven Spherez is a Hip Hop duo from Manchester, UK, consisting of Dr. G and Ghost One. Following the equally excellent Boombap x Baseball Bats and BoomBap x Timbo Boots which were both released in 2019, BoomBap x Blunt Raps is the third and last edition in Seven Spherez's BoomBap Trilogy. Dope rhymes, beats, scratches, and samples – everything about this project exudes that late '80s or early '90s Hip Hop.
Senica Da Misfit - Poetic Ruckus 2
Senica (Da Misfit) is an emcee from Severn, Maryland by way of Baltimore. He made a name for himself by battling on local Hip Hop station 92Q JAMS and becoming a reigning champion on its cypher series. He has worked with super producer 9th Wonder, Inspectah Deck from Wu-Tang Clan and Czarface and is a frequent collaborator with Doitall from Lords of the Underground.
Poetic Ruckus 2 is a solid album boasting top-caliber lyricism over sometimes smooth and sometimes rugged boom-bap beats, reminiscent of the early '90s but sonically rivaling today's sounds as well. Top tracks: "Soul Escape", "Boom Bap Invasion", and 'Building".
John Jigg$ - Jigganometry
John Jigg$ is an artist repping New York City Hip Hop scene. With his latest release, he drops a solid presentation of 90s-centric East Coast Hip Hop – a mix of melodic verses, catchy hooks, punchy punchlines, and straight-up battle raps. Jigganometry will not go and win any prizes for originality and innovation, but it definitely is a few pegs above the average retro-boom-bap that's been flooding the market lately. Standout track: "Oprah" – with a dope guest verse from Illa Ghee and sharp cuts by DJ Eclipse.
Protektahz - Protektahz Of Da Lost Art
Protektahz Of Da Lost Art is an excellent throwback boom-bap project from Australian crew Protektahz. With appearances from big names like Cella Dwellas, Rockness Monsta, KRS One, Sadat X, Onyx, Ruste Juxx, Killah Priest, Prodigal Sunn, and Lords Of The Underground (among others), Protektahz recruited a bunch of names that help elevate this project to the next level. Right now Hip Hop is experiencing a boom-bap resurgence, there are lots of quality projects dropping that sound as if they time-traveled to 2020 straight from the early 1990s. Protektahz Of Da Lost Art is such an album, one of the better ones of its kind. Dope beats and scratches, and rhymes by some of the very best emcees – this is a great album.
King Magnetic & Tone Spliff - Nobody's Safe
For Nobody's Safe Los Angeles-based DJ and Producer Tone Spliff hooked up with Army of The Pharaohs member King Magnetic – arguably the 'biggest' rapper alive at At 6'9" and 400+ pounds.
Tone Spliff had one of the best traditionalist boom-bap albums of 2019 with Ardore Melodico, and Nobody's Safe is a nice continuation of that sound – this is pure 90s-centric boom-bap with dope beats, rhymes, and turntable work. King Magnetic is a competent emcee, a bit one-note maybe with his gruff sound. A couple of more features could have done Nobody's Safe good – the one track with two features ("Ice Cream Sandwiches" with Tug McRaw and the incomparable Kool Keith) is one of the best of the album because of its variation in vocal flavor).
That's just a minor complaint though, Nobody's Safe is all about Tone Spliff beats, especially traditional boom-bap aficionados will not be disappointed.
Leaf Dog - Live From The Balrog Chamber
People familiar with the UK Hip Hop scene will know who Leaf Dog is. He is a producer/emcee who has been releasing music since 2005 and who is currently part of Brother Of Stone and The Four Owls (their 2015 album Natural Order was excellent). Live From The Balrog Chamber is Leaf Dog's third solo full-length, after From A Scarecrow's Perspective (2011) and Dyslexic Disciple (2017).
Live From The Balrog Chamber is an 18 track album that features Havoc (Mobb Deep), Grand Puba, Edo G, Cella Dwellas, BVA, Smellington Piff, Thirstin Howl III & The Last Emperor. The album is produced entirely by Leaf Dog himself (except one track which is produced by Fel Sweetenberg). Live From The Balrog Chamber is a great album, with a nice boom-bap throwback vibe all over it, and with enough distinctiveness in the production to separate it from the bunch and to keep it in rotation. Appearances by a bunch of Golden Age legends help of course – the Grand Puba assisted "What You Don't Know", "Legend" with Havoc, "Tryna Keep" with Edo G, and especially "Rhyme Chemist" with Cella Dwellas are obvious highlights. But Leaf Dog can hold his own on the mic too, and most tracks here are fire. If you have never checked out Leaf Dog before now Live From The Balrog Chamber is a great place to start, no doubt you will be checking for his back catalog in no time too.
Shabaam Sahdeeq & J57 - Precious Stones
On the same February day mainstreamers like Lil Baby and G Herbo dropped totally bland trap albums, Shabaam Sahdeeq & J57 came out with Precious Stones, to show and prove Hip Hop is still alive and well. Brooklynite Shabaam Sahdeeq has been a mainstay for NYC underground Hip Hop for decades and is internationally recognized for his work on the classic Soundbombing & Lyricist Lounge series on Rawkus Records, and for having been featured alongside Hip Hop icons such as Pharoahe Monch, Mos Def, Eminem, Busta Rhymes, Red Man, Method Man, Kool G Rap, Common, Talib Kwali and others.
For Precious Stones, Shabaam Sahdeeq teamed up with renowned producer J57. With feature appearances from the likes of Ras Kass, Planet Asia, Nems, Casual, and others, Precious Stones is straight boom-bap, with bangers from start to finish. Listen to tracks like "Razor Sharp Vernacular" (feat. Born Unique & Tri State), "Put You Up On Game" (feat. Planet Asia & Casual), "Smoke Screens" (feat. Rim Da Villin & Nems), "Bar Etiquette" (feat. Ras Kass & El Gant), and the title track "Precious Stones" to be reminded about what Hip Hop is all about. Precious Stones would have been even better if a couple of weaker tracks with corny hooks ("Can I Talk To You", "Feel So Good") had been left off, but the album is long enough to allow a few duds. This is our kind of Hip Hop.
DJ M-1 - Habit Of A Lifetime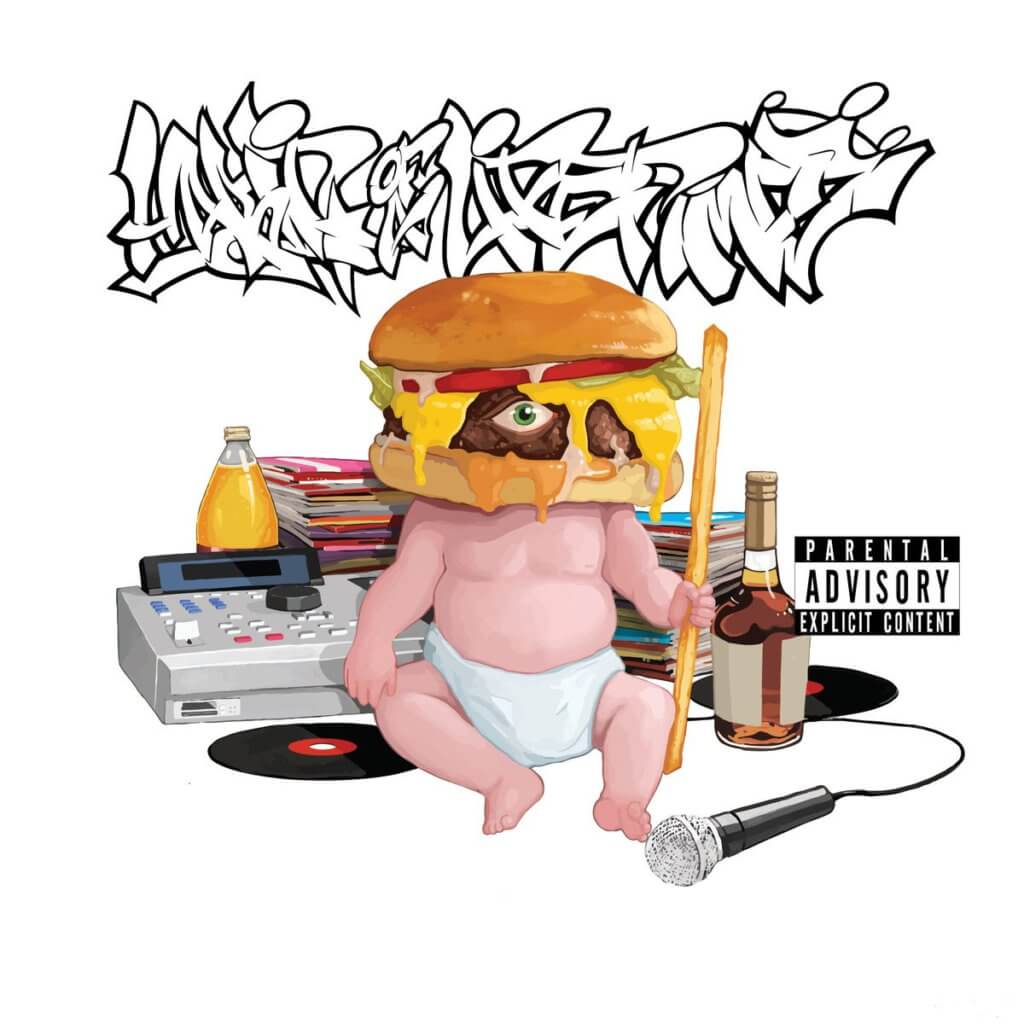 DJ M-1 is a Dublin based DJ & producer who debuted with a great little project titled Choose Your Own Adventure (with Queens, New York MC Starvin B) in 2017. In 2020 he's back with his first full-length: Habit Of A Halftime. With features from Sadat X, Wildelux, G.S. Advance, LMNO, Glad2Mecha, Vakill, Zilla Rocca, Baby Aztro, DJ Eclipse, Gutta Grimey 910, DreamTek, and Tre Eiht Special, Habit Of A Lifetime is a well-rounded album that is a must-listen for those who can't get enough of Golden Age Hip Hop. Dope throwback beats and rhymes all the way through, and a lot of authentic DJ work too – with scratched in vocal samples mostly taken from classic Hip Hop cuts. "How Many Times" (featuring Sadat X and Wildelux) is a prime example of the quality of this project – two emcees flowing over a classic-feeling beat with DJ M-1 cutting up KRS-One and Rakim snippets.
Habit Of A Lifetime will most likely be ignored by all the Hip Hop outlets that are looking for the 2020 projects of Migos and Young Thug and such but for HHGA a project like Habit Of A Lifetime easily trumps all those mainstreamers. Habit Of A Lifetime will not win any originality prices, but it will stay in rotation – and that's all that matters.