February 2021 Round-Up: The 9 Best Hip Hop Albums Of The Month: For this piece, we selected our 9 favorite Hip Hop albums released this February. Did we miss any albums you feel need to be mentioned? Let us know in the comments!
Also read: The Best Hip Hop Albums Of 2021
1. DJ Muggs & Rome Streetz - Death & The Magician
In DJ Muggs' own words:  "Death And The Magician is a sonic and lyrical onslaught on a dark rainy night in NYC, and is based on the Major Arcana cards in the tarot deck. The Death card signals that one major phase in your life is ending, and a new one is going to start. You just need to close one door so the new one will open. The past needs to be placed behind you, so you can focus your energy on what lies ahead. When the Magician appears it points to the talents, capabilities, and resources at the querent's disposal to succeed. The message is to tap into one's full potential rather than holding back, especially when there is a need to transform something."
Legendary DJ Muggs has been a master-producer of dark, sinister instrumentals ever since his Cypress Hill days in the early 1990s, and on Death And The Magician Muggs' elite production brings out the best in New York underground rapper Rome Streetz. Rome Streetz has been one of the most interesting and one of the most prolific voices in the Griselda-type street rap niche ever since his recording debut in 2016, this collab with one of the best producers in the game will take him to the next level. There are no weak tracks on Death And The Magician. Muggs' beats are hard-hitting and gritty as are Rome Streetz's bars, who solidifies his status as one of the most complete lyricists in the game today with this project – delivery, flow, rhyme schemes, wordplay: everything about his performance on Death And The Magician is top-tier. Death And The Magician is the best Hip Hop project released in February.
Release date: February 26, 2021. 
2. Jazz Spastiks - Camera Of Sound
Jazz Spastiks never disappoint. This collective of producers and DJs from the UK has been responsible for plenty of dope music over the years, and Camera Of Sound is yet another excellent addition to their body of work. For Camera Of Sound, Jazz Spastiks recruited Artifacts, Count Bass D, DJ Pocket, C-Rayz-Walz, Kool Keith, Craig G, Phill Most Chill (who had one of our favorite throwback projects last year), The Procussions, Soundsci, and Wee Bee Foolish (Yeshua DaPoEd and Ken Boogaloo) – all artists perfectly in tune with Jazz Spastiks' characteristic upbeat throwback sound.
Most likely Camera Of Sound will not turn up in any other Hip Hop outlet's best-of-2021 lists (most of them will end up lazily listing the highest-profile releases as the year's best, as they always do), but for HHGA albums like this one represent Hip Hop in its truest form, and we applaud and celebrate Jazz Spastiks for it.
Across 18 tracks, Camera Of Sound offers close to 45 minutes of buoyant jazz-flavored boom-bap beats, complemented by artisanal cuts & scratches and dope wordplay by masters of the craft. When it comes to fresh throwback Hip Hop, it doesn't get much better than this.
Release date: February 22, 2021. 
3. Dark Time Sunshine - LORE
Seattle-based alternative Hip Hop duo Dark Time Sunshine – rapper Onry Ozzborn and producer Zavala – return after a 9-year hiatus with LORE, their third full-length studio album together. Their last collaborative album Anx ranks on our top 40 Hip Hop albums of 2012 list, and despite such a long time between DTS projects, there's been no drop-off in the level of quality. Like Anx, LORE is an excellent album. Arguably slightly more accessible than Anx was, LORE still is left-field enough to stand apart from today's crowd of generic rap and Hip Hop releases.
Zavala's lush instrumentals perfectly synergize with Onry Ozzborn's clever wordplay, and a well-chosen roster of featured artists – Ceschi, R.A.P. Ferreira (fka Milo), Homeboy Sandman, and Hail Mary Mallon (Aesop Rock, Rob Sonic & DJ Big Wiz) – round out LORE, offering some welcome variation to Onry Ozzborn's brooding conversational-rap style. LORE offers 46 minutes of intelligent alt-Hip Hop, a great project well-suited for the surreal times we are currently living in.
Release date: February 3, 2021. 
4. SmooVth & Giallo Point - Amongst Wolves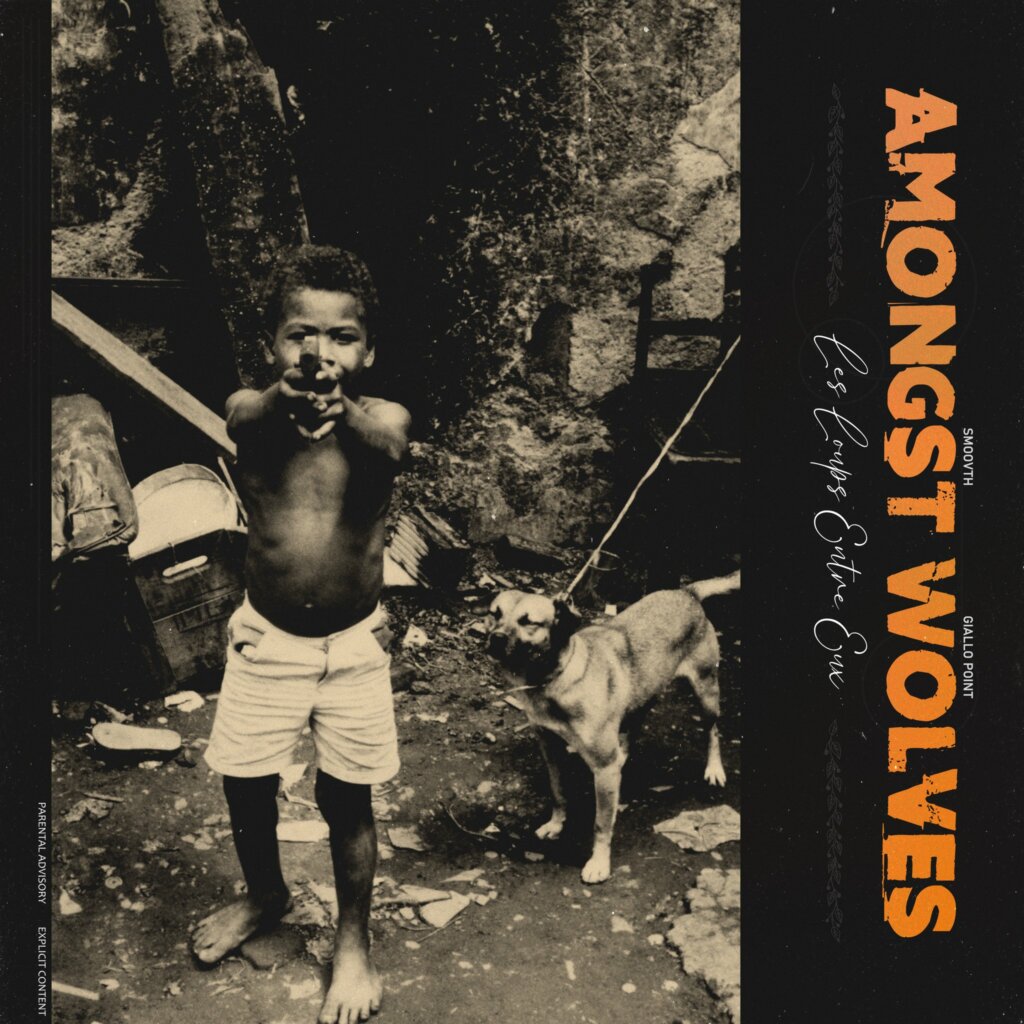 Hempstead, New York rapper SmooVth got back together with British producer Giallo Point for Amongst Wolves, their fifth full-length collaborative album. Amongst Wolves is one of the strongest of the five, on par with the first two: Medellin (2017) and Medellin II: Don Fabio (2018). Giallo Point rarely misses, and he doesn't miss here. The cinematic instrumentals on Amongst Wolves are deliciously dark and moody, perfect for SmooVth's lyrical content. SmooVth brings his A-game with a laidback delivery but with razor-sharp bars, and he keeps the features to a minimum: only Asun Eastwood, Rigz, Eddie Kaine, Rim, Big Twins, and SmooVth's Tha Connection partner Hus Kingpin make appearances, on no more than 5 of the 17 tracks. That makes 12 tracks on which SmooVth's synergy with Giallo Point is on full display and Amongst Wolves is better for it – lots of projects these days have so many features they feel like compilation albums, but not this one: Amongst Wolves strikes the exact right balance. This is a superb piece of music.
Release date: February 22, 2021. 
5. Codenine - LVNDR
Codenine of Massachusetts super-crew Tragic Allies started 2021 off strong with LVNDR. Codenine's debut (with fellow Tragic Allies member Purpose) Below Sumerian Skies ranks on our top 40 Hip Hop albums of 2016 list, and all Codenine projects following that debut were pretty good too. With LVNDR Codenine continues his streak of excellence. Production is tight on LVNDR, darkly atmosphere with dope sampling throughout, and Codenine has bars for days. Like mostly everything that comes out of the Tragic Allies camp, LVNDR strikes a great balance between Hip Hop with a 90s-centric feel and a more contemporary boom-bap sound. Tragic Allies colleague Estee Nack makes an appearance, along with the likes of Crucial the Guillotine, Bub Rock, and Lord Jah-Monte Ogbon – helping round out what is one the finest projects of its sort this year.
Release date: February 8, 2021. 
6. M.A.V. & Hobgoblin - Angelz & Demonz 3
M.A.V. is an emcee from Rochester, New York, and Hobgoblin is a producer from Birmingham in the United Kingdom. Together they are responsible for the excellent Angelz and Demonz series, of which this is the final installment. Dusty boom-bap instrumentals laced with ominous samples, crafted by Hobgoblin – one of the most interesting underground producers active today – and hard-as-nails lyrics from M.A.V. and guests like Vinnie Paz and Ty Farris (among others) – this is a well-rounded project that will appeal to fans of the sounds pioneered by the likes of Roc Marciano and Griselda. That cover art is pretty awesome too.
Release date: February 11, 2021. 
7. Big O & P-Rawb - The Complexity
Four years in the making, The Complexity is a collaborative album from New Jersey/Philadelphia-based artist P-Rawb and London-based (but American) producer Big O. The Complexity is an album for connoisseurs, tasteful and classy – with beautifully crafted laid-back instrumentals and compelling lyricism from start to finish. Go check out The Complexity now, and come back to thank us later for pointing you in the right direction.
Release date: February 12, 2021.
8. Marlon Craft - How We Intended
Marlon Craft's is an emcee from Hell's Kitchen, New York whose name had been buzzing around the internet for a couple of years before he dropped his official debut album Funhouse Mirror in 2019. Funhouse Mirror turned out to be a thoroughly solid listen, with excellent jazzy instrumentals and great bars with a lot of substance and depth. How We Intended is Marlon Craft's sophomore album, and it is a confirmation. Marlon Craft shows and proves he understands how it's done, taking the strengths of his debut and building on them.
How We Intended is a well-rounded project, consisting of 17 well-sequenced tracks in total. The opening track "2020 Intro" is a perfect example of how an album should be opened – a first track needs to be strong to pull the listener in, and this one does. Marlon Craft has a great voice and a dope flow, and his content is relatable with consistent lyrical sharpness, regardless of the topic. The record features tasteful production from Plain Pat, 6ix, and IllMind amongst others, and Marlon Craft is joined on the album by guests Radamiz, Bobby Feeno, Chris Rivers, Oswin Benjamin, Katori Walker, and Malz Monday.
How We Intended is one of those rare albums with the potential for widespread appeal – boom-bap traditionalists, as well as people from the pop-rap crowd (and everyone in between), can find plenty to enjoy here without being turned off by influences that may not appeal directly to personal tastes. There are enough banging beats, but there's lots of more subtle musicality to be found on How We Intended too – beats-wise there even are some forays into trap-like territory that surprisingly do not hurt the cohesiveness of the album in any way (allthough a track like "Roadtrippin" is one of the weaker songs on the album for us). For HHGA, the album would have been better with less of the sing-songy hooks, but that's just a minor complaint – they might not bother you.
In today's music game where lots of artists release one placeholder project after the other – everything to stay in the public's eye continuously – Marlon Craft's How We Intended clearly is the opposite of a slapped-together quickie. This is a serious release, undoubtedly an album that will prove to have staying power.
Release date: February 10, 2021. 
9. Conway The Machine & Big Ghost Ltd - If It Bleeds It Can Be Killed
Conway continues to show growth as an artist on If It Bleeds It Can Be Killed. This project is a great follow-up to the equally strong No One Mourns The Wicked – Conway and Big Ghost Ltd's cooperative project released in 2020. Conway's bars hit hard as always, but it's Big Ghost Ltd's instrumentals that elevate If It Bleeds It Can Be Killed to a higher level.
At 30 minutes If It Bleeds It Can Be Killed is much too short to be considered a proper full-length of course, and on such a short project everything has to be perfect. Not everything is perfect here – there are a couple of forgettable tracks on It Bleeds It Can Be Killed (like "Highly Praised") – but fortunately, there are more bangers – like "Toast", "Red Beams", and especially the absolute stand out "Kill All Rats" (with Ransom & Rome Streetz). Due to its brevity If It Bleeds It Can Be Killed doesn't rank higher on this list, but this is a dope project nonetheless.
Release date: February 5, 2021. 
Honorable Mentions
Ca$ablanca & Cap Chino – Korea​-​Town
Cee Knowledge – The Calidelphian
Hobgoblin – The Awakening
Big Stacks & Nite Tyme – The Vibe Out
Your Old Droog & Tha God Fahim – Tha YOD Fahim
The Hill – Receiving
slowthai – TYRON
Myka 9 & Profound – Nine Clouds
The Bad Seed, Honey Dinero & Stuck B – Kill Switch 2: The Devil's Rejects
Ol' Burger Beats & Vuyo – Dialogue
General Steele & Es-K – AmeriKKKa's Nightmare III: City Under Siege
Reasun- Resolve (The Mixtape)
The Ruler Gods – The Ruler Gods
Eclyse & Skinny Bonez Tha Godfatha – Prime Expertise
Jim Jones & Harry Fraud – The Fraud Department
Shamon Cassette & Jaz Infinite – Blades Of Steel
Jay NiCE & Machacha – A Stream Of Consciousness
Frac & Tone – Sweet Chin Music
Wais P – SUNOVA
Lync Lone & Iceberg Theory – Acid Jazz
Chris Crack – Might Delete Later
Asun Eastwood & The Twinning – Prophecy Is My Present
Erratic – Apocalyption
Malus & Lyrical Waterside – Connectivity
Slaine – The Things We Can't Forgive
Curtis Dro – P.O.T.P.