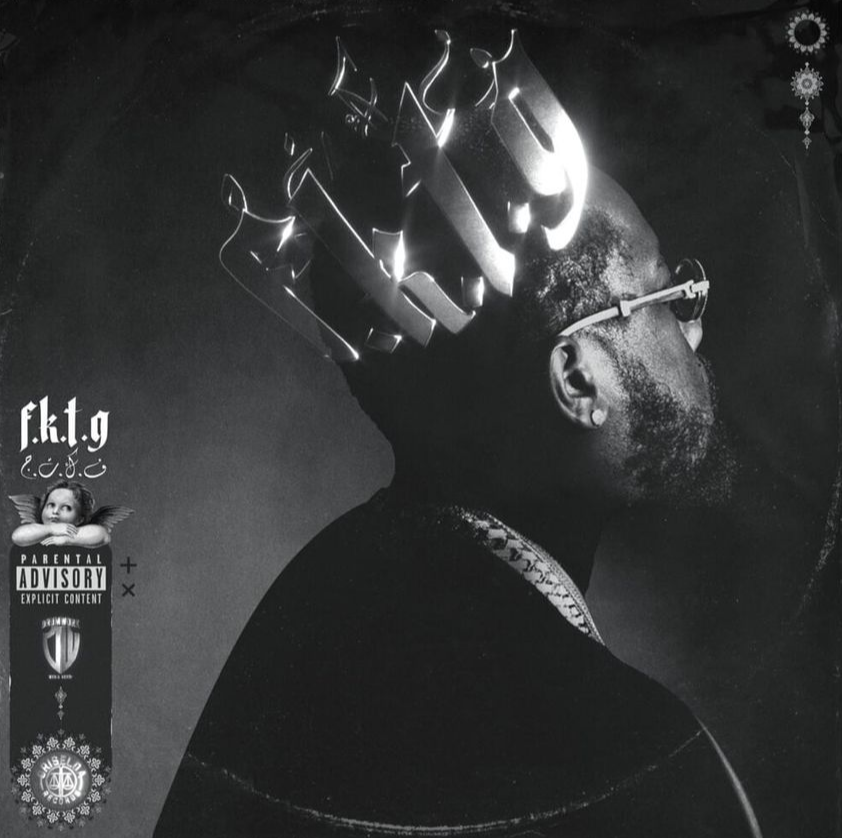 Conway The Machine has already put his mark on 2020 with two collaborative EP's – one with Alchemist (LULU), the other with Big Ghost Ltd (No One Mourns The Wicked). From King To A GOD is Conway's third release of the year, and his first proper full-length. It serves as kind of an appetizer to Conway's Shady Records debut which is slated for later in the year, as Conway stated himself:
"Typically, when I create an album, I tend to focus on being the best rapper and having the best bars. With From King To A GOD, I wanted to show growth; how much I've grown as an artist and how much I've grown as a man" stated Conway. "I wanted to showcase versatility and show people that I'm not a one-trick pony. I feel like this album is not only arguably one of my best albums ever, but it is also the perfect appetizer to get my fans ready for my Shady Records debut God Don't Make Mistakes."
From King To A GOD's cover strikes a resemblance to Reject 2 (2015), Conway's debut mixtape on Griselda. On the Reject 2 cover, Conway is facing fully away from the camera with his naked torso showcasing his bullet wounds, one on the back of his head and one on his shoulder. On FKTG, he's adopted more or less the same pose, but this time with a shirt on, plus expensive glasses, a gold chain, and a shining crown made of the letters in the album's title. With the bullet wounds hidden, this cover (along with the album's title) represents how far he has come.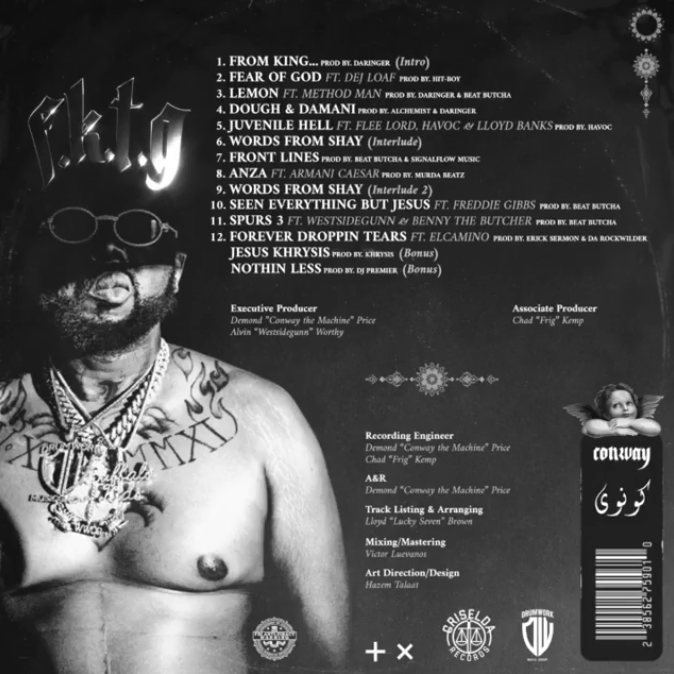 From King To A GOD is Conway's most diverse project to date and it includes the previously released tracks "Fear of God" featuring Dej Loaf, "Front Lines, "Seen Everything But Jesus" with Freddie Gibbs, and the Method Man-assisted "Lemon." Conway's fellow Griselda members Benny the Butcher and Westside Gunn also make an appearance, along with Lloyd Banks, El Camino, Armani Caesar, Flee Lord, and Mobb Deep's Havoc, and the album features production from The Alchemist, Beat Butcha, Daringer, DJ Premier, Erick Sermon, Havoc, Hit-Boy, Khrysis, and others.
Westside Gunn may be the most flamboyant personality from the Griselda camp, and Benny The Butcher the best emcee when it strictly comes to bars and storytelling and such, but Conway is the one with the ATTITUDE. He is one the hardest rappers out, but on this album he comes off vulnerable at times too, making FKTG one of his best-rounded projects yet – his growth as an artist and as a person throughout the years evident.
The album contains 14 tracks, with a few monologues from DJ Shay, the something of a mentor figure to Griselda who passed away recently. Of the actual songs, there's only one or two that could have been left off (the El Camino-assisted "Forever Droppin Tears" stands out negatively, not because of its heartfelt lyrics but because of its sugary sweet instrumental and hook), but overall the atmospheric and powerful From King To A GOD certainly lives up to expectations – and it only increases anticipation for God Don't Make Mistakes.
In short: From King To A GOD is a GREAT Conway project – the best to come out of the Griselda camp this year so far. 82/100
Download From King To A GOD
Also read: The Best Hip Hop Albums Of 2020