Every new Nas album has to be greeted with a certain amount of reticence – Nas is one of those artists who has become notorious for his bad ear for beats (similar to other elite emcees like Eminem and Canibus, just to name two). On King's Disease, there's a synergy between Nas' lyricism and the instrumentals that is missing on a lot of his other albums. King's Disease is not perfect, but it definitely is Nas' best effort since Life Is Good (2012), way superior to the disappointing Nasir (2018) and the mediocre-at-best The Lost Tapes 2 (2019). His pen game and lyrical performance on King's Disease are as strong as ever and Hit Boy's easy-listening beats, for the most part, do justice to Nas' introspective rhymes.
Almost every Nas album since his classic debut Illmatic (1994) has been marred by inconsistency – usually because of weak beats, sometimes because of questionable songwriting. King's Disease is no different, unfortunately. King's Disease starts out really strong with the titular intro "King's Disease" and "Blue Benz" – two short but dope cuts. The middle of tracklist has a few low points, though – the album definitely could have done without "Replace Me" which has some terrible autotune crooning by Don Tolliver, and it would also have been better without a feature of Lil Durk on the otherwise fine "Til The War Is Won" – apparently Nas decided to reach out to the new school crowd by including a couple of popular autotuning quasi-rappers.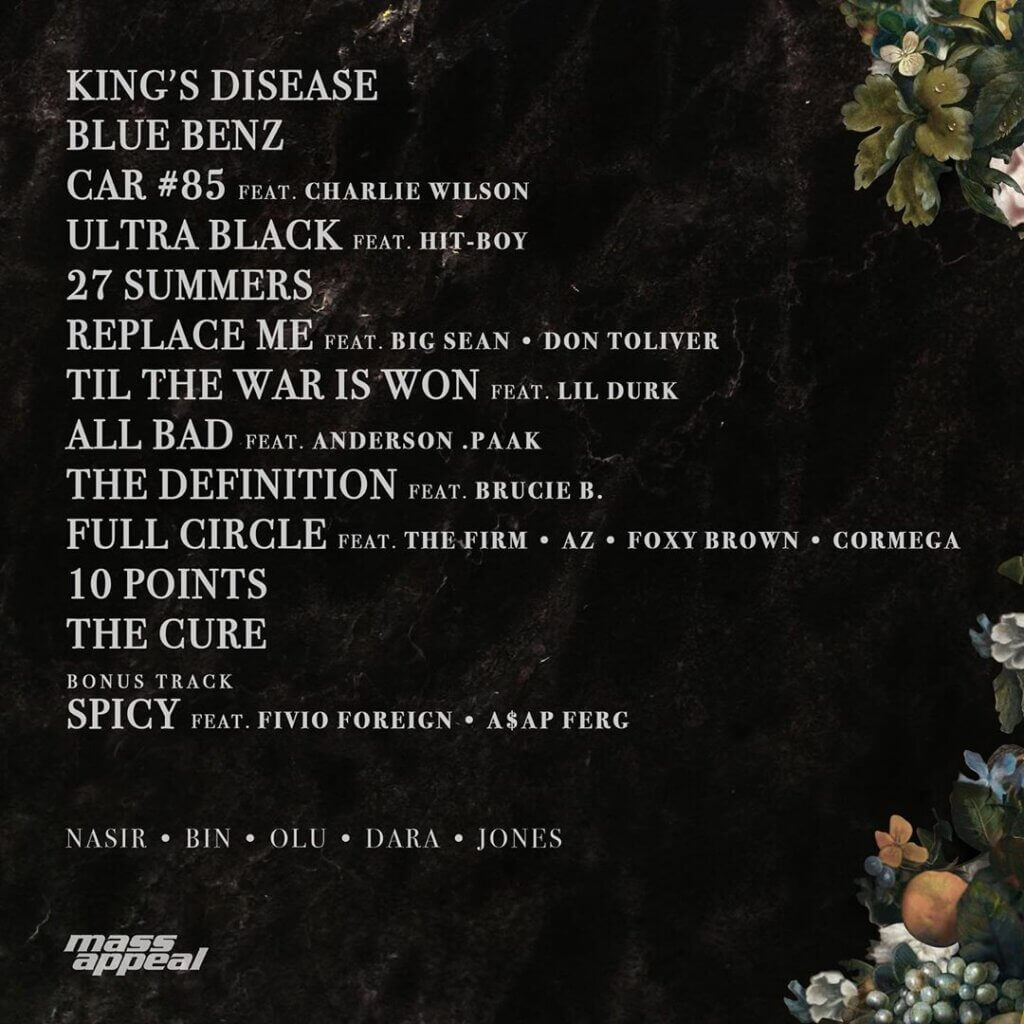 The tracks with Don Tolliver (and pop rapper Big Sean), Lil Durk, and also the one with neo-soul king Anderson .Paak ("All Bad") will most likely not appeal to fans who were there with Nas from the beginning, these songs are clearly meant to give Nas an in with new audiences. A big risk, especially because King's Disease is such a short album – at a mere 38 minutes, there's really no room for misses. So it has to be said that the inclusion of a bunch of poppy tracks results in King's Disease being a bit of a mixed bag. Those who don't think autotune is f*cking awful will be alright, others will have to skip a couple of tracks.
"King's Disease", "Blue Benz", "27 Summers", the smooth "Full Circle" (with AZ, Cormega, and Foxy Brown (and an uncredited appearance by Dr. Dre who does the outro), "The Definition" (with the intro and outro done by old-school legend Brucie B), and especially "10 Points" and "The Cure" are all excellent Nas tracks though – so there's plenty to enjoy if you look past the rap-singing songs.
Nas is one of the biggest names in the Hip Hop game ever, and he has nothing left to prove – but with King's Disease Nas shows he has his finger on the pulse on the culture, that he is still relevant and able to appeal old an new audiences both. King's Disease represents somewhat of a return to form for the Queensbridge legend, even if it will eventually prove to be a little bit too lightweight and forgettable to be mentioned in the same breath as Nas' best works such as Illmatic, It Was Written (1996), Stillmatic (2001), The Lost Tapes (2002), God's Son (2002), Distant Relatives (with Damian Marley, 2010), and Life Is Good.
71/100
Download King's Disease
The Best Hip Hop Albums Of 2020: https://hiphopgoldenage.com/list/the-best-hip-hop-albums-of-2020/