April 2021 Round-Up: The 9 Best Hip Hop Albums Of The Month: For this piece, we selected our 9 favorite Hip Hop albums released this April. Did we miss any albums you feel need to be mentioned? Let us know in the comments!
Also read: The Best Hip Hop Albums Of 2021
1. Beneficence & Confidence - Stellar Mind
More than four years in the making, Stellar Mind takes a deep journey and boom-bap ride with flawless production courtesy of Confidence, the man with the Golden Age sound. The Element Of Surprise, his collaborative album with Rashad is one of the best Hip Hop albums released in 2011 – Stellar Mind is on par with that release. Beneficence is a real lyricist who made his recording debut in 2004, he has dropped a bunch of solid projects since then – his last one, Basement Chemistry, in 2016.
16 tracks strong, Stellar Mind features guest appearances by Masta Ace, El da Sensei (of Artifacts), Phantasm (of Cella Dwellas), Craig G, Lord Tariq, Keith Murray, Ras Kass, A.G. (of D.I.T.C.), Chubb Rock, Wordsworth, Shabaam Sahdeeq, and Queen Herawin (of Juggaknots), among others. Confidence's production echoes that of icons like DJ Premier, Pete Rock, and Diamond D – and Beneficence and his guests do the beats justice. Stellar Mind is a well-rounded and flawlessly executed piece of music that perfectly captures the vibes of 1990s Hip Hop, without sounding dated – this is a GREAT album.
Release date: April 23, 2021.
2. Krum - Black Lung
Harry Krum is a producer/emcee based in Dallas, Texas. Krum's work on the boards is outstanding, the instrumentals on Black Lung are FIRE – some of the best you'll hear this year. Krum cooked up a heady blend of psychedelic vibes and dusty but crisp boom-bap beats laced with some exquisite sampling – reminiscent even of the best work from icons like Madlib and MF DOOM.
The strength of Black Lung is its consistency as well as its thematic and musical cohesiveness – which is bolstered even further by the quality of the vocalists Krum recruited. Black Lung features contributions from Tanya Morgan, Theory Hazit, Propaganda, Derek Minor, JGivens, Ozay Moore, Sivion, Solemn Brigham, Manchild, Sareem Poems, Stik Figa, Heath McNease, Copywrite, Pigeon John, Jabee, Headkrack, Sintax the Terrific, and Freddie Bruno – a selection of excellent emcees whose vocals prove perfectly suited to go with Krum's organic production.
"Ultra Mag" with Solemn Brigham is one of the highlights on Black Lung, his voice is one of the most unique ones in contemporary Hip Hop. In fact, the whole Black Lung album feels similar in many ways to Marlowe 2 – the excellent album (#3 on our best of 2020 list) Solemn Brigham did last year with producer L'Orange – likening Black Lung to Marlowe 2 is a strong recommendation, of course. Other stand-outs on Black Lung include "Danger Bag" with Theory Hazit, "Uptown Eyes Wide" with Sareem Poems, "Not One Thing" with Tanya Morgan, "Riddle Me This" with JGivens, and "Trials & Tribs" with Heath McNease – but there isn't a single bad song on here.
Don't sleep on this album – Black Lung is one of the best Hip Hop albums of the year so far.
Release date: April 2, 2021. 
3. Vinnie Paz - Burn Everything That Bares Your Name
Burn Everything That Bares Your Name is Jedi Mind Tricks and AOTP frontman Vinnie Paz's sixth solo album and his twenty-third (!) studio album in total – in addition to his solo albums, he has released nine albums with Jedi Mind Tricks, five with Army Of The Pharaohs, two with Ill Bill as Heavy Metal Kings, and one with Tragedy Khadafi, plus a bunch of mixtapes and EP's. In Vinnie Paz's catalog of solo albums, Burn Everything That Bares Your Name follows Season Of The Assassin (2010), God Of The Serengeti (2012), The Cornerstone Of The Corner Store (2016), The Pain Collector (2018), and As Above So Below (2020). If there's one word that would best typify Vinnie Paz's body of work – solo and group efforts – it is CONSISTENCY.
Everything That Bares Your Name is another 70-minute monster; Vinnie Paz is not one to follow trends and mess around with 30-minute quickies like so many artists do these days; no catering to the short attention span crowd here. The album features an impressive line-up of guest appearances that includes Billy Danze of M.O.P., Ill Bill, Lord Goat, Chino XL, Jay Royale, CRIMEAPPLE, Eamon, Eto, and M.A.V. Production credits are shared by Esoteric, Giallo Point, Hobgoblin, Illinformed, Oh No, Stu Bangas, and Vic Grimes – among others.
The cinematic lead single "Papi Wardrobe" is an obvious stand-out, but as consistency is Vinnie Paz's middle name, the whole album bangs – cuts like "Machine Gun Etiquette", "Witches Teeth", "Danger Is My Business", "Latka Gravas", "Don Eladio", "Warhead", "Torchbearer", and "Tell Gold To Hold The Boneyard" are all fire. Hard-as-nails bars and booming boom-bap beats – it's Vinnie Paz, at this point you should know what to expect. Burn Everything That Bares Your Name is a strong addition to the Vinnie Paz/JMT legacy.
Release date: April 23, 2021.
4. PIRATA - PIRATA
Atoms Family members Cryptic One and Jestoneart are PIRATA. Cryptic One and Jestoneart are longtime collaborators, most notably on Cryptic One's masterpiece The Anti-Mobius Strip Theory (2004). PIRATA is not as progressive, but it is left-field enough to be a worthy part of the Atoms Family legacy. Jestoneart atmospheric instrumentals are dope, full of delicious drum breaks, bluesy loops, and obscure samples, plus Cryptic One's potent rhymes are entertaining. PIRATA is an accessible and smooth listen, almost hypnotic and totally immersive – this is a beautiful piece of music.
Release date: April 2, 2021.
5. Configa & DJ Views - The Year After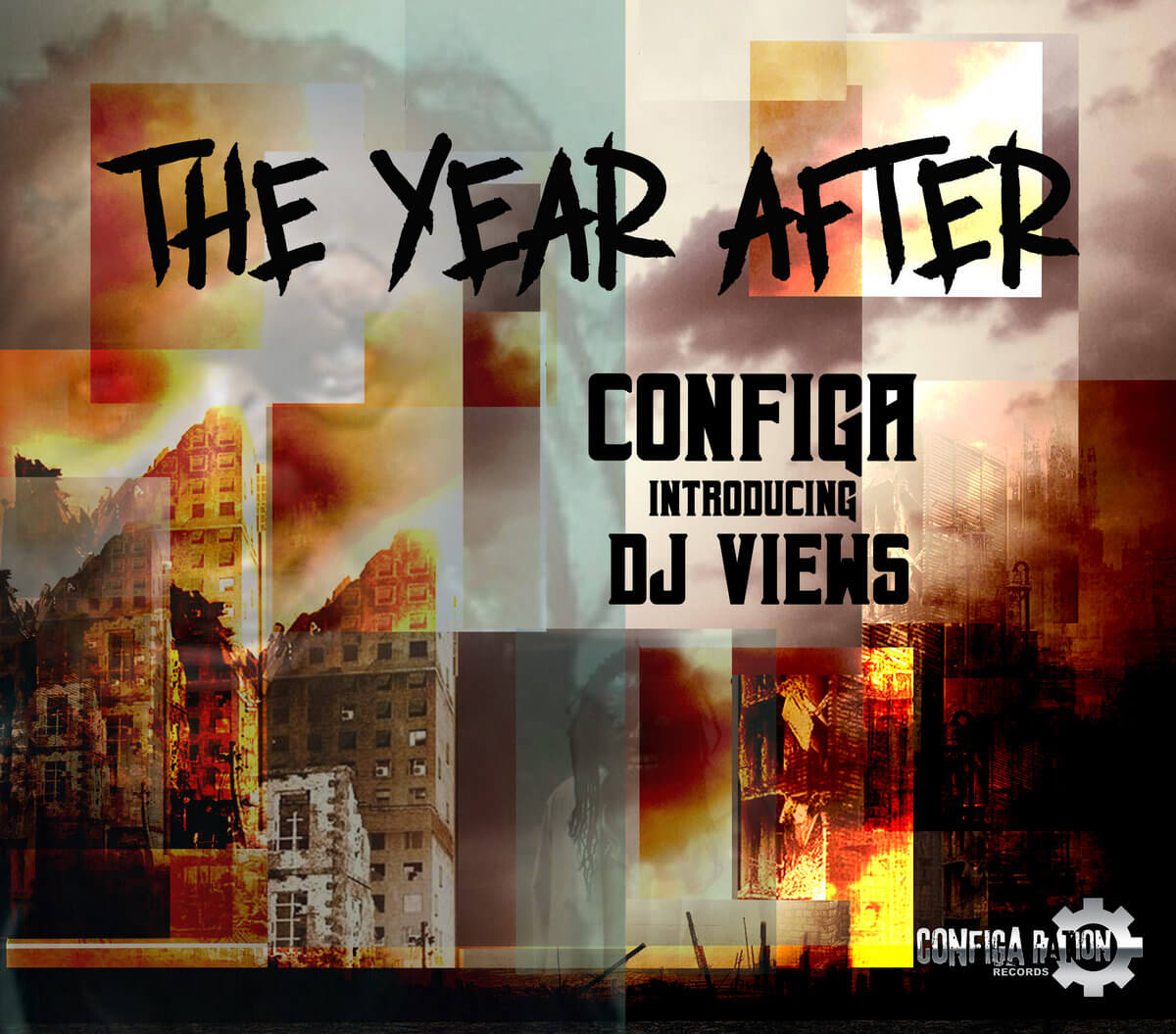 British producer Configa knows what he is doing. He was responsible for the beats on two of 2020's best Hip Hop albums – Arrested Development's Don't Fight Your Demons and his Forward Future collaboration with Jahi – and in 2021 he continues his winning streak with The Year After.
For The Year After Configa teamed up with DJ Views (each producing 6 of the 12 tracks on the album), and they recruited a busload of top-calibre emcees to take care of the vocals on what is one of the best 90s-centric boom-bap projects of the year. Ras Kass, Speech (of Arrested Development), Chino XL, Craig G, Pacewon, Akrobatik, Ruste Juxx, Planet Asia, Nine, El Da Sensei, Termanology, and Solemn Brigham make appearances – among others. "Mic Domination", "Galactic Rap", "Funeral March" (with epic bars from the unbeatable Chino XL), "Different Timezones", and "Word Science" are highlights, but The Year After is an entirely consistent presentation. Banging boom-bap beats, sharp cuts & scratches, and lyrical fire – with The Year After Configa and DJ Views knocked it out the park.
Release date: April 30, 2021. 
6. Gotham (Talib Kweli & Diamond D) - Gotham
Gotham is the name of a new collaboration between two celebrated Hip Hop icons: Talib Kweli and Diamond D. Talib Kweli has been one of the most lyrically gifted and socially conscious artists for over two decades, but admittedly his musical output has been hit-or-miss especially in the past decade. With Diamond D providing the musical backdrops, Talib Kweli comes with one of his best projects in a good while. Diamond D is a certifiable legend, producing for the likes Big L, Lord Finesse, O.C., Fat Joe, The Fugees, Busta Rhymes, Snoop Dogg, Xzibit, Raekwon, Rapsody, Pharoahe Monch, and many others, not to mention for his own classic debut, Stunts, Blunts & Hip-Hop (1992).
Gotham – a dedication to New York – is a great little project. It's too short at 35 minutes, but most of the ten tracks on Gotham are pretty strong. "In Due Time" with Niré Alldai is a highlight, along with great songs like "Sons of Gotham", "The Quiet One", "Attention Span", "Chillin While Black" and "The Fold". Diamond D's smooth boom-bap instrumentals are dope, and Talib Kweli shows why he considered an elite lyricist. Gotham = mature Hip Hop by two of the game's best.
Release date: April 16, 2021.
7. Mikal Amin, Sir Tumes, Long Division, & Professor Brian Oblivion - Moses Herman Jacobs
Seasoned New York City emcees Sir Tumes, Mikal Amin, and Long Division, led by the production of San Francisco-based DJ and producer Professor Brian Oblivion, navigate the listener through an existential journey on Moses Herman Jacobs, which is named after some of the central figures who helped shape NYC and San Francisco into what the cities are today. Professor Brian Oblivion's beats are dope as f, and the rhymes and flows on Moses Herman Jacobs are great too – this is one of the best albums released in April.
Release date: April 2, 2021. 
8. Bronze Nazareth & Recognize Ali - Season Of The Seven
In recent years Recognize Ali has been one of the most prolific emcees in underground Hip Hop, with a series of dope solo and collaborative projects, and countless appearances on other people's songs. Honorary affiliate of the Wu-Tang family Bronze Nazareth is a great producer, and this high-profile Mello Music Group release shows they have chemistry – Season Of The Seven is among the best work both have dropped in a while. Dirty boom-bap beats laced with dope samples provide a fitting background for Recognize Ali's raw bars, and a little extra flavor is added by guest emcees such as Napoleon Da Legend, Verbal Kent, King Magnetic, Dom Pachino, Willie the Kid, and TriState.
Release date: April 16, 2021. 
9. Eric Bobo & Stu Bangas - Empires
Empires is a collaboration between Cypress Hill percussionist Eric Bobo from Los Angeles and underground producer Stu Bangas from Boston – with an incredible list of feature artists: Mr. Lif, DJ Rhettmatic, Vinnie Paz, RJ Payne, Xzibit, B-Real, Pharoahe Monch, Psycho Les, DJ Ethos, Khujo Goodie, Lonnie Lyle, The Wordsmith, Rob Markman, Blacastan, Nowaah The Flood, Demrick Brevi, Reverie, Lord Goat, Krazy Race, Rakaa Iriscience, Blu, Apathy, Celph Titled, Ill Bill, OC, Sick Jacken, Huero Diablo, and Mercy Collazo all make appearances.
Stu Bangas is renowned for his raw, bass-heavy boom-bap beats, while Eric Bobo's signature sound is Latin-flavored percussions – this East Coast/West Coast mix of styles comes off beautifully here. The album starts off with a bang with the title track "Empires" (with Mr. Lif & DJ Rhettmatic) and doesn't let up. "Chemtrails" (with Vinnie Paz, RJ Payne & Xzibit) is a dope track, arguably the album's best example for the seamless fit of Stu Bangas' East Coast boom-bap and Eric Bobo's West Coast percussions. "Total Kaos" (with Psycho Les and DJ Ethos), "No Survivors" (with Blacastan & Nowaah The Flood), "Another One For The Books" (with Celph Titled and Apathy), and "Street Smarts" (with Ill Bill and OC) are other stand-outs. Despite a couple of less memorable tracks in the middle of the tracklist, Empires is a dope collaboration between two producers who admirably managed to blend their own musical aesthetics into a cohesive new sound.
Release date: April 20, 2021. 
Honorable Mentions
Slik Jack & Sqreeb – The Kingpin Project
Khrysis – The Hour Of Khrysis
Conway The Machine – La Maquina
Nef- Tabula Rasa
Asun Eastwood, M.A.V. & Sibbs Roc – 98 Miles
Zaza God & Mephux – The Most High
Young Deuces – All I Ever Wanted Was An Opportunity
Mike Rovone – I Smoke Herb. I Make Music.
DøøF & Graymatter – Radioactive Spinach
Mimz & Dunn – Infinite Lawn
Sharkula & Mukqs – Take Caution On The Beach
Ilajide – Code 200
Krayzie Bone – Leaves Of Legends
Snoop Dogg – From Tha Streets 2 Tha Suites
Devine Carama – Kingtucky 3
P-Ro & CLOAQxDAGGER – Broken Swagger