Album Review: The Interstellar Corridors Of Killah Priest's "Rocket To Nebula"
"Descend endless realms:
No broader numbered measure
Than man's mind"
– ARK, Ronald Johnson
"Between the eye socket
is where I will build my sky rocket"
– Heavy Mental, KP
The lyrical originator out of Brooklyn named Killah Priest has been with the Wu-Tang Clan since the early-90s get-go with classic appearances on Ol' Dirty Bastard's first album, GZA's first album, the first Gravediggaz album, and with the affiliated group Sunz of Man. For many Hip Hop fans though, you might not see Killah Priest mentioned among the greatest rappers of all-time as often as you would see his peers like Ghostface Killah or Inspectah Deck or GZA or Method Man. And yet a really good argument could be made that Killah Priest, with his vast catalogue of dozens of albums (counting solo and group efforts) and a demonstrated ability to keep improving and dropping lots of new material more than 20 years into his career, all of that ranks him right there with the best of his contemporaries in the Clan and therefore high up among the greatest rappers to ever touch a mic.
As a longtime fan of Priest, I feel like the degree of lyrical and imaginative brilliance sustained throughout his newest album Rocket to Nebula makes it his best work to date, and that's saying something. The Wu-Tang Clan is a legendary force, no doubt a fixture of our culture with their own imprint made on history, but it's also true that the Clan generals haven't released a whole lot of new music in recent years and the newer stuff they've done is no match for the older stuff. With Killah Priest it's the opposite, he's been extremely prolific in the last decade and he seems to be gaining speed, dropping more material, improving and improvising new roles for himself, taking his art to new places, unafraid to take major leaps into weirdness and also succeeding greatly at it. This is evident more than ever on Rocket to Nebula which situates the listener aboard a rocket ship launched into the deeper reaches of psychic space, an album-length ever-evolving psychedelic trip where at one point on "Mermaid" we follow a mermaid queen through a wormhole to an elaborate subaquatic empire and later on "In Secret Anticipation" a journey to an exotic planet in a distant star system encounters native peoples eager to provide a tour, "The floor is just a million miles up high/ and you are standing on top of the sky."
Part of what makes this album such a trip is the repeated refrain, as the alien landscapes and metamorphing characters become ever more extraordinary, of Priest wondering "Was this from prescription over counter, or my visions of a close encounter?" (on "In Secret Anticipation") or as he asks the mermaid queen, "Is this astral projection? Or out of body experience? Or some kind of godly deliverance? Sorry pardon my ignorance, but are we prohibited from starseed remembrance? Cognitive dissonance."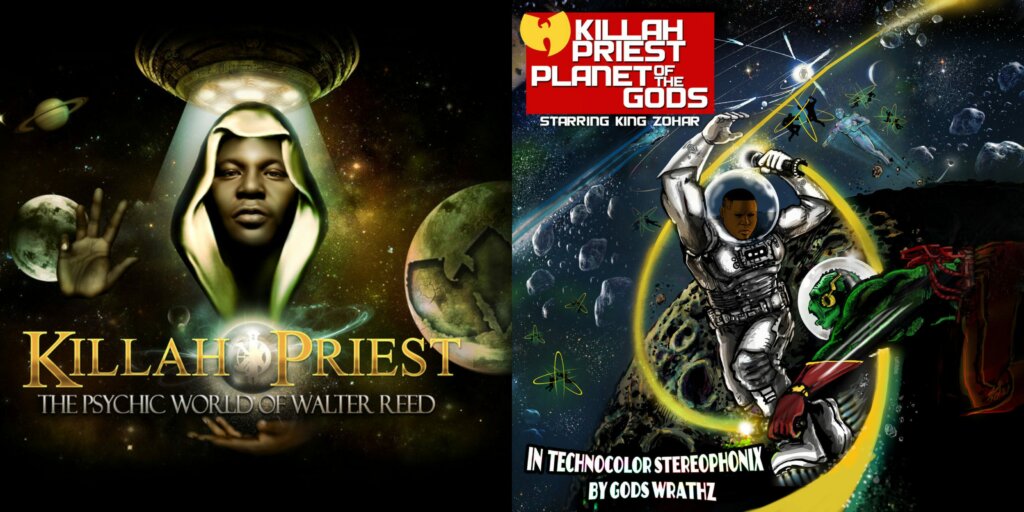 Priest's visual lyricism seemed to enhance with 2013's double-album The Psychic World of Walter Reed and further evolved its emphasis on elements of sci-fi, occultism, and Afrofuturism on Planet of the Gods from 2015. This intriguing development continues on Rocket to Nebula, but part of what makes this new album so special is the format is a kind of throwback for him, a return to what had originally made him unique. I'm talking about the spoken-word poetry style of psychic soliloquy that we first heard on tracks like "Heavy Mental" and "Temple of the Mental" and "Places Where Pharaohs Go" where there's no chorus, no drums, just steady-delivered bars meant to put the listener into a trance of visions. Priest often places one track like this on each of his solo albums, but with Rocket to Nebula it's a full album worth and it sounds like Priest at his finest.
The best way I can think to describe Rocket to Nebula is it feels like a dream combo of two long-rumored-but-never-released albums from other Wu-Tang heavyweights, a mix of RZA's The Cure and GZA's Dark Matter. The Cure was supposed to be RZA's album focused on spirituality, mysticism, and healing the world through his rhymes, but he supposedly could never find the right musical accompaniment for it. Priest on Rocket to Nebula gives us the strong emphasis on mysticism and shamanic healing over a droning soundscape he produced himself (under the name Unknown Source) which eschews drums and mostly relies on reversed samples creating a sci-fi movie vibe of mysteriousness. The GZA/Genius lectured on physics at Harvard and other esteemed institutions and has dropped gems of science and astronomy in his verses over the years, but he has yet to release his long-promised album of outer space themes, Dark Matter. Priest on Rocket to Nebula not only takes the listener on warp speed journeys through the cosmos bending the laws of the space-time continuum, he builds new worlds, worlds within worlds. Priest on Rocket to Nebula is both word-smith and world-smith, world builder and rhyme wizard. If Wu-Tang was the Marvel Comics Universe, Killah Priest would be Doctor Strange. These qualities are encapsulated on the amazing track "60 Triangles" where the beat actually samples a Rihanna trap song ("Pour It Up") and Priest with a rapid flow sketches out the contours of a complex metaphysical treatise in impressive sequences like this:
"Disappeared and fed the deer,

and a lake full of koi fish

Now all he hears is white noises,

And I'm prepared to write all this

From day to night til i'm exhausted

I'm paranormal clairvoyant

Time travel portals I toy with

Rhymes channel immortals for enjoyment"
Notice the setting there, the hermeticism springs from living as a hermit in the woods or, as Priest describes it on "Mermaid," it is in "the wilderness for a pilgrimage where the healing is." Alongside the enthralling intergalactic voyages and indulgences in the mystic arts, the arc of Rocket to Nebula also reaches down to the beauty of the natural world and the simple pleasures inherent in earthly life. This record is so filled with nature scenes, rugged landscapes, lush wilderness, and various species of wildlife that the album feels like it emits potent organic energies. In my mind's eye when I think of Rocket to Nebula, I envision the album with fungi or plant matter growing out of it like the books in artist Noelle Mason's "Contraband" series. "Breathtaking mountain backdrops" dot many of the tracks, the background sounds of thunderstorms, animal howls, birds chirping are heard often, scenes like "Howls from the wolf den, owls in the woodlands, hours with the bushmen" pop up frequently.
In songs like "Staring Directly into the Sun" and "Andrea Davis" visions of the cycles of seasons wheel along rapidly, sped up and slowed down, poetic portraits of mother nature at work. When Priest praises his favorite singer on "Andrea Davis" he draws this nature scene down to the specific bird species present:
"When she sang I see terrains and floodplains

Wild horses and mustangs

Beavers and hogs in the mud playing

Nature's consistent and sustained

White-throated dipper, the Kingfisher

All close to the river"
Also in this repeated theme of returning to grounded earth is an appreciation for the simple, subtle joys of regular life for people, the epiphanies of everydayness. William Blake once declared, "The imagination is not a state: it is the human existence itself." On this highly imaginative album, we never cease to return back to grounded moments of everyday life, an especially welcome sentiment in 2020 when normal life has become so fractured. One stand-out sequence of this theme comes from one of my favorite tracks "Magnificent Interview":
"Birthday wishes, kisses

Long walks through the ballpark

Birds chirp, dog barks

It's getting cloudy, let's get home before dark

The storm starts

They're closing all the mall shops

Quick, let me run inside this Walmart and buy a Hallmark

It makes warm hearts, like love songs and soft rock"
Dog parks, outdoor lunch at a cafe, these kinds of scenes come up frequently, appearing like memories flickering across the vivid interstellar corridors of Rocket to Nebula. "Lunch with friends, watching a birdbath when the sparrow cleanse." Displays of love, nostalgia, and affection from loved ones, random acts of kindness. He lays out this intention right from the opening title track, "Rocket to Nebula":

"But really, this album is a reflection of things we take light

How to make it right, like

I hope you had a good night's rest or have a safe flight

Balloons in the delivery room

Or that feeling you get when someone says I'll be there soon"
With only a few exceptions like the shorter tracks "P.R.O.J.E.C.T.S." (where he coins a new acronym—"People Relying On Just Enough Cash to Survive"—and describes the place "where drug dealers and killers hide") and "Heavier Mental" (where he enacts a black mass attempting to summon a host of demonic spirits and then seemingly exorcises and overcomes them while making an array of references to the likes of Johannes Kepler, Nicola Tesla, Pythagoras, Aleister Crowley, and the astronomer/alchemist Tycho Brahe) aside from those tracks, the hour-long album Rocket to Nebula mainly keeps to a meditative, positive, healing type of vibe, the droning and drumless production sounding like something you might hear inside a yoga studio. Not every musician of the hardcore rap variety can pull off an album like this. Most wouldn't even attempt it. (Priest raps at one point, "These are hallucinogenic frontiers, only mystics come here!").
Even in the midst of what's been a strong year for new Hip Hop music this album stands on its own. To make an extremely lyrical 60+ minute rap album that's a banger while steering clear of cocaine rap and boom-bap, doing that successfully is an achievement. With its themes and overall sound Rocket to Nebula is for the rap listener's ear like a cleansing of the Augean stables, because while it can be a bewildering and phantasmagorical trip, the tone is light-hearted and sobering. And with the aforementioned eloquent appreciations of the random details in life, it's also moving at times. It comes across like an in-depth appreciation of what it means to be a human being alive on planet earth.
The prism through which this light shines is, of course, the veteran rapper Priest who divulges so much autobiographical material on this record. Rocket to Nebula, with its cosmic themes and stimulations of the human nervous system, is also a detailed personal history (the album is truly epic in its scope, as rich as a big fat novel). There's a recurrent theme on the album of this project being Priest conducting an interview with himself, for example on "The Wonderful You":
"Interview within myself, have a talk like O'Brien

Pull up a chair, sit down and open up about the Orion

And the system of the stars with bars I'm reciting"
And then on the powerful track "Magnificent Interview" he finds himself having lunch with a dream-like apparition calling himself Lucifer who conducts an interview with Priest and reveals a list of titles of books he's written about the subjects in Priest's music. The list of book titles is impressively weaved into rhymes and it sounds like an index of subjects on Rocket to Nebula:
"He said I also wrote books, The Origins of Rosicrucianism,

Magic Rituals, Origin of God, Advanced Metaphysics, 

The Life of Killah Priest and Why He Left the Music Business,

Brief History on Time Travel, Theology of Star Wars, Tarot Cards, Music Stars,

and My Inner Peace and How I Found Happiness as the Dark Lord"
Throughout Rocket to Nebula, Priest recalls the foundational musical inspirations of his life, he makes tons of references to old singers including at one point breaking into song to share some lines from Eddie Jefferson's hit from 1952, "Moody's Mood for Love." (Eddie Jefferson was a jazz vocalist whose pioneering style sounds like proto-rap.) The poignant memories of Priest are most concentrated on the track "Memoirs" but noteworthy details appear all over the record. On "P.R.O.J.E.C.T.S." he recalls his upbringing in 1970s Brooklyn, "Born black with pride, Afros high as the Jackson Five." On "The Wonderful You" he remembers the details of going to Hip Hop block parties in the 80s: "God body, hard rocks, and block parties, y'all just don't understand/ It was jackets by farmers and leather bombers and boots with the lumber brand."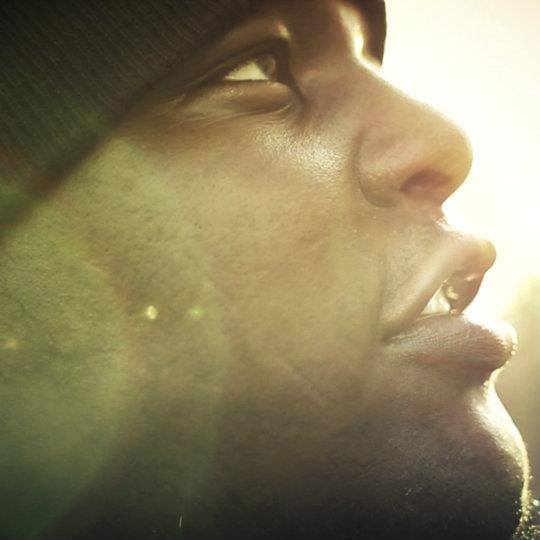 Priest really lays it all out on the table on this album. Rocket to Nebula seems not only intent on stimulating the listener's mind with all of its utopian fantasy worlds and feeding the listener's soul with the amplifications of simple pleasures in earthly life, it also comes across as a therapeutic process for Priest himself. With the state of our world right now, it's easy to relate when he says on "One Hundred Mummies": "My anxiety attacks keep my diary packed." On the opening track, Priest admits "I'm just an agoraphobic space cadet, who hasn't had his head checked." At the end of the album on the track "The Arrival Home" we get a clear description of his struggles to find peace within himself and how important this music is for achieving that goal:
"Sometimes I feel out of place, disconnected from the human race

My therapist said to keep making records, your message is great

See, the people need healing, and your music feed the children

With an unbelievable feeling, while the earth is still reeling

Every person that's hearing, are the merchants of brilliance

it's the medicine, the cure, for many hurting civilians"
That perfectly captures the essence of this album and why it's so enjoyable to listen to. Especially right now, like he says "while the earth is still reeling" and it feels like everything is falling apart, this music with its celebration of the human imagination brings a kind of medicinal healing quality to the listener. Priest has occupied the role of shaman of the Wu tribe for many years now, but it's good and well-timed to hear him fully embrace it for a full album. When we get to repeatedly hear descriptions of scenes like "Sacred natives in a medicine circle, while the chief painted on the shell of a turtle", it allows the listener, trapped inside because of quarantine, to imaginatively venture off on a vision quest.
An artist with the imaginative abilities and historic catalog of Killah Priest, who continues to evolve and grow as a musician while dropping new project after new project, each seemingly better than the last, that's exciting on its own. Providing us with a new album of epic scale and uplifting subject matter in 2020 when humanity is going through dark times and is in need of elevation, amounts to a priceless gift. On "One Hundred Mummies" he describes his generosity this way: "Here, it's a souvenir you make a wish to, alchemist jewels appear, take a fistful."
There are many fistfuls of alchemical gems throughout Rocket to Nebula. This record would be an enviable capstone on any veteran artist's career but if anything, Rocket to Nebula shows the arc of Priest's career is still ascendant.