August 2021 Round-Up: The 9 Best Hip Hop Albums Of The Month: For this piece, we selected our 9 favorite Hip Hop albums released this August. Did we miss any albums you feel need to be mentioned? Let us know in the comments!
Also read: The Best Hip Hop Albums Of 2021
1. Ka - A Martyr's Reward
A Martyr's Reward is Brownsville, NYC emcee/producer Ka's 8th studio album (the 6th as Ka), following on the heels of 2020's Descendants Of Cain. Descendants Of Cain is a top-5 album of 2020, and his other masterpieces The Night's Gambit (2013) and Honor Killed The Samurai (2016) are among the best Hip Hop albums released in the 2010s.
Ka's pen game is among the most refined in the game, he always comes with beautifully crafted poetic lyrics, aesthetic metaphors, brooding imagery, and incredible rhyme schemes. A Martyr's Reward is no different: this is another amazing Ka project, built on his signature minimalistic instrumentals that serve to give room to his hushed hoarse flow and his intricate wordplay. The narrative this time is centered around his own life, making this one his most personal album to date. Just like on his previous efforts, on A Martyr's Reward there's a strong focus on ambiance and sound, and it may take many listens to really pick up on all Ka's lyrical subtleties and hidden meanings – as always there's a lot to unpack in his content. Ka's music is an acquired taste, those with an ear for atmospheric instrumentals and true lyricism will know to cop this one though.
Release date: August 13, 2021.
2. Boldy James & The Alchemist - Bo Jackson
Following their underrated debut collaboration My 1st Chemistry Set (2013), Detroit emcee Boldy James and top-tier producer The Alchemist teamed up again in 2020 for the long-awaited The Price Of Tea In China, one of the best Hip Hop albums of the year. On the heels of TPOTIC, Boldy James and The Alchemist surprise with Bo Jackson, their third collaborative full-length project. Like My 1st Chemistry Set and The Price Of Tea In China, Bo Jackson delivers on all fronts. In fact, Bo Jackson is the best of the three.
The Alchemist already crafted an excellent set of beats for Armand Hammer's Haram earlier this year, and he brought his A-game for Bo Jackson too. Boldy James entertains with his cold flow and his street narratives, and the featured artists all are perfect fits: Benny The Butcher, Roc Marciano, Earl Sweatshirt, Stove God Cooks, Curren$y, and Freddie Gibbs show up to add extra flavor to Alchemist's atmospheric instrumentals. "Double Hockey Sticks" with its haunting boom-bap instrumental signifies an excellent start of the album, and the rest of the tracklist is just as good. "Brickmille To Montana", "E.P.M.D.", "Photographic Memories", "First 48 Freestyle", "Illegal Search & Seizure", "Fake Flowers", and "3rd Person" all are highlights, but the strength of Bo Jackson is its consistency – there really aren't any weak tracks on this LP.
Boldy James is one of our MVPs of 2020, with two albums (The Price Of Tea In China and the magnificent Manger on McNichols) in our 2020 top 25 and The Alchemist is another 2020 MVP because of his work on TPOTIC and Freddie Gibbs' Alfredo. With Bo Jackson, both Boldy James and The Alchemist continue their winning streaks. Bo Jackson is one of the best albums of 2021.
Release date: August 13, 2021.
3. Nas - King's Disease II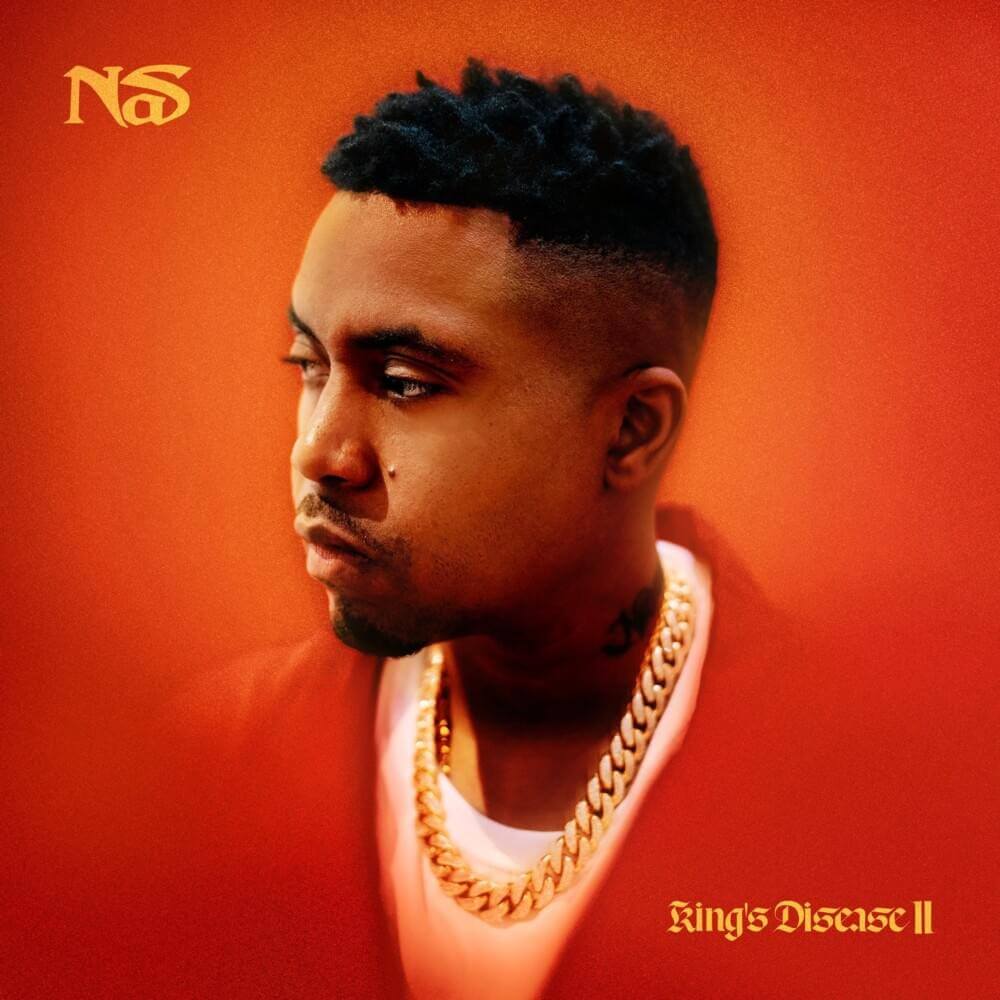 Queensbridge legend Nas is one of the GOATs, responsible for one of the best rap albums of all time, plus plenty more classic Hip Hop besides. His last truly great album was 2012's Life Is Good, his output since that one has been hit-and-miss. Last year's King's Disease was good, but not great. King's Disease II is not perfect either, but it is definitely better than its predecessor – more substantial and more consistent. The first King's Disease had a shorter tracklist and tried too hard to awkwardly balance soul sample-based east coast Hip Hop and modern trap, which made it kind of a mixed bag with lows and highs in almost equal measure. Furthermore, King's Disease could have benefitted from a more careful selection of features, which is also the case with King's Disease II – but to a lesser extent, fortunately. King's Disease II really has only one throwaway song – "YKTV" featuring YG and a limp performance from A Boogie Wit Da Hoodie – an artist who has no business being on a Nas album, as far as we are concerned. Most of the other features are OK – even if we're not crazy about Eminem's phoned-in verse on "EPMD2" (which otherwise is a fine track, if only because it is good to hear Erick Sermon and Parrish Smith on a Nas record).
Other stand-outs include "Rare", "Death Row East", "Count Me In", "Store Run", "Nas Is Good", "Moments", and "Nobody" (with a terrific Lauryn Hill) – Nas' pen game is top-level and his rapping is as strong as ever, plus Hit-Boy's production once again proves to be a good fit for Nas' bars. Hit-Boy's production on King's Disease II continues to modernize Nas' sound, staying in tune with the polished sound palette of its predecessor. Even those who don't really care for everything Hit-Boy did on this album production-wise will have to admit that the modern blends are done in a tasteful way and Nas gels well with them.
It looks like Nas is finally ready to comfortably fulfill the role of an elder Hip Hop statesman, which is his due after 30 years on top of the game. King's Disease II might go down as a late-career classic, and even it is not in the same league as Nas classics such as Illmatic (1994), It Was Written (1996), Stillmatic (2001), The Lost Tapes (2002), God's Son (2002), Distant Relatives (with Damian Marley, 2010), and Life Is Good (2012), it is a damn good Nas project.
Release date: August 6, 2021.
4. Let The Dirty Say Amen - God Hates Gucci
"Let The Dirt Say Amen is pure unfiltered rap. Established in 2019 as part of the rebranding and expansion of The Dirty Church, LTDS Amen represents a sound that reminds you of an era in rap music that was all about raw lyrics, dirty beats, and an emphasis on the 5 elements of Hip Hop culture! Without question, it is important for me as an MC and producer to remain true to the tradition. My art is created with the culture in mind and on behalf of the people in the streets. My brand is inspired by the boom-bap era and growing up in The District of Columbia during the crack epidemic of the 80s and 90s. My music is a direct response to the glorification of murder, drugs, and sex within Hip Hop culture."
After reading this Bandcamp blurb it is not hard to conclude this is a project for Hip Hop purists. The sample-based production on God Hates Gucci is excellent, and the bars are thought-provoking and entertaining – not just 'old head complaining' about mainstream rap, don't let the blurb throw you off too much. This is a great project – one that is flying under everybody's radar apparently, but one that deserves your attention.
Release date: August 13, 2021.
5. Killah Priest - Summer End Cafe
Summer End Cafe is the fourth full-length solo album Killah Priest released in less than two years, and it's another 'weird' one. Killah Priest has always been one for a-typical lyrical content, but especially on his last four albums he clearly went for a different sound: experimenting with often drumless instrumentals while leaving behind the bass-heavy beats prevalent on his earlier projects. Summer End Cafe has something of everything we've come to know from Killah Priest. There are a couple of Wu-flavored bangers (like "95 Bodega" and "Vapor"), drumless tracks with oddball samples ("Lady Barbara" and "The Final Cup", among others), wonderfully weird storytelling (especially "Wimbledon 1936"), and most songs laced with KP's usual esoteric ramblings. There are a couple of headscratchers too ("Cafe Fling" most notably), but overall Summer End Cafe is another great Killah Priest project – not his best, but still better and way more interesting than the thirteen to a dozen albums most other artists are content to keep releasing. At this point, considering his longevity and his excellent catalog, it is safe to say Killah Priest is a Hip Hop monument – one of our favorite artists of all time in any case.
Release date: August 16, 2021. 
6. Grip - I Died For This!?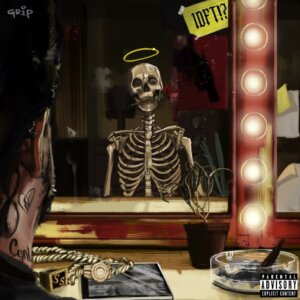 Snubnose (2019) and Porch (2017) were two excellent projects from underhyped Atlanta artist Grip. Underhyped until now, that is. With his varied and well-rounded Shady Records debut I Died For This? he is sure to take that step into the limelight. This is a career-defining album, one that can potentially turn Grip into one of the game's top dogs.
Release date: August 29, 2021. 
7. Pink Siifu - GUMBO'!
Pink Siifu is one of the more interesting figures in today's underground Hip Hop, always pushing genre boundaries with experimentation and forward-thinking ideas. With GUMBO'! Siifu continues this dynamic vision, like always pulling from varied sources of musical and thematic inspiration to provide a collage of sounds, mixing ingredients like in a good bowl of gumbo. Pink Siifu brought on a host of guest vocalists and producers to add to his musical stew – Big Rube, Georgia Anne Muldrow, Maxo, The Alchemist, and DJ Harrison most notable among them. GUMBO'! is more chilled out than last year's hard-nosed electronic punk-rap banger NEGRO, and more accessible because of it – despite the experimental vibes that permeate every aspect of the album. Strong jazz, neo-soul, and funk influences, combined with noise rock, ambient, and plunderphonics, all of it laced with Dungeon Family-inspired Southern Hip Hop sounds make for a unique record – another strong addition to Pink Siifu's catalog.
Release date: August 3, 2021.
8. Bronx Slang - Substance
Jerry Beeks and Miggs are Bronx Slang – their self-titled debut was one of our favorite albums released in 2019. Substance is their anticipated sophomore LP, and it's another banger.
Produced top to bottom by prolific UK pair Jadell and Fake Blood, Substance once again channels that good old-fashioned Big Apple sound of the rap idealist and authenticator: the blasts of "You Already Know", "Another Night In New York" and "Copy That" come through like a rhino stampede. Substance expands to funk and soul positions spending time in the crates on 'This Ain't No Love Song', synth angles maximizing Bronx Slang's authoritarianism on "Mic Check", and pitching the pair to the edge of panic on "Clock's Ticking".
Beeks and Miggs read the world its rights, and last rites, without allowing themselves a moment's relaxation: "Living With A Mask On" goes against simple COVID-related rhetoric, and "Excuse Me Again" shows that the "Excuse Me Officer" narrative from the first Bronx Slang album needs repeating. Their inner-city testimonies and fine-tuning of front-page news define the realistic rather than keeping it real: they remain observant, unfazed masters of keeping their heads, resistant to propaganda and managing the weight of modern life.
Meaningful content, masterful wordplay, and dope beats – the aptly titled Substance is a must-have.
Release date: August 6, 2021.
9. Kanye West – Donda
Kanye West is a fascinating genius and an insufferable idiot in equal measures, and his tenth studio album Donda is the embodiment of his absurdity. At 27 tracks (20 not including intro, interludes, and 4 'part 2' tracks) Donda is a daunting listen, at close to two hours longer than Kanye's last 3 albums combined. All Kanye albums, especially everything he dropped since his masterpiece My Beautiful Dark Twisted Fantasy (2010), are divisive – and Donda probably will turn out to be the most divisive of them all. The ridiculous and chaotic rollout, the annoying exercises in provocation, and the constant revisions and delays remind a lot of what happened before The Life Of Pablo (2017) was released, an album that collapsed under the weight of expectations but wasn't half-bad when it was finally actually finished.
Let's start with the positive: Donda is WAY better than Jesus Is King (2019), the thoroughly disappointing project preceding this one. Donda is a strong work on the nature of faith, healing, and loss – as personal and introspective as one would expect from an album dedicated to and named after Kanye West's late mother. Yes, Donda is overlong and messy – but there's an underlying cohesiveness here that turns the bloat into a beautiful sort of mess. Like on all Kanye West albums there are high highs and low lows – but fortunately, on Donda, the highs far outweigh the lows. "Tell A Vision" is the most notable throwaway track (an insult to Pop Smoke's legacy), but with songs like "Jail", "God Breathed", "Off The Grid", "Hurricane", "Believe What I Say", "Keep My Spirit Alive", "Moon", "Heaven And Hell", "Jesus Lord", "Lord I Need You", Pure Souls", and "Jesus Lord Pt 2",  there are way more winners.
Donda could have done with fewer guest vocalists – the 33(!) artists appearing here collectively get more time on the album than Kanye himself, almost turning the album into a compilation album. Almost, but with his thematic focus, Kanye manages to hold things together in the end. Kanye West has always been a mediocre lyricist at best, but there's some of his most powerful lyricism in a decade on Donda – mixed with his intolerable self-preoccupation and the inevitable corny Kanye bar here and there of course. Of all the featured artists, Jay Electronica has the best verse (on the stand-out "Jesus Lord").
Production-wise, Donda is Kanye's most intricate and exciting project in a decade (even if it is unpolished in places), deftly balancing a healthy amount of gospel music with the bombastic styles of production Kanye is known for. A two-hour album could easily be an overwhelming slog, but Donda is not. This is Kanye's best album since My Beautiful Dark Twisted Fantasy, and it will be even better if it gets The Life of Pablo makeover treatment. Kanye stans will call Donda a masterpiece, Kanye haters will say it's trash. We are not stans and we are not haters – so we can objectively say that while Donda is not a masterpiece like MBDTF is, it certainly is not trash either. Donda is a typical Kanye West album – a mixed bag, with more positives than negatives this time around.
Release date: August 29, 2021.
Honorable Mentions
Sean Rose – The Bloomprint
Westside Gunn – Hitler Wears Hermes 8: Sincerely, Adolf (Side A)
Dead Monarchs & Tragedy Khadafi – Tabula Rasa
Uncommon Nasa – Only Child
Abstract Mindstate – Dreams Still Inspire
ANKHLEJOHN – As A Man Thinketh
Tanya Morgan – Don & Von
M.A.V.& Swab – A Luxury You Can't Afford
Creatures Of Habit – Parasites Paradise
Agallah – High Level Art
Taiyamo Denku & BoFaatBeatz – Collabzilla
Da Flyy Hooligan & Teslas Ghost – Flyyghost
Termanology & Amadeus – 360
Savage Messiah & IDE – Intelligent Design
THE GRIM SL3EPER & Vagabond From Beyond – Doom Bap
Ramson Badbonez – Lead By Example
TekForce – Child Of The '80s