Ranking Jedi Mind Tricks' Albums: Underground Hip Hop outfit Jedi Mind Tricks were formed in Philadelphia in the early '90s by high-school friends Kevin Baldwin (aka Stoupe the Enemy of Mankind) and Vincenzo Luvineri (aka Vinnie Paz). Over the decades, additional members DJ Kwestion, Jus Allah, and DJ Drew Dollars rotated in and out of the lineup, from their 1997 sample-heavy debut, The Psycho-Social, Chemical, Biological & Electro-Magnetic Manipulation of Human Consciousness, to their aggressive late-2010s output The Thief and the Fallen and The Bridge and the Abyss.
The founding duo released their debut, the Amber Probe EP, in 1996. One year later, they gained a bigger cult following with their first full-length, The Psycho-Social, Chemical, Biological & Electro-Magnetic Manipulation of Human Consciousness. The set featured appearances by Apathy, Black Thought, and Jus Allah, who officially joined JMT soon after. The newly minted trio issued sophomore effort Violent by Design in late 2000, marking the group's last album before signing to Babygrande. Guests included Mr. Lif, Esoteric & Virtuoso, and Sean Price. Jus Allah took a break from JMT and his spot was filled by DJ Drew Dollars for 2003's major-label debut, Visions of Gandhi. The album peaked in the Top 20 of the Billboard Heatseekers and Independent Albums charts, recruiting Canibus, Kool G Rap, Ras Kass, Esoteric, and more. They quickly followed with another chart-climbing effort, 2004's Legacy of Blood, which featured Wu-Tang members Killa Priest and GZA.
In 2006, Paz's Hip Hop supergroup Army of the Pharaohs made its full-length debut with The Torture Papers, while the release of Jedi Mind Tricks' Servants in Heaven, Kings in Hell proved that the MC's primary group was still functioning. Servants became the group's first appearance on the Billboard 200, bowing outside the Top 100. Jus Allah then made his return to the JMT lineup, which issued A History of Violence in 2008. 2011 saw the release of Violence Begets Violence, the collective's first release without the production help of Stoupe, relying on work by DJ Kwestion, C-Lance, Nero, and more.
Stoupe returned to JMT in time for the follow-up, just as Jus Allah parted ways with JMT once again. Their eighth album, The Thief and the Fallen arrived in 2015. Paz, Stoupe, and Kwestion returned in 2018 with the group's ninth effort, The Bridge and the Abyss. [Biography by Neil Z. Yeung | Allmusic]
9. Violence Begets Violence (2011)
Violence Begets Violence is the only Jedi Mind Tricks album without production from Stoupe. Stoupe's absence causes the album to sound unfocused in places – with some questionable musical choices, best illustrated by the awful reggae-flavored track "Chalice" – but most of the low-profile producers step up and manage to capture the hardcore JMT vibe. Jus Allah and especially Vinnie Paz's lyrics are harder than ever, maybe over the top – with sometimes grotesque expressions of hate and rage, almost going full horrorcore and showing little of the socio-political and religious-philosophical content that was still mixed in with the brutal battle bars of the earlier JMT releases.
Violence Begets Violence is not as strong as the other JMT albums are, but with banging cuts like "When Crows Descend Upon You", "Imperial Tyranny", and "F**k Ya Life" there's enough of the regular JMT quality to not completely dismiss this album. 6.5/10
8. A History Of Violence (2008)
This is not Jedi Mind Tricks' best album, but it's not nearly as bad as some critics have you believe. A History Of Violence signified Jus Allah's return to the group, and his return fits like a glove. Stoupe's production is dope and the lyrical imagery is signature JMT – hard as nails brutal. A History Of Violence is a solid follow-up to the (admittedly superior) Servants In Heaven Kings In Hell (2006) album. 7/10
7. The Thief And The Fallen (2015)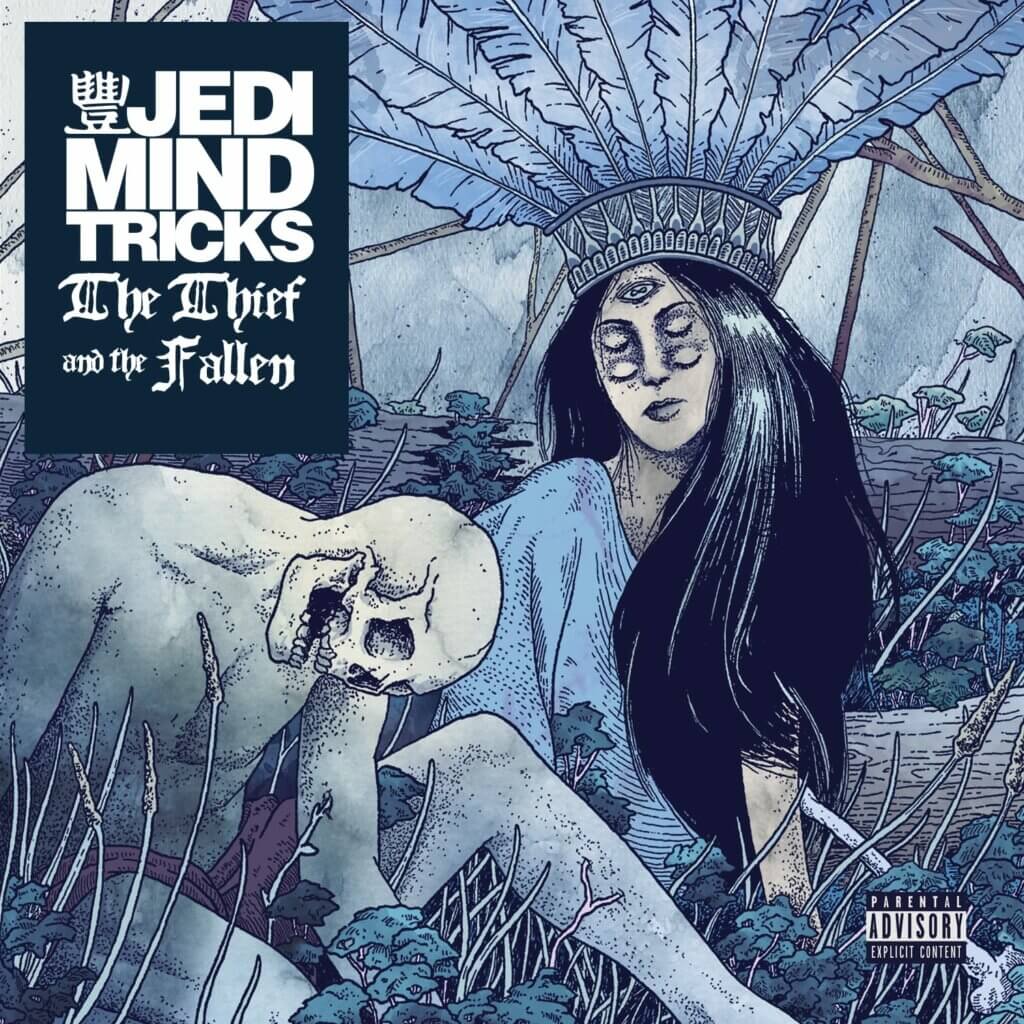 For The Thief And The Fallen Stoupe had rejoined JMT again, while Jus Allah had left the group for the second time. Vinnie Paz and DJ Kwestion remained constant factors and with Stoupe's return, the signature JMT boom-bap sound was carried through on The Thief And The Fallen. The opening song "Poison In The Birth Water" is a stand-out, as are tracks such as  "The Kingdom That Worshipped The Dead" with Dilated Peoples, "Hell's Messenger" and "And God Said To Cain", with Eamon, and incomparable rhyme machines A-F-R-O and R.A. The Rugged Man (and an epic verse by Vinnie Paz who manages to out-rap even R.A. The Rugged Man). 7/10
6. The Bridge And The Abyss (2018)
After eight Jedi Mind Tricks albums, four (now six) Vinnie Paz solo albums, and a bunch of AOTP and other JMT-affiliated releases, by 2018 it was clear what to expect from Vinnie Paz and Stoupe. Banging beats and brutal bars is what was expected, and banging beats and brutal bars is what The Bridge And The Abyss offers. "Torture Chamber" (with CZARFACE), "Legacy Of The Prophet" (featuring Sean Price), "Hell's Henchman", "You Have One Devil But Five Angels" – plenty of classic JMT joints on this one. 7.5/10
5. The Psycho-Social, Chemical, Biological & Electro-Magnetic Manipulation Of Human Consciousness (1997)
The Psycho-Social, Chemical, Biological, And Electro-Magnetic Manipulation Of Human Consciousness was originally released in 1997, the 2003 reissue was the first Hip Hop release on the fledgling Babygrande label. On this debut album, Jedi Mind Tricks did not reach their full potential yet, but this is a dope album anyway. Stoupe Enemy of Mankind is an excellent producer, providing bone-chilling and atmospheric soundscapes for Vinnie Paz to unleash his lyrical wizardry on – with top tracks like "The Winds Of War", "Chinese Water Torture", "The Three Immortals",  and "I Who Have Nothing". Innovative and intelligent, and the beginning of an impressive career filled with A+ quality albums. Jedi Mind Tricks is one of the best and most consistent Hip Hop crews in the game. 7.5/10
4. 5. Legacy Of Blood (2004)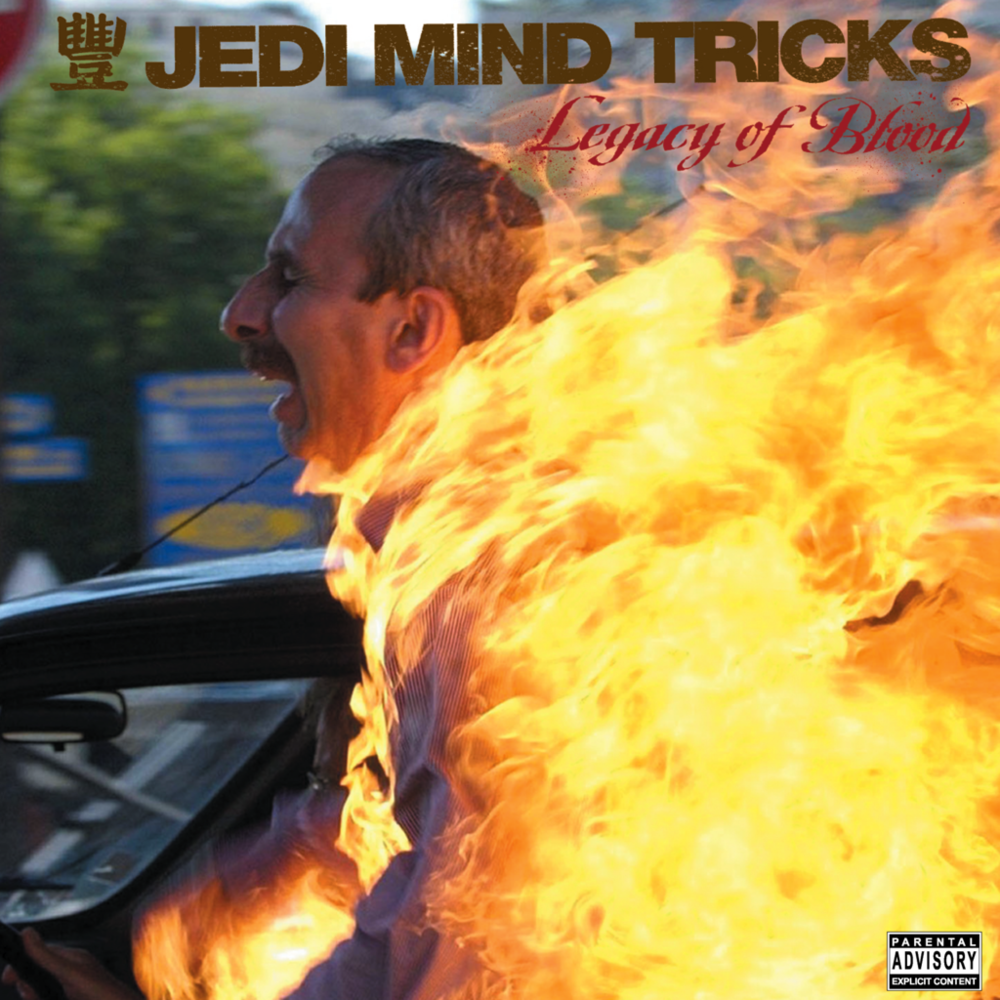 Legacy Of Blood is the fourth album from Jedi Mind Tricks. Coming off the divisive Visions Of Gandhi (2003) this album signified somewhat of a return to the rawer boom-bap sounds of JMT's second album Violent By Design (2000). Stoupe's beats are more straightforward here, bass-heavy and booming as we know from him (although there still is some Latin-flavored sampling here and there), and Vinnie Paz's themes are also familiar: we get violent imagery, his ideas about religion, philosophy, and history, and verbal attacks on government and other groups of people he dislikes (so also some of his seemingly inevitable homophobia) – aggressive and hard-hitting bars in any case.
Killah Priest, GZA, Des Devious, and Sean Price make appearances, and standout tracks include "The Age Of Sacred Terror", "Saviorself", a dope duet with Killah Priest, the GZA-assisted "At The Eve Of War", "The Philosophy Of Horror", and "Me No Shalto". Legacy Of Blood is not JMT's best effort, but it is a strong album. 7.5/10
3. Visions of Gandhi (2003)
This is an album that has always polarized opinions, especially among first-hour Jedi Mind Trick fans. The long and short of it is: some hate Visions Of Gandhi, some love it. Critics say that after Jus Allah left JMT the group lost most of its intelligence and that Stoupe's production has become too polished and more inconsistent, getting carried away at times with Latin-flavored and other sounds that don't really fit Vinnie Paz's rugged and rough style of rhyming. It is also said that Vinnie Paz's lyrics have become harder to stomach – less conscious, more repetitive, and more intended to shock (his homophobic attitude does get tiring). Even if there's some truth to all of the critical statements aimed at this album, we still feel Visions Of Gandhi is a dope album, especially when it is not compared to other JMT albums, but judged by itself.
As polished as they may be, Stoupe's soundscapes still bang and are mostly excellent. Also, there are a lot of guest rappers who add real value to the album, there are no more than two tracks on which Vinnie Paz handles the mic duties on his own – and with enlisting names like Tragedy Khadafi, Kool G Rap, Canibus, Ras Kass, and Percee P you know top-quality emceeing is pretty much a guarantee. Especially Ras Kass (on "Rise Of The Machines") and Percee P (on "Walk With Me") kill it, proving as they always do that they are two of the best emcees of all time.
Just forget about whatever you expected or wanted and drop all comparisons, and you will see Visions Of Gandhi s a more than fine JMT album. 8/10
2. Violent By Design (2000)
Originally released in 2000 on Superregular Records, but reissued in 2004 on Babygrand. Violent By Design is Jedi Mind Tricks' sophomore outing and another great album from the underrated Philly crew. Vinnie Paz & co. rip the tracks on this album with sick flows and clever punchlines (even if the subject matter may be hard to stomach for some) – cuts like "Retaliation", "Heavenly Divine", "Gengis Khan", and especially "Sacrifice" and "The Deer Hunter" are all classic JMT joints. The beats provided by Stoupe the Enemy of Mankind and Mr. Len are as good as you could wish for, which makes the total package an excellent album from one of the greatest and most underrated crews in the game. 8.5/10
1. Servants in Heaven, Kings in Hell (2006)
Servants in Heaven, Kings in Hell is the fifth studio album by legendary Philly crew Jedi Mind Tricks and their best, in a series of mostly excellent albums. It is also their best-performing album commercially but still went criminally unnoticed (especially when compared to 2006's highest selling and wack pop-rap albums from the likes of Lil Wayne, Rick Ross, and others like them).
Servants In Heaven, Kings In Hell is worth the price of admission alone for the masterpiece that is "Uncommon Valor", with an epic verse by guest emcee R.A. The Rugged Man. But the rest of the album bangs too. Stoupe's unique and cinematic soundscapes and Vinnie Paz's vicious lyrics get equal shine, every track works. With some dope additional rhyming from guests like regular JMT collaborator Chief Kamachi, Sean Price and especially the aforementioned R.A. The Rugged Man, this album truly is a worthy addition to anyone's music collection. 9/10