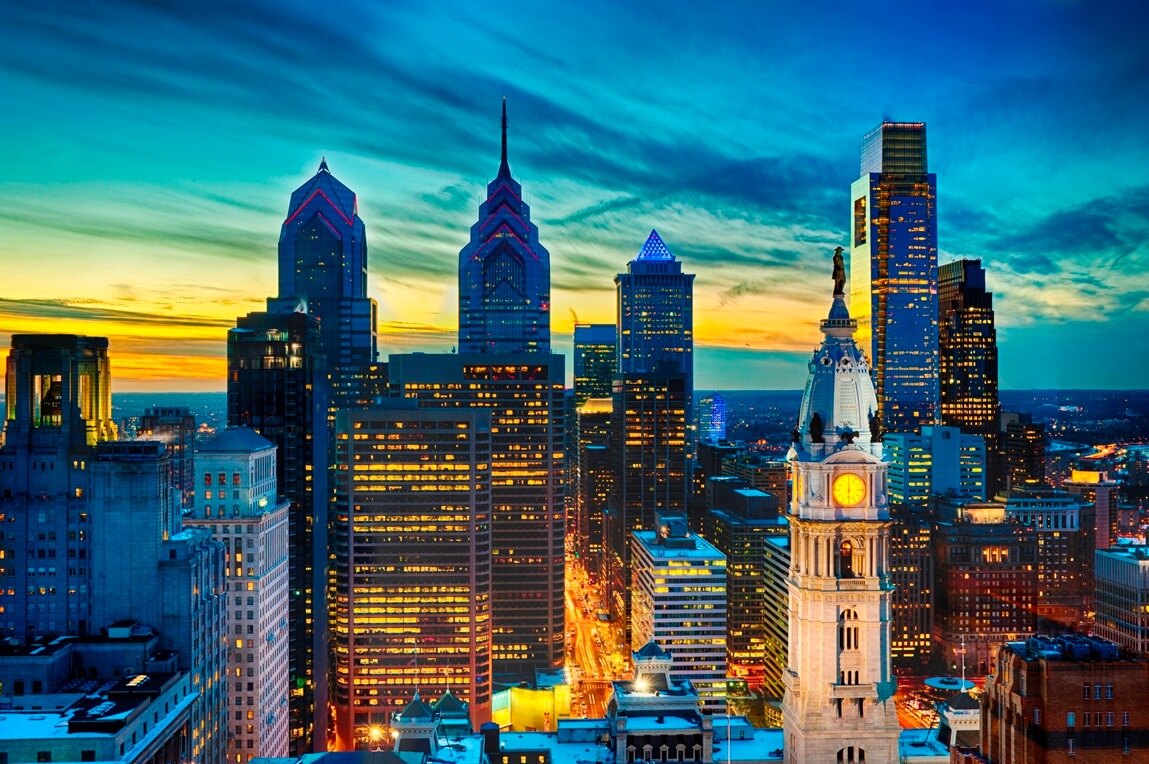 I am lucky enough to have been born and raised in the Philadelphia area. It was and still is one of America's great cities, but unfortunately lives in the shadow of New York City and Washington, DC. Few outside of the area regularly acknowledge Philadelphia's proud history, and recognize its bright future. In 2016, it is one of the county's few growing urban centers, and is developing and expanding like no other city in the cold, desolate northern half of the country.
Philadelphia is a city rich in African-American culture. Home to a bustling jazz scene in the 1940's and 1950's, and home city to legend John Coltrane during the beginning of his career, Philadelphia was also an epicenter to soul music in the 1960's and 1970's. Names such as Patti Labelle, Teddy Pendergrass and blue-eyed soul mainstays Hall & Oates put Philadelphia on the map as a major music destination. The TV show "American Bandstand" even got its start in the City of Brotherly Love.
Naturally, when Hip Hop rose to prominence in the 1980's, Philly was going to represent. While its big brother to the north, New York City, was the undisputed birthplace and epicenter of Hip Hop, Philadelphia benefitted from its proximity to rap music's mecca, lying just 90 miles to the southwest, and clearly feeding off of New York's energy. As Hip Hop grew in popularity in the 1980's, few cities other than New York and Los Angeles had any sort of presence on the scene. Philadelphia represented Hip Hop perhaps earlier than even Los Angeles, and is one of the first cities other than New York to foster and grow the fledgling genre in its early years.
Philly churned out some landmark Hip Hop artists in the 1980's, but saw some of its most recognized success from the mid 1990's onwards. It is an under-represented and often-overshadowed Hip Hop city, yet some of the genre's most influential and most consistent artists come out of this great city.
Below is a list of the top 10 Hip Hop artists to ever come out of Philadelphia.
10. Bahamadia
First appearing on the scene in 1994 with the single "Total Wreck", Bahamadia quickly became an underground sensation and one of the more respected members of the Philadelphia Hip Hop community in the mid 1990's. This culminated with the 1996 release of her solo debut, Kollage. The album included an all-star production line-up, with 7 of the album's 15 tracks produced by members of Gang Starr – 5 by DJ Premier, 2 by Guru – and four beats done by Da Beatminerz.
Eve and Lisa "Left Eye" Lopes are the most popular and perhaps most celebrated female MC's from the City of Brotherly Love, but Bahamadia is perhaps the most talented of them all. Her uniquely laid-back tone and rapid-fire flow give her a specific sound that sets her apart from any rapper, male or female. Hear Bahamadia at her best on Kollage tracks such as "Uknowhowwedu" and "3 the Hard Way". She also makes a formidable appearance on Jedi Mind Tricks' 2000 LP Violent by Design as a member of east coast Hip Hop collective Army of the Pharaohs.
9. Freeway
Freeway burst onto the scene in the early 2000's as one of the members of Roc-A-Fella's State Property collective, headed by Beanie Sigel. Freeway appeared on Jay-Z's 2000 release Roc La Familia, but really made a name for himself in late 2001 with State Property, appearing most notably on "Roc the Mic", which was included on State Property's self-titled debut in early 2002. His success on early State Property albums led him to release his debut solo album in 2003, Philadelphia Freeway, which would go on to sell over 500,000 copies. His best-known song, "What We Do", which featured Jay-Z and fellow Philadelphia rapper Beanie Sigel, was in heavy rotation in 2002 and 2003, especially on Philadelphia radio.
While Freeway made his most dominant mainstream efforts on Philadelphia Freeway and 2007's Free at Last, he would go on to have a consistent career after his mainstream exposure. In 2010, he released The Stimulus Package with Seattle-based producer Jake One, which became an underground sensation, and was one of the more celebrated albums of 2010. Freeway has put out two solo albums since, including one with underground Bay Area legend The Jacka, titled Highway Robbery, in 2014.
8. Viro the Virus
This is one for the real underground heads. Viro the Virus is a Philly-area based rapper, representing nearby Mt. Holly, New Jersey. Viro, who is one of the most well-respected rappers in the Philly underground circuit, gained international recognition on German-based production stalwarts Snowgoons' track "Starlight", released in 2008 on the critically-acclaimed Black Snow. Outside of "Starlight" and a few other Snowgoons tracks, Viro has only benefitted worldwide from limited internet exposure. In Philly, he remains an underground legend. He is best known for his incredibly clever wordplay and large vocabulary, and is one of the purest MC's I've ever had the pleasure to listen to.
Viro dropped a couple of solo albums in the early to mid-2000s, but really made some noise with 2007's Jersey's Finest and 2008's The Sharpest Blade, both of which contain some of the deepest Hip Hop tracks I have ever heard. Check out the spacey, piano-laden "Kid U Not" from Jersey's Finest and the excellently melodic hometown anthem "The Streets" from The Sharpest Blade. He would go on to collaborate with Snowgoons twice in 2009 before releasing the celebrated Virohazard EP in 2011. He would also record a track around this time that would be later released on Snowgoons' Black Snow 2, the lyrically and sonically stunning "Dizzy Dreams".
Unfortunately, Virohazard would be Viro's last release. Rumor has it he isolated himself in 2009 and moved to Arizona. Based off of some of his deeper, more introspective songs, it seemed as if there was a lot of pain in Viro's life. He would pass away in April 2012, but there is no official word as to the cause of his death. Many speculate he committed suicide, others cite a drug overdose for his death. No matter the case, Viro the Virus is an underground legend whose music is severely unknown and underappreciated. If you've never heard of Viro the Virus, I highly suggest you check his music out.
7. Reef the Lost Cauze
Another early Army of the Pharaohs member, Reef the Lost Cauze quickly became an important member of Philadelphia's Hip Hop community in the early to mid-2000s. His debut, The High Life, didn't make a lot of noise, but it did put him on the map in local circles. This would pave the way to 2003's Invisible Empire, which led the way to his 2005 nationally-recognized magnum opus Feast or Famine. Featuring underground sensations like the late Sean Price, Feast or Famine showcased Reef at a state of lyrical prowess and general hunger for recognition.
Reef would achieve that recognition with Feast or Famine, and he would become known and respected in underground circles worldwide. Reef would be inducted into east coast-based, Philly-focused collective Army of the Pharaohs in the mid 2000's, and would appear on the group's debut album in 2006. Furthermore, he would go on to collaborate with Snowgoons on their albums in the late 2000's, making plenty of noise throughout the underground. In more recent years, Reef seems to have slowed down a bit, with his latest release being 2014's "The Fast Way", a collaboration with house music producer Emynd.
6. Outerspace
When Army of the Pharaohs formed in the late 1990s, it brought together roughly 10 underground rappers and producers, some of which would go on to have solid and celebrated solo careers. North Philadelphia's Outerspace was one of the acts that would go on to put together a solid career. The group started as a trio, but quickly became a duo after their first album, consisting of Puerto Rican friends Planetary and Crypt the Warchild.
In the 2000s, they released three albums, beginning with 2004's Jedi Mind Tricks Presents Outerspace. This album featured tracks that had been recorded in the five or so years prior to the album released, and showcased fellow Philadelphia rapper King Syze on a few of the tracks. Released by celebrated indie Hip Hop label Babygrande Records, the album showcased the lyrical skills and raw intelligence of the two MC's, who had a knack for street-life tales mixed with extraterrestrial themes. They put out an entirely new album later in 2004, titled Blood and Ashes.
By 2006, they were gaining a following in Philadelphia and throughout the underground, and went on to release perhaps their strongest album, Blood Brothers. Featuring bigger names such as Sheek Louch, Vinnie Paz and Royce da 5'9", Blood Brothers displayed all sides of Planetary and Crypt, ranging from furious battle raps such as "The Boiling Point", "Hustle and Flow" and "Silence" to more serious and introspective songs such as "Grown Ass Man" and "Time Will Tell".
The duo would follow up in 2008 with God's Fury and 2011 with My Brother's Keeper. Crypt the Warchild was diagnosed with cancer in 2013, which he is supposedly still battling to this day, and the duo has taken some time off. However, both MC's would appear on both of Army of the Pharaohs' 2014 albums In Death Reborn and Heavy Lies the Crown.
5. DJ Jazzy Jeff & The Fresh Prince
Before his Fresh Prince of Bel-Air Days and long before his career as one of Hollywood's most celebrated leading men, Will Smith, AKA The Fresh Prince, was essentially the face of Philadelphia Hip Hop. Coupled with DJ Jazzy Jeff, the west Philadelphia duo hooked up in 1986 and released their debut, Rock the House, one year later. Rock the House featured decent rhymes from The Fresh Prince, but Jazzy Jeff stole the show with his turntablism.
Things really took off for the duo in 1988 with the release of the classic He's the DJ, I'm the Rapper, an ambitious double album. The a and b-sides featured The Fresh Prince on every track, and included perhaps the duo's first hit, "Parents Just Don't Understand". The c and d-sides showed DJ Jazzy Jeff flaunting his skills on the turntables. The duo released their third album in 1989, And in This Corner… which featured fun yet well-done songs such as "I Think I Can Beat Mike Tyson" and "Who Stole My Car?"
By 1990, The Fresh Prince had landed his own TV show, and Jazzy Jeff was a co-star. But the duo would release another album in 1991, Homebase, which featured the duo's most well-known song and perhaps one of Philadelphia's most celebrated Hip Hop hits, "Summertime". However, the album was not as well-received as the duo's first three, and it appeared more and more evident that the two were focusing on their TV careers more than on their music. They would release one more album, 1993's Code Red, which also was viewed as a bit of a disappointment.
Will Smith left the rap game at that point, but DJ Jazzy Jeff would emerge again in the 2000s with two critically acclaimed albums: 2002's The Magnificent and 2007's The Return of the Magnificent. Both albums featured Jeff's production and turntablism with a smattering of guest rappers and singers, from Method Man, CL Smooth and Posdnuos to J-Live and Jill Scott.
4. Schoolly D
Many people call Ice-T the "father of gangsta rap", but Ice himself has acknowledged Philadelphia legend Schoolly D as the real creator of gangsta rap. Schoolly D was also the first successful Hip Hop artist to come out of Philadelphia, emerging in 1984. Originating in the rough streets of west Philadelphia as a graffiti artist, D picked up the mic and quickly made an impact in the mid 1980's.
In 1985, he released the seminal single "P.S.K. – What Does It Mean?", which the aforementioned Ice-T credits as being the direct influence for his 1986 smash "6 in the Mornin'". "P.S.K." is widely credited as being the first gangsta rap song ever, and features tales about D's adventures in the hood and pays homage to the Park Side Killers, a West Philly street gang The Hip Hop world had never heard anything on this level before, and a rapper not from New York or Los Angeles was, for the first time, gaining some national exposure.
Schoolly D released four relatively successful albums in the 1980s, with perhaps his most celebrated of the four being 1986's Saturday Night!: The Album. His music would begin to take an Afrocentric twist by his fourth album, and he was credited along KRS-One as being one of the first Afrocentric rappers. He would release three less successful albums in the 1990s and even put out an album in 2000.
In later years, Schoolly D would step away from the mic and harness his musical talent. D would become involved with contributing to and writing film scores and soundtracks, and composed the music for the popular Adult Swim TV show Aqua Teen Hunger Force, which he would occasionally also provide voice over work for.
Schoolly D's early contributions to gangsta rap and Philadelphia Hip Hop cannot be denied or overlooked. While he has not dropped a widely recognized album in more than 20 years, Schoolly D remains the father of Philadelphia Hip Hop and the first innovator of harder, more abrasive lyrics in his rhymes.
3. Beanie Sigel
If you were listening to rap/Hip Hop radio in the United States around the year 2000, you simply could not go more than five minutes without hearing something out of Jay-Z. By 2000, Jay-Z's Roc-A-Fella Records was in full swing and featured a roster of rappers, including Brooklyn's Memphis Bleek and south Philadelphia's Beanie Sigel. Jay-Z and Bleek featured an in-your-face street style at the time, but neither rapper had the charisma and raw energy that Beanie Sigel displayed.
On top of his charisma, Sigel was a clever lyricist, and his subject matter often dealt with street life. While Bleek and Jay-Z were more into braggadocio in 2000, Sigel was a bit more hardcore. He managed to somehow grab the attention of mainstream rap radio at the time, and became perhaps the most well-known Philadelphia rapper since The Fresh Prince. In early 2000, he released his debut on Roc-A-Fella, The Truth, which reached as high as number 5 on the Billboard charts. The album also saw Just Blaze and Kanye West receive their first widespread exposure as producers.
While Beanie was a great rapper, he also knew how to grab the world's attention for more negative reasons. He dropped his sophomore effort, The Reason in 2001, and engaged in a highly publicized beef in the summer of that year with Jadakiss. This feud was perhaps the gold standard of Hip Hop beef until Jay-Z and Nas went at it later that year.
In 2002, his long list of legal troubles began, as Sigel would get arrested and charged for weapons. He was soon after charged for punching a man in the face, and then caught another weapons charge. After a highly-publicized trial that was a huge story in the Philadelphia media, Sigel did a year in prison in 2004.
Sigel started the Philadelphia hardcore Hip Hop collective State Property in 2002, and the group gained steam into the middle of the decade. Shortly after, he split with Roc-A-Fella and did his year in prison. State Property dissolved in 2005, and in that same year, Sigel released his third solo album, perhaps the most celebrated of his career – the commanding The B. Coming. Sigel's personal troubles would continue after the release of the album, as he was shot and robbed in 2006. After releasing The Solution in 2007, he was arrested in 2009, 2010 and 2012 on various charges, and ended up doing two years in prison from 2012 to 2014.
Beanie Sigel hasn't put out an album since he went away to prison in 2012, and there is no doubt that his legal troubles stifled what was a great career. However, Beanie's legacy remains, and puts him in the top tier of artists from Philadelphia to achieve mainstream success while staying raw, lyrical and respected.
2. Jedi Mind Tricks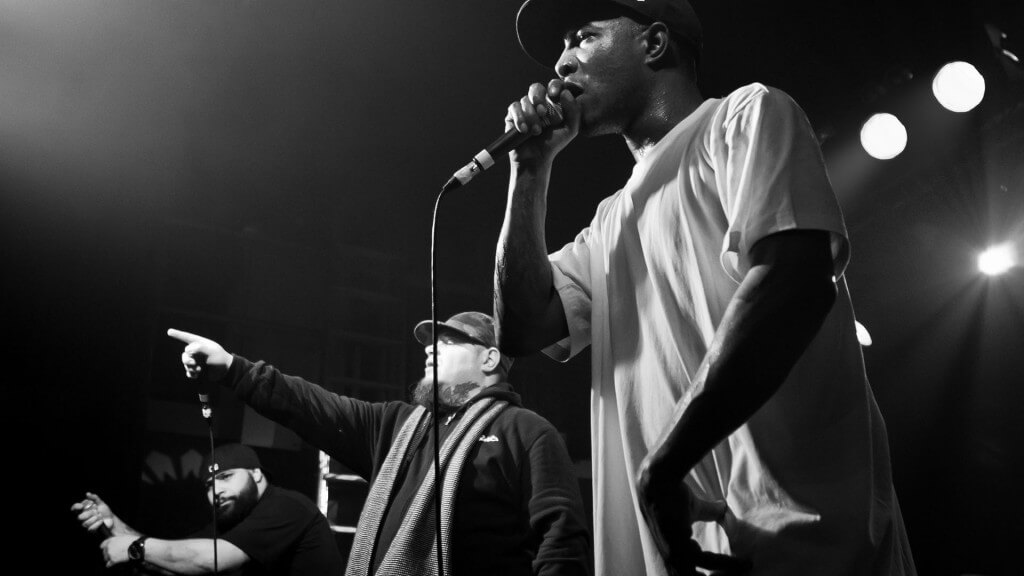 In the early to mid 1990's, producer/DJ Stoupe the Enemy of Mankind and south Philly MC Ikon the Verbal Hologram, later known as Vinnie Paz, linked up on the burgeoning underground Hip Hop scene that was starting to develop in Philadelphia. The duo formed Jedi Mind Tricks soon after, and quickly put out The Amber Probe E.P. in 1996, which caught the ear of many underground Hip Hop heads on the east coast. A year later, they would release their eyebrow-raising debut, titled The Psycho-Social, Chemical, Biological, and Electro-Magnetic Manipulation of Human Consciousness, backed by the brilliant closing track, "I Who Have Nothing". Just based off of the album's title, it was clear that these guys were intelligent weirdos, and for most, this was an extremely good thing.
The "Psycho Social Album" gave Hip Hop a breath of fresh air in the years where the genre was quickly becoming overly commercial. MC Ikon the Verbal Hologram spun twisting verbal tales about topics way out of left-field, including extraterrestrial life forms and religious extremism. Stoupe the Enemy of Mankind did the beats, which featured lush, melodic layered soundscapes and samples over hard boom-bap drums.
In 1998, the Army of the Pharaohs collective was founded by Vinnie Paz, and brought together a large collection of rappers from Philadelphia, Boston and New York. This paved the way for many guest appearances on what is often considered JMT's magnum opus, 2000's Violent by Design. With their sophomore release, gone for the most part was the odd subject material, and in was a new identity for Ikon the Verbal Hologram, who changed his name to Vinnie Paz around the time the album was released. Paz was angry, violent and brutal with his lyrics, but managed to stay incredibly tactical and clever. Camden, New Jersey rapper Jus Allah joined the group in 1999 and added another powerful voice with clever lyricism to most songs. Stoupe was on a new level with the beats, and helped drop one of the most well-produced Hip Hop albums of the year.
Violent by Design was a smash in the underground Hip Hop community, and really put Jedi Mind Tricks on the map. Songs such as "Heavenly Divine", "Retaliation" and "Blood Runs Cold" (featuring the late Sean Price) stood out on the album. Notable guest appearances included members of Army of the Pharoahs – Bahamadia, Planetary of Outerspace and Esoteric stand out the most. Other guests include the aforementioned Sean Price, Queensbridge legends Tragedy Khadafi and Killa Sha, as well as Boston's Mr. Lif. The group would tour for about two years before being signed to Hip Hop indie label stalwart Babygrande Records, and the group released their next album in 2003.
Visions of Gandhi followed the same general format as Violent by Design and featured an even more impressive guest lineup, including Canibus, Ras Kass, Kool G Rap, Ill Bill, Percee P and Tragedy Khadafi, among others. However, Jus Allah would end up leaving the group, leaving Vinnie Paz as the sole MC. Stoupe's production evolved more on this album, with more aggressive sampling and scratching, while Vinnie Paz became even angrier yet still distinctly lyrical. JMT would drop two more albums with the same format of rapping and production, 2004's Legacy of Blood and 2006's Servants in Heaven, Kings in Hell. The latter of the two albums featured two of JMT's best known songs – the amazing "Uncommon Valor: A Vietnam Story", featuring R.A. the Rugged Man, and "Heavy Metal Kings" featuring Ill Bill. The album would go on to be the group's biggest critical success since Violent by Design.
JMT has released three solid albums since Servants in Heaven, including 2015's The Thief and the Fallen. Jus Allah rejoined and re-left the group in this time period, and Stoupe also bowed out for their 2011 release, Violence Begets Violence. Vinnie Paz continues to have a successful solo career as well, and has released well-received solo albums. During his absence from JMT, Stoupe released a solo album, then ventured outside of Hip Hop, organizing and producing projects such as trip-hop project Dutch and indie-pop band Vespertina.
Stoupe and Vinnie Paz are back together and still going in 2016, and continue their legacy as the most influential underground Hip Hop group out of Philadelphia. For an underground group on an indie label, they have sold well over half a million albums worldwide, and have an amazing cult following that extends far beyond the Philadelphia city limits. The closely-affiliated Army of the Pharaohs, which was of course founded by Vinnie Paz, continues to do albums together. Jedi Mind Tricks' catalog is deep, and their reputation as one of the most consistent, successful and recognizable underground Hip Hop groups of all time has already cemented their legacy.
1. The Roots
You simply cannot think about Philadelphia Hip Hop without first thinking about the Legendary Roots Crew. By far the most well-known and influential Hip Hop act from the city, The Roots have transitioned from a humble group of street kids making smooth jazz-rap in the early 1990's, to one of the industry's most respected alternative Hip Hop groups around the turn of the century, to one of the best known and celebrated musical acts of all time in the 2010s – so much so that they're now the official band for the world's most popular late-night TV show, The Tonight Show.
It really has been a legendary journey for The Roots. The group's beginnings trace back to 1987 at a Philadelphia high school, where Questlove and Black Thought were classmates. Through the late 80's and early 1990's, the two would enter local talent shows and would recruit musicians to create a unique, live-music setting that would end up being a major game-changer for Hip Hop. Essentially, they wanted to create a jazz rap sound not through samples and turntablism, but through live musicianship, including drums, bass, keyboard and guitar.
This sound first manifested itself on the group's 1993 debut Organix. Their debut created an incredible amount of buzz both in Philadelphia and nationwide, and they were invited to various jazz festivals and even Lollapalooza. The Roots would get signed to Geffen Records in 1994, and subsequently put out Do You Want More?!!!??! in early 1995. Their sophomore effort would gain them even more national exposure, and they quickly rose up through the underground with a growing fan base.
The Roots would release two more albums in the 1990s, both of which are often regarded as their best work. 1996's Illadelph Halflife was a jazz rap masterpiece, and featured Black Thought and Malik B on the mic. Lyrically, Illadelph Halflife is perhaps The Roots' strongest effort, as the two MC's display absolute prowess on the mic from start to finish. The album includes guest appearances from Raphael Saadiq, Common, Bahamadia and future member Dice Raw. The album did show a bit of a deviation from the live music sound that was so prominent on their first two albums, and had a distinctly more "behind the boards" sound. Production was handled by The Grand Negaz, Questlove and Kelo, and despite scaling back of the live music sound, the production was highly acclaimed.
1999's Things Fall Apart was most definitely the group's breakout album, as by then, The Roots were receiving a lot of attention. As a result, they knew what they had to do, and dropped an absolute classic. The album brings back a bit more of the live instrumentation, but the beats sound incredibly evolved and have a new millennium sound while staying true to the smooth jazz rap sound the group had perfected to this point. Malik B and especially Black Thought continued to evolve as MC's, although they do sound a little more laid back on this release. The guest appearances continued to impress, with Common, Erykah Badu, Eve, Mos Def and DJ Jazzy Jeff, among others, appearing on the album.
It's common to think that The Roots peaked with Things Fall Apart, when in reality, they really never fell off. Until the mid-2010s, the group released one classic after the next. 2002's Phrenology, 2004's The Tipping Point, 2006's Game Theory, 2008's Rising Down, 2010's How I Got Over and 2011's Undun all can be heralded as alternative Hip Hop classics. The live instrumentation only evolves on later albums, and while Malik B. left the group in 2001, Black Thought remains lyrically sharp, and gets a bit more political and social on some of these later releases.
In 2009, The Roots became the house band for Late Night with Jimmy Fallon. In 2014, Fallon was awarded The Tonight Show, and brought The Roots with him. In both incarnations of Fallon's late night programs, the group was featured in many sketches and skits. In addition, they host the annual Roots Picnic each June in Philadelphia. As of today, they have achieved an incredible amount of recognition and are, in most circles, a household name.
Trace this back to their humble beginnings in Philadelphia in the late 1980s and early 1990s. Take a step back and realize how far The Roots have come, and how to this day, despite the fame and fortune, they still continue to produce on an artistic level. Their two newest albums have not received the same amount of acclaim as their previous efforts, but the fact that they are still making music, still touring and sitting in for Jimmy Fallon on a nightly basis is a testament to how influential and far-reaching their music and art is. The Roots were, are, and probably always will be the most influential and important Hip Hop act to come out of Philadelphia.
Honorable Mentions
Cassidy
Steady B
Peedi Crakk
Da Youngstas
Philly's Most Wanted
Major Figgas
Lady B
The High & Mighty
The Last Emperor
Eve
Cool C
Three Times Dope
DJ Cash Money
Tuff Crew