Top 10 Cities By Hip Hop Scene: If you've read any of my recent articles, you'll recall that I've been focusing on rappers by regional scene. So far I've covered New York City's 5 boroughs, Long Island, Philadelphia, and the West Coast. But all this focusing on regional scenes got me to think: what are the best regional Hip Hop scenes in the United States?
While many cities abroad have vibrant local Hip Hop cultures, the ten American scenes you'll find on this list are regional scenes that have received international attention. Since America is the birthplace of Hip Hop, I find it rather appropriate to count down the top ten cities by Hip Hop scene in America. In my mind, there isn't much debate about the top two cities, but choosing numbers 3 through 10 was a very interesting and thought-provoking decision for me.
10. New Orleans, Louisiana

New Orleans is one of America's most mysteriously cultured cities. Home to a ton of music and arts, the city has long been plagued by crime and urban decay. Recently, it was the location of the biggest natural disaster to take place on American soil, 2005's Hurricane Katrina.
New Orleans has been an epicenter of many different types of music, most notably jazz, in the 20th century. While the city also housed an incredibly strong scene for metal throughout the 1990s and 2000s, around the same time, it emerged as a major player in Hip Hop – and was one of the earlier cities to make noise out of the southern US.
After a number of underground sensations that came out of New Orleans in the 1980s and 1990s, the city's Hip Hop scene started to break into the mainstream in the middle 1990s with the emergence of Master P and Mystikal. That success would further carry into the end of the decade as the Cash Money Millionaires/Hot Boyz crew exploded onto the scene. Juvenile, Turk, Mannie Fresh, Birdman, B.G. and a very young Lil' Wayne began cranking out hits in 1997, and parlayed their early success into an absolute stranglehold onto the mainstream around the turn of the century.
At the same time, Master P's No Limit label was turning out hit after hit as well, with rappers like C-Murder, Silkk the Shocker, and others. While Cash Money had the most commercial success, No Limit was the crew that first put New Orleans on the Hip Hop map.
New Orleans Hip Hop has a specific bounce and roll to its beats, with a very distinct sound that somehow sets it apart from other southern Hip Hop scenes. Listening to how different and interesting some of the beats were on early New Orleans Hip Hop records make me think something was in the water down there. Lyrically, many of the rappers can't hold a candle to most east coast rappers, but a few show promise lyrically, such as Lil' Wayne in his prime, and more recently, Jay Electronica.
Today, Lil' Wayne remains one of the most commercially-successful and recognizable rappers. Post-Hurricane Katrina, many rappers relocated to other cities, though a few remained, such as Curren$y and Jay Electronica. New Orleans has a rich history of rappers, though aside from a few of the early No Limit Records and the first few Cash Money releases, not much coming out of New Orleans has seen widespread critical acclaim as well as the nod of approval from Hip Hop purists.
9. Memphis, Tennessee
Memphis is another city in the southern US that has an abundance of prestigious musical history. Many early musical pioneers in genres ranging from soul, blues, rock n' roll and even country music got their start in Memphis. One of rock's early pioneers and most recognizable faces, Elvis Presley, grew up roughly an hour from Memphis and started his career in the city.
While the city was a musical hotbed for the middle 20th century, it wasn't until the end of the century that a wave of successful and acclaimed music came out of the city again. The 1990s saw the emergence of two major Memphis acts: 8Ball & MJG and Three 6 Mafia. Both rose to commercial and critical prominence, with Three 6 Mafia seeing an incredible amount of commercial success by the early 2000s.
While Three 6 Mafia (known in their early days as Triple Six Mafia) were around as early as 1991, and were a major influence on the burgeoning underground Hip Hop scene in Memphis, 8Ball & MJG were the first act to gain national exposure from the city. 1993's Comin' Out Hard put the duo on the map, and they would again gain intense critical acclaim for their 1995 effort, On Top of the World. The duo has a relatively solid catalogue that has fallen off in quality a bit in recent years.
But the most creative, eccentric and original Hip Hop to emerge from Memphis was nearly anything done by Three 6 Mafia and their wide-reaching affiliates. Before Gravediggaz were introducing horrorcore to the Hip Hop industry, Three 6 Mafia members and producers DJ Paul and Juicy J were essentially inventing horrorcore, with songs dating back to as early as 1991 circulating on underground tapes. By 1995, the Wu-Tang Clan of the south, as I will proclaim them, had released a spacy, disturbing EP titled Live by Yo Rep (B.O.N.E. Dis) as well as Mystic Stylez, a full-length album. Both are retrospectively hailed as some of the most original, yet head-scratching and creepy Hip Hop to ever see the light of day. Live by Yo Rep is most notable for dissing Bone-Thugs-N-Harmony, who Three 6 Mafia had accused of stealing their rapping styles.
The group gained steam in the late 1990s and early 2000s, releasing a smattering of albums that were and still are critically-acclaimed. Rappers Koopsta Knicca and Lord Infamous, both now deceased, gave the group's early work a spacy, violent feel with incredibly unorthodox, rapid-fire lyrical displays. While other members didn't really excel at rapping, Koopsta and Infamous could rap leaps and bounds over your average east coast MC. The group would release multiple platinum albums in the early 2000s, and would win an Oscar for creating a song for a film soundtrack.
Three 6 Mafia was known for its large amount of affiliates as well, effectively creating a monopoly over all Memphis rappers not named 8Ball or MJG. This included the surprisingly lyrical Project Pat, Kingpin Skinny Pimp, Indo G, Lil Wyte, Playa Fly, and others. Three 6 would release an album full of affiliates, much like Wu-Tang did with the Killa Bees compilations in the late 1990s. If you were a Memphis rapper in the 1990s, you were either a Three 6 Mafia affiliate, or you were 8Ball & MJG.
While 8Ball & MJG's beats were more "traditional" early southern Hip Hop, they were very lyrical for a group from the south. Three 6 Mafia covered just about everything – twisted, eccentric and dark beats, and at times, top-notch lyricism, though a number of their members and affiliates were not so lyrical. While both groups fell off as the 2000s wore on, Three 6 Mafia gets the nod as most influential act out of Memphis, due to their evolution of what is today known as the "Memphis Rap" sound, featuring low, guttural basslines, trippy and spacy production, and witty yet sometimes vapid lyrics. However, one must not overlook 8Ball & MJG when looking for some of the earliest, most influential, highest-quality southern Hip Hop.
8. Houston, Texas
This is the city where southern Hip Hop essentially got its start. Houston is the place where southern Hip Hop's first successful act, Geto Boys, emerged from in the late 1980s. Geto Boys took the Hip Hop world by storm, releasing a number of influential albums – most notably, 1989's Grip It! On That Other Level. As the Geto Boys continued into the 1990s, so did the solo career of the group's de facto leader, Scarface. He would release four albums of his own through the 1990s, most notably 1994's The Diary, which is often seen a southern Hip Hop masterpiece.
As Geto Boys began winding down, and as Scarface kept picking up steam as a solo artist, Houston's own DJ Screw was popularizing a new sound, where a DJ would slow down an existing Hip Hop record and splice it in rhythmic patterns. This was known as "chopped and screwed" music, and would quickly become a counterculture of its own. The drug of choice for the scene was promethazine, or narcotic cough syrup (codeine), often mixed with Kool Aid or fruit juice in a concoction affectionately referred to as "purple drank", or just "drank".
Drank would influence southern Hip Hop scenes for years to come outside of Houston, and the aforementioned Three 6 Mafia did a song in 2000 with UGK, titled "Sippin on Some Sizzurp". The song was released right around the time where DJ Screw passed away prematurely, presumably from his activity in the drank culture (codeine was found in his system at the time of his death). Leading up to his death, DJ Screw put out scores of underground "screwed and chopped" tapes, which essentially helped form the sound of the next generation of Houston Hip Hop.
Speaking of UGK, the duo is not really considered a Houston act, but they do hail from Port Arthur, Texas, a city on the Texas-Louisiana border about 90 miles east of Houston. UGK is, along with Outkast, perhaps the most influential southern Hip Hop act of all-time, but will only be touched on briefly on this list due to an indirect-at-best association with the Houston scene.
After DJ Screw's passing, Houston's scene began to burgeon again, with a number of acts emerging. Rappers such as Chamillionaire, Lil' Flip, Paul Wall, Mike Jones and others would redefine the Houston sound in the early 2000s, with all of those mentioned rappers achieving unprecedented commercial success as southern Hip Hop as a whole started to explode after the turn of the millennium.
Houston has a wide-ranging sound, from the more east-coast-sounding beats on early Geto Boys records, to the distinctly-Houston sounding chopped and screwed scene, to the mainstream, early 2000s southern Hip Hop sound of the newer wave of Houston rappers. Many of the big rappers in the new wave were not very lyrical, but Geto Boys were always known for their clever lyrics – particularly those of Scarface. And of course, Scarface's lyrical influence peaked on his later solo albums; today, he remains the most consistent, successful and respected rapper from Houston.
7. Atlanta, Georgia
Before 1994, Atlanta was barely represented at all in Hip Hop, other than by pop-rap duo Kris Kross. It had a respectable local scene at the time, but was about to explode into Hip Hop as a force to be reckoned with. The catalysts of that explosion were none other than Big Boi and Andre 3000, together forming the seminal duo Outkast. With their release of 1994's Southernplayalisticcadilacmuzik, the duo grabbed the ears of everyone throughout the south, and brought a funky, fresh, raw, new sound to Hip Hop. To top it off, they were incredibly lyrical, and were great story-tellers. Outkast associates Goodie Mob, which featured currently popular artist Cee Lo Green, were also from Atlanta, and received critical acclaim for their first two albums, particularly 1995's Soul Food.
Atlanta Hip Hop continued to be dominated by Outkast up until about 2000, and during that time, the duo released three more landmark albums – 1996's ATLiens, 1998's Aquemini, and 2000's Stankonia. They were sure to influence somebody along the way with albums of such a high caliber, and they did, as Ludacris stepped onto the scene in 2000. Other acts, such as Jermaine Dupri and Chicago artist Da Brat were making noise in the 1990s, but none like Outkast. When Ludacris exploded in the early 2000s, with the release of his first two albums, the floodgates had been opened – Atlanta was quickly churning out more commercially influential rappers per city than anything other than what happened in New York in the 1990s.
By the middle 2000s, artists like Young Jeezy, T.I., Lil' John, Gucci Mane, and many others were making their names known. T.I. was one of the more commercially successful artists, and was one of the south's most lyrical MCs. The influence of those rappers gave Atlanta even more clout, and by the end of the 2000s, it was being dubbed "the New York of the south" and "the new epicenter of Hip Hop". Let's face it, during the years from about 2005 to 2010, southern Hip Hop was what the nation wanted to hear. America wanted crunk beats, aggressive chanting and generally lackluster rapping – something new, something different from the tried-and-true New York and east coast scenes.
While Hip Hop, during its birth, early stages and most fruitful years, had its epicenter in New York City, the modern-day mecca of Hip Hop appears to be Atlanta. In fact, in 2009, the New York Times called Atlanta "Hip Hop's center of gravity". While the quality of the music coming out of Atlanta is not what it once was, the quantity remains the same. There are a smattering of artists that are still calling Atlanta home in the 2010s, including mainstream artists such as 2 Chainz and B.o.B.
Atlanta Hip Hop ranges far and wide, and Atlanta could have ranked much higher on this list were it not for the lack of quality in some of the recent work coming from the city. Outkast and Goodie Mob lead the way out of Atlanta as the most creative and influential acts, but other acts have received commercial and critical praise, such as Ludacris, T.I., Young Jeezy, and Cee Lo on his solo work.
6. Chicago, Illinois

For a long time, Chicago has had a burgeoning Hip Hop scene that started in the early 1990s with Common, then known as Common Sense. Common and his smooth street tales were the first act from Chicago to gain national acclaim, most notably with his second album, 1994's Resurrection. The album alone influenced a future generation of rappers, but by the middle 1990s, there were a number of notable acts rising out of Chicago, including Da Brat, Twista, Do or Die, and Crucial Conflict. A rapid-fire style of rapping was becoming prominent in some of these acts, which would grow to be known as the "chopper" style.
As the 1990s ended, Common was quickly becoming one of Hip Hop's most respected and acclaimed artists, and Twista was on the brink of commercial explosion. During the early 2000s, Kanye West emerged, first as a producer, later as a rapper, and popularized the sampling technique that took old R&B and soul records, and sped them up to create instrumentals. This sound would venture far and wide through Hip Hop in the following years, and would influence a whole new generation of rappers and producers that are making their mark today.
Other rappers that represented Chicago during the 2000s were the lyrically-acclaimed Lupe Fiasco, Rhymefest, and underground rappers Vakill and Typical Cats. By the early 2010s, a new scene was arising on the again-violent streets of Chicago, known as "drill rap". Led by a rapper named Chief Keef, this style features atmospheric beats, vigorous high-hats, and barely audible rapping. Drill rap has taken a lot of heat for being an incredibly watered-down and vapid offshoot of Hip Hop, and it has been seen as a sort of soundtrack to the increased violence in Chicago in recent years. One other major act from Chicago that has no association with the drill rap scene is Chance the Rapper, who has seen a good deal of mainstream attention recently.
Chicago Hip Hop has also ranged far and wide since its inception, and has produced two of Hip Hop's biggest stars, who continue to show their influence in the game today. However, Chicago is also responsible for a recent major decline in quality with drill rap, though the city does still produce more thoughtful rappers as well. It is a scene that has something for everyone's tastes, and as a regional scene, is nationally under-appreciated.
5. Oakland/San Francisco, California (Bay Area)
Northern California's San Francisco Bay Area, particularly the city of Oakland, has been a hotbed of rappers for three decades. Droves of rappers – perhaps more than any city not named New York or Los Angeles – have come out of Oakland over the years, with the highest concentration of these artists rising to prominence in the late 1980s and early to middle 1990s. The first Bay Area rapper was Oakland's Too $hort, who released his first album way back in 1983. $hort would best represent the Bay Area scene for about ten years, until east coast transplant 2Pac took the Hip Hop world by storm.
The list of Oakland and Bay Area rappers is simply too vast to cover everyone, but a few of the more notable, more major acts that would make an impact on Hip Hop nationally and internationally include Digital Underground, Hieroglyphics (Del the Funky Homosapien, Casual, Souls of Mischief), The Coup, E-40, Rappin' 4-Tay, Spice-1, Andre Nickatina, Mac Mall, C-Bo and Luniz.
In the late 1980s, Too $hort first brought the Bay Area into the national spotlight; Digital Underground and then 2Pac helped popularize it by the middle 1990s. By 1993, Spice-1, E-40 and Hieroglyphics (particularly Del) were beginning to achieve prominence and respect as well.
Recent years have featured older artists releasing more material, though there have been some new acts. The Bay Area scene is one that peaked in the 1990s (much like most other regional Hip Hop scenes), and does not have a ton of influence beyond the early 2000s. However, Vallejo's E-40 has seen a bit more mainstream exposure in recent years despite nearly two decades of not being noticed much outside the west coast.
Bay Area Hip Hop is not necessarily the most lyrical, but features richly-crafted, funk-sampled beats that can range from dusty, dark and almost east-coast sounding to distinctly synth-driven and bouncy. Some of the more lyrical Bay Area rappers include Del the Funky Homosapien, who perhaps peaked lyrically on the Deltron 3030, a collaboration with Bay Area DJ's Dan the Automator and Kid Koala. One gem from the Bay Area that is often disassociated with more "traditional" Bay Area Hip Hop is DJ Shadow's 1996 effort Endtroducing…, which was fully driven by samples and plunderphonics. The album remains one of instrumental Hip Hop's finest efforts, and is one of the most critically acclaimed Hip Hop albums of all-time.
4. Detroit, Michigan
Detroit has long been a place of urban decay, plight and poverty. Naturally, since Hip Hop is the modern-day art-form of the oppressed, Detroit had no problem becoming a hotbed of quality Hip Hop. As early as 1990, Hip Hop was beginning to gain a following in and around Detroit. Quite ironically, in Detroit Hip Hop's earliest days, it was driven by artists such as Kid Rock, who would go on to achieve major success as a pop artist by the late 1990s, as well as Insane Clown Posse, who are nowadays ridiculed by most Hip Hop purists. One of the other early artists out of Detroit was Esham, who is one of the early horrorcore artists – perhaps earlier than either Three 6 Mafia or Gravediggaz. Esham seemed to influence a more morbid lyrical theme in the growing Detroit scene, and this would become very evident in the early part of the career of Eminem.
Eminem, who released his first album in 1996, re-shaped Detroit Hip Hop – and Hip Hop as a global scene – forever. When he first was discovered by Dr. Dre and signed to Aftermath Records, the morbidity that took place in the lyrics of Esham and Insane Clown Posse was quite evident as an influence. Eminem's first two albums, The Slim Shady LP and The Marshall Mathers LP, sold millions and millions of copies, despite having such a vulgar disposition. Soon after Eminem's success, he put his crew, D-12, out into the Hip Hop world, and their two albums sold exceedingly well. Also benefitting from Eminem's success was rapper Obie Trice, who saw plenty of success in the middle 2000s.
Also coming up in the late 1990s was one of Detroit's most consistently successful and lyrically celebrated rappers, Royce da 5'9". Royce first appeared with Eminem on The Slim Shady LP, but through mixtapes and underground hype, would release his first album in 2002, Rock City. Royce would go on to quietly dominate Detroit Hip Hop while Eminem would spiral out of control, releasing material that sold well, but was critically panned. Royce would become the most consistent force in Detroit Hip Hop in the 2000s.
While Detroit produced a number of mainstream artists that would truly shape and change Hip Hop, the city was home to one of underground Hip Hop's most influential groups, Slum Village, and arguably the most celebrated producer of all-time, J Dilla. Dilla was an original member of Slum Village, though he left the group after a couple of albums to focus on what would become an unmatched solo career. Slum Village would celebrate success with and without J Dilla, and would revamp their lineup by the mid-2000s to include the very talented Elzhi. Dilla would pass away from lupus in 2006, and original Slum Village member Baatin would also die in 2009.
In recent years, Detroit has continued its strong reputation for quality Hip Hop, with artists like Guilty Simpson, Black Milk, Danny Brown, and others. Recent commercial success Big Sean also comes from Detroit. For about 25 years, Detroit has been a hotbed of Hip Hop, and like Chicago, has produced some major stars while still maintaining a respectable "underground" scene. Unlike Chicago, there have not been too many overly-mainstream, annoying rappers that have hurt Hip Hop in recent years. Detroit is an extremely underrated scene, and truly is one of America's best.
3. Philadelphia, Pennsylvania
I'm trying not to include the hometown bias here. I struggled with putting Detroit as low as number four, but then I remembered just how long Philly has had dominant, influential Hip Hop acts. As early as 1979, rappers were showing up on the local music scene in Philadelphia (Lady B), which makes Philadelphia the first city other than New York City to have a local scene. The scene began to rise to a national prominence in the middle and late 1980s with the emergence of Schoolly D and DJ Jazzy Jeff & The Fresh Prince. Schoolly D revolutionized Hip Hop and brought a much more abrasive edge to the genre, and along with Los Angeles' Ice-T, was the first to do so.
By the 1990s, the second wave of quality Philadelphia Hip Hop began with the emergence of The Roots in the early to middle 1990s. The Roots brought a whole new instrumental aspect to Hip Hop, which had never been done the way The Roots did it. There was most definitely live instrumentation in Hip Hop to that point, but The Roots made a point to be a sort of jazz band Hip Hop act, which was one of the most original things – to this day – that has been done in Hip Hop. The Roots would explode in the middle and late 1990s, and today remain as probably the most recognizable Hip Hop group or band.
Around the turn of the century, Philadelphia rapper Eve found herself with DMX and the Ruff Ryders crew, which sold millions of albums. Eve would have a brief but incredibly successful solo career as well. Around the same time, south Philadelphia rapper Beanie Sigel would find himself signed to Jay-Z's Roc-A-Fella Records, which led to international exposure for Sigel. He was so successful that Jay-Z recruited him to bring his crew onto a record label owned by Roc-A-Fella, State Property Records. Other rappers such as Freeway, Peedi Crakk, Young Chris and Omilio Sparks joined Sigel on the label, and State Property would go on to release multiple albums and even a movie. Sigel would continue his successful solo career through the 2000s despite trouble with the law.
Since the late 1990s, Philadelphia has been home to a formidable underground Hip Hop scene. The scene is headlined by the group Jedi Mind Tricks, who are at the forefront of the east coast underground collective Army of the Pharoahs, which has rappers coming from areas extending from Florida to Boston. Other underground rappers such as Bahamadia, Outerspace, Reef the Lost Cauze, The High and the Mighty, and nearby southern New Jersey's Viro the Virus would round out the more influential acts in the Philly underground.
Rapper Cassidy saw some success in the middle 2000s with a brief solo career. During that same time, The Roots would continue their dominance in the alternative Hip Hop game, and would eventually end up as the house band on NBC's "The Tonight Show". In recent years, mainstream acts such as Meek Mill have received national and international attention, despite a lower quality in musical output.
I'm from the Philadelphia area, and I'll acknowledge that the city will always live in the shadows of New York City. The same goes for Philadelphia Hip Hop – much of the energy was transferred down I-95 to the "sixth borough" as Hip Hop was absolutely exploding in New York. However, with just enough energy radiating to the city's northeast, plus a large amount of blight and urban decay in the second half of the 20th century, Philadelphia was a natural spot for a burgeoning Hip Hop scene. The scene continues today, as Philly remains one of the more dominant regions in Hip Hop culture.
2. Los Angeles area, California
While Oakland's Too $hort gave the west coast the first Hip Hop LP release on its roster, Los Angeles' Ice-T was right there in 1983 as one of the originators of west coast Hip Hop. He was one of the few artists from Los Angeles that remained consistent through much of the 1980s, until the emergence of N.W.A in 1987. N.W.A revolutionized west coast Hip Hop and Hip Hop in general with the release of 1988's Straight Outta Compton. The album would influence many west coast artists to rise up and make records, and the group would go down as one of Hip Hop's true legends, recently being inducted into the Rock n'Roll Hall of Fame.
N.W.A consisted of an all-star cast, from super-producer Dr. Dre, to furious rapper Ice Cube, to super-character Eazy-E, to solid rapper MC Ren and the group's man on the wheels, DJ Yella. N.W.A spun off many other acts, including The D.O.C., Above the Law, and then of course, the whole Death Row movement led by Dr. Dre.
Ice Cube had an incredible first five years to his solo career, releasing four classic albums. Death Row also included Long Beach's Snoop Doggy Dogg, as well as his crew, including Kurupt and Daz Dillinger. And while the east coast-west coast feud of the middle 1990s was centered around Oakland rapper 2Pac, LA-based Death Row also had major participation in the conflict, which popularized Hip Hop to astronomical levels that had not been reached before.
After the untimely death of 2Pac, Dr. Dre took over Los Angeles again with the release of his 1999 album 2001. By the mid to late 1990s, other underground artists such as Xzibit, Tha Alkaholiks, Ice Cube's Westside Connection and others started to emerge. Late 1980s and early 1990s legends King Tee, MC Eiht and the group Cypress Hill continued their careers strong at this time, after a fast start in the early 1990s. Other acts such as The Pharcyde and Ras Kass emerged in the early 1990s with influential albums of their own throughout the decade. Through all of this, originator Ice-T was churning out strong album after strong album.
While the west coast has become less commercial and more underground after the turn of the century, with acts like People Under the Stairs and Jurassic 5 emerging, the quality has certainly not declined. Other rappers, such as Murs, and producers, such as Madlib (from about 90 minutes outside of Los Angeles, in Oxnard) emerged through the 2000s.
In the 2010s, Kendrick Lamar rose out of Compton and has reinvigorated Hip Hop and revolutionized a genre that has been through so many changes and ups and downs. Los Angeles remains a strong center of Hip Hop today with the aforementioned Kendrick Lamar, as well as rappers such as Schoolboy Q, Earl Sweatshirt, and a few others.
Per capita, Los Angeles easily has the second-highest amount of quality rappers of any city on the planet. The strong influence stretches over 30 years, from the earliest Ice-T single in 1983, to Kendrick Lamar's March 2016 release, untitled unmastered. The influence continues to remain strong, and Los Angeles may have the most fruitful local Hip Hop scene here in 2016. One can only imagine what Los Angeles may continue to create as we move into the future.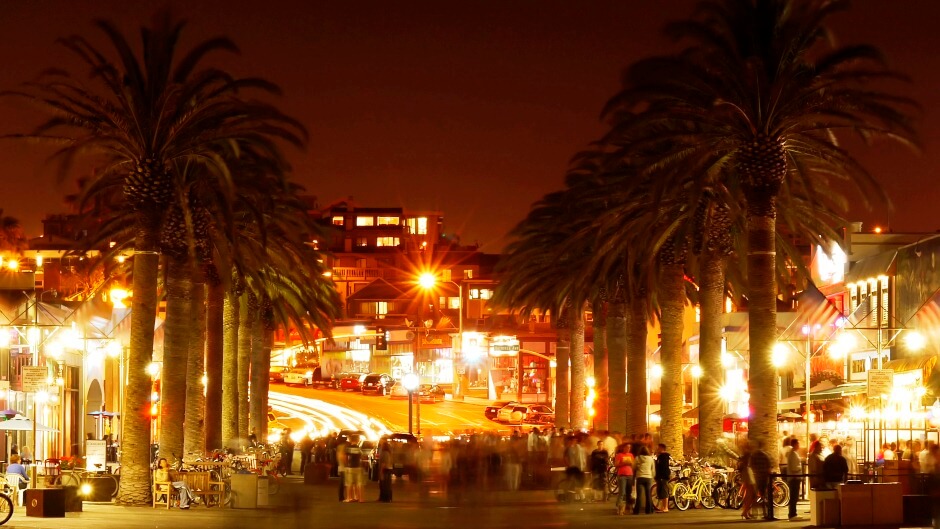 1. New York City/Long Island, New York
No surprises here. It's quite obvious that the birthplace of Hip Hop is the number one spot on this list. While it hasn't been quite as influential in recent years, say, the way Los Angeles has, it is where Hip Hop was born, and where the bulk of the top-quality Hip Hop was being written, generated and distributed in the genre's golden years of the late 1980s and through the 1990s. Starting way back in the 1970s with DJ Kool Herc, Kool Moe Dee, Kurtis Blow and The Sugarhill Gang, Hip Hop was born in the rec room of 1520 Sedgwick Avenue in the South Bronx. It was popularized into the early 1980s with the emergence of Grandmaster Flash and the Furious Five, as well as with Kool Moe Dee and the Treacherous Three.
In the middle 1980s, Hip Hop started to take off on an international level with the emergence of Run-DMC , LL Cool J and the Beastie Boys. Around that time, pioneers such as Big Daddy Kane, Rakim, Kool Keith, KRS-One, Kool G Rap and others began to emerge from various boroughs throughout the city, and from various spots on Long Island. By the late 1980s, there was an explosion of acts, from EPMD and De La Soul to Slick Rick and Public Enemy. Hip Hop was in full swing by this time, but there was much more to be accomplished in the next decade.
The 1990s would go on to be the decade where Hip Hop reached its peak quality and most marketable and accessible levels. Some of Hip Hop's greatest lyricists would also emerge in the 1990s, including Nas, The Notorious B.I.G., Sean Price, Q-Tip, members of Wu-Tang Clan, Big L, O.C., Jay-Z and many, many more.
The genre's most influential albums would be released in the 1990s, including The Low End Theory, Illmatic, Ready to Die, Midnight Marauders, Enter the Wu-Tang (36 Chambers), The Infamous, Liquid Swords, Only Built 4 Cuban Linx, Daily Operation, Mecca & The Soul Brother, Ironman, and many others.
Unfortunately, by the end of the decade, Hip Hop began to explode even further into the mainstream – only partially due to the fault of New York City rappers. By 1998, the quality began to decline, though New York acts such as Gang Starr, Mos Def, Black Star, Mobb Deep and Ghostface Killah kept the genre strong to the turn of the century.
However, overall, the quality and quantity of top Hip Hop albums began to turn further downward by the 2000s. As a response, during the late 1990s and into the 2000s, a formidable underground scene began to arise, including acts such as Company Flow, Cannibal Ox, MF DOOM and others. The New York mainstream scene would continue strong into the 2000s with top-selling acts such as Jay-Z, the Bad Boy family, and Cam'ron dominating charts in the early and middle 2000s.
New York City has always been big enough to have an active scene, but never active in the 2000s and 2010s to the same magnitude as it was in the 1990s. While the epicenter of Hip Hop seems to have shifted to Atlanta or perhaps Los Angeles in recent years, New York is still responsible for some decent to quality acts in the 2010s, such as Joey Badass, Action Bronson, Skyzoo & Torae, Roc Marciano, and a few others.
But nothing will ever touch the "golden years" of Hip Hop, which in my mind, last from Hip Hop's emergence in the late 1970s to about 1996. During those "golden years", roughly 80 percent of the quality, influential, inspirational Hip Hop was coming out of the five boroughs or Long Island.
Those years saw Hip Hop's most highly-acclaimed albums, and saw the breakup and emergence of many great groups and artists. The time period saw the untimely deaths of Notorious B.I.G., and later Big L, but also saw the community of Hip Hop expand outside of the inner city. The result of the incredible Hip Hop that came out in the 1990s was a global expansion that put Hip Hop on the level it now stands today. It is easy to believe that most of Hip Hop's best years are behind it, but a city so diverse and vibrant such as New York is sure to produce more influential acts in years to come, despite a recent drought.
Simply put, New York City is Hip Hop's home. It was, is and always will be. It has expanded to other cities which I've touched already on this list, but the essence of Hip Hop will always originate from New York. Most of Hip Hop's most influential MC's were born and raised in New York, and still reside there to this day.
The legacy of New York Hip Hop will never die, and newer Hip Hop fans must always keep in mind how important of a city New York is to American music due to the creation of Hip Hop within its city limits. New York City is the clear number one choice on this list, as it is home to some of the greatest rappers of all-time, many of which made the greatest albums of all-time. The beats and rhymes created and exhibited on those albums are a soundtrack to the gritty beauty of New York City. For one who may have never visited New York, I advise you to listen to Ready to Die, The Infamous or Illmatic, close your eyes, and let the lyrics and jazzy yet gritty instrumentals paint a picture for you of a painfully beautiful inner city that is like no other on this planet.