Tracks
3
Life's A Bitch (featuring AZ)
6
Memory Lane (Sittin' In Da Park)
Show all
Illmatic is the debut studio album by American rapper Nas. It was released on April 19, 1994, by Columbia Records. After signing with the label with the help of MC Serch, Nas recorded the album in 1992 and 1993 at Chung King Studios, D&D Recording, Battery Studios, and Unique Recording Studios in New York City. The album's production was handled by DJ Premier, Large Professor, Pete Rock, Q-Tip, L.E.S., and Nas himself. Styled as a hardcore Hip Hop album, Illmatic features multi-syllabic internal rhymes and inner-city narratives based on Nas's experiences in Queensbridge, New York.
The album debuted at number 12 on the US Billboard 200 chart, selling 63,000 copies in its first week. However, its initial sales fell below expectations and its five singles failed to achieve significant chart success. Despite the album's low initial sales, Illmatic received rave reviews from most music critics, who praised its production and Nas' lyricism. On January 17, 1996, the album was certified gold by the Recording Industry Association of America, and on December 11, 2001, it earned a platinum certification after shipping 1,000,000 copies in the United States. The album has sold 2 million copies in the United States as of February 6, 2019.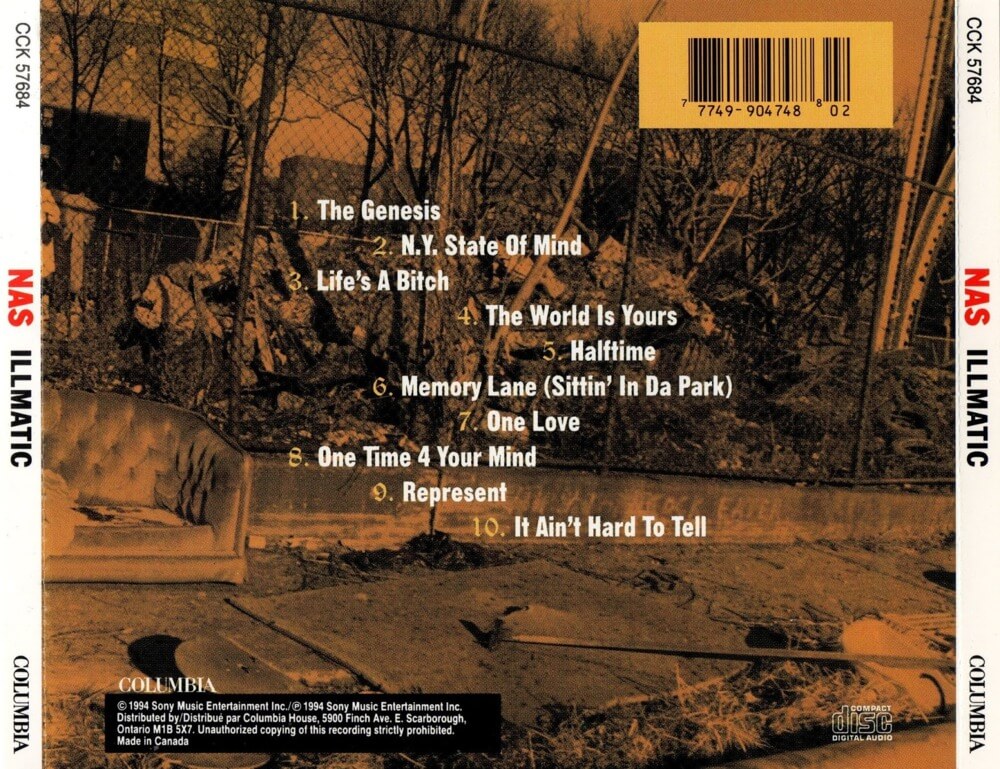 Since its initial reception, Illmatic has been recognized by writers and music critics as a landmark album in East Coast Hip Hop. Its influence on subsequent Hip Hop artists has been attributed to the album's production and Nas' lyricism. It also contributed to the revival of the New York City rap scene, introducing a number of stylistic trends to the region. The album is widely regarded as one of the greatest and most influential Hip Hop albums of all time, appearing on numerous best album lists by critics and publications. In 2021, the album was selected by the Library of Congress for preservation in the National Recording Registry for being "culturally, historically, or aesthetically significant"
As a teenager, Nas wanted to pursue a career as a rapper and enlisted his best friend and neighbor, Willy "Ill Will" Graham, as his DJ. Nas initially went by the nickname "Kid Wave" before adopting the alias "Nasty Nas".  At the age of fifteen, he met producer Large Professor from Flushing, Queens, and was introduced to his group Main Source. Nas made his recorded debut with them, performing the opening verse on "Live at the Barbeque" from their 1991 album Breaking Atoms. Nas subsequently made his solo debut on his 1992 single "Halftime" for the soundtrack to the film Zebrahead. The single added to the buzz surrounding Nas, earning him comparisons to influential golden age rapper Rakim. Despite his buzz in the underground scene, Nas did not receive an offer for a recording contract, being rejected by major rap labels such as Cold Chillin' and Def Jam Recordings. Nas and Ill Will continued to work together, but their partnership was cut short when Graham was murdered by a gunman in Queensbridge on May 23, 1992; Nas's brother was also shot that night but survived. Nas has cited that moment as a "wake-up call" for him.
In mid-1992, MC Serch, whose group 3rd Bass had dissolved, began working on a solo project and approached Nas. At the suggestion of producer T-Ray, Serch collaborated with Nas for "Back to the Grill", the lead single for Serch's 1992 solo debut album Return of the Product. At the recording session for the song, Serch discovered that Nas did not have a recording contract and subsequently contacted Faith Newman, an A&R executive at Sony Music Entertainment. As Serch recounted, "Nas was in a position where his demo had been sittin' around, 'Live at the Barbeque' was already a classic, and he was just tryin' to find a decent deal … So when he gave me his demo, I shopped it around. I took it to Russell first, Russell said it sounded like G Rap, he wasn't wit' it. So I took it to Faith. Faith loved it, she said she'd been looking for Nas for a year and a half. They wouldn't let me leave the office without a deal on the table."
Once MC Serch assumed the role of executive producer for Nas's debut project, he attempted to connect Nas with various producers. Based on his buzz at the time, numerous New York-based producers were eager to work with him and went to Power House Studios with Nas. Among those producers was DJ Premier, recognized at the time for his raw and aggressive production with jazz-based samples and heavy scratching, and for his work with rapper Guru as a part of hip hop duo Gang Starr. After his production on Lord Finesse & DJ Mike Smooth's Funky Technician (1990) and Jeru the Damaja's The Sun Rises in the East (1994), Premier began recording exclusively at D&D Studios in New York City, before working with Nas on Illmatic.
Prior to recording, DJ Premier had listened to Nas's debut single, later stating "When I heard 'Halftime', that was some next s*** to me. That's just as classic to me as 'Eric B Is President' and 'The Bridge'. It just had that type of effect. As simple as it is, all of the elements are there. So from that point, after Serch approached me about doing some cuts, it was automatic. You'd be stupid to pass that up even if it wasn't payin' no money." Serch later noted the chemistry between Nas and DJ Premier, recounting that "Primo and Nas, they could have been separated at birth. It wasn't a situation where his beats fit their rhymes, they fit each other." While Serch reached out to DJ Premier, Large Professor contacted Pete Rock to collaborate with Nas on what became "The World Is Yours". Shortly afterward, producers Q-Tip and L.E.S. chose to work on the album. "Life's a B****" contains a cornet solo performed by Nas's father, Olu Dara. The song also features Brooklyn-based rapper AZ.
In an early promotional interview, Nas claimed that the name "Illmatic" (meaning "beyond ill" or "the ultimate") was a reference to his incarcerated friend, Illmatic Ice. Nas later described the title name as "supreme ill. It's as ill as ill gets. That s*** is a science of everything ill." At the time of its recording, expectations in the Hip Hop scene were high for Illmatic. In a 1994 interview for The Source, which dubbed him "the second coming", Nas spoke highly of the album, saying that "this feels like a big project that's gonna affect the world […] We in here on the down-low […] doing something for the world. That's how it feels, that's what it is. For all the ones that think it's all about some ruff s***, talkin' about guns all the time, but no science behind it, we gonna bring it to them like this." AZ recounted recording on the album, "I got on Nas' album and did the 'Life's a B****' song, but even then I thought I was terrible on it, to be honest. But once people started hearing that and liking it, that's what built my confidence. I thought, 'OK, I can probably do this.' That record was everything. To be the only person featured on Illmatic when Nas is considered one of the top men in New York at that time, one of the freshest new artists, that was big." During the sessions, Nas composed the song "Nas Is Like", which he later recorded as a single for his 1999 album I Am….
Concerning the recording of the album's opening song "N.Y. State of Mind", producer DJ Premier later stated "When we did 'N.Y. State of Mind,' at the beginning when he says, 'Straight out the dungeons of rap / Where fake n***** don't make it back,' then you hear him say, 'I don't know how to start this s***,' 'cause he had just written it. He's got the beat running in the studio, but he doesn't know how he's going to format how he's going to convey it. So he's going, 'I don't know how to start this s***,' and I'm counting him in [to begin his verse]. One, two, three. And then you can hear him go, 'Yo,' and then he goes right into it."
Illmatic contains discerning treatment of its subject matter: gang rivalries, desolation, and the ravages of urban poverty. Nas, who was twenty years old when the album was released, focuses on depicting his own experiences, creating highly detailed first-person narratives that deconstruct the troubled life of an inner-city teenager. Jeff Weiss of Pitchfork describes the theme of the album as a "[S]tory of a gifted writer born into squalor, trying to claw his way out of the trap. It's somewhere between The Basketball Diaries and Native Son…." The narratives featured in Illmatic originate from Nas's own experiences as an adolescent growing up in the Queensbridge housing projects located in the Long Island City section of Queens. Nas said in an interview in 2001: "When I made Illmatic I was a little kid in Queensbridge trapped in the ghetto. My soul was trapped in Queensbridge projects." In a 2012 interview, he explained his inspiration for exploring this subject matter:
"[W]hen my rap generation started, it was about bringing you inside my apartment. It wasn't about being a rap star; it was about anything other than. I want you to know who I am: what the streets taste like, feel like, smell like. What the cops talk like, walk like, think like. What crackheads do — I wanted you to smell it, feel it. It was important to me that I told the story that way because I thought that it wouldn't be told if I didn't tell it. I thought this was a great point in time in the 1990s in [New York City] that needed to be documented and my life needed to be told."
When depicting life in the projects, Nas alternates from moments of pain and pleasure to frustration and braggadocio. The columnist for OhWord.com wrote: "[His] narrative voice swerves between personas that are cynical and optimistic, naïve and world-weary, enraged and serene, globally conscious and provincial". Jeff Weiss describes the "enduring image" often associated with Nas's narrated stream of consciousness: "[A] baby-faced Buddha monk in public housing, scribbling lotto dreams and grim reaper nightmares in dollar notebooks, words enjambed in the margins. The only light is the orange glow of a blunt, bodega liquor, and the adolescent rush of first creation. Sometimes his pen taps the paper and his brain blanks. In the next sentence, he remembers dark streets and the noose." Critic and blogger Kenny Waste comments on the significance of Queensbridge as a setting in Illmatic, writing, "The songs are made up largely of recollections or Nas describing his emotions, which range from feeling trapped to overt optimism about his abilities to escape the 'hands of doom'. But they always remain within the walls of his Queensbridge home."
Along with its narratives, Illmatic is also distinct for its many portrayals and descriptions of places, people, and interactions. In his songs, Nas often depicts the corners and boulevards of Queensbridge, while mentioning the names of streets, friends, local crews, and drug dealers, and utilizing vernacular slang indigenous to his hometown. Poet and author Kevin Coval describes this approach to songwriting as that of a "Hip Hop poet-reporter…rooted in the intimate specificity of locale." Commenting on Nas's use of narrative, Sohail Daulatzai, Professor of Film and Media Studies at University of Southern California, compares the album to cinema, citing its "detailed descriptions, dense reportage, and visually stunning rhymes…" In Born to Use Mics: Reading Nas's Illmatic, he writes: "Like the 1965 landmark masterpiece film The Battle of Algiers, which captured the Algerian resistance against French colonialism, Illmatic brilliantly blurred the lines between fiction and documentary, creating a heightened sense of realism and visceral eloquence for Nas' renegade first-person narratives and character-driven odes."
Many of the themes found in Illmatic revolve around Nas's experience living in an environment where poverty, violence, and drug use abound. Throughout the 1980s and early 1990s, residents of Queensbridge experienced intense violence, as the housing development was overrun by the crack epidemic. Illmatic contains imagery inspired by this prevalence of street crime. In "N.Y. State of Mind", Nas details the trap doors, rooftop snipers, street corner lookouts, and drug dealers that pervade his urban dreamscape. Sohail Daulatzai describes this language as "chilling" and suggests that it "harrowingly describes and imagines with such surreal imagery, with so much noir discontent and even more f***-you ambition, the fragile and tenuous lives of ghetto dwellers…" Author Adam Mansbach interprets Nas' violent aesthetics as a metaphoric device meant to authenticate the rough edges of his persona: "Nas's world and worldview are criminal and criminalized. Hence, he uses metaphoric violence as a central trope of his poetic." Writer and musician Gregory Tate regards this violent imagery as part of a trend towards dark subject matter that came to prevail among East Coast rappers in the hardcore Hip Hop scene. He writes, "[S]ome of the most memorably dark, depressive but flowing lyrics in Hip Hop history were written by Nas, Biggie, and members of the Wu-Tang Clan on the death knell of the crack trade.
Other writers, such as Mark Anthony Neal, have described these lyrical themes as a form of "brooding introspection", disclosing the tortured dimensions of drug crime and its impressions on an adolescent Nas. Sam Chennault wrote, "Nas captures post-crack N.Y.C. in all its ruinous glory … [r]ealizing that drugs were both empowering and destructive, his lyrics alternately embrace and reject the idea of ghetto glamour". According to Steve Juon of RapReviews.com, Nas "illustrates the Queensbridge trife life of his existence, while at the same time providing hope that there is something greater than money, guns, and drugs." Richard Harrington of The Washington Post described Nas' coming-of-age experience as "balancing limitations and possibilities, distinguishing hurdles and springboards, and acknowledging his own growth from roughneck adolescent to a maturing adult who can respect and criticize the culture of violence that surrounds him.
The content of Illmatic is also informed by notions of artistic authenticity. The promotional press sheet that accompanied the album's release implied Nas' refusal to conform to commercial trends, stating: "While it's sad that there's so much frontin' in the rap world today, this should only make us sit up and pay attention when a rapper comes along who's not about milking the latest trend and running off with the loot." At the time of the album's release, the Hip Hop community was embroiled in a debate about artistic authenticity and commercialism in popular music. Chicago rapper Common describes in the preface to Born to Use Mics: Reading Nas's Illmatic the concerns that were felt by him and his contemporaries: "It was that serious for so many of us. We didn't just grow up with Hip Hop; we grew up with Hip Hop as hip hop was also growing, and so that made for a very close and intimate relationship that was becoming more and more urgent – and we felt it. Our art was being challenged in many ways as the moneymen began to sink their teeth into us."
In the context of this debate, music writers have interpreted Illmatic as an admonishment for Hip Hop purists and practitioners. In the opening track, "The Genesis", Nas bemoans the lack of legitimacy among other MCs in the projects, insisting that he has "Been doin' this sh*t since back then." Citing songs such as "Life's a B****", Guthrie Ramsay Jr. argues that Nas "set a benchmark for rappers in an artistic field consumed by constantly shifting notions of 'realness', authenticity, and artistic credibility." Sohail Daulatzai writes: "Though Illmatic was highly anticipated release, far from under the radar, Nas's taking it back to 'the dungeons of rap' was…a kind of exorcism or purging ('where fake n****s don't make it back') that was at the very least trying to claim a different aesthetic of resistance and rebellion that was all too aware of Hip Hop's newfound mainstream potential."
Illmatic has been noted by music writers for Nas's unique style of delivery and poetic substance. His lyrics contain layered rhythms, multisyllabic rhymes, internal half-rhymes, assonance, and enjambment. Music critic Marc Lamont Hill of PopMatters elaborates on Nas's lyricism and delivery throughout the album, stating "Nas' complex rhyme patterns, clever wordplay, and impressive vocab took the art [of rapping] to previously unprecedented heights. Building on the pioneering work of Kool G Rap, Big Daddy Kane, and Rakim, tracks like 'Halftime' and the laid-back 'One Time 4 Your Mind' demonstrated a [high] level of technical precision and rhetorical dexterity."
Focusing on poetic forms found in his lyrics, Princeton University professor Imani Perry describes Nas' performance as that of a "poet-musician" indebted to the conventions of jazz poetry. She suggests that Nas' lyricism might have been shaped by the "black art poetry album genre," pioneered by Gil Scott-Heron, The Last Poets, and Nikki Giovanni. Chicago-based poet and music critic Kevin Coval attributes Nas' lyricism to his unique approach to rapping, which he describes as a "fresh-out-the-rhyme-book presentation": "It's as if Nas, the poet, reporter, brings his notebook into the studio, hears the beat, and weaves his portraits on top with ill precision." Coval also comments on the rapper's vignettes of inner-city life, which are depicted using elaborate rhyme structures: "All the words, faces, and bodies of an abandoned post-industrial, urban dystopia are framed in Nas's tightly packed stanzas. These portraits of his brain and community in handcuffs are beautiful, brutal and extremely complex, and they lend themselves to the complex and brilliantly compounded rhyme schemes he employs."
Illmatic also garnered praise for its production. According to critics, the album's five major producers (Large Professor, DJ Premier, Pete Rock, Q-Tip, and L.E.S.) extensively contributed to the cohesive atmospheric aesthetic that permeated the album, while still retaining each's individual, trademark sound. For instance, DJ Premier's production on the album is noted by critics for his minimalist style, which featured simple loops over heavy beats. Charles Aaron of Spin wrote of the producers' contributions, "nudging him toward Rakim-like-rumination, they offer subdued, slightly downcast beats, which in Hip Hop today means jazz, primarily of the '70s keyboard-vibe variety". Q magazine noted that "the musical backdrops are razor-sharp; hard beats but with melodic hooks and loops, atmospheric background piano, strings or muted trumpet, and samples … A potent treat." 
The majority of the album consists of vintage funk, soul, and jazz samples. Commenting on the album and its use of samples, Pitchfork's Jeff Weiss claims that both Nas and his producers found inspiration for the album's production through the music of their childhood: "The loops rummage through their parent's collection: Donald Byrd, Joe Chambers, Ahmad Jamal, Parliament, Michael Jackson. Nas invites his rolling stone father, Olu Dara to blow the trumpet coda on "Life's a B****". Jazz rap fusion had been done well prior, but rarely with such subtlety. Nas didn't need to make the connection explicit—he allowed you to understand what jazz was like the first time your parents and grandparents heard it." Similarly, journalist Ben Yew comments on the album's nostalgic sounds, "The production, accentuated by infectious organ loop[s], vocal sample[s], and synthesizer-like pads in the background, places your mind in a cheerful, reminiscent, mood."
The intro, "The Genesis", is composed as an aural montage that begins with the sound of an elevated train and an almost-inaudible voice rhyming beneath it, over these sounds are two men arguing. It samples Grand Wizard Theodore's "Subway Theme" from the 1983 film Wild Style, the first major Hip Hop motion picture. Nas made another ode to Wild Style, while shooting the music video for his single, "It Ain't Hard to Tell", on the same stage as the final scene for the film. His verse on "Live at the Barbeque" is played in the background of "The Genesis". According to music writer Mickey Hess, in the intro, "Nas tells us everything he wants us to know about him. The train is shorthand for New York; the barely discernible rap is, in fact, his "Live at the Barbeque" verse; and the dialogue comes from Wild Style, one of the earliest movies to focus on hip hop culture. Each of these is a point of genesis. New York for Nas as a person, 'Live at the Barbeque' for Nas the rapper, and Wild Style, symbolically at least, for hip hop itself. These are my roots, Nas was saying, and he proceeded to demonstrate exactly what those roots had yielded."
Setting the general grimy, yet melodic, tone of the album, "N.Y. State of Mind" features a dark, jazzy piano sample courtesy of DJ Premier. It opens with high-pitched guitar notes looped from jazz and funk musician Donald Byrd's "Flight Time" (1972), while the prominent groove of piano notes was sampled from the Joe Chambers composition "Mind Rain" (1978). The lyrics of "N.Y. State of Mind" have Nas recounting his participation in gang violence and philosophizing that "Life is parallel to Hell, but I must maintain", while his rapping spans over forty bars. "N.Y. State of Mind" focuses on a mindstate that a person obtains from living in Nas's impoverished environment. Critic Marc Hill of PopMatters wrote that the song "provides as clear a depiction of ghetto life as a Gordon Parks photograph or a Langston Hughes poem."
In other songs on Illmatic, Nas celebrates life's pleasures and achievements, acknowledging violence as a feature of his socio-economic conditions rather than the focus of his life. "Life's a B****" contains a sample of The Gap Band's hit "Yearning for Your Love" (1980), and has guest vocals from East New York-based rapper AZ. It also features Nas's father, Olu Dara, playing a trumpet solo as the music fades out. A columnist for OhWord.com wrote that Dara's contribution to the song provides a "beautifully wistful end to a track that feels drenched in the dying rays of a crimson sunset over the city." "The World Is Yours" provides a more optimistic narrative from Nas's viewpoint, as he cites political and spiritual leader Gandhi as an influence in its verse, in contrast to the previous Scarface references of "N.Y. State of Mind". While citing "Life's a B****" as "possibly the saddest Hip Hop song ever recorded", Rhapsody's Sam Chennault wrote that "The World Is Yours" "finds optimism in the darkest urban crevices". 
The nostalgic "Memory Lane (Sittin' in da Park)" contains a Reuben Wilson sample, which comprises the sound of a Hammond organ, guitar, vocals and percussion, and adds to the track's ghostly harmonies. Spence D. wrote that the lyrics evoke "the crossroads of old school Hip Hop and new school." "One Love" is composed of a series of letters to incarcerated friends, recounting mutual acquaintances and events that have occurred since the receiver's imprisonment,[ and address unfaithful girlfriends, emotionally tortured mothers, and underdog loyalty. The phrase "one love" signifies street loyalty in the song. After delivering "shout-outs to locked down comrades", Nas chastises a youth who seems destined for prison in the final verse, "Shorty's laugh was cold-blooded as he spoke so foul/Only twelve tryin' to tell me that he liked my style […] Words of wisdom from Nas, try to rise up above/Keep an eye out for Jake, shorty-wop, one love". Produced by Q-Tip, "One Love" samples the double bass and piano from the Heath Brothers' "Smilin' Billy Suite Part II" (1975) and the drum break from Parliament's "Come In Out the Rain" (1970), complementing the track's mystical and hypnotic soundscape.
"One Time 4 Your Mind" features battle rap braggadocio by Nas. With a similar vibe as "N.Y. State of Mind", the rhythmic "Represent" has a serious tone, exemplified by Nas' opening lines, "Straight up s*** is real and any day could be your last in the jungle/get murdered on the humble, guns will blast and n****s tumble". While the majority of the album consists of funk, soul, and jazz samples, "Represent" contains a sample of "Thief of Bagdad" by organist Lee Erwin from the 1924 film of the same name. Nas discusses his lifestyle in an environment where he "loves committin' sins" and "life ain't sh*t, but stress, fake n****s, and crab stunts" while describing himself as "The brutalizer, crew de-sizer, accelerator/The type of n***a who be pissin' in your elevator". "It Ain't Hard to Tell" is a braggadocio rap: "Vocals'll squeeze Glocks, MC's eavesdrop/Though they need not to sneak/My poetry's deep, I never fail/Nas's raps should be locked in a cell". It opens with guitars and synths of Michael Jackson's "Human Nature" (1983); the song's vocals are sampled for the intro and chorus sections, creating a swirling mix of horns and tweaked-out voices. Large Professor looped in drum samples from Stanley Clarke's "Slow Dance" (1978) and saxophone from Kool & the Gang's "N.T." (1971).
The album cover of Illmatic features a picture of Nas as a child, which was taken after his father, Olu Dara, returned home from an overseas tour. The original cover was intended to have a picture of Nas holding Jesus Christ in a headlock, reflecting the religious imagery of Nas' rap on "Live at the Barbeque"; "When I was 12, I went to hell for snuffing Jesus".
Since its release, the cover art of Illmatic has also gained an iconic reputation — having been subject to numerous parodies and tributes. Music columnist Byron Crawford later called the cover for Illmatic "one of the dopest album covers ever in Hip Hop." Commenting on the cover's artistic value, Rob Marriott of Complex writes, "Illmatic's poignant cover matched the mood, tone, and qualities of this introspective album to such a high degree that it became an instant classic, hailed as a visual full of meaning and nuance." XXL called the album cover a "high art photo concept for a rap album" and described the artwork as a "noisy, confusing streetscape looking through the housing projects and a young boy superimposed in the center of it all."
Illmatic was met with widespread acclaim from critics, many of whom hailed it as a masterpiece. NME called its music "rhythmic perfection", and Greg Kot of the Chicago Tribune cited it as the best hardcore Hip Hop album "out of the East Coast in years". Dimitri Ehrlich of Entertainment Weekly credited Nas for giving his neighborhood "proper respect" while establishing himself and said that the clever lyrics and harsh beats "draw listeners into the borough's lifestyle with poetic efficiency."  Touré, writing for Rolling Stone, hailed Nas as an elite rapper because of his articulation, detailed lyrics, and Rakim-like tone, all of which he said "pair [Illmatic's] every beautiful moment with its harsh antithesis." Christopher John Farley of Time praised the album as a "wake-up call to [Nas'] listeners" and commended him for rendering rather than glorifying "the rough world he comes from". USA Today's James T. Jones IV cited his lyrics as "the most urgent poetry since Public Enemy" and also commended Nas for honestly depicting dismal ghetto life without resorting to the sensationalism and misogyny of contemporary gangsta rappers. Richard Harrington of The Washington Post praised Nas for "balancing limitations and possibilities, distinguishing hurdles and springboards, and acknowledging his own growth from roughneck adolescent to a maturing adult who can respect and criticize the culture of violence that surrounds him".
Illmatic ranks #2 on HipHopGoldenAge's The Best 250 Hip Hop Albums Of All Time list.
Source: Nas Wiki