Earl Stevens, 15 November 1967, Vallejo, California, USA. Considered a natural successor to Too $hort's reductionist thematic with his glorification of the 'player' Hip Hop lifestyle, E-40 started his own independent label, Sick Wid It Records, in the Bay area of San Francisco in 1990. Working with his brothers and sisters as part of the Click, an underground sensation on the streets of Vallejo. E-40 released records with the Click, including 1993's Down And Dirty and 1995's Game Related, and as a solo artist. He enjoyed immediate success with records such as 'Captain Save-a-Ho', 'Sprinkle Me' and 'Ballin' Out Of Control', which all featured his trademark stop-start delivery and the inclusion of heavy regional slang such as 'scrilla' (money) and 'broccoli' (marijuana).
By 1995, and In A Major Way (which included 'Sprinkle Me'), Stevens had signed a major distribution contract with Jive Records. Having sold over half a million copies of this record, the subsequent The Hall Of Game set was given a major international push. With producers including Studio Tone, Ant Banks and Rick Rock of the Cosmic Shop, the musical climate was more relaxed and smoother than had previously been the case. The first single from the album, 'Rapper's Ball', was a typical example, being an updated version of Too $hort's 1987 single, 'Playboy Short'. This new version featured Too $hort as well as Jodeci's K-Ci. Other highlights included 'On The One', featuring Digital Underground's Money B and Da Funk Mob's G-Note, and 'Things'll Never Change'. This reinterpreted Bruce Hornsby's 'That's The Way It Is' with a contribution from E-40's eight-year-old son, Li'l E.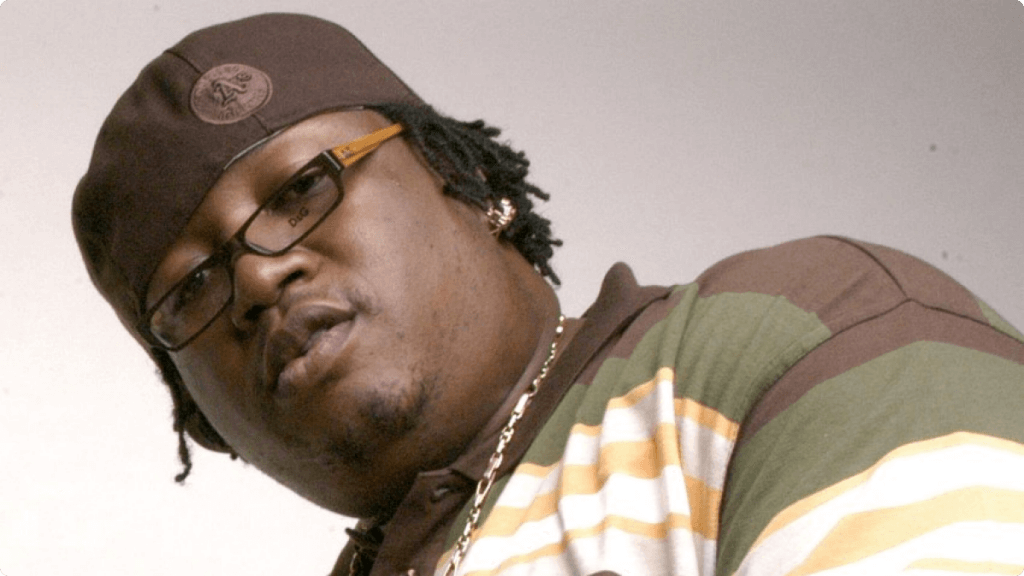 The 1998 follow-up The Element Of Surprise debuted at number 13 on the Billboard Top 200 in August of that year. E-40 celebrated 10 years in the business with the following year's semi-autobiographical Charlie Hu$tle – The BluePrint Of A Self-Made Millionaire. Ensuing albums followed the same blueprint and helped the rapper maintain a steady presence on the national rap scene. His 2006 Warner Brothers Record s debut My Ghetto Report Card was particularly successful, reaching the national Top 5 and quickly achieving gold sales status.
E-40's ties to the South became most clear in 2006, after the expiration of his contract with Jive, when he partnered with Lil Jon and his BME Recordings label for My Ghetto Report Card, released in association with Warner Bros. The album — featuring production from Lil Jon as well as Bay Area beatmakers Droop-E, Rick Rock, Studio Ton, and Bosko — was E-40's most successful in years, arguably since Tha Hall of Game (1996) or even In a Major Way (1995), and it marked his return to the Billboard Hot 100 for the first time in a decade, with a pair of impressively charting singles: "Tell Me When to Go," featuring Keak da Sneak (number 35), and "U and Dat," featuring T-Pain (number 13). His 2008 effort The Ball Street Journal featured the Lil Jon production "Break Ya Ankles" as its lead single, followed by the Akon feature "Wake It Up." Two years later he returned with the ambitious Revenue Retrievin' project, a double album split into two separate releases. The Day Shift version featured the more street-oriented cuts while the Night Shift version was filled with club tracks. The project turned into a quadrilogy in 2011 with the simultaneous release of his 13th (the varied Revenue Retrievin': Overtime Shift) and 14th (the very dark Revenue Retrievin': Graveyard Shift) albums. A year later he would return with another batch of releases, this time divided in three single discs titled The Block Brochure: Welcome to the Soil, Pt. 1, 2, and 3.
In addition to his career as a musician, E-40 is an entrepreneur and investor who has ventured into other business and investment opportunities. He invested in Microsoft, but he said that he should have invested in Apple. Along with former NFL player Chester McGlockton, E-40 opened a Fatburger franchise in Pleasant Hill, California, which has now been shut down. E-40 recently authored the book, E-40's Book of Slang to be published by Warner Books. He is also a spokesperson for Landy Cognac, and he opened the now-defunct Ambassador's Lounge, a nightclub in Downtown San Jose. On Nov 16th, 2007 it was announced that Stevens signed a franchise agreement with Wingstop Restaurants, Inc. and will open one in Southampton shopping center located in Benicia, California. "I was introduced to Wingstop in Dallas and as soon as I tasted the wings I was hooked. I love the food," said Stevens. "I chose to open in the Bay Area because this is the soil where I was born and raised, and I still live here to this day. People here are going to love these things." In late 2007, E-40 announced a new line of energy drinks called "40 Water."