An original member of New York's new-school pioneers the Ultramagnetic MCs, Thornton is best known as a solo rapper. His signature style is stream-of-consciousness lyrical flow and complex vocals, two skills that earn him a perennial nod from the underground Hip Hop community. The average Kool Keith album is peppered with bizarre, disjointed, even delusional or disassociated themes, concepts, and references. Nearly all of his albums incorporate a satirical dislike for more commercialized strains of Hip Hop, as well as major record labels.
Thornton's early career and lyrics with the Ultramagnetic MCs often referenced his time as a patient of Bellevue, a psychiatric hospital, where he was treated for depression. Keith later claimed that his claims to having been a mental patient in Bellevue were only inside jokes which he perpetrated on a far too gullible media. With Ultramagnetic, his abstract style developed, maturing in songs like "Poppa Large."
He was probably the first rapper to create multiple aliases for himself. Keith attempted to go solo at least twice in 1990 and 1992, the latter hiatus affording Keith the time to record several tracks later featured on The Cenobites LP. After Ultramagnetic broke up for good in 1994, he moved to California and landed a deal with Capitol Records for a solo album. After changes at label left the project unreleased, Thornton won back rights to the tapes and released the Big Willie Smith EP in 1995. Production duties were split between Kutmasta Kurt and Ultramagnetic's TR Love and Moe Luv. Around this time, Kutmasta Kurt also produced tracks featuring Keith's new alias, Dr. Octagon. Another Bay Area producer, Dan "the Automator" Nakamura, then a friend of Kurt, took over the majority of the production for what became Dr. Octagonecologyst, which was released by the English trip hop label Mo' Wax. DJ Qbert was also a major contributor to the album's sound, employing scratch techniques previously unheard on a rap album. The album received critical acclaim, including from media sources outside the mainstream Hip Hop community. The critical success of the album helped to open the accessibility of the underground hip hop scene to an appreciative audience. The album is considered a landmark in the acid rap genre. For the Automator, this album laid the foundation for a burgeoning career and accolades as a producer; for Thornton, the success of Octagonecologyst seemed to put him in danger of being typecast as a "space and Mars" rapper, or an industry tool, which he throughout his career has looked down upon. Instrumentalyst, showcasing the production, became a surprise success.
In 1996, Keith revealed in an interview that he was working on the next Dr. Octagon album. Tracks were also recorded with Automator under the Big Willie Smith moniker which were not released until Automator's 2000 "A Much Better Tomorrow" LP. Eventually the Big Willie Smith alias was changed to Willie Biggs, possibly as a reaction to Will Smith's Big Willie Style album, and this is the moniker used on Keith's first true solo release, 1997's Sex Style, although a few references to Smith remain. This album, produced mostly by Kutmasta Kurt, was the first to fully exemplify Keith's fascination with pornography and sex in general.
Possibly as a reaction Ced Gee's licensing of unreleased Ultramagnetic demos to Tuff City for a series of "basement tapes" LPs, Keith released an album with Tim Dog in 1997 under the name "Ultra." This album was also mostly produced by Kutmasta Kurt, and introduced Keith's Reverend Tom alias. Also in 1997, Keith appeared on the "Diesel Power" track from the "The Fat of the Land" album by UK dance act The Prodigy he is credited in the liner notes as Kool Keith.
Frustrated with Automator's ultimate control over the project and limits of his new image, Thornton abandoned the "Octagon" character, who was literally killed off in the introduction to his next album, First Come, First Served, by his new persona Dr. Dooom. This album focused on Keith's "horror-core" tendencies which first appeared on the Cenobites LP. Perhaps as a jab at Instrumentalyst's success, he released an instrumental version of this and other post-Octagon albums.
Released soon after the independent First Come First Served was the major-label effort Black Elvis/Lost in Space, (they were intended to be released simultaneously) which featured Keith finding yet another persona in Black Elvis. While the Dr. Dooom record was produced with the minimalist beats and production work of Kutmasta Kurt, Lost In Space featured much more complex lyrical stylings and deeper, multi-layered tracks developed by Keith with a host of collaborators. The dichotomy effectively split the Dr. Octagon character in two, Dooom representing the horror elements and Black Elvis handling sci-fi duties. In the liner notes to the Black Elvis album, released by Columbia/Ruff House, he even calls out his "twin brother" Dr. Dooom, saying "you need to get with a major, buddy."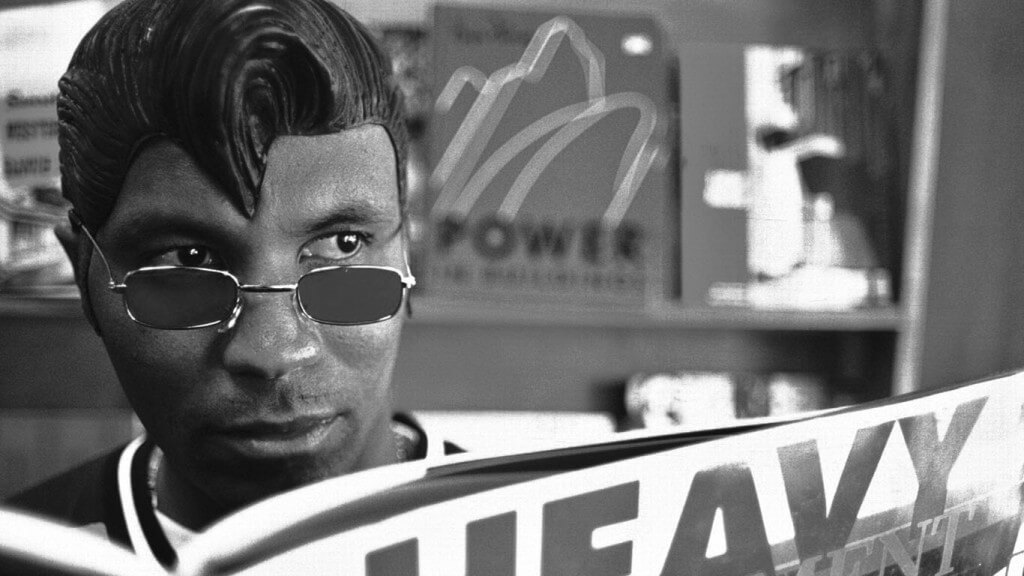 Thornton played Crazy Lou, a gun dealer and former Marine who was, "dishonorably discharged for sexual misconduct with a deadly weapon," in Prince Paul's 1999 "Hip Hopera" A Prince Amongst Thieves.
In 2000, Thornton released Matthew, which included the widely-cited anti-label rant "Test Press", lambasting mainstream rap record labels as being "white" and damning them for manipulating groups, artistic decisions, and profits. It is widely considered his angriest release. Subsequent collaborations have included Masters of Illusion, Clayborne Family, the Analog Brothers and his current effort (as of 2004) with Thee Undatakerz, who have collaborated with members of the Wu Tang Clan to produce the soundtrack to Blade: Trinity. Thornton also appeared with ODB on the compilation album WWF Aggression, on a song featured as a tribute to World Wrestling Entertainment (WWE) superstar Mankind. He is also a well-known favorite of Princess Superstar, and has collaborated with her on several tracks.
Thornton and frequent collaborator Kutmasta Kurt then revived their "Diesel Truckers" aliases first used on the Dr. Dooom album for a fairly well received 2004 LP, their first to be released as a "Kool Keith Featuring Kutmasta Kurt" album.
In early 2006, Thornton contributed to a track for former Faith No More vocalist Mike Patton's Peeping Tom album (released June 30, 2006).
The Dr. Octagon character, memorably killed off by Dr. Dooom, was unceremoniously resurrected in 2006 in a truly bizarre twist to an already bizarre career. Apparently, in 2002 Thornton briefly considered releasing another Dr. Octagon album and collaborated with unknown guitarist/producer Fanatik J. Through a series of strange events, vocals recorded during these sessions along with three songs recorded later were used by European production team One Watt Sun without Thornton's participation or consent to create the Return of Dr. Octagon album, released in 2006.
Two other 2006 LPs were somewhat overshadowed by the Dr. Octagon fiasco, released under the Project Polaroid and Mr. Nogatco monikers. These albums, particularly Project Polaroid, ironically sounded far closer to the original Dr. Octagon album than its alleged sequel. Both albums also featured a sci-fi theme.
In early 2007 it was announced by Threshold Recordings that a sequel to the 1999 Dr. Dooom album would be released, in addition to a collection of Sex Style outtakes.
Ultramagnetic MC's released their first new studio album since 1993, The Best Kept Secret, in February 2007 on Oglio Records. Critical response was muted and the album had lackluster sales.