Growing up in the suburbs of South Jersey fifteen minutes from downtown Philly was a treat. As a young aspiring musician and fan of the arts, it was always an exciting experience going to shows and seeing live music. Memories of seeing Sonic Youth at The Electric Factory, Stereolab at The Trocadeo, or Pat Martino at Chris's Jazz Cafe are some of my most impressionable moments.
One particular memory that I hold close is when I attended the Spitkicker Tour at The Electric Factory in 2000. It was a warm summer evening and featured that night were Hip Hop veterans Biz Markie and De La Soul, newcomers Reflection Eternal, as well as Hip Hop's all-in-one entertainer, Common. This was a pivotal event for me and a significant year for Hip Hop music. It also marked the 25th birthday for Hip Hop culture and launched a movement for new artists to collaborate with heros from the Golden Era. From these collaborations emerged a plethora of independent record labels that paved way for underground talent. One indie label in particular was Rawkus Records based out of New York City.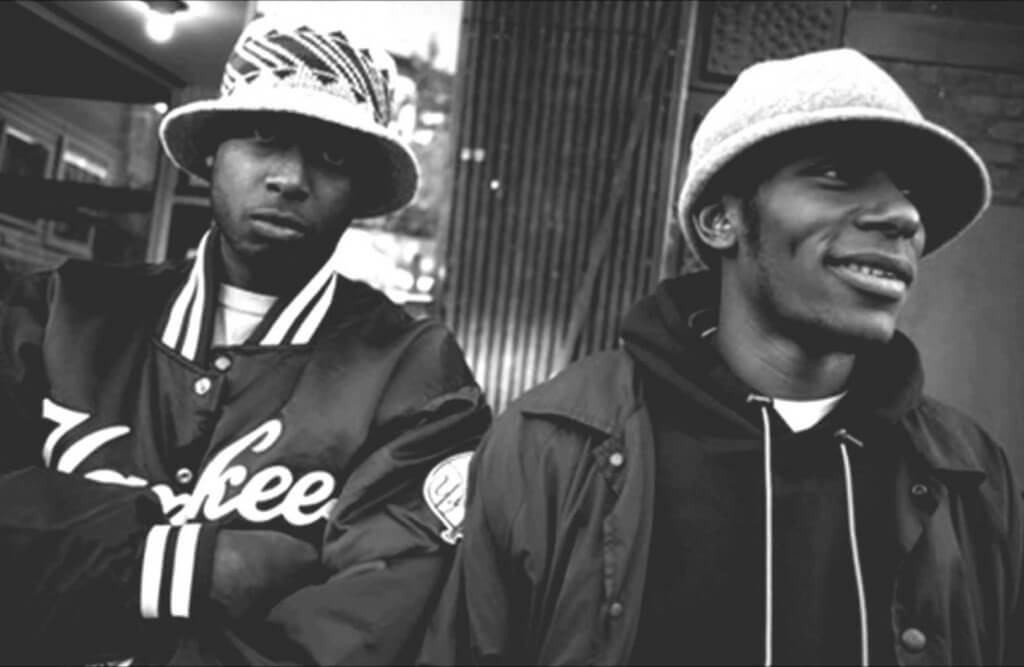 Rawkus Records, in its prime, housed new and upcoming artists like Mos Def (Yasiin Bey), Talib Kweli and Company Flow, as well as a handful of features from artists who had been in the game since the late 80's and early 90's. Pharoahe Monch from Organized Konfusion, Sadat X and Grand Puba from Brand Nubian, Cocoa Brovaz aka Smif-N-Wessun, as well as Kool Keith of the Ultramagnetic MC's. Pos from De La Soul and Q-Tip of A Tribe Called Quest were also featured on early Rawkus Record releases.
I remember from the Spitkicker show, Talib Kweli expressed the importance of what was happening for Hip Hop music at that time and with the help of a record label like Rawkus, it would fuel the return of real Hip Hop. A much needed change for the rap scene when Puffy and Ma$e top the Hip Hop charts.
For the first time, after years of what some call the "Cristal Era" of Hip Hop, harder, more thought-provoking artists were coming to the forefront. These emcees weren't talking about flossing or having a Ph.D "player hating degree", they were expressing conscious, real issues and first-hand experiences from a fresh perspective.
Through the release of the early Soundbombing series, particularly Volumes 1 & 2, I was introduced to the spirit of the culture. Hip Hop finally had a home and it welcomed me in. The music became a gateway for me to reconnect and guided me through Hip Hop's evolution. It wasn't until after this impact that I dived deeper into the music and reawakened myself to artists from similar movements such as Gang Starr, Busta Rhymes, Lord Finesse, Black Sheep, Nas, Biggie, Jeru The Damaja, KRS-ONE, O.C., the Wu-Tang Clan and many, many more.
One artist from Rawkus that stands out the most to me, whom I've been a fan of since the beginning, is Company Flow. Consisting of members EL-P, Mr. Len and Bigg Jus, the group's sound was so different and unique that I immediately knew they were doing something groundbreaking. Although Rawkus Records was short lived, the independent label was a force in furthering their career.
As a fan, it's really interesting to follow someone like EL-P. He's the founding member of Company Flow, he handled production and emceeing for the group, he transitioned into starting his own record label Def Jux after leaving Rawkus and more recently has become one half of the rap phenomenon, Run The Jewels. Having love for an artist like EL-P and being able to watch him grow over the years is really the best part of being a fan. I think my favorite aspect about EL's story is that he hasn't lost what first made him great years ago and to this day he still carries the same attitude while breaking new ground.
Sadly, what I consider to be the best part of Rawkus Records only lasted for four years. The label was founded in 1996 and its first official release was Company Flow's debut Funcrusher Plus in 1997. That same year we saw the first Soundbombing compilation mixed by DJ Evil Dee of Da Beatminerz and Black Moon. This "mixtape" highlighted talent from the label's roster which included Mos Def, Talib Kweli, Hi-Tek, Sir Menelik, Shabaam Sahdeeq, R.A. The Rugged Man, B-One, Black Attack and more. In 1999, Soundbombing 2 was released featuring more great artists and better sound quality. By 2002, the label had signed a joint venture deal with MCA and soon after that MCA folded, leaving a much less exciting Soundbombing 3. By that point, the spirit of what Rawkus Records represented and why I had held such high regard for them seemed to have faded away.
During an interview on The Cipher podcast, Mr. Len stated that most of the money made from the Funcrusher Plus record was being used to further the career's of other artists on the Rawkus roster and not directly going towards Company Flow. The group felt slighted and eventually moved on to better things.
EL-P famously exclaimed later in his career that he'd "rather be mouth-f***** by Nazis unconscious" instead of signing to Rawkus. A lyric that most fans interpreted as the general consensus from CoFlow when in fact it was simply EL-P's take on the whole thing. The group didn't share such a brash perspective on what had happened. Lyrically, EL-P was always a brash emcee and his contributions to Company Flow was a major force in the overall sound and image that carried forward.
Ultimately, Rawkus Records spawned a new appreciation of Hip Hop for music fans around the world and it opened my eyes and ears to something incredible that I'll never forget.