Arguably Hip Hop's most literate, challenging act on both musical and lyrical fronts, Gang Starr comprises Guru Keith E (Keith Elam, 17 July 1966, Roxbury, Massachusetts, USA; vocals/lyrics) and DJ Premier (b. Christopher Martin, 21 March 1966, Houston, Texas, USA; music).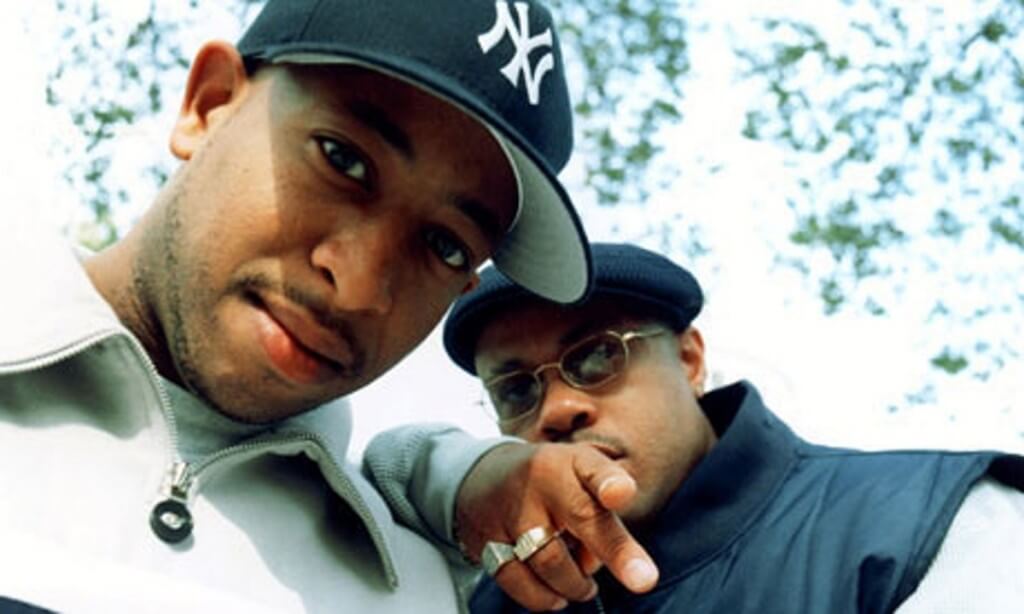 Guru (Gifted Unlimited Rhymes Universal) was born the son of a Boston municipal and superior court judge, but moved to Brooklyn following graduation with a degree in business administration from Atlanta's Morehouse College. He had previously worked as a counsellor in a maximum detention home in Boston, an experience which would inform many of his lyrics. Gang Starr was in existence before DJ Premier joined, originally also comprising fellow rapper Damo D-Ski and DJ Wanna Be Down. Their early labours are recalled on cuts like 'The Lesson' and ' Bust A Move', both of which were produced by DJ Mark The 45 King. However, they were at that time still Boston-based, and in the end opted to pursue more geographically convenient projects.
Premier, meanwhile, had relocated to Texas to attend college, but left demos of his work with various labels before his departure. In Texas, he put together the Inner City Posse, who finally saw their demo get some attention. Premier was offered a recording contract with Wild Pitch Records, but only on the condition he lost his original rapper. The label put him in touch with Guru instead, who had chanced upon one of Premier's demo tapes in their offices, and a marriage made in Hip Hop heaven was born. However, Premier had to return to college in Texas, and so the duo's liaison took place largely over the phone, and by sending each other tapes. The fruits of their labour were unveiled on 1989's debut album, No More Mr. Nice Guy, completed in 10 days while Premier was on vacation. 'Manifest', taken from the album, picked up airplay on Yo! MTV Raps, and caught the attention of film director Spike Lee. In the process of completing his new movie, Mo Better Blues, Lee was greatly impressed by album track 'Jazz Thing', and asked his musical director, Branford Marsalis, to track Gang Starr down. Marsalis urged the duo to cut a recording of Lotis Eli's poem about the history of jazz to a Hip Hop rhythm, for inclusion on the movie's soundtrack. The song they eventually came up with would see release as 'Jazz Thing'. Not only one of rap's most crucial moments, 'Jazz Thing' also gave Gang Starr a manifesto for their subsequent career. Credited with popularising jazz-rap, they took the form to its logical conclusion with Step In The Arena, before retreating to hardcore pastures for Daily Operation.
Both Guru and Premier have striven to be seen as individuals outside of the Gang Starr hallmark. A joint collaboration with the Dream Warriors on 'I've Lost My Ignorance' aside, each has increased their profile with solo projects. Premier has produced widely for KRS-One, Fu-Schnickens, Big Daddy Kane and Heavy D among many others, while Guru set up the winning Jazzmatazz situation. The latter comprised his distinctive rap style with the best of modern freeform jazz. An interesting departure considering that Premier has always used samples rather than live instruments, though since Daily Operation he has been forced to credit and clear them. Though such forays encouraged speculation that Gang Starr was about to split, the duo belied the critics with a storming return on Hard To Earn. Back to their freestyle, flowing best, it was the second outing for the posse of rappers that Guru had formed into the Gang Starr Foundation: Jeru The Damaja, Big Shug (who was a collaborator with Guru in his early days in Boston), Little Dap and Felachi The Nutcracker.
After a prolonged absence they returned to the scene in 1998 with the inventive Moment Of Truth. The following year's compilation set provided a comprehensive overview of one of Hip Hop's most consistently excellent teams. Guru and Premier then put Gang Starr on extended hiatus to concentrate on a number of solo projects. It was something of a pleasant surprise when the duo returned in 2003 with a new Gang Starr album, The Ownerz, but the reunion proved short-lived, leaving back-catalog collections such as Mass Appeal: The Best of Gang Starr (2006) to fill the void. Sadly, Guru died at age 43 on April 19, 2010 after battling cancer, suffering a heart attack, and for a time falling into a coma.
The next Guru release, Version 7.0: The Street Scriptures, arrived in 2005 on his new label, 7 Grand Records; the album featured beats by Solar, who would prove to be an important contributor on additional 7 Grand releases. The fourth volume of Jazzmatazz, including the typical array of guest vocalists and instrumentalists, was issued in the summer of 2007, along with the "raw" companion disc Guru's Jazzmatazz – The Timebomb: Back to the Future Mixtape. Guru 8.0: Lost and Found, the rapper's next 7 Grand full-length, followed in 2009. Premier continued his production activity, working with superstars such as Jay-Z, Nas, and Common, as well as underground rappers such as Royce da 5'9″, Termanology, and NYG'z; he even dabbled in mainstream pop, most notably working extensively with Christina Aguilera on her double-disc album Back to Basics (2006) (Sources: oldies.com, allmusic.com)