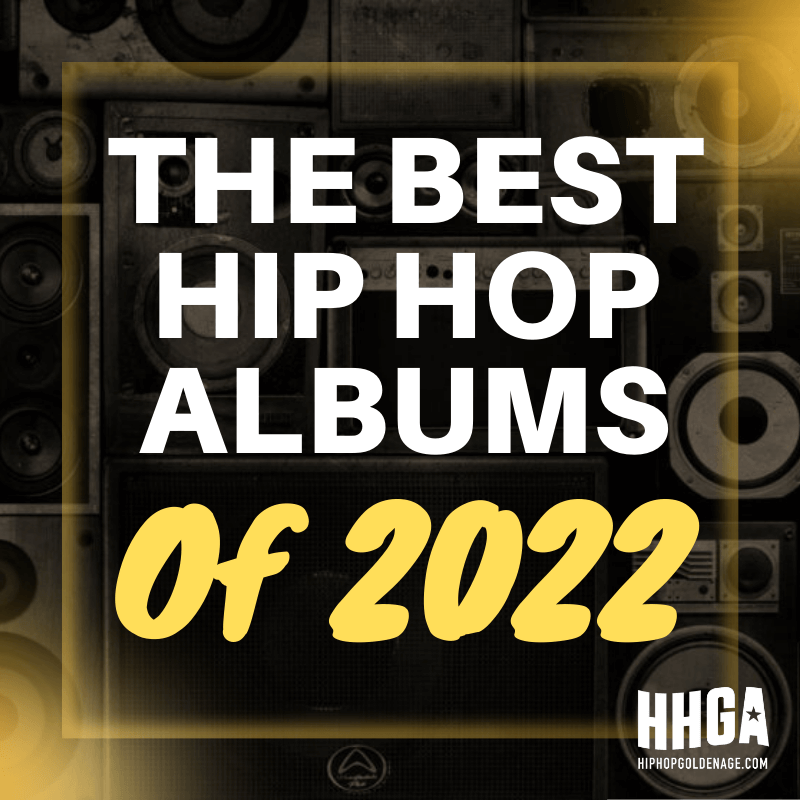 The Best Hip Hop Albums Of 2022: This is a work in progress. The only way to compile an authoritative list is to keep track of new releases week-by-week, day-by-day even. This list will be updated regularly until the end of the year, where it will result in our best-of-the-year list.
Lots to look forward to this year, with a bunch of 'sequels' slated to be released – Redman's Muddy Waters 2, Raekwon's Only Built 4 Cuban Linx III, Ghostface Killah Supreme Clientele 2, De La Soul's AOI3, LL Cool J's GOAT 2, Benny The Butcher's Tana Talk 4, Danny Brown's XXXX, and Nas' King's Disease III all are albums we are eagerly anticipating. We're also looking forward to expected releases from EPMD (Big Business), Phife Dawg (Forever), Q-Tip (AlGoRhythms, Riotdiaries, The Last Zulu), Pusha T (King Push), Kendrick Lamar (Oklama), Freddie Gibbs (Soul Sold Separately), and to as yet untitled projects from Big K.RI.T., ScHoolboy Q, Vince Staples, and Eminem.
As always on our best of the year lists, not included are instrumental albums, compilations, and EP's. Some artists bill barely 30-minute-long projects as albums – HHGA categorizes projects that clock in at under 30 minutes as EP's however, and we do not rank them on our album list: an album = an LP. But having said that, lots of dope EP's drop each and every year, so we will not ignore them – scroll down for a section with some of the best EP's released in 2022, as well as a listing of 2022's best instrumental and best Hip Hop adjacent projects.
Let's get into it, check out what we think are the best Hip Hop albums of 2022 so far.
Last updated: January 28. Latest entries: #3 Bloodmoney Perez & Messiah Musik – Second Hand Accounts; #8 Equipto & Brycon – Can't Stay Perched All The Time; #10 M-Dot – Dining In Dystopia
Also check: Greatest Hip Hop Albums 1980 – 2021 & Top 250 Hip Hop Albums Of All Time
DJ Muggs & Rigz - Gold
The iconic DJ Muggs has been on an incredible roll in the last couple of years. In 2021, he was responsible for two of the year's best projects – CARTAGENA (with CRIMEAPPLE) and especially Death & The Magician (with Rome Streetz). Muggs has been a master-producer of dark, sinister instrumentals ever since his Cypress Hill days in the early 1990s, and this time around it's Rochester emcee Rigz (from Da Cloth) who gets to benefit from Muggs' elite production. Rigz's 2021 sophomore solo album Wake Ups was pretty good, but Gold is his absolute best work yet – thanks to Muggs' atmospheric instrumentals which are perfectly suited for Rigz's smooth flows and Griselda-style street raps. Meyhem Lauren, Rome Streetz, Big Twins, Mooch, Rob Gates, Times Change, and MAV show up to add extra flavor and to help round out what is the best Hip Hop album released in January so far.
Release date: January 14, 2022.
AJ Suede & Televangel - Metatron's Cube
Seattle, Washington's AJ Suede teamed up with Televangel (half of the unsung production duo Blue Sky Black Death) for Metatron's Cube, an album of psychedelic, biting rhymes with smooth flows over brooding, nostalgic beats with a touch of noir that will hit you hard and envelop you in their world. Metatron's Cube is AJ Suede's best project yet, a presentation of underground Hip Hop at its finest, dark and abstract but inviting and accessible at the same time – this is a stylish and well-rounded album that will prove to have staying power.
Release date: January 14, 2022.
Bloodmoney Perez & Messiah Musik - Second Hand Accounts
Alaska-based Puerto Rican Bloodmoney Perez teamed up with Baltimore producer Messiah Musik for Second Hand Accounts – an intriguing presentation of top-tier left-field Hip Hop. Messiah Musik's experimental instrumentals are captivating, as are Bloodmoney Perez's bars – his baritone is powerful, and both his flow and semi-abstract rhymes are reminiscent of billy woods, a great compliment in our book. Second Hand Accounts is one of the best albums released in January of 2022 – don't sleep.
Release date: January 28, 2022. 
Che Noir - Food For Thought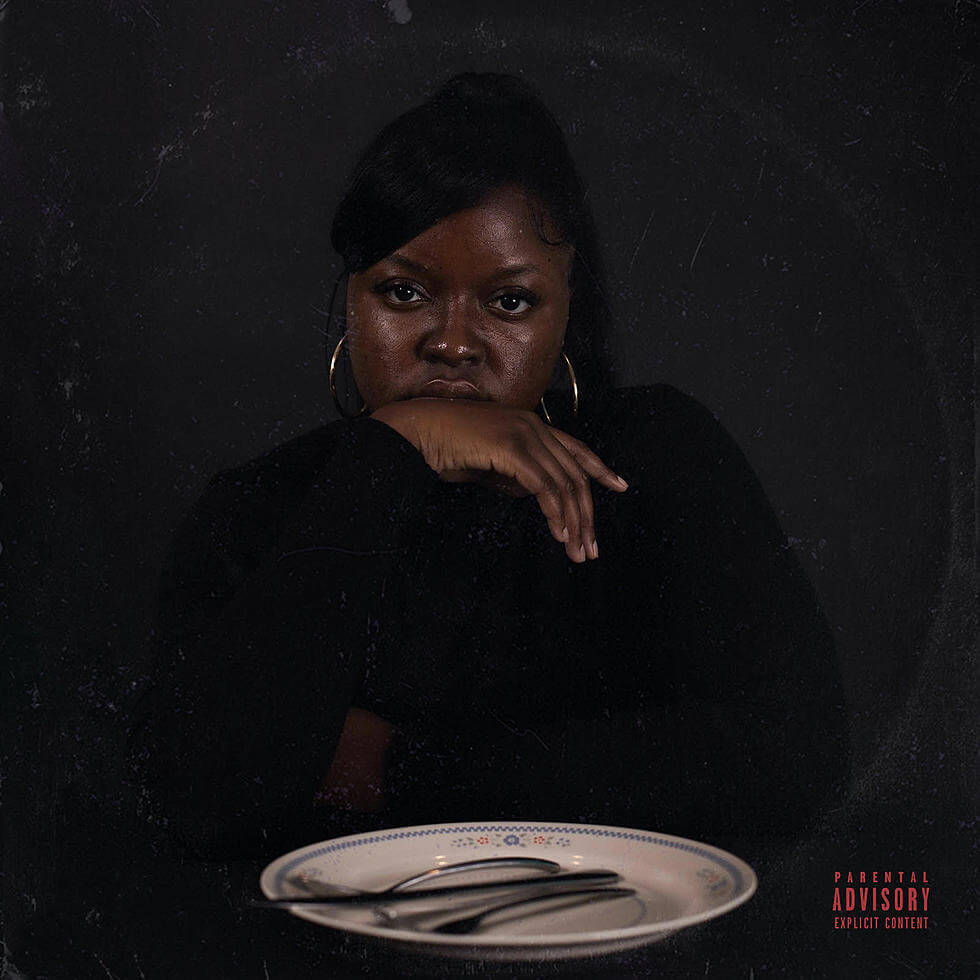 Buffalo, New York-native Che Noir's Food For Thought is a solid follow-up to As God Intended, one of the best Hip Hop albums released in 2020. As God Intended is a more fully realized project, not just because of Apollo Brown's direction but also because it's 15 minutes longer. At 34 minutes, Food For Thought is too short to consider it a proper LP, but thankfully the content that's there is consistently strong. Despite the number of different producers involved (CartuneBeatz, TrickyTrippz, Gods Children, Chup, JR Swiftz, Motif Alumni, and Che Noir herself) Food For Thought is surprisingly cohesive – with stylish boom-bap beats that serve as fitting backdrops for Che Noir's bars. Her voice and flow are great, and she has something to say too. Strong guest appearances from Ransom, 38 Spesh, Rome Streetz, Jynx716, 7xvethegenius, and Armani Ceasar add extra value. A little more substance to the tracklist would have made the album more memorable, but overall Food For Thought is a dope project that serves as a confirmation – Che Noir is one of the finest emcees out there today. Favorite tracks: "Split The Bread", "Ladies Brunch", "Table For 3", "Gold Cutlery", and especially "Brains For Dinner".
Release date: January 21, 2021.
FNKPMPN (Del The Funky Homosapien & Kool Keith) - Subatomic
FNKPMPN (Funk Pimpin) is Del The Funky Homosapien's new moniker and for this album he hooked up with our favorite crazy genius Kool Keith – who took care of all the production on Subatomic (and regretfully only has bars on one of the songs). Both Kool Keith and Del are among our favorite Hip Hop artists of all time, so we have a high tolerance level even for their more obscure releases, and Subatomic firmly falls in the obscure category – this is a wonderfully weird little project. Kool Keith's droning rough-around-the-edges basement-type beats are an acquired taste to be sure, as are Del's stream-of-consciousness ramblings. Fans of the work of either artist will no doubt dig this project as much as we do, Kool Keith and Del noobs may want to start with classics such as Dr. Octagonecologyst and Deltron 3030 and circle back to Subatomic later.
Release date: January 1, 2022.
Napoleon Da Legend & Just Music Beats - Modus Operandi
Prolific bilingual Comoros-born, Brooklyn-based emcee Napoleon Da Legend closed out 2021 in a strong way with the dope The World Changed LP (his best project of 2021), and just two months later he returned with his next album: Modus Operandi – a collaboration with French Marseille-based production duo Just Music Beats. Modus Operandi is a dark and melodic boom-bap album, with great beats complemented by dope bars and flows from Napoleon Da Legend and guests like Torae and The Bad Seed.
Release date: January 14, 2022. 
Observe since '98 - Muerte De Un Salvaje
Muerte De Un Salvaje is the prequel to last year's Le Dernier Royaume (one of our favorite underground Hip Hop albums of 2021), and the fifth and final installment in the "Savage" series from Wisconsin-based beatmaker and Loretta Records founder Observe Since '98.
"The supervillain known simply as The Savage has landed in South America. Little does he know, that a force even more vile and wicked than himself is hot on his trail. They call him King Clout and he will do anything to destroy The Savage. And so it begins… the last chapter in our epic tale."
Muerte De Un Salvaje is an excellent project, composed of dark atmospheric beats and loops laced with obscure samples – giving this project that unique Observe Since '98 vibe. Muerte De Un Salvaje features appearances by underground emcees like Jay Nice, Ru$h, Substance810, Jakprogresso, Pro Zay, UFO Fev, Tha God Fahim, Mickey Diamond, All Hail Y.T., Pro Dillinger (and many others) – most of whom bring their A-game to do justice to Observe's killer instrumentals. Muerte De Un Salvaje dropped on the first day of the year, exactly one year after Le Dernier Royaume – we're already looking forward to Observe's next January 1st release.
Release date: January 1, 2022.
Equipto & Brycon - Can't Stay Perched All The Time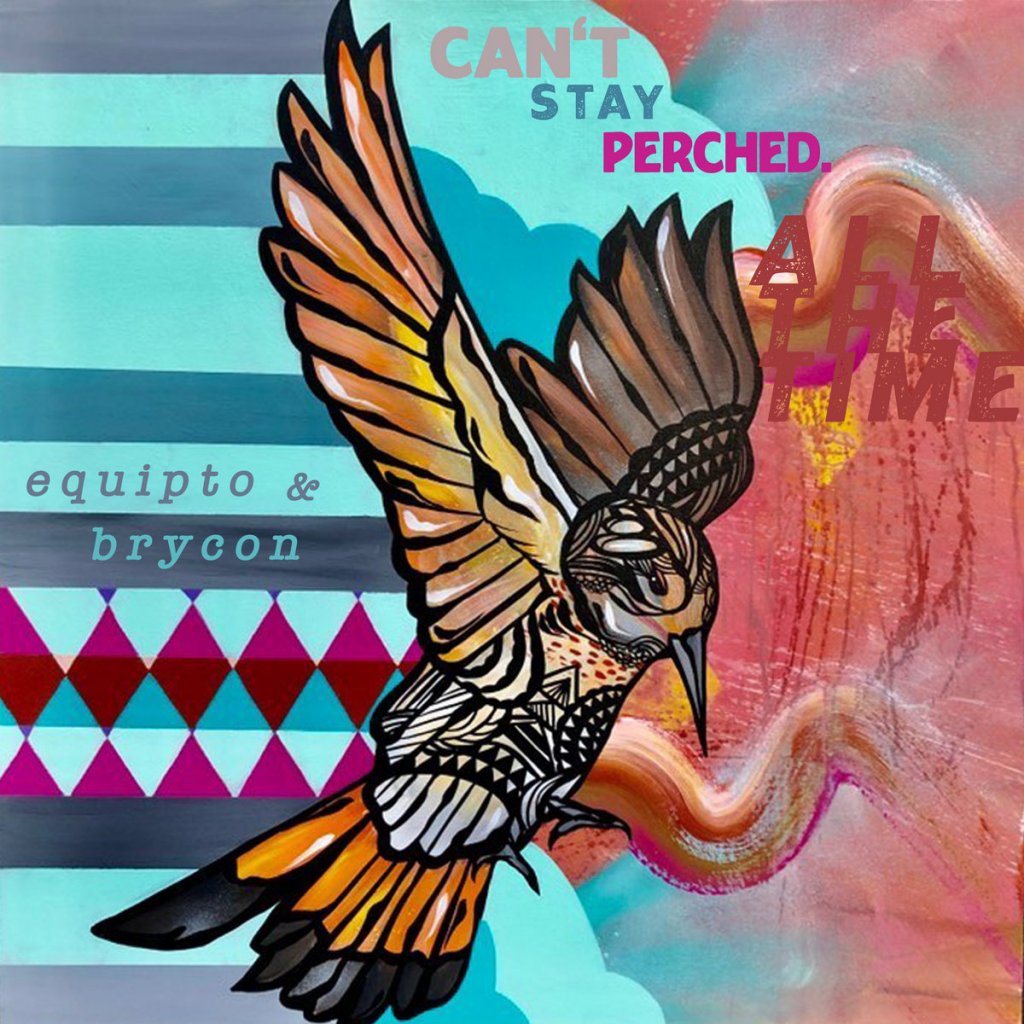 Bay Area Hip Hop underground fixtures Equipto and Brycon reconnected for their second collaborative project Can't Stay Perched All The Time – a modern re-imagining of the classic Bay Area underground tape tradition, perfected in the late 90s by revered groups such as Hieroglyphics, Living Legends, and Bored Stiff. Brycon is an expert crate digger and his left-field boom-bap instrumentals sound suitably rough around the edges here, while Equipto's conversational flows and mix of semi-abstract, everyday-life (as an indie artist), and conscious bars complete the mixtape vibes of the album. Not for everybody maybe, but those nostalgic for the underground tape days will no doubt LOVE this labor of love from two masters of the craft.
Release date: January 24, 2022.
Snowgoons - Renaissance Kings
The Snowgoons are a team of Hip Hop producers based in Germany, consisting of DJ Illegal, Det, Sicknature & J.S. Kuster. Throughout the years, the buzz surrounding the Snowgoons has steadily escalated as their gritty, authentic, and eclectic beats have gained recognition in both the US as well as within the burgeoning European Hip Hop scenes. 
The Snowgoons philosophy is simple: if it ain't broke, don't try to fix it. They can always be relied on to come up with banging bombastic bass-heavy boom-bap beats and they always manage to recruit a host of top-tier emcees to take care of the vocals – on Renaissance Kings, there are bars from Billy Danze, Fredro Starr, Sadat X, Cappadonna, Bronze Nazareth, Slaine, Ransom, Chi-Ali, Royal Flush, Napoleon Da Legend, Ty Farris, Rasheed Chappell, Nems, Reef The Lost Cauze, the late Sean Price, and many many more. The 90s-centric Renaissance Kings is a dope album – it gives you exactly what you'd expect from Snowgoons, and that's perfectly alright.
Release date: January 14, 2022. 
M-Dot - Dining In Dystopia
Raw 90s-centric boom-bap from Boston-based emcee M-Dot, with rhymes from M-Dot and guests such as Conway The Machine, Kool G Rap, Elzhi, and RJ Payne, and cuts & scratches by DJ Accepta, DJ Access, DJ Jean Marron, LP2, and DJ Slipwax – Dining In Dystopia is a great project.
Release date: January 28, 2022. 
Crown - Underground Crown
Crown (from Grim Reaperz) is a French producer, and Underground Crown is his best project yet. Hard-hitting sample-based 90s-centric beats and dope bars from a host of underground emcees like U.G. (Cella Dwellas), Tragedy Khadafi, Ruste Juxx, Shabaam Sahdeeq, Rigz, Mooch, M.A.V., Rob Gates, Da Buze Bruvaz, Jay Royale, Chris Rivers, Ill Conscious, DV Alias Khryst, Jamil Honesty, Wildelux, Recognize Ali, Ca$ablanca, D.R.E. Colombian Raw, Dutch Hip Hop pioneer Deams (and many many others), make for an album tailormade for the HHGA-audience.
Release date: January 22, 2022. 
Supreme Cerebral & Clypto - The Loop 2: The House Of Loops
Los Angeles emcee Supreme Cerebral has dropped a slew of strong projects in recent years, The Loop 2: The House Of Loops (coming four years after The Loop) is no exception. As on The Loop Clypto's production is dope as f, with guests like  Eloh Kush, Substance810, Alphabetic, Napoleon Da Legend, Ill Conscious, Killy Shoot, Realio Sparkzwell, Josiah The Gift, Gripz, John Jiggs, SmooVth, Squeegie O (and many others) adding their bars to some of Supreme Cerebral's best content – The Loop 2: The House Of Loops is a must for fans of polished underground Hip Hop.
Release date: January 11, 2022. 
calm. - Conversations With A Willow Tree
Bandcamp blurb: "The album is an ode to a willow tree, which was the main collaborator on the album with AwareNess and I. I used to drive by this willow tree on my way to work, it lived at Bowles Grove Park. I found comfort in this tree and had written the song conversations with a willow tree and after recording the song, the tree was cut down. I feel it was one of its last messages to share. The album dives into failed friendships, betrayal, climate catastrophe, capitalism, colonialism, the war machine, the violence and beauty of typewriters, medicine and plants, and dealing with death."
Conversations With A Willow Tree is a dope project. Meaningful lyrics, captivating instrumentals, and a couple of well-placed guests (Che Noir most notable among them) make for a well-rounded album you will not regret checking out.
Release date: January 1, 2022. 
The Cloaks - A CloakWork Orange
The Cloaks are Awol One and Gel Roc, two rap veterans in the game and active members from the world-renown Project Blowed and Life Seen Differently crews, of the acclaimed Los Angeles Underground Hip Hop scene and Graffiti street culture. A CloakWork Orange is produced by Awkward (hailing from Bristol, UK), and features impeccable scratch work by Sir Beans and from D-Styles and RoachTheDj, not to mention an all-star rap lineup of guest appearances from Aceyalone (Freestyle Fellowship), Demrick (Serial Killers), Megabusive (Exalt The Anti), Mestizo & Dose as A7PHA, Brevi, and Quaesar (Project Blowed).
Like The Cloaks' two previous projects, A CloakWork Orange is a slightly experimental but thoroughly enjoyable underground boom-bap experience – bass-heavy, scratch-heavy, and with lots of idiosyncratic rhyming to add to the album's captivating weirdness. This is as underground as it gets – great stuff.
Release date: January 7, 2022.
I Self Devine - That Which Is Hidden
I Self Divine is a Minneapolis-based emcee who can always be relied upon to come up with strong spiritual and conscious content, and That Which Is Hidden doesn't disappoint in that regard. That Which Is Hidden is more accessible than last year's intense but hard-to-get-into Rituals Of Resilience, thanks to the smooth boom-bap instrumentals that go with I Self Devine's rhymes on this one. Those familiar with I Self Devine's work will know to pick up That Which Is Hidden, for newcomers to his music this is as good a place to start as any.
Release date: January 14, 2022.
B Leafs - The Synopsis
Boston-based producer B Leafs follows up his impressive 2019 debut The Horizon with The Synopsis – another strong effort, for which he once again recruited an illustrious line-up of lyricists – Kool G Rap, Craig G, 38 Spesh, Eto, Skyzoo, Guilty Simpson, Wordsworth, Termanology, Reks, Rasheed Chappell, Estee Nack, and others make appearances. B Leaf's boom-bap production is cohesive throughout and the features are good – The Synopsis is a solid album, nice and tight at ten tracks. Best songs: "Say It Right" (with Kool G Rap and Craig G) and "Out The Window" (with Eto and Guilty Simpson).
Release date: January 17, 2022.
The Winners - The Winners Ball
The Winners Ball is an album released on Hus Kingpin's The Winners Club label, and The Winners on this album are Hus Kingpin himself, together with Rozewood, SageInfinite, SmooVth, Milano Constantine, Marvelous Mag, JuneLyfe, Sean Rosati, and El Ay, and producers Arch Druids, Giallo Point, All Ceven, Groovie, DJ Kryptonite, Marco Polo, DirtyDiggs, Josh Lamont, Beat Ninja, Tropes, and Camouflage Monk.
With the superb Portishus, Long Island's Hus Kingpin had the best Hip Hop album released in January of 2021, and a top 30 album of that year. This January release is not quite as good, but The Winners Ball is a totally solid underground Hip Hop project nonetheless, with appealing instrumentals and solid flows and bars from Hus Kingpin and company.
Release date: January 14, 2022.
Bambu De Asiatic - Reclamation
Atlanta-based emcee Bambu De Asiatic is a core member of Collective Efforts, and he has a bunch of strong solo albums under his belt as well. Reclamation, entirely produced by renowned emcee/producer Supastition, is a solid 90s-centric Hip Hop album – composed of nothing but atmospheric and head-nodding boom-bap instrumentals and meaningful bars.
Release date: January 4, 2022.
East Hampton Polo Boys - Winter Catalogue
Winter Catalogue is East Hampton Polo Boys' (rapper Scorcese and producer Panels) dope follow-up to 2020's Summer Catalogue. Panels' sparse sample-based boom-bap instrumentals are stylish and atmospheric, and the late (Winter Catalogue was released on January 14th, the anniversary of his passing) Scorcese's rhymes entertain, as do the contributions from guests Eddie Kaine, Lord Juco, Doof, Rahiem Supreme, Zilla Rocca, and Alaska. Winter Catalogue may not have enough to set it apart from the many similar releases out, but it is a solid project that deserves your attention.
Release date: January 14, 2022.
Milez Grimez - Milezstone
Milezstone is an album from Rhode Island rapper Milez Grimez, with raw beats and raw battle rhymes by Milez Grimez, and contributions from guests such as Sticky Fingaz, Psycho Les, and more. Production by Marco Polo, Psych Less, Notzz, and others, and cuts by DJ Revolution and DJ Mekalek help round out what is a great little project for the heads.
Release date: January 7, 2022. 
S. Reidy - An Album, With Songs
Oklahoma artist S. Reidy's An Album, With Songs is a short but sweet alternative Hip Hop project. S. Reidy is a rapper who sings or a singer who raps – he is not a 'natural rapper' in any case and his style is not for everybody for sure. The instrumentals on this album are different from the general Hip Hop fare too, so non-adventurous Hip Hop listeners should probably give this one a pass. Those open to genre-boundary pushing Hip Hop may be in for a nice surprise, though. Open Mike Eagle and A-F-R-O make appearances, enough reason in itself to take a dip into An Album, With Songs.
Release date: January 24, 2022.
Ozstriker & Golden Joe - Interdimensional Cable
This experimental project will not be for everybody, but those with a taste for trippy Hip Hop could do worse than give Ozstriker and Golden Joe's Interdimensional Cable a chance.
Release date: January 1, 2022. 
King Iso - Get Well Soon
Get Well Soon is a great follow-up to Nebraska emcee/producer King Iso's World War Me (2020). Always upfront about his struggles with his state of mind, Get Well Soon is an album created to further raise awareness of how much mental health matters and King Iso's killer flow makes listening to his meaningful content an engaging ride from start to finish. The trap-tinged beats on Get Well Soon are kind of bland and forgettable, but this LP is all about King Iso's bars. X-Raided, Twista, Rittz, A-Wax, Snake Lucci, Taebo Tha Truth, C-Mob, King Kash, and Linds, and Strange Music head honcho Tech N9ne show up to help round out what arguably is King Iso best album yet.
Release date: January 22, 2021. 
Cordae - From A Birds Eye View
Cordae is one of the most exciting new talents in mainstream rap, and he made a good impression with his 2019 debut album The Lost Boy, which was a bit uneven but which nevertheless showed a lot of promise. Does From A Birds Eye View deliver on that promise? Yes and no. From A Birds Eye View definitely is a step-up compared to The Lost Boy, with a good mix of traditional boom-bap production and more modern trap sensibilities, and with mature and passionate lyrics from Cordae. And like on The Lost Boy his genuine talent as a rapper is evident too. At the same time, From A Birds Eye View feels a bit formulaic and repetitive, especially on the more melodic, trap-tinged tracks. Also, not all guest vocalists deliver (Eminem particularly seems to have phoned his contribution in). A special mention goes out to one of the standout tracks: "Champagne Glasses", which has a solid feature from Freddie Gibbs and most noteworthy the legendary Stevie Wonder on the harmonica. Overall From A Birds Eye View is a fine album, as far as mainstream rap goes.
Release date: January 14, 2022.
Best Hip Hop EPs Of 2021
Earl Sweatshirt – SICK!
Ally Vyne – American Winter
RJ Payne – Beautiful Payne 4
Karpenters (Kool Keith & Grant Shapiro) – Still Doing It
Koncept Jack$on & Bane Capital – Good Product
Kota the Friend – Lyrics to GO Vol. 3
V Don – Better Than Money
Buckwild – Diggin' In The Tuff Kong Crates
Conway The Machine – The Missing Bricks
The Musalini & 9th Wonder – The Don & Eye
Geechi Suede – SaPpHirE KiTcHeN
Killah Priest – The Three Fantastic Supermen Epics
Daniel Son & Futurewave – Son Tzu & The Wav.God
Best Hip Hop Albums Of 2021
Click here or on the image for the full list.