[Jazz Rap/Jazz Hip Hop: A style of Hip Hop born out of the booming Hardcore Hip Hop scene in the late 1980s and early 1990s, jazz-rap has a noticeably different feel, instead usually opting for a laid-back, mellow sound. Containing rhythms very familiar to other forms of Hip Hop, samples, and extra production details are almost exclusively culled from various forms of Jazz, such as Jazz-Funk, Hard Bop, and Soul Jazz, using trumpets, saxophones, looped piano, and double bass, etc. Early jazz-rap groups such as A Tribe Called Quest and Gang Starr initially balanced jazz with traditional Hip Hop evenly, but in just a few years artists such as Digable Planets and Guru (through his Jazzmatazz series) would introduce live jazz instrumentation as a focus. This live 'feel' would become an important trait of the music, sometimes showcasing improvised vocals or instrumental solos.
Lyrically, most MCs latched onto the idea of jazz as "cool" (Rebirth of Slick (Cool Like Dat) being a prime example) and pushed Hip Hop closer to street poetry, heavily engaging in slang and laid back attitudes that would best express this coolness. These lyrics generally downplay if not completely ignore materialistic themes, opting for Afrocentric and racially positive messages focusing on the past successes and failures of blacks (and to a lesser extent all people) and the ways that communities might succeed going forward.]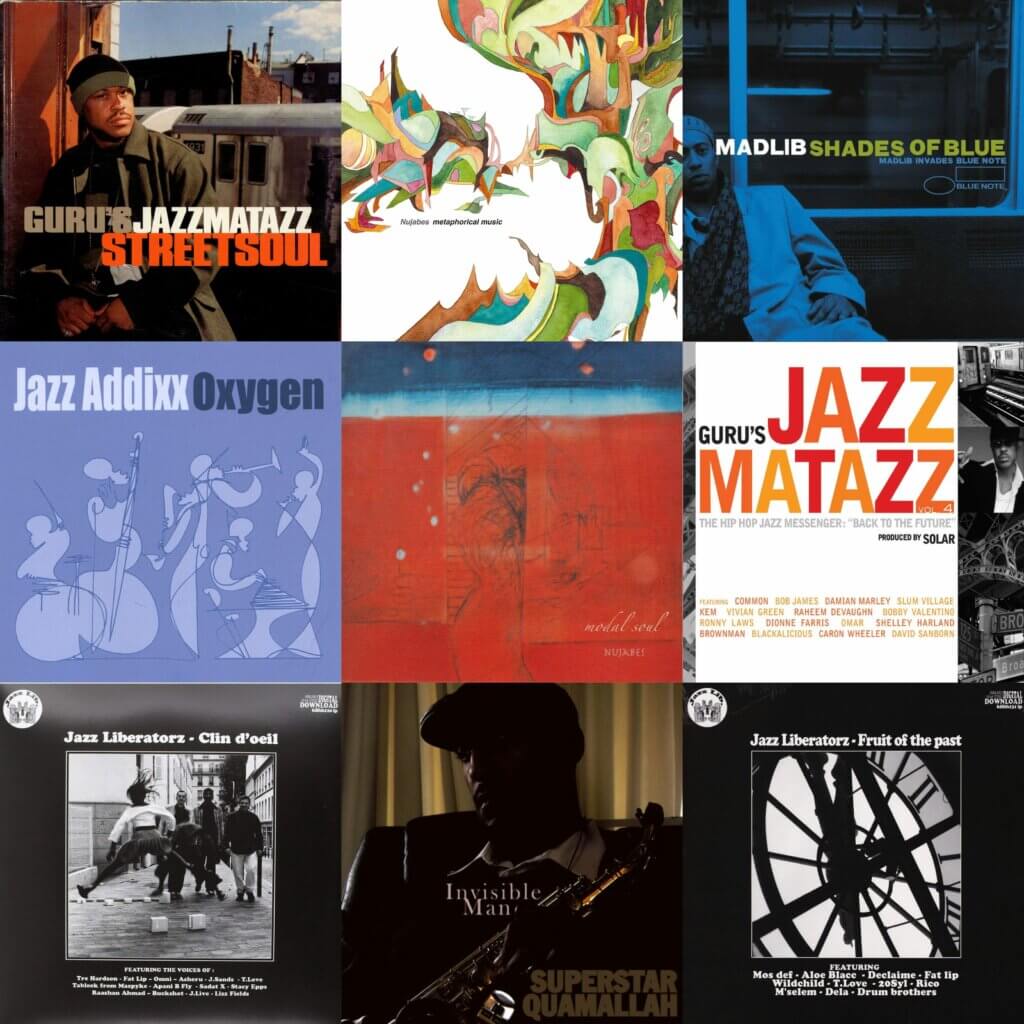 Like we did with our 100 Essential Experimental Hip Hop Albums list, we've cast a wide net to come to this list with 100 Essential Jazz Rap Albums. Some of the albums listed in this piece merely incorporate some jazz influences in their instrumentation, others are pure jazz Hip Hop hybrids – but all 100 are clearly influenced by Jazz music to some extent.
Let's get into it – in this piece, you will find 100 jazz-rap albums we consider to be essential works for the subgenre, not ranked but presented in release year order. What do YOU think? Are your favorite jazz-rap albums here? Do you think any essential records are missing? Share your thoughts in the comments!