Top 10 Albums Produced By Madlib: [Otis Jackson Jr. (born October 24, 1973), known professionally as Madlib, is an American DJ, music producer, multi-instrumentalist, and rapper. One of the most prolific and critically acclaimed Hip Hop producers of the 2000s, he is widely known for his collaborations with MF DOOM (as Madvillain), J Dilla (as Jaylib), and Freddie Gibbs (as MadGibbs). Madlib has described himself as a "DJ first, producer second, and MC last." Madlib has been an influence on an upcoming generation of producers and musicians, many of whom prefer Madlib's abstract styles.]
All albums on this list are produced by Madlib in their entirety. That's why Champion Sound, the album Madlib did with the late J-Dilla, is omitted – only half of that album was produced by Madlib (the other half done by J-Dilla, of course). Let's get into it: our top 10 albums produced by Madlib.
10. MED, Blu & Madlib - Bad Neighbor (2015)
The #10 spot on this list was a toss-up between this album and OJ Simpson (2000), Madlib's collaboration with Detroit emcee Guilty Simpson. Both albums are not perfect, OJ Simpson has enough dope tracks on it, but it kind of drags (with way too many interludes) too, that's why Bad Neighbor won by a hair's breadth.
With 100% beats by Madlib, Bad Neighbor is the brainchild of MED – a cornerstone in Stones Throw's history – and Blu – the voice behind the classic like Below The Heavens (2007). The raps are on Bad Neighbor not particularly memorable – even with features from the likes of MF DOOM, Phonte, Anderson .Paak (and many others) – but as usual with a project with Madlib's name on it, it's all about the instrumentals. Bad Neighbor is not one of Madlib's absolute best projects, but it deserves a mention here anyway.
9. Quasimoto – The Further Adventures of Lord Quas (2005)
An acquired taste without a doubt – like much of Madlib's work The Further Adventures of Lord Quas will not be for everyone. It's hard to argue against Madlib being a production genius though, one who is never afraid to experiment – and this an another Madlib masterpiece.
The production on this album is different and quality-wise way above most of the generic Hip Hop that was released in 2005. Madlib's alter-ego Quasimoto (whose voice is Madlib's own voice sped-up) is a funny character whose stories result in a very well executed concept album.
8. Strong Arm Steady – In Search Of Stoney Jackson (2000)
Californian underground crew Strong Arm Steady – the trio consisting of Mitchy Slick, Krondon, and Phil Da Agony – plus guests like Talib Kweli, Phonte, Evidence, Planet Asia, Fashawn, and more deliver an excellent album with In Search Of Stoney Jackson. Nothing wrong with the vocal performances on this album, but it's Madlib and his production that represents the true strength of this album.
7. Quasimoto - The Unseen (2000)
Experimental and left-field, this first album from Madlib's alter ego Quasimoto is sure to satisfy the taste buds of those who are into layered, metaphorically and musically complex compositions. Mindblowingly creative, filled with jazzy loop and breaks, short songs, interludes, and Lord Quas' off-the-wall high-pitched rhyme style, The Unseen feels more like a musical tapestry than a conventionally structured album. The Unseen probably is a hate-it-or-love-it kind of affair, but there is no denying Madlib's particular brand of genius.
6. Lootpack – Soundpieces: Da Antidote (1999)
Lootpack is a trio consisting of Madlib, Wildchild, and DJ Romes, signed to Stones Throw Records at that time. Soundpieces: Da Antidote is their debut, and it is now recognized as an underground classic. The album especially shines because of the wonderfully inventive and creative board work by Madlib, and also because of the point Lootpack tries to make – to be the real Hip Hop alternative to the materialism and violence in the dumbed-down mainstream rap.
5. Percee P – Perseverance (2007)
Percee P is a criminally underrated emcee. One of the best lyricists in the game, ever. Active in the Hip Hop game since the 1980s – and always stealing the show as a guest emcee on other people's albums – Perseverance, his official solo debut album came out as late as 2007. If he could have gotten himself released in the early 90s, no doubt he would be widely recognized now as one of the all-time greats. As it is, this album may have come too late – in a time when Hip Hop was being watered down and dumbed down for near on a decade already and quality Hip Hop like this was not promoted anymore by the big money people.
This is a real Hip Hop album, that should have a place in any real heads collection. Superior lyrical skill, astute lyrics, and produced by one of the best producers in the game: Madlib. It has Madlib's signature sound; a bit modern & experimental at times, but still with enough of an 'old-school' feel to them to match Percee P's lyrics.
The album has a couple of guest spots – Guilty Simpson, Vinnie Paz, Diamond D, Prince Po, Aesop Rock – all quality emcees, but Percee P outshines them all effortlessly. The aptly titled Perseverance is a testament to Percee P's career and you need to go check out this album.
4. Freddie Gibbs & Madlib - Bandana (2019)
Bandana is 2019's best album. The first full-length collaboration album of Freddie Gibbs and Madlib, 2014's Pinata, is a modern classic. The question was if they could do it again – the answer is a resounding yes. Bandana is cut from the same cloth as its seminal predecessor and is just about as good. With Pinata they showed that their apparent differences only served to create a result that was bigger than the sum of the two parts; with Bandana they prove it was not a fluke.
3. Madlib - Shades Of Blue (2003)
Madlib dropped A LOT of quality instrumental projects. His Mind Fusion and Beat Konducta series are overall excellent, but the true jewel in the crown of his instrumental solo releases has to Shades Of Blue.
Shades of Blue has Madlib remixing music from the archives of Blue Note Records, the famed jazz label. The result is a tasteful masterpiece of an album. Everything works, down to the stunning cover art and jacket, which is brimming with Madlib's homage to Blue Note and the era. This beautiful reinterpretation of the classic 60's and 70's Blue note era leads to a Hip Hop-jazz fusion that deserves a place in any music lovers collection. Solid gold.
2. Freddie Gibbs & Madlib - Piñata (2014)
Typically we don't much care for gangsta rap or coke rap or whatever label is attached to tough-guy crime rhymes, but the fruits of the out-of-the-box collaboration between Gary, Indiana-based gangsta rapper Freddie Gibbs and left-field production-genius Madlib are a firm exception. As with Madlib's collaboration with MF DOOM, which resulted in the best Hip Hop album of the 2000s, his partnership with Freddie Gibbs leads to a product that is bigger than the sum of its parts. On Piñata Gibbs' coarse flow works perfectly with Madlib's soulful and funky soundscapes – arguably Madlib's best work since 2004's Madvillainy. Guest spots by the likes of Scarface, Raekwon, Danny Brown, Ab-Soul, and Earl Sweatshirt (among others) add extra flavor, which results in 2014's second-best album (just after RTJ2). The album could have done without some of the skits, but all-in-all this powerhouse of an album truly is a masterpiece.
1. Madvillain – Madvillainy (2004)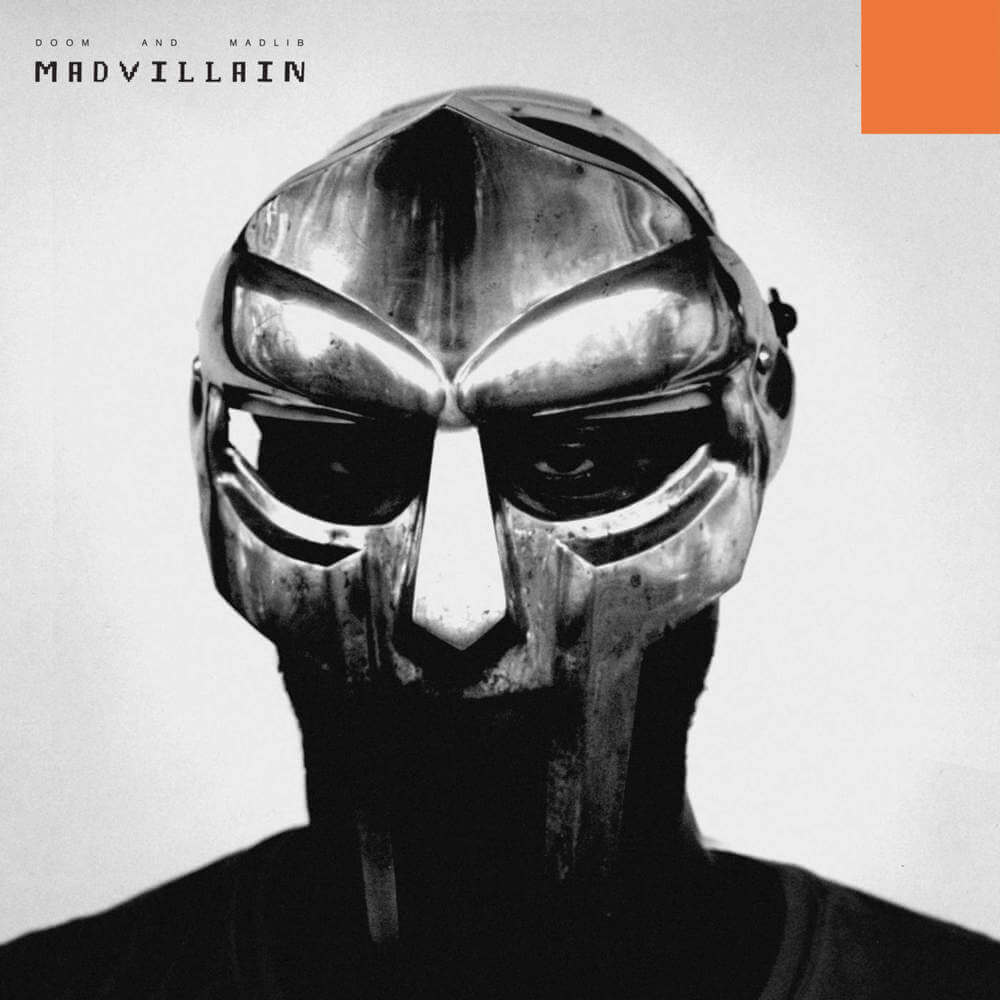 This album is ART, pure and simple. Madvillainy redefined the underground and is a perfect example of what can happen if two left-field geniuses combine powers. MF DOOM and Madlib have both created many pieces of brilliant music, but this epic album is the crowning achievement of both their careers. The album of the decade and a top 10 Hip Hop album of all-time.