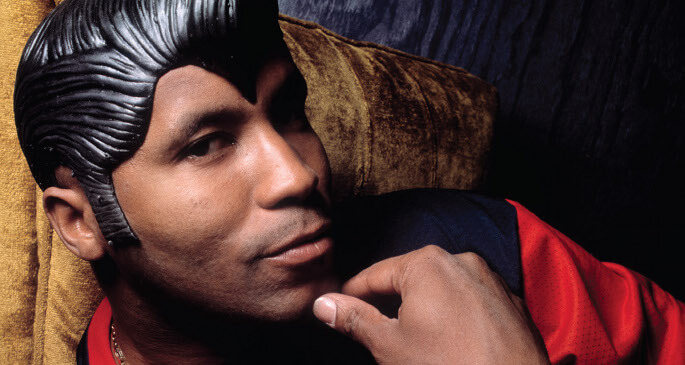 Top 30 Kool Keith Albums: Kool Keith has always been an enigmatic figure in the music industry. He consistently remains outside of the mainstream spotlight, known for his unique style characterized by a stream-of-consciousness lyrical flow and complex vocals. These talents have earned him unwavering respect from the underground Hip Hop community. When delving into a typical Kool Keith album, you can expect to encounter a plethora of bizarre, disjointed, and even delusional or disassociated themes, concepts, and references. His disdain for more commercialized strains of Hip Hop and major record labels is also a recurring satirical element in almost all of his projects.
There will always be ongoing debates regarding Kool Keith's distinct styles, flows, and lyrics. However, one undeniable fact is his remarkable versatility and longevity. While quality control may not be his primary concern, it's worth noting that within his vast discography comprised of albums, EPs, bootlegs, mixtapes, and collaborations, there are more top-quality albums than most artists produce throughout their entire careers.
In this article, we present our selection of the 30 best Kool Keith albums. Do your personal favorites make the cut? We encourage you to share your thoughts and opinions in the comments section below.
Bonus Mention: Kool Keith - Demolition Crash (2014)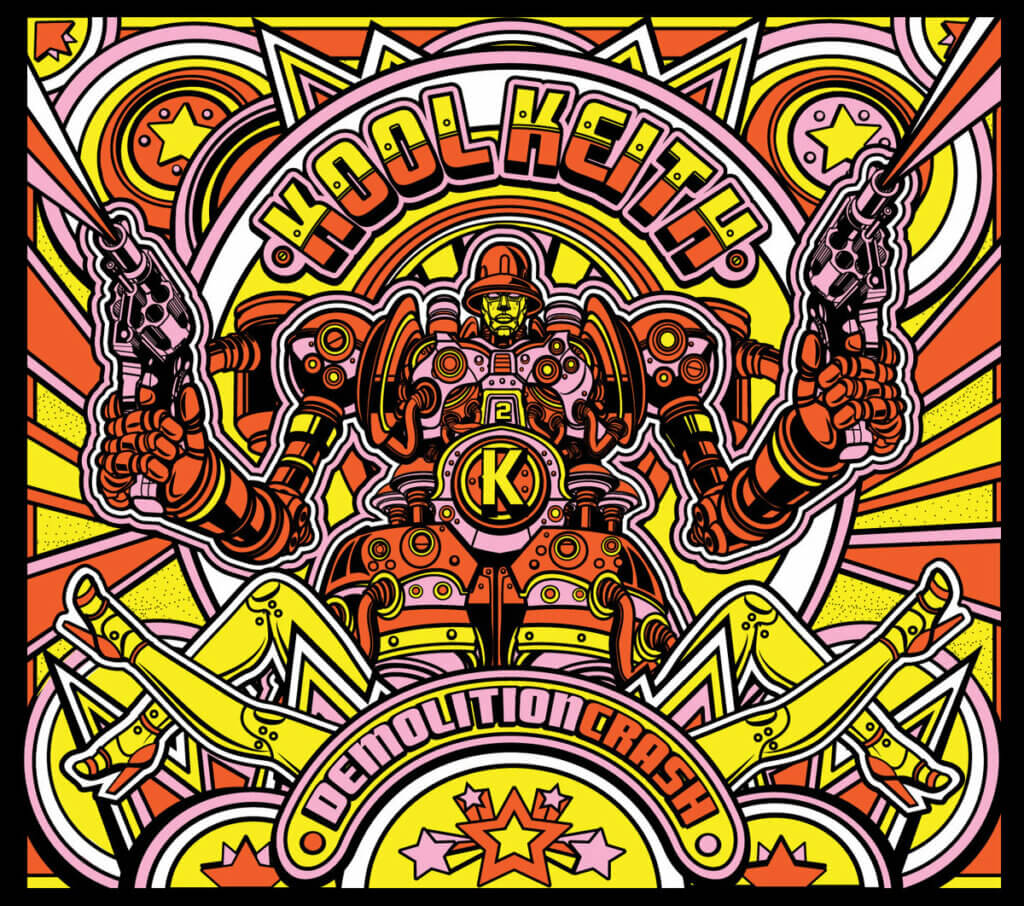 No, this is not a very good album. In fact, it's a mess. We have decided to include it here because it serves as a perfect representation of Kool Keith as an artist and his entire career. Clocking in at a staggering 104 minutes and consisting of 27 tracks, Demolition Crash demands a significant time commitment and offers a mix of brilliant moments and wack ones in equal measure.
The album showcases plenty of impressive beats and glimpses of Kool Keith's finest rhyming abilities. However, it also contains numerous subpar songs with weak beats, dreadful hooks, and instances where Kool Keith's explicit, misogynistic tendencies, eccentric sense of humor, and excessive self-promotion fall short of being humorous and instead come across as cringe-worthy.
This album reflects Kool Keith's career as a whole. While he has more than a dozen outstanding albums to his name, he has also released at least an equal number of disposable projects. It becomes evident that Kool Keith's best work emerges from collaborations with producers who are able to rein him in. When left to his own devices, the result can be a bloated mess like this aptly titled Demolition Crash. Nonetheless, there are enough remarkable tracks on this project to make listening to Demolition Crash an enjoyable experience – buried within this chaotic mix, lies a solid normal-length album waiting to be discovered.
30. Kool Keith - Mr. Controller (2023)
Mr. Controller is Kool Keith's third full-length album released in 2023, following the impressive Serpent collaboration with Real Bad Man and the commendable Black Elvis 2. In contrast to its 2023 predecessors, Mr. Controller feels more like a Kool Keith 'quickie,' aligning itself with numerous other projects in his extensive catalog. The album comes across as somewhat scattered and unfocused, with beats—handled entirely by French DJ and music producer Junkaz Lou—that range from hit to miss. Kool Keith's bars, true to form, deliver his signature bizarre stream-of-consciousness imagery and crazy choruses, featuring a heavy dose of pornographic references (with his anal fixation on full display), and critical commentary on the music industry and fellow rappers, like always.
For those not already initiated into the realm of Kool Keith fandom, Mr. Controller may warrant a pass – Serpent and Black Elvis 2 are better bets. However, avid Kool Keith enthusiasts like us will find themselves liking this release, probably acknowledging that it may not rank among his very best efforts but embracing it because of Kool Keith's unique charm nonetheless.
29. Kool Keith & Big Sche Eastwood - Magnetic Pimp Force Field (2013)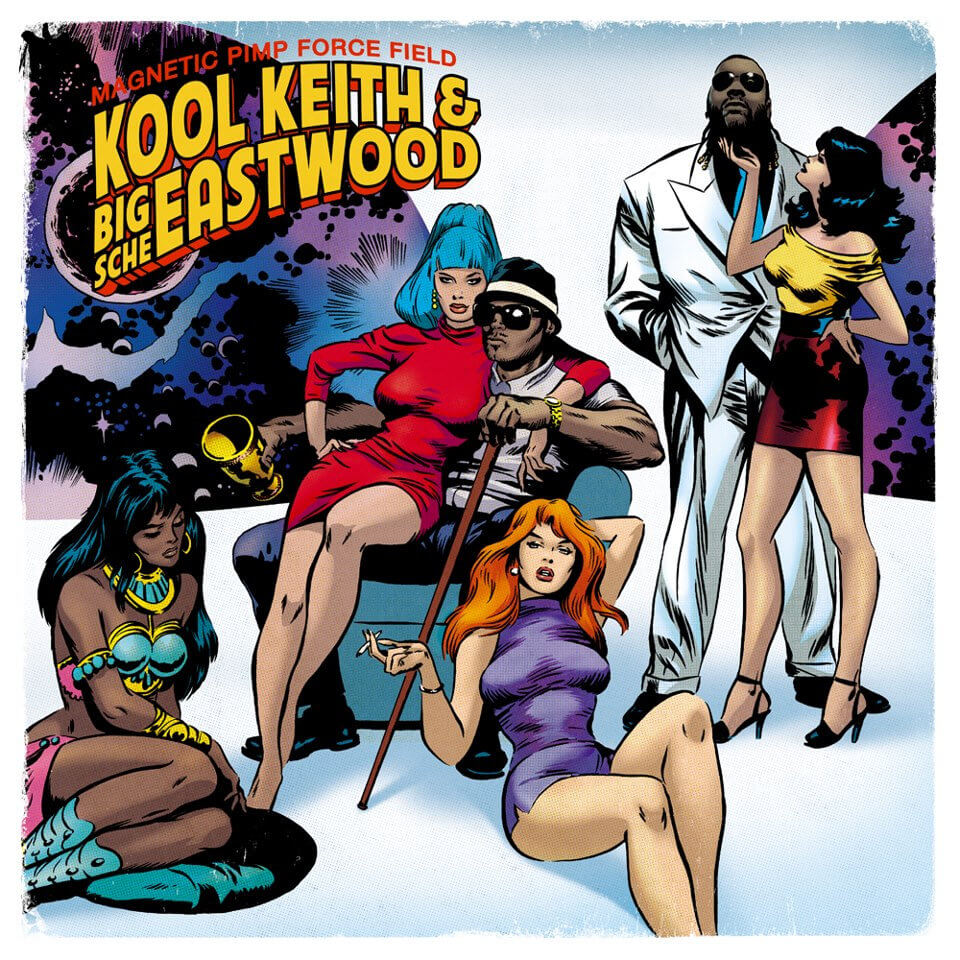 For Magnetic Pimp Force Field Kool Keith teamed up with Memphis producer/rapper Mr. Sche aka Big Sche Eastwood. If Sche had stuck to producing this album would have been better, as he kind of sucks as a rapper. Kool Keith is on point though, shining on these dope Southern beats. Magnetic Pimp Force Field is not the best album on this list – but it does have the best cover art.
28. Kool Keith - Tashan Dorrsett (2008)
Tashan Dorrsett sits right in the middle of the spectrum when it comes to Kool Keith albums. DJ Junkaz Lou takes charge of the beats on this one, delivering a collection that perfectly captures the essence of Kool Keith's unique style. While there are moments that don't quite hit the mark, the highs outweigh the lows. Kool Keith stays true to himself lyrically, offering no surprises but delivering exactly what can be expected. It's unfortunate that Tashan Dorrsett is often overlooked when discussing Kool Keith's discography, as it certainly deserves recognition.
27. Kool Keith - Keith's Salon (2021)
[Written with a libidinal urgency that has come to characterize Kool Keith's legendary lyricism, Keith's Salon explores our current obsessions with luxury, beauty, and notoriety. But rather than fetishize the beautiful dum-dums who walk red carpets in black Prada gowns, Kool Keith's most recent studio album shifts our attention to the work and workers that underpin our fantasies of American excess and the good life. As such, the album is also a timely meditation, during quarantine, on the economic precarity many of us now find ourselves in. Having doubled up with Triple Parked, the production team of avant-techno maven Bruno Pronsato and Benjamin Jay, Keith's Salon moves between halcyon sonics and atonal warlord dystopia, while keeping beats minimal for Kool Keith to spread extra ketchup on the hamburger. An album at once topical and futuristic, lush and bizarre, Keith's Salon is about the business of making people beautiful. It's time to work.]
This album description provides insight into Keith's Salon, another addition to Kool Keith's extensive discography. Whether you appreciate this album or not hinges entirely on your tolerance for Kool Keith's unique style. If you struggle to connect with his earlier work or if you are new to his music, you may find Keith's Salon confusing or unappealing. However, longtime fans of Kool Keith will likely find merit in this project. If, like HHGA, you have been following his career from the beginning, you will be attuned to his stream-of-consciousness lyrics and offbeat hooks and will discover much to enjoy here.
The beats on Keith's Salon are not the worst Kool Keith has ever utilized, but they also fall short of his best. Kool Keith's most outstanding albums are those where his idiosyncratic genius is effectively harnessed by producers who understand how to channel his energy. Keith's Salon is a must-listen for Kool Keith enthusiasts, but it may not resonate with everyone. If you are new to Kool Keith's music, it may be best to explore other projects first and gradually work your way up to Keith's Salon.
26. Kool Keith & Thetan – Space Goretex (2020)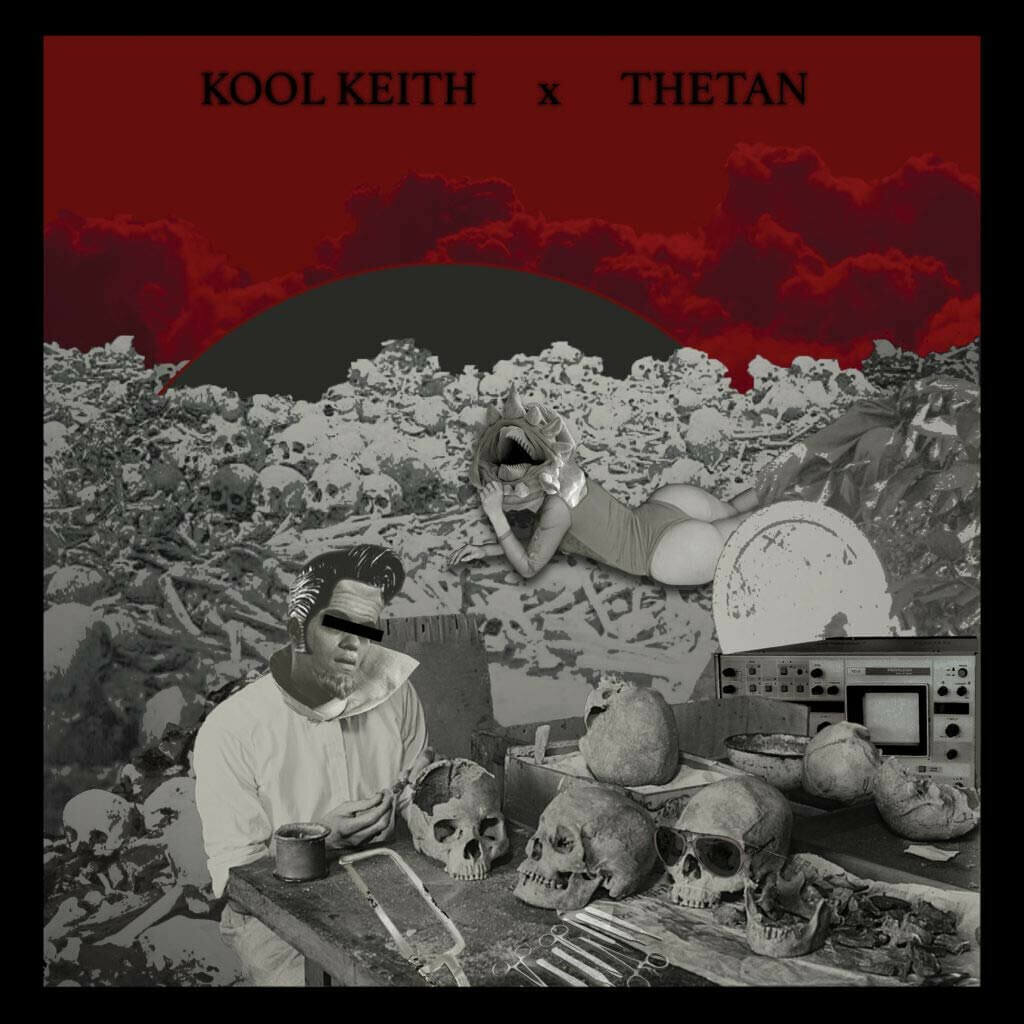 Space Goretex is a peculiar creation, even by Kool Keith's standards. For Space Goretex, he successfully joins forces with THETAN, a power-violence duo from Nashville consisting of Chad L'Plattenier and Dan Emery. Their dark and unsettling instrumentation primarily revolves around bass, drums, theremin, and synths—a sound that complements Kool Keith's trademark lyrical style perfectly.
On Space Goretex, Kool Keith delves into the experiences of some of his primary personas for the first time, including Dr. Octagon, Dr. Dooom, and Black Elvis. This amalgamation results in intriguing lyrics, exemplified by tracks like "Complicated Trip." Noteworthy contributions also come from Casey Orr of the heavy metal band GWAR and punk band X-Cops, Gangsta Boo of Three 6 Mafia, Blag Dahlia of the punk band Dwarves, Ashley Mae of dark country outfit Lost Dog Street Band, and DJ Black Cat Sylvester. Particularly memorable is the appearance of veteran rapper Blowfly, known for his early pioneering of explicit sexual rap, who assumes the character "Uncle Tom Bowker."
As always with Kool Keith's work, appreciation for this project hinges on listeners' familiarity with and tolerance for his distinctive style. If you're unable to connect with Kool Keith's music, you may very well despise Space Goretex. However, if like us you hold a deep appreciation for Kool Keith you will find merit in this album.
25. Kool Keith – Nogatco Rd. (2006)
Strong instrumentals by producer Iz-Real and strong rhymes by Kool Keith result in a strong conceptual album with intriguing futuristic themes and outrageous storylines.
24. Kool Keith & 54-71 - Idea Of A Master Piece (2009)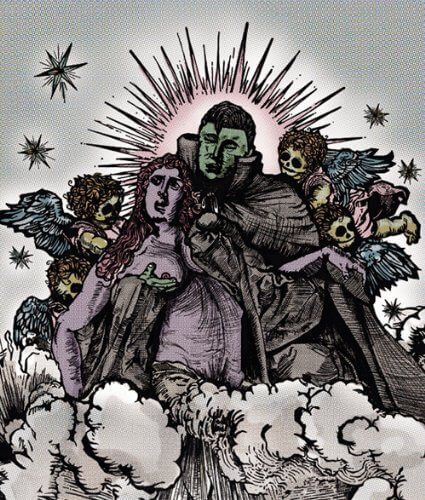 Idea Of A Masterpiece is undeniably one of the most obscure, overlooked releases in Kool Keith's discography, and it could even be argued that it is THE most overlooked. It's not surprising considering this collaboration with the Japanese indie-rock band 54-71 was initially released exclusively in Japan. The offbeat and occasionally abrasive musical backdrops provided by 54-71 meld wonderfully with Kool Keith's lyrical prowess. It's evident that Kool Keith found inspiration in the band, as he delivered a more invigorated performance on Idea Of A Masterpiece than on most of his other projects during this stage of his career. While it may not be an easy listen, it is certainly a must-have for dedicated Kool Keith fans. If you have happened to miss out on it, make sure to seek it out and give it a listen.
23. Kool Keith - Spankmaster (2001)
Spankmaster picks up right where Matthew (2000) left off, with Keith once again taking control of production. This time around, he receives assistance from regular collaborator Jacky Jasper and from Detroit horrorcore legend Esham, but their collaboration fails to bring the expected variety. In fact, the beats feel so similar that it's almost as if it were a one-person production.
The opening track, "I Wanna Play," offers a glimmer of hope with its intriguing samples. The beat, although slightly overdone, toes the line between guilty pleasure and mediocrity. As you delve further into the album, the beats yield mixed results. The overall sound quality does the album no favors; it comes across as cheap, with thin and unsatisfying keys, drums, and high hats that sound like they were created by someone experimenting with a new computer program for the first time.
Nevertheless, there is a silver lining—Keith's rapping. As animated and energetic as ever, Keith plays with his vocal pitch, experiments with his flow, and even incorporates entertaining silly voices.  Additionally, there appears to be a subtle concept at play, albeit somewhat vague. It feels as though the album may be taking a satirical jab at mainstream Hip Hop. Keith lightly touches on mainstream topics with a knowing wink, and the hooks often mimic the style of radio-friendly R&B, adding depth to an otherwise sparse musical landscape.
This album is not universally terrible, despite what some may claim. There is hidden entertainment to be found within. If approached with the understanding that it's poking fun at mainstream Hip Hop, it might just click and become a surprisingly enjoyable experience.
22. Kool Keith - Black Elvis 2 (2023)
Kool Keith's Black Elvis 2 is a dope follow-up to its iconic predecessor. Black Elvis/Lost in Space (1999) has held a special place in the hearts of a lot of Kool Keith fans, despite our feeling that it is not his absolute best work. That said: nearly 25 years after the first Black Elvis, the release of Black Elvis 2 presents us with another intriguing chapter in Kool Keith's discography.
Kool Keith has always thrived when working closely with a singular producer, as seen in his collaborations with Dan The Automator on Dr. Octagonecologyst (1996) and Kutmaster Kurt on Sex Style (1997) and First Come First Served (1999) – three records that rank among his finest work. These partnerships provided a grounding influence that enhanced Kool Keith's artistic vision. While Black Elvis 2 explores various themes and lacks a single guiding hand in production, it manages to maintain a commendable level of cohesion, with only one track, "Feeling Me," falling short of expectations.
Co-produced by Keith himself and featuring collaborations with L'Orange, Marc Live, and others, the album maintains his Black Elvis sci-fi themes while simultaneously exploring typical Kool Keith topics such as fashion, sex, and his dissatisfaction with Hip Hop and the music industry. Tracks like "First Copy" and the album's absolute standout track "Space Mountain" showcase Kool Keith's unique sound and dissociative trippy lyrics. Also worth mentioning is the satirical brilliance of "Kindergarten Adults" which exposes the stagnant mindset of rap traditionalists trapped in a bygone era (ouch), while "Without My Culture" turns the tables on the rampant commercialization plaguing the genre.
With its intergalactic trash talk and seamless transitions, Black Elvis 2 stands as one of Keith's best recent works – though not quite as good as Serpent, his collaborative album with producer Real Bad Man, that dropped earlier in 2023.
21. Kool Keith - Diesel Truckers (2004)
While Diesel Truckers may not be the pinnacle of Kool Keith and Kutmasta Kurt's collaborations, it remains a remarkable album worth checking out. The instrumentals crafted by Kutmasta Kurt on tracks like "The Orchestrators", "Takin'It Back", "Diesel Truckin'", "The Legendary", "Can I Buy You Drink?", "I Drop Money", and "Serve Em A Sentence" will surely satisfy those seeking fat, old-school flavored beats and cuts. In terms of lyrics, Kool Keith presents a perfect blend of his various styles and eccentric thought processes, guaranteeing an intriguing listening experience (despite a couple of lackluster tracks on the album). While some detractors have criticized Diesel Truckers for lacking the innovation and cohesiveness of Kool Keith's earlier work, it undeniably stands as an excellent album in its own right, offering an hour's worth of head-nodding Hip Hop goodness.
20. Kool Keith & L'Orange - Time? Astonishing! (2015)
L'Orange is a master of obscure sampling and his atmospheric boom-bap beats with a unique cinematic vibe prove to be great backdrops for Kool Keith's rhyming. Time? Astonishing! is an immersive concept album, the biggest knock against it is that at a mere 30 minutes, it's just too short.
19. Kool Keith - Dr. Dooom 2 (2008)
Kool Keith has always thrived when collaborating with others, as it brings out the best in his projects. Whether it's teaming up with another emcee or, in this case, a producer, the results are undeniably dope. Enter longtime collaborator and producer of the first Dr. Dooom album, Kutmasta Kurt, who once again delivers excellent boom-bap beats for Kool Keith (this time under the Dr. Dooom moniker) to shine. While it may not quite reach the heights of Dr. Dooom's first outing, First Come First Served (1999), this album easily is one of Keith's strongest releases from around the turn of the millennium. Kool Keith's rapping is rejuvenated and more inspired than it has been in years, with his lyrics remaining as insane and bizarre as ever. Stand-out tracks like "Step-N-Fetchers", "The God Of Rap", "Surgery", and "Do Not Disturb" make their mark, but the entirety of Dr. Dooom 2 offers plenty to enjoy.
18. Ray West & Kool Keith - A Couple Of Slices (2015)
A Couple Of Slices is one of the many forgotten projects in Kool Keith's vast catalog. A shame, in this case. A Couple Of Slices is a strong project, with excellent production from Ray West, and a Kool Keith who sounds like he's having fun.
17. Dr. Octagon - Moosebumps: An Exploration Into Modern Day Horripilation (2018)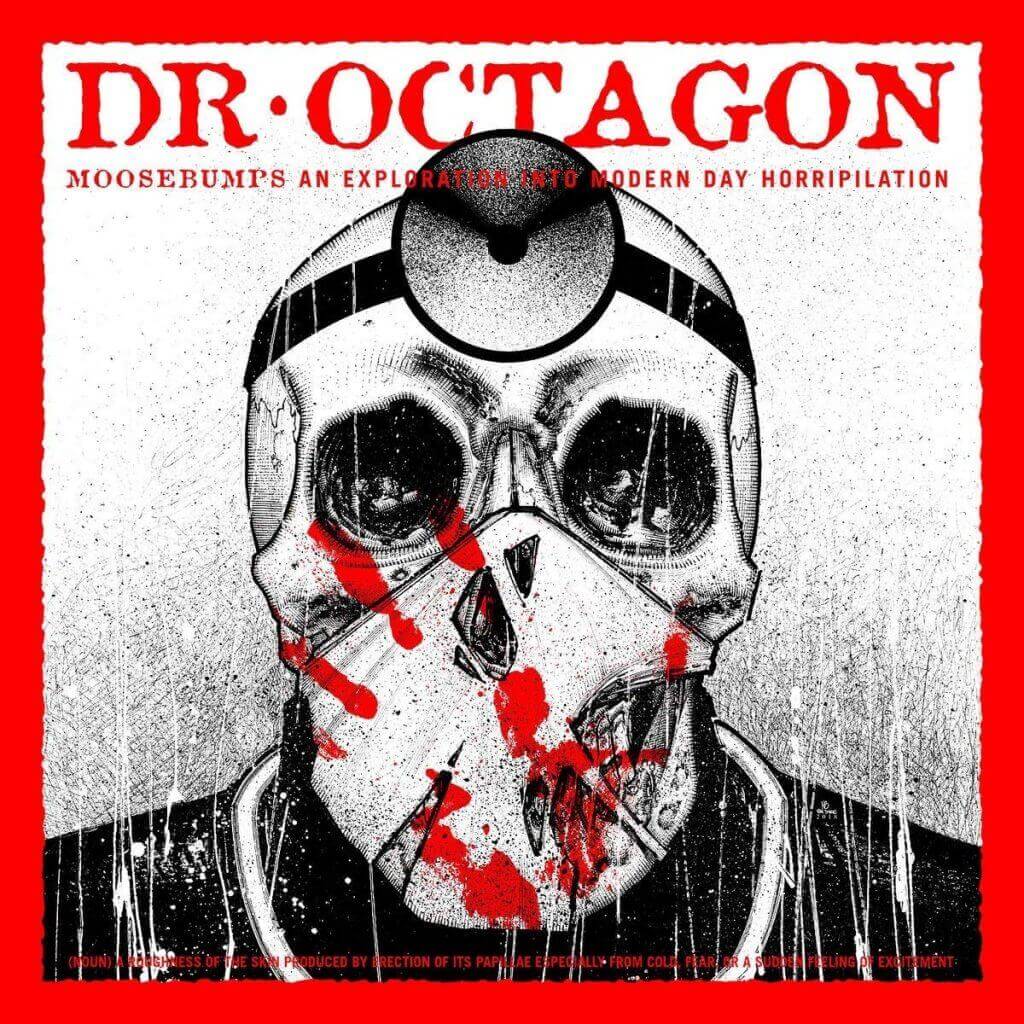 One of the key ingredients that contributed to the classic status of Dr. Octagonecologyst (1996) is back in full force here: the collaboration with producer Dan The Automator and the masterful cuts from DJ Q-Bert. Dan The Automator brought out the best in Kool Keith on Dr. Octagonecologyst, and although Kool Keith may sound slightly less animated than he did 22 years ago on Dr. Octagon's first outing, the synergy between the producer and emcee is once again palpable.
There's a lot to enjoy on Moosebumps. One of the highlights is the continuation of the "Bear Witness" series—a captivating instrumental cut that serves as a refreshing reminder of the essence of turntablism. Another enjoyable moment is Del's guest appearance on "3030 Meets The Doc," marking yet another collaboration that showcases the magical work of Dan The Automator. Tracks such as "Polka Dots," the thumping "Area 45," and "Operation Zero" are among the best offerings on the album.
Moosebumps delivers exactly what fans of the first album could have hoped for – a reminder of the unique greatness of Dr. Octagonecologyst and a worthy successor to that Hip Hop classic.
16. Kool Keith - Black Elvis / Lost In Space (1999)
Kool Keith's second album of 1999, Black Elvis / Lost in Space, is undeniably one of his most easily accessible projects. However, this accessibility may be the reason why it lacks some of the spark that elevates albums like Keith's other 1999 release, First Come First Served, as well as earlier efforts like Sex Style (1997) and Dr. Octagonecologyst (1996), to a higher level. Nonetheless, Black Elvis / Lost in Space remains a standout album in its own right. It is characterized by its trademark weird choruses, Kool Keith's offbeat lyrics, and his unique sense of humor that fans have come to expect and appreciate.
15. Ultramagnetic MCs - Funk Your Head Up (1992)
While not reaching the heights of the super classic Critical Beatdown (1988), there are still enjoyable aspects to be found in this album. Let's address the negatives first: in comparison to the groundbreaking nature of Critical Beatdown, this release sounded somewhat dated and lacking in inspiration upon its arrival in 1992. Furthermore, the album's excessive length and uneven production (due to alleged limited creative control) detract from its overall impact. Additionally, the emceeing falls short, with the exception of Kool Keith's contributions. Fortunately, Kool Keith remains the main attraction of the album. His distinct humor, eccentricity, and lyrical hyperbole set him apart from the majority of other emcees. Although their first album achieved ultimate classic status, the group would rebound strongly with their third album in 1993. Funk Your Head Up may have its flaws but also boasts enjoyable moments. If it appears somewhat high on this list, it is purely out of respect for the undeniable importance and greatness of the Ultramagnetic MCs.
14. Kool Keith - Matthew (2000)
Okay, okay – this one may be ranked too high here – but we love this album, even if you don't. Kool Keith is ANGRY on Matthew and he does little more than spitting venom about wack commercial rappers, over a batch of kind of admittedly not-so-strong beats he cooked up himself. But… there IS a certain charm to his anger here, and if you go in expecting no more than a bunch of rough-around-the-edge instrumentals and a Kool Keith at his unfiltered angriest, there are enough moments here to make you smile. Matthew is one of the most divisive albums in Kool Keith's catalog – lots of fans love it, but this is definitely not the album to present to Kool Keith noobs, at least not if you want to get them interested in the rest of the man's music.
13. Serpent (2023)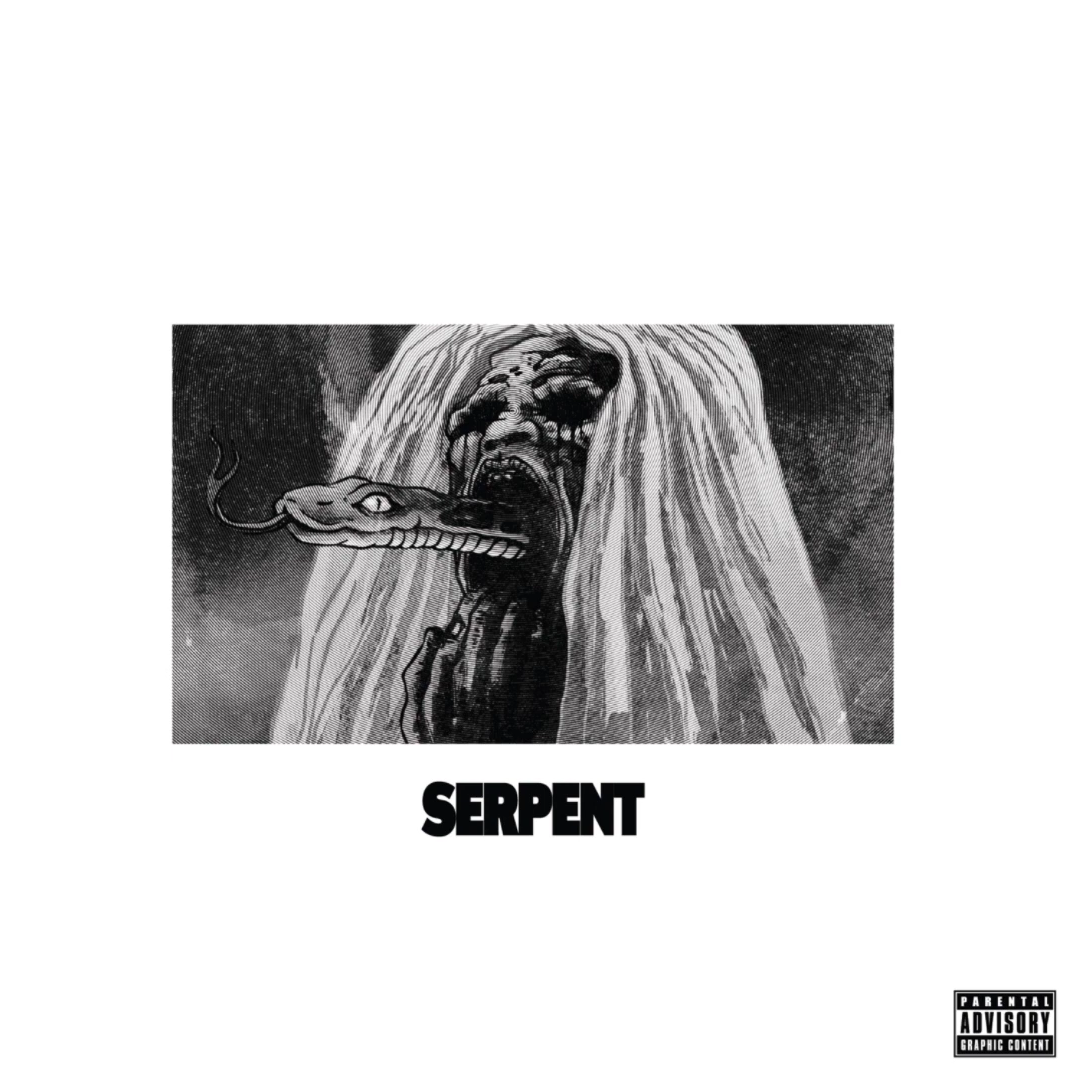 Serpent stands out as one of Kool Keith's strongest albums in recent years, on par with the underappreciated Feature Magnetic (2016). Throughout his career, Kool Keith has always thrived when collaborating with producers who can truly connect with his artistic vision. In the past, luminaries such as Ced Gee, Dan The Automator, and Kutmaster Kurt have brought out the best in him. This time around, Real Bad Man steps up and hits all the right notes with his production on Serpent. The sinister beats he crafts for Kool Keith's album further solidify his position as a producer to keep a close eye on.
The instrumentals throughout Serpent are undeniably superb, and Kool Keith's performance reflects both inspiration and enjoyment. Additionally, the album features appearances from Atmosphere's Slug, Ice-T (although he doesn't provide an actual verse), ZelooperZ, Cool Calm Pete, and Edan, adding an extra layer of excitement to an already impressive body of work. Without a doubt, Serpent comfortably secures its place among the top echelons of Kool Keith's vast catalog.
12. Analog Brothers - Pimp To Eat (2000)
Kool Keith and Ice-T joining forces for a full-length album? Along with a trio you never heard of – Silver Synth, Mark Moog, and Rex Roland – Kool Keith and Ice-T drop some crazy, spaced-out pimp sh*t with Pimp To Eat. With its futuristic beats and weird lyrics, Pimp To Eat will not be for everybody, but it's a must-have for Ice-T and Kool Keith fans at the very least.
11. Masters Of Illusion presented by KutMasta Kurt (2000)
Kutmasta Kurt arguably is the only beatmaker who has ever fully understood Keith's style and who was able to provide him with the most suitable framework for his lyrical expressions on multiple projects. Besides Sex Style and First Come First Served, Masters Of Illusion is their best collaboration.
On this album, Kool Keith is paired up with Bay Area rapper Motion Man. Both emcees spit great rhymes over Kutmasta Kurt's stellar old-school-style production. As always Kurt provides beautiful boom-bap beats complemented by some real scratching & cutting. Plenty of excellent cuts on this one, but you have to check out "The Bay-Bronx Bridge" – a perfect throwback old-school flavored Ultramagnetic track. Make no mistake – this is a GREAT, 100% Hip Hop album.
10. The Cenobites - The Cenobites LP (1995/1997)
The Cenobites LP is the eponymous debut album by The Cenobites, composed of Kool Keith and Godfather Don. It was first released as an EP in 1995 via Fondle 'Em Records and was later expanded to an LP in 1997. The incomparable Percee P makes a guest appearance, as well as the iconic Bobbito Garcia. This project is as underground as it gets, but a Kool Keith classic nevertheless.
9. Ultramagnetic MCs - The Four Horsemen (1993)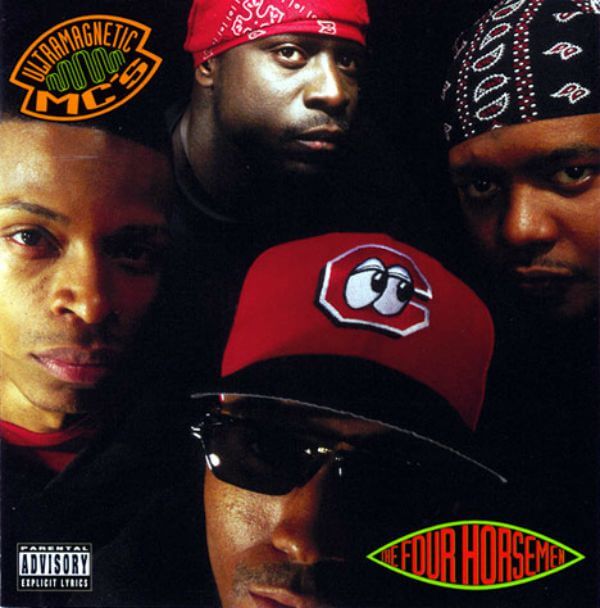 Following their classic debut album, Critical Beatdown (1988), the Ultramagnetic MCs released the somewhat underwhelming sophomore album, Funk Your Head Up, in 1992. However, they made a triumphant return with their third album. Both Ced Gee and Kool Keith shine brightly on this record, delivering top-notch performances, while the production is impeccably tight. Undoubtedly underrated, this album is an absolute gem, showcasing the group's brilliance.
8. Kool Keith - Sex Style Unreleased Archives (2007)
Released a decade after Sex Style (1997), this compilation of previously unreleased tracks is on par with the quality of the original album. It is far too impressive to have remained in obscurity and unquestionably surpasses all the other "unreleased" music that Kool Keith has put out over the years.
7. Project Polaroid – Project Polaroid (2006)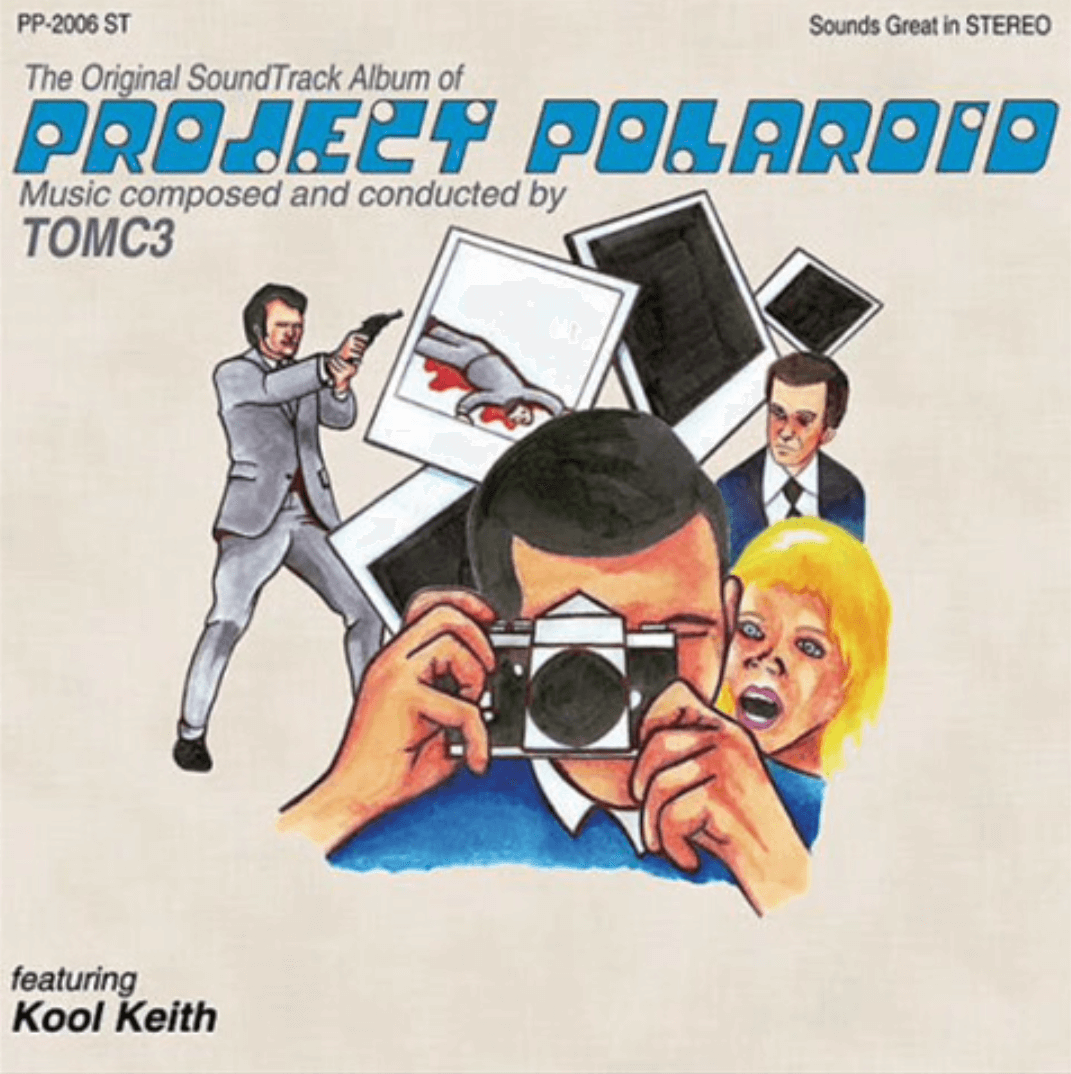 Project Polaroid is a collaborative effort between Kool Keith and Bay Area producer TomC3, which was released in 2006. Unfortunately, it didn't receive much attention at the time, which is a real shame considering how fantastic this album truly is. In fact, it easily ranks among the top-tier of Kool Keith's discography. TomC3's captivating soundscapes are undeniably impressive, and Kool Keith's lyrical prowess shines brightly, reminiscent of his acclaimed masterpiece, Dr. Octagonecologyst. Project Polaroid is a hidden gem that many people overlooked, but it's never too late to catch up and appreciate its brilliance.
6. Kool Keith - Sex Style (1997)
Following the magnificent release of Dr. Octagonecologyst in the previous year, Kool Keith, aided by Kutmasta Kurt on production, makes a triumphant return with Sex Style, an album that delves into the realm of hilariously outrageous "pornocore". Any other rapper (with the possible exception of MF DOOM) would sound really really stupid – it's only Kool Keith who can get away with doing an album like this and come out on top.
5. Ultra - Big Time (1996)
Big Time is essentially a solo album by Kool Keith, enriched with the collaboration of the rugged and rough Ultramagnetic affiliate, Tim Dog. In this album, Kool Keith's trademark weirdness, along with his curious fascination with asscracks, takes center stage, resulting in a plethora of bizarre lyrics that are both captivating and unconventional. The dark and occasionally mind-bending beats complement the lyrical content, creating a cohesive and immersive listening experience. Unfortunately, Big Time remains criminally underrated within Kool Keith's repertoire of work, we love it though.
4. Kool Keith - Feature Magnetic (2016)
Kool Keith has never prioritized quality control. With a staggering number of approximately 75 projects released since his debut with Ultramagnetic MCs in 1988, it's evident that not all of these releases are considered must-haves. Unfortunately, due to the sheer volume of Kool Keith's discography, many dismiss all of his work as trash. This dismissal is an oversight, as there are plenty of hidden gems within his catalog.
One such project that deserves more recognition is Feature Magnetic. Like most of Kool Keith's releases, it was unfairly overlooked upon its initial release simply because it was another addition to his extensive body of work. However, upon closer listening, Feature Magnetic proves to be exceptionally good. Throughout the album, Kool Keith showcases raw beats, most of which he produced himself, complemented by fun and engaging rhymes, effortlessly demonstrating his signature cadences and delivering bizarre stream-of-consciousness lyrical imagery.
Another commendable aspect of this album is the well-executed collaborations. Almost every track features a guest rapper, and each one vibes well with Kool Keith's style. MF DOOM, Godfather Don, Craig G, Bumpy Knuckles, Slug, Edo G, Sadat X, and Ras Kass are just a few of the notable names that contribute to the album's strength. Feature Magnetic encapsulates Kool Keith at his finest, making it his standout release of the 2010s.
3. Dr Dooom - First Come, First Served (1999)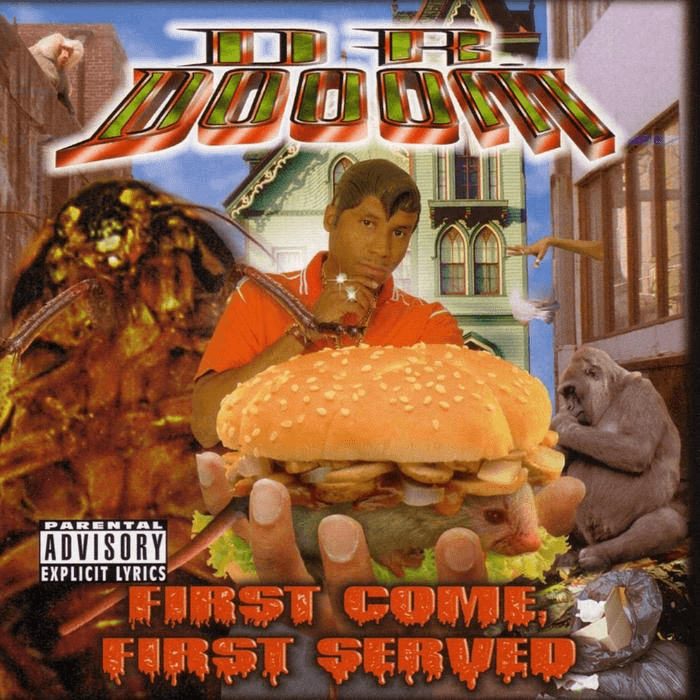 If you're curating a collection of Kool Keith albums and can only choose three, First Come First Served absolutely deserves a spot. It's undeniably one of Kool Keith's finest works. The album kicks off with the introduction of Kool Keith's new alter-ego, Dr. Dooom, who effectively puts an end to the Dr. Octagon persona. In this dynamic, Dr. Dooom embodies the darker, horror elements previously associated with Dr. Octagon, while Black Elvis (also released in 1999) takes on the responsibility of sci-fi themes. With the incredible production skills of Kutmasta Kurt, Kool Keith displays his talents at their peak on this record: his flow and delivery are impeccable, and the lyrics remain wonderfully peculiar and true to his distinctive style. Lastly, let's not forget to appreciate the clever parody of the No Limit album cover – it's just another reason to love this gem.
2. Ultramagnetic MCs - Critical Beatdown (1988)
It's a tough call for the number one spot, but there's no denying that this album is an absolute classic that has withstood the test of time. The debut album from Ultramagnetic MC's, Critical Beatdown, is widely regarded as one of the earliest examples of underground Hip Hop. It was released on the independent record label Next Plateau Records, adding to its historical significance. Critical Beatdown has had a massive impact, even influencing the production team The Bomb Squad in creating Public Enemy's iconic 1988 album, It Takes a Nation of Millions to Hold Us Back.
The album itself remains highly influential and relevant. Kool Keith's unique style and unpredictable lyrics, paired with Ced Gee's revolutionary production, make this record truly timeless. Notably, it stands out for its originality, innovation, and consistency – every track on the album is solid and holds its own. Despite being critically acclaimed, it seems that Critical Beatdown is often overlooked and underappreciated. It's a shame because when discussing classic Hip Hop albums, it deserves to be mentioned far more frequently.
1. Dr. Octagon - Dr. Octagonocologyst (1996)
Dr. Octagonocologyst is undoubtedly Kool Keith's finest album, even with Critical Beatdown in that conversation. With a discography as extensive and diverse as his, choosing a standout can be difficult – yet for us, Dr. Octagonecologyst truly stands as his magnum opus. This groundbreaking album introduces the character of Dr. Octagon: a homicidal, hypersexual, extraterrestrial gynecologist and surgeon. Throughout the songs, skits, and samples on Dr. Octagonecologyst, we delve into the history of Dr. Octagon. The concept is brilliantly executed, with the production by Dan The Automator being nothing short of phenomenal – it's innovative, eerie, and spaced-out, providing the perfect backdrop for Kool Keith's trademark bizarre lyrical imagery. Dr. Octagonecologyst set a new standard for pushing the boundaries of Hip Hop and has rarely been surpassed since its release in 1996. It remains a masterpiece, sounding just as fresh today as it did on the day it was unleashed upon the world.