As described in Paul Edwards' How to Rap, rapping, in its simplest terms, is a blend of content, flow and delivery. Basically, a musician would construct a rhyming poem detailing their emotions, which would then be conveyed through their vocal cadences.
Ultramagnetic MCs, led by chief lyricist, Kool Keith and part-time rapper/full-time producer, Ced-Gee, intentionally disrupted their content, flow and delivery, much like free jazz disrupted chord changes and tempo. What came from this break with conformity was both danceable and droll, a fully unique creation born from the deconstructed elements of Hip Hop.
Kool Keith's odd delivery is like an off-kilter game of word association. As he barrels through verses at breakneck speed, he defames opposing MCs like a vivisectionist, chopping heads and dissecting bodies. He fashions himself a mad scientist, and he might be right, since his syncopated delivery and schlocky lyrical content may have given life to the gory absurdity of horrorcore and the abstract spaciness that would shape rappers like Del the Funky Homosapien and El-P.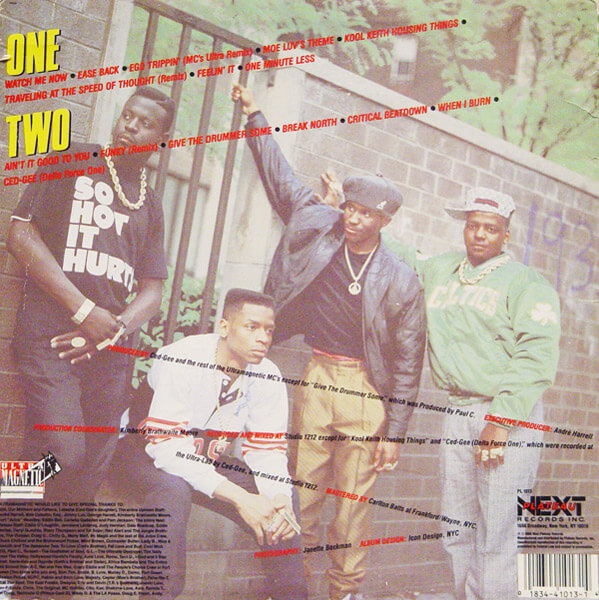 Keith's partner-in-crime, Ced-Gee, produces the record with a similarly skewed vision. As chaotic as the Bomb Squad, Gee layers each track with tinnitus-inducing vocal squeals, hyper-kinetic samples and skittish record scratching. His take on funk has more in common with the "chopped and screwed" mixtape movement than Sly Stone, since an organ blip or random synth beat can explode out of nowhere and repeat endlessly, giving the LP an almost nervous energy.
It's this verve and sense of adventure that have made Critical Beatdown so timeless. Kool Keith and Ced-Gee purposely tried to subvert Hip Hop cliché and reconstruct its language and sound. What they actualized was made of Hip Hop's puzzle pieces, but alien in its construct and presentation.
Ultramagnetic MCs' "Critical Beatdown" was ranked #45 on Matt Deapo's Hip Hop Top 50, a ranking of 50 of the best Hip Hop albums recorded between 1978 and 2006, based on this consideration and these rules.