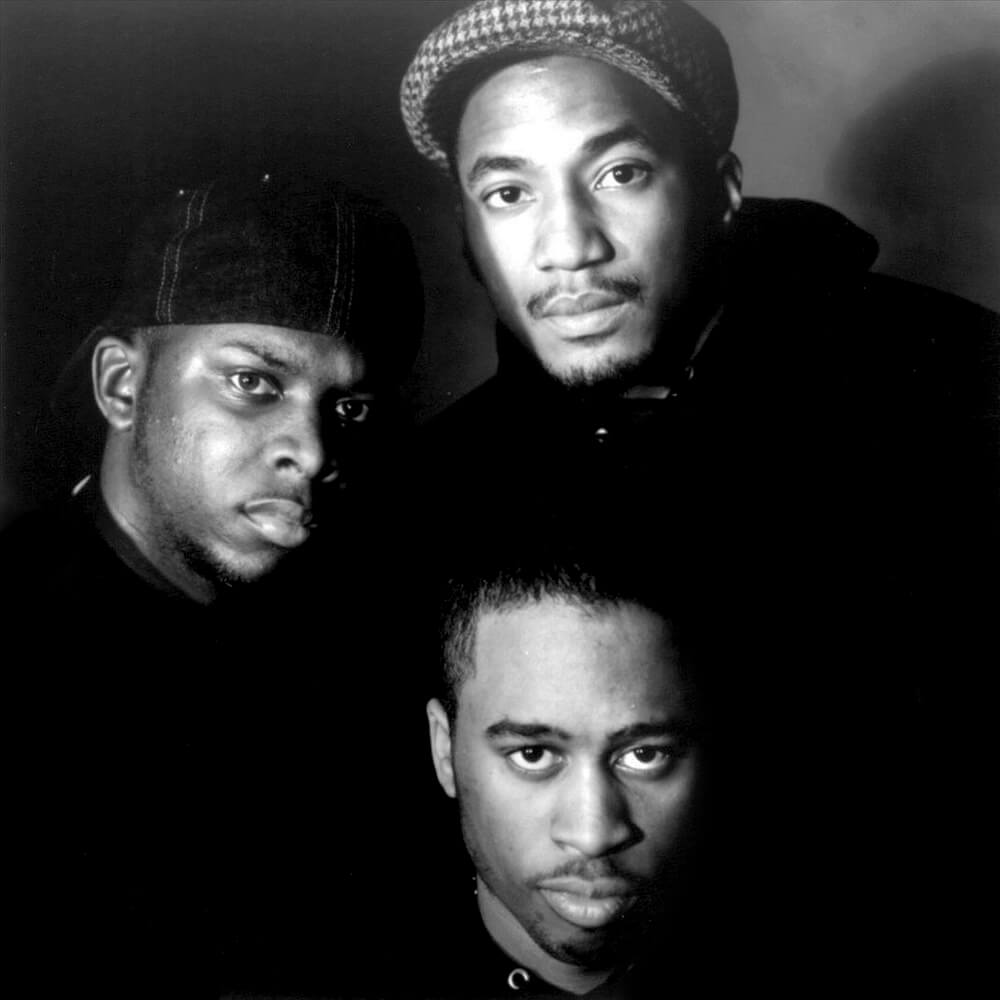 A Tribe Called Quest is one of the most influential and dopest acts in Hip Hop EVER. After the Jungle Brothers in 1988 and De La Soul in 1989, A Tribe Called Quest was the next Native Tongues act to blow up and leave their inextinguishable mark on music in general and Hip Hop in particular. Being dubbed alternative/jazz rap, ATCQ and the rest of the Native Tongues clique quickly carved out their own niche in Hip Hop, and they would continue to be a breath of fresh air and a bastion of creativity and innovativeness in a Hip Hop world that would get more and more dominated with mindless cliches by gun-toting gangsta poseurs. ATCQ's legacy is classic and they will forever be considered part of Hip Hop's elite. Here's our top 15 A Tribe Called Quest songs. Agree? Disagree? Discuss!
15. Push It Along (1990)
"Q-Tip is my title, I don't think that it's vital / For me to be your idol, but dig this recital / If you can't envision a brother who ain't dissing / Slinging this and that, cause this and that was missing / Instead, it's been injected, the Tribe has been perfected / Oh yes, it's been selected, the art makes it protected…" 
The 1st track of the 1st album. A perfect introduction to the jazzy and eclectic sound of A Tribe Called Quest. Phife clearly still was in the process of finding his voice but Q-Tip was in top form from day one.
The BOOM, the BIP, the BOOM BIP.
14. 1nce Again (1996)
"This is the year that I come in and just devastate / My style is great ask your peoples can I dominate? / My rhymes are harder than last night's erection / Don't play me close, I'll have this mic up in your rear section…"
ATCQ's fourth album Beats, Rhymes & Life couldn't quite match the masterpiece status of Tribe's previous efforts, but there was still plenty to enjoy. 1nce again serves as a sequel to the 1991 classic Check The Rhime, with Tip and Phife once again bouncing their rhymes of each other over a wicked bassline, complemented by a smooth hook by Tammy Lucas.
13. Lyrics To Go (1993)
"I know it's been two years but see the Tribe was never fallin / Would have tried for singin but that stuff was not my callin / The mic is in effect so you know I'm never stallin / Walkin through the door and all them suckers started haulin…" 
An insanely creative track (listen to it and note there is no actual bassline, just a bass-kick!), Lyrics To Go is just one of the hidden gems on Midnight Marauders. Ali Shaheed Muhammad masterclass on the production tip complemented by some clever bragging and boasting rhymes by Q-Tip and Phife – dopeness.
12. Verses From The Abstract (1991)
"I must regroup my thoughts and kick the next ones for my people / Please don't be deceived by the ugly slice of evil / The world is kinda cold and the rhythm is my blanket / Wrap yourself up in it, if you love it, then you'll thank it" 
A brilliant challenge to gangster dramatizations, this song has Q-Tip kickin' flavor at his smoothest. Don't sleep on that Ron Carter bass-line, which provides an irresistible rhythmic backdrop to one of dopest tracks from The Low End Theory.
11. Bonita Applebum (1990)
"Hey Bonita, glad to meet ya / For the kind of stunning newness, I must beseech ya / Being with you is a top priority / Ain't no need to question the authority / Chairman of the board, the chief of affections / You got mine's to swing in your direction / Hey, you're like a Hip Hop song, you know? Bonita Applebum, you gotta put me on…" 
The second single of their debut album People's Instinctive Travels and the Paths of Rhythm, Bonita Applebum is ATCQ's first ode to female beauty. Humorous and cheeky, you just gotta love Bonita Applebum.
10. Get A Hold (1996)
"The deadly venom, let me start from the beginning / We always hitting, so yo, there'll be no extra innings / As I send the mic out the park like Reggie Jackson / You be the minor leaguer who sees no action…"
This dark and bass-heavy track is one of the highlights of Tribe's fourth album. J Dilla's touch as part of the Ummah production collective can really be felt here.
9. Oh My God (1993)
"Listen up everybody, the bottom line / I'm a black intellect, but unrefined / With precision like a bullet, target bound / Just living like a hooker, the harlot sounds / Now when I say the harlot, you know I mean the hot / Heat of the equator, the broth that's in the pot…" 
One of the many stand-out songs on Tribe's third album, the classic Midnight Marauders, another masterpiece after the equally brilliant 1991 album The Low End Theory. Hard not to get energized by the Busta Rhymes sample chorus. Oh my God!
8. Butter (1991)
"Cause I am not the one, I got more game than Parker Brothers / Phife Dawg is on the mic and I'm smooth like butter" 
Phife's moment to shine in his solo song on The Low End Theory. A big difference between this album and ATCQ's first is the emergence of Phife Dawg as the second full lyricist in the group, not just one to complement Q-Tip here and there. Phife carries this irresistible track effortlessly -truly smooth like butter.
7. Can I Kick It (1990)
"Can I kick it? To all the people who can Quest like A Tribe does / Before this, did you really know what live was? / Comprehend to the track, for it's why cuz / Gettin measures on the tip of the vibers…" 
The third single from A Tribe Called Quest's debut album People's Instinctive Travels and the Paths of Rhythm. The original brilliantly interpolates the bassline of Lou Reed's Walk On The Wild Side along with Spinning Wheel by Lonnie Liston Smith and Sunshower by Dr. Buzzard's Original Savannah Band. An all-time party classic.
6. Scenario (1991)
"Sit back relax and let yourself go / Don't sweat what you heard, but act like you know" 
Probably one of the best known and most popular posse cuts in the history of Hip Hop. With his legendary bars on this track, Busta Rhymes pretty much laid the foundation for his solo career and stardom (and the end of The Leaders Of The New School).
Infectious and catchy, this song closes out the already perfect Low End Theory album on a high note.
5. Award Tour (1993)
"People give your ears so I be sublime / It's enjoyable to know you and your concubines / Niggas, take off your coats, ladies act like gems / Sit down, Indian style, as we recite these hymns…" 
The first single of Midnight Marauders (with De La Soul's Dove on the hook) answered all questions when doubters were wondering if ATCQ would be able to follow up The Low End Theory with another masterpiece.
Award Tour set the standard for an album that went from highlight to highlight, with no skippable tracks at all. Hip Hop of the highest quality.
4. I Left My Wallet In El Segundo (1990)
"I ordered enchiladas and I ate em / Ali had the fruit punch" 
Released on April 11, 1990, as the first single of their debut album People's Instinctive Travels and the Paths of Rhythm,  I Left My Wallet In El Segundo was the first introduction to A Tribe Called Quest for most of us. Who didn't immediately fall in love with ATCQ's sound, style and humor when they first heard this one?
3. Jazz (We've Got) / Buggin' Out (1991)
"Stern firm and young with a laid-back tongue / The aim is to succeed and achieve at 21 / Just like Ringling Brothers, I'll daze and astound / Captivate the mass, cause the prose was profound / Do it for the strong, we do it for the meek / Boom it in your boom it in your boom it in your Jeep…" 
Yes, this is cheating. The double header video version provides the opportunity to sneak in the dope Buggin' Out song (with a classic Phife verse) in this list as well.
Jazz (We've Got) is just another example of ATCQ's ability to perfectly incorporate jazz influences in smooth and laidback Hip Hop .
2. Electric Relaxation (1993)
"Honey, check it out, you got me mesmerized / With your black hair and your fat-ass thighs / Street poetry is my everyday / But yo, I gotta stop when you trot my way" 
Not just one of ATCQ's best tracks, this ode to females is one of the best tracks in Hip Hop, PERIOD. A masterpiece.
1. Check The Rhime (1991)
"Now here's a funky introduction of how nice I am / Tell your mother, tell your father, send a telegram" 
The lead track of one of Hip Hop's most celebrated albums ever, shines because of the back-and-forth synergy between Q-Tip and Phife, who bounce their lines off each other effortlessly and to perfection.
The ultimate ATCQ track.