LL Cool J is a Hip Hop icon. Three decades in and still going strong, few can touch LL's status. With over a dozen albums and countless hit singles, LL always had something for the hardcore fans as well as for the mainstream listeners. This list is OUR top 15 LL Cool J songs and it may focus more on his earlier work than some of you will like – if you miss YOUR favorites let us know in the comments!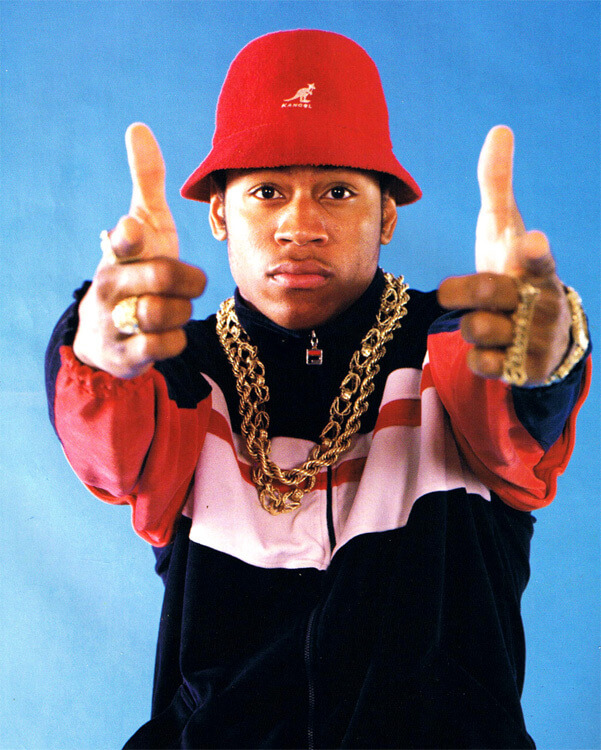 15. I Need Love (1987)
"I can't sit and wait, for my princess to arrive / I gotta struggle and fight, to keep my dream alive / I'd search the whole world for that special girl / And when I finally find you, watch our love unfurl / I need love…"
Aw come on,  just admit it – you know you love this track too. It's true that LL's later attempts on love songs / Hip Hop ballads were more often miss than hit, but this pioneering Hip Hop ballad is a classic we all know the words to.
14. The Ripper Strikes Back (1999)
"Ask Canibus / He ain't understanding this / Cause ninety-nine percent of his fans don't exist / I'm going underground and blowin' your rep down / Next time save that shit for the lyricist lounge"
After the beef that started over Canibus' originally intended verse on LL's posse cut 4,3,2,1 – Canibus dropped a pretty dope dis directed at LL with 2nd Round Knock Out.
LL Cool J came back hard with this track though, to destroy Canibus and leave no doubt about LL's superiority.
13. Going Back To Cali (1988)
"Going back to Cali, stylin', profilin' / Growlin' and smilin' while in the sun / The top is down on the black Corvette / And it's fly, cause it's sittin' on Dayton's…"
That bass! Originally released in 1988 as a single from the Less Than Zero soundtrack and later part of LL's third album Walking With A Panther, this track is another banger co-written and produced by Rick Rubin.
12. The Breakthrough (1987)
"Not only on the stage, I rock in the park / And I'm a killer in the daytime, and worse after dark / So don't never ever mess with the king of the sound / LL Cool J, the baddest around…"
Pure Hip Hop. No hook, no chorus – just 4 minutes of straight rhyming over a hardcore drumbeat.
11. You'll Rock (1985)
"The momentum of this party can only increase / The design of this rhyme is a masterpiece / You'll wanna kick steps to this musical feast / And witness the force I'm about to release…"
Another track that perfectly exemplifies the B-boy feeling and has LL spittin' dope rhymes about his own abilities. One of the best tracks on the excellent Radio album.
10. The Boomin' System (1990)
"Big beats bumpin' with the bass in back / All the sophisticated suckers catch a heart attack…" 
One of the best album openers ever. LL talks about a booming bass and you need a system that can handle it to fully appreciate this trunk-rattling banger.
9. Doin' It (1996)
"It's the first time together and I'm feeling kinda horny / Conventional methods of making love kinda bore me / I wanna knock your block off, get my rocks off / Blow your socks off make sure your G spots soft…"
Like I Need Love this is another 'guilty pleasure'. Massive mainstream appeal and one of LL's biggest hits, this raunchy song just can not be hated on. The bass is thumping and the vibe is just right. Just gotta love this one. Also props for the use of  the 'Go Brooklyn' chant, which is sampled from Audio Two's classic Top Billin' song.
8. Go Cut Creator Go (1987)
"Three years ago in St. Albans Queens / I was rockin' at a park called one eighteen / Little kids stood and watched as I rocked the spot / Didn't know years later I'll be standing on top" 
Another dope track from the Bigger And Deffer album, this track is a tribute to LL's deejay Cut Creator, who gets to flex his skills.
7. It's Get No Rougher (1989)
"Who could take the game of rap and rule it alone / Demonstrate many styles on the microphone / Build an empire like an African King / I had to show and prove Jack the Ripper could swing / I'm a rapper's nightmare, I crush my opponents / There's only one title: I own it…" 
One of the best songs of the underappreciated Walking With A Panther album has LL spittin' dope rhymes over a Bomb Squad produced track. It definitely get's no rougher.
6. The Doo Wop (1987)
"LL has iced all the washed up slobs / Vigilante of rap, so to hell with the mob / Don't run from the cops, makin' suckers jock / And I'm only 18 makin' more than your pops"
A brilliant track that infuses doo-wop with Hip Hop and has LL recounting past adventures – or was it all a dream?
5. I'm Bad (1987)
"No rapper can rap quite like I can / I'll take a musclebound man and put his face in the sand…" 
LL Cool J at his bragging and boasting best, I'm Bad remains one of LL's most recognizable songs and one of his biggest hits.
4. I Can't Live Without My Radio (1985)
"My radio, believe me, I like it loud / I'm the man with a box that can rock the crowd / Walkin' down the street, to the hardcore beat / While my JVC vibrates the concrete" 
A B-boy's love declaration to his boombox in particular and Hip Hop and the B-boy lifestyle in general. A timeless Hip Hop classic.
3. Jack The Ripper (1988)
"How ya like me know / I'm gettin bizzier / I'm double platinum / I'm watching you get dizzier"
Another Rick Rubin produced hard-hitter. LL destroys Kool Moe Dee on this track in response to the dis Kool Moe Dee directed at LL on his album How Ya Like Me Now.
2. Rock The Bells (1985)
"LL Cool J is hard as hell / battle anybody / I don't care who you tell"
From LL's groundbreaking debut album Radio, Rock The Bells will always be one of LL Cool J's signature tracks and a landmark track in Hip Hop history.
Also, check out the original Rock The Bells version which did not appear on the Radio album. This version has LL spittin' rhymes over 7 minutes of hard-hitting, bells-infused beats. Pure excellence.
1. Mama Said Knock You Out (1990)
"Don't call it a comeback / I've been here for years / Rockin my peers and puttin suckas in fear"
The Marley Marl produced title track of LL Cool J's fourth album, Mama Said Knock You Out, showed LL in top form. 22 years old at the time – and already a Hip Hop veteran, LL Cool J felt it was necessary to knock out all critics who said he fell off with his third album, Walking With A Panther.
The song uses samples from James Brown's "Funky Drummer," the Chicago Gangsters' "Gangster Boogie," Sly & The Family Stone's "Trip to Your Heart" the drum break from Digital Underground's "The Humpty Dance", and LL Cool J's own "Rock the Bells".
Want to know more about the creation of Mama Said Knock You Out? Watch Marley Marl's Classic Recipes: Recreating LL Cool J "Mama Said Knock You Out"