Best 25 Traditional Boom Bap Albums Of 2021: Hip Hop has never been as diverse as it is today, with artists taking Hip Hop into all kinds of new, exciting directions. Authentic Hip Hop is one of our go-to subgenres though, that's why we will always highlight great boom-bap albums that are ignored by most major (so-called) Hip Hop outlets. For this Best 25 Traditional Boom Bap Albums Of 2021 list, we have selected 25 dope 80s- and 90s-centric Hip Hop albums released in 2021, presented here in no particular order. Some of these albums are better than others of course, but all projects listed here are must-listens for heads who can't get enough of traditional-sounding Hip Hop.
Lewis Parker - Frequency Of Perception
Lewis Parker is a London-born veteran producer/emcee – a self-proclaimed Hip Hop craftsman, and 'the deadliest man with an SP'. Those familiar with Lewis Parker's work will know this to be true – all his music oozes pure dedication to Hip Hop. Frequency Of Perception is one of his best projects yet, a fully realized album with over an hour of excellent music – with beats AND rhymes from Lewis Parker himself (and with contributions from artists Eloh Kush, John Robinson, Planet Asia, Lil Dap, Eastkoast, Enny Integrity, Killa Sha, Zu, Ric Branson, and T.R.A.C.).
Frequency Of Perception is a presentation of stylistic 90s-centric Hip Hop, with tasteful boom-bap beats and relatable rhymes. Musical and classy – Frequency Of Perception is grown-up Hip Hop of the highest order, one of the finest albums you'll hear this year.
Propo'88 & Wildelux - Certified Craftsmen
Under the moniker of Certified Craftsmen, DJ/producer Propo'88 and rapper Wildelux crafted an excellent no-bullsh*t boom-bap record with their Certified Craftsmen LP. Propo'88 hails from Utrecht in The Netherlands, and Wildelux is a Bronx-born emcee who is currently based in Kyoto, Japan. Their collaboration is one of the many examples we can see these days of the global village that Hip Hop world has become – with artists from all over the world joining forces, and with producers from Europe leading the way in keeping that original boom-bap sound alive.
From Propo'88's fresh beats, samples, and Preemo-like scratch hooks, to Wildelux's smooth flow and outspoken rhymes – this is throwback Hip Hop done RIGHT. Certified Craftsmen: close to 45 minutes of top-quality funky boom-bap Hip Hop.
Emskee & MiLKCRATE - Truth Is Underrated
Emskee (The Good People) teamed up with producer MiLKCRATE for Truth Is Underrated. Those familiar with The Good People and MiLKCRATE will know what to expect. Truth Is Underrated gives us exactly what we want: top-quality 90s-centric boom-bap, with dope rhymes, beats, and scratches. Lots of great traditionalist Hip Hop out these days, Truth Is Underrated is just one of many solid projects in the throwback subgenre this year.
Beneficence & Confidence - Stellar Mind
More than four years in the making, Stellar Mind takes a deep journey and boom-bap ride with flawless production courtesy of Confidence, the man with the Golden Age sound. The Element Of Surprise, his collaborative album with Rashad is one of the best Hip Hop albums released in 2011 – Stellar Mind is on par with that release. Beneficence is a real lyricist who made his recording debut in 2004, he has dropped a bunch of solid projects since then – his last one, Basement Chemistry, in 2016.
16 tracks strong, Stellar Mind features guest appearances by Masta Ace, El da Sensei (of Artifacts), Phantasm (of Cella Dwellas), Craig G, Lord Tariq, Keith Murray, Ras Kass, A.G. (of D.I.T.C.), Chubb Rock, Wordsworth, Shabaam Sahdeeq, and Queen Herawin (of Juggaknots), among others. Confidence's production echoes that of icons like DJ Premier, Pete Rock, and Diamond D – and Beneficence and his guests do the beats justice. Stellar Mind is a well-rounded and flawlessly executed piece of music that perfectly captures the vibes of 1990s Hip Hop, without sounding dated – this is a GREAT album.
bRavenous - Flaunting Imperfections
Flaunting Imperfections, the fifth studio project from Halifax native and Calgary-based boom-bap emcee bRavenous is his first full-length since Between The Lines. – one of our favorite traditional boom-bap albums released in 2020. Flaunting Imperfections is just as good, or even better.
bRavenous kills it with his cypher-developed rhyme style, and a bunch of guest emcees – Brand Nubian's Sadat X most prominent among them – add extra flavor. Production from Uncle Fester, DK, Makemdef, Nocknock, Loophole, and Eng is dope too – nothing but delicious throwback boom-bap beats laced with well-placed cuts & scratches. If traditional-sounding boom-bap is your thing, Flaunting Imperfections is your album.
Jazz Spastiks - Camera Of Sound
Jazz Spastiks never disappoint. This collective of producers and DJs from the UK has been responsible for plenty of dope music over the years, and Camera Of Sound is yet another excellent addition to their body of work. For Camera Of Sound, Jazz Spastiks recruited Artifacts, Count Bass D, DJ Pocket, C-Rayz-Walz, Kool Keith, Craig G, Phill Most Chill (who had one of our favorite throwback projects last year), The Procussions, Soundsci, and Wee Bee Foolish (Yeshua DaPoEd and Ken Boogaloo) – all artists perfectly in tune with Jazz Spastiks' characteristic upbeat throwback sound.
Most likely Camera Of Sound will not turn up in any other Hip Hop outlet's best-of-2021 lists (most of them will end up lazily listing the highest-profile releases as the year's best, as they always do), but for HHGA albums like this one represent Hip Hop in its truest form, and we applaud and celebrate Jazz Spastiks for it.
Across 18 tracks, Camera Of Sound offers close to 45 minutes of buoyant jazz-flavored boom-bap beats, complemented by artisanal cuts & scratches and dope wordplay by masters of the craft. When it comes to fresh throwback Hip Hop, it doesn't get much better than this.
Swamp Thing – World War Swamp
"Toronto's three-headed rap monster, Swamp Thing (Timbuktu, Chokeules, & Savilion), has a ritual of delivering dark, B-movie-inspired, heavy-duty thunderclaps every Halloween. Their newest release titled World War Swamp marks the tenth consecutive year of an October 31st LP release. World War Swamp is the follow-up to last year's offering, Salty Gator, and much like its predecessor, it slaps enormously. The milestone record was produced by Savilion and was recorded at an isolated cabin in northern Ontario, where the murky trio used their collective sense of impending doom, to guide the project's direction. World War Swamp is the culmination of a decade's worth of Swamp Thing. The record features turntablist DJ iRATE, along with an all-star lineup of guest collaborators, including Bazooka Joe, Ghettosocks, More Or Les, Psybo, and Wordburglar."
Swamp Thing never disappoints – for top-quality throwback boom-bap look no further than World War Swamp.
Zcience Division & Mike Titan - Applied Precision
A lot of the best traditional boom-bap production these days is done by non-US artists, Applied Precision is one of the many examples to prove that point. Zcience Division (DJ Zino and Roley Omega) is a duo from London England, and for Applied Precision they crafted 14 tracks composed of dope beats, creative sampling, and fresh cuts & scratches. For Applied Precision DJ Zino and Roley Omega joined forces with Bronx emcee Mike Titan, whose smooth flow adds to the throwback flavor this project exudes.
El Da Sensei & Jake Palumbo - Solving Cases
Solving Cases is the slow-cooked, long-awaited collaborative LP from New Jersey mainstay and one-half of the legendary Artifacts crew El Da Sensei, and Brooklyn-by-way-of-Tennessee producer/emcee Jake Palumbo (whose credits behind the boards include Black Moon, Ras Kass, Smif-N-Wessun & Roc Marciano amongst a lengthy list of others). Copping Solving Cases is a no-brainer if top-level throwback boom-bap is your kind of Hip Hop – dope beats and rhymes, what more do you want?
Andy Cooper - Hot Off The Chopping Block
Andy Cooper has made a name for himself as one-third of Ugly Duckling (alongside Dizzy Dustin and Young Einstein) with a bunch of dope albums since their debut in the mid-90s. Hot Off The Chopping Block comes on the heels of Andy Cooper's 2020 solo release L.I.S.T.E.N. (Lyrical Innovation Supplying The Ear's Need), and it is more of the same – a good thing in this case. With its funky boom-bap instrumentals and Cooper's throwback rap flow, Hot Off The Chopping Block is old school in spirit – but it never sounds dated or derivative, thanks to the fresh musicality Andy Copper injects in his beats and rhymes. At a mere 30 minutes, this project is kind of lightweight – but even so, this is a must-listen for fans of traditional-sounding Hip Hop in general and of course for Ugly Duckling fans in particular.
Pseudo Intellectuals - Only Built For Food And Drinks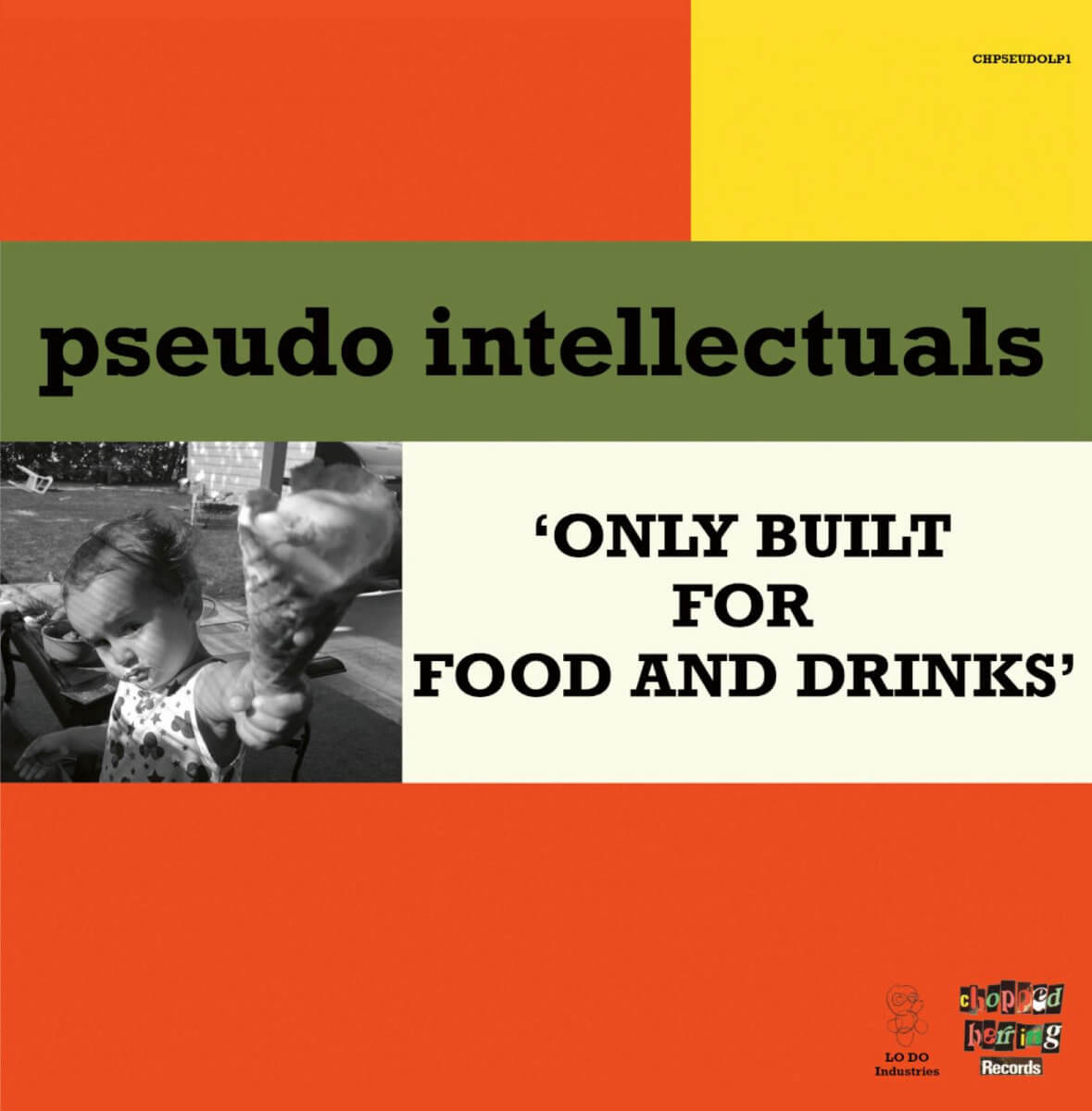 Pseudo Intellectuals is a trio from Buffalo, New York. They debuted in 2008 with the excellent but sadly slept on Resourceful Illery. Since 2008 they've dropped a number of dope projects, Only Built For Food And Drinks is another fine addition to their catalog. Only Built For Food And Drinks is a must-listen for fans of traditional sounding Hip Hop – melodic boom-bap beats, lots of throwback style scratching, and clever wordplay: this album is a fun listen.
Bronx Slang - Substance
Jerry Beeks and Miggs are Bronx Slang – their self-titled debut was one of our favorite albums released in 2019. Substance is their anticipated sophomore LP, and it's another banger.
Produced top to bottom by prolific UK pair Jadell and Fake Blood, Substance once again channels that good old-fashioned Big Apple sound of the rap idealist and authenticator: the blasts of "You Already Know", "Another Night In New York" and "Copy That" come through like a rhino stampede. Substance expands to funk and soul positions spending time in the crates on 'This Ain't No Love Song', synth angles maximizing Bronx Slang's authoritarianism on "Mic Check", and pitching the pair to the edge of panic on "Clock's Ticking".
Beeks and Miggs read the world its rights, and last rites, without allowing themselves a moment's relaxation: "Living With A Mask On" goes against simple COVID-related rhetoric, and "Excuse Me Again" shows that the "Excuse Me Officer" narrative from the first Bronx Slang album needs repeating. Their inner-city testimonies and fine-tuning of front-page news define the realistic rather than keeping it real: they remain observant, unfazed masters of keeping their heads, resistant to propaganda and managing the weight of modern life.
Meaningful content, masterful wordplay, and dope beats – the aptly titled Substance is a must-have.
Big Stacks & Nite Tyme - The Vibe Out
The Vibe Out is a collaborative album by Philadelphia producer/emcee Big Stacks and Milwaukee emcee Nite Tyme, a follow-up to their 2017 The Balance of Power album. Big Stacks' slick melodic boom-bap instrumentals are superb from start to finish, perfect for Nite Tyme's dope flows and potent wordplay. Composed of 15 tracks and with a running time of one hour, consistency is the strength of the nostalgia-inducing The Vibe Out – there's no filler material on this album. 
Configa & DJ Views - The Year After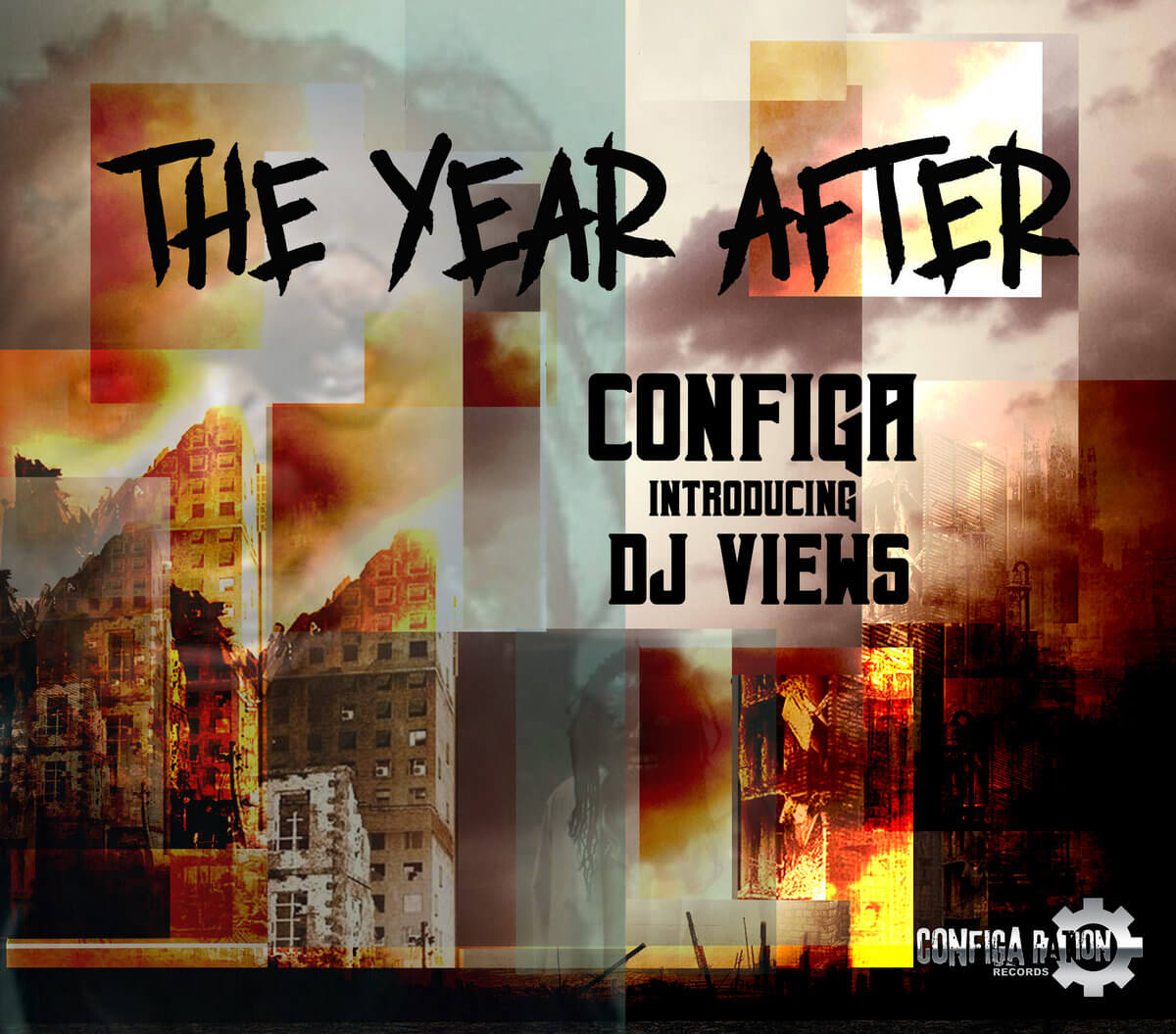 British producer Configa knows what he is doing. He was responsible for the beats on two of 2020's best Hip Hop albums – Arrested Development's Don't Fight Your Demons and his Forward Future collaboration with Jahi – and in 2021 he continues his winning streak with The Year After.
For The Year After Configa teamed up with DJ Views (each producing 6 of the 12 tracks on the album), and they recruited a busload of top-caliber emcees to take care of the vocals on what is one of the best 90s-centric boom-bap projects of the year. Ras Kass, Speech (of Arrested Development), Chino XL, Craig G, Pacewon, Akrobatik, Ruste Juxx, Planet Asia, Nine, El Da Sensei, Termanology, and Solemn Brigham make appearances – among others. "Mic Domination", "Galactic Rap", "Funeral March" (with epic bars from the unbeatable Chino XL), "Different Timezones", and "Word Science" are highlights, but The Year After is an entirely consistent presentation. Banging boom-bap beats, sharp cuts & scratches, and lyrical fire – with The Year After Configa and DJ Views knocked it out of the park.
The Good People - The Greater Good
The Good People's last full-length Good For Nuthin' was one of our favorite albums of 2019, The Greater Good is just as good. Where Good For Nuthin' was a 100% throwback record, The Greater Good is more rounded musically even if the beats, cuts & scratches, and flows are still firmly rooted in the 90s. A bunch of features from the likes of Lords of the Underground, DJ C-Reality, DJ Ace, Mikey D, Tone Spliff, Craig G, Shabaam Sahdeeq, Skanks the Rap Martyr, DJ Eclipse, John Jigg$, Mouf, Rockwelz, Nam Nitty, and Rasheed Chappell help round out what is another solid The Good People record.
Mega Ran - Live '95
"Mega Ran's 11th solo full-length album release explores the intrinsic relationship between Hip Hop, basketball, and the inner city cultures that have allowed each to thrive.
"90's hoops were just as influential as any video game or comic book I picked up," Ran says. "Now I get to give back."
Through tracks interspersed with words of wisdom from several Hall-Of-Fame-level former NBA talents and analysts, the Philadelphia-born MC weaves playful innocence with the storytelling and hopefulness that have made his fans proud over the past ten years. The album shines a light on many of the traits required to be a champion… from coaching to hard work, and even a little luck."
Live '95 is a delicious album, offering 47 minutes of dope 90s-centric Hip Hop, with slick boom-bap beats and fun rhymes.
Blak Madeen - Let The Good Get Even
Blak Madeen is a Boston-based duo consisting of lyricists Al-J and Yusuf. With Let The Good Get Even they give us 11 excellent tracks, composed of clever rhymes over dope boom-bap beats laced with vintage cuts & scratches. Produced by C-Doc (known for his work with Public Enemy), the album features guest appearances by Hip Hop icons like Chuck D, Sadat X, Tragedy Khadafi, Daddy-O, and others. Let The Good Get Even is a delectable presentation of intelligent grown-man Hip Hop, capturing a perfect throwback vibe without sounding dated.
Cult Encounters Co - AllButtonsIn
Cult Encounters Co. is a Hip Hop collective/label formed in 2015 by rappers Tylr C and $adflcko. AllButtonsIn is produced by Cult Encounters Co. producer AllButtonsIn and features guest appearances from El Da Sensei, Craig G, A-F-R-O, Chuck Strangers, K-Rino, Hypesun, Big Sharpm, and Papajayride, and guest production from Chuck Strangers and DMTree. AllButtonsIn offers 45 minutes of top-notch throwback Hip Hop, composed of dope bars and soulful boom-bap beats laced with sharp cuts & scratches. 
Kool Taj The Gr8 - From The Park Bench Era
From The Park Bench Era is the 3rd studio LP from New York emcee Kool Taj The Gr8, an album that embodies the spirit and aesthetics of 90's Hip Hop culture and music. Hip Hop traditionalists better not sleep on From The Park Bench Era.
Wildelux & Macapella - Hard Knocks
Hard Knocks is the second full-length project between Bronx-born Japan-based rapper Wildelux and Scottish producer Macapella. This album is the follow-up to their 2011 release The Masterplan. With the Certified Craftsmen LP, Wildelux (as one-half of Certified Craftsmen, a collaboration with Dutch DJ/producer Propo'88) already had one of the best 'traditional' boom-bap records of 2021. With Hard Knocks he proves once again he is a Hip Hop purist, coming with strong content and 90s-centric flows, helped this time around by atmospheric production from Macapella.
Dizzy Dustin - Where Do I Go From Here?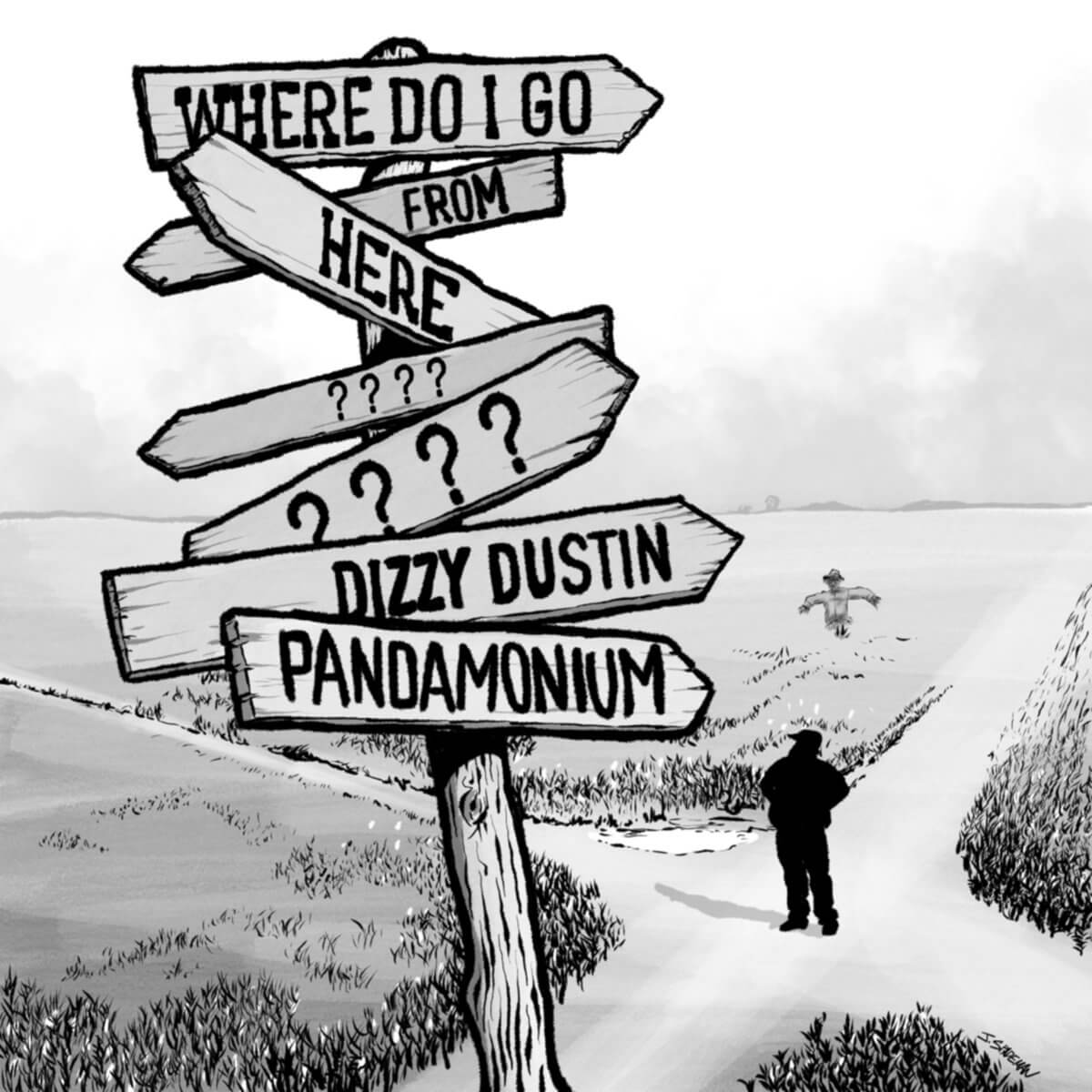 Long Beach's Dizzy Dustin is a founder and 1/3 of the group Ugly Duckling (with Young Einstein and Andy Cooper). Ugly Duckling is one of our favorite true school West Coast crews, along with acts like Jurassic 5, People Under The Stairs, and Dilated Peoples. For Where Do I Go From Here? Dizzy Dustin teamed up with producer Pandamonium to create over an hour of melodic 90s-centric boom-bap, with an excellent selection of samples, well-places cuts & scratches, and dope bars from Dizzy and guests like Masta Ace, Slaine, Rakaa Iriscience, Akil The MC, LMNO, Ryu, and Imani. Where Do I Go From Here? is our kind of album, and if you're a regular visitor of this site it's probably your kind of album too.
DJ Cosm - Natural Within
Natural Within is a charming little project from Canadian DJ Cosm. 10 dope tracks, no filler, no interludes, no skits, or any such nonsense – nothing but smooth 90s-centric boom-bap beats and great features from artists like Sadat X, El Da Sensei, Prince Po, Starvin B, Chris Orrick, Daniel Son, Skanks the Rap Martyr, Anti Lilly, (and lots of others).
Natural Within is a consistent presentation throughout, but a special mention goes out to "Frank Sisson's" a track with an infectious beat and with dope rhymes from an emcee named Belvedere Spinello, whose flow sounds like a blend of Grand Puba, Chubb Rock, and Pete Rock in their best days.
Awon & Phoniks - Nothing Less
Phoniks (from Portland, Maine) and Brooklyn-born Virginia-based rapper Awon have given us a series of superb Hip Hop projects in the 2010s, individually and collaboratively – their collaborative debut album Return To The Golden Era (2013) is a masterpiece, Knowledge Of Self (2015) and The Actual Proof (2018) are not far behind. With Nothing Less, Awon and Phoniks continue their streak of excellence.
The album is laced with Phoniks signature jazz-infused, boom-bap production style and Awon's raw, honest lyricism. Produced on vintage samplers like the gritty Emu SP-1200 and Akai MPC 2000xl the music evokes memories of classic east coast "golden era" Hip Hop. Features include Don't Sleep Records label mates Dephlow, Anti-Lilly, and Tiff The Gift, as well as Masta Ace, Blu, Ill Conscious, Kid Abstrakt, and more.
For HHGA, it doesn't get much better than this. At 33 minutes, Nothing Less is not long enough for our tastes but its short runtime is the biggest knock against the album. "Everlasting Game" (with Masta Ace and DJ Ill Digitz) is a highlight, along with tracks such as "Sunshine" (with Blu), "The Cool Out" (with Kid Abstrakt), and "Fatherhood" – a song that will especially resonate with parents of (pre)teens.
Don't sleep on Awon and Phoniks and go cop Nothing Less, and also check their earlier music if you missed out on it up to now for some reason.
Kev Brown & J Scienide - Stray From The Pack
Stray From The Pack is a nice collaborative effort from Kev Brown and J Scienide, following the equally solid Drum Machine Tape Cassette (2019). Stray From The Pack is tailormade for the HHGA demographic: dope beats, dope rhymes, and dope cuts by DJ Jon Doe – everything about this project has that golden era vibe, down to the cover art even. This is a great little project, biggest complaint is a common one these days: at barely 30 minutes Stray From The Pack just is too short.
Al-J & Kane Major - Blak To The Old School
Al-J of Blak Madeen and producer Kane Major revisit our favorite period in Hip Hop with their collaborative Blak To The Old School album. One of our favorite albums released last year was Jorun Bombay and Phill Most Chill's Jorun PMC, the absolute best Golden Age revivalist boom-bap record of 2020. Blak To The Old School is an album in the same vein, one of the best projects of this particular branch of Hip Hop released in 2021. Just like Jorun PMC, Blak To The Old School doesn't simply sound like it was inspired by 80s Hip Hop, it's almost like it time-traveled from the 1980s straight to this day and age. The sound is crisp and fresh for 2021 but entirely built on samples and influences from the classic era, and the rhymes are perfect for Kane Major's production. As far as throwback Hip Hop is concerned, it doesn't get any better than this – Blak To The Old School is GOLD, one of the best albums on this list.