On this list, you will find 25 excellent Hip Hop albums coming from the UK this year, taken from our lists with The Best Hip Hop Albums Of 2021 and Best Hip Hop Albums Of 2021 – The Honorable Mentions (January – June, and July – December).
Let's get into it, in no particular order (although the absolute best album of the year closes out this piece): the 25 best UK Hip Hop albums of 2021. Which is your favorite album from this selection? Are there albums missing that should have been mentioned here? Share your thoughts in the comments!
Dave - We're All Alone In This Together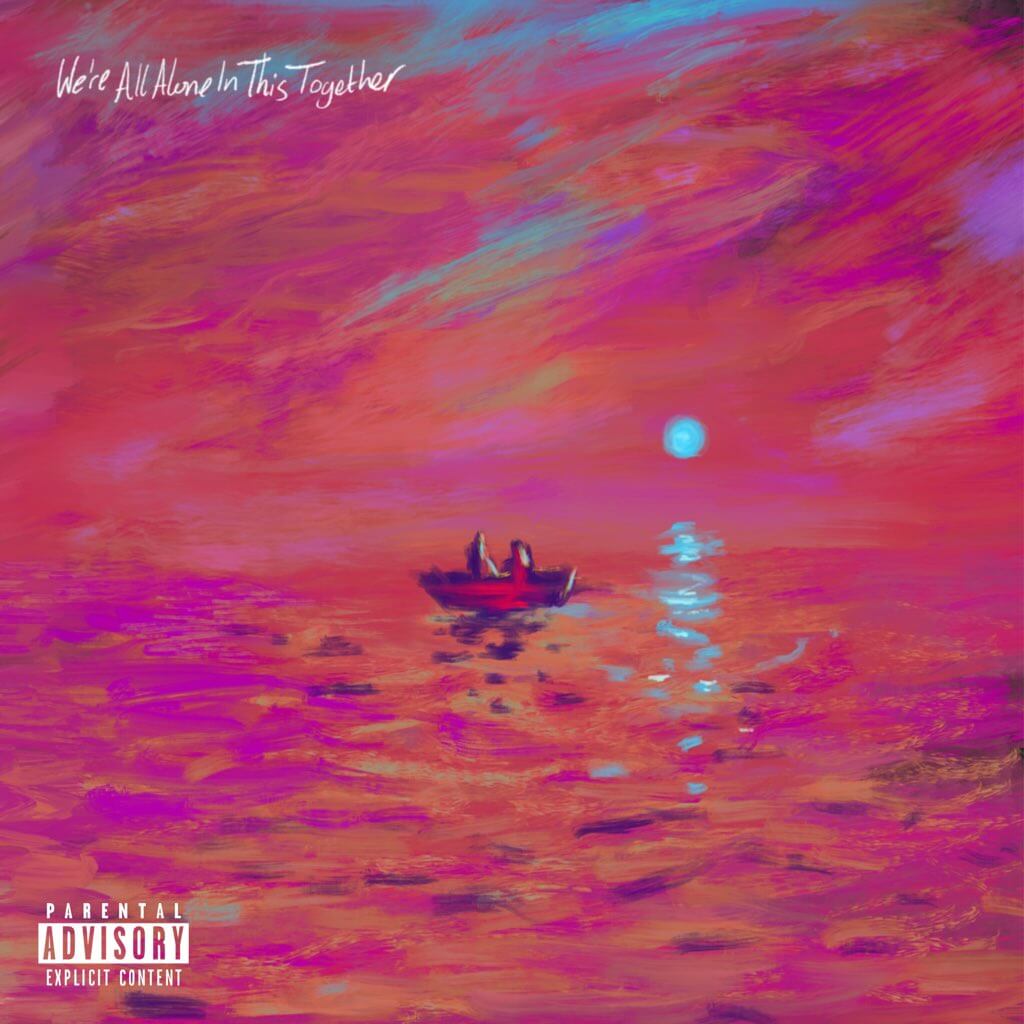 We're All Alone In This Together is British rapper Dave's sophomore effort, the follow-up to the excellent PSYCHODRAMA (2019). Like he did on PSYCHODRAMA, on this new album Dave eloquently explores issues like relationships, identity, immigration, racial injustices, and life in general. The centerpiece on PSYCHODRAMA was "Lesley" (a gripping 11-minute tour-de-force that depicts an abusive relationship and its shattering fallout in harrowing detail), the stand-out on We're All Alone In This Together is "Heart Attack" – another 10-minute masterpiece in which Dave gets raw and deep in a way few are able to.
"We're All Alone", "Both Sides Of A Smile" (with great guest vocals from James Blake), "Verdansk", "Three Rivers", "In The Fire", and "Survivor's Guilt" are other highlights – somber-sounding piano-laced songs that showcase Dave's songwriting talent and his ability to deliver unsparing social commentary with vivid imagery. Even a couple of more radio-friendly Afrobeat cuts like "System", "Lazarus", and "Law Of Attraction" work in the context of the album – these tracks (and a couple of others more lighthearted ones) do not distract, but rather provide some necessary levity from the deeper tracks on an hour-long tracklist.
Following up on a debut as iconic as PSYCHODRAMA is hard to do, but with We're All Alone In This Together Dave nailed it. Because Dave's bars are kind of heavy on life in the UK (so they may go over the heads of some non-British listeners) it remains to be seen if Dave will earn much international recognition with this album. He deserves it though – where PSYCHODRAMA tentatively established his name outside of the UK, We're All Alone In This Together is a confirmation that should further cement Dave as a bonafide generational talent.
Lewis Parker - Frequency Of Perception
Lewis Parker is a London-born veteran producer/emcee – a self-proclaimed Hip Hop craftsman, and 'the deadliest man with an SP'. Those familiar with Lewis Parker's work will know this to be true – all his music oozes pure dedication to Hip Hop. Frequency Of Perception is one of his best projects yet, a fully realized album with over an hour of excellent music – with beats AND rhymes from Lewis Parker himself (and with contributions from artists Eloh Kush, John Robinson, Planet Asia, Lil Dap, Eastkoast, Enny Integrity, Killa Sha, Zu, Ric Branson, and T.R.A.C.).
Frequency Of Perception is a presentation of stylistic 90s-centric Hip Hop, with tasteful boom-bap beats and relatable rhymes. Musical and classy – Frequency Of Perception is grown-up Hip Hop of the highest order, one of the finest albums you'll hear this year.
Creatures Of Habit - Parasites Paradise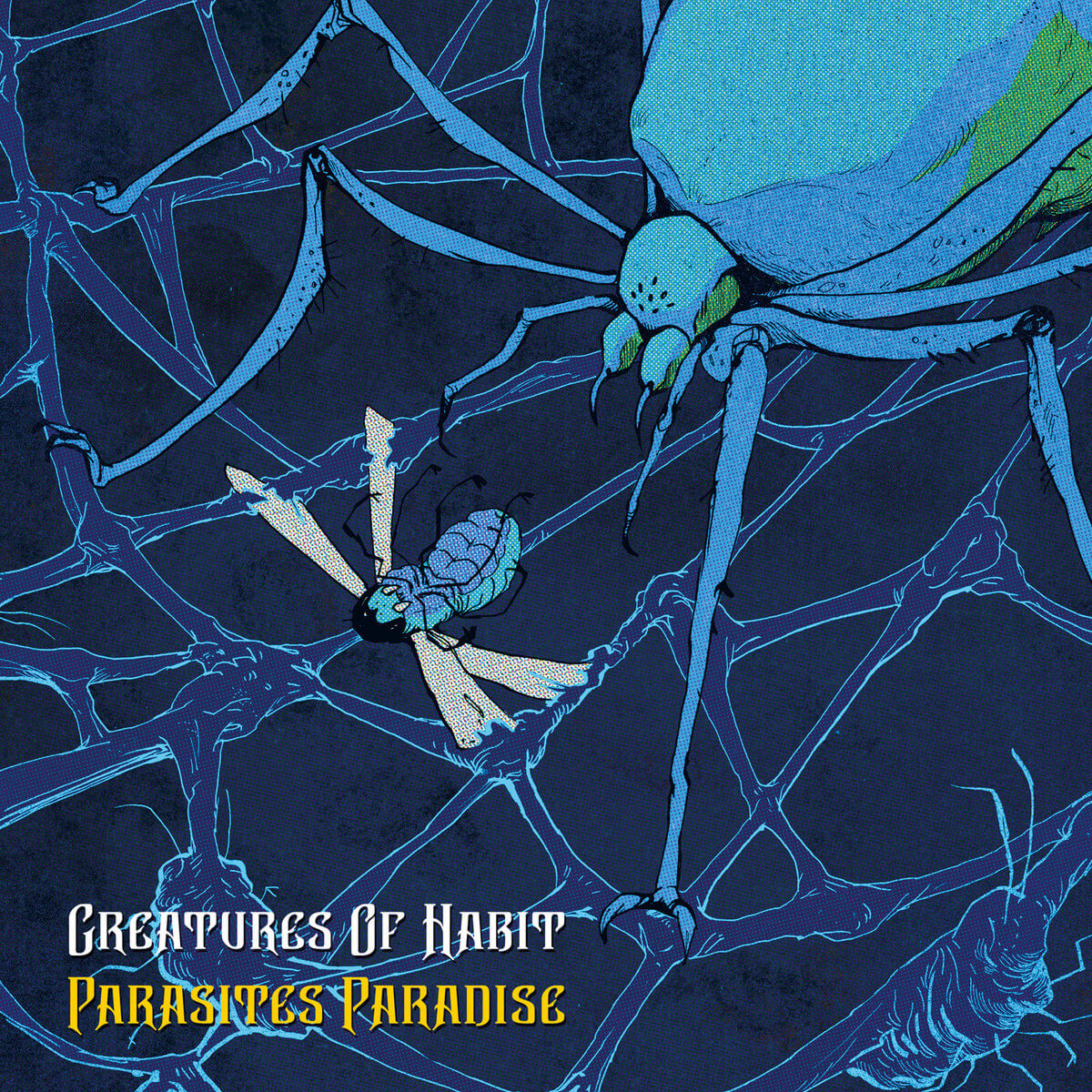 Parasites Paradise is a 14-track album from Creatures Of Habit, a trio consisting of Eric the Red, Sean Peng, Illinformed. The album is entirely produced by Illinformed and features BVA, Datkid, DJ Kopfschuss, Jack Jetson, Leaf Dog & Pertrelli. Lots of quality Hip Hop coming out of the UK these days, Parasites Paradise is no exception. Fresh 90s-centric boom-bap beats and entertaining wordplay – this album is a must for Hip Hop traditionalists.
slowthai - TYRON
Lots of hype surrounded this release from slowthai. Expectations for his sophomore effort were high after the impression slowthai made with his debut full-length album Nothing Great About Britain. Nothing Great About Britain was a socio-politically charged and at times emotional snapshot of Britain in 2018/2019, capturing the mental state of a fractured nation from the perspective of an angry and embittered young adult. With his debut slowthai established himself as an exciting new voice in UK Hip Hop – with a brash punk attitude but with plenty of charisma and charm as well.
TYRON (slowthai's real name is Tyron Frampton) is something very different. TYRON is an album of two halves: the first half with up-tempo bangers, the second half with more personal, musically toned-down songs. It's obvious that with this album slowthai tries to capitalize on the overseas popularity of Nothing Great About Britain, by adopting a more "American" sound with some trap-infused instrumentals to appeal to the mainstream. This is not a trap album though, slowthai's grime-punk-rap voice is too unique to sink into a bland trap-hole, and his emotive lyrical content is far from generic.
Despite the two different halves, TYRON is an entirely cohesive listen – it has exactly the right amount of brash and chill, the transition from the first to the second half is smooth, and production is top-drawer for the most part. At 35 minutes the album is too short for the tonal duality to really come off though (the album is over before you know it), and some of the featured artists don't bring their A-game (most notably Denzel Curry on 'terms" has an uncharacteristically limp appearance). There's also the feeling of unfulfilled potential because of the brevity of a lot of tracks (most are around the 2-minute mark), most notably in "WOT" – what could have been a banger of a track, but turns out to be more like a 48-second interlude – too short to have an impact. Other guests like Skepta, A$AP Rocky, and James Blake do deliver with their contributions, on "CANCELLED", "MAZZA",  and "feel away" – some of the stronger tracks on TYRON.
All in all, even if it's not quite as impactful as Nothing Great About Britain was, TYRON is a strong sophomore outing for slowthai. Because it's straddling genre-fences here and there, the album may not appeal to Hip Hop purists – but there is no denying slowthai is a unique talent whose ability to convey thoughts with his voice and lyrics is second to none. With Nothing Great About Britain slowthai stepped into the international spotlight, with this compelling second album he proves he plans to stay there.
BVA - Lex Neville
Lex Neville is a 16 track album by Four Owls emcee BVA, produced by Leaf Dog and Illinformed with guest verses from Datkid, Jack Jetson, King Kashmere, Leaf Dog, Smellington Piff, and Verb T, and with cuts by Jazz T. Anyone familiar with the artists involved will know to expect a serving of 90s-centric boom-bap of the highest quality. Lex Neville doesn't disappoint – this is a great album with atmospheric production and killer bars, a must for traditional boom-bap fans.
Tesla's Ghost - Amahl Farouk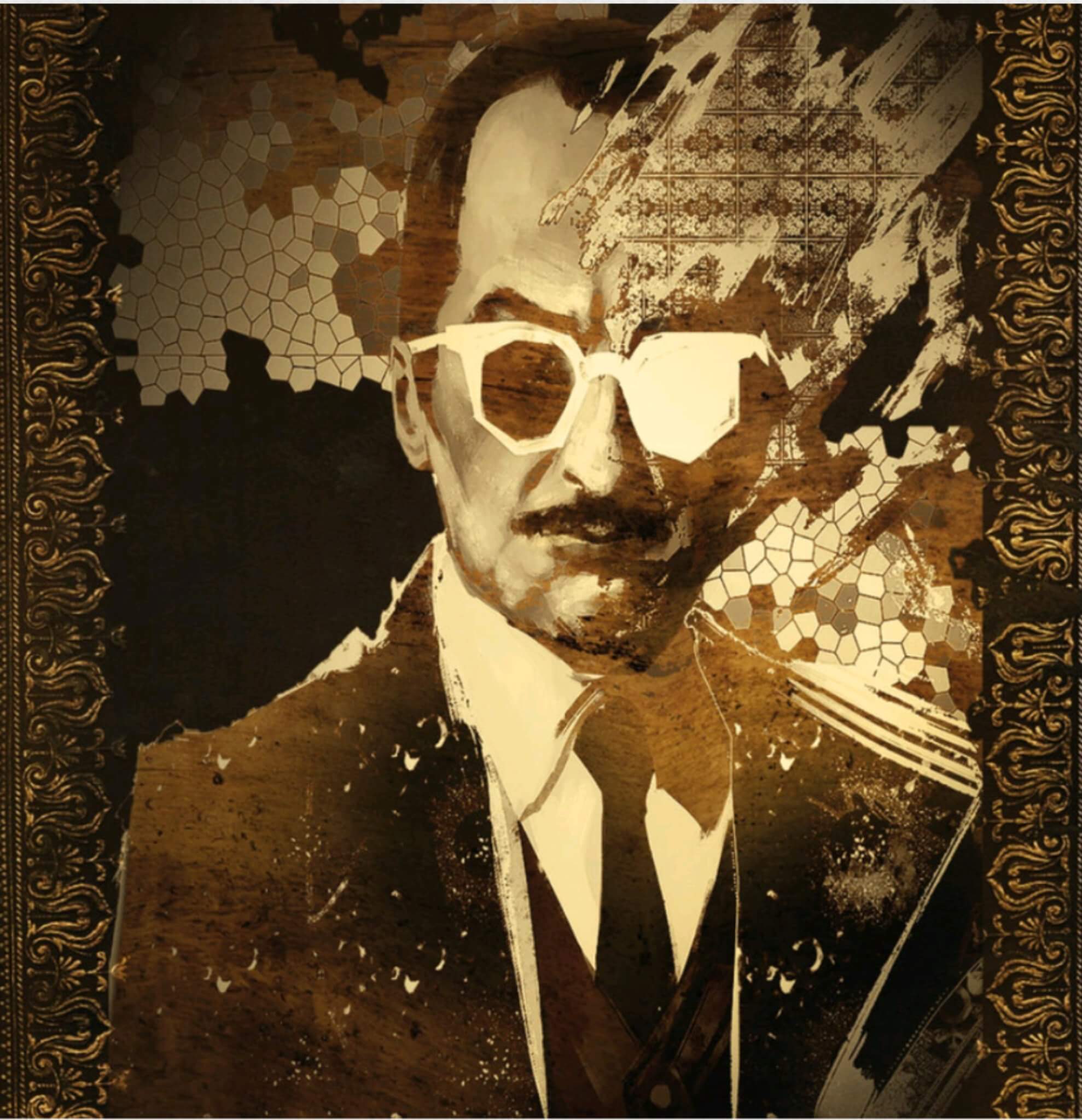 Tesla's Ghost is an emcee from London. He has adopted the sound and style of grimy underground NYC street rap in the vein of Griselda and Roc Marci, and he does it well. Dusty beats and samples set the scene, serving as a fitting backdrop for Tesla's Ghost's well-written rhymes. "Opioid" ft. Lord Juco, Ray Vendetta, and Falcon Outlaw is the standout song, but Amahl Farouk is a consistent effort with no weak spots – don't sleep on this project if that Griselda sound is your thing.
Juga-Naut & Giallo Point - Smoke Filled Room
Smoke Filled Room is British duo Juga-Naut & Giallo Point's second collaborative album. The title of the album comes from seeing the music world as a smoke-filled room, during a time of crisis in 2020/2021 the smoke cleared, the veil drops, and most things are not what they appear to be on the shallow and fragile surface. The title track also pays homage to the Jazz greats of the Blue Note era. Jugz & Giallo have truly gelled, the production and rhymes are like water, and the landscape walked throughout the album is vast and very different with every track. Hard beats and bars, catchy choruses, and intricate wordplay that is introspective, critical, funny, braggadocio, and studded with social and cultural commentary.
Verb T & Illinformed - Stranded In Foggy Times
Stranded In Foggy Times is Four Owls emcee Verb T and producer Illinformed third collaborative LP, following their 2015 album The Man With The Foggy Eyes and last year's The Land With The Foggy Skies.
Like its predecessor, Stranded In Foggy Times is a long album with 19 tracks and a running time of a full hour, but also like its predecessor it doesn't overstay its welcome anywhere. Illinformed's jazzy instrumentals manage to hold attention throughout while they serve as atmospherical backdrops for Verb T's entertaining lyrics, along with those of guests like King Kashmere, BVA, Rye Shabby, Jack Jetson, Leaf Dog, Datkid, Moreone, Res One, DJ Rogue, Smellington Piff, Chillman, and Eric the Red. Stranded In Foggy Times is one of the many excellent Hip Hop albums to come out of the UK this year.
Release date: December 9, 2021.
Lee Scott & Hyroglifics - [gate clicks shut]
For [gate clicks shut] British rapper Lee Scott teamed up with drum-n-bass producer Hyroglific, together they have forged an album that sounds like it could have been stashed away in the vault of some semi-obscure New York underground rap label circa 1998, only to surface now. This is a pretty great album, one you will not regret checking out.
Hobgoblin - The Awakening
British beat-crafter Hobgoblin's The Awaking is one of the finest producer's albums of the year. The Awaking offers 10 equally strong tracks composed of deliciously dark bass-heavy boom-bap beats, with a host of top-tier underground emcees to take care of the vocals. The Awaking = raw underground Hip Hop at its finest.
Zcience Division & Mike Titan - Applied Precision
Most of the best 90s-centric boom-bap production these days is done by non-US artists, Applied Precision is one of the many examples to prove that point. Zcience Division (DJ Zino and Roley Omega) is a duo from London England, and for Applied Precision they crafted 14 tracks composed of dope beats, creative sampling, and fresh cuts & scratches. For Applied Precision DJ Zino and Roley Omega joined forces with Bronx emcee Mike Titan, whose smooth flow adds to the throwback flavor this project exudes.
Figure of Speech - Figure of Speech?
Figure Of Speech is a Manchester raised, Bristol-based emcee/poet. Read the blurb with Figure Of Speech's own words about Figure Of Speech?:
"This is an anti-racist album. I started writing it in 2020. It was after I performed one of my poems in reaction to George Floyd's murder. Motivated by this, Boca 45 and I collaborated, giving voice to my personal experiences and views on racism in Britain and further afield. Fast forward to the completion in 2021, and the saga continues. Further exacerbated by number 10 and its 'politricks', people are in denial racism exists. Contrary to this, I am called *oon' on the (so say) liberal streets of Bristol, people standing up for their basic rights are condemned for playing 'gesture politics' and structural racism persists (globally)."
This is an album for the times we live in, with Figure of Speech's powerful and thought-provoking lyrics set to some idiosyncratic but excellent beats. Figure Of Speech? is one of the most important and best Hip Hop albums released in the UK this year.
Messiah Key - Belief
Messiah Key is a four-piece alt Hip Hop band from Brighton and Nottingham England UK. Belief is Messiah Key's first album, written and recorded separately during the Covid pandemic. Belief is a great piece of music that holds a lot of promise for future Messiah Key projects – go check this one out if you're up for something new and different you would otherwise miss out on.
Ramson Badbonez - Lead By Example
Ramson Badbonez is a long-time fixture in British underground Hip Hop, with a bunch of solid projects on his name. For Lead By Example, he put down the microphone for the production booth for the first time – to take care of the vocals he recruited a host of rappers from both sides of the Atlantic – names like Ruste Juxx, Blacastan, Moka Only, Dizzy Dustin, Recognize Ali, and Skyzoo most prominent among them. As is common these days, the best 90s-centric boom-bap comes from the UK, Lead By Example is just one of the exponents of that trend. Dope beats and bars, plus some sharp cuts and scratches – this is a GREAT project.
Configa & DJ Views - The Year After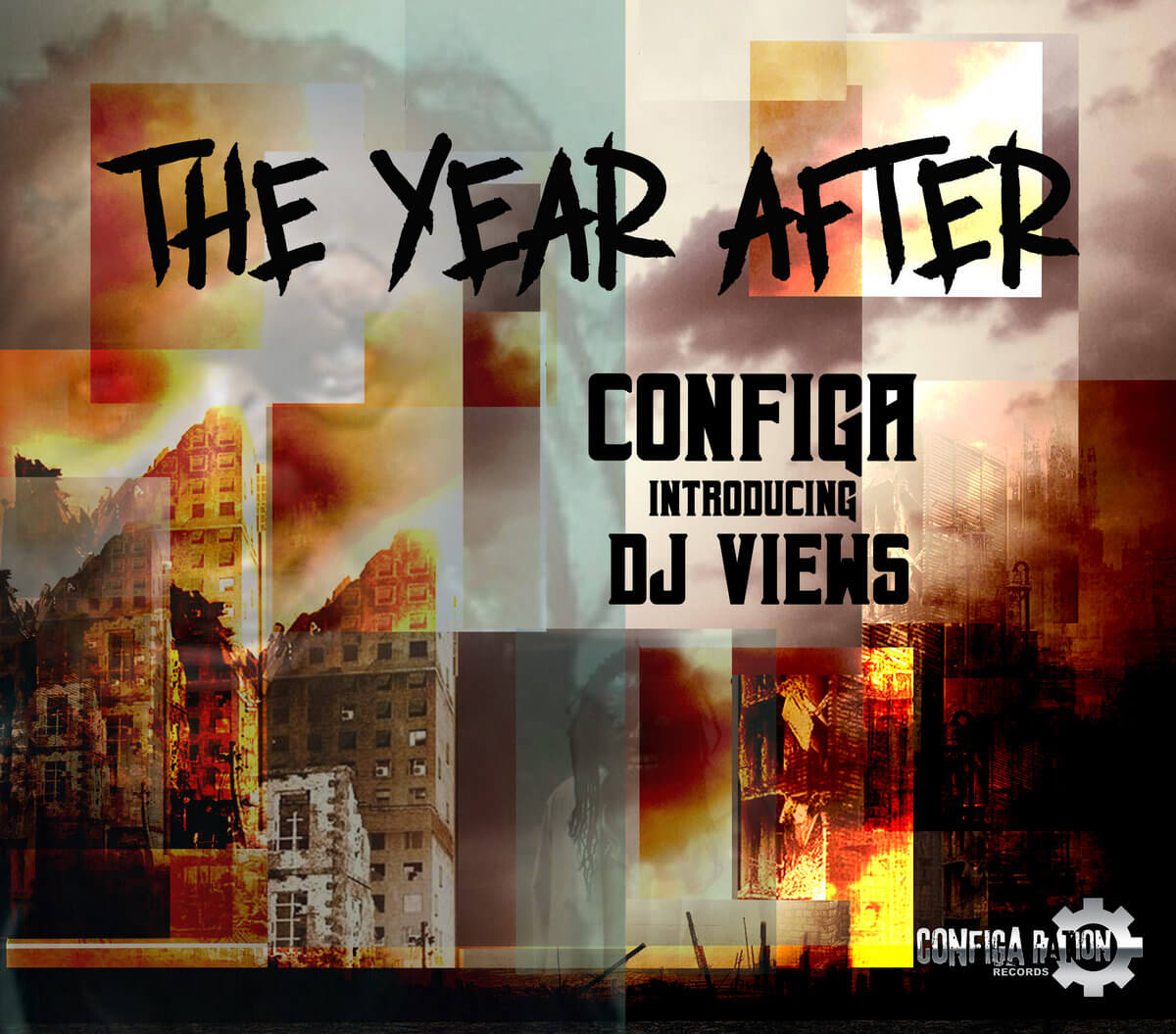 British producer Configa knows what he is doing. He was responsible for the beats on two of 2020's best Hip Hop albums – Arrested Development's Don't Fight Your Demons and his Forward Future collaboration with Jahi – and in 2021 he continues his winning streak with The Year After.
For The Year After Configa teamed up with DJ Views (each producing 6 of the 12 tracks on the album), and they recruited a busload of top-caliber emcees to take care of the vocals on what is one of the best 90s-centric boom-bap projects of the year. Ras Kass, Speech (of Arrested Development), Chino XL, Craig G, Pacewon, Akrobatik, Ruste Juxx, Planet Asia, Nine, El Da Sensei, Termanology, and Solemn Brigham make appearances – among others. "Mic Domination", "Galactic Rap", "Funeral March" (with epic bars from the unbeatable Chino XL), "Different Timezones", and "Word Science" are highlights, but The Year After is an entirely consistent presentation. Banging boom-bap beats, sharp cuts & scratches, and lyrical fire – with The Year After Configa and DJ Views knocked it out of the park.
Wishmaster & Illinformed - Cold Harbour Tales
Producer Illinformed can always be relied on to come up with dope boom-bap beats, and Cold Harbour Tales from Bristol rapper Wishmaster he delivers as always. These instrumentals bang and the lyrical content from Wishmaster and guests like Leaf Dog, BVA, Smellington Piff, Verb T, and Datkid (among many others) is solid as f too.
Da Flyy Hooligan & Teslas Ghost - Flyyghost
Flyyghost = British underground Hip Hop at its finest. Beautiful haunting beats crafted by Teslas Ghost, and dope bars from Da Flyy Hooligan.
Rick Fury - Return Of The King
Rick Fury is a veteran emcee from Newcastle, UK. Return Of The King is a solid album, offering over an hour of fun wordplay supported by smooth and soulful boom-bap beats. All aesthetics matter and the awesome cover art for Return Of The King adds to the album's appeal. Favorite track: "How To Deal With A Liar", with guest vocals from Abi Nyxx – a female rapper to watch.
Datkid & Skinzmann - Sleepless In Pinhoe
Sleepless In Pinhoe is an excellent collaborative album from prolific underground emcee Datkid and producer Skinzmann. Solid content and a varied platter of boom-bap and grime-like beats – this is a strong album, one of the many to come out of the UK underground this year.
Montener The Menace - Anyone Home?
Anyone Home? is the follow-up to Montener The Menace's I Have A Hidden Hobby (2020) and is comprised of 14 strong tracks featuring an ensemble of legendary figures from both the US and UK Hip Hop scenes with appearances by Masta Ace, Rah Digga, Craig G, Keith Murray, Edo. G, Micall Parknsun, Cracker John, AG, and Guilty Simpson, among others. Production is handled by such heavyweights as Domingo, Roccwell, Keynotez and all cuts are provided by the unbeatable JabbaThaKut.
With Anyone Home? Montener improves on the messy I Have A Hidden Hobby by toning down on the features and being more consistent musically. Also, Montener's lyricism is more focused here – he demonstrates great diversity throughout by touching on some difficult subjects such as suicide, mental health, and parenthood not forgetting his more traditional upbeat content. Fans of traditional sounding Hip Hop will want to pick up Anyone Home?.
Jazz Spastiks - Camera Of Sound
Jazz Spastiks never disappoint. This collective of producers and DJs from the UK has been responsible for plenty of dope music over the years, and Camera Of Sound is yet another excellent addition to their body of work. For Camera Of Sound, Jazz Spastiks recruited Artifacts, Count Bass D, DJ Pocket, C-Rayz-Walz, Kool Keith, Craig G, Phill Most Chill (who had one of our favorite throwback projects last year), The Procussions, Soundsci, and Wee Bee Foolish (Yeshua DaPoEd and Ken Boogaloo) – all artists perfectly in tune with Jazz Spastiks' characteristic upbeat throwback sound.
Most likely Camera Of Sound will not turn up in any other Hip Hop outlet's best-of-2021 lists (most of them will end up lazily listing the highest-profile releases as the year's best, as they always do), but for us albums like this one represent Hip Hop in its truest form, and we applaud and celebrate Jazz Spastiks for it.
Across 18 tracks, Camera Of Sound offers close to 45 minutes of buoyant jazz-flavored boom-bap beats, complemented by artisanal cuts & scratches and dope wordplay by masters of the craft. When it comes to fresh throwback Hip Hop, it doesn't get much better than this.
Cult Of The Damned - The Church Of
The Cult Of The Damned's is a British collective consisting of Barebase, Bill Shakes, Bisk, Black Josh, King Grubb, Lee Scott, Milkavelli, Salar, Sleazy F Baby, and Stinkin Slumrok. The Church Of is their second full-length album, and it features appearances from CLBRKS, Danny Lover, Bang On!, and is produced by Lee Scott, Sniff, Jack Chard, and Bisk. The Church Of is one of the many dope Hip Hop records to emerge from the UK underground this year.
SCARLXRD - DXXM II
Ok – sticking a 'Hip Hop' label to this SCARLXRD album is a stretch: DXXM II straddles so many genre fences it's impossible to categorize really. Trap metal, industrial Hip Hop, punk-rap – it all fits. Abrasive, edgy, and inaccessible – this is an album for a select audience. We're not mad at you if you don't, but we happen to like it. These rock-hard beats are fire, and SCARLXRD's frenetic screaming fits the sonic backdrops. Not an album to chill out and relax to, but one to have on your headphones while working out. DXXM II slaps.
Ghetts - Conflict Of Interest
The most mainstream-friendly album on this list is kind of a mixed bag, but the positives far outweigh the negatives. The album is overlong at 70 minutes (there's a ruthless 45-minute album in here), and it could have done with more grime bangers and fewer poppy tracks (the inevitable Ed Sheeran feature particularly annoys), but overall Conflict Of Interest is a solid album. Production is tight, and Ghetts' vivid lyricism and dope flow show him at his very best.
Little Simz – Sometimes I Might Be Introvert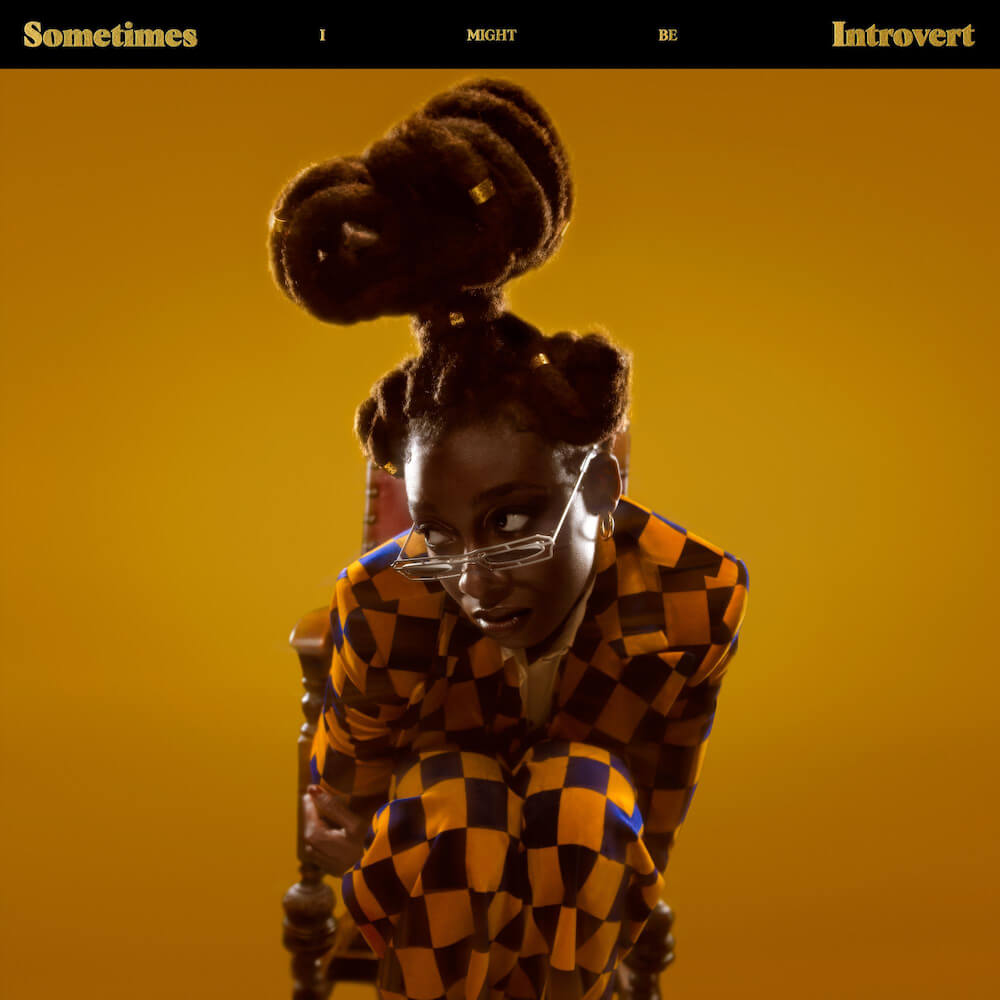 British-Nigerian emcee Little Simz had one of our favorite albums released in 2019 with the punchy GREY AREA – her third LP and international breakthrough project. Now she's back with her fourth full-length studio album: Sometimes I Might Be Introvert.
Sometimes I Might Be Introvert is an astounding album, absolutely Little Simz's magnum opus. It's an album to listen to over and over again, an album that will easily survive today's short hype circles, an album people will have on rotation for years and years to come. With a runtime of 65 minutes Sometimes I Might Be Introvert is not a second too long – Little Simz effortlessly manages to captivate from start to finish with her superior flow and personable lyricism, dealing with topics such as race, womanhood, self-esteem, and family.
The album's 19 tracks are sequenced perfectly – picking "Introvert" as the album opener was cleverly done, as it sets the whole thematic and philosophical scene of what Little Simz set out to do with this record. Production on Sometimes I Might Be Introvert is virtually flawless – straddling numerous genres from hard-hitting Hip Hop to R&B-and neo-soul, to Afro-beat and even synth-funk, going from orchestral and bombastic to smooth and laid-back seamlessly. So many different influences crammed into one record resulting in an entirely cohesive package: this is an album unlike any other.
"Introvert", "Woman", "Little Q, Pt 2", "Two Worlds Apart", "Speed", "Standing Ovation", "I See You", "Rollin Stone", "Point and Kill", "How Did You Get Here", "Miss Understood", and especially the symphonic "I Love You I Hate You" – nothing but stand-outs on Sometimes I Might Be Introvert. Even the interludes work and add value to the album, which is unusual.
Sometimes I Might Be Introvert echoes Lauryn Hill's masterpiece The Miseducation Of Lauryn Hill (1998) in ambition, scope, musicality, and timelessness – there can be no higher praise. This is a phenomenal album, the kind of album you will want to replay the moment you finish it. Sometimes I Might Be Introvert is one of the better Hip Hop albums released in the last five years, a future classic without a doubt.