April 2022 Round-Up: The 9 Best Hip Hop Albums Of The Month: For this piece, we selected our 9 favorite Hip Hop albums released this April. Did we miss any albums you feel need to be mentioned? Let us know in the comments!
Also read: The Best Hip Hop Albums Of 2022
1. billy woods - Aethiopes
billy woods is a rapper who defies easy categorization; he was born in the U.S. but spent much of his childhood in Africa and the West Indies. On the mic, woods is no less of a conundrum, possessed of versatile flows and an ability to not only tackle topics other artists wouldn't dream of, but also to bring unique perspectives to the familiar ones. 
billy woods' earlier albums – solo and as a member of Super Chron Flight Brothers – are all strong enough, but the next level was reached when woods struck out on his own after the now-defunct Super Chron Flight Brothers with 2012's audacious mission statement, History Will Absolve Me. An album two years in the making, History… was a molotov cocktail of sarcastic fury, with production to match its uncompromising vision.
History Will Absolve Me was the first in an incredible run of top-quality left-field Hip Hop albums. History Will Absolve Me (2012), Dour Candy (2013), Today, I Wrote Nothing (2015), Known Unknowns (2017), Hiding Places (with Kenny Segal, 2019) and Terror Management (2019) are all about as good as it gets. Together with the projects he dropped as Armand Hammer (a collaboration with rapper/producer Elucid) – Race Music (2013), Rome (2017), Paraffin (2018), that's nine straight top-tier projects released in the 2010s. billy woods continued his run of excellence in the 2020s, with BRASS (2020), a collaboration with experimental musician and poet Moor Mother, and two more strong Armand Hammer albums – Shrines (2020) and Haram (2021).
Aethiopes is up there with billy woods' best albums, on par with History Will Absolve Me, and arguably even better than Known Unknowns, Hiding Places, and Haram –  all albums that were among the best 5 albums of the years in which they were released. Aethiopes is fully produced by Preservation, who delivered a suite of tracks on Terror Management and the two collaborated again on Preservation's 2020's LP Eastern Medicine, Western Illness.
Preservation's dense and eerie production on Aethiopes is phenomenal, and billy woods' pen game feels like it's hit another peak. As always, it will take multiple listen to digest and be able to fathom his deep semi-abstract bars – but by now it's undeniable: woods is one of Hip Hop's greatest poets, along with Brownville's Ka, to name one of the few who can play in billy woods' league. Elucid, Boldy James, Quelle Chris, Denmark Vessey, Breeze Brewin, and El-P (among others) make appearances to add some extra flavor, but Aethiopes very much is billy woods' own show. He's as good here as he ever was, and his forward-thinking content is amplified extra by Preservation's unique and flawless instrumentals. To top it off, sequencing and transitioning on Aethiopes is perfectly done too. Thirteen tracks, and not a weak one among them – Aethiopes is 2022's first AOTY-contender.
Release date: April 8, 2022.
2. Sadistik & Kno - Bring Me Back When The World Is Cured
We've never really connected with Sadistik's 'emo raps' before, but this album is something else. On Bring Me Back When The World Is Cured Sadistik paints dark and beautiful pictures with his rhymes – his moody words and flows are truly touching here and more than on any of his earlier albums the emotional impact of his content is amplified by the strength of the production. Kno is one of the best producers out there and has been for well over a decade – his work as one-third of CunninLynguists (especially on A Piece Of Strange (2006), Oneirology (2011), and Rose Azura Njano (2017) is superb, and the instrumentals he crafted for his solo masterpiece Death Is Silent (2010) are next-level too. He is a true master of creating atmospheric soundscapes – music you FEEL – and the hauntingly beautiful beats he crafted to bring the best out of Sadistik on Bring Me Back When The World Is Cured are simply gorgeous. Powerful stuff – not for everybody probably but one of our favorite albums of the year anyway.
Release date: April 1, 2022.
3. Dälek - Precipice
"Forged in the fires of the East Coast underground music scene in the 90s, experimental Hip Hop pioneers, Union City, NJ-based duo Dälek has spent decades carving out a unique niche fusing hardcore Hip Hop, noise, and a radical approach to sound. Their brutal sonic temperament pushes rap music's capacity for noise and protest to some exhilarating conclusions. For their latest and eighth album, Precipice, Dälek unleashes a work that is practically bristling with fury and power. Predominantly the work of the core duo, Will Brooks, aka MC Dälek and Mike Manteca (Mike Mare), Precipice features a guest appearance of Adam Jones of Tool."
From Filthy Tongue Of Gods And Griots (2002) and the masterful Absence (2005) are Dälek's best albums, iconic records in the industrial Hip Hop subgenre. Precipe is not as memorable as these two classics are, but it is a strong album nonetheless. Boom bap-driven beats backed up by an unsettling ambient droning create an overall dark and dreary atmosphere, further exacerbated by MC Dälek's thought-provoking semi-abstract lyrics. Precipe is a slow-burner of an album, a fitting document for the chaotic and uncertain times we are currently living in.
Release date: April 29, 2022.
4. The Waxidermist - Tribe
"Attracted by a mysterious force that prompts him to leave his studio den, the Waxidermist embarks on a mystical quest, a Hip Hop adventure on the screen of which funk and soul collide, sampling and live. Against the backdrop of an Asian fresco, he traces a musical journey that draws in its wake long-time friends and new crusaders along the way." 
The Waxidermist is a producer and bass player from Paris, and his Tribe is a great record filled with gorgeous soundscapes built on an organic blend of boom-bap stylings and live instrumentation. Cello, guitar, percussion, keyboard, flute, and live bass sounds are incorporated seamlessly with sharp turntable work – making for a musically rich album that's Hip Hop to the core at the same time. The Asian-themed concept doesn't really come off, but it doesn't matter – this album is an all-around fun and entertaining experience anyway. Relative unknowns Starrlight, RacecaR, DistantStarr, Elodie Rama, Ta-Ti, and Bibi Tanga take care of the vocals, all their performances synergetic and on par with Waxidermist's instrumentals. Tribe's cover art is pretty awesome too – this project is the total package.
Release date: April 8, 2022.
5. Guillotine Crowns - Hills To Die On
Hills To Die On is the sophomore album from New York emcee/producer Uncommon Nasa and Chicago emcee Short Fuze, who have been regular collaborators over the years before formally teaming up as Guillotine Crowns in 2020. With dense left-field production and hard-hitting bars, this is an album that is perfectly suited for the rough years we are living through right now.
Release date: April 29, 2022.
6. Killah Priest - Horrah Scope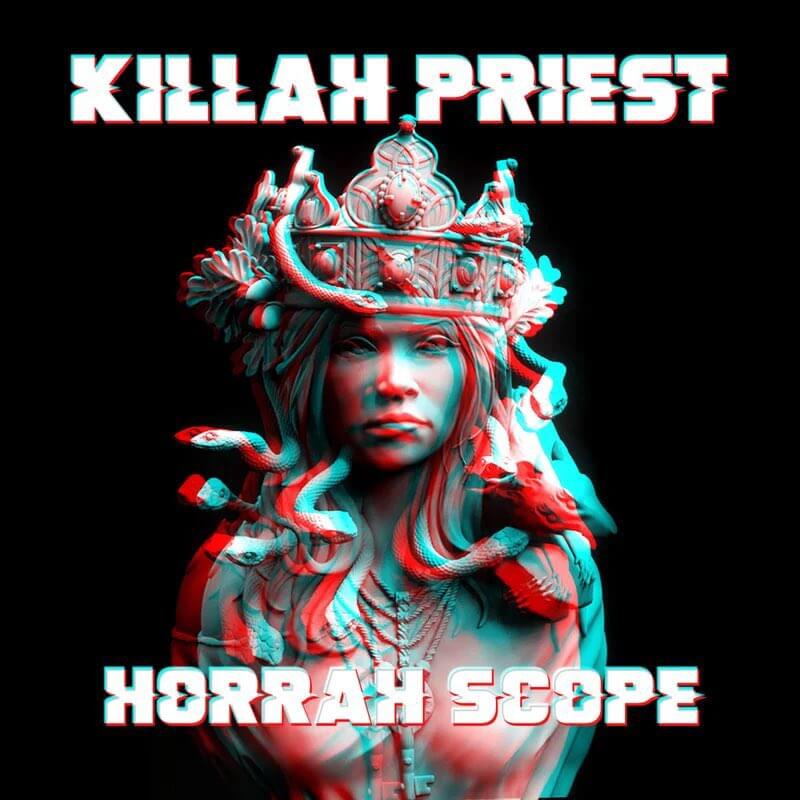 It's hard to keep up with Killah Priest's release schedule in the 2020s – Horrah Scope is his second project of 2022, following on the heels of Savage Sanctuary, a collaboration with The Holocaust. Savage Sanctuary is the only mediocre KP release in recent times, Rocket To Nebula (2020), The Third Eye In Technicolor (2020), Lord Sun Heavy Mental 1.1 (2021), Summer End Cafe (2021), and The Mantra (2021) all are quite excellent. Horrah Scope is a great piece of music too. Experimental and idiosyncratic – this is one for people who loved Rocket To Nebula, Lord Sun Heavy Mental, and Summer End Cafe – the album is largely drumless, the left-field instrumentals laced with obscure samples and Priest's stream-of-consciousness type bars. Killah Priest is an acquired taste even at his most accessible, and Horrah Scope is one of his least accessible works – so not for Killah Priest noobs probably. We are KP fans, so we think Horrah Scope is dope as f.
Release date: April 30, 2022.
7. Linqua Franqa - Bellringer
"In linguistics, "lingua franca" is a term for a language used to communicate across cultures. For instance, the lingua franca of the Internet is typically English; in post-colonial Africa, French is often the lingua franca. For Athens, Georgia-based rapper, linguist, activist, parent, and politician Mariah Parker (they/them), aka Linqua Franqa, music is the tool they use to communicate – and educate – across cultural boundaries. Parker is a linqua franqa for the people.
Weaving a rich tapestry of Hip Hop lyricism and neo-soul hooks, Parker imbues every song with a sense of urgency and keen social consciousness. This is particularly evident on the forthcoming sophomore album Bellringer, produced by Parker, Reindeer Games, and Joel Hatstat and featuring guest spots from Jeff Rosenstock, Of Montreal, Kishi Bashi, Dope KNife, Wesdaruler, and Angela Davis. On Bellringer, Parker does not hold back, touching on issues like police brutality, social media addiction, mental health, anti-capitalism, and labor organizing, among other topics, ripped from the headlines."
Bellringer is a unique album by a unique artist. The mix of experimental Hip Hop, neo-soul, and indie-pop is unlike anything else you'll hear this year. We gravitate more to the Hip Hop side of the sounds on this LP, and if the whole album would have maintained the standard by the first five songs, we would have considered Bellringer an AOTY contender. But even with a couple of songs in the middle of the tracklist that are not for us, the overall Bellringer experience is pretty awesome. Linqua Franqa's diverse vocal abilities and the range of the subject matter – from views on social inequalities and public policies to personal struggles to straight-up sh*ttalking – make for an album that deserves all the attention it can get.
Release date: April 22, 2022.
8. CZARFACE - Czarmageddon!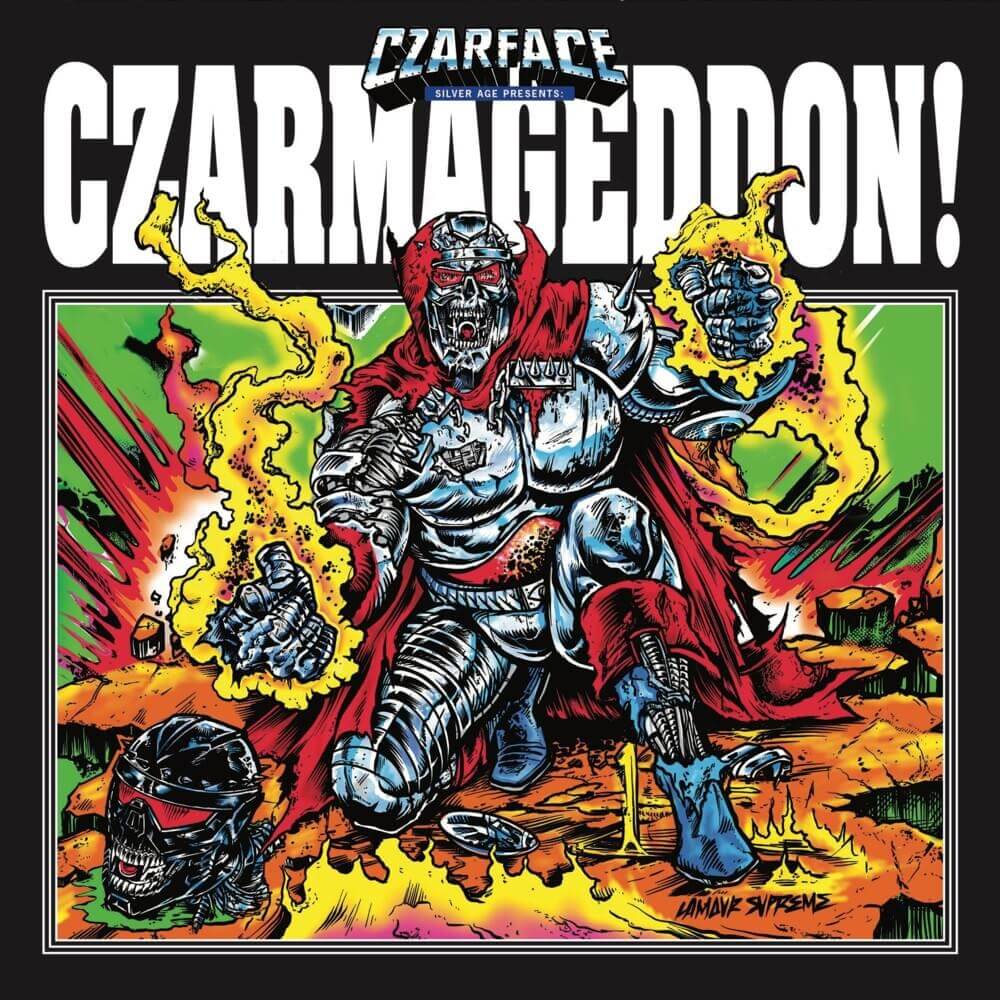 We are Czarface fans and Czarmageddon! has some of the group's best songs on it, with Esoteric and especially Inspectah Deck on top of their game. The biggest issue we have with Czarmageddon! is that it is too short at a mere 32 minutes. There's no room for mistakes on a mini-LP like this one, and there are a couple of weaker tracks among the bangers. 7L's production is more varied than ever before on a Czarface project, and unfortunately, not everything works – especially the reggae/rock-flavored "Big Em Up" (with Lion Eye) feels out of place. That said: there's plenty of Czarface brilliance on Czarmageddon!: to offset one or two missteps: "Damien's Dinner Time", "Walk Thru Walls", "Bob LaCzar", "Nu Mutantes", "Fearless & Inventive" (with Kool Keith), the instrumental "Boogie DefMix", and "Czarv Wolfman" are all dope as f. A little more substance to the tracklist would have been better, but overall this is another super solid addition to what is shaping up to be an excellent catalog.
Release date: April 23, 2022.
9. Pusha T - It's Almost Dry
It's Almost Dry is Pusha T's long-awaited and highly anticipated fourth studio album, serving as a follow-up to his third studio album, DAYTONA, four years after its release. DAYTONA was great but not a 'real' album as far as we are concerned – at about 20 minutes the project is short even for an EP. It's Almost Dry is longer but at 35 minutes the album is still very concise for an LP. Now, was It's Almost Dry worth the four-year wait? Not really, unfortunately. On a 35-minute project, EVERYTHING has perfect, no misses can be afforded. And It's Almost Dry has a couple of misses, most notably the pretty bad "Scrape It Off The Top" and the sleep-inducing "Call My Bluff". With exception of the impactful album closer "I Pray For You" the whole back half of the album underwhelms in comparison with the much better first half, honestly. The involvement of Kanye West, Jay-Z, Pharrell Williams, Kid Cudi, and Pusha T's brother and Clipse partner Malice doesn't prevent It's Almost Dry from being a bit of a mixed bag.
No doubt many people will have It's Almost Dry in their AOTY conversation, simply because it's a Pusha T project and lots of listeners and critics seem preconditioned to love everything Pusha T does just because. Kendrick Lamar first, Pusha T second – that's how it goes, no matter the actual quality of their albums or whatever else is released by other less-hyped artists. We keep an open mind though, and from It's Almost Dry we will keep the first six and the last track, and forget the rest. For Pusha T's most accomplished work we will keep going back to his first two Clipse albums, and his best solo project King Push (2015).
Pusha T's delivery and flow are strong as always and despite the staleness of the subject matter his coke raps still entertain – so don't get it wrong: It's Almost Dry is a fine listen and a solid enough addition to Pusha T's discography. It contains some really great tracks – "Brambleton", "Diet Coke", "Neck & Wrist", "Just So You Remember", and "I Pray For You" especially – it just isn't the classic we still expect to get from King Push someday.
Release date: April 22, 2022.
Honorable Mentions
IM'PERETIV – Burial Plots & Pyramid Schemes
Defcee and BoatHouse – For All Debts Public And Private
Vince Staples – RAMONA PARK BROKE MY HEART
Ed Scissor – Post Sleep
Josiah The Gift – Mightier Than The Sword (Side B)
Ransom – No Rest For The Wicked
NapsNdreds – Super Braff
LuGhz & Watkinz Da General – Realer Than Nicolas Bourbaki
Nelson Dialect & Mr Slipz – Ever Since
Planet Asia & DJ Jay-Ef – Cash or Caskets
Purpose – The Tony Camonte Saga: Cost Of Business
The Grates – Saturdays with The Grates Vol. 1
Height Keech & Darko The Super – You Gotta Have Friends
Daniel Son – The Bush Doctor
Matlock – Coffee & Cannabis
Mickey O'Brien – Shift Change
Booda French – the losers victory lap
Brizz Rawsteen – Steen Malenko
Zu Ninjaz – Invading Europe
Blac Samurai – Saints Are Sinners
HYPE – Talk To Me Nice
Vic Spencer & Doc Da Mindbenda – Still Here
International Mack – The Wisdom
Nick Gun – Jumping The Gun
V Knuckles – Winter Warfare
Johnny Ciggs & Ant The Symbol – The Great White Hype