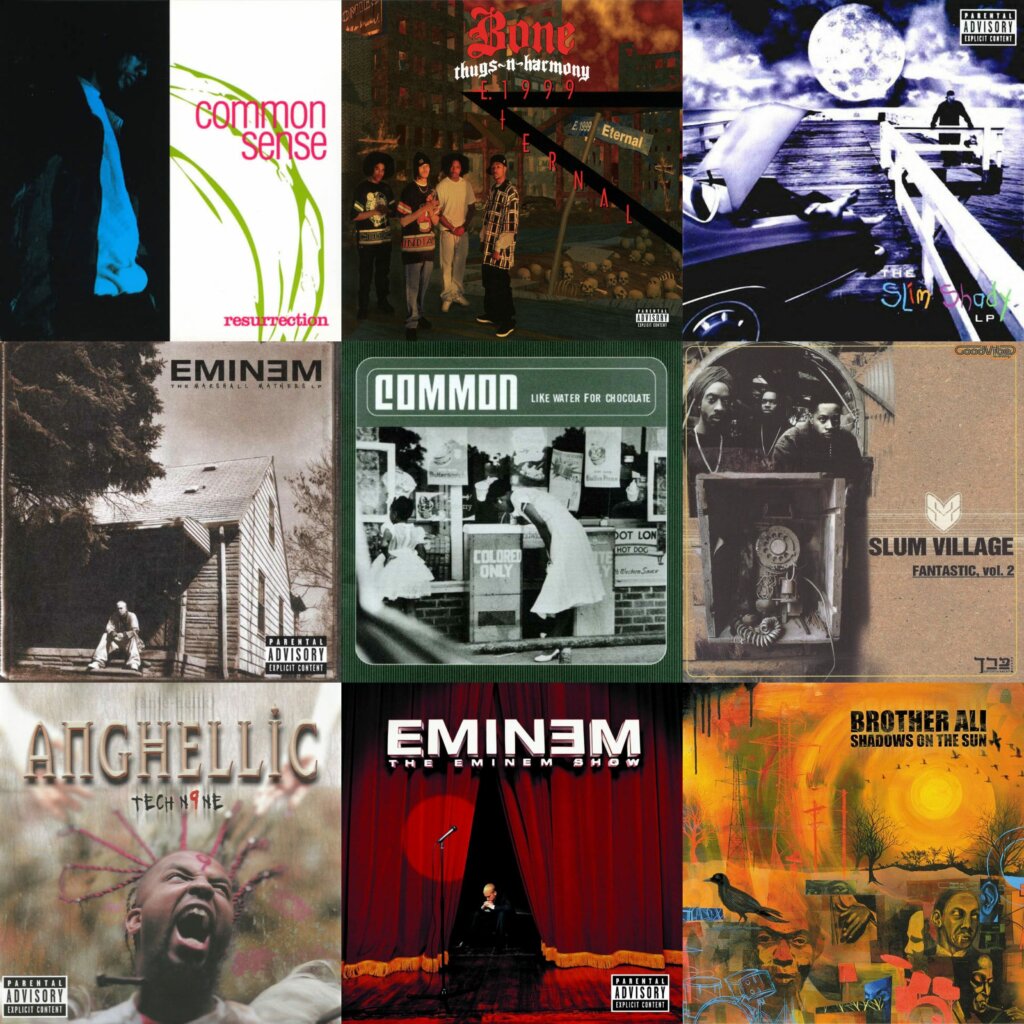 100 Essential Midwest Hip Hop Albums: [Midwest Hip Hop is a regional genre of Hip Hop music performed by artists from the Midwestern United States. In contrast with its East Coast, West Coast, and Southern counterparts, Midwest Hip Hop has very few constants in style or production.
Midwest hip hop's first dose of national popularity came in the mid-90s with the extremely fast-paced rappers known as choppers, such as Bone Thugs-n-Harmony (Cleveland), Twista (Chicago), Tech N9ne (Kansas City), and Eminem (Detroit). While the artists mentioned became some of the first to introduce Midwest Hip Hop that rivaled the popularity of West and East Coast styles, other subsequent acts have or already had also risen to national fame such as Common, Kanye West, Nelly, D12, and Kid Cudi – but they share very few similarities. Other notable midwest rappers and producers include Atmosphere, Brother Ali, Lupe Fiasco, Royce da 5'9, J Dilla, Apollo Brown, Elzhi, Freddie Gibbs, and Danny Brown. It is because of the lack of constants between acts from different cities (and sometimes even between artists from the same city) that it can be extremely difficult to define a "typical" Midwest sound.]
Hip Hop originated in New York City, and East Coast Hip Hop was quickly rivaled by the output coming from the West Coast. Over the past two decades, it is the South that has become the most dominant region in terms of influence on the rap game. East, West, and South are almost all that is talked about when geographical areas in Hip Hop are discussed – the Midwest is often left out of the conversation. That's wrong, as this list will show.
In this piece, you will find 100 Hip Hop albums – no mixtapes, no EPs – we consider to be essential works to come out of the Midwest, not ranked but presented in release year order. What do YOU think? Are your favorite Midwest Hip Hop albums here? Do you think any essential records are missing? Share your thoughts in the comments!