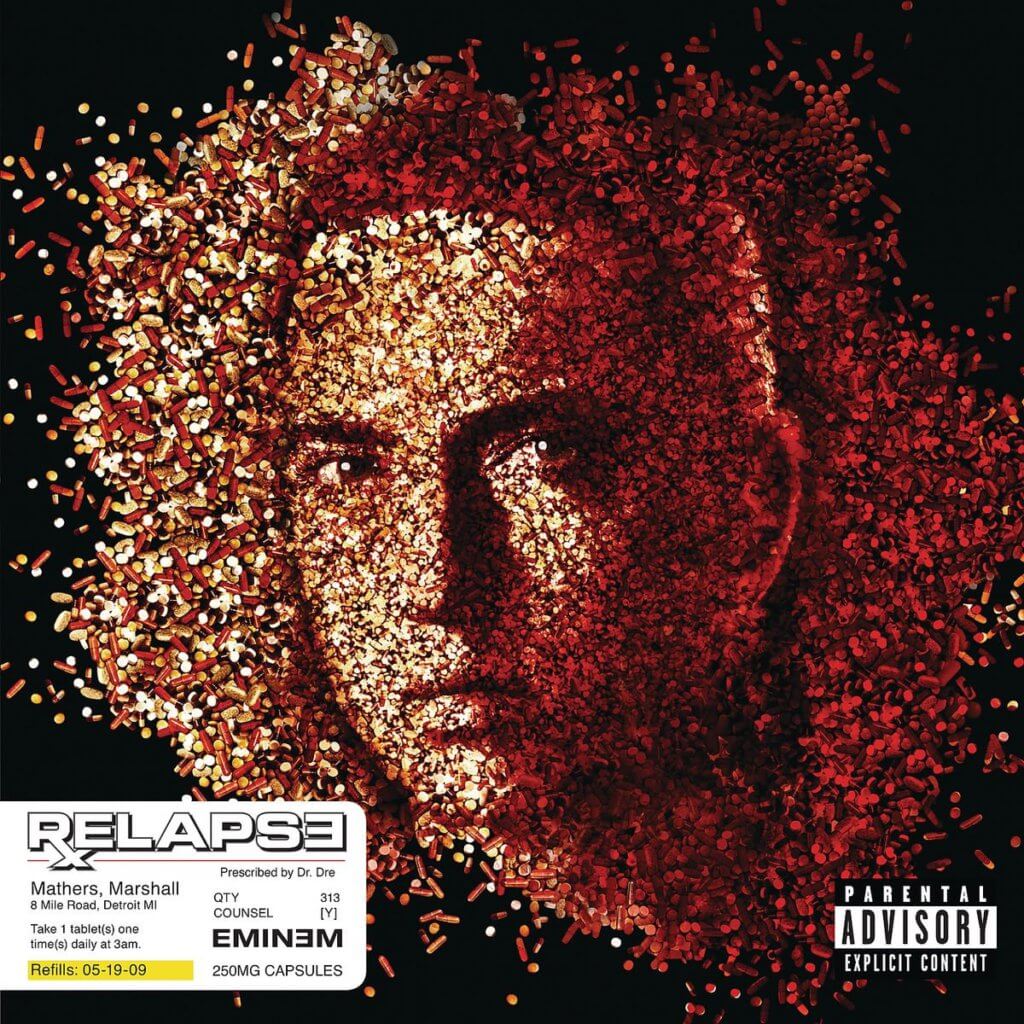 In May 2009, Eminem dropped Relapse, his first album since his five-year hiatus in which he battled drug addiction, marital problems, and writer's block. Upon its release, most critics deemed it average at best. Even Eminem himself has dismissed Relapse, saying he 'cringed' at the accent he adopted for the record. But it's a harsh viewpoint and it'll always be his comeback album where he plays the role of a horror villain, hell-bent on rapping every verse with the same ferocity he showed in his prime years. It's an album that deserves higher acclaim.
But I'll admit it, I didn't like Relapse much when it first came out. It was only after subsequent listens that I began to enjoy the dark songs and the way Eminem channels his anger in such a complex and funny way. With the release of Eminem's eleventh album Music to Be Murdered By, I listened to Relapse once again. Yes, it's a record that dabbles with drugs and murder, but it's also a conceptually brilliant piece of work. Eminem has never been defter with his words and their meaning than on Relapse; it's Slim Shady at his most manic, taking a deep plunge into all-out horrorcore – which for anyone who doesn't know, is a Hip Hop sub-genre that specializes in the macabre.
Right from the intro, Eminem prepares listeners for a thrill ride into the abyss. "You're walkin' down a horror corridor" – that line on "3am" kicks off the horrorcore concept, with Eminem setting the scene for the carnage about to take place during the song, and it has it some of the best rhymes of Eminem's career. He blends sharp, virtuoso lyricism with a bass-heavy beat and like most of the album, it was produced by Dr. Dre. Much of what Eminem says on this album could be seen as him being deliberately hurtful and offensive, but I believe Relapse, like The Marshall Mathers LP and The Slim Shady LP, is about the power of words and their meaning, with the serial killer theme serving as a metaphor for the destructive nature of fame and addiction.
Now, horrorcore as a sub-genre emerged long before Eminem burst onto the scene. Jimmy Spicer's 1980 single "Adventures of Super Supreme" has been widely considered to be the first example of horrorcore rap. From there came groups such as the Greto Boys, who spun themes like the occult and psychological horror into their lyrics. Throughout the '90s, more underground rappers began releasing horror-inspired music, including Big L and Gravediggaz. Like his Hip Hop predecessors, Eminem uses twisted rhymes to shock and subvert expectations, pushing himself beyond the limits of what's acceptable in mainstream music. Eminem has built a career off shock value – but it's his dark aesthetic, love for words and creative freedom that defines Relapse.
Em's demented sense of humor has never been more potent on Relapse, exemplified on songs like "Same Song & Dance" and "Hello", both rooted in dark fantasy and told entirely through the lens of a sociopathic character. On "Stay Wide Awake", Eminem takes this character even further, spitting some of his most gruesome rhymes ever, with a pre-hook that's bone-chilling:
Soon as my flow starts I compose art like Mozart
Even though they all say that they're real, I know that most aren't
Boy, you think you're clever, don't ya? Girl, you think you're so smart
Come with me to another side in a world so cold and so dark
It's hard to deny the lyrical prowess of "Stay Wide Awake". The sheer force of Eminem's rapping brings his serial killer theme into clearer focus, with intricate rhyme schemes that add to an already grim tone. Most of these songs wouldn't go down well today, but looking beyond all the ultra-violence, there's incredible storytelling on this album. Eminem sticks firmly to horror narrative, providing a moment of catharsis on the self-produced "Beautiful", in which he opens up about his depression before offering a glimpse of hope for the future.
Relapse shows Eminem as a true master of his craft and it was part of an era where his music got everyone talking, but since then, he hasn't quite managed to recapture the magic. Much of Recovery was dumbed down for the charts. The Marshall Mathers LP II was a decent album with great production, but it always felt less than the sum of its parts. Then there's Revival, an album that seemed to lack inspiration, doing very little for Eminem's legacy. Kamikaze and Music To Be Murdered By were much stronger, both parting ways with the pop-rap of Revival, in exchange for sharper lyricism and the diss-filled anger that made Eminem a global superstar.
All things considered; Relapse is the last time we've seen Eminem at his creative best. It's the last time Em' fully unleashes the wrath of Slim Shady. Relapse remains an enduring horrorcore project and a fascinating entry in Eminem's discography, serving as the moment he returned in full force to the rap world.