[Underground Hip Hop is an umbrella term for Hip Hop music outside the general commercial canon. It is typically associated with independent artists, signed to independent labels, or no label at all. Underground Hip Hop is often characterized by socially conscious, positive, or anti-commercial lyrics.]
On this list, you will find 25 excellent underground Hip Hop albums released this year, taken from our lists with The Best Hip Hop Albums Of 2021 and Best Hip Hop Albums Of 2021, The Honorable Mentions – January – June & July – December. Also check Best 25 Hardcore Hip Hop Albums Of 2021, a list that contains a number of albums that could have been on this list, and vice versa.
Here goes, in no particular order: the best 25 underground Hip Hop albums of 2021 (LP's, so no EP's). Which is your favorite album from this selection? Are there albums missing that should have been mentioned here? Share your thoughts in the comments!
Hus Kingpin - Portishus
Long Island native Hus Kingpin continues his run of quality releases with Portishus – a project inspired by the music of legendary British band Portishead. Portishead's debut album Dummy (1994) is a trip-hop monument, and while Portishus is not trip-hop at all, it shares the dark and moody atmosphere of the Portishead classic.
Hus Kingpin's wordplay is solid enough, just like that of guest rappers like Vinnie Paz, SmooVth, Nems, The Musalini, Ransom, and Ty Farris (and many others), but it's the gloomy instrumentals that make this project a keeper. Portishead fans will recognize a lot of the samples on Portishus, but this project is just as enjoyable without intimate Portishead knowledge. With Portishus Hus Kingpin started the year off in a strong way.
M.A.V. & Hobgoblin - Angelz & Demonz 3
M.A.V. is an emcee from Rochester, New York, and Hobgoblin is a producer from Birmingham in the United Kingdom. Together they are responsible for the excellent Angelz and Demonz series, of which this is the final installment. Dusty boom-bap instrumentals laced with ominous samples, crafted by Hobgoblin – one of the most interesting underground producers active today – and hard-as-nails lyrics from M.A.V. and guests like Vinnie Paz and Ty Farris (among others): this is a well-rounded project that will appeal to fans of the sounds pioneered by the likes of Roc Marciano and Griselda. That cover art is pretty awesome too.
Machacha - The Hundred
The Hundred is the 100th release by indie label Copenhagen Crates, produced for the most part by Machacha (with additional work on the boards from Giallo Point, DJ TMB, DJ Swab, and Brainorchestra), and featuring hard street bars by a host of underground spitters such as Eto, SmooVth, Supreme Cerebral, Ankhlejohn, M.A.V., Jay Nice, Pro Dillinger, $auce Heist, Mooch, Estee Nack, Recognize Ali, Jay Royale, Ty Farris, Lord Jah-Monte Ogbon, Rigz, Napoleon Da Legend, and others. The Hundred = 46 minutes of killer bars and killer beats – Machacha's haunting instrumentals are some of the finest you will hear this year. This project is one of the top underground releases of 2021.
Wiki - Half God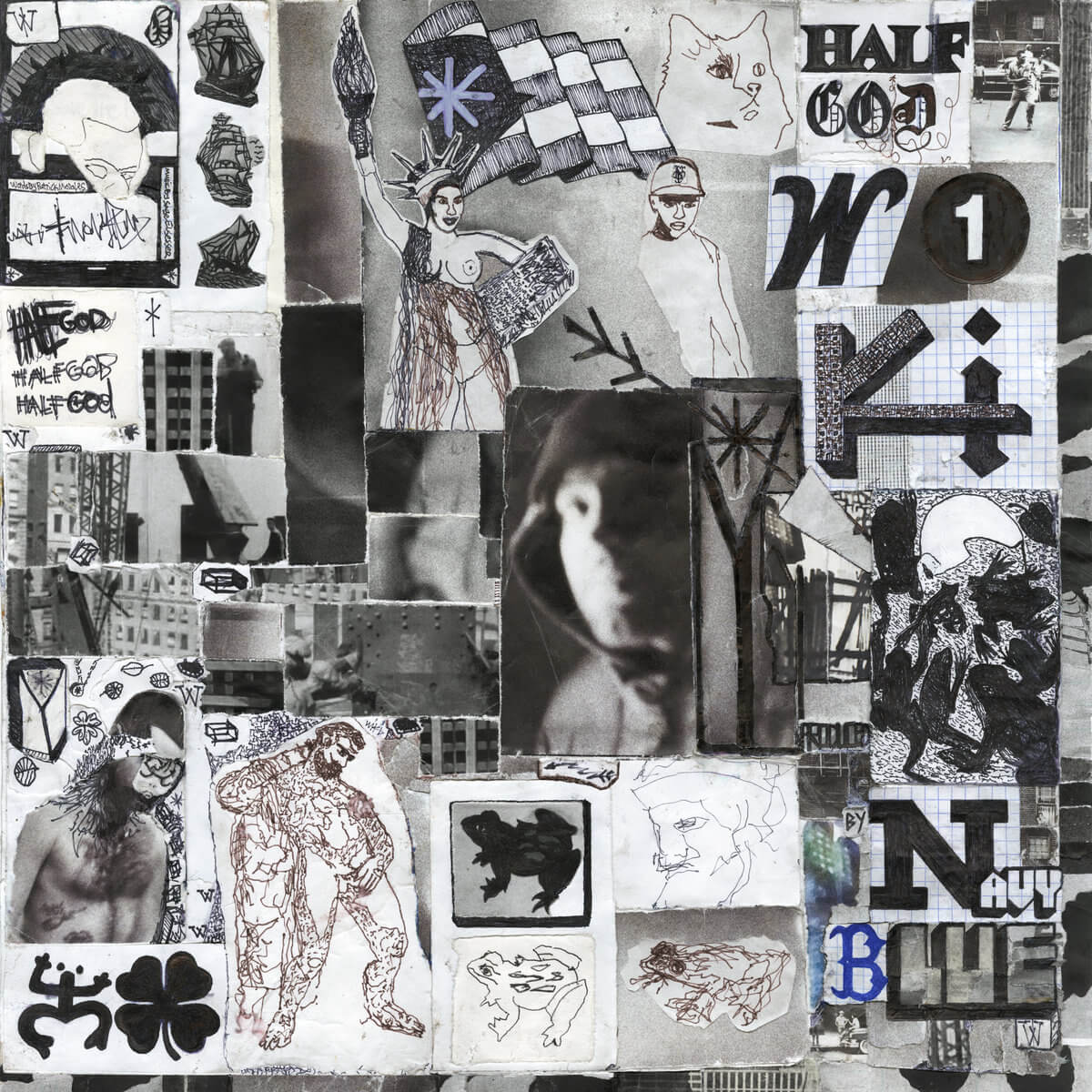 Wiki is an emcee from NYC and Half God is his fourth full-length LP, entirely produced by Navy Blue. Wiki's previous releases all were strong projects, but Half God is his best work yet, a fully realized work containing 16 full songs and an hour of music. Navy Blue's stripped-down but hypnotizing instrumentals have heart and soul and they bring out the best in Wiki, whose pen game is better than ever before – it's good to see a young artist demonstrating artistic growth and increasing maturity like Wiki does here.
Similar to the album cover, Wiki's content is a jumble of ideas and thoughts, but his relatable lyrics are thought-provoking and/or entertaining and Half God manages to captivate from start to finish. Features from Earl Sweatshirt (on the fantastic "All I Need "), MIKE, and others add extra flavor. "Not Today", "Roof", "Never Fall Off", "Drug Supplier", "The Business", "All I Need", "Gas Face", "Promised", "Still Here", "New Truths", "Grape Soda" – lots of stand-outs and no real weaknesses on Half God. Navy Blue's Dilla-Esque production is heavenly and Wiki's simultaneously nostalgic and forward-looking bars match the quality of the beats. Half God is a slow-burner and not suitable for skim-listens – this is an album to sit with and to be immersed in, bucking the trend that sees artists releasing EP-length 'albums' to cater to the needs of the short attention span crowd and to the song-streaming music consumption reality. Half God is a REAL album and a memorable one at that – one of the best Hip Hop albums released in October.
SmooVth & Giallo Point - Amongst Wolves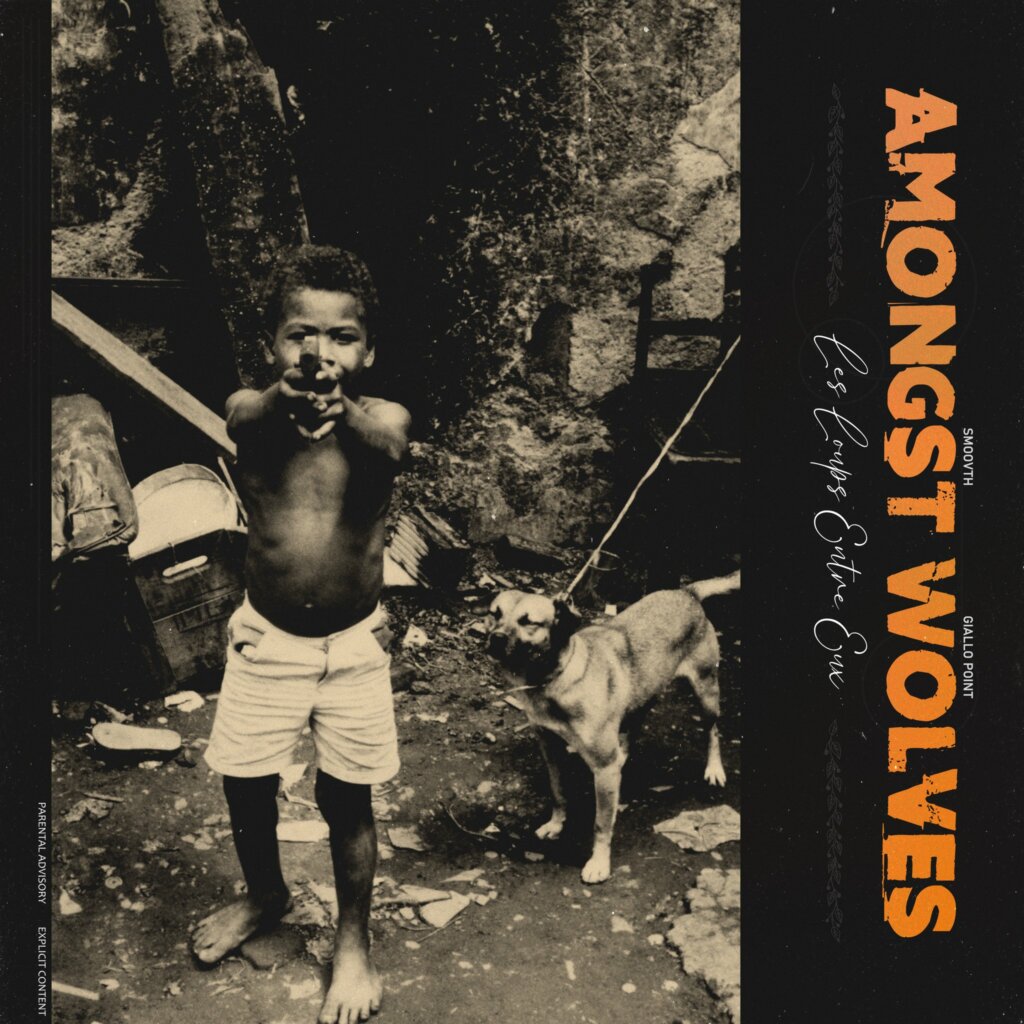 Hempstead, New York rapper SmooVth got back together with British producer Giallo Point for Amongst Wolves, their fifth full-length collaborative album. Amongst Wolves is one of the strongest of the five, on par with the first two: Medellin (2017) and Medellin II: Don Fabio (2018). Giallo Point rarely misses, and he doesn't miss here. The cinematic instrumentals on Amongst Wolves are deliciously dark and moody, perfect for SmooVth's lyrical content. SmooVth brings his A-game with a laidback delivery but with razor-sharp bars, and he keeps the features to a minimum: only Asun Eastwood, Rigz, Eddie Kaine, Rim, Big Twins, and SmooVth's Tha Connection partner Hus Kingpin make appearances, on no more than 5 of the 17 tracks. That makes 12 tracks on which SmooVth's synergy with Giallo Point is on full display and Amongst Wolves is better for it – lots of projects these days have so many features they feel like compilation albums, but not this one: Amongst Wolves strikes the exact right balance. This is a superb piece of music.
Vic Spencer - Psychological Cheat Sheet 2
When will Vic Spencer get the widespread recognition he deserves? The Chicago emcee has been dropping heat for years now, with three dope projects in 2020 alone – Psychological Cheat Sheet, Spencer For Higher 3 (with Sonnyjim), and Rather Be A Real One all are must-listens. Psychological Cheat Sheet 2 is just as good, if not better. Like the first Psychological Cheat Sheet, this one is produced entirely by the underappreciated August Fanon – who always manages to put his own authentic stamp on anything he produces. His ethereal instrumentals here are flawless and tailormade for Vic Spencer's distinct baritone, his off-beat flow, and his stream-of-consciousness rhyming.
Curly Castro - Little Robert Hutton
"Curly Castro's new album Little Robert Hutton is a pæn to the radical imagination. Over the course of fourteen songs, the Bajan-American artist fuses his vivid wordplay with a historical continuum of black revolutionary thought and the result is an AfroFuturist vision in 3-D IMAX. This is Castro's rawest and most uncompromising work, the heat from a thousand ghetto uprisings smoldering in every bar. Lyrical gymnastics take a backseat to the power of the word and the concussive energy of the beats. Little Robert Hutton is hard in every sense of the word, speaker rattling banger after banger. That production is handled by Quelle Chris, Messiah Musik, Blueprint, August Fanon, Locust, DOS4GW, and Jason Griff. The album also features guest appearances from Breezly Brewin, Mr. Lif, PremRock, billy woods, Zilla Rocca, Marcus Pinn, ALASKA, SKECH185, Candice Murray, and Margel the Sophant."
Curly Castro has been on our radar for a good while now. His ShrapKnel album (with PremRock) is one of the best Hip Hop albums released in 2020. His solo debut FIDEL (2013) was our favorite Curly Castro LP up to now, but Little Robert Hutton is even better. Lyrically profound and fun in equal measures, and musically adventurous with captivating soundscapes from start to finish – Little Robert Hutton is an intense album you shouldn't sleep on. This is another winner out of Backwoodz Studioz, one of the most interesting labels out there today.
Penpals - II: The True Sequel
PENPALS are a trio from NYC, consisting of wordsmiths Rapswell and Bobby Noble, and rounded out by the musical savant Squires, who crafts the production landscapes.  The three emerged on the scene with 2015's self-titled PENPALS album, II: The True Sequel is an excellent follow-up. The dusty 90s-centric beats are dope as f and the rhyming is on point too – in no small part thanks to some great features by underground heavy-hitters such as ANKHLEJOHN, Quelle Chris, and billy woods (among others). Don't sleep on Penpals.
Your Old Droog - Time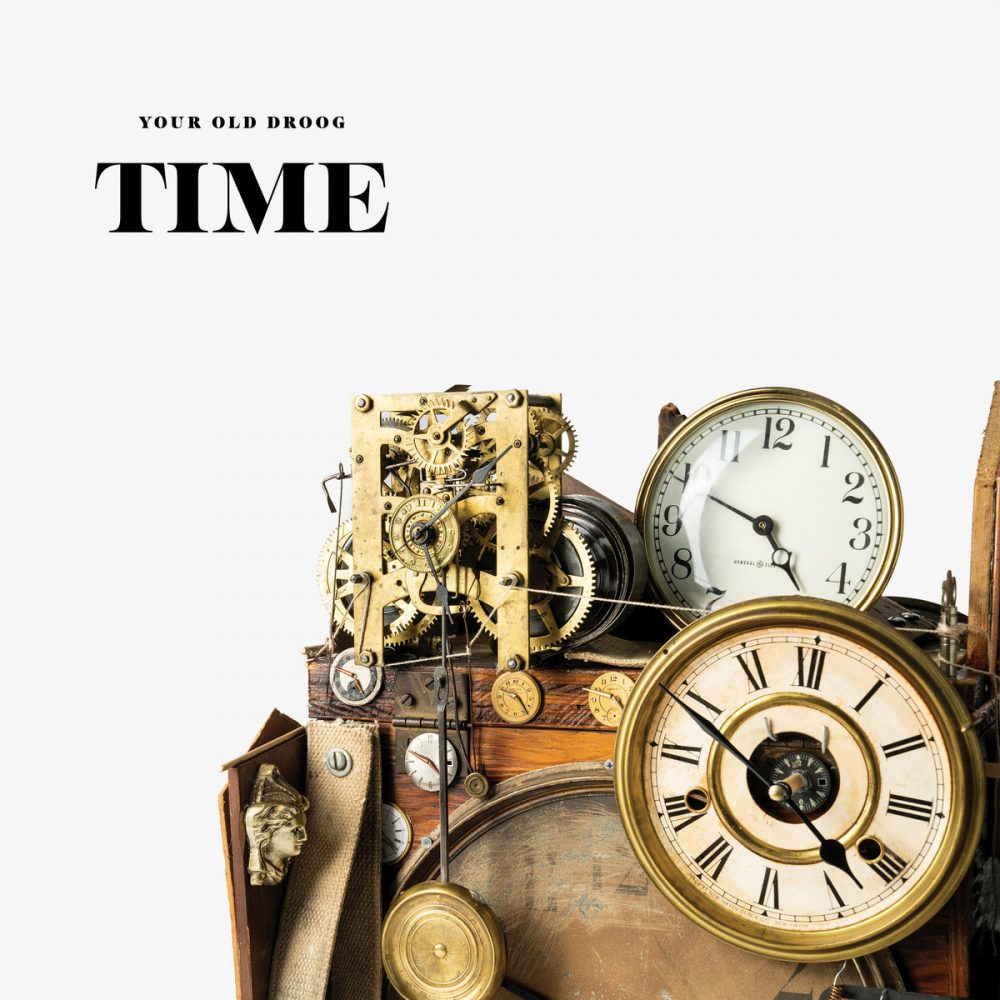 Ukrainian-American producer/emcee Your Old droog has garnered a strong following since he debuted in 2014, Time is his 7th full-length solo project and it is one of his best projects yet. Production is strong and Your Old Droog's lyricism is on point – his flow is dope as always and his personal bars are worth listening to. Time features guest appearances from Aesop Rock, eLZhi, Blu, Mick Jenkins, Wiki, and MF DOOM. On the production side, Droog got some assistance from Quelle Chris and 88-Keys, among others. "Dropout Boogie" with a bittersweet MF DOOM verse is a highlight, as are tracks such as "The Magic Watch", "Field Of Dreams" (with Aesop Rock and Elzhi), "One Move"(with Blu and Mick Jenkins), and "Madson Ave".
Necessary People - These Are The Necessary People
Necessary People are a duo composed of Baltimore artist Height Keech and Philadelphia's ialive – These Are The Necessary People is their first album together as a production team. For this project, they enlisted a host of like-minded underground artists for the guest vocals – emcees like PremRock, Curly Castro, Zilla Rocca, Uncommon Nasa, and Sleep Sinatra make appearances, among others.  Having guest rappers on every track is a risk – it can easily turn an album into an incohesive compilation-like mess – but on These Are The Necessary People it all works out beautifully. This is an uncomplicated, but FUN album. The lyrics are entertaining, the flows are tight, and the instrumentals are dope as f. Do not sleep on These Are The Necessary People.
ANKHLEJOHN - As A Man Thinketh
As A Man Thinketh is not ANKHLEJOHN's best project (2018's Van Ghost is hard to top), but it is another super solid effort from the Washington DC native. Griselda-style rap-noir type production and unapologetic in-your-face bars is what we came to expect from ANKHLEJOHN, and that's exactly what we get here.
Codenine - LVNDR
Codenine of Massachusetts super-crew Tragic Allies started 2021 off strong with LVNDR. Codenine's debut (with fellow Tragic Allies member Purpose) Below Sumerian Skies ranks on our top 40 Hip Hop albums of 2016 list, and all Codenine projects following that debut were pretty good too. With LVNDR Codenine continues his streak of excellence. Production is tight on LVNDR, darkly atmospheric with dope sampling throughout, and Codenine has bars for days. Like mostly everything that comes out of the Tragic Allies camp, LVNDR strikes a great balance between Hip Hop with a 90s-centric feel and a more contemporary boom-bap sound. Tragic Allies colleague Estee Nack makes an appearance, along with the likes of Crucial the Guillotine, Bub Rock, and Lord Jah-Monte Ogbon – helping round out what is one the finest projects of its sort this year.
PremRock - Load Bearing Crow's Feet
Load Bearing Crow's Feet is an excellent project from New York-based artist PremRock, who had dope projects last year as a member of ShrapKnel and of Wrecking Crew. This solo album features all of PremRock's regular collaborators and Backwoodz Studios artists like Zilla Rocca, Curly Castro, Elucid, AJ Suede, Henry Canyons, and Fielded. Production credits are shared between BrainOrchestra, Fresh Kils, Denmark Vessey, Small Professor, Willie Green, Messiah Musik, and PremRock himself. Load Bearing Crow's Feet is a well-rounded effort, composed of compelling instrumentals and thoughtful bars. This is great music.
Ca$ablanca & Cap Chino - Korea​-​Town
Dallas-based artists Ca$ablanca and Cap Chino are regular collaborators, the last time just a couple of months ago on Gold Front Fang$. Ca$ablanca is one of those extremely prolific artists, dropping multiple projects each year, Korea-Town is his first release in 2021. Ca$ablanca's content is solid, as are the contributions of guests Nowaah The Flood and Meph Luciano, D.R.E Colombian Raw, and Y.N.X.716, but this album is special because of the instrumentals. Korea-Town is packed with intriguing beats crafted by Cap Chino, all slightly experimental and off-kilter – this is not a straightforward or easy listen. Korea-Town is not an album for a skim-listen, but one to give some real attention – a slow-burner that will (need to) grow on you.
Rigz - Wake Ups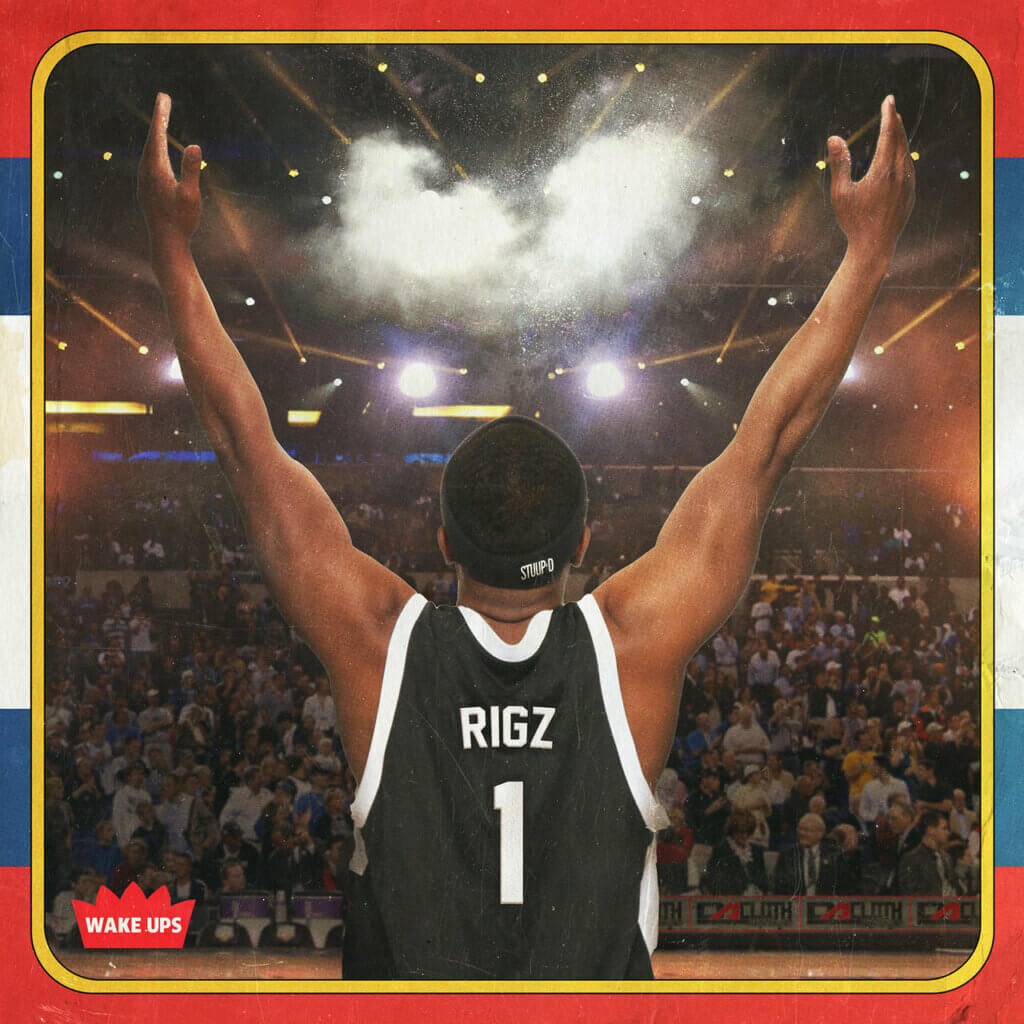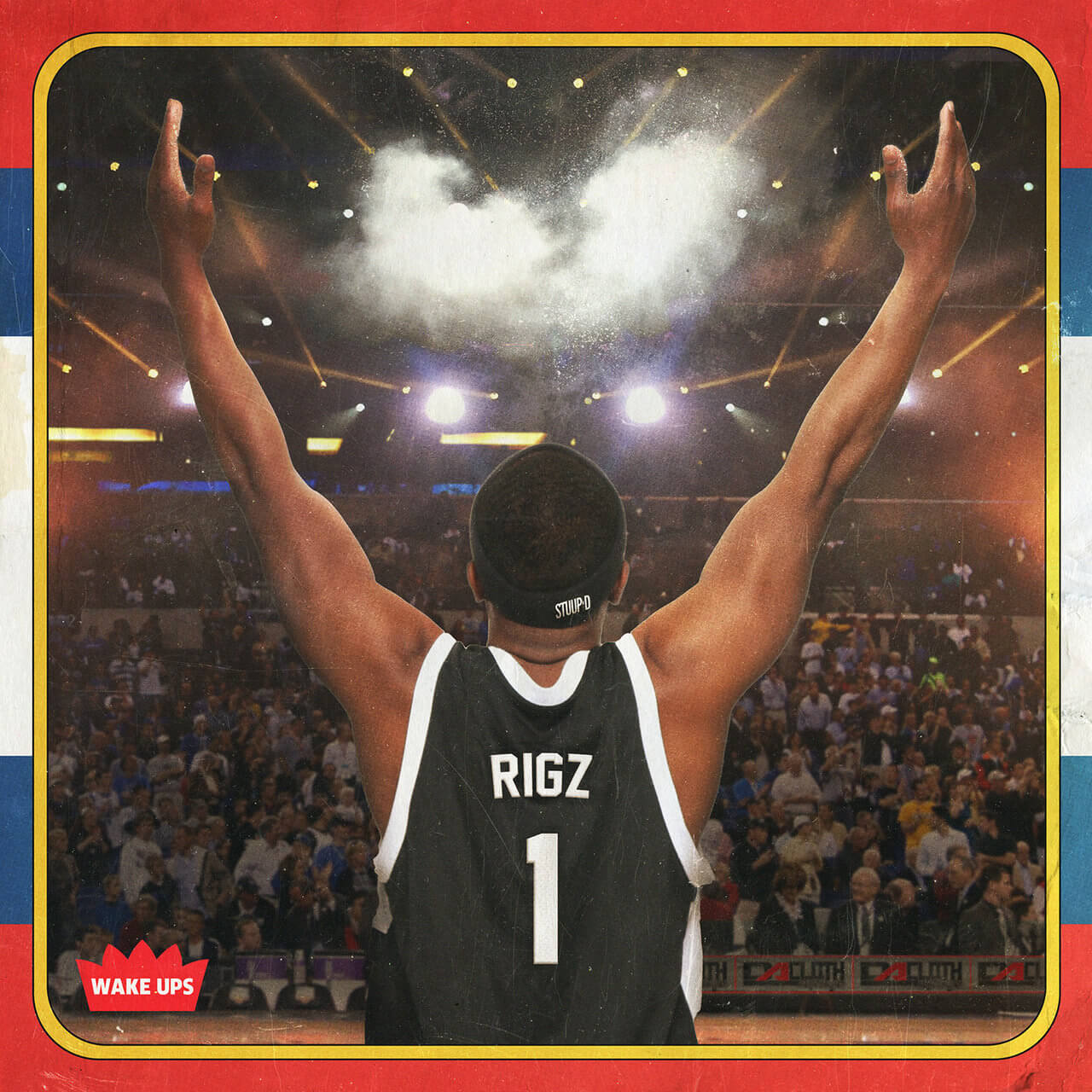 Rochester emcee Rigz (from Da Cloth) continues his upward trajectory with his sophomore solo album Wake Ups. His solo debut Substance Abuse (2020) was dope enough, this one is even better – with atmospheric beats from start to finish and with dope bars from Rigz and guests emcees Mooch, Times Change, Illanoise, Rob Gates, Ransom, MAV, and Symph.
M.A.V.& Swab - A Luxury You Can't Afford
For A Luxury You Can't Afford prolific Rochester, New York emcee M.A.V. teamed up with Danish DJ/producer Swab. For us, M.A.V's best 2021 release is Angelz & Demonz 3, his collabo with British producer Hobgoblin – but A Luxury You Can't Afford comes close enough. Atmospheric instrumentals crafted by Swab serve as perfect backdrops for M.A.V's hard-nosed bars – this is a project you will not regret checking out, especially those into Griselda-style underground Hip Hop better not sleep on this one.
Slik Jack & Sqreeb - The Kingpin Project
Slik Jack and Sqreeb are a Montreal-based emcee and producer duo, The Kingpin Project is their fourth collaborative project in two years. Sharp and crisp boom-bap percussions crafted by Sqreeb provide a perfect backdrop for Slik Jack's dope wordplay – on The Kingpin Project Slik Jack is embodying Marvel Comics' supervillain 'Kingpin', with some modern twists on the character. The album's cover art (front and back) is pretty awesome too – this is a well-rounded project in all aspects.
Rome Streetz & Futurewave - Razor's Edge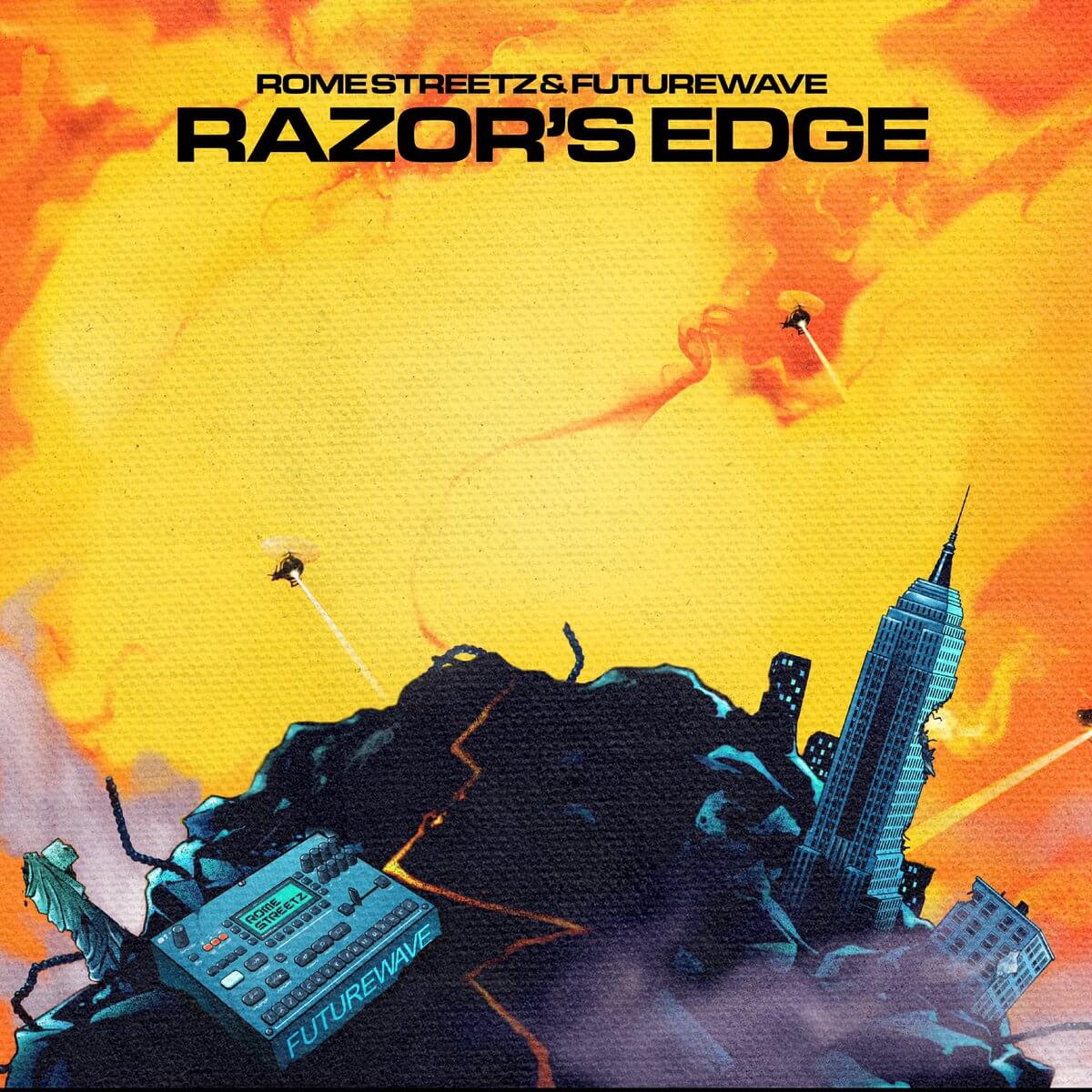 Along with contemporaries like Daringer and Big Ghost Ltd, Canadian beatsmith Futurwave is one of the hottest producers out there today. And NYC-based Rome Streetz is one of the hottest emcees in the game right now – this is his third excellent full-length release of the year – so with these two teaming up, excellence is pretty much a guarantee. Hard bars and beats – Razor's Edge is a presentation of top-level underground Hip Hop.
Asun Eastwood & Finn - The S.O.U.L.
Prolific Toronto emcee Asun Eastwood's third full-length release of the year is his best yet, thanks to the immaculate production by Finn, one of the hottest producers in the underground right now. Asun Eastwood's project with The Twinning – Prophecy Is My Present – which dropped last February was solid, as was 98 Miles, his collabo with Sibbs Rocc and M.A.V.
The S.O.U.L. features contributions from Ill Conscious, Daniel Son, Rigz, SLNC, Flee Lord, Saipher Soze, Family Gang Black, and M.A.V. – who all come with hard street raps to match the ones from Asun Eastwood. Dope bars all around, but it's Finn's production that elevates this project to the next level – his atmospheric mid-tempo boom-bap (90s-centric but with modern-day sensibilities) is top level. Asun Eastwood has been working hard at putting together an excellent catalog, and with The S.O.U.L. he takes another step ahead.
Vic Spencer & Mil Beats - Brainstem Factory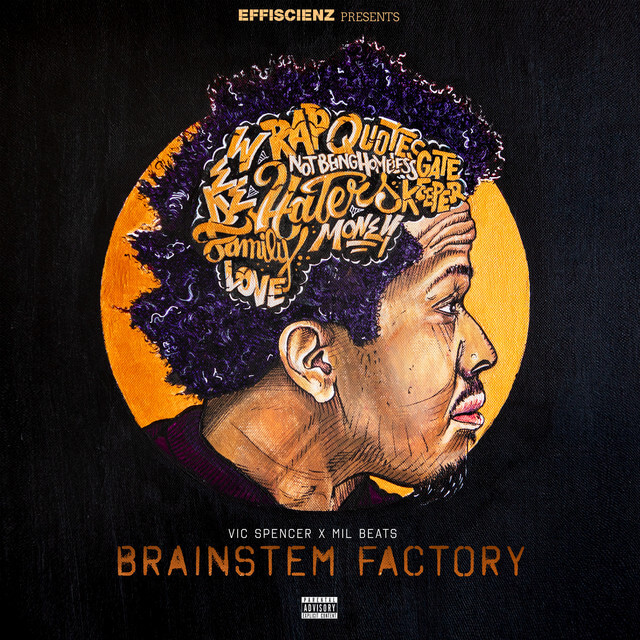 Brainstem Factory is prolific Chicago-based emcee Vic Spencer's third full-length release of the year, this time around a collaboration with Paris-born, Brussels-based producer Mil Beats. Mil Beats crafted brooding and menacing boom-bap beats to suit Vic Spencer's hard-hitting bars. Some dexterous scratching adds extra flavor, giving this project a distinctive 90s feel while being firmly rooted in the 2020s at the same time. Psychological Cheat Sheet 2 is our favorite 2021 Vic Spencer album, Brainstem Factory is a close second.
Rome Streetz & ANKHLEJOHN - Genesis 1:27
At this point, both Rome Streetz and ANKHLEJOHN can be counted among the underground elites. ANKHLEJOHN has been stringing together a series of dope releases, with a benchmark release in 2018: Van Ghost with Big Ghost Ltd is one of the absolute best projects in the 'rap-noir' niche that was pioneered by the likes of Roc Marciano and the Griselda family. Rome Streetz always kills it with his features and his Death & The Magician collaborative album with DJ Muggs is one of the best projects released this year. Genesis 1:27 offers more of the same of what we come to expect from these two – in a good way. This is top-tier noir street rap, the biggest knock against this project is that it's too short at just over 30 minutes.
Career Crooks - Never At Peace
"Following up their album Good Luck With That (2017), Career Crooks (Small Professor & Zilla Rocca) are back with their sophomore release Never At Peace. In the four years in between albums, Small Professor has carved his name into stone among the elite of Hip Hop producers while Zilla Rocca has become an in-demand podcaster, rapper, and producer, both working with legends, peers, and up and coming artists.
Never At Peace examines the life of indie artists with a sh*tload on their plates: fatherhood, creativity, surviving the Trump era, becoming more empowered as small business owners, hustling the craft to pay more bills, staying on peoples' minds, failing to clear your own mind, the Sixers, the algorithms, Philly's relentless growth in crime rates and new residents.
Small Professor evokes classic east coast boom bap with something bleaker ("Never Answer When It's Private"), more grandiose and bombastic ("Do What You Been Doing"), more layered and thrilling ("SP Situations", "SP Bumper Cars"), and more to the point ("I Know a Guy"). Zilla Rocca touches on the danger of nativism, the powers of The Native Tongues, the long journey to stay a rapper while everyone hangs it up with age, and why the dirt, the filth, the scum, and the sh*t littered all over his native South Philly makes the best grim fairytales for working-class humps looking to keep you out.
The legendary Blueprint lusts for f*ck-you-money on "Dame Dash Taught Me". Curly Castro and PremRock emerge as ShrapKnel to remind y'all why Wrecking Crew ain't to be f*cked with on "Crew Nautilus" and "Spiral Book". And iAlive steals the show on the David Bowie credo "You Can't Steal From a Thief" while summoning psych-rock gods of yore as Donovan Days on "Sleeping Heads". Never At Peace is the sound of local always over national."
Wrecking Crew members, solo or in different pairings, always deliver. Curly Castro (Little Robert Hutton) and PremRock (Load Bearing Crow's Feet) both had excellent solo projects this year, and their ShrapKnel album is one of our favorite projects released in 2020. Zilla Rocca's 2021 solo effort Vegas Vic was dope as f too, and this Zilla Rocca/Small Professor collaboration is even better. Don't sleep on Never At Peace.
The Musalini & O Finess - No Squares In My Circle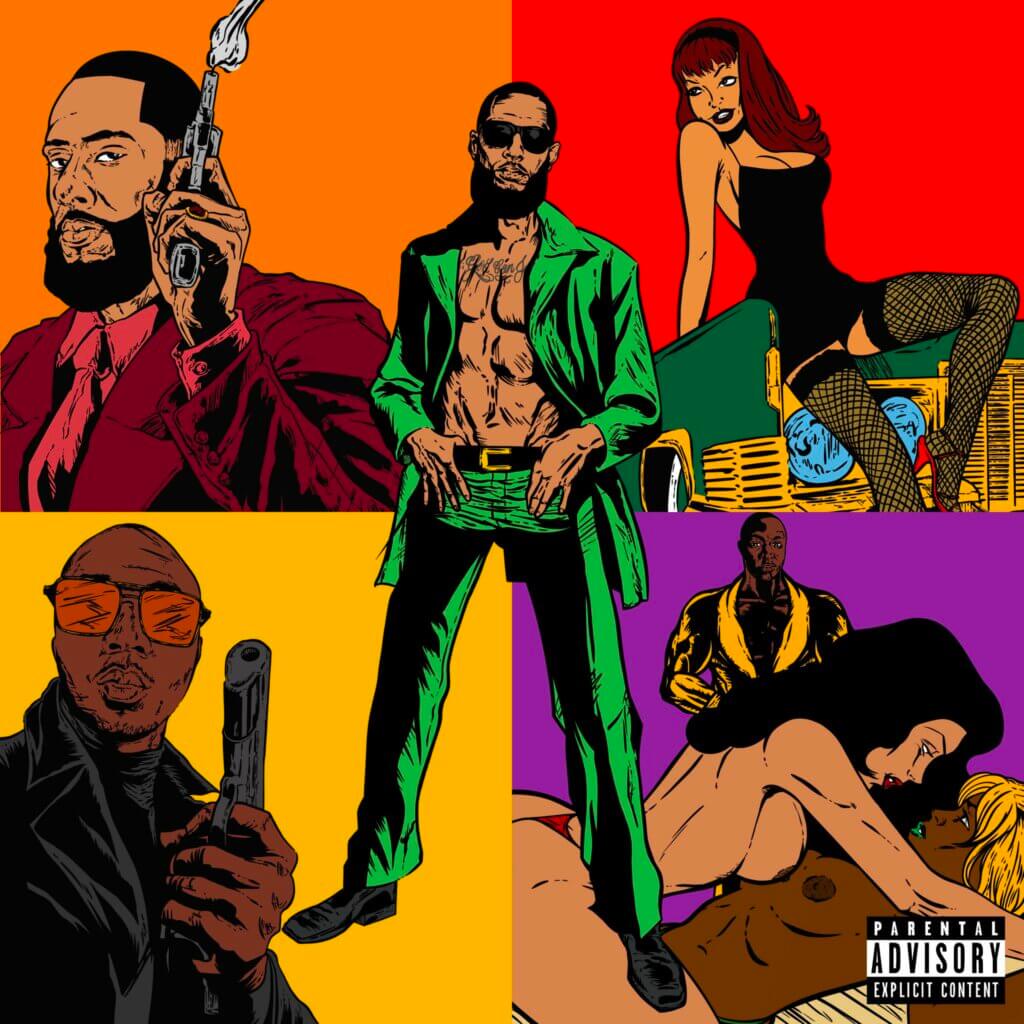 It's hard to keep up with the releases from artists who have adopted the rap-noir sounds of Roc Marci and Griselda, all with the same kind of minimalistic atmospheric beats and the same kind of tough-guy coke & pimp rhymes. Bronx, New York-native The Musalini is one of the top-dogs in this subgenre of Hip Hop though, his work definitely is a cut or two above the music of most of the competition.
No Squares In My Circle is a strong follow-up to The Musalini's 2020 LP Return Of The Oro. And even if No Squares In My Circle is a collaboration with Denver's O Finess, it kind of feels like a sequel to Return Of The Oro in many ways – not in the least because of the similar (and awesome) cover art. No Squares In My Circle offers nothing you haven't heard before, but this is a great project anyway.
Killah Priest & S.H.R.O.O.M - The Mantra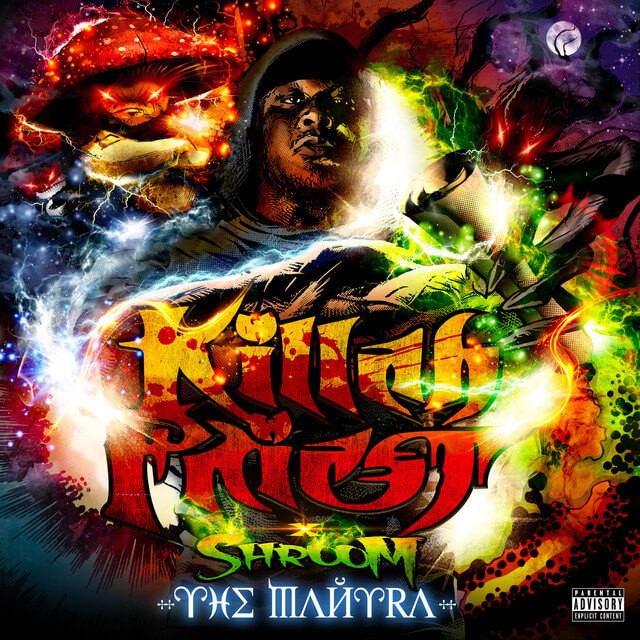 The Mantra is Killah Priest's most accessible and most 'straight-forward' project in years – this album (his third full-length of the year) is a return to his earlier deep-bass boom-bap days, forgoing on the drumless experimentation that characterized most of his recent projects. Straight-forward does not mean mediocre or bad though – The Mantra is an excellent album. S.H.R.O.O.M's drums and beats are dope as f, and Killah Priest's rhymes are interesting as always. Cappadonna, Inspectah Deck, and DJ Jazzy Jeff (among others) make appearances to add extra value. "Boss King" with cuts from the legendary DJ Jazzy Jeff and additional vocals from Thea Van Seijen is our favorite track on The Mantra, but the whole album is strong. Killah Priest probably is an artist for a niche audience – we are definitely part of that crowd.
Observe Since 98 - Le Dernier Royaume
While the likes of Roc Marciano and the Griselda family still reign supreme in the rap-noir/street-rap subgenre of Hip Hop, there are plenty of others who consistently come with fire. Loretta Records founder Observe Since 98 is such an artist. Le Denier Royaume follows Observe Since 98's "Savage" trilogy (which started with Portrait of A Savage (2018), followed by the sequels Return Of The Savage and Royaume Du Sauvage in 2019 and 2020 respectively).
Le Denier Royaume is Observe Since 98's best project yet. He has his own unique sound, with dark atmospheric beats and loops laced with obscure samples taken from vintage French recordings. Le Denier Royaume very much is a producer's album – this project is much more about the instrumentals than it is about the lyrics, even if there's nothing wrong with the vocal contributions of guests like Jay NiCE, Knowledge the Pirate, Chris Skillz, Ankhlejohn, Planet Asia, All Hail YT, Monday Night, M.A.V., Pounds, Napoleon Da Legend, (and others).
Le Denier Royaume was released on January 1st of 2021, signifying a great start of the Hip Hop year.