Earlier, I presented a piece – The Beef Between 90s Hip Hop & Millenium Hip Hop – on the wide gap (both musically and in terms of respect) between nineties Hip Hop and current millennial Hip Hop. I cited examples of genre-defining, landmark-shifting albums from both the nineties (Illmatic, Ready To Die, The Chronic, Ridin' Dirty, It Takes A Nation Of Millions To Hold Us Back, etc.) and this current millennium (Madvillainy, The College Dropout, BE, To Pimp A Butterfly, etc.). I had to then ask myself a question that can serve as quite the conversational piece: "What really defines the term 'classic' in terms of Hip Hop?" Well, let's examine that, shall we!
When one hears the term 'classic', it garners a few different responses. We hear this term thrown around very much in today's culture. My opinion on the term is simple, yet complex at the same time. The term 'classic' in terms of Hip Hop means any album or single that not only separates itself from the bunch, but it does so in such unique and counter-cultural fashion. It requires delicate timing and thought, the type of which is bold enough to challenge the status quo and which creates new boundaries.
A 'classic' Hip Hop release serves as a new flagship in artistic merit that completely shakes down lazy, plain, typical art into deep levels of brilliance, provocation, and the desired outcome of achieving masterpiece work. In short: the audacity to be different in positive and creative ways.
We often know that there's a very thin line between brilliance and insanity, and most times. In cases like the late, great Ol' Dirty Bastard's eccentric debut Return to the 36 Chambers: The Dirty Version, ODB's "drunken style" ways were different in many, many aspects. He often stated that he was named Ol' Dirty Bastard because "there was no father to his style". When he dropped that debut, many were stating that this was a weird, almost incoherent, mash up of quirky stylings, confusing rhymes, and bizarre themes over brooding, yet superb, production by RZA primarily. When you first heard him with his different and rugged antics on "Protect Ya Neck", he was clearly one of the standouts on that track, as he was on cuts like "Da Mystery of Chessboxing" and "Shame On A N****" from another landmark album, the Wu's Enter the Wu-Tang (36 Chambers). Once he ventured out on his own with his debut, he developed into an even more unconventional character. The album is now considered a 'classic' because of how different and against the mold it was.
Another album that represents this is the aforementioned Madvillainy by Madvillain, a duo comprised of underground icon MF DOOM and highly esteemed producer Madlib. The two of them together presented one of the most unique and enigmatic recordings Hip Hop has ever heard, simply because of the same quirky formula that made ODB's debut so fascinating. DOOM is a lyrically capricious emcee and mixed with Madlib's beats that are oft times left-of-center itself, the result was an album that was unlike anything out in conventional Hip Hop. Madvillainy was one of those albums like De La Soul Is Dead, Outkast's delightful Aquemini, and Ghostface Killah's masterful Supreme Clientele, which all require multiple listens before you grasp their odd structure and very creative landscapes.
There are albums out here that are socially conscious and movement provoking, so that these albums provide more than just a nod factor. These albums make you FEEL something. Something in your heart as a human, and in your spirit as a Hip Hop breather. Conceptually and thematically, these albums are above just Hip Hop music, they're life and the human where-with-all to perceive and grasp change. There isn't an album that better illustrates this than another album mentioned earlier, Public Enemy's It Takes A Nation Of Millions To Hold Us Back.
Many have called this album "the angriest Hip Hop album ever heard that's more than just idiotic noise". That's right folks, this isn't an Onyx, M.O.P. scream fest, full of angst while still aiming to bring down people by shooting and sticking up people (don't get it twisted, both acts have made DOPE albums, I'm just speaking in context). PE's noise was simple: the powerful movement of uprising against racist and bigoted societal control and the suppressive government takeovers that were killing our Black communities.
While their debut album, Yo! Bum Rush the Show was a nice introduction, it was their hostile gospel of a sophomore album that really became the epitome of Black rage on wax. Over production that feels like punches to the stomach from The Bomb Squad, this album became the Black community's CNN or Headline News for its supreme social commentary and outcries. To this day, this album is regarded as the most important Hip Hop release of all-time and many others would say it's the Hip Hop equivalent of Michael Jackson's Thriller, in terms of influence and crossing all genres in terms of relevance and sustainability. Albums such as The Coup's Steal This Album and dead prez' debut let's get free continued the momentum and the spirit of this ingenious album, bringing political and social fire to the masses over production that matched the impeccable aura of these releases.
Today, it's Kendrick Lamar's To Pimp A Butterfly, which is clearly the Hip Hop album of our generation. While you can read about why this album is the best pure constructed, originally conceived album post-Illmatic here, Kendrick officially became the leader of the new school and a much needed conscious emcee without the overtly preachy elements that tend to go over heads.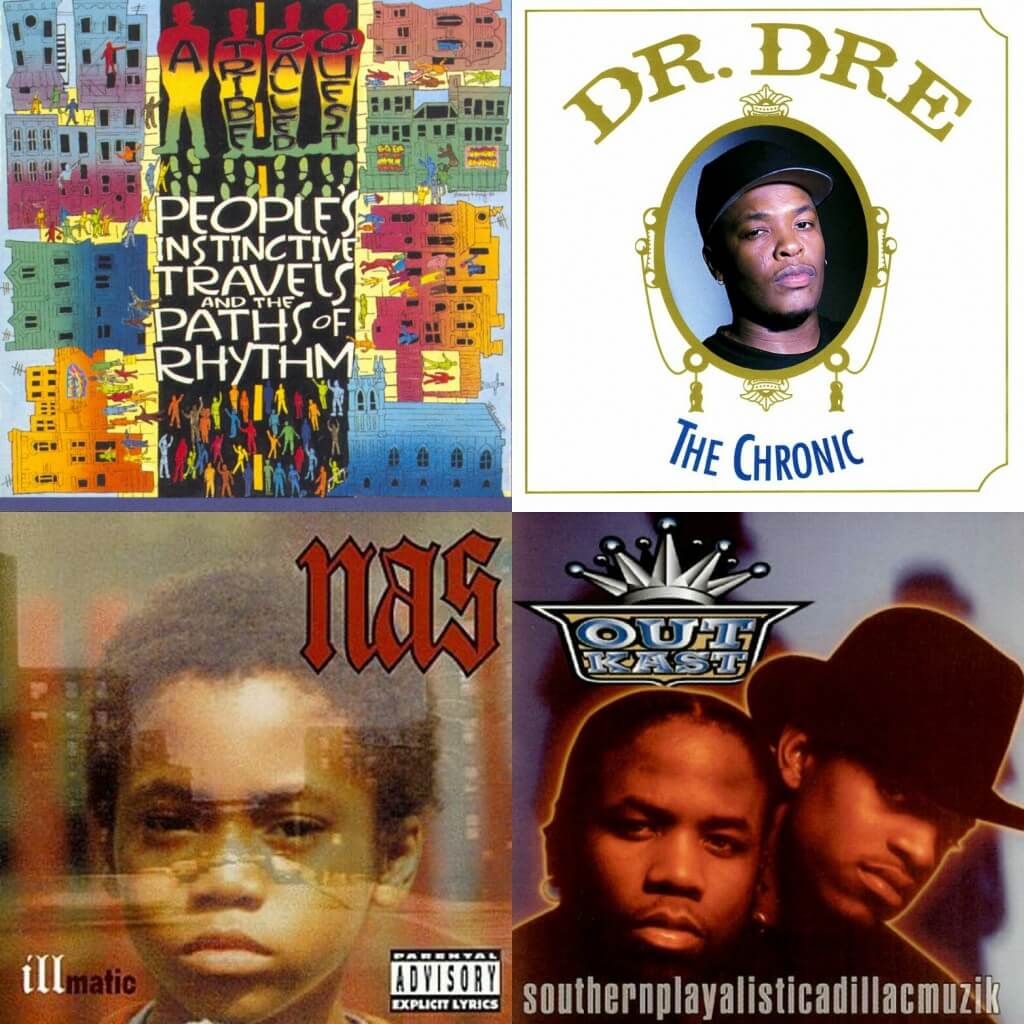 There are also albums that immediately grab your attention as game changers and as bringers of a new sound, a new climate, and a new era in the Hip Hop game and in music in general. With Dr. Dre's The Chronic, A Tribe Called Quest's People's Instinctive Travels In The Paths Of Rhythm, Nas' Illmatic, and Outkast's Southernplayalistcadillacmuzik, there was no doubt that these releases were instant and immediate 'classics' due to how fresh the sound was, plus how different their approaches were to Hip Hop compared to their peers during that time.
We've seen highly successful albums over the years and decades use formulas that made albums like these so legendary. When the term 'influential' is mentioned, we must look at groundbreaking albums from artistically the richest time in Hip Hop: the eighties. There would be no Illmatic if it wasn't for Eric B & Rakim's Paid In Full. Without EPMD's eponymous debut Strictly Business, there would be no Mobb Deep's The Infamous (albeit this album was far more sinister and dark than anything Erick and Parrish put out), and there would be no Grip It On Other Level from The Geto Boys without Straight Outta Compton.
There are those that don't get the recognition that they truly deserve, and they present all or most of those elements that I mentioned earlier. One of those is Ras Kass' amazing debut Soul On Ice. While not necessarily the greatest album ever heard production-wise, this is by far one of Hip Hop's most lyrically innovative gems of all-time. Ras was something we never heard come from the West in this manner before. Sure, there were great lyricists such as Saafir, damn near everyone from the Hieroglyphics camp, and Tha Alkaholiks from out that way, but Ras was truthfully head and shoulders above everyone. An educated battler that was among the most feared lyricists of his time, and still is today.
It takes more than just mundane topics of drugs, hos, guns, and unoriginal, uninspired topics to get critical acclaim status of 'classic'. It takes looking outside the book, both creatively and musically. There must be a richness in the sound and quality of what is heard, and even more so, what's presented. There are tons of outstanding albums out there. I listed one hundred of them not too long ago and you can refer to them when reading this piece and why they're on there. However, this is dedicated to the forward thinkers, the artists, the ones that wanted lasting acclaim and merit rather than momentary flashes of grandeur. Albums like the ones I've mentioned, plus others like Raekwon's Only Built 4 Cuban Linx…, Black Star's self-titled debut, 2Pac's Me Against the World, Mos Def's Black On Both Sides, Scarface's The Diary, and Bone Thugs N Harmony's E. 1999 Eternal, deserve the titles of 'classic'.