Robert Fitzgerald Diggs, better known by his stage name RZA), is an American Grammy winning music producer, author, rapper, and occasional actor, director, and screenwriter. A prominent figure in Hip Hop, he is the de facto leader of the Wu-Tang Clan. He has produced almost all of Wu-Tang Clan's albums as well as many Wu-Tang solo and affiliate projects. He subsequently gained attention for his work scoring and acting in films.
He has also released solo albums under the alter-ego Bobby Digital. In addition to the Wu-Tang Clan and his solo releases, RZA was also a founding member of the rap group Gravediggaz where he used the name The Rzarector.
He has made cameos in several movies including Coffee and Cigarettes, American Gangster, Gospel Hill, Life Is Hot in Cracktown, Ghost Dog, Funny People, Repo Men. About.com named him 3rd on their list of best Hip Hop producers of all time.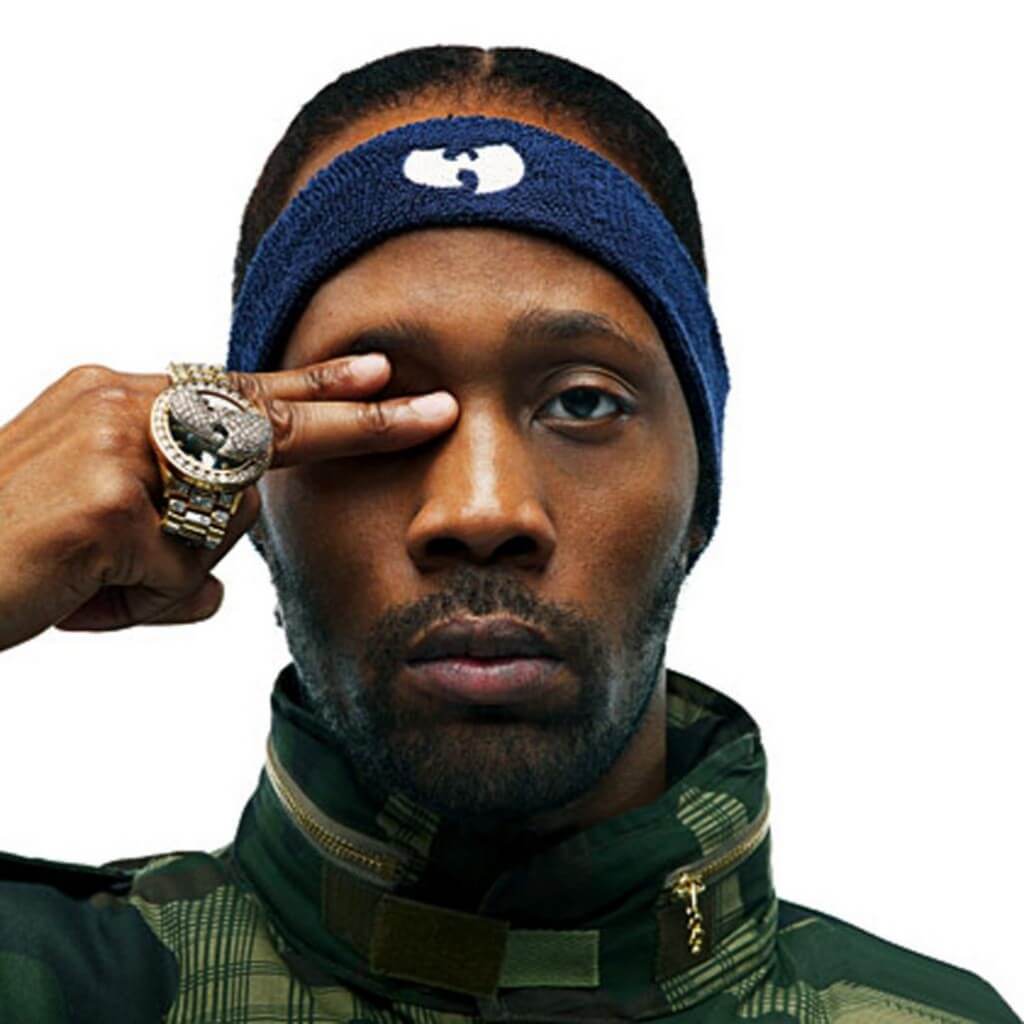 Born in Brownsville, Brooklyn, New York, RZA spent time in Pittsburgh, Pennsylvania as a child, where his father had a convenience store in the Hill District. A young RZA also spent many years living in North Carolina with his uncle. RZA began his Hip Hop career in the late 1980s and early 1990s as a member of the trio Force of the Imperial Master (which subsequently became known as the All in Together Now Crew after they had a successful underground single of that name). The group consisted of future Wu-Tang members and his cousins GZA (then known as the Genius) and Ol' Dirty Bastard (then known as Ason Unique, the Specialist, and the Professor).
Following All in Together Now's dissolution, he signed to Tommy Boy under the name Prince Rakeem, issuing the 1991 EP Ooh I Love You Rakeem before joining the Wu-Tang; the group's 1993 debut, Enter the Wu-Tang (36 Chambers), was one of the most influential hip-hop records of the era, with RZA's lean, menacing production work much imitated throughout the rap community in the years to follow. In addition to remaining a member of the loose-knit Wu-Tang family and producing many of the group members' solo efforts, RZA also joined the Gravediggaz, helming their 1995 debut 6 Feet Deep; his first full-length solo LP, RZA as Bobby Digital in Stereo, followed in 1998.
In 1999, RZA Hits, a compilation of some of the Wu-Tang family's best-known tracks, from both group and solo projects, was released under RZA's name. Ghost Dog: The Way of the Samurai, his soundtrack for the Jim Jarmusch film — in which he made a cameo, beginning a series of small acting roles — was released in 2000. One year later, he released his second Bobby Digital record, Digital Bullet. A mix album, The World According to RZA, followed in 2003, as did his third official solo album, The Birth of a Prince. He continued to field soundtrack work, including Quentin Tarantino's two-volume Kill Bill films and the Japanese animation series Afro Samurai, as documented on 2007's Afro Samurai and 2009's Afro Samurai: The Resurrection. Tarantino then persuaded the producer to finish a full-length movie script he had been working on. With Eli Roth as his co-writer, shooting began in 2011 on the RZA-written and directed film The Man with the Iron Fists. Both the film and its soundtrack landed in 2012 featuring music from the RZA and his Wu-Tang associates Ghostface Killah and Method Man, along with tracks from Kanye West and the Black Keys.
RZA also contributed vocals to three songs on John Frusciante's 2012 EP Letur-Lefr and in 2013 he contributed vocals to one song on Kid Cudi's 2013 album Indicud. In August 2012 RZA founded a new record label Soul Temple Records with a distribution deal from RED Distribution. He just recently Appeared on Earl Sweatshirt's album Doris he was on the track "Molasses"
One of his favorite hobbies consists of watching martial arts films, and he is considered to be an "encyclopedia of martial arts films", due to his vast knowledge of the genre. His favorite movies include Five Deadly Venoms, The 36th Chamber of Shaolin, Ninja Scroll, Fist of the North Star. His second well-known hobby is chess, and he is a Director of Development and champion of the Hip-Hop Chess Federation.